Life360 is one of the preferred platforms used to share live locations with your friends and family members so that they can track you for security concerns. It is a circle or group of people in which you share your live location and information. In this article, you will learn how to turn off location on life360 without anyone knowing and get rid of stalking by anyone. We will share the best solutions. We will also tell you how you can spoof your location to maintain privacy.
Part 1. Why You May Want to Turn Off Location on Life360?
Many reasons force you to turn off the location on Life360. If you are fed up with your overprotective parents and relatives that continuously stalk you wherever you go, this will convince you to turn off the location.
Everyone has their private space, and you may feel insecure when anyone continuously monitors you. Sometimes your friends monitor your real-time location to know where you are wandering without them. Then, you turn off the location on Life360 to remove access from the friend's circle.
Part 2. How to Turn Off Location on Life360 Without Anyone Knowing [4 Methods]
Several methods help you to turn off your location on Life360 without knowing anyone effortlessly. Let's learn each method with a few steps.
1Stop Circle Location Sharing on Life360
Every person in the Life360 circle has their priority to share or remove the location whenever they want. Follow the steps to stop circle location sharing.
Step 1. Launch Life360 on your phone and tap Settings from the lower right corner of the screen.
Step 2. Now, select the circle from where you want to stop sharing the location. Tap the circle switcher and select your relative circle.
Step 3. Tap Location Sharing from the settings and turn off the location sharing by moving the slider to the left.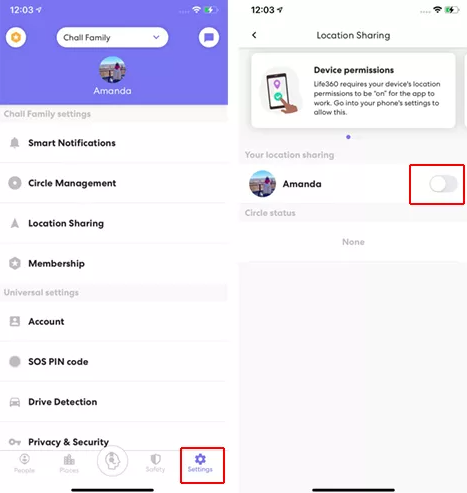 Step 4. To confirm the location is stopped, it will show you an alert that your location is paused.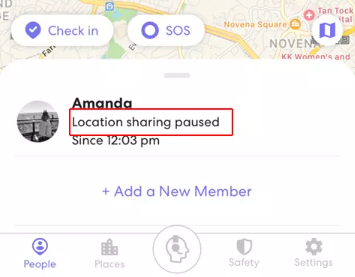 2Turn Off Precise Location Permission for Life360
Turning off your precise location will never show your exact location. It will always show the approximate location. Let's follow the steps.
Step 1. Navigate to Settings from the phone application menu.
Step 2. Scroll down and tap Privacy settings. It will open a list of menu items; tap Location Services to proceed further.
Step 3. It will show the permission granted to the apps. Click Life360 and look for Precise Location; turn it off by dragging the slider to the left.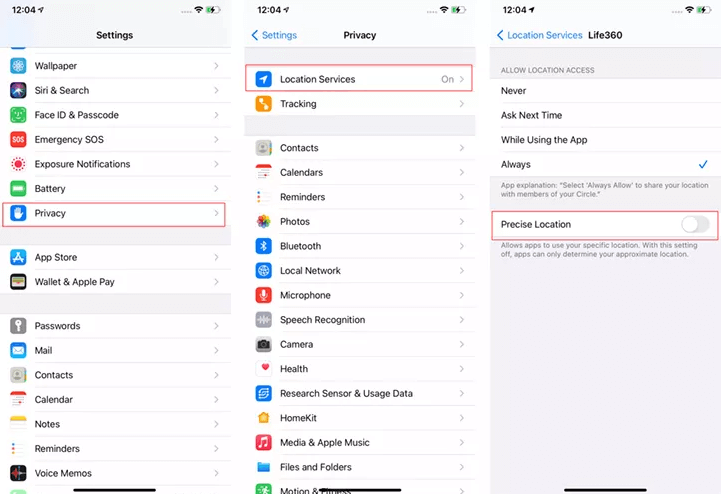 3Disable Location Access on Life360
This method will altogether disable location access on Life360, and you will have a status of Location Permission Off below your username.
Step 1. Open the setting from your mobile menu and tap Privacy.
Step 2. Tap Location Services from the privacy menu and look for Life360 from the list of apps.
Step 3. Now, set the location access to Never. This will deny the location services for Life360 until you turn it back on manually.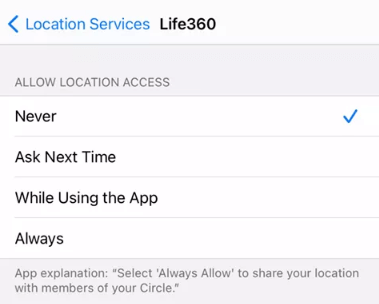 4Turn Off GPS Location of Your Phone
This method is the simplest, but it will turn off the GPS location from all the apps you use. This method can be crucial sometimes because if you want to book a cab, you cannot access the cab application.
Step 1. Tap Settings from the app drawer and then tap Privacy.
Step 2. Tap Location Services and swipe the button towards the left to turn it off. Tap Turn Off to confirm; it will turn off your GPS from all the location-based apps. The apps will no longer be eligible to fetch your location after this.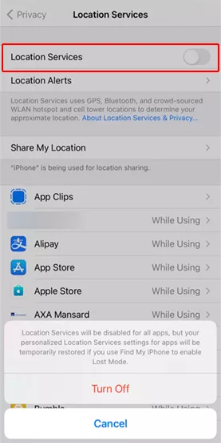 Part 3. Fake Location on Life360 to Hide Your Location Without Others Knowing
If you want to fake your GPS location with professional software, then WooTechy iMoveGo is the best that spoofs your location without knowing others. It not only works with life360, but it works with all location-associated applications. You can mask your location, and your circle will never know that your location is changed with an imaginary one.
You can control the location with the joystick feature that will adjust your location at a specific place. You can customize your GPS route with the fastest speeds. It has a user-friendly interface with a few steps so that it is accessible to a beginner also. WooTechy iMoveGo spoofs your location without jailbreaking. Let's start with the steps and hide your location.
Step 1. Download WooTechy iMoveGo and install it on your PC. Launch the software and click Get Started to proceed next.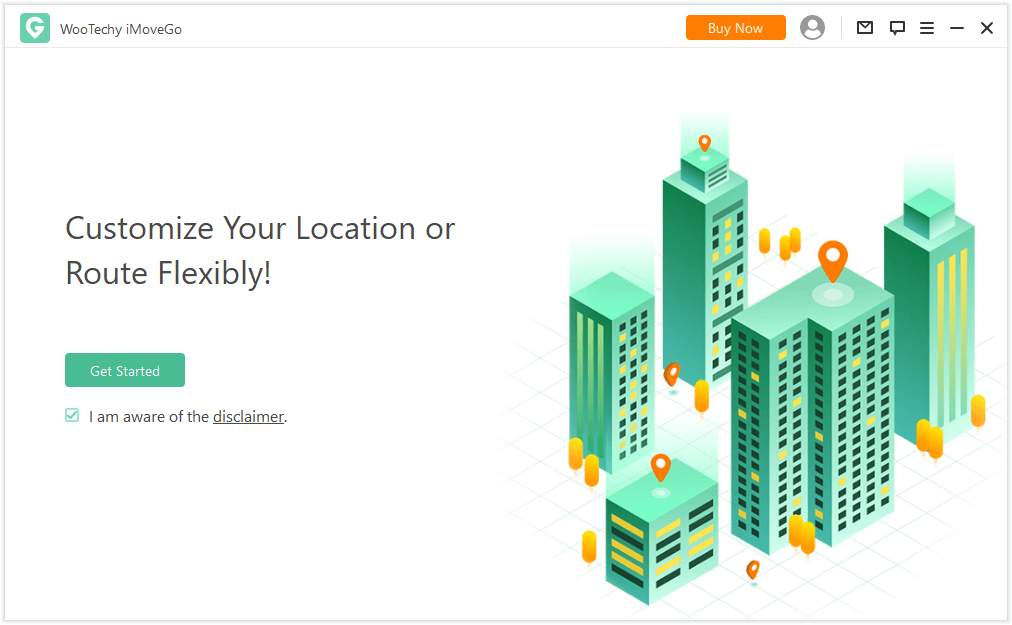 Step 2. Connect your device via a data cable to the PC. Make sure that you have unlocked the device and tap Allow from the device to give access. After a successful connection, the map will automatically appear.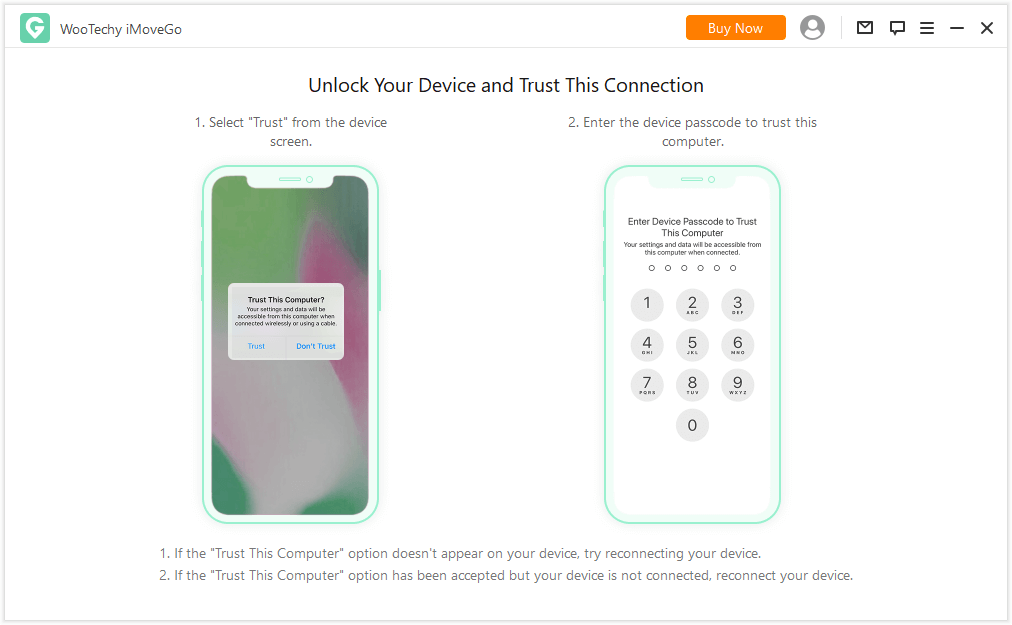 Step 3. Hit Teleport Mode and search for the location from the left-hand side where you want to approach. Click Move and move the key to adjust it to a perfect place.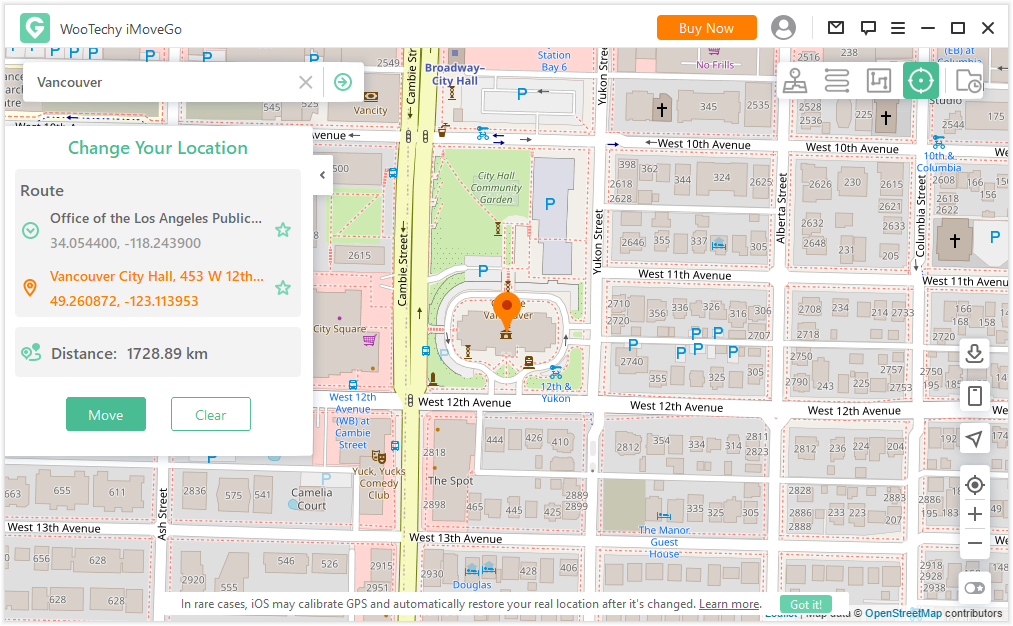 FAQs: More You May Want to Know About Life360 Location
1Does airplane mode turn off location on Life360?
Yes, it will turn off the location services on Life360, but it has a disadvantage: you can no longer make calls, internet, or SMS.
2What can I do when Life360 not updating the location?
Try to rerun the application or turn on or off the location services to solve this bug. If both ways do not work, try turning on and off the airplane mode.
Conclusion
You have successfully learned all the techniques to turn off your location on Life360. Select the methods mentioned above that you find the best. Still, it is better to use professional GPS spoofing software like WooTechy iMoveGo to save yourself from getting caught in any scenario. You can fake your location easily, and no one will ever get to know about it.