Are you looking for a phone mirroring app to cast your Android or iPhone to a larger screen display? Did you know that you don't really need an app for that?
Since the need for mirroring started rising, better and more efficient ways to mirror our phones came along. Today, we will look at the top 10 phone mirror App and the best ways to mirror your phone with and without having to install an app.
Part 1: How to Mirror Your Phone Without Installing an App
Most Phone users who have mirrored videos, music, games, meetings, or documents via phone mirroring apps have found the experience excellent, except for a little hassle.
Running out of storage to accommodate the app.
The process of downloading an app that would stay dormant on your phone.
So before presenting the top Apps to mirror phones, let's find out how to mirror your phone without installing an App. Based on the review, we found that MirrorDisp is an excellent 'Gen-Z' approach you can utilize to cast your phone to your computer without an app.
The software eliminates the hassle that was there before for individuals seeking to screen-cast their mobile devices on bigger screens. MirrorDip can be used in various seriousness;
Some Features of MirrorDisp:
Guide to Use MirrorDisp to Mirror Your Phone to a Computer
Here is a user manual of MirrorDisp for first-time users. It will guide you on how to set up and use MirrorDisp on iOS and Android.
Step 1: Install and open Wootechy MirrorDisp on your Windows or Mac.
Step 2: Connect your phone to your computer with USB or WiFi. (In the first time, the USB is required.)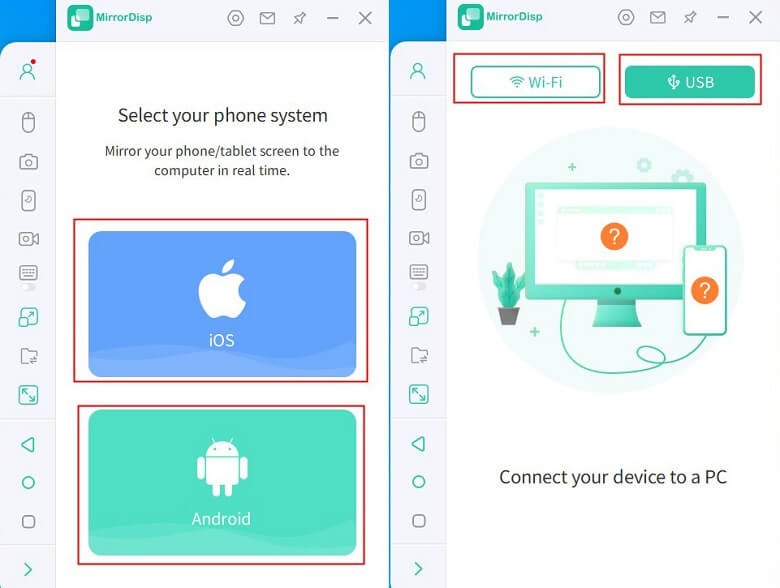 Step 3: Allow permission for MirrorDisp when the pop-up comes on the screen. Once done, your phone will be mirrored instantly.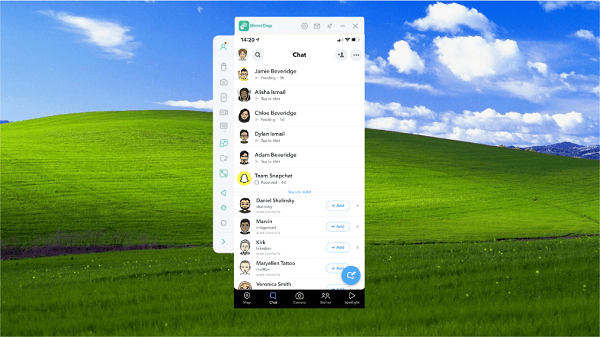 Step 4: You can also switch to other features in the left bar.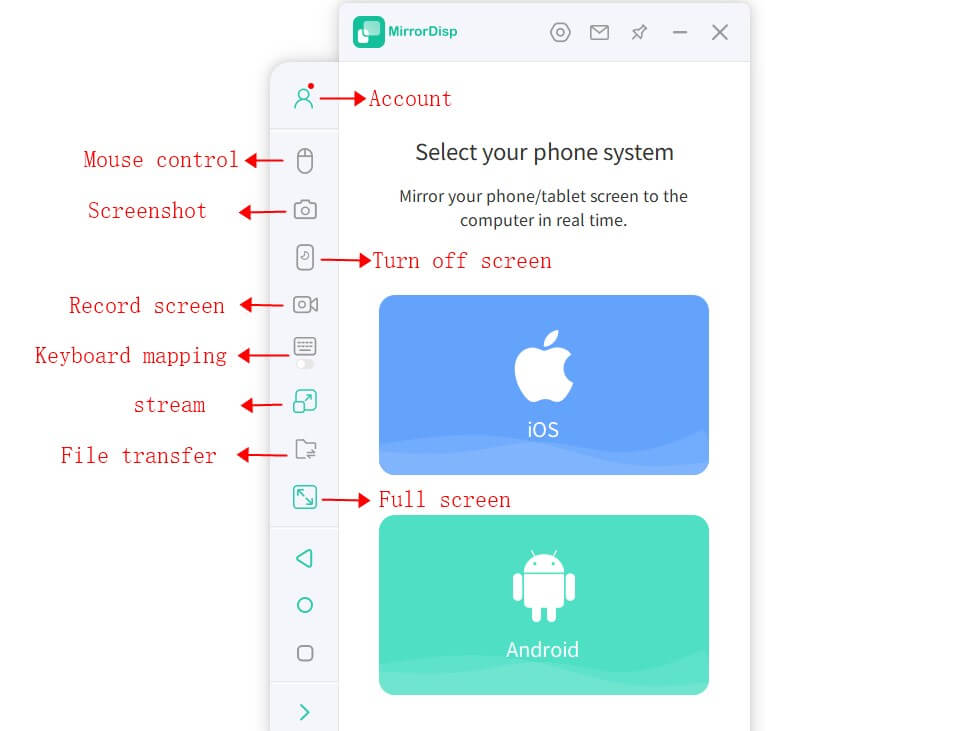 Part 2. How to Mirror Your Phone with the Best Phone Mirror App
Above is the most efficient way of cast. Another way to mirror is to use the phone mirroring App. These tools are different, and you have to know which one you want first. We have put together a list of the best mirroring apps for Android and iPhone to guide you.
Top 5 Phone Mirroring Apps for Android
Screen Mirroring - Castto
Castto is compatible with Android version 4.2 and above. The app is offered by SoomApps on the play store. It can support Chromecast, Firestick, Roku Stick, and Anycst. To cast with the cast, you have to connect your TV and phone to the same WiFi network. Enable the tool on your TV and cast without an HDMI cable.
This is a great casting platform to present videos or photos to your friends, family or colleagues on a big screen. You can also stream live sessions on YouTube, TikTok or Instagram.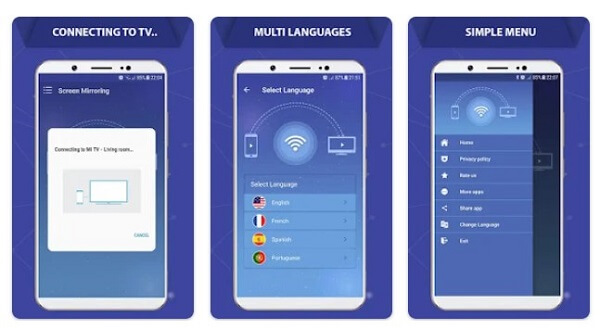 Screen Mirroring - Miracast
Miracast is offered by Inshot Inc on Google Play Store. It is compatible with Android versions 5.0 and above. The app contains in-app purchases going at 3 dollars per item.
The mirroring tool supports TVs, Chromecast, Firestick, Roku stick, Ancaster, wireless adaptors and other DLNA receivers. It supports all media types. With Miracast, you can cast videos, images, ebooks or pdfs to a larger screen display.
Miracast can come in handy at home and at the office (for presentations during meetings). Make sure the TV and your device are connected to the same WiFi. Turn off your VPN too.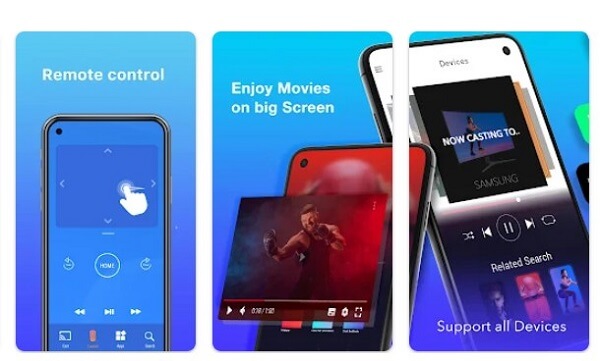 Google Home
Google is compatible with Android versions 8.0 and above. It is not just a casting app, the developers incorporated multiple other functionalities, making it slightly different.
It supports Chromecast, Nest and household devices you link to. You can use Google Home to control lights on your premises, adjust the thermostat and control other devices remotely. The platform has several valuable functions to select the ones you need most and create a shortcut for them.
About mirroring, it is pretty much similar to the rest of Android casting apps. Ensure your TV and phone are connected to the same WiFi connection and turn off VPN.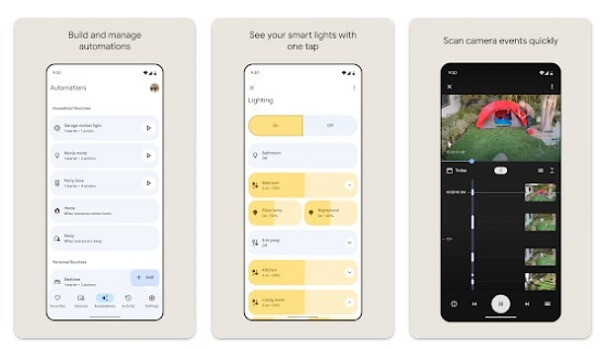 Team Viewer
Team Viewer is almost similar to Google Home with remote control functionality. It can be linked to other devices in your household, including computers and tablets. It is compatible with Windows, Mac OS. With remote functionality, you can manage file transfer and view the screen of the other device among others.
Cast your Android screen to your TV or computer by downloading the app and linking the devices. They have a QuickSupport App to help you with this. It also allows gesture control and sound/video transmission.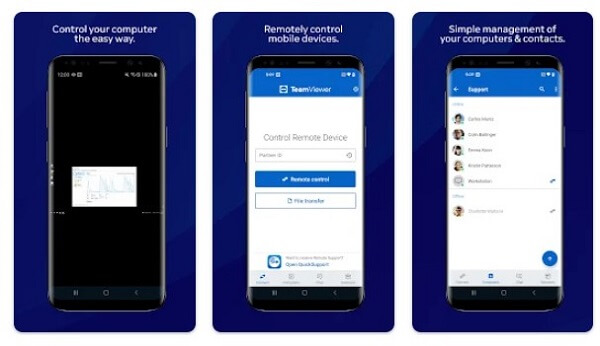 Screen Mirroring and Sharing
The app supports most TVs and computers, where you can share files, play phone games on TV, and view videos and images on TV. This can be used at home and in the office to share files and videos with colleagues or at home to watch funny videos with your family.
To connect your TV to your phone, you only need to scan the QR code that will be provided. Just like that. A connection to the same WiFi is also required.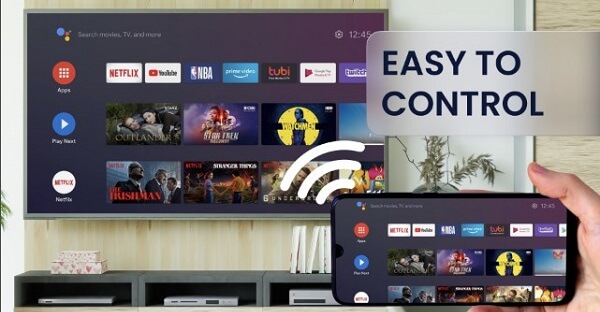 Top 4 Phone Mirror Apps for iPhone
Screen Mirroring App
It can be supported by iOS 12.0 and above and macOS 15.0 and above. The mirroring apps for iOS are similar in functionality to the Android apps. You can use the app to mirror on your TV or gaming console. The software is compatible with devices with browsers (Safari, Chrome, Firefox, Opera and Edge) on them. Most smart TVs have at least one browser.
You will have to install the mirror app on your device and launch it. Connect the two devices to a similar WiFi connection and link the app. Do not use VPN, Proxy, VLANS or Subnet.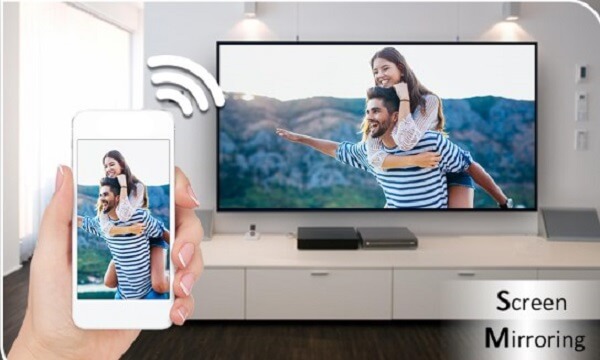 Screen Mirroring - TV Cast
The app is compatible with iOS 11 and above, starting from iPhone 7. There is a three-day free trial period followed by installation of $3.99 weekly, $11.99 monthly or you can opt for a one-time payment of $19.99.
It is great for casting but not so good for gaming due to its loading speed. The app is compatible with most smart TVs and computers. The app supports images, videos, music and files. This makes it useful for sharing information in meetings and sharing moments with family.
You can stream YouTube, Facebook and any other Web on your TV. Installing the app for use is similar to the other apps we have covered.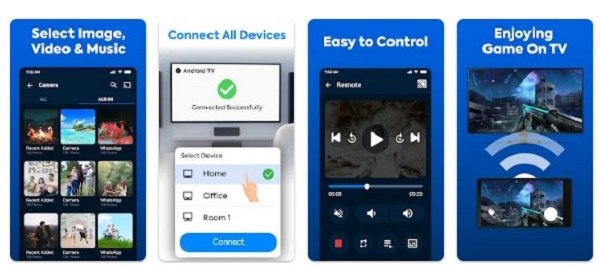 RealVNC Viewer: Remote Desktop
RealVNC is a mobile remote control for other devices. The app can be connected to Linux, MacOS and Windows PC to control from anywhere. Remote device management with RealVNC will enable you to transfer files, view screens, and chat on the device among other activities from anywhere. All these while your computer is at home.
The app also supports sound and video transmission which is important for mirroring. To mirror your phone, you have to connect the devices by linking the app on both handsets and PC or TV. The linking process for each of these apps is almost similar. Make sure you follow the developer's instructions carefully.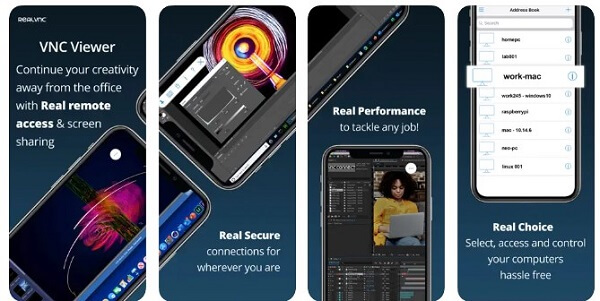 TV Mirror+ for Chromecast
It is available on the Apple Store for $3.99. It supports all generations of Chromecast and most smart TVs. This software is used for mirroring photos, videos, games, spreadsheets, ebooks, documents and music. It's therefore a great tool to share ideas in the office or watch a movie with your loved ones.
Just like the apps discussed above in this list, you require a connection to the same WiFi to link the two devices. Do not use VPN or Proxy.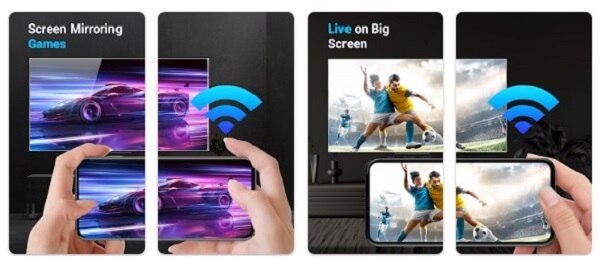 Conclusion: Which is the Best Mirroring App to Use?
There are many great phone mirroring apps available, each with its own strengths and weaknesses. Above is the top 10 phone mirroring apps, and some of the most popular options include TeamViewe and Google Home.
And if you wanna mirror your phone to a big screen without installing an App on your Android or iPhone, Wootechy MirrorDisp is a perfect option. It is comparable with both Android and iOS, enabling seamless screen mirroring on Windows or Mac OS. Besides, it supports controlling mobile phone screens from the computer. Have a try and see which one is suitable for you!