Are you ready to make your voice heard in a way that commands attention and exudes confidence? Look no further! We present to you the groundbreaking Donald Trump Voice Generator - a real time voice changing tool that allows you to emulate the powerful and distinctive voice of the 45th President of the United States.
With the rise of AI, It has become very easy to use a famous person's or a celebrity's voice such as Donald Trump AI voice or Joe Biden's on the internet in the modern world. Now, let's have a look at the best AI voice generators for Donald Trump and the step-by step guide about how to get Donald Trump AI voice with sound filters. These softwares will enable you to make 'Donald Trump' say whatever you want in a very believable way.
Part 1: Analysis of Donald Trump's voice
Getting Trump AI voice is not difficult as long as you have a reliable Donald Trump voice generator. However, before that,let's analyze the character of his voice so that you can generator the most realistic Trump AI voice.
Timbre and Pitch: Donald Trump's voice has a timbre pitched somewhere between a squawk and a scream. The specific timbre and pitch of his voice contribute to its recognizable nature.
Cadence and Sentence Structure: Donald Trump's voice is characterized by a propulsive cadence in his sentences. This implies a rhythm and flow to his speech, which can be attributed to the way he structures his sentences.
Vague Implications and Conversational Style: Trump often makes vague implications with gestures like a raised eyebrow or a shrug, allowing his audience to reach their own conclusions.
Part 2: The Best Donald Trump AI Voice Generator
Now, we have learned the Donald Trump Voice features. Which Trump voice generator we should use so that we can get this kind of voice? There are currently many AI voice changers available to go for. But, we have hand-picked a few that we highly recommend. That is Wootechy SoundBot, the best Trump AI voice generators:
WooTechy Soundbot is a software that offers real-time voice changing capabilities, and it has a feature specifically designed to modify voices to sound like Donald Trump's voice using AI technology, as well as other 200+ voice filters such as Robot, Cartoon voice, Female to Male, Male to Female, or the characters'.
Soundbot is good for funny pranks, in-game chat, and other several creator's programs. Soundbot allows you to play sound effects in various modes such as replay, cycle, overlap, and mute. Clearly, it gives you more control and flexibility.
With that, you can easy to generate the Donald Trump AI voice.
2.1 Key Features of Soundbot-The Best Donald Trump Voice Generator
75.000.000+
Downloads
Over 400+ in-built sound effects on the soundboard for extra fun.

150+ voice MeMes can be used. You can also custom the voice Memes via exporting or importing

Sound playback control modes e.g loops and cycles.

You can add key binds and use them without affecting the audio.

Import your MP3 or WAV audio files to expand your sound effect collection.

A Real-time voice changer but also supports uploading audio files for voice changes.
2.2 How to Generate Donald Trump AI Voice Using WooTechy Soundbot
Step 1: The first step to get Trump AI voice is to download and install WooTechy Soundbot on your PC. Ensure you follow the instructions if it is your first time using the software.
Step 2: Select the output and input devices to start using the voice changer. Set the headphones as the default output device and your microphone as the input device. After properly setting up the input and output correctly, the pop-up sound should inform you that the setup is done.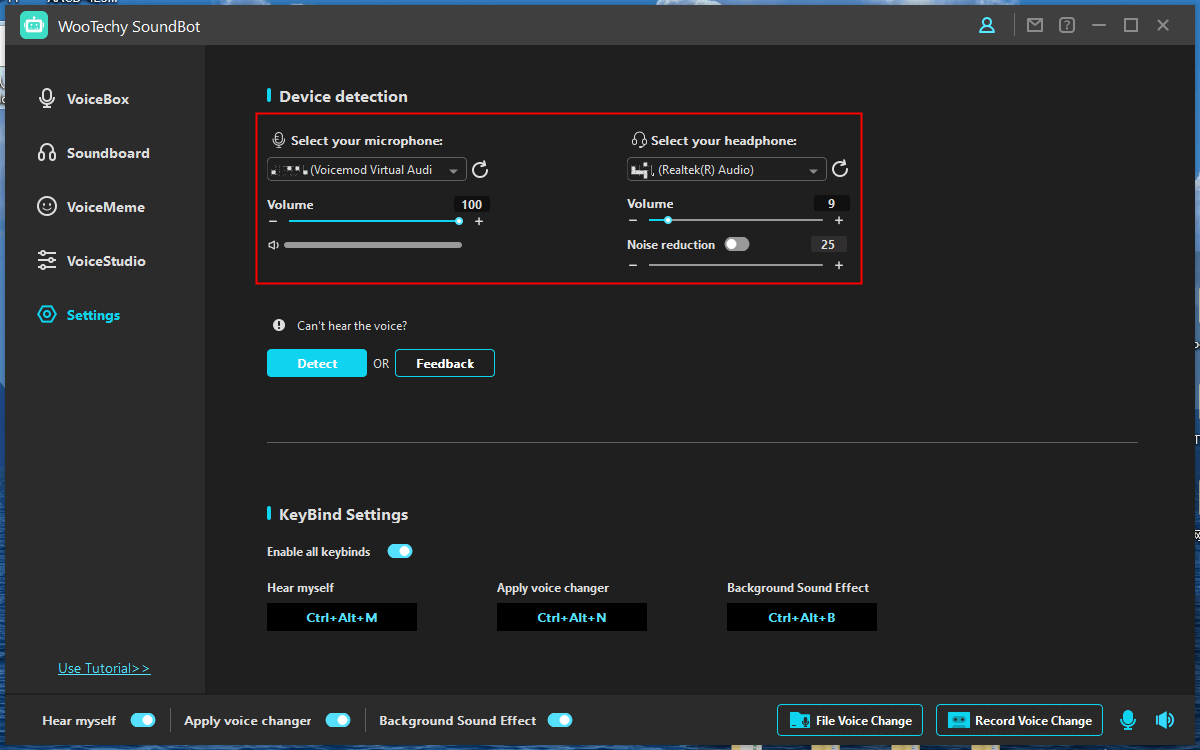 Step 3: You should see an interface of VoiceBox that has many voice-changing effects and you can select the preferred filter. Your voice will start changing accordingly.
For generating Trump AI voice,You can find the Trump voice filter in VoiceBox and click "Get the same style". Then you will be navigated to VoiceStudio. Here you can customize your voice to make it the closest to Trump's AI voice if you need. Then, click "Save the Voice." You can also ignore this Customisation option.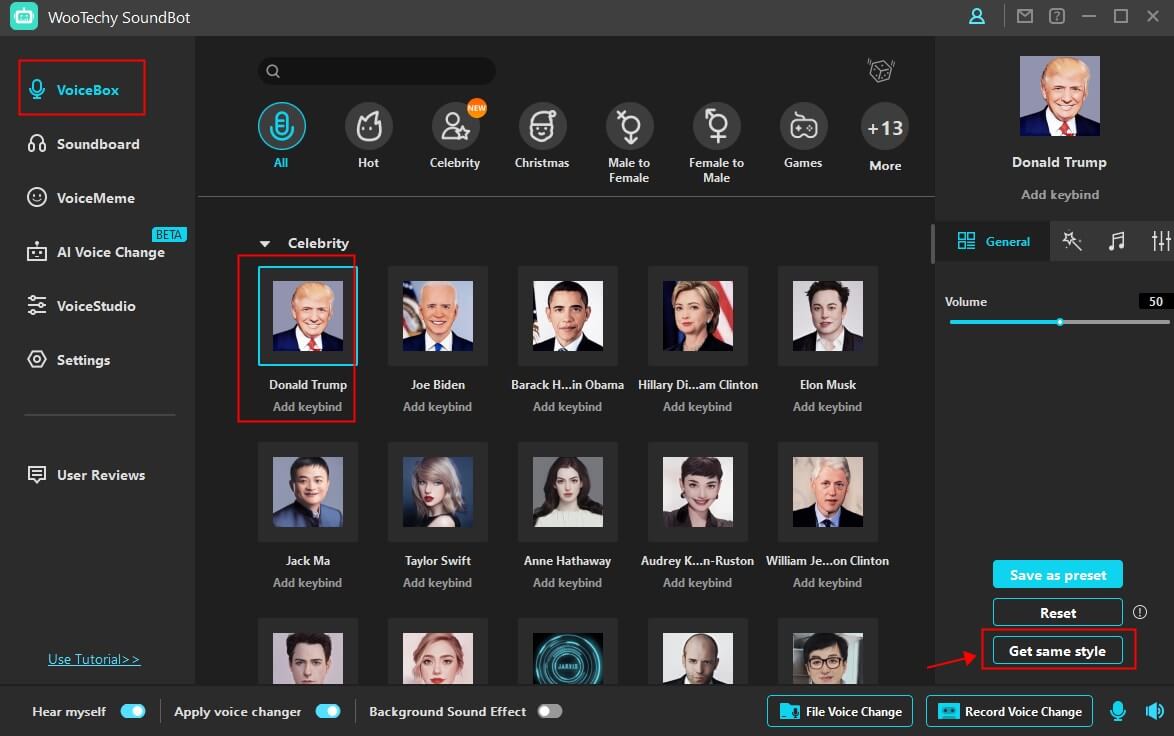 You can also make use of the "AI Voice Change" features of Wootechy Soundbot to generate Donald Trump AI Voice. Simply choose it in the left bar, click "Donald Trump" and click "Use the voice", and you are good to go.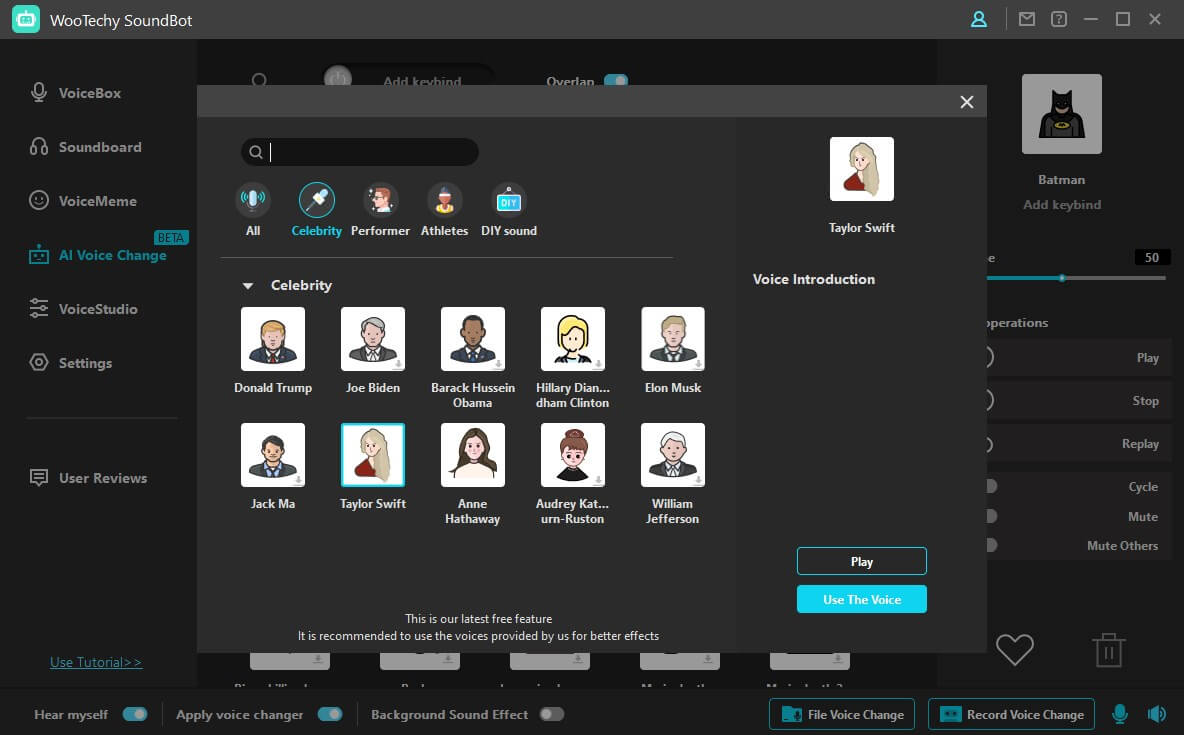 Tip: You can use soundbot on platforms such as PUBG, Discord, Skype, Twitch, and other apps. It is an easy app to use and it needs no technical knowledge. Also, there are many Donald Trump's voice MeMes can be used.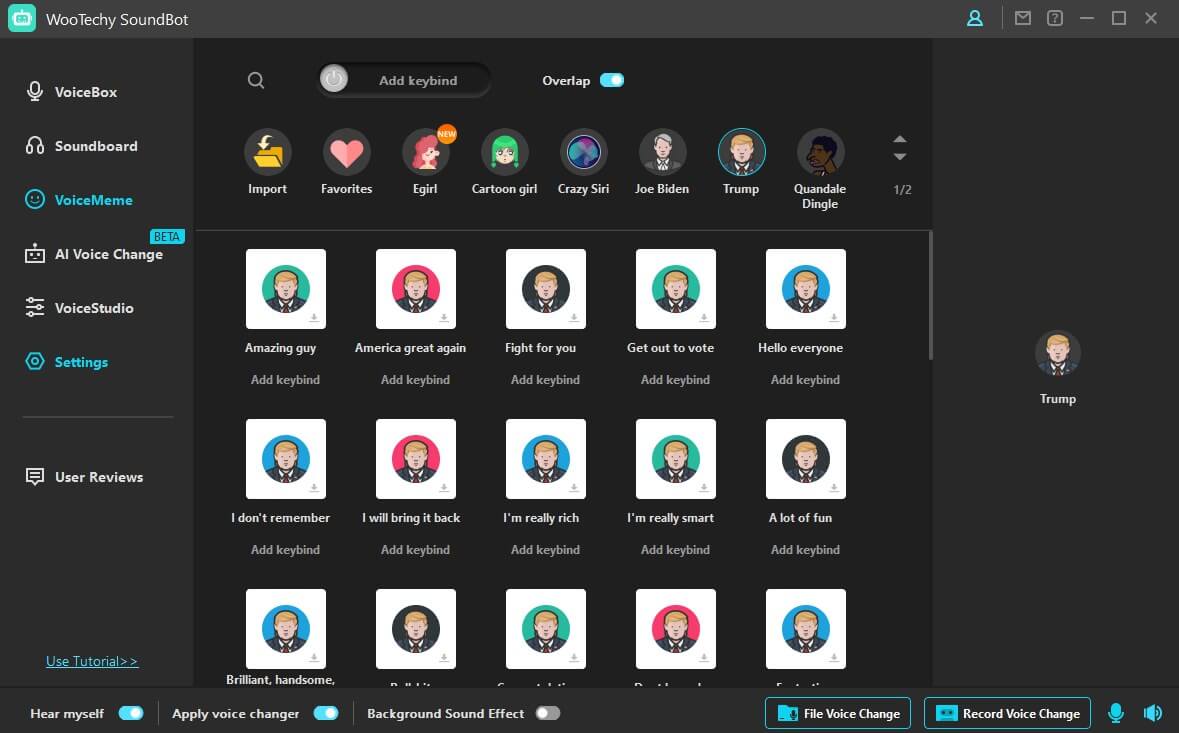 Now, free to download and get the Donald Trump Voice!
Part 3: Other ways to Get Donald Trump AI Voice-Only Donald Trump Text to Speech
There are other AI sound generators you can use to change your voice to match the real Donald Trump's. However, they are only support transferring text to speech and not available for long sentence and have words limitation. Anyway, these alternative Donald Trump TTS tools are also able to replicate Trump's iconic voice accurately. Here are some other ways to get Donald Trump's voice using AI:
1.Clash.me
Clash.me is an AI audio experiment that will also allow you to reproduce Trump's voice within a few clicks. Just type the words you would like to hear Trump say. Clash.me is not as precise as other tools since it's still in its development stages. Just open clash.me and type in what you want to say in Trump's voice. The site only takes about 140 characters.
Features
It allows you to simply type the text you wish to convert and it will automatically generate the audio in Trump's voice.
It is super easy to operate.
It processes text-to-speech rather fast.
You can play the generated voice to check whether it matches the real celebrity or not.
It allows you to save and export the created audio file for offline use.
Cons
It is still being developed and improved thus low accuracy.
Incomplete text-to-speech synthesis.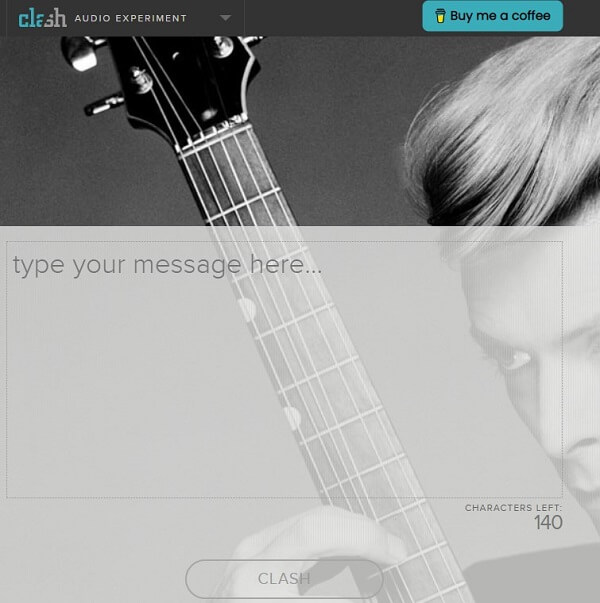 2. Trumped
Trumped is also another convenient AI voice generator that changes the user's voice to focus on Donald Trump text to speech. It is available for free and is very easy to use. All you need to do is to insert the words into the textbox on the side and the app will read the words to you in Trump's voice. To use trumped, visit trumped.com and type in the textbox.
Note the following tips when using Trumped:
Avoid short sentences
Try as many times to get the desired result
Too much text or busy servers can lead to errors.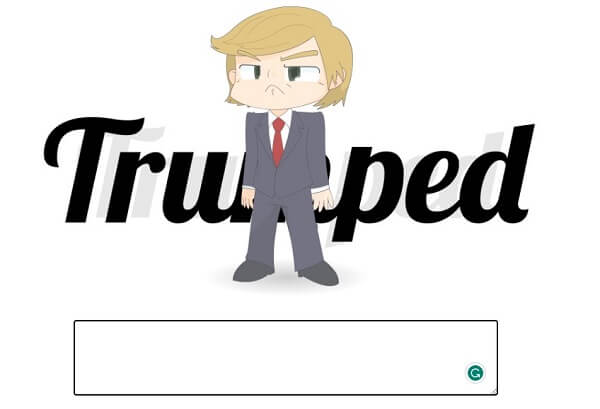 3. Fakeyou
Fakeyou is a very popular online text to speech tool that helps generate many types of voices including the Trump AI voice. It has a broad library that gives you much more variety to choose from.
Fakeyou has various categories which enable you to decide your requirements for the voice, then narrows down the search automatically. To get the Donald Trump filter, open the category of "Real People* and then go into "Politics" and select "US Presidents" to be more exact.
Features
It has a broad library to search specific voices and sound filters
Categories are usually available to narrow down to the specific voice search
You can also just listen to the output of the Text to Speech
Fakeyou lets you download the voice after processing
It is very easy and convenient to use.

Part 4: Funny Scenarios to Use Donald Trump Voice
You may want to use Donald Trump's voice to prank a friend, have fun creating Trump voice notes, and other entertainment purposes. Some people enjoy using the generated voice to goof around on social media using Trump's AI voice. Most social media influencers have greatly utilized it during live streams on Tiktok, Instagram and even YouTube.
Trump's unique talking style explains why people are obsessed with listening to him speak. His voice is a little high-pitched, funny to hear and when used creatively, it can surely crack ribs. Anyway, who doesn't like to listen to Trump's amusing speeches? Get a Trump voice generator today and begin having fun with one of the most globally recognized voices in the world.
Final Verdict
There are many Donald Trump AI voice generators that can choose from, but we highly recommend using WooTechy Soundbot. It is an amazing AI voice generation tool and it checks all the boxes for a perfect voice generator. Soundbot functions on a real-time basis and it supports several platforms.
All factors considered, Soundbot is the best Donald Trump voice generator for creators, gamers, and anyone who's about the fun. The choices are simply not as good as Soundbot when it comes to functionality levels. It's super fast and highly accurate. If you are looking for a good Donald Trump voice generator, then WooTechy Soundbot is what you've been missing. Enjoy quality voice generation and a variety of sound filters available on the app.