"Do you want to get Donald Trump AI voice? To prank, to voice, or to make video? With the help of a Donald Trump voice generator, you can easily create realistic and convincing imitations of his voice.
With the rise of AI, It has become very easy to use a celebrity's voice like Donald Trump's or Joe Biden's. In this article, we'll take a look at the top 5 Donald Trump voice generators and provide the step by step guide on how to get Donald Trump AI voice.
Part 1: Why Donald Trump AI Voice Popular?
The popularity of Donald Trump AI voice can be attributed to a number of factors. The fist is his identity as the 45th President of the United States, plus some of his public speeches and appearances often generate a lot of discussion. Second, his voice is instantly recognizable, and it can be used to create humorous or satirical content. Third, the technology to create Donald Trump AI voice is becoming increasingly sophisticated, making it more realistic and convincing. Finally, the rise of short videos like YouTube Shorts and TikTok has brought more and more people into the queue of making Donald Trump AI voice.
Part 2: Analysis of Donald Trump's Voice
To ensure that you can choose the best Donald Trump voice generator, It is necessary to learn the characteristics of his voice first.
Donald Trump's voice is characterized by its deep, gravelly tone, its New York accent, and its use of hyperbole and self-aggrandizement. He often speaks in short, declarative sentences and uses simple vocabulary. His voice has been described as "brash", "loud", and "unfiltered".
Which Trump voice generator we should use so that we can get this kind of voice?
Part 3: The Best 2 Donald Trump AI Voice Generator
There are currently many AI voice changers available to go for. But, we have hand-picked a few that we highly recommend.
Wootechy SoundBot
Our first recommendation for the Donald Trump voice generator is Wootechy's SoundBot. SoundBot offers real-time voice changing capabilities, allowing you to transform your voice to sound like Donald Trump. With this Donald Trump AI Voice Generator, you can easily mimic his voice and speech by speaking to the microphone or by uploading audio files.
Except for Donald Trump's AI voice, it also provides the ability to generate the voices of other celebrity singers or politicians, like Joe Biden, Elon Musk, Taylor Swift, BlackPink Lisa, or Drake. And it's high comparability to different platforms makes it a good option for generating the celebrity AI voice.
Key Features of Soundbot-The Best Donald Trump AI Voice Generator
75.000.000+
Downloads
250+ voice filters to change your voice into different types, such as Robot, Cartoon voice, Female to Male, or Male to Female.

600+ in-built sound effects on the soundboard for extra fun.

Comparable with Discord, Skype, game-chat, conference application or live streaming platforms.

Add key binds and use them without affecting the audio.

Import your MP3 or WAV audio files to expand your sound effect collection.

Update new voices in every week, including free voice.

400+ voice MeMes can be used including Donald Trump's. Can be freely customized via exporting or importing.
How to Generate Donald Trump AI Voice Using WooTechy Soundbot
Step 1: Get start to generate Donald Trump AI voice by downloading and installing WooTechy Soundbot on your PC.
Step 2: Select the output and input devices to start using the voice changer. Set the headphones as the default output device and your microphone as the input device. After properly setting up the input and output correctly, the pop-up sound should inform you that the setup is done.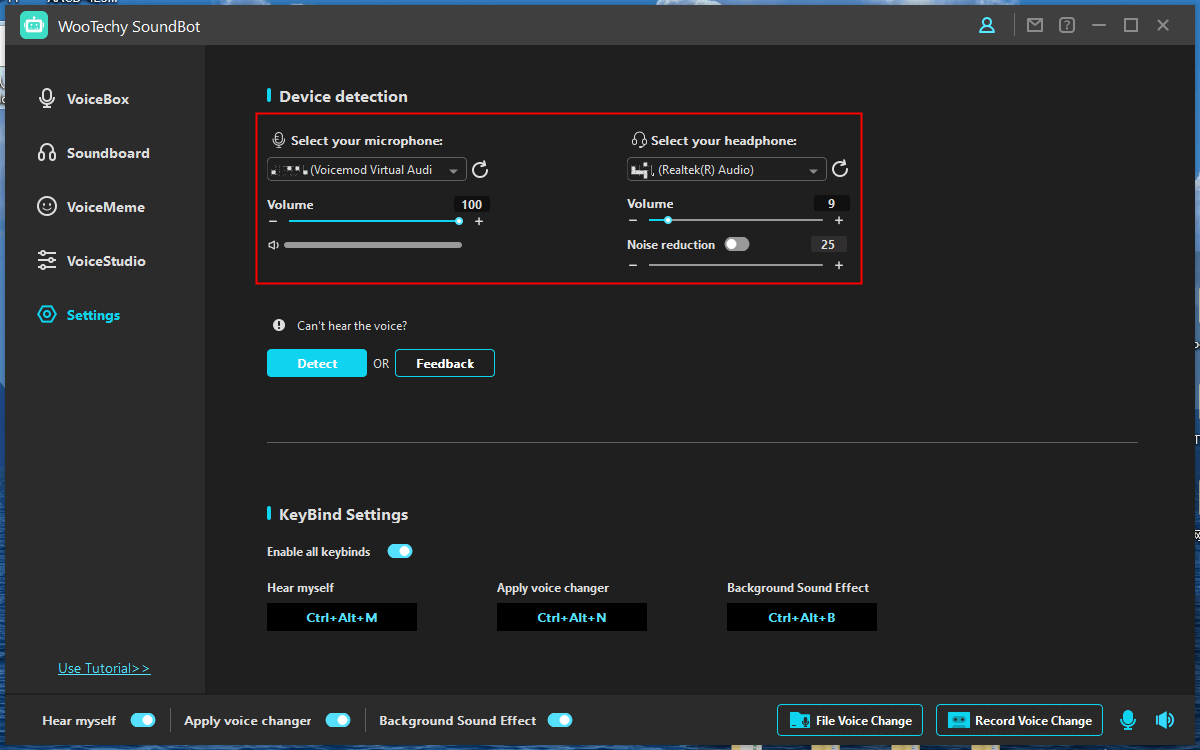 Step 3: You should see an interface for VoiceBox that has many voice-changing effects. For generating Trump's AI voice, click "Donald Trump" on the "Celebrity" catalogue. Speak to your microphone, and you will generate the Trump's voice based on what you speak.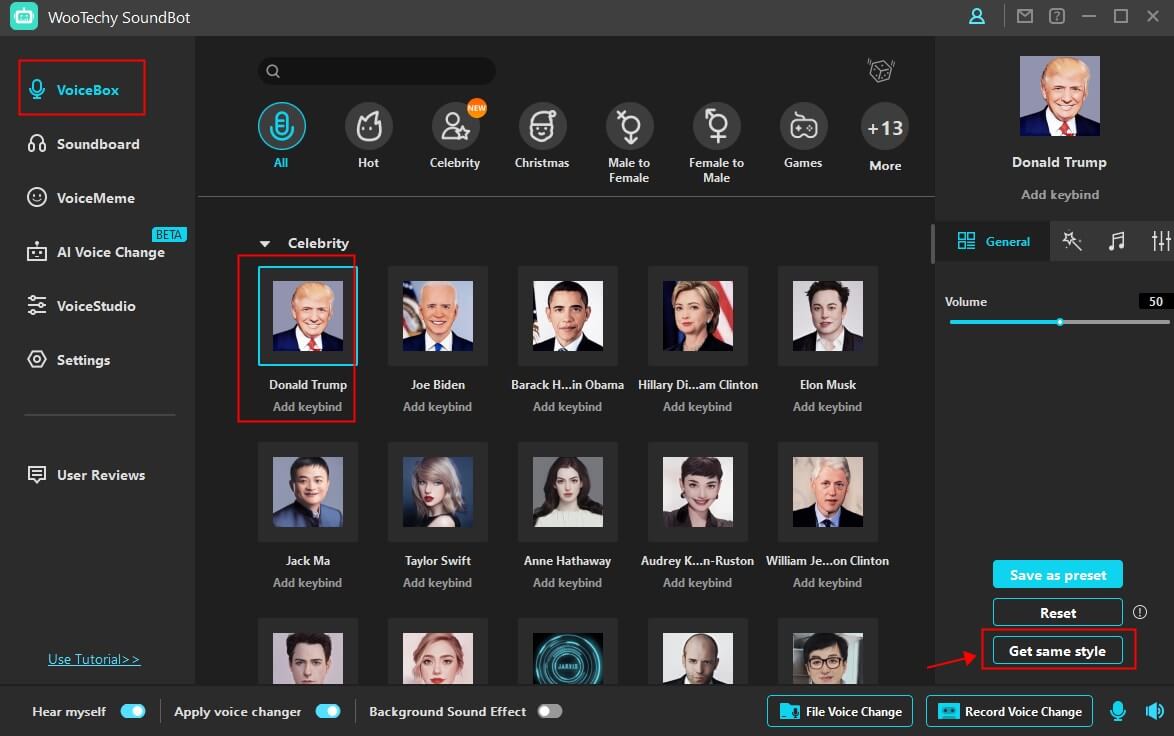 The audio file voice changer feature is also available on SoundBot. Simply record an audio file on SoundBot or upload a pre-recorded audio, Click the Trump voice effects to transform. Once done, you can export it in different file formats.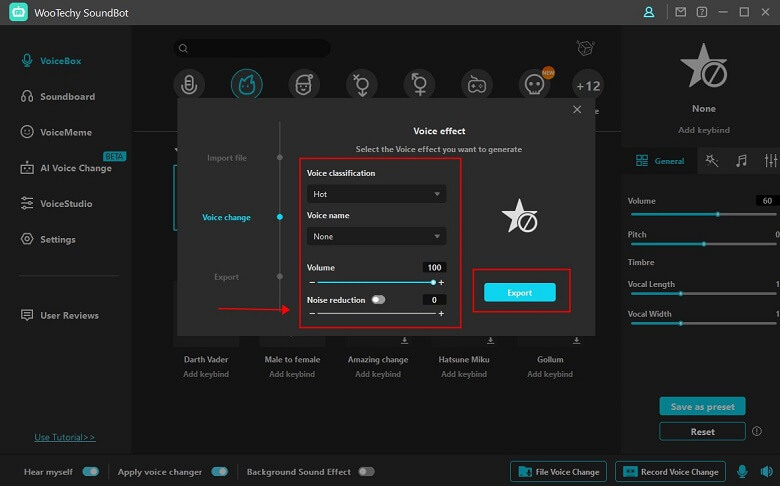 Tip: You can use soundbot on platforms such as PUBG, Discord, Skype, Twitch, and other apps. It is an easy app to use and it needs no technical knowledge. Also, there are many Donald Trump's voice MeMes can be used.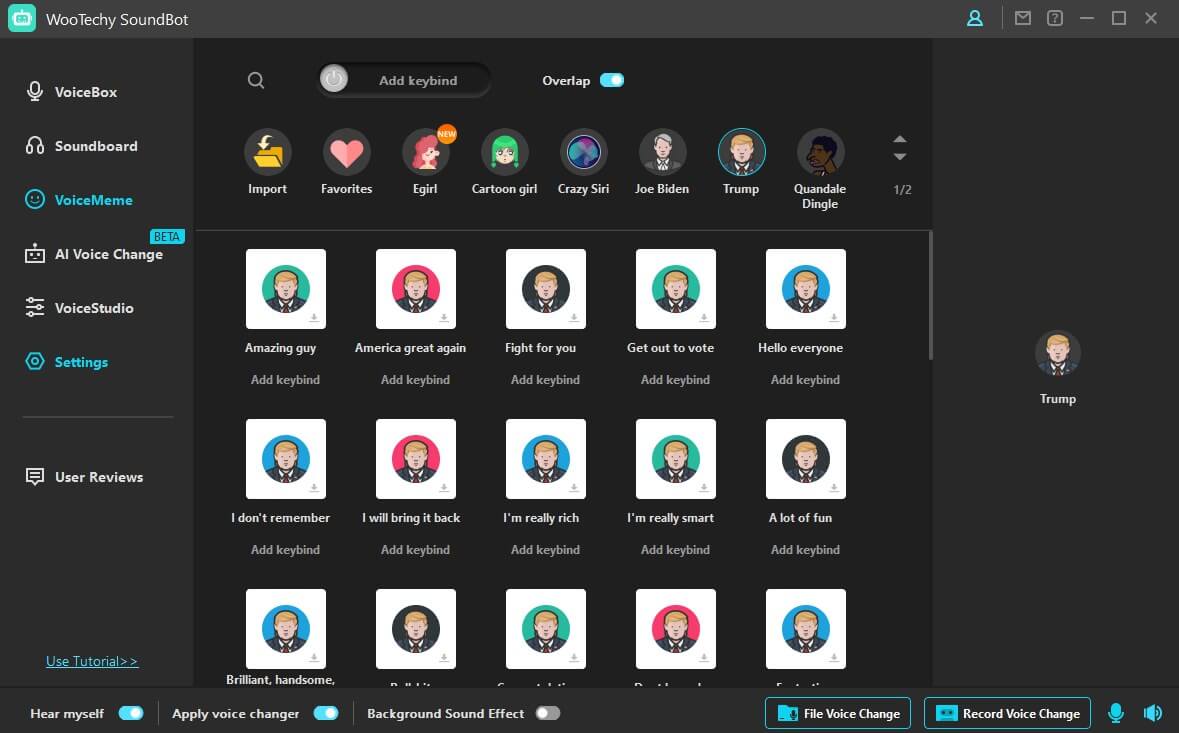 Now, free to download and get the Donald Trump AI Voice!
Voicify.ai
Voicify.ai is an AI voice changing platform that allows you to transform your voices and songs into something entirely new. It offers the ability to generate AI voice models of favorite celebrities like Donald Trump. It is usually used to make AI Donald Trump covers, then upload it to the social platforms. To do that, you need record an audio first, drop it to the platforms and it will be transformed.

Part 4: The Top 3 Donald Trump Text to Speech
There are other AI sound generators you can use to change your voice to match the real Donald Trump's. However, they are only support transferring text to speech and not available for long sentence and have words limitation. Anyway, these alternative Donald Trump TTS tools are also able to replicate Trump's iconic voice accurately. Here are some other ways to get Donald Trump's voice using AI:
Clash.me
Clash.me is an AI audio experiment that will also allow you to reproduce Trump's voice within a few clicks. Just type the words you would like to hear Trump say. Clash.me is not as precise as other tools since it's still in its development stages. Just open clash.me and type in what you want to say in Trump's voice. The site only takes about 140 characters.
Features
Type the text you wish to convert and it will automatically generate the audio in Trump's voice.
Processes text-to-speech rather fast than other Donald Trump TTS.
Can play the generated voice to check whether it matches the real celebrity or not.
Save and export the created audio file for offline use.
Cons
It is still being developed and improved thus low accuracy.
Incomplete text-to-speech synthesis.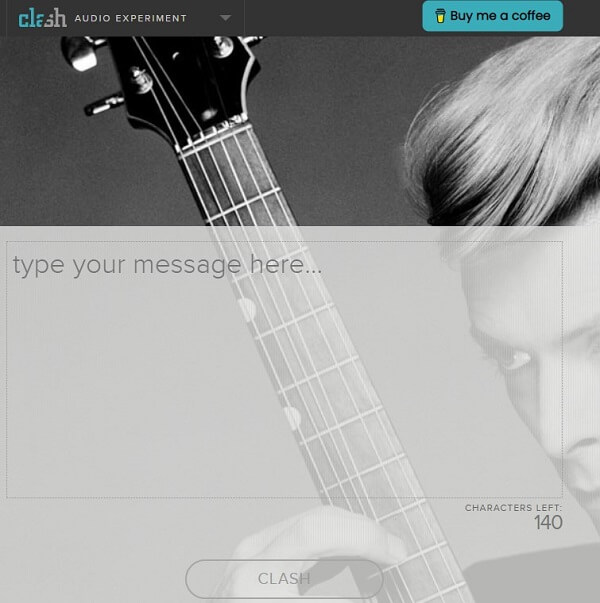 Trumped
Trumped is also another convenient AI voice generator that changes the user's voice to focus on Donald Trump text to speech. It is easy to use. All you need to do is to insert the words into the textbox on the side and the app will read the words to you in Trump's voice. To use trumped, visit trumped.com and type in the textbox.
Note the following tips when using Trumped:
Avoid short sentences.
Try as many times to get the desired result.
Too much text or busy servers can lead to errors.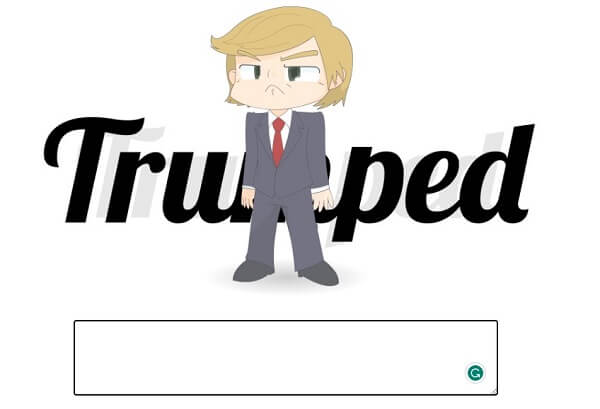 Fakeyou
Fakeyou is another online text to speech tool that helps generate many types of voices including the Trump AI voice. It has a broad library that gives you much more variety to choose from.
Fakeyou has various categories which enable you to decide your requirements for the voice, then narrows down the search automatically. To get the Donald Trump filter, open the category of "Real People* and then go into "Politics" and select "US Presidents" to be more exact.
Features
Has a broad library to search specific voices and sound filters.
Categories are usually available to narrow down to the specific voice search.
Can listen to the output of the Text to Speech.
It is very easy and convenient to use.

Part 5: Funny Scenarios to Use Donald Trump Voice
You may want to use Donald Trump's voice to prank a friend, have fun creating Trump voice notes, and other entertainment purposes. Some people enjoy using the generated voice to goof around on social media using Trump's AI voice. Most social media influencers have greatly utilized it during live streams on Tiktok, Instagram and even YouTube.
Trump's unique talking style explains why people are obsessed with listening to him speak. His voice is a little high-pitched, funny to hear and when used creatively, it can surely crack ribs. Anyway, who doesn't like to listen to Trump's amusing speeches? Get a Trump voice generator today and begin having fun with one of the most globally recognized voices in the world.
Final Verdict
There are many Donald Trump AI voice generators that can choose from, but we highly recommend using WooTechy Soundbot. It is an amazing AI voice generation tool and it checks all the boxes for a perfect voice generator. Soundbot functions on a real-time basis and it supports various platforms.
So, If you are looking for a good Donald Trump voice generator, then
WooTechy Soundbot
is what you've been missing. Enjoy quality voice generation and a variety of sound filters!