Have you ever wanted to change your voice? Maybe you've wanted to sound like a robot, a celebrity, or even a cartoon character. Or maybe you just want to prank your friends by calling them with a different voice.
Voice changers have gained significant popularity in recent years, offering users the ability to modify their voices for various purposes. That's why we've put together a list of the best voice changer online in 2023. We've tested and reviewed dozens of options to bring you our top picks, based on factors like ease of use, quality of sound, and available features. No more words, let's get started.
An Overview of Voice Changer Online
a voice changer online is a cool tool that lets you play around with your voice and add different effects to make it sound totally different. It's like having a magical voice makeover right at your fingertips!
There are many different types of voice changers available online, from simple browser-based options to fully-featured software suites. Browser-based online voice changer often refer to those online tools by uploading the audio file or entering text. If you are looking for some voice changers that use advanced algorithms to modify your voice, you should check out the type of featured-software.
The Best Online Voice Changer with Microphone in 2023
Wootechy SoundBot is a fun and unique online voice changer that allows you to transform your voice in real time with Mirophone. It comes equipped with a variety of different voice effects, including helium, male-to-female, deep voice, spooky Ghostface, chipmunk, and more. Wootechy SoundBot also brings joy to online entertainment such as chatting, creating content for YouTube, or streaming on platforms like Twitch, Discord, or Fortnite.
Additionally, it is easy to use. Once set, you can speak to your microphone and your voice will be changed in real time.
Enhancing Online Experiences with Wootechy SoundBot Features

75.000.000+

Downloads

250+ voice filters to change the voice.

600+ sound effects are built-in and support uploading files to expand the sound library.

400+ voice memes to have more fun.

Fine-tune the settings to achieve the perfect balance.

Supports changing voice via audio file.

Adds an element of fun to prank calls and various different activities.

New voices are updated weekly.
Tutorials to use Wootechy SoundBot online voice changer
Step 1: Free download and install WooTechy SoundBot on your PC.
Step 2: Launch it. Select the output and input devices. Set your headphones as the output device and your real microphone as the input device. Once you have set the input and output properly, a pop-up will confirm that the sound setup is complete.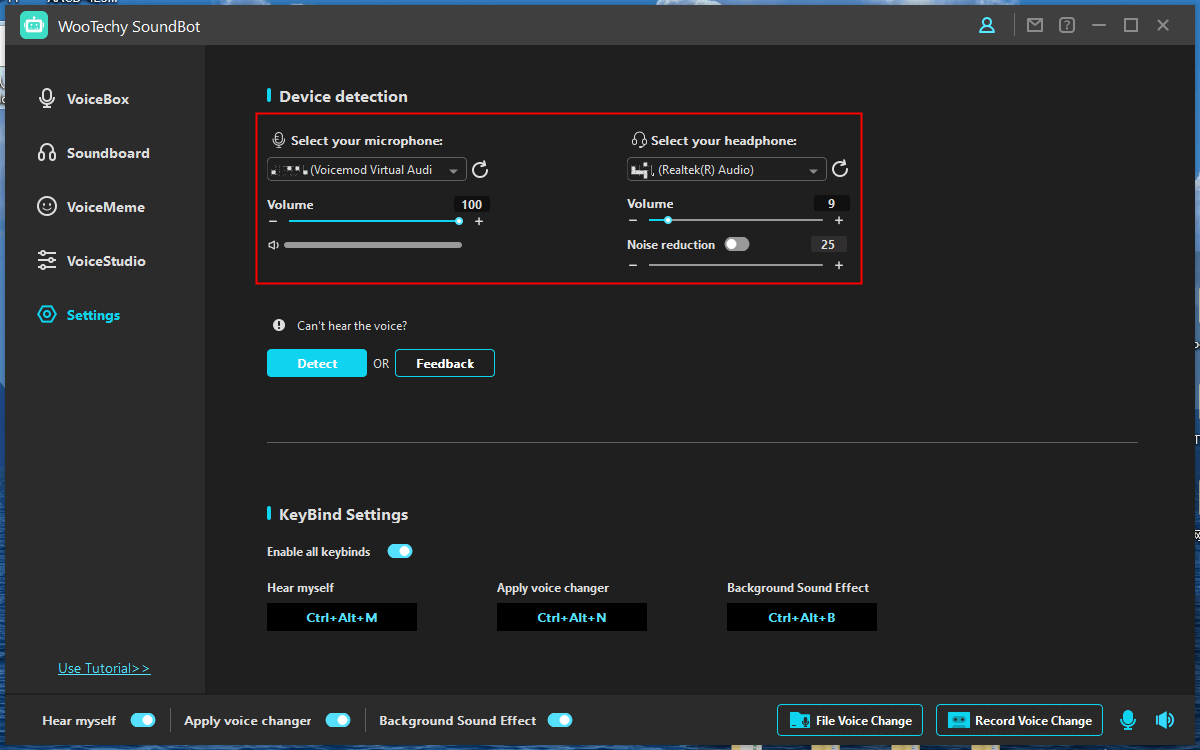 Step 3: Select a favourite voice filter in SoundBot like celebrity, anime, film actor etc... Speak into your microphone and your voice will start to be changed.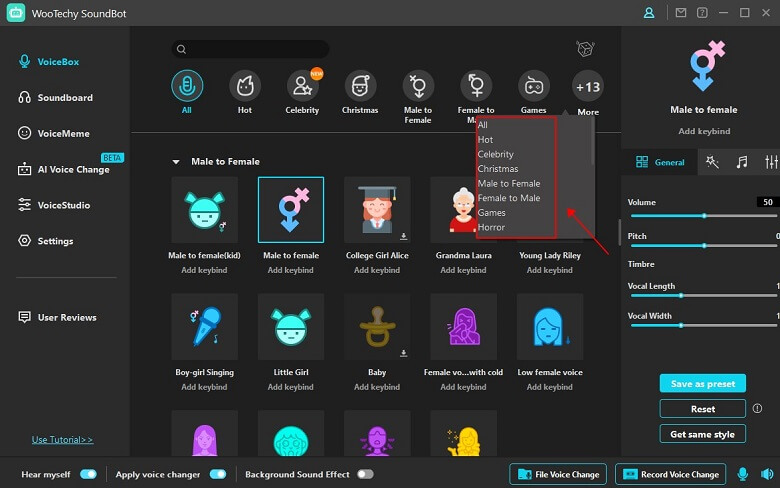 You can also upload audio files or record audio to change your voice.
Tip 1: SoundBot can be used on various platforms such as Fortnite, PUBG, Discord, Skype, Twitch, and more. To use SoundBot on these platforms, in the platform you wanna use SoundBot with, choose "Microphone (Voice Changer Virtual Audio Device (WDM))" on the platform voice setting.
Tip 2: SoundBot supports exporting audio files with different formats. You can add it to different platforms for content creation, such as TikTok or YouTube.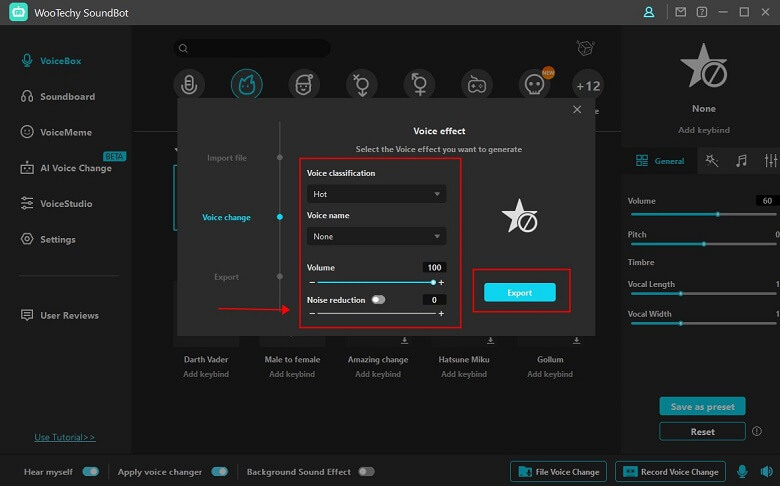 Advantages and Disadvantages of Wootechy SoundBot Online Voice Changer
Advantages
Support voice changing in real-time.

Compatible with a range of different applications.

With high-quality and realistic converted voice.

Support adding background sound effects.
Disadvantages
The Best Online Voice Changer with an Audio File in 2023
TopMediAi voice tool is a web-based online voice changer that allows you to alter your voice by uploading or recording audio files without installing software. It offers a range of features and options to modify the voice into various profiles such as an Alien, child, the Predator, Bane, and many more.
Advantages and Disadvantages of TopMediAi Online Voice Changer
Advantages
Support 2 different ways to change the voice (uploading or recording.)

Without requiring to install any program.
Disadvantages
Not a real-time generator.

Not works with other platforms.
The Step to change voice online with TopmediAi.
Step 1: Open the official site of TopmediAi online voice changer. You should see 2 options to modify your voice in the interface. Follow your needs to choose Upload or Record. Here we select Upload to make an example.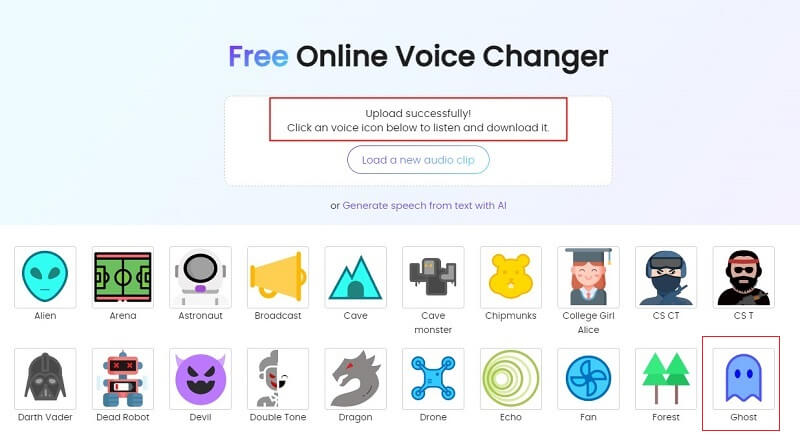 Step 2: Upload the pre-recorded audio file. Choose voice filters like Ghostface. And wait for completing the voice converting process.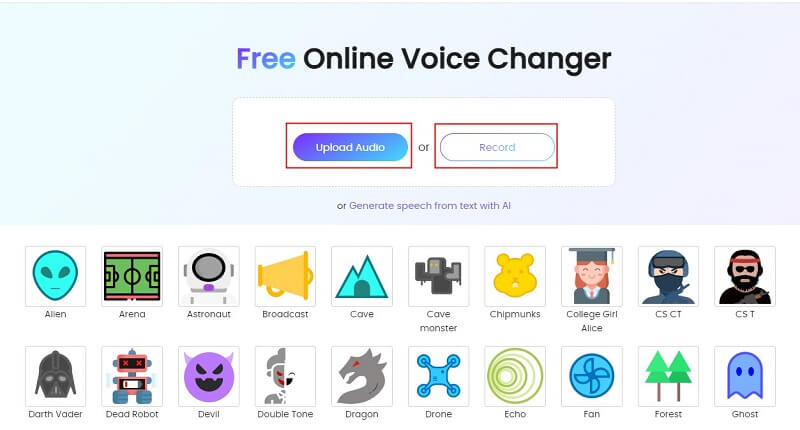 Step 3: Once done, you can download the audio file.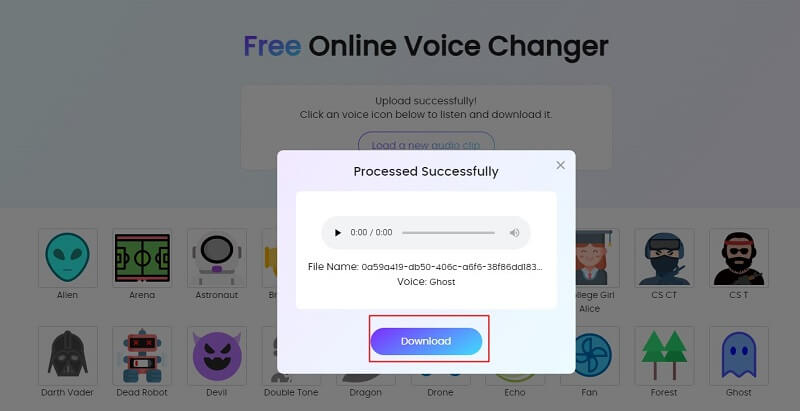 The Best Online Voice Changer with Text in 2023
Google Cloud Text-to-Speech is a powerful tool that allows you to convert text into natural-sounding speech using Google's advanced AI technologies. This online tool provides the option to create a one-of-a-kind voice for your brand. You can create a unique voice that represents your brand across all customer touchpoints. However, with occasional random error occurrences, it might take a bit of time and effort to fully utilize its potential.
Advantages and Disadvantages of Google Cloud online Text-to-Speech
Advantages
High-quality speech to like a human.

Support adjusting the speaking rate.
Disadvantages
Expensive.

Few voice filters.

Can not change voice in real-time.

Not support other platforms.

Occasional errors.
The steps to use this tool are also very simple. Enter the text you want to turn into speech and choose the language and the type of sound. Click on SPEAK IT and you're done!

Conclusion
We would think the above tools are the best 3 online voice changers this year. From real-time voice changers like Wootechy Soundbot to online AI tools like TopMediAi, there are plenty of tools available to help you experiment with your voice and add some fun to your online interactions.
However, among these options, if you want to change your voice without delay, or modify your voice in different scenarios such as live chatting, or live streaming, you should check out the Wootechy Soundbot. With its range of voice effects, high-quality sound, and easy-to-use design, it's a great choice for anyone who wants to transform their voice and add some humour to their everyday life. Give it a try and see what it can do for you!