Elon Musk, the founder of SpaceX, Tesla, and Neuralink, is known for his unique and recognizable voice. It may come as no surprise then that an AI voice changer has been developed that can mimic his distinct vocal patterns.
The Elon Musk voice changer AI uses deep learning algorithms to analyze samples of Musk's voice and then produces new audio output in the same style. Have you tried this type of AI yet? Well, following the blog and we will dig deeper this kind of AI voice changer and learn how to make your voice sound like Elon Musk.
Part 1: Something about Elon Musk
Elon Musk is one of the most intriguing and engaging figures of our time, with his innovative and sometimes controversial business ventures captivating the public's imagination.
One of the famous program is "SpaceX" focused on space transportation services, which has raised a total of $9.8B in funding over 29 rounds. Regretfully, Minutes after launching from a launchpad in South Texas, SpaceX's Starship rocket detonated. Similar to how creating an aircraft carrier requires far more effort than building a small yacht, heavy-lift rockets like Starship are intrinsically more complex and challenging to design than smaller rockets. This time the rocket did not launch successfully, but who knows what the future holds?
Besides, he has made a name for himself as the CEO of Tesla, the electric car company that is revolutionizing the auto industry. But that's not all – Musk has also been making waves on social media with his recent tweets about Dogecoin and the possibility of accepting it as payment for Tesla cars.
He even changed his Twitter profile picture to a Shibe Inu, the dog mascot of the cryptocurrency. Some have criticized Musk's influence in the markets and his tendency to tweet hyped-up announcements, causing huge spikes and dips in stock prices.
Nonetheless, Musk's reputation as a game-changer in both technology and business is undeniable. Having said that, people are looking for an Elon Musk voice changer AI. We have found the best one for you.
Part 2: The Best Elon Musk Voice Changer AI-Change Voice in Real Time
Introducing the WooTechy SoundBot, the AI voice-changing software that can transform your ordinary voice into that of a superhero or villain in REAL-TIME, just like how Elon Musk's voice has become iconic in its own right. With SoundBot, you can customize your voice to a range of tones and styles. You can even create your very own voice filters. Also, make your voice sound like Elon Musk.
SoundBot boasts over 125 voice filters that can alter your voice, giving you ultimate control over your sound. It can be used in real-time to chat and create content on platforms like Discord, Skype, Zoom, and even in video game chats and live streams.
Whether you're a content creator, voice-over artist, or just looking to have some fun, the SoundBot is an innovative and exciting tool to experiment with.
Key features of WooTechy SoundBot
75.000.000+
Downloads
Over 125 voice filters and 400+ Sound Effects to customize your sound.

Real-time chat and content creation.

Compatible with platforms like Discord, Skype, Zoom and stream platforms ect...

In-built D200+ voice memes, and support generating or editing your own MeMe.

Compatible with all versions of Windows and supports Dfile voice changing.
Here's how to get started with the WooTechy SoundBot voice changer, and get Elon Musk Voice in real time:
Step 1. Download and install the SoundBot on your computer. Follow the instructions to ensure a successful installation; it's a simple process.
Step 2. Once the SoundBot is open, configure your input and output devices, choosing your headphones as the output device and your microphone as the input device. A notification will confirm they have been set up correctly.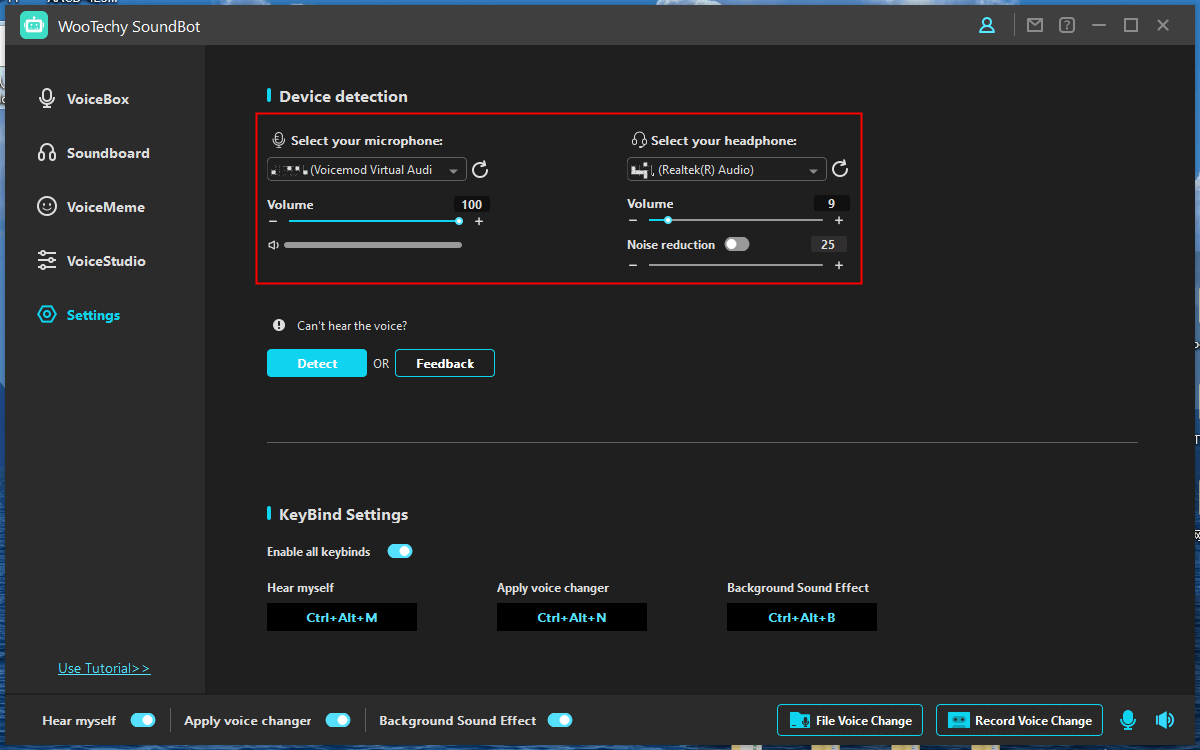 Step 3. Explore the various voice filters in real-time, clicking on each to test them out and find the perfect voice effect for your needs. To sound like Elon Musk, click the features of "AI Voice Change" and select the "Elon Musk" voice filter.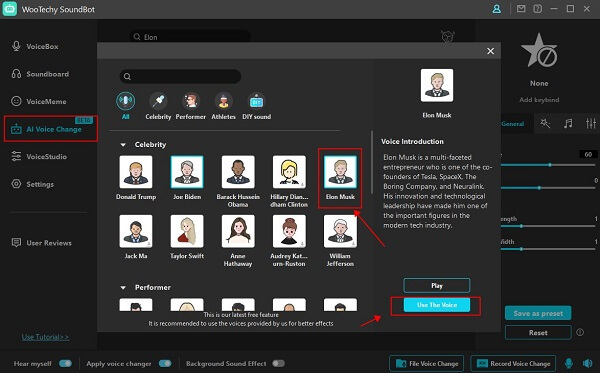 Step 4. You can set up SoundBot on different platforms, such as Discord or Zoom, ensuring a smooth experience. Additionally, you can access numerous sound effects in SoundBoard such as female to male, Venom, SpondgeBob, or Ghostface voice.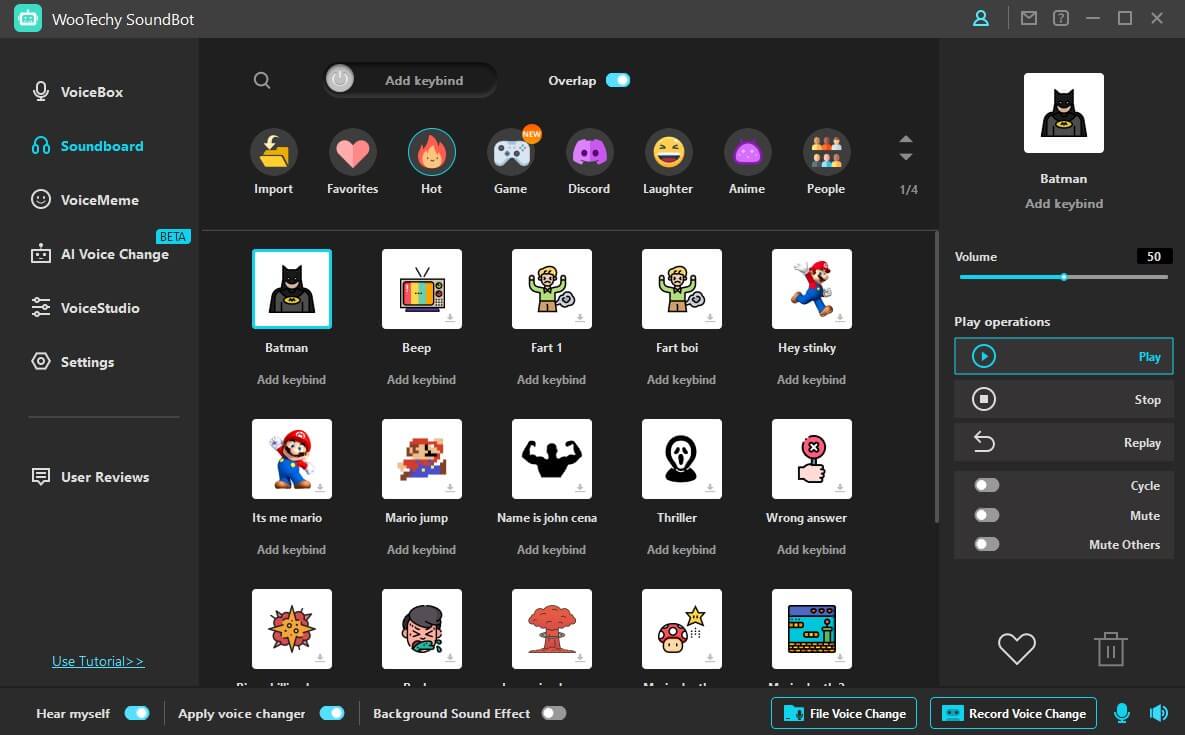 Tips Changing Already Recorded Elon Musk Voice
If you want to change the voice on a pre-recorded Elon Musk audio file, follow these simple steps with the WooTechy SoundBot:
1.Run the SoundBot, choose "File Voice Change" and click on "Import" on the main interface. Select the audio file you want to modify and click "Open."
2.Once your audio file is imported, you can begin modifying it using various audio effects and voice-changing options within the software.
Part 3: The Hottest 5 Elon Musk Memes
Except for the Voice MeMe in Wootechy Soundbot, Elon Musk has been the subject of many memes over the years, becoming a frequent source of humor and entertainment for social media users. Here are five of the hottest Elon Musk memes:
1. "Elon Musk Smoking a Blunt": This meme was born from a controversial moment during a podcast appearance where Elon Musk smoked a blunt, causing a stir in the media.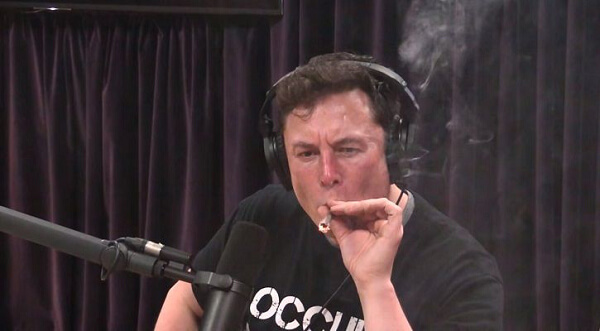 2. "Elon Musk and Grimes Baby Name": After Musk and musician Grimes announced the unique name of their baby, "X Æ A-12," memes poking fun at the unusual name quickly spread across social media.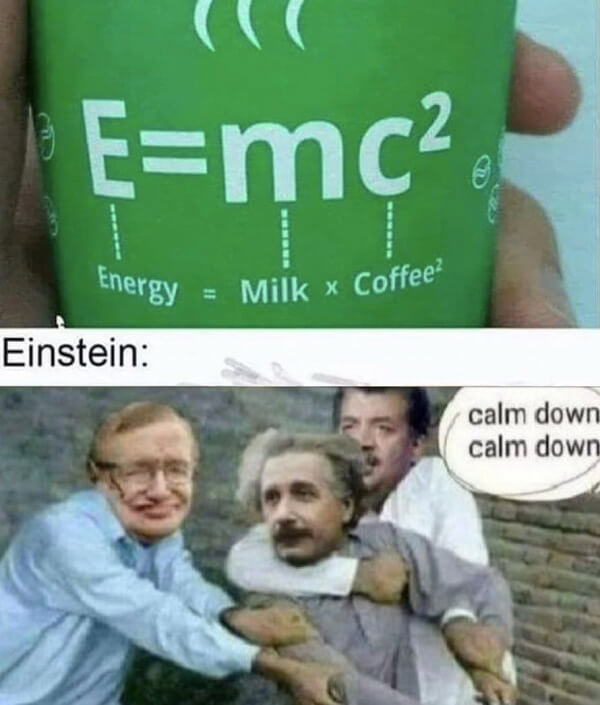 3. "Mars Colonization": With Musk's ambitious plans to colonize Mars, memes have popped up that feature him as a Martian or ruler of the red planet.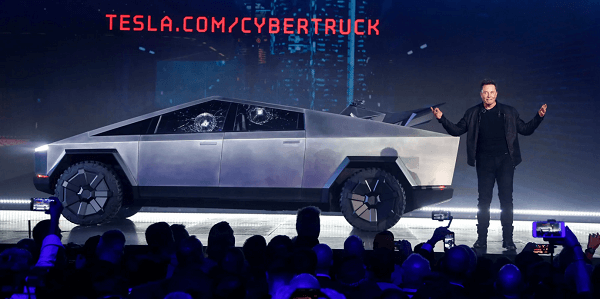 4. "Tesla Cybertruck": Another much-discussed topic was the Tesla Cybertruck, which inspired numerous memes poking fun at its unusual design.
5. "Boring Company Flamethrower": When Musk's Boring Company released a flamethrower for sale, Twitter had a field day with meme-inspired comments and jokes.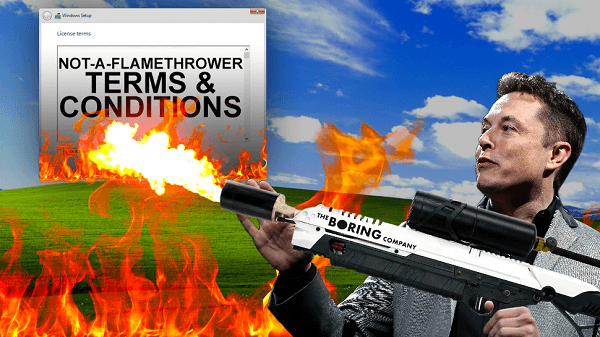 Part 4: People Also Ask about Elon Musk and AI
1

1. How to generate Elon Musk AI Voice on TikTok?

Generating an Elon Musk AI voice on TikTok would require the use of voice-changing software or an app that includes his unique voice pattern. The WooTechy SoundBot is one such option that allows you to customize your own voice to sound celebrity such as Elon Musk or Joe Biden. And you can output the voice any time.
2

2. Why did Elon Musk stop AI?

Elon Musk has expressed concerns about the potential dangers of artificial intelligence and has urged caution in developing AI technology. However, he has not "stopped" AI but instead advocates for responsible development and ethical use of AI.
3

3. Why will AI never take over?

While many experts agree that AI has the potential for both positive and negative impacts on society, they also believe that advanced AI systems will not become self-aware and take over due to current limitations in technology and programming.
4

4. What is Elon Musk's new AI?

Elon Musk has recently founded a new artificial intelligence company called X.AI Corp. According to a state filing made last month in Nevada, Musk is listed as the sole director of the company with an authorized sale of 100 million shares.
5

5. Why did the SpaceX Starship fail?

Because no rocket has ever carried as many engines, that alone was an accomplishment. Before the test flight, Paulo Lozano, a space propulsion specialist at the Massachusetts Institute of Technology, told Scientific American, "You have this very large number of rocket engines firing in parallel, and it is unlikely that everything will go smoothly with all of them at the same time." All of these engines will be operating at their material's maximum capacity, he continued.
Conclusion
The WooTechy SoundBot is an excellent AI voice changer for transforming pre-recorded audio files, or real-time voice changing. With its intuitive user interface and range of voice-changing and audio effect options, it's never been easier to create unique sounds with the sound of Elon Musk's voice.
Whether you're looking to make a one-of-a-kind track or just have some fun, the SoundBot provides a great platform to get started. Wanna generate Elon Mask AI voice? Try it out today and take your audio projects to new heights!