Have you ever wondered what it would be like to have Elon Musk AI voice? Well, now you can with the latest voice changer AI technology. From impersonations to creating your own unique Musk-inspired voice, this innovative software is taking the internet by storm.
In this article, we'll explore the ins and outs of this cutting-edge technology and how you can transform your voice to sound like Musk with the best Elon Musk voice changer AI.
Part 1: Something about Elon Musk
Elon Musk co-founded PayPal, the popular electronic payment company, and played a crucial role in its development. He is also the founder and CEO of SpaceX, and the CEO and Chief Product Architect of Tesla, Inc., an electric car manufacturer.
However, one of the most discussed is complex and evolving relationship with Twitter. His tweets often arouse public opinion. Having said that, people are looking for an Elon Musk voice changer AI for pranking or content creation. Here, We have found the best one for you.
Part 2: The Best Elon Musk Voice Changer AI-Change Voice in Real Time
Introducing the WooTechy SoundBot, the AI voice-changing software that can transform your ordinary voice into that of a superhero or villain in REAL-TIME, just like how Elon Musk's voice has become iconic in its own right. With SoundBot, you can customize your voice to a range of tones and styles. You can even create your very own voice filters. Also, make your voice sound like Elon Musk.
SoundBot boasts over 250 voice filters that can alter your voice, giving you ultimate control over your sound. It can be used in real-time to chat and create content on platforms like Discord, Skype, Zoom, and even in video game chats and live streams.
Whether you're a content creator, voice-over artist, or just looking to have some fun, the SoundBot is an innovative and exciting tool to experiment with.
Here's how to get started with the WooTechy SoundBot voice changer, and get Elon Musk AI Voice in real time:
Step 1. Download and install the SoundBot on your computer. Follow the instructions to ensure a successful installation; it's a simple process.
Step 2. Once the SoundBot is open, configure your input and output devices, choosing your headphones as the output device and your microphone as the input device. A notification will confirm they have been set up correctly.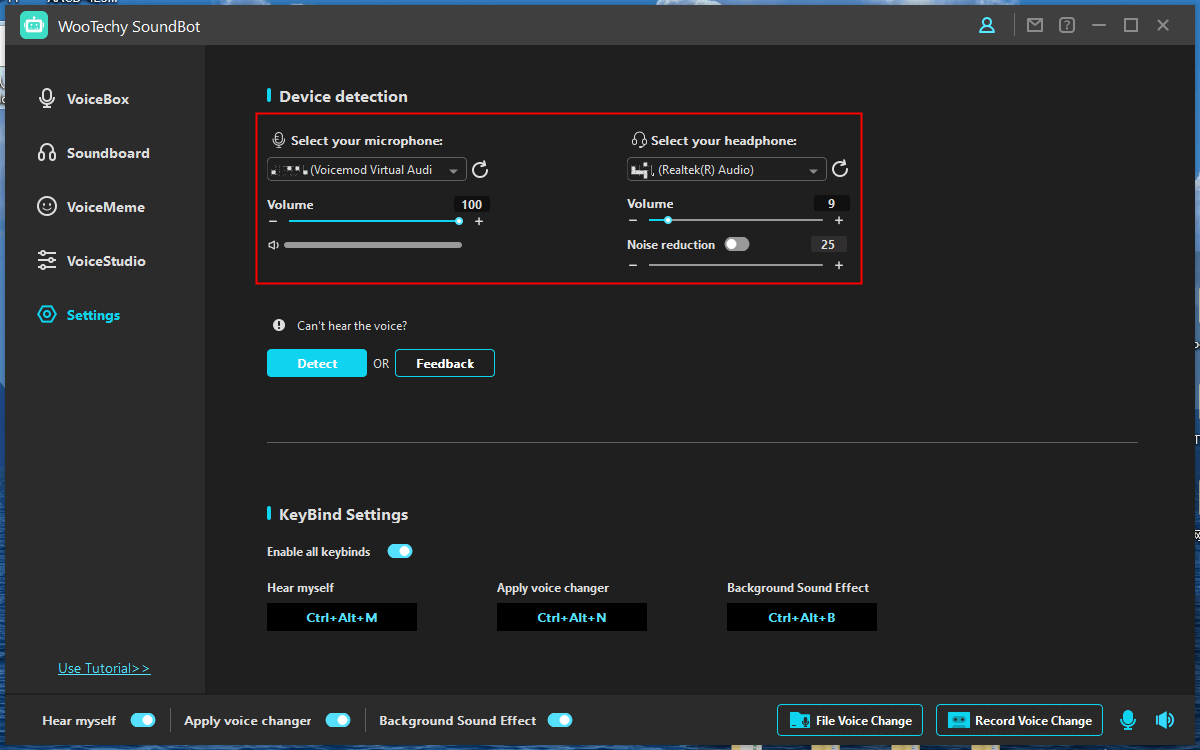 Step 3. Explore the various voice filters in real-time, clicking on each to test them out and find the perfect voice effect for your needs. To sound like Elon Musk, click "Elon Musk" voice filter on the VoiceBox.
Step 4. You can set up SoundBot on different platforms, such as Discord or Zoom, ensuring a smooth experience. Additionally, you can access numerous sound effects in SoundBoard such as female to male, Venom, SpondgeBob, or Ghostface voice.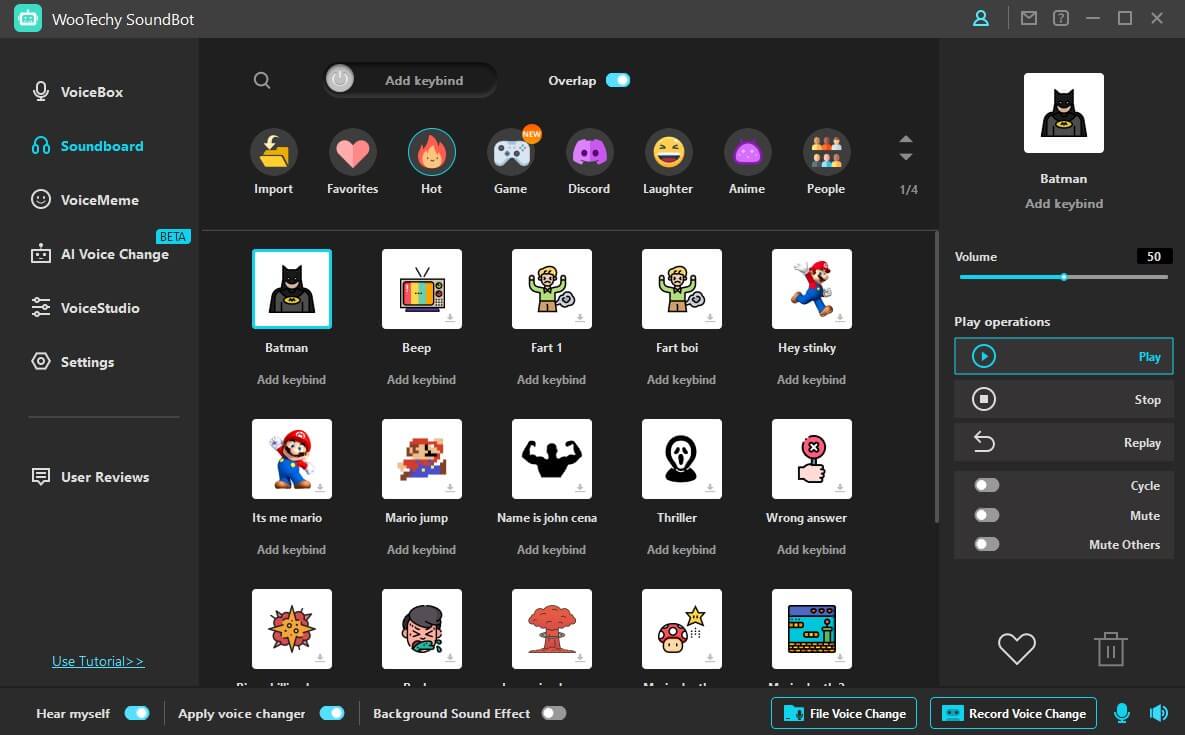 Tips Changing Already Recorded Elon Musk Voice
If you want to change the voice on a pre-recorded Elon Musk audio file, follow these simple steps with the WooTechy SoundBot:
1.Run the SoundBot, choose "File Voice Change" and click on "Import" on the main interface. Select the audio file you want to modify and click "Open."
2.Once your audio file is imported, you can begin modifying it using various audio effects and voice-changing options within the software.
Other Options for Elon Musk Voice Changer AI
Wootechy SoundBot allows you to change your voice to sound like Elon Musk in real time with Microphone or with audio file. There are also another option to get his voice: Elon Musk Voice Text to Speech.
TopMediai is an online platform that offers a collection of AI-powered tools designed to enhance and optimize multimedia content creation, including text to speech. With TopMediai Voice changing features, you can access to different voice including Elon Musk AI voice, or Donald Trump Voice.
Part 4: People Also Ask about Elon Musk and AI
1

How to generate Elon Musk AI Voice on TikTok?

Generating an Elon Musk AI voice on TikTok would require the use of voice-changing software or an app that includes his unique voice pattern. The WooTechy SoundBot is one such option that allows you to customize your own voice to sound celebrity such as Elon Musk or Joe Biden. And you can output the voice any time.
2

Did elon musk voice elon tusk

Yes, Elon Musk voiced the character Elon Tusk in an episode of the animated TV show "Rick and Morty." In the episode titled "One Crew Over the Crewcoo's Morty," Elon Musk made a guest appearance and provided the voice for an alternate reality version of himself named Elon Tusk.
3

Did elon musk voice in Rick and Morty?

Yes, Elon Musk made a brief cameo in the fifth season of the animated television series "Rick and Morty" and voiced himself. In the episode titled "Mort Dinner Rick Andre," which aired on July 11, 2021, Musk appears at a fancy dinner party attended by the show's main characters. Musk's appearance is brief, but he delivers a few lines of dialogue and interacts with the show's characters.
4

What is Elon Musk's new AI?

Elon Musk has recently founded a new artificial intelligence company called X.AI Corp. According to a state filing made last month in Nevada, Musk is listed as the sole director of the company with an authorized sale of 100 million shares.
5

What does Elon Musk's voice sound like?

Elon Musk's voice is generally described as low-pitched, clear, and measured. It has a calm and steady tone, with a slightly South African accent reflecting his upbringing. His voice often carries a sense of confidence and intelligence. This is another reason why people are looking for Elon Musk voice changes besides spoofing
Conclusion
The WooTechy SoundBot is an excellent AI voice changer for transforming pre-recorded audio files, or real-time voice changing. With its intuitive user interface and range of voice-changing and audio effect options, it's never been easier to create unique sounds with the sound of Elon Musk's voice.
Whether you're looking to make a one-of-a-kind track or just have some fun, the SoundBot provides a great platform to get started. Wanna generate Elon Mask AI voice? Try it out today and take your audio projects to new heights!
The Best Elon Musk Voice Generator-Wootechy SoundBot

Change voice in real time.

Various voice filters to change your voice to different type such as cartoon's, Ghostface's, Animes',Film actors and so on.

Comparable with different platforms such as gaming, live chat, live streaming apps, etc...

Update new voice regularly.