Deepfake technology has become increasingly sophisticated over recent years, with applications ranging from creating realistic animations to manipulating video footage. Now, researchers have found a way to use deep fake technology to mimic someone's voice with startling accuracy.
One of the most popular examples of this is to "deep fake" your voice to sound like former US President Barack Obama. With just a few minutes of audio recordings, computer algorithms can be used to generate a completely artificial voice that sounds like the man himself. Now, follow the guide to learn how to use Obama Voice Generator to change your voice in real-time.
Part 1: Learn the latest Trends about Barack Obama AI Voice
The University of Washington's synthetic Barack Obama has caused quite a stir. Researchers used artificial intelligence to create photorealistic animations of the former US President, complete with accurate mouth movements and speech.
By training machine learning algorithms on large datasets of Obama footage, they were able to produce highly realistic simulations of him saying anything they wanted.
The applications of this technology are vast, from creating realistic animations for movies and video games to assisting speech therapy patients.
Part 2: The Best Obama Voice Generator to Get the Voice in Real Time
The WooTechy SoundBot is an impressive real-time voice changer that allows users to change their voice using more than 125 voice filters and 400+ sound effects, including celebrities' voice, carton voice, female to male or something else.
Powered by AI technology, this soundbot is highly versatile, making it a great choice for entertainment purposes such as pranking friends, live chats, and even group gaming scenarios.
The good news is that it is also easy to install and use in different programs, so you don't need to have advanced technical skills to use it.
The Advantages of SoundBot
SoundBot is packed with incredible features that make it stand out from other voice changer software available in the market. Here are some of the key features of SoundBot that you should know:
75.000.000+
Downloads
Multiple voice effects: With over 400 different in-built sound effects, the Soundbot voice changer allows you to add a wide range of voice effects to your voice recordings.

Sound player: The sound bot's sound player enables you to replay, cycle, overlap, and even mute sounds in multiple ways, allowing you to create different variations of sounds.

Audio production: The Soundbot allows you to create key binds for sounds and use them without interrupting the audio, making it ideal for voiceover productions.

Compability: It can be used on different platforms such as Fortnite, PUBG, Discord, Skype, Twitch, and more.
Follow the Steps to Change Your Voice to Obama's with SoundBot
1.First, download and install the WooTechy SoundBot voice changer on your computer. If you're using it for the first time, follow the setup instructions to ensure successful installation. It is easy.
2.Once you've launched the SoundBot, configure your input and output devices. You can assign your headphones as the output device and your microphone as the input device. Once done, a pop-up notification will confirm the sound settings have been correctly set.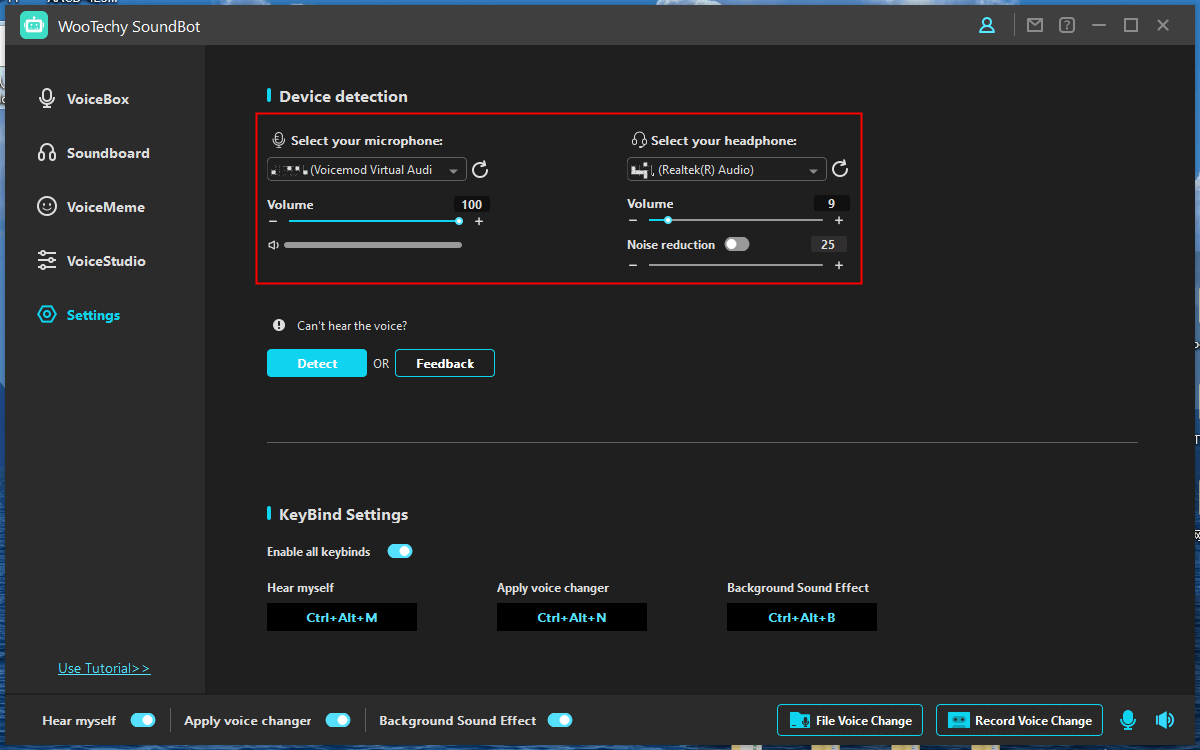 3.Next, check out the various voice filters available by clicking on each of them to see how your voice changes in real time. This will help you find the perfect voice effect for your needs. Go to "AI Voice Changer" and select the "Barack Hussein Obama" voice.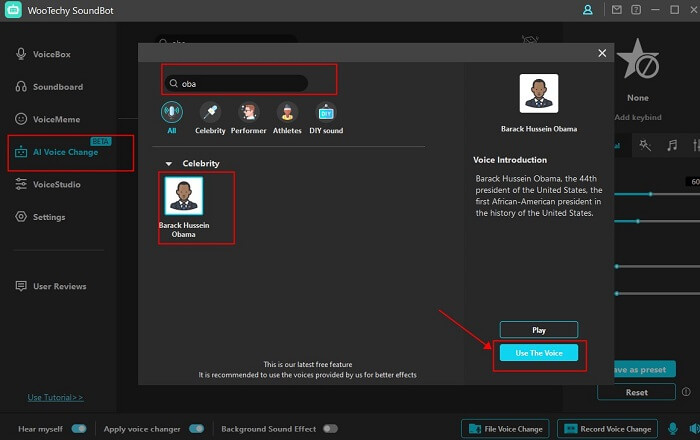 4.Use these step-by-step guides to use SoundBot on each platform to ensure a seamless experience. And you can find numerous sound effects in SoundBoard.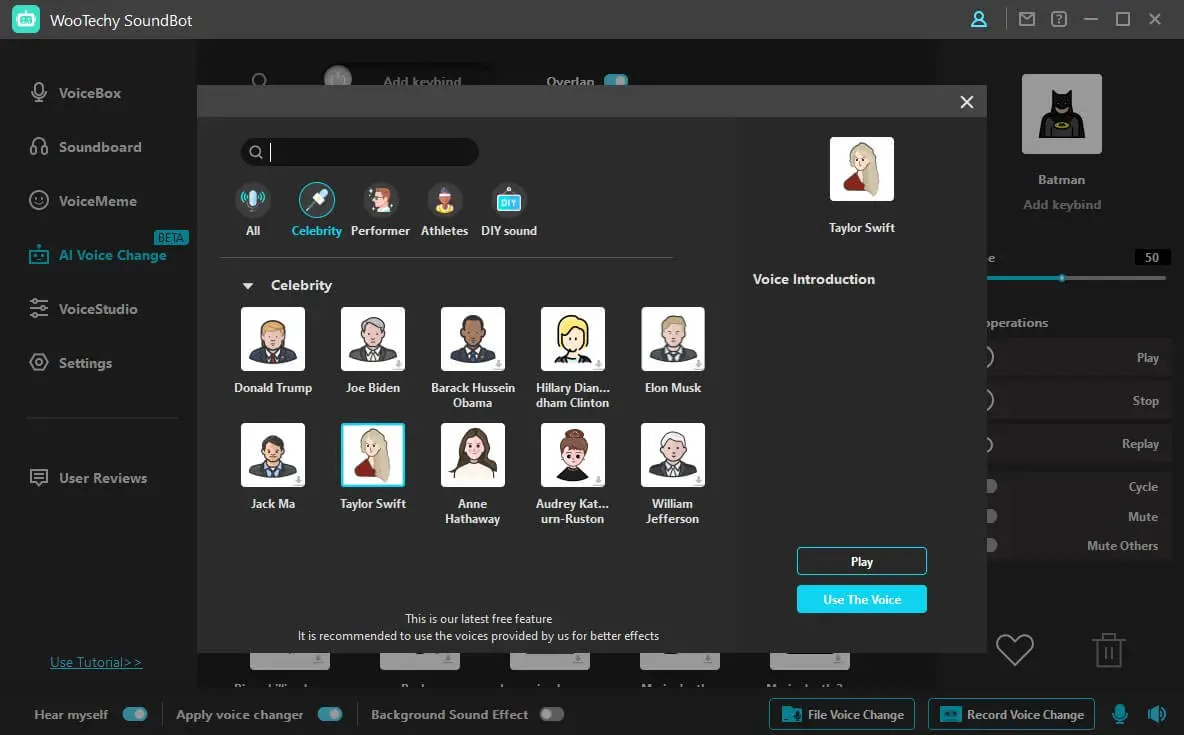 Tips: Some scenes using Obama's voice in SoundBot
With the availability of deep fake technology, it's now possible to create convincing videos featuring the voice of former US President Barack Obama. Here are a few tips on how to incorporate this technology into your creative endeavors:
Create viral videos: One way to utilize Obama's voice is to create viral videos that feature him in comical or interesting scenarios. These videos are sure to generate interest and attention online while also being shared widely.
Incorporate political satire: Using Obama's voice for political satire is another way the technology can be used. You can use his voice to add humor and wit to current political situations or to comment on political events in a lighthearted manner.
Pranking friends and family: Obama's voice can be used to create hilarious prank videos to share with friends and loved ones. You can use his voice to create hilarious voicemails, record messages, or even simulate a real phone call.
Part 3: Some Alternatives to Get Barack Obma AI Voice-Text to Speech
Here are some alternative to get Barack Obama Ai voice to speech:
1. Talk Obama to Me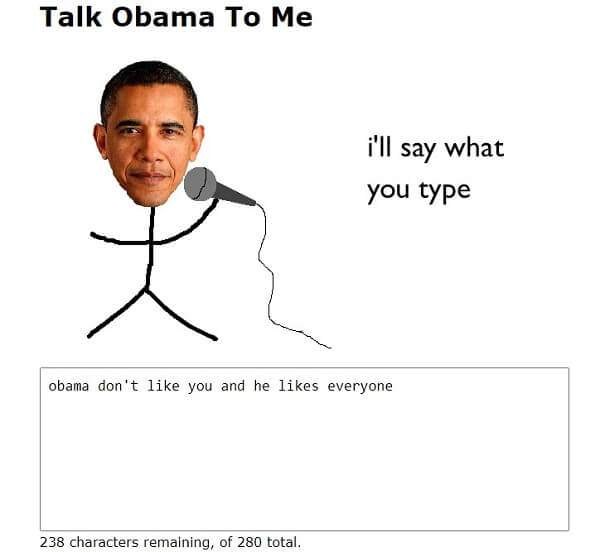 Experience the thrill of hearing Obama's voice speak words you've written with Talk Obama to Me, an online text-to-speech tool. The tool utilizes chopped clips from Obama's videos to automatically generate a video output with Obama's voice speaking your input. It's easy to use with a simple text box and a "Talk!" button.
Pros
Simple to use with just a text box and "Talk!" button

Generates a complete video output with Obama's voice speaking your input

Allows you to download the generated video in MP4 format

Provides a fun and engaging way to experience Obama text to speech
Cons
Limits input to 280 characters
2. UberDuck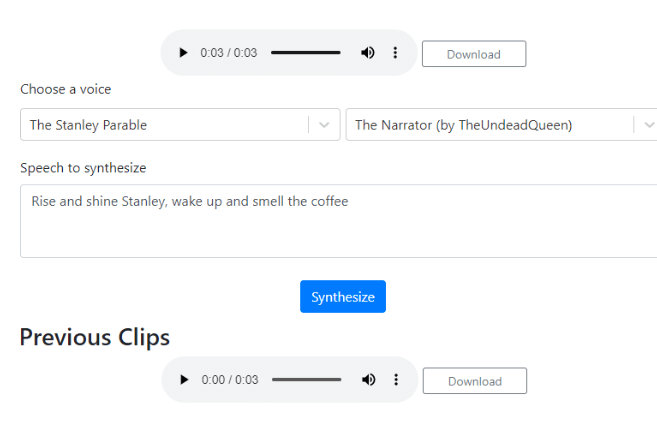 Get an enhanced text-to-speech experience with Uberduck, which provides a little free voices and faster generation latency than FakeYou, for instance, generate SpongeBob voice.
To use the Barack Obama voice generator on Uberduck, simply go to the UberDuck website on your preferred web browser. Select "Obama" in the "Choose a voice" dropdown menu and enter the desired text. Finally, click on the button to synthesize the speech.
Pros
Uberduck allows pitch and amplitude adjustment for rapper voices, great for making rap songs.

Keeps up with trending text-to-speech on social media platforms.

Model leaderboard helps find high-quality voice models quickly.

Has a large number of pre-trained AI text-to-speech models with quality scores.

Offers free text-to-speech API access for developers.
Cons
Users must sign up with email, Discord, or Google to generate voices.
3. FakeYou

FakeYou is a superb online tool that offers over 30 different voices, making it an excellent Obama text-to-speech generator. You can use this tool to create any content using Obama's voice or even reply to your friends' messages using audio messages in Obama's voice. One of the key features of FakeYou is its ability to mimic any popular voice out there, including Obama's.
Pros
Easy and straightforward online tool for generating Obama's voice.

Allows you to clone your voice and customize it to your liking.

No need to download any apps as the tool is web-based.

Completely free thanks to user support, with millions of daily users and followers.
Cons
Slow internet may affect the speed of generating Obama's voice, making the process longer.
Part 4: Other Funny Ways about Obama AI
Obama GIF Maker
The Obama GIF Maker (imgflip.com) is a hilarious tool that allows you to make a funny animated GIF of the former US president. With the Obama GIF Maker, you can choose from a wide range of animations featuring Obama, from the serious to the silly.
You can also customize the text in the GIF to say whatever you like, making it the perfect tool for making a meme or creating a funny social media post. This tool is great for anyone looking to inject some humor into their online content and get people laughing.
Obama Meme Generator
The Obama Meme Generator is another fun tool that allows you to create funny memes featuring Obama. With this generator, you can choose from a wide range of images of Obama and add your own text to create a hilarious meme.
You can choose from a range of fonts and even change the text color and background to make your meme look just the way you want it to.
Conclusion
The Obama Voice Generator is a fascinating tool that allows you to create audio clips of your voice speaking like Barack Obama. It does this by using artificial intelligence and deep learning algorithms to analyze Obama's voice patterns and tone and then replicating them in the audio clip.
If you're interested in exploring more ways to enhance your audio content, we recommend the Wootechy SoundBot. Now, change your voice to sound like Obama in Real Time!