Have you ever wished you could change your voice to sound like someone else? Or maybe you want to add some extra entertainment value to your videos or podcasts? If so, you may want to check out an audio voice changer. In this article, we will go through the best Audio Voice Changer for PC, Android and iPhone.
Part 1: How can I change my voice in audio?
Changing your voice in audio can be a creative way to add some extra entertainment value to your content. One popular option is to use voice-changing software, which can be used in real-time or after recording.
If you want to change your voice in real-time during a live performance, you can use hardware devices that connect to your microphone and offer a range of effects.
Another option is use Audio voice changers. These programs allow users to modify their voices and create a range of different effects, from changing the pitch and tone of a voice to adding sound effects and distortion. With an audio voice changer, you can sound like a robot, a monster, a cartoon character, or even a celebrity like Donald Trump, Joe Biden, Taylor Swift ect..
Part 2: The best way to change the sound of your voice recording [PC]
The Wootechy SoundBot is a popular device for changing the sound of your audio voice recording. It is a portable device that connects to your computer or mobile device and allows you to modify your voice in real-time. The device offers a variety of voice effects, including male/female, robot, baby, and more, which can be controlled through physical buttons provided. The SoundBot is an easy-to-use option for those who want to add a fun element to their recordings. It is especially useful for live streaming, podcasts, or video calls. The SoundBot is also a great option for those who are not familiar with audio editing software or who do not want to invest in expensive equipment.
Follow the steps to change your Voice!
1

Change already recorded audio voice

Step 1: Download Wootechy SoundBot on Your PC, Open the Wootechy Soundbot Audio Changer software on your computer.

Step 2: Choose "File Voice Change", and click on the "Import" button on the main interface.Select the audio file that you want to modify from your computer and click on "Open".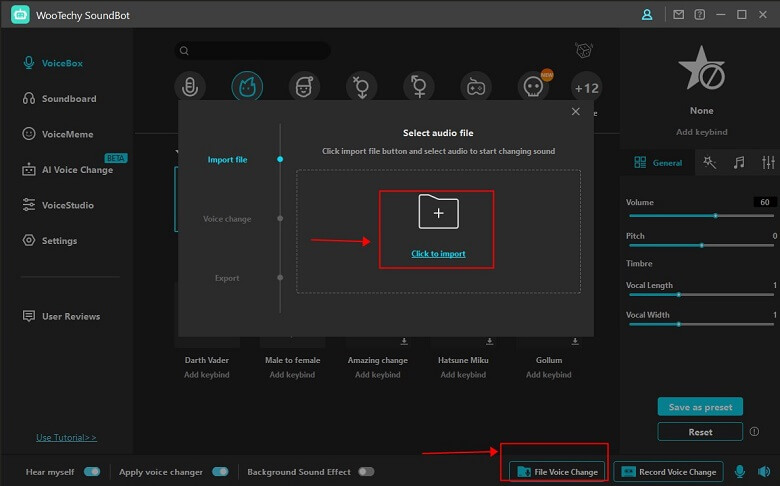 Step 3: Once the audio file is imported, you can modify it using the various voice changing and audio effect options available in the software. After making the desired modifications, click on the "Export" button to save the modified audio file on your computer.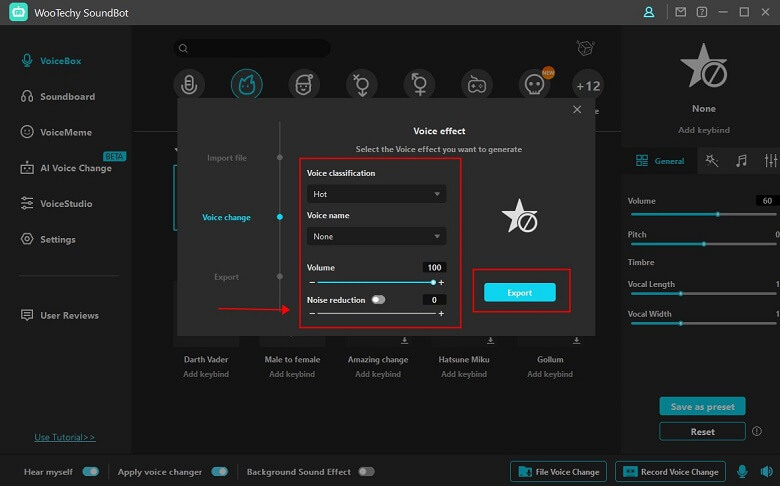 2

Change voice during recording

Step 1: Choose "Record Voice Change" features in SoundBot. This will ensure that the audio you record will be processed through the SoundBot and any voice effects you apply will be heard in real-time.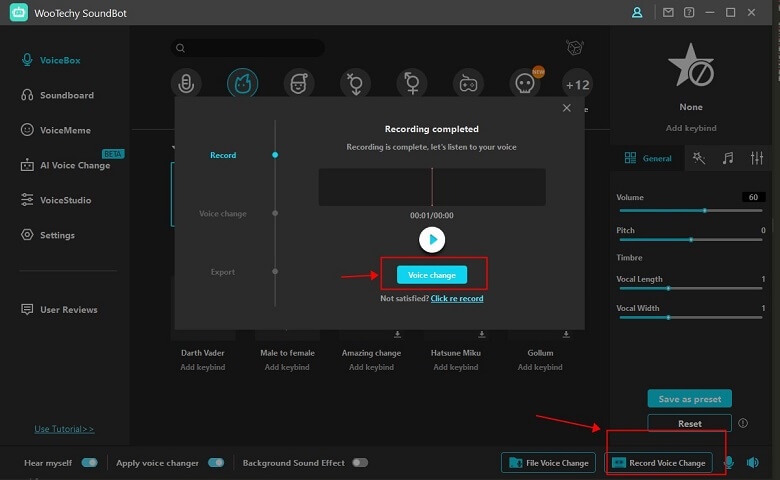 Step 2: Tap the record icon to start the voice recording.
Step 3: Once finished, Click "voice change". And adjust the desired voice effect using the physical buttons on the SoundBot device. And export the final audio file in your desired format, such as MP3 or depending on your needs.
The Wootechy SoundBot is a powerful and versatile device that offers a range of features and advantages for users who want to change their voice in real-time or modify pre-recorded audio. Some of the key features and advantages of the SoundBot include:
75.000.000+
Downloads
Real-time voice changing: The SoundBot allows users to change their voice in real-time during recording, which can be useful for a range of applications, including podcasting, gaming, and live streaming.

Multiple voice effects: The SoundBot offers a wide range of voice effects to choose from. This makes it easy to find the right effect for your needs and add a unique touch to your audio.

High-quality audio output: The SoundBot uses advanced audio processing technology to ensure that the output audio is high-quality and free from distortion or noise.

Compatible with a range of devices: The SoundBot is compatible with a range of devices, including Windows and Mac computers, Android and iOS devices, and gaming consoles such as Xbox and PlayStation.
Part 3: How to Change Audio Voice on Android and iPhone
Audio Changer for Android
AudioLab Audio Editor Recorder is a audio editor and recorder app for Android devices that offers a range of features including voice recording, noise reduction, and audio effects. It also allows you to export your recordings in different audio formats such as MP3, WAV, and AAC. On the other hand, Wootechy Soundbot comes with a built-in microphone that enables you to use voice commands. In addition, it offers advanced features like noise suppression and echo cancellation, ensuring crystal-clear sound quality.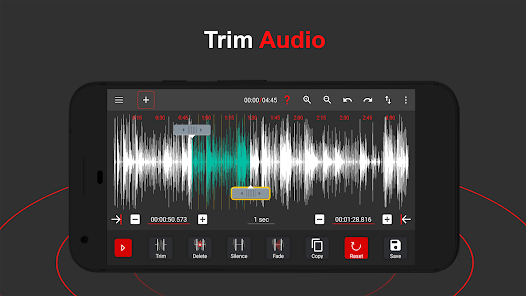 Audio Changer for iOS
Lexis Audio Editor is another audio editing app available for iOS devices. This app offers a variety of features such as audio trimming, merging, and mixing, and it also allows you to add audio effects like echo, reverb, and distortion. Whereas, Soundbot is a feature-rich audio editing software that enables you to change the pitch and tempo of audio files. With this, you can change the voice of a recording to sound like female to male, child, or even a robot. It also features a built-in noise reduction tool that helps to remove background noise and enhance the audio quality.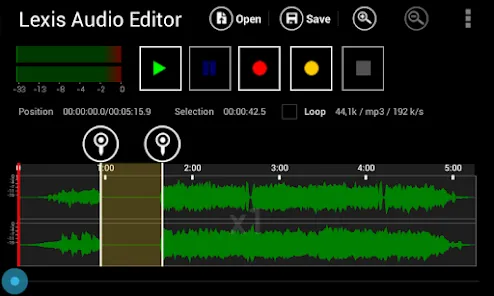 Our Verdict
In conclusion,
Soundbot
is more user-friendly and convenient which is essential in any device and it clearly ticks off that box. Ultimately, it depends on your needs and preferences and which tool best suits you.
Part 4: FAQs about Audio Voice
1. Is my voice on recording my real voice?
Yes, the voice on an audio voice recording is your real voice. However, keep in mind that factors like the quality of the recording equipment and the environment in which the recording was made can affect the overall sound quality of the recording.
2. What is the Best Audio Voice to Text Converter?
There are several audio voice-to-text converters available in the market, and the best one for you will depend on your specific needs and requirements. Some of the popular options available include AI voice generator, Dragon, Google Cloud Speech-to-Text, and Microsoft Azure Speech Services. It is recommended that you try out a few different options before deciding on one that works best for you.
3. How do I make my voice an MP3?
To make your voice an MP3, first, you will need to record your voice using a microphone and recording software on your computer or mobile device. Next, you will need to convert the recording into an MP3 format. Once the conversion is complete, you will have an MP3 file of your voice recording.
4. Is there any better online audio voice recorder?
Yes, there are many online audio voice recorders that offer better quality recordings and advanced features compared to others. Most of the voice tools above mentioned allows you to record any sound from your computer, microphone, or even a streaming platform. It offers high-quality recordings, and you can choose between different audio formats.
5. How to turn the male voice to female voice?
One option is to use voice-changing software or apps, which are designed to alter the pitch and tone of a voice. If you're looking for a more affordable solution you can try Wootechy Soundbot.
Wootechy SoundBot
Change Your Voice in Real time

120+Voice Filters and 400+Sound Effects are available

400+Voice MeMes supported

Easy to change your voice, female to male, celebrity voice, beatify your voice ect..