When you think of the Halo franchise, one of the first things that comes to mind is the voice of Master Chief. That commanding, guttural tone has become synonymous with the heroic Spartan and has captivated fans for years.
But have you ever wondered how you can transform into the voice of Master Chief for your or your own creative projects or personal amusement? Look no further! In this blog, we will show you the world of the Master Chief voice changer, an exciting technology that allows you to generate your own Master Chief AI voice.
An Overview of Master Chief
Master Chief Petty Officer John-117, commonly known as Master Chief, is the protagonist of the Halo multimedia franchise. He is a towering supersoldier, a "Spartan," raised and trained from childhood for combat. Master Chief is featured as a playable character in the Halo video games, including Halo: Combat Evolved, Halo 2, Halo 3, Halo 4, Halo 5: Guardians, and Halo Infinite. Portrayed by Steve Downes in the games, Master Chief is almost always seen wearing his iconic green-coloured armour and helmet, making him almost faceless. His character design has undergone revamping over time. Master Chief serves as a mascot for the Halo and Xbox brands, receiving a generally positive reception.
Master Chief Voice Actor
Steve Downes is the voice actor behind Master Chief John-117. Born on June 28, 1950, in Columbus, Ohio, Steve Downes is an American voice actor and former disk jockey. He has lent his voice to Master Chief in nearly every Halo game, as well as in trailers, commercials, and other Halo media. Downes is widely recognized for his work as the voice of the hero and legend that is Master Chief.
How to Transform My Voice to Master Chief Voice?-Master Chief AI Voice Generator
WooTechy SoundBot is an innovative voice changer software that allows you to transform your voice in real time. One of its standout features is the ability to replicate the voice of Master Chief. With SoundBot, you can have fun and surprise your friends by sounding just like Master Chief with the Master Chief voice changer effect.
In addition to the Master Chief voice changer, SoundBot offers over 200 voice filters and 400 sound effects. You can also import your MP3 or WAV audio files to change your voice or expand the sound effect library, to create personalized voice modifications.
Some Features of SoundBot Master Chief AI Voice Changer
75.000.000+
Downloads
Can be used in various programs such as Fortnite, Discord, Skype, Twitch, and more.

Change your voice in real time to different type: Spooky voice, cartoon voice, Celebrity voice, Female voice etc...

Offers Sound Customization with VoiceStudio to create unique voices.

Update new voice every week. Provide different voices every day.

Recording voice changes and exporting them to platforms like TikTok, YouTube, and Facebook to share with your audience.

400+ voice memes are available.

Support AI voice changing.
To get the Voice of Master Chief with Wootechy SoundBot, follow the below steps.
Step 1: Get SoundBot for free on your PC. Launch it.
Step 2: You need to select the appropriate output and input devices. Assign your headphones as the output device and your real microphone as the input device. Ensure that you have properly set up so that you can get the Master Chief Voice with the best quality.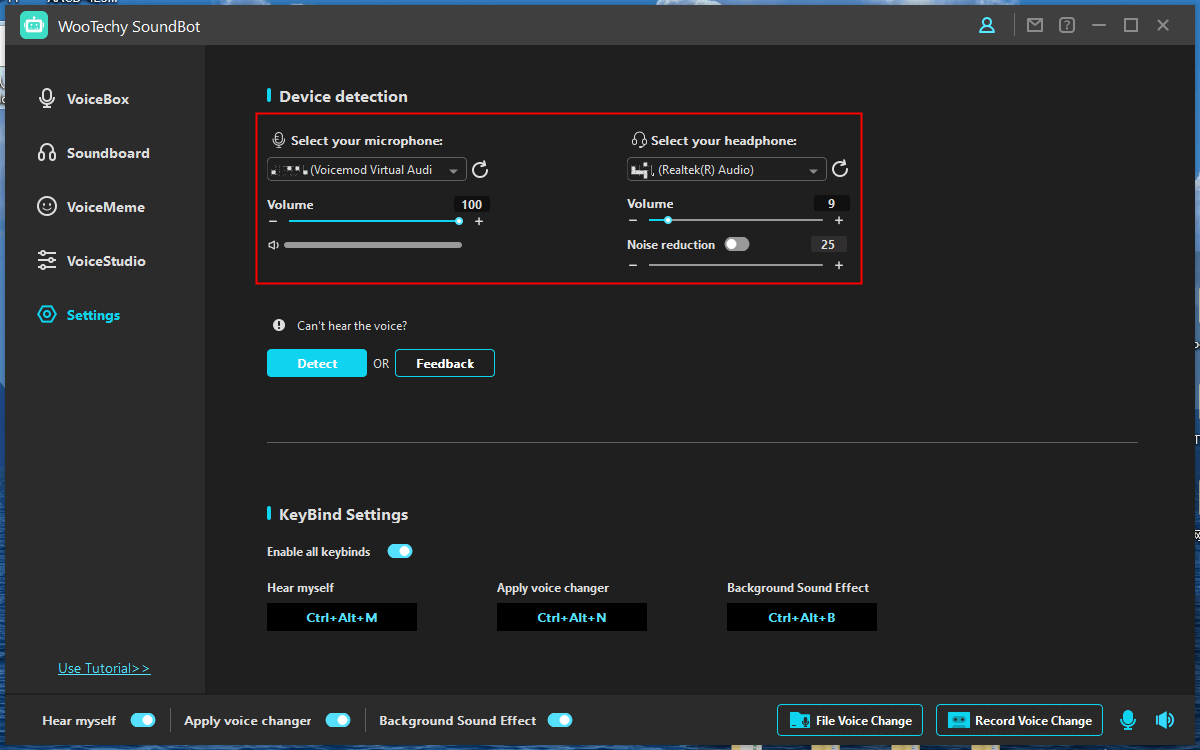 Step 3: On the VoiceBox in the SoundBot interface. Click the Celebrity option, find and click "Master Chief" voice filters. Then, you can speak into your microphone to check how your voice changes into the Master Chief voice.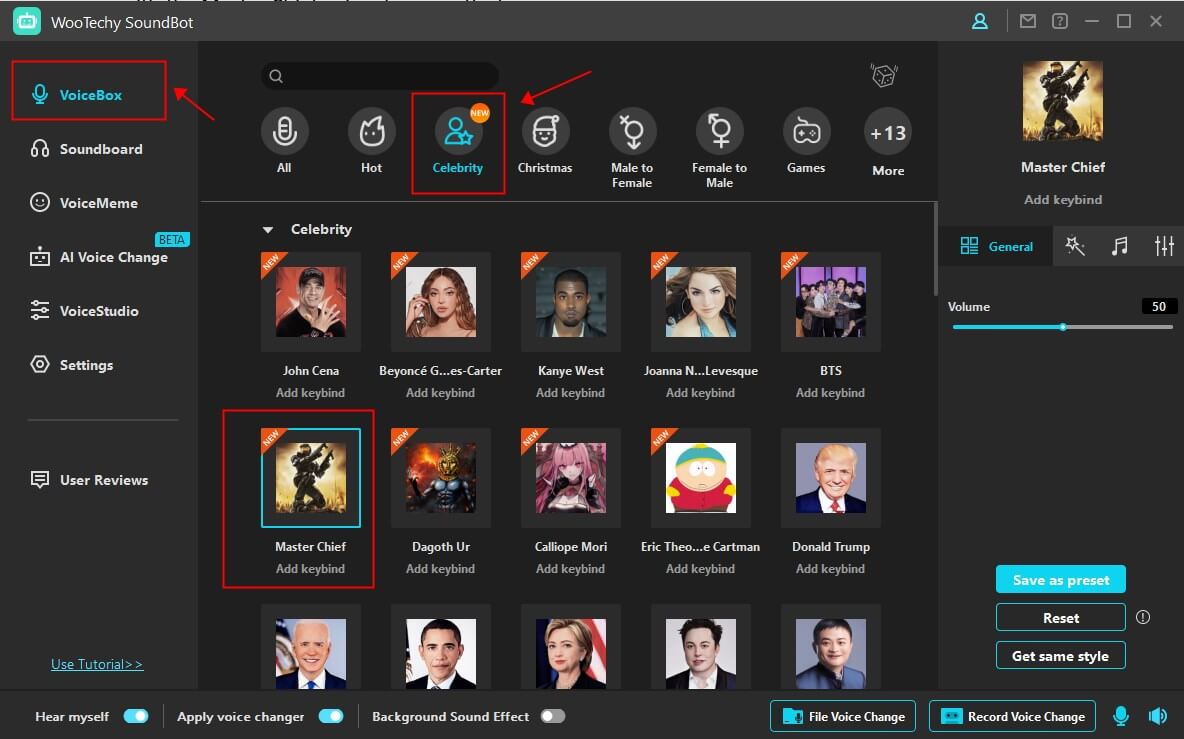 Step 4: Customized option is available if you wanna make some personal adjustments. Just click the "Get the same style" or directly click the Voicestudio to have a parameter adjustment.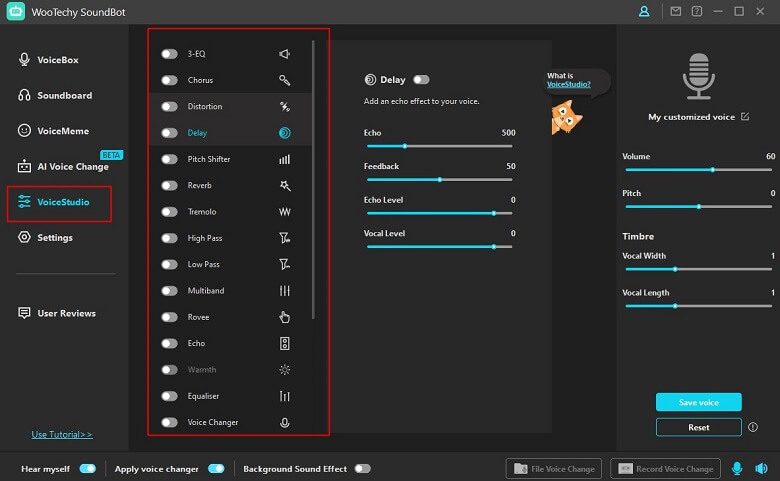 Change Master Cheif Voice in Different Platforms:
SoundBot is compatible with various platforms such as Fortnite, PUBG, Discord, Skype, Twitch, and more. To use SoundBot on these platforms, you just need to choose the Microphone on that platform.
For example, use the voice changer for Master Chief on Fortnite
Open Fortnite and navigate to its Voice Settings.
Go to Settings > Audio > Voice Chat>Voice Chat Input Device,choose "Microphone (Voice Changer Virtual Audio Device (WDM))."
Once you have made this selection, you are free to change your voice in real time on the Fortnite. Other users will be able to hear your voice alteration.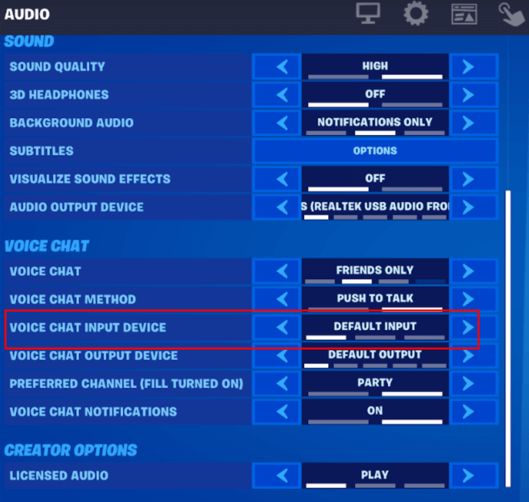 What Else Are People Interested in Master Chief
1

How tall is Master Chief?

Master Chief stands at a height of 208.3 centimetres (6 feet 10.0 inches) without his Mjolnir armour. However, when fully armoured with the Mjolnir Mark V suit, his height increases to 218 centimetres (7 feet 2 inches).
2

Is the Master Chief skin still in Fortnite?

The Master Chief skin is still available in Fortnite. It was released in Chapter 2: Season 5 and can be purchased in the Item Shop for 1,500 V-Bucks or as part of the Master Chief Bundle for 2,600 V-Bucks. The skin comes with selectable styles, including the default Master Chief and a Matte Black style. To unlock the Matte Black style, you need to open Fortnite on an Xbox Series X|S console or through the Xbox Cloud Gaming service.
3

Is Master Chief the most powerful Spartan?

Master Chief is recognized as the most prominent Spartan in Halo. However, there are other Spartans who are also considered strong and have made significant contributions to the Halo universe. Here are a few examples:

Tom-B292 and Lucy-B091

Kat-B320

Will-043

Edward Malcolm Buck
Conclusion
Whether you're a Halo fan looking to emulate the voice of Master Chief or someone seeking a versatile and fun voice changer, WooTechy SoundBot delivers an exceptional experience. It has garnered positive reviews from users worldwide, praising its real-time functionality, ease of use, and ability to enhance content creation and online interactions. Now, you can get this Master Chief AI voice generator for free, and enjoy!