In this article, we will explore the fascinating world of the Goku Voice Changer, a powerful application that allows users to modify their voice to sound like Goku, the iconic character from the Dragon Ball series. This article aims to provide 3 Goku Voice Changers including their features, compatibility with different platforms, and how to make use of it to get Goku's voice. Whether you're an Android, iOS, or Windows user, we've got you covered. So, let's dive in and discover the exciting capabilities of the Goku Voice Changer!
Part 1: Learn about Goku
Goku, also known as Son Goku, is the main protagonist of the Dragon Ball series. Born as Kakarot, he is a Saiyan who was raised on Earth. Goku possesses an infectious personality, with his enthusiasm for life and love for a good fight being his signature traits. He is known for his competitive nature and his ability to inspire those around him. Goku's voice actor is a woman, who also voices other characters such as Bardock, Goten, and Gohan. Goku is renowned for his memorable quotes, showcasing his sense of justice, mercy, and Saiyan pride. Whether it's his iconic speech about being the hope of the universe or his humorous remarks, Goku's character has captured the hearts of fans worldwide.
Part 2: Goku's Voice Actors Related
In the English version, Sean Schemmel voiced Goku in 49 titles, while in the original Japanese version, Masako Nozawa provided the voice for Goku in 63 titles. It's worth noting that Ian James Corlett and Peter Kelamis also voiced Goku in the English dub during different seasons of the Dragon Ball Z anime. Stephanie Nadolny has lent her voice to the younger version of Goku, known as Kid Goku, in 13 titles. Additionally, Kirby Morrow voiced Goku in the Ocean Dub version of Dragon Ball Z.
The voice actors are skilled enough to simulate GOKU's voice. But is it possible for us to get the Goku sound if we cannot physically simulate it? The answer is Yes if we get the help of AI Voice technology. Below we will explore the 3 Goku Voice Changers that will make you get Ninja's voice.
Part 3: How to Get Goku Voice? [With Goku Voice Changer]
SoundBot is a real-time voice changer software developed by WooTechy. It offers various voice effects and soundboard features that allow users to modify their voices in real time during calls, gaming, or other scenarios. The software has over 400 in-built sound effects on the soundboard and over 200 voice effects on VoxBox, offering a wide range of options for voice modification and entertainment.
The Wootechy SoundBot has a wide range of sound effects including the ability to sound like a robot, male to female, cartoon, celebrity voice, anime and more, sure, including the Goku Ninja. Besides, its voice filters allow users to create their own voice filters by altering the tone, inflection, and other aspects of their voice so that users can get the most realistic sound.
The Advantages of Wootechy SoundBot
Support changing voice in real time.

Extensive Sound Effects Library.

Flexible customized option.

Work with various programs, games, and applications.

Positive User Reviews.

Multiple languages supported.

Updated voice effects weekly and get 5 different effects for free every day.
SoundBot can be used on different platforms such as Discord, Steam, League of Legends, CS: GO, Skype, Twitch, Fortnite, Minecraft, and more. And below is a step-by-step guide available for setting it up to start your voice changing.
Download for free and Install WooTechy SoundBot on your computer.
Launch SoundBot and Select Input Device: Open the SoundBot application on your computer. In the settings or preferences menu, select the desired input device, which is usually your microphone.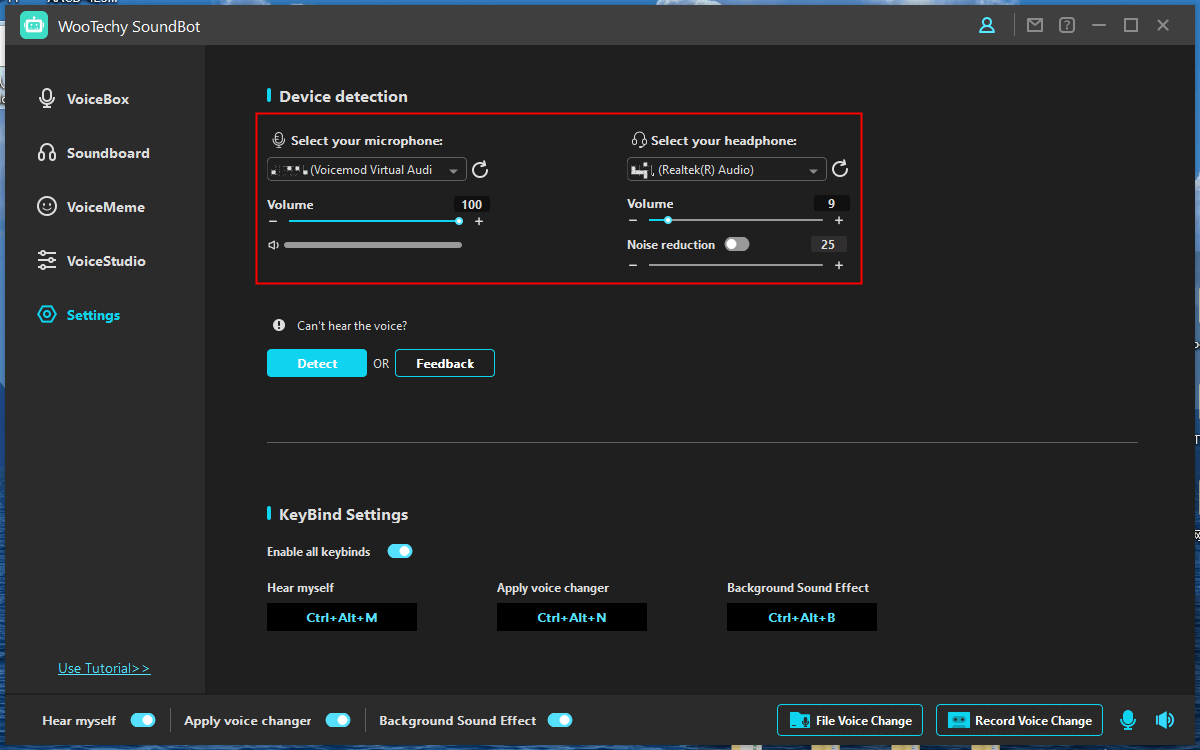 Choose Voice Effects: Explore the soundboard in SoundBot, which contains over 400 in-built sound effects. Browse through the available voice effects and select "Ninja" and click "Get the same style."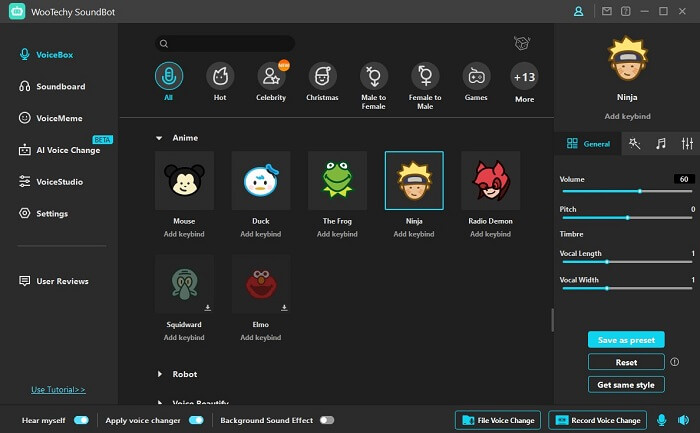 Adjust Voice Effect Settings: You will navigate to the "Voice Studio" to Fine-tune the voice effect to your preference. You can adjust parameters like pitch, speed, or resonance to make your voice closer to Ninja Goku. Then, click "Save the voice."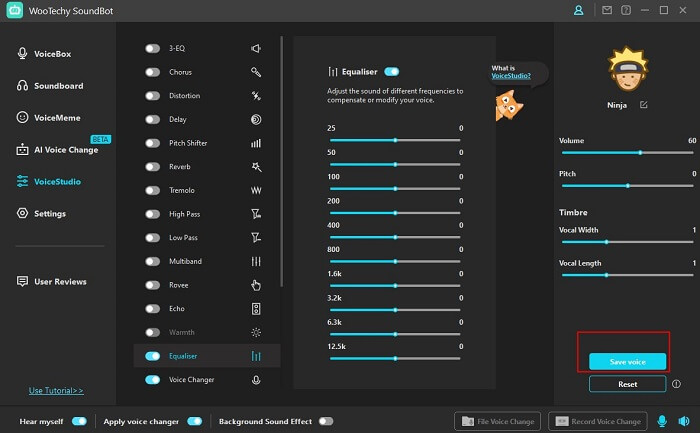 Apply Voice Effect and Enjoy: Once you have selected and adjusted the voice effect, you are ready to apply it. Start a call, launch a game, or use any application where you want to change your voice. SoundBot will process the audio in real time and apply the chosen voice effect.
Now, have fun with your transformed voice and enjoy the entertainment experience!
2. Super saiyajin Voice Changer
Super saiyajin Voice Changer" APK is an application for Windows that allows users to modify their voices in various shades, including those resembling Super Saiyan or Dragon Ball Z characters. The app offers 9 different voice options, providing a fun way to play pranks or entertain friends. One notable feature is that it doesn't require an internet connection to function. The APK can be downloaded from platforms like APKPure, where you can find the latest version as well as older versions of the app.
Advantages of Super saiyajin Voice Changer
Only 9 voice effects

APK security to be considered

Lack of realism in sound
Disadvantages of Super saiyajin Voice Changer
Only 9 voice effects

APK security to be considered

Lack of realism in sound

3. Voice Changer Anime Voice Game
"Voice Changer Anime Voice Game" is an app available on Google Play that offers 20 voices, including anime stars, Hollywood superstars, politicians, and more. It allows users to express themselves in a whole new way by changing their voice. This voice changer focuses on Anime voice and you have to choose other applications if you want to change your voice sound like other effects such as celebrity, female to male, or environmental.
Advantages of Voice Changer Anime Voice Game
Available for Android end and can be downloaded on Google Play

Support adding low pitch or high pitch autotune
Disadvantages of Super saiyajin Voice Changer
Only 20 voice effects are available

Unfriendly operation steps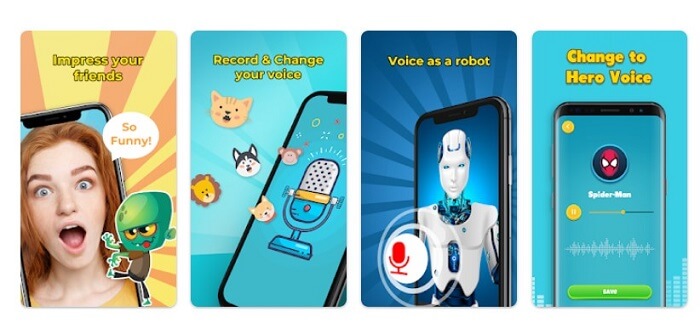 In Sum
In conclusion, the Goku Voice Changer is an exciting application that allows users to transform their voices into the iconic tone of Goku from the Dragon Ball series. Or tablets.
In terms of richness and realism of sound, we recommend Wootechy SoundBot incorporate Goku's iconic voice into their content and create a more immersive experience. It features a Goku filter that can replicate the most realistic voice of the actor who portrays Goku as well as many other characters.