There are already established streaming giants like Google (YouTube) and Meta (Facebook). However, Twitch has been defiling the odds among streaming service providers. Although it was only launched in 2011, it now has a DAU (Daily Active User) of over 31 million. The streaming app has amazing features like theater mode, two-factor authentication, custom clips, etc. Hence, several streamers constantly seek more tools to improve their customer engagement.
One of the most sought-after software tools by streamers is voice changers. Apart from maintaining a high engagement rate, it is important for streamers to capture the attention of their audience. Hence, you will find some great ideas about a voice changer for Twitch in this article.
Part 1. Can I Use a Voice Changer on Twitch?
Yes, you can use a voice changer on Twitch. Because the predominant uploads on Twitch are human voices, many streamers who are entertainers, gamers, podcasts, and show anchors are inclined towards uniqueness. As a result, many of them achieve uniqueness through AI content and voice-changer apps.
Some other streamers even want to use a Twitch voice changer to hide their identity. In addition, streamers may need a voice changer to add sound effects to trick an audience or improve their audience's experience. Thankfully, the platform's features permit the introduction of any AI voice changer of your choice.
Streamers using voice changer apps, features, and plugins help them to expand their monetization option. They can make a lot more money by racking up Bits, subscriptions, and ads. For instance, many voice changer software have special customizations for voiceovers that can make ads very unique.
Part 2. What Voice Changer Do Twitch Streamers Use?
Streamers have a large range of options they can pick from the internet. In this section, we have narrowed down the options to three. Then, we specifically discuss their key features and how to use them.
1. Voicemod
Voicemod is a well-known Twitch voice changer for PC users alone. It uses AI technology to help users create different voices and assume fiction and non-fiction identities. It is a real-time software with a customizable soundboard to add effects to your audiences' streaming experience.
You can create a unique voice using the Voicelab feature. To use on Twitch, it requires a Voicemod Bits Twitch extension. This extension is integrated into Twitch panels.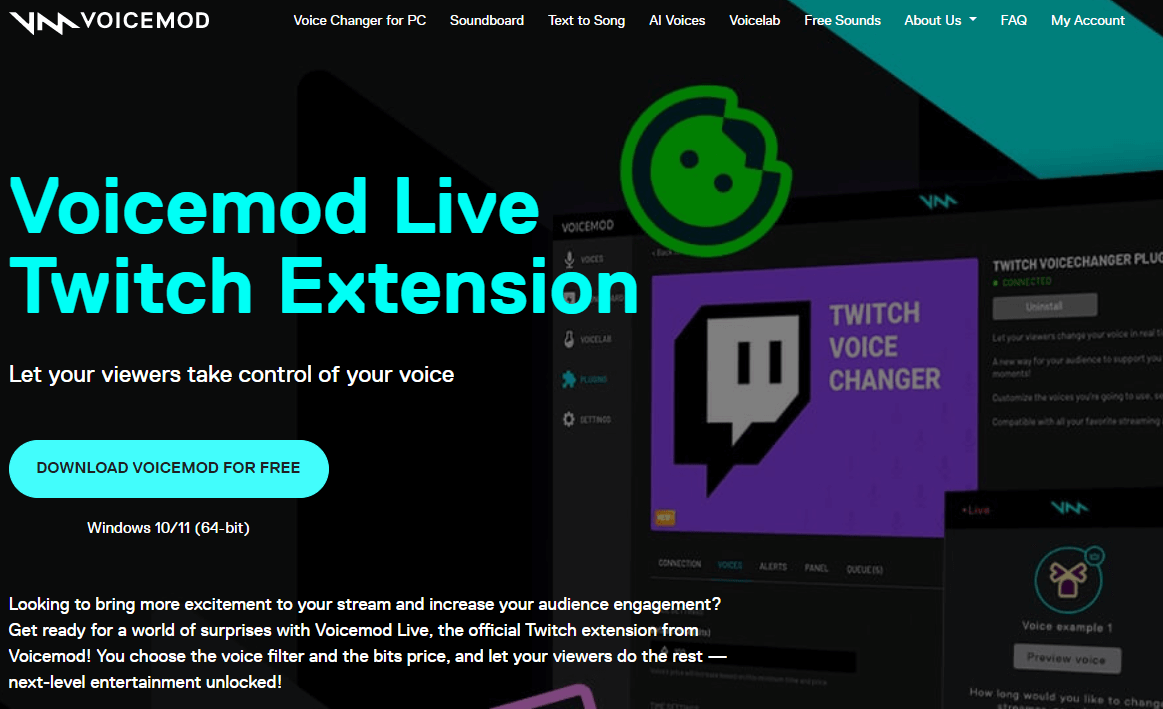 Steps for using Voicemod as a Twitch voice changer:
Install the Twitch plugin on Voicemod. Login with your Twitch account.
Install Voicemod Live Extension on the Twitch account using the Creator Dashboard.
Add the panel to your layout. Try out the settings.
Across the internet, especially app review platforms, users have voiced some of their dissatisfaction with Voicemod. Some of them are mentioned below:
Cons
"The free version has limited sound effects and voice filters".

"It is only available on a Windows computer".

"The setup and user interface are not straightforward".

"Voicemod does not have the latest voice-changing effects".

" It does not have prerecording features".

"It may crash when you try to use the soundboard".
2. WooTechy SoundBot
The second Twitch voice changer option is the WooTechy SoundBot, which has over 125 voice filters, 400+ sound effects and 200+ voice memes. This real-time AI voice changer can help create a real scare and deep fun during your streaming session.
Streamers have enjoyed its services so much because they can always look for new and unique voices from its constant updates. Furthermore, streamers can create a unique voice or import new effects in mp3 or WAV audio formats.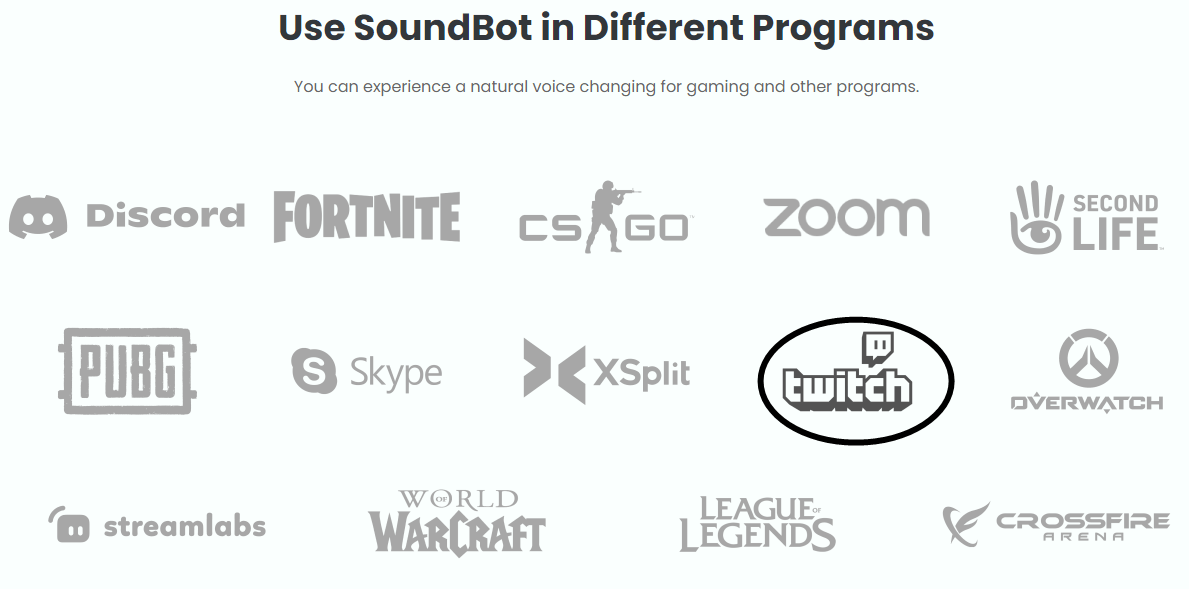 Streamers can use SoundBot to modulate and play sound effects spontaneously using keybinds. Furthermore, they can use these keybinds without interrupting their streaming session. It has some other features for playing sound effects like replay and overlap.
SoundBot has a voiceover customization feature that makes ads unique. Twitch content creators who use other platforms enjoy its versatility and effectiveness on other platforms. Twitch streamers can download the app for free and get daily free voices.
WooTechy SoundBot – Wonderful Voice Changer for Twitch
75.000.000+
Downloads
Has numerous voices such as male to female, space marine, ghost, astronaut, spongebob and more.

You can use the AI voice changer in Twitch for different purposes ranging from real-time communication to entertaining prank.

SoundBot voice changer is very easy to set up and be used in Twitch and other platforms like Discord and Zoom.

It ensures the voice-changing quality and won't crash during the process.
Here are the simple steps to use WooTechy SoundBot as a voice changer for Twitch.
Download SoundBot, open the app, and set it up by selecting your microphone and headphone as the input and output respectively.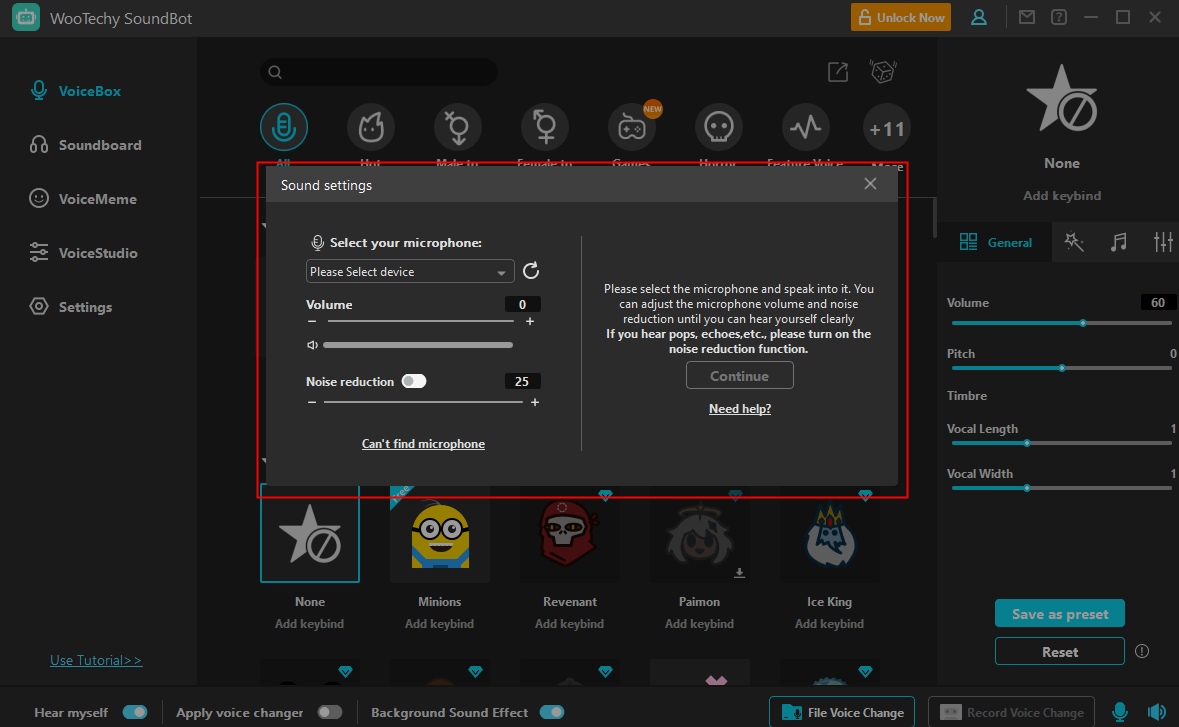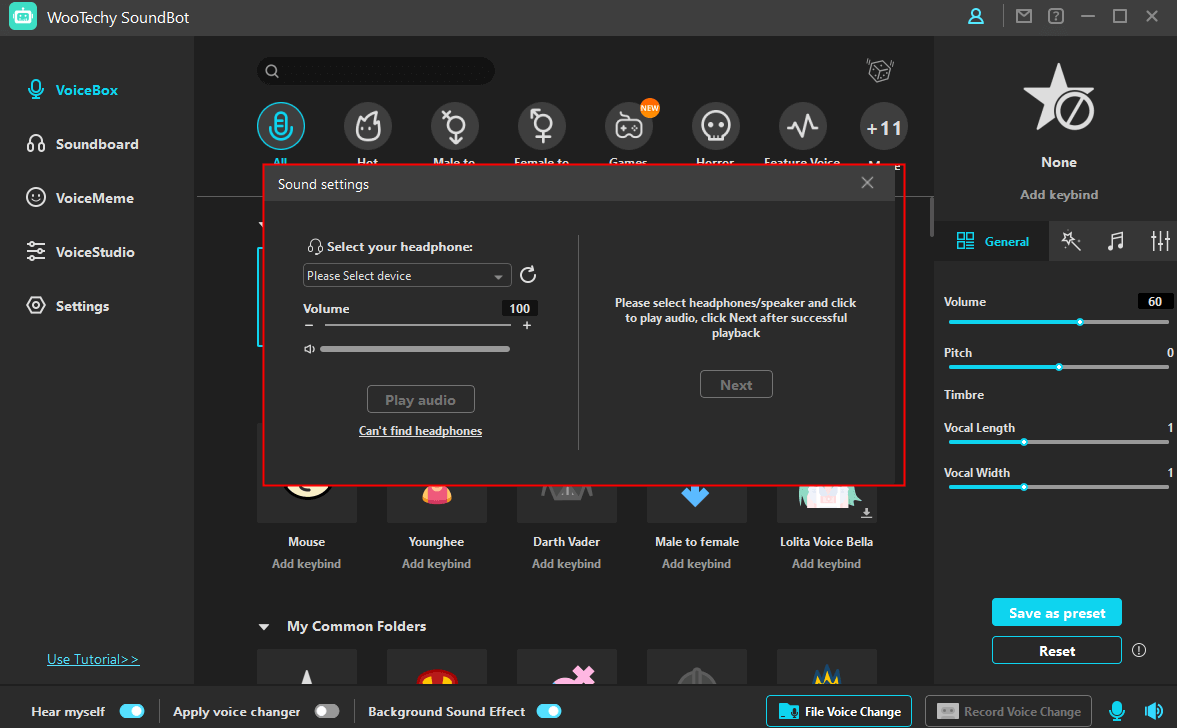 Launch Twitch on your device. Click on the Settings icon under your username.
Navigate to Audio/Video in Settings and pick Microphone (Voice Changer Audio Device) under Microphone.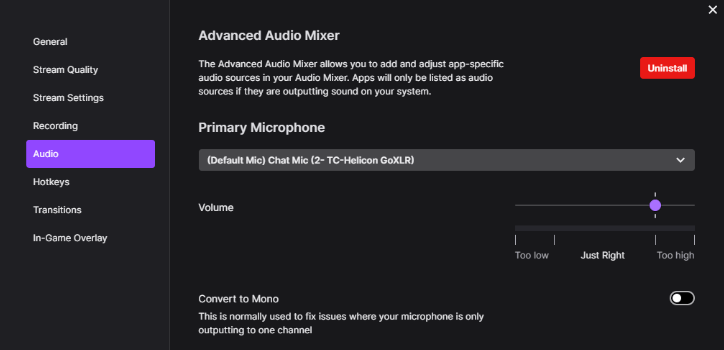 Ensure your click OK before closing the Settings screen.
Check if the settings worked by choosing a voice filter from SoundBot and speaking into the mic. Also pick the sound effect if you want, and the app will start working on Twitch.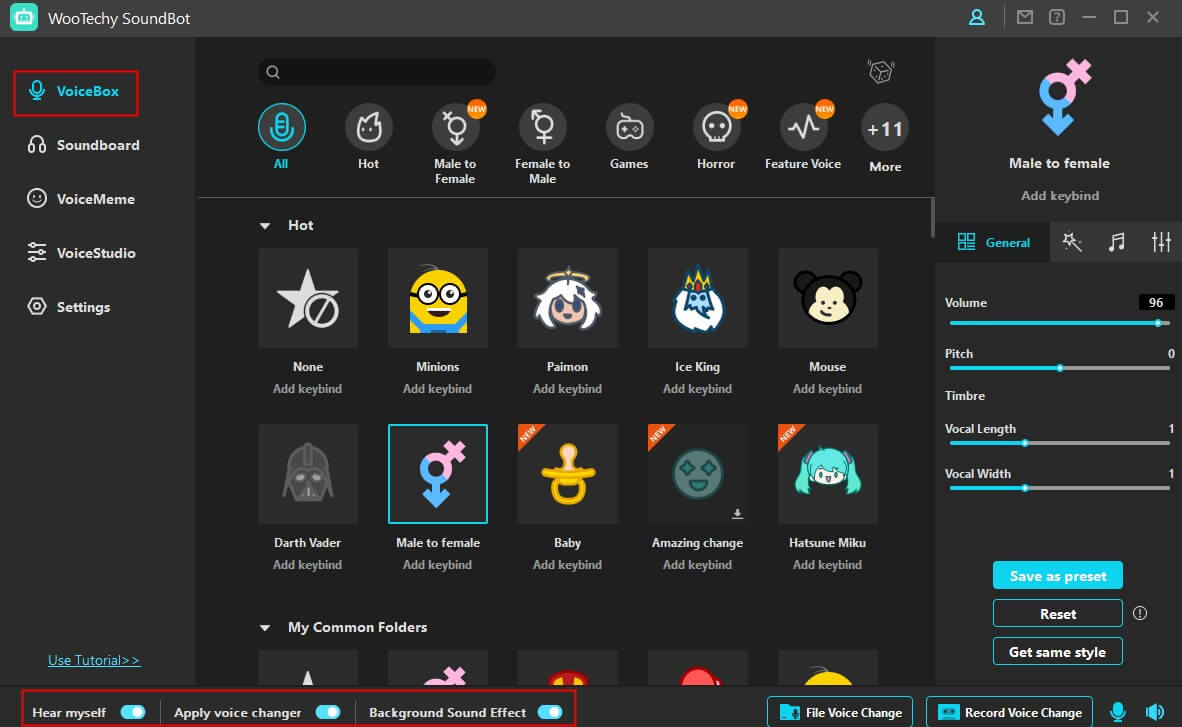 3. Voice.ai
Lastly, streamers can use Voice.ai to transform their experience on Twitch. It offers deep learning technology to convert the streamer's voice to another voice. It works on several devices and operating systems. With its dataset of over 15 million voices, users can create a new voice with the cloning feature. Its voice gallery includes animation, celebrities, villains, etc.
It has several voices that suit users' needs and keep the audience engaged. However, many users have had complaints about the app. Some of their complaints are that:
Cons
"It does not have a soundboard".

"It has too much background noise interference".

"Its productivity is low compared to the time cost of setting it up".

"Voice.ai lacks accuracy and often misinterprets input".
Steps to use Voice.ai as a Twitch voice changer
Step 1. Open the Twitch app on your device. Navigate to its Settings and open it.
Step 2. Select the Audio/Video option on the left side of the screen.
Step 3. Under Microphone, choose Voice.ai (VB-Audio Virtual Cable).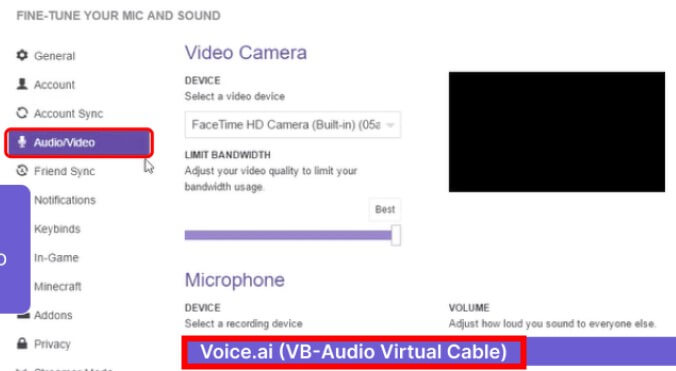 Conclusion
Twitch is a popular streaming platform with numerous daily users. Content creators on the platform are constantly improving their delivery with Twitch voice changers. Changing voice, adding effects, hiding identity, and many more are some of the other reasons these streamers use voice changers on the platform.
Hence, this article has identified WooTechy SoundBot, Voice.ai, and Voicemod as the highly rated voice changer options. It also includes steps to use these apps. Among the 3 Twitch voice changers, if you would like a better sound quality and safer use, you can't miss the WooTechy SoundBot voice changer.