"Some TikTok users can transform their voices into funny characters or celebrities, while I left wondering why don't I have the voice changer on TikTok."
Voice changing has become incredibly popular on TikTok, allowing creators to add a unique touch to their videos and entertain their audience. In this article, we'll explore why you don't have the voice changer on TikTok and how to fix it, as well as introduce an excellent voice changer on TikTok.
Part 1: How to Change Your Voice on TikTok?
TikTok has some sound effects built in that you can use to change the voice. The steps are as follows.
Step 1: Tap the "+" (plus) sign at the bottom. Record your video by tapping and holding the red circle button.

Step 2: On the video editing screen, tap the microphone icon labelled "Audio Editing" or "Voice". Select the effect you want to try and start to change voice on TikTok.

Step 3: Tap "Save". When every setting is done, click "Post."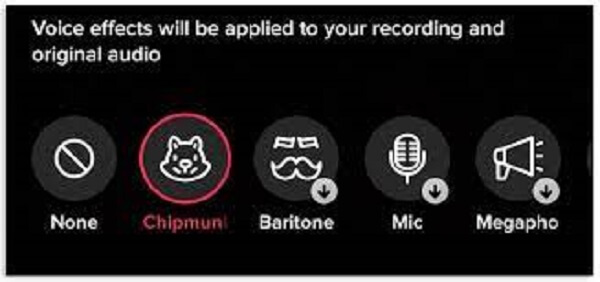 Part 2: Why don't I have the voice changer on TikTok?
All TikTok users have a voice changer on TikTok unless you are using a very old version, or there is a bug on the software. However, not all voice effects available on TikTok are accessible to everyone. The availability of certain voice effects can vary as they are still being tested and rolled out to different users. So if you don't see a specific voice effect you've heard about, it's likely because it hasn't been made available to you yet. You may have to wait and see if it becomes available in the future.
Part 3: How to Solve the TikTok Voice-Changing Issues?
Method 1: Update TikTok to the latest version
Sometimes, TikTok not working may occur and you will fail to find the voice changer on TikTok. Simply update the software to the latest version to synchronise all the latest features. If it doesn't work, please restart the phone and clear the data of TikTok in the background. Sure, there is the possibility that TikTok not working for some software reasons. But that is rarely the case.
Method 2: Use TikTok Voice Changer
TikTok, like any other social media platform, has its advantages and restrictions when it comes to features. While TikTok offers a wide range of creative tools and effects, there are limitations. You may want more voice effects, or want something different from the sound of other TikTok users. No worries, there are external solutions that can fill this void.
Wootechy Soundbot Voice Changer is a powerful program designed specifically to change your voice in real time, giving you access to a multitude of fun and exciting voice effects. With Wootechy Soundbot, you can transform your voice into various tones, such as deep and robotic, cartoon characters, scream Ghostface or even mimic the voices of popular characters and celebrities. The possibilities are endless, and it's the perfect tool to enhance your TikTok experience.
200+ Voice filters to change voice in real-time.

400+ Sound Effects to rich the background voice.

400+ voice memes for double fun.

Export the audio files to platforms like TikTok, YouTube, Facebook etc...

Sound Customization with VoiceStudio.

Update new voice weekly.

Integrates with gaming and communication programs like Fortnite, PUBG, Discord, Skype, Twitch, and more.
How to Use Wootechy Soundbot Voice Changer on TikTok?
Step 1: Download and Install the Wootechy Soundbot on your PC.
Step 2: Once installed, open the program and set the input and output devices. This is crucial to enable real-time voice modulation during video recording.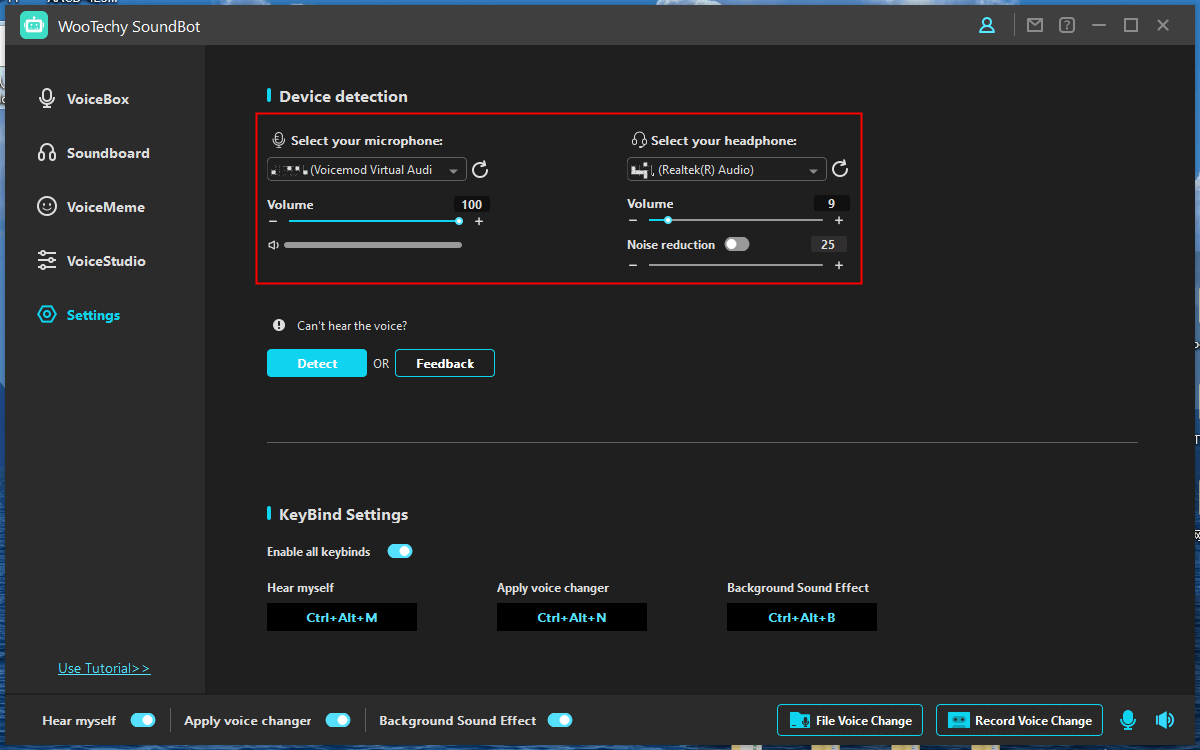 Step 3: Wootechy Soundbot offers a vast collection of voice effects to choose from. Select your desired effect from the VoiceBox. Choose a voice filter and you can begin to change your voice. There are 3 options for you.
Option 1: Speak to the Microphone and change the voice in real-time.
Option 2: Speak to the Microphone, and export the audio file after the voice change.
Option 3: Upload the recorded audio file and start to change.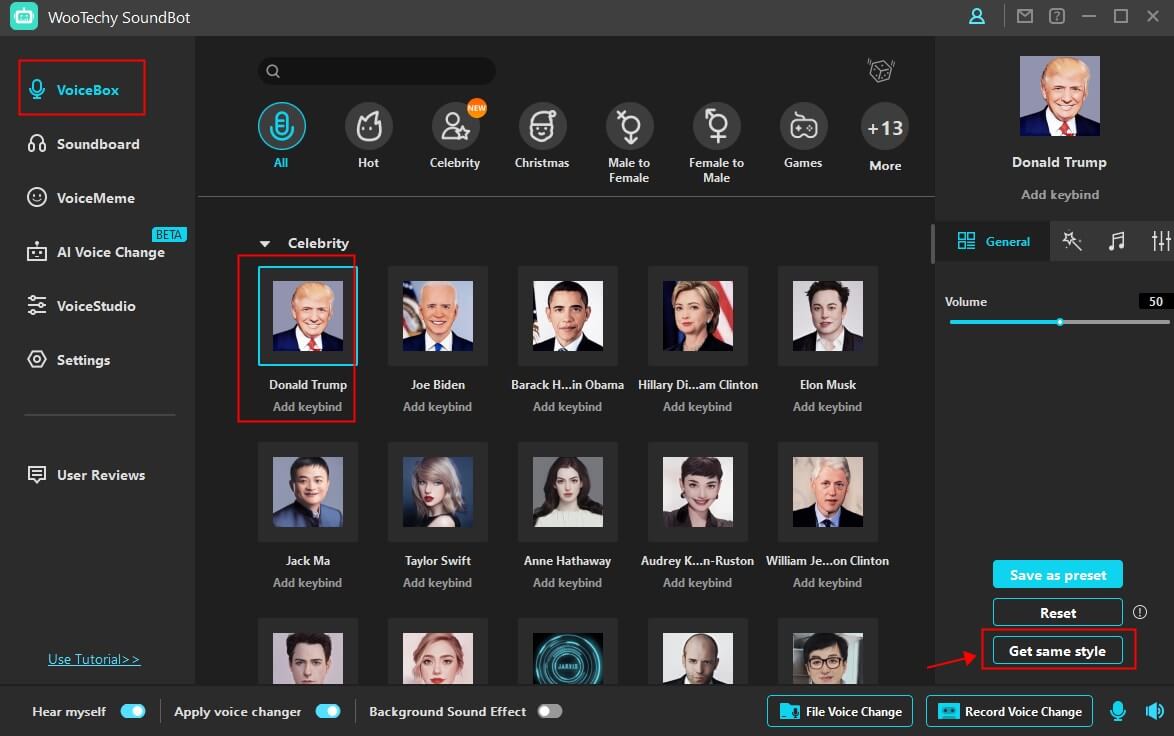 Step 4: To change your voice on TikTok, you can export the audio after changing it and add it to your voice creation.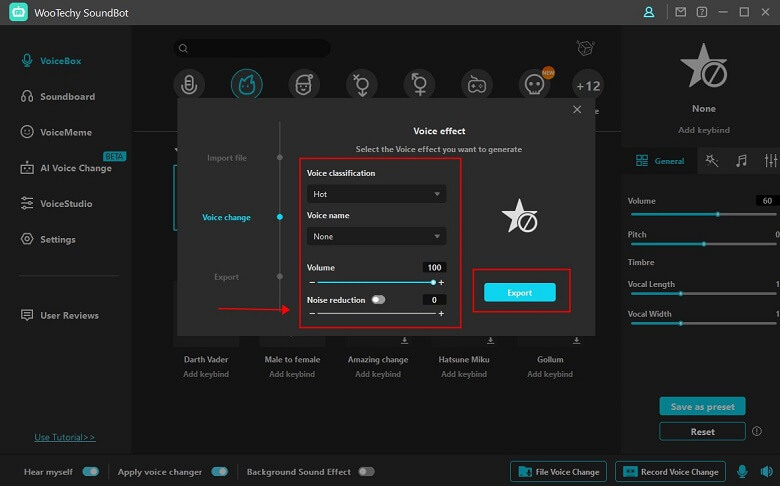 Part 4: The Hottest Questions about Changing Voice on TikTok
1

How to change text-to-speech voice on TikTok?

TikTok has a built-in text-to-sound option after you have recorded a video. You can type in the text you want and start converting it to voice. However, TikTok has changed its text-to-speech voice for some reasons. Users will now hear a different woman's voice.
2

How to change the voice on TikTok to a woman?

You can get the help of SoundBot mentioned above. It also allows you to change your voice from male to female, or vice versa. Besides, you can turn into different voice types or women's voices of different ages.
3

What are the most popular voice filters on TikTok?

TikTok offers some built-in voice filters and the most popular voice filters that TikTokers love to use are Chipmunk

, Robot, Baby and the celebrities like Donald Trump and Joe Biden.
Conclusion
Now, we have learn about why you don't have the voice changer on TikTok. While the voice changer feature may be limited from TikTok, the Wootechy Soundbot Voice Changer offers a fantastic solution to fill that void. With its wide array of voice effects and seamless integration with TikTok, Wootechy Soundbot provides an opportunity to take your TikTok content to new heights with more voice filters. So why not give it a try and unleash your creativity by transforming your voice in your next TikTok video?