Are you a fan of the iconic video game character, Super Mario? Have you ever wondered how to make your voice sound like his? Look no further, as we have the solution for you!
In this article, we will discuss the step-by-step process of how to make your voice sound like Super Mario, using simple and easy-to-use voice-changing technology. Whether you want to create unique content for your YouTube videos or simply impress your friends with your impressive impression skills, our guide will provide you with the best Mario voice changer and all the tips and tricks you need to perfect your Super Mario voice. Get ready to channel your inner Mario and make your voice stand out from the crowd!
Part 1: Super Mario's Trends
Super Mario has been a beloved gaming icon since its debut in 1981, and it continues to evolve and innovate with the latest trends in gaming. The 35th anniversary of Super Mario Bros. was celebrated in 2020, which brought back classic games with new twists and updated graphics.
One of the newest trends is the Mario Odyssey game, which offers a content-rich experience with new collectables and challenges to discover even after completing the game. Another is the Movie "The Super Mario Bros franchise," which has had a few attempts at movies over the years, with varying degrees of success. The most recent movie, simply titled "The Super Mario Bros. Movie," was released in 2023 and has received mixed reviews. The movie is a mix of live-action and animation and follows the adventures of Mario and Luigi as they journey through the Mushroom Kingdom.
The popularity of the game and movie has also sparked a trend of people generating Super Mario voices. Well, how to do that? Follow the guide and check the best 4 ways to make your voice sound like Super Mario.
Part 2: How to Make Your Voice Sound Like Super Mario?-4 Ways
Method 1: Using Mario Voice Changer App to Get Mario's Voice
WooTechy SoundBot is a popular voice changer app that can be used to change your voice to sound like Super Mario or others. This app uses AI technology and has over 125+ voice filters and 400+ sound effects including Super Mario, celebrities' like Donald Trump or Joe Biden, Carton or movie characters' to choose from. You even change your voice from male to female It can be used for various scenarios such as entertaining pranks, live chats, and gaming.
75.000.000+
Downloads
Real-time voice changing.

Numerous voice effects and filters.

400+ voice memes and supporting voice meme creating and editing.

The ability to customize the pitch, tone, and speed of the voice.

< class="icon-hook">Support for various audio formats.

Provide the option to save and share the modified voice recordings.
To use WooTechy SoundBot to get Super Mario's voice, simply follow the below steps.
Step 1: Download for free and launch the app from the official website of Website, or make use of the below button.
Step 2: Choose the output and input device to use the voice changer for real-time voice changing. Assign your headphones as the output device.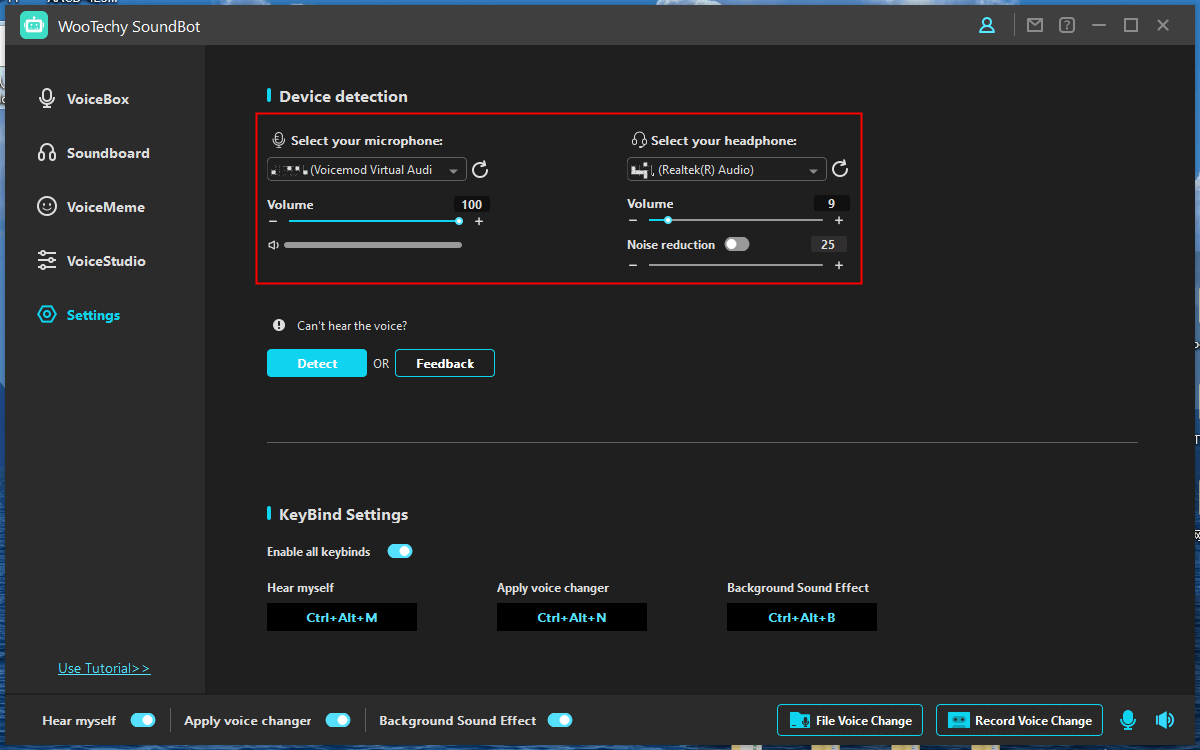 Step 3: Check the "VoiceBox," you should see many voices here, including Super Mario. Now, follow the on-screen instruction and start to get your Mario's voice in real-time.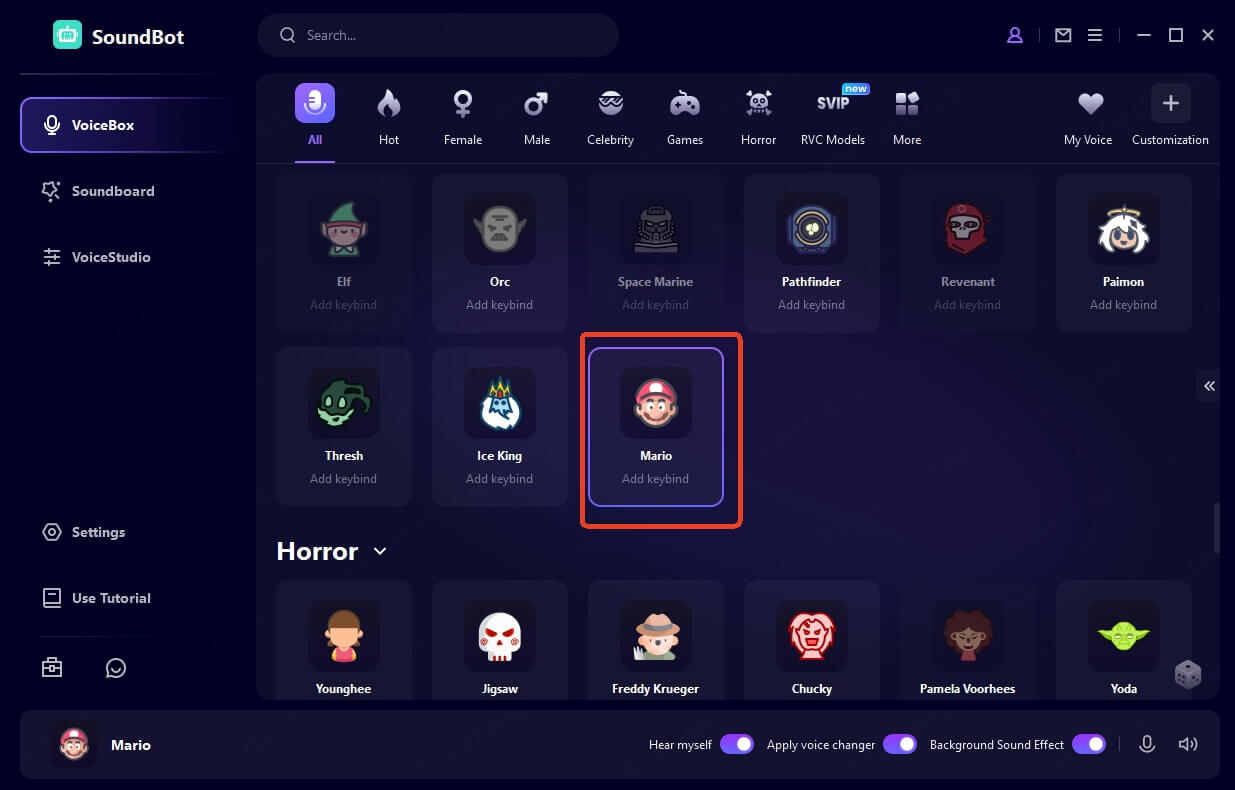 Step 4: Also, you can get many Super Mario voice effects on "Soundboard." Just enter Super Mario in the search bar to find it easier.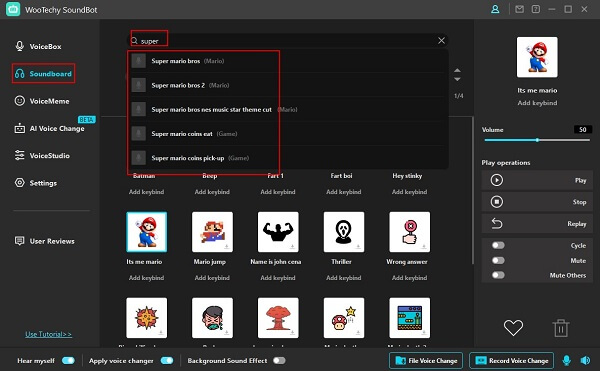 Tip: You can also use this app to modify an audio file that you want to modify from your computer without headphones.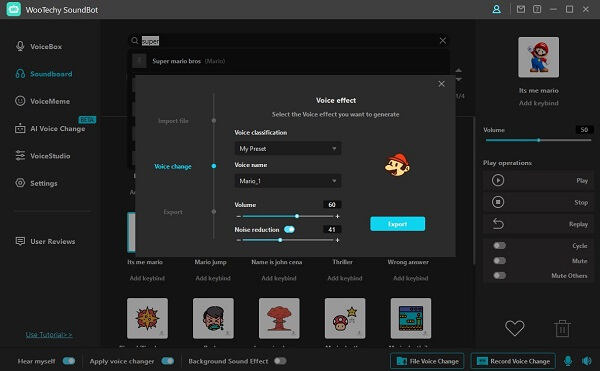 Method 2: Audio Editing Software
If you already have a recording of your voice, you can use audio editing software to modify it to sound like Mario. You can adjust the pitch, add sound effects, and apply filters to achieve the desired effect. Some popular audio editing software includes Audacity and Adobe Audition.
To adjust the volume of an audio clip to sound like Super Marios in Adobe Audition, you can select the section of audio you want to adjust and then drag the decibel (dB) scale in the menu above the audio channel to adjust the volume. You can then repeat this process for different sections of the track to adjust the volume levels.
Additionally, Adobe Audition provides various tools and effects that can be used to manipulate and edit audio files. For example, the Sound Remover effect can be used to remove unwanted sounds from an audio clip. You can also use the Spectral Frequency Display to clean up your audio, and the waveform display to add fades to your audio.
However, it's important to note that changing the voice to sound like Super Mario automatically instead of manually adjusting would require additional cost and effects beyond the basic functionality of Adobe Audition.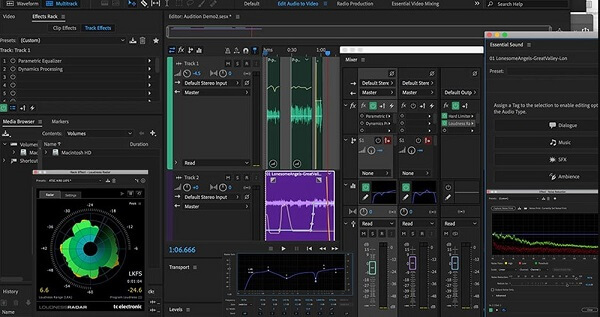 Method 3: Super Mario Text-to-Speech (TTS)
A Mario text-to-speech AI voice generator that enables users to create a Mario voice with just a few clicks. Even though this kind of tool does not offer various other features such as a voice recorder, video converter, and more, simply converting text to Super Mario's sound is sufficient as long as it has that sound built in. Here we pick TopMedia as an example, simply enter the text you want to change to Mario's, and one click "Convert," you will get an AI voice sounds like Super Mario Bro. However, there are words limitation when converting text to speech. So, make full use of it Instead of typing some random text.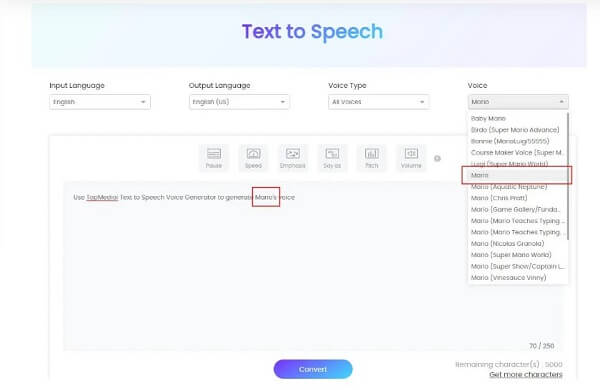 Method 4: Voice Impersonation- Mimicking Mario's Voice without a Voice Changer App
Mimicking Mario's voice can be a fun way to entertain yourself or others, but it can be challenging without a voice changer app. Here are some tips on how to achieve a Mario-like voice:
SHeavy stereotypical Italian accent: Mario's accent is heavily influenced by Italian. So try to roll your R's and add an Italian accent to your voice.
SChange pitch: When you have to change the pitch of your voice, do it heavily. For instance, if you have to make your voice lower, go slightly lower than your normal voice, and when you have to make it higher, go slightly higher than your normal voice.
SEmphasize syllables: When speaking like Mario, you'll need to emphasize certain syllables, particularly those that have a strong vowel sound.
Speak in short phrases: Mario's dialogue is usually short and punchy, so try to speak in short phrases to emulate his style.
By practising these techniques, you may be able to achieve a voice similar to Mario's. However, keep in mind that everyone's voice is unique, and it may not be possible to sound exactly like Mario without a voice changer app or special effects.
Final Thoughts
When it comes to using a Mario voice changer, there are plenty of fun and creative possibilities to explore. From making your own Mario-inspired videos to creating unique content for social media, the options are virtually endless. However, it is important to note that not every method can get the most perfect Super Mario voice.
That being said, if you are looking for the most convenient and efficient method, an AI voice changer app like Wootechy SoundBot is likely the best option. Not only does the app allow for more precise control over your voice, but it also offers a wider range of customization options. Now, have a try and let your voice sound like Super Mario to get more fun!