"Are you ready to take your TikTok videos to the next level and create content that truly stands out?" If so, Check the newest trends about changing your voice on TikTok! Voice changing in TikTok is a great way to make your content more engaging and memorable. So, let's dive into the world of TikTok voice changers and discover how this tool can help you become a viral sensation on this popular social media platform!
Ⅰ. How Does the TikTok Voice Changer Work?
The TikTok Voice Changer uses an artificial intelligence algorithm that analyzes the user's voice and applies the selected effect to the recording. The technology behind the voice changer is similar to that used in voice recognition and synthesis, which allows it to accurately modify the user's voice to sound like a different person or gender. Well, how to do the voice changer on TikTok? Keep reading.
Ⅱ. Use TikTok Built-in Voice Change Feature
If you're looking for ways to use the TikTok voice changer along with frames, there are a few options available. One method is to use the built-in frame feature in TikTok, which allows you to add various frames to your videos.
The TikTok Voice feature provides various effects that allow users to change their voice in different ways. One of the most popular effects is the Gender Swap, which lets users switch their voices between male and female. Other effects include Chipmunks, Helium, and more. Users can preview the effects before posting the video, ensuring they achieve the desired effect.
To use TikTok voice changing features, follow the below steps.
Step 1: Open the TikTok app on your mobile device and tap on the plus sign at the bottom centre of the screen to create a new video.

Step 2: Record a video by pressing and holding the red record button. After recording the video, tap the checkmark icon to go to the editing screen.

Step 3: Tap the "Voiceover" option on the bottom menu. Once you're on the "Voiceover" screen, you can adjust the volume levels for the original video and your voiceover using the sliders at the bottom.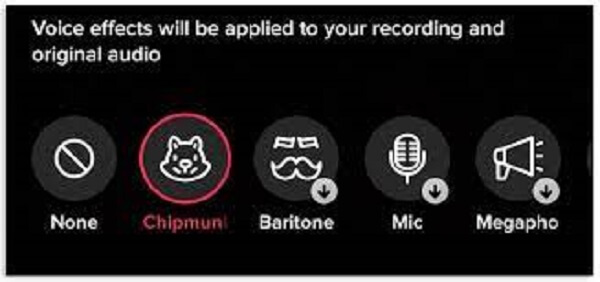 This approach would be very limited by TikTok's template framework, and there are not enough templates available to meet the various requirements.
Ⅲ. Use TikTok Voice Changer to Get More Voice
If you wanna use more voice effects and get more traffic on TikTok compared with others, make full use of the TikTok Voice Changer like Wootechy SoundBot. Wootechy Soundbot is a popular voice AI tool that can be used to change the voice in TikTok videos. With this app, you can create unique and funny videos with various voice effects, including baby, robot, female, male, and many more.
Key Features of WooTechy SoundBot
75.000.000+
Downloads
Wide range of voice effects: The app has 120+ voice filters and 400+ Sound effects, including the robot, baby, female, male, and many more.

Real-time voice changing: The app allows you to change your voice in real time as you record your videos.

Voice MeMe: 400+ Voice MeMe can be used. Voice Meme creation and editing are also supported.

AI Voice Changing Feature: The AI changing features allow you to change your voice like celebrities such as Donald Trump and Joe Biden and more.

Voice Editing and Beauty: Free to adjust your voice with Voice Studio.
How to Use Voice Changer on TikTok?
Steps 1: Download and install Wootechy Soundbot for free from the Wootechy official site or click the below bottoms.
Step 2: Run the App on your PC, a pop-up window will remind you to set up your microphone to input or output sound. Simply follow the on-screen instructions and finish your Microphone setting.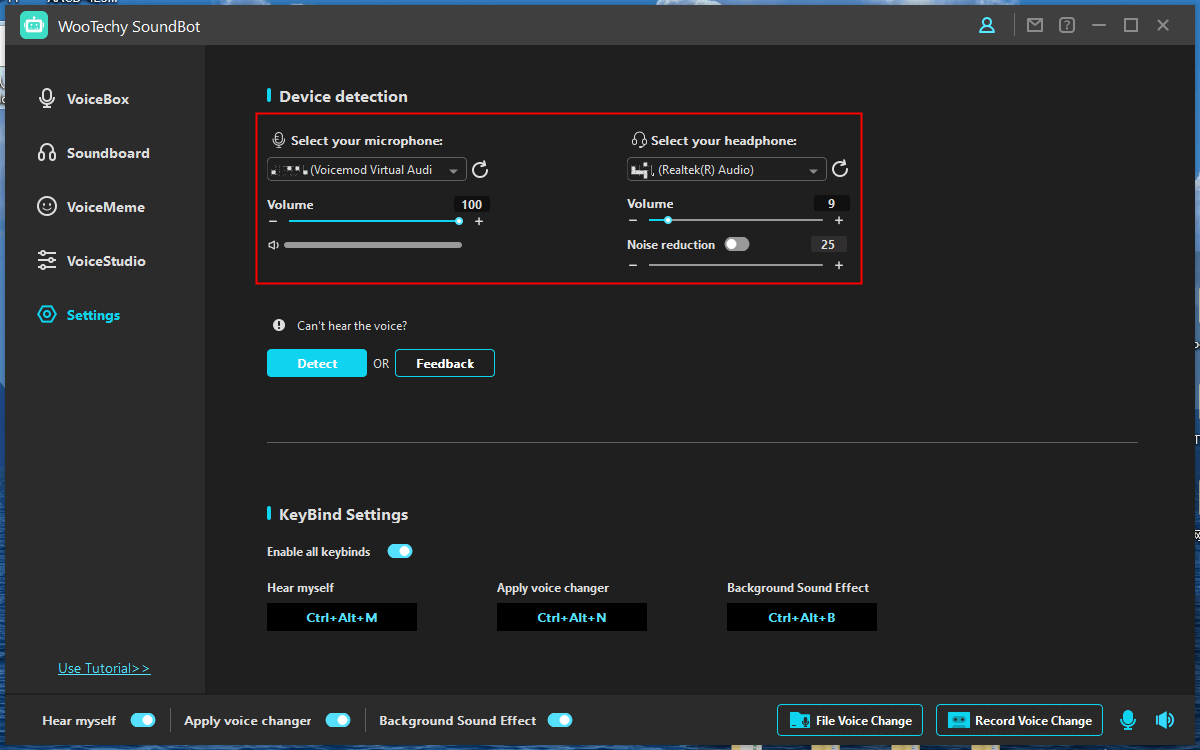 Step 3: Click "VoiceBox". Here you can find numerous voice effects. Select a sound you want to add to the TikTok. Start recording your video while the voice effect is activated.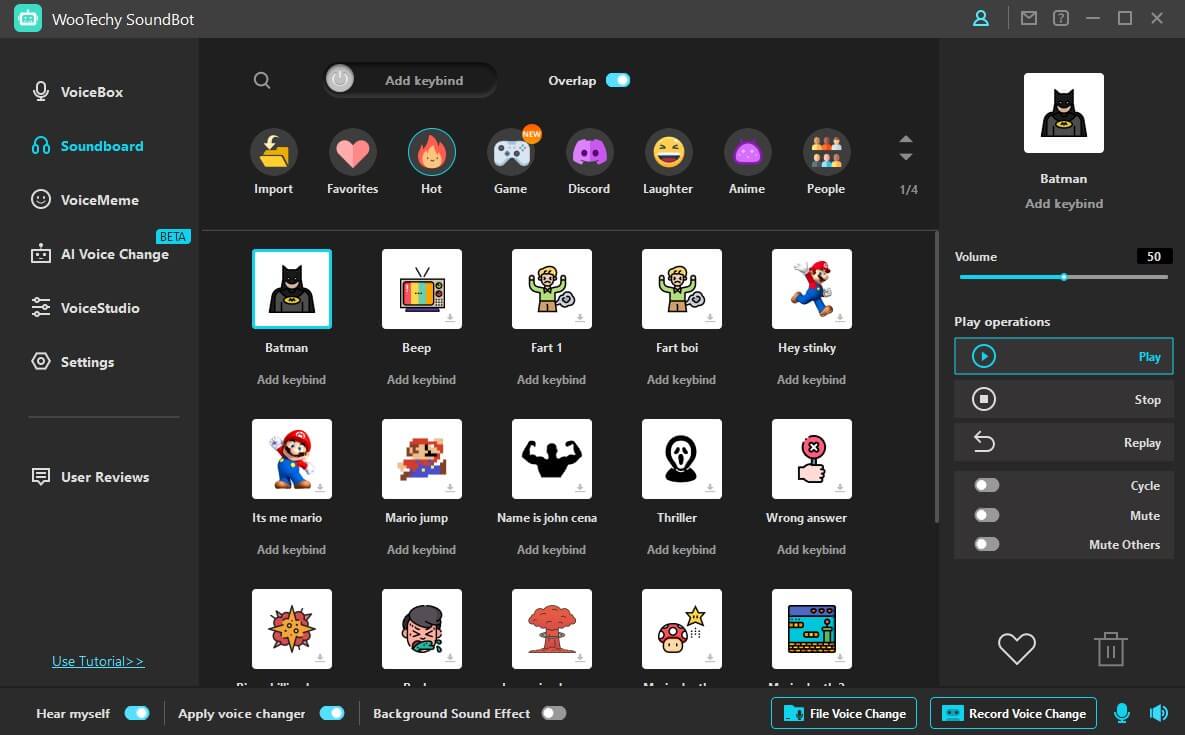 Step 4: Once you are done recording, tap the icon to save your voice and add it to TikTok.
Tips:
1. You can edit or beautify the voice until you are satisfied with it.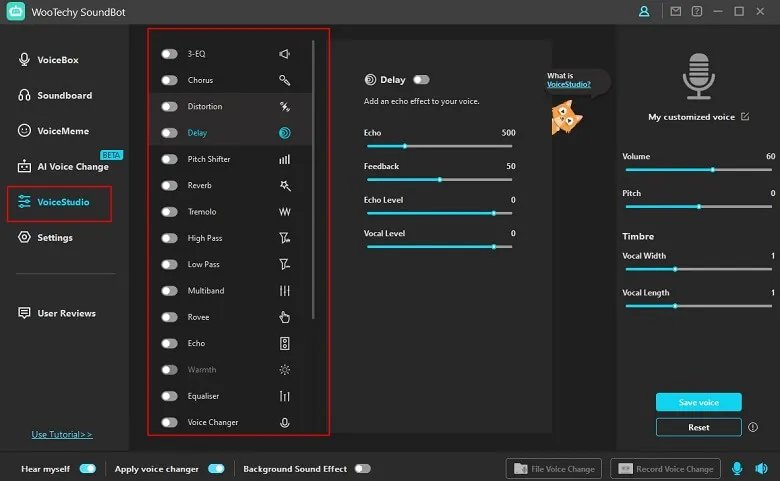 2. With "AI Voice Changing", you can make your voice sounds like Joe Biden, Donald Trump or others.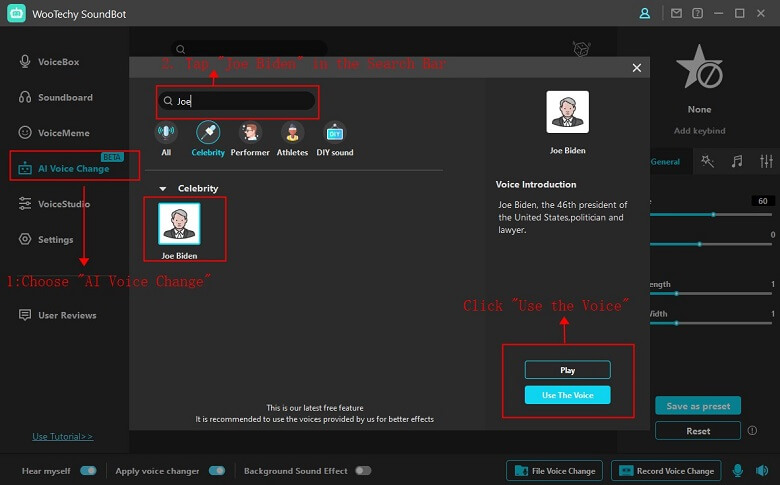 3. Click "Voice Meme" to get more memes and put them on your TikTok video.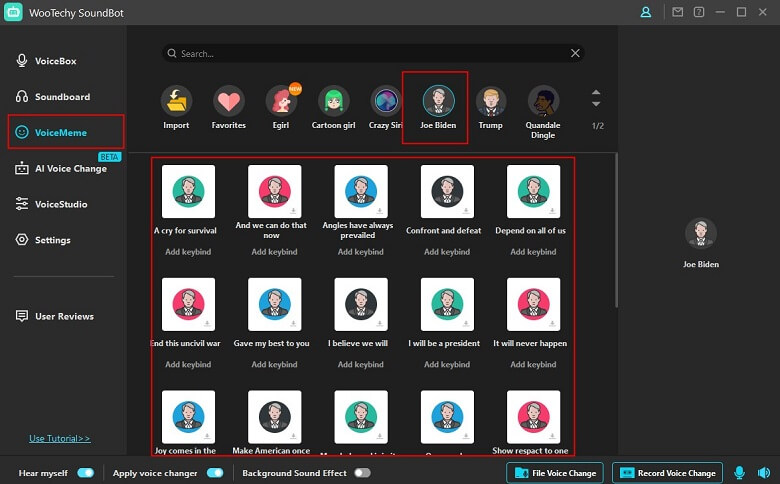 Ⅳ. What are the Hottest Voice Effects on TikTok?
The hottest voice effects on TikTok can vary over time, as new trends and challenges emerge. However, some popular voice effects that have remained popular for a while now include:
Chipmunk - This voice effect raises the pitch of your voice, making it sound like a chipmunk. It's often used in comedy skits and lip-sync videos.
Deep Voice - This effect lowers the pitch of your voice, making it sound deeper and more resonant. It's often used for dramatic or serious videos.
Auto-Tune - This effect corrects the pitch of your voice, making it sound smoother and more polished. It's often used in music videos and lip-syncs.
Echo - This effect adds an echo or reverb to your voice, creating a more dramatic and atmospheric sound. It's often used for spooky or eerie videos.
Robot - This effect makes your voice sound like a robot or AI. It's often used in science fiction or tech-related videos.
Ⅴ. Final Thoughts
In conclusion, the TikTok voice changer is a powerful tool that can add a whole new dimension to your videos. With its wide range of effects and real-time processing, it's never been easier to transform your voice and stand out on this popular social media platform.
By using a voice changer, you can inject creativity and personality into your content, attracting more followers and engagement. Whether you're looking to create comedic skits, lip-sync videos, or dramatic performances, Wootechy SoundBot this TikTok voice changer can help you take your videos to the next level. So why not give it a try and see how it can help you stand out in the crowded TikTok landscape?