Are you a gaming enthusiast looking to add a unique twist to your online gaming experience? Perhaps you've heard about gamer girl voice changers and are curious about how they work, and how they can be used to disguised the voice while playing games or live streaming.
In this article. We will test and learn what is the best gamer girl voice changer. Whether you're looking to spice up a video or play a practical joke, you are good to go with the help of a girl voice changer.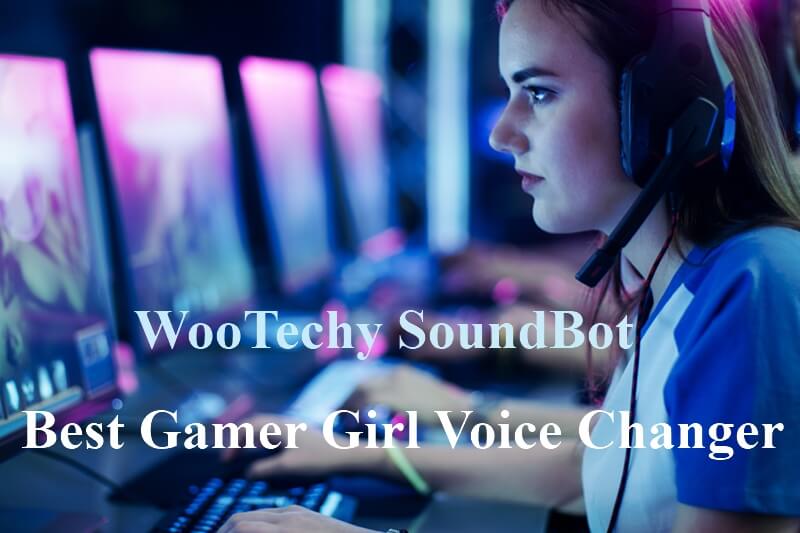 Part 1. What Is the Best Girl Voice Changer?
Video gamers and streamers often use AI voice-altering software to play prerecorded audio or apply various speech effects. Aside from that, there are a numerous other reasons why individuals choose to utilize voice changers. For example, some people prefer to use a voice changer to maintain a sense of anonymity while communicating online.
However, others may be trying to conceal their true gender. Whatever your purpose might be, WooTechy SoundBot can undoubtedly meet your expectations. Whether you're using it for Discord, a video game, or a live stream, WooTechy SoundBot covers you with instantaneous voice-altering effects, voice memes, and sound effects.
Key Features of SoundBot:

75.000.000+

Downloads

As one of the best girl voice generator, Soundbot offers various girl voices among 250+ voice filters such as little girl, boy-girl singing, college girl Alice, sexy girl, etc.

It can be used for gamer girl soundboard or girl voice soundboard as it has 600+ sound effects and 200+ voice memes including cartoon girl and crazy girl.

You can use it under various scenarios like gang up in games, voiceover, real-time communication, live video and more.

You can change your voice in various programs and games, for example, Fortnite, Valorant, PUBG, CF, LOL, etc.

More voices are kept updating regularly.
WooTechy SoundBot works with Windows PCs. You can easily achieve voice changing via speaking to Microphone, or via importing your audio files, or instantly record your voice with it. In addition, using a selection of real-time AI voice filters allows you to quickly and easily alter your vocal appearance and/or tone.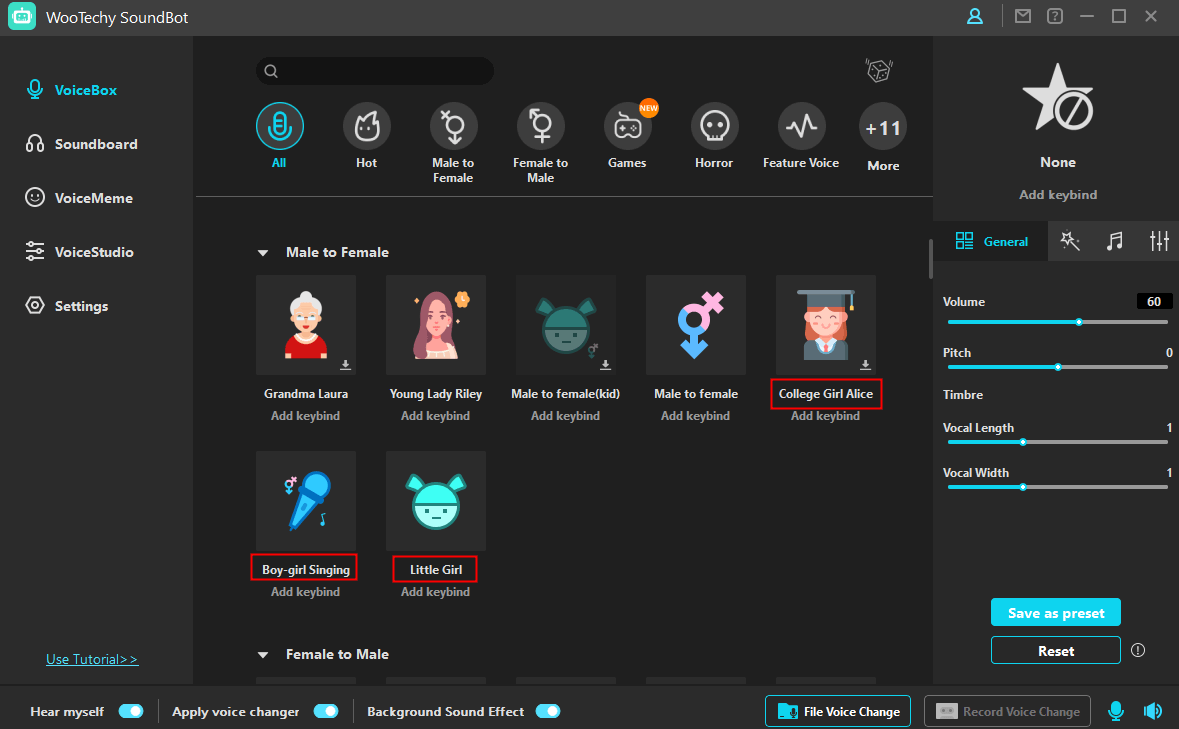 Prank your pals via phone calls, social media apps, voice chats, and more by switching up your voice in real time. For example, you can change your voice from male to female or use one of the numerous voice effects. The effects include Mickey Mouse, a squirrel, Darth Vader, or someone else entirely. You may even use a custom-built 12-band equalizer to fine-tune your tone color and give your voice a more realistic sound.
Part 2. How Can I Change My Voice for Gaming?
Even if you have never played a vocal prank before, using most real-time voice-altering programs won't take long to become used to.
Although SoundBot is a newly-released voice changing product, it is developed by high-technology from our team's professionals. So this tool is 100% safe and working. Let's check out how you can use WooTechy SoundBot to spice up your gaming experience:
Step 1 First, Install and Launch WooTechy SoundBot
Visit the official website for
WooTechy SoundBot
or click the
Download
button to get the program compatible with your Windows device. SoundBot
offers users 5 free voices every day
. Please follow the setup instructions carefully if you're launching SoundBot for the first time.
Step 2 Select the Input and Output Devices
To use WooTechy SoundBot, you must now select both the output and input options. For example, choose the
headphones option from the output
menu to listen via headphones. Make sure to set your actual
microphone as your input device
. Once you've configured the input and output, a window will let you know.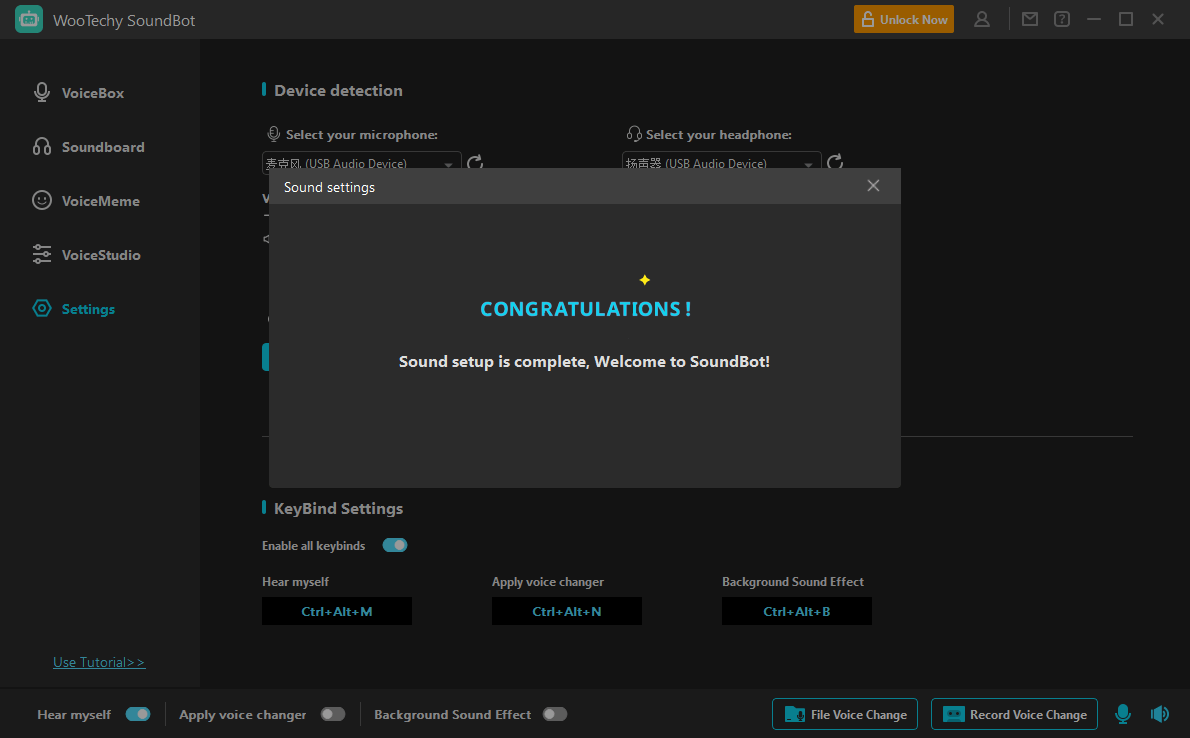 Step 3 Hear the Voice-changing Effect
Next, you may try out your voice with various filters from VoiceBox tab. You can choose the gamergirl voice and speaking into your microphone. Then your voice is successfully changed.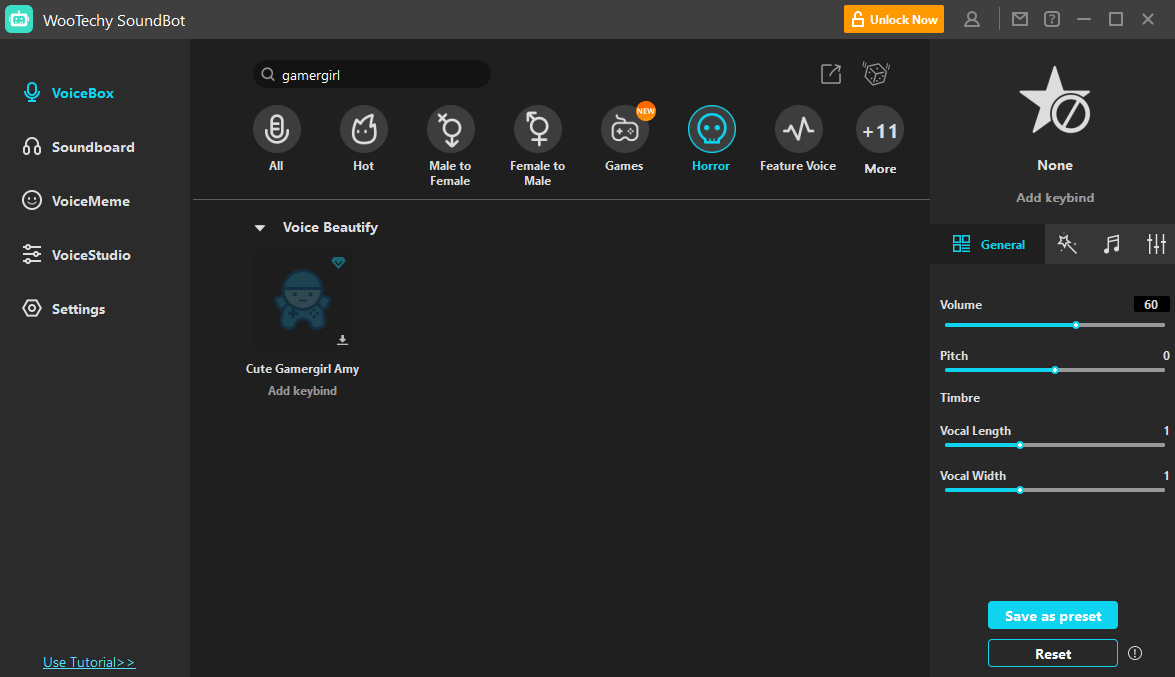 There are hundreds of voice effects available in SoundBot. Browse through them to find the ones you like and double up the fun.
Step 4 Effortlessly Alter Your Voice Across All Media
WooTechy SoundBot is cross-platform; you can use it with PUBG, Discord, Fortnite, Skype, Twitch, and much more. Here's all you need to do to alter your voice in real-time on those services.
Open the app you wish to use, SoundBot, then navigate to the Voice Settings menu.
Then, choose the microphone (Voice Changer Virtual Audio Device (WDM)) option under Input Device. After that, it's a breeze to make the adjustment in-program and hear the results instantly. Your sonic modification will be immediately audible to other users as well.
Tip
To find out how to use SoundBot in a specific game and further to change your voice, you can check out
here
.
FAQs
1. Is There a Girl Voice in Voicemod?
Yes, there is a girl voice effect in Voicemod! In fact, when it comes to changing your voice to that of a female character, Voicemod is also in the top tier.
Numerous voice effects are available for both personal and professional use. In addition, this app is incredibly user-friendly, and best of all, it's free and works on every version of Windows.
Pranking is now much easier thanks to this girl voice changer that can blend voices in the background. You may overlay the voice with any music or sound to improve the mood or create the illusion that you are not where you are.
2. How do you get a girl's voice on Voicemod?
To begin using the female voice filter on Voicemod, follow these easy steps:
Voicemod is available for download if you haven't already. Download the program and follow the on-screen prompts to set it up on your computer.
When you launch Voicemod on your computer, make sure the toggles for "voice changer" and "hear myself" are set to "on."
Go ahead and use the Voicebox to have a conversation by picking the Alice voice filter.
Enjoy your newly acquired female voice! The more you experiment with the feature, the more you should get used to it!
Conclusion
Do you want to pull a voice prank on your pals by pretending to be a woman but don't have a voice changer? Well, if you are looking for the best gamer girl voice changer, look no further.
Here we introduce you to the best AI voice-altering program, WooTechy SoundBot, to start pranking your friends ASAP! It offers free voices every day and can use on different games.