Short videos are the present and feature of social media. From reels, shorts, Tik Tok to WhatsApp status, there is no end to where you can make and post short videos. A vital part of these videos is the voice. Hence, content creators and voice-over artists get great traction and engagement on their videos.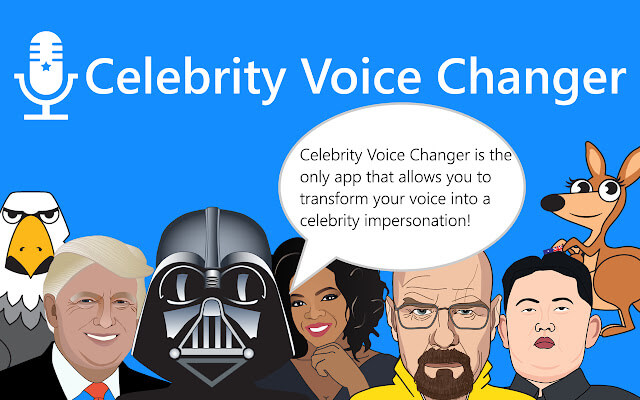 Guess what? You can also have the best voice on your video without paying a voice-over artist. You only need a celebrity voice changer for PC, Android, and iOS. With this tool, all your short and long videos can feature your favorite celebrities.
Part 1. A Full Review of Celebrity Voice Changer
You become famous across social media apps by using celebrity voice changer apps. You will find in this section everything you need to know about them. Furthermore, the reviews here can serve as your onboarding pack to become a movie or musical superstar.
1. What Is Celebrity Voice Changer?
This review is the pathway to sounding like a celebrity. Hence, Celebrity Voice Changer is a cloning app that changes your voice to that of a celebrity. You can use it to surprise your friends by making them think you speak like a celebrity.
You could even use the app to make a happy (wedding, birthday, induction, etc.) celebration video for your partner or family members. There are many features that make it possible for the software to perform this function. Some of the features are highlighted below.
Deep Learning Technology: Celebrity Voice Changer uses deep learning technology to clone several celebrities' pitches and other voice qualities. Hence, the database uses this form of Artificial Intelligence (AI) to improve the available voice list.
Multi-Platform: You can use the software on platforms like iOS and Android. On these devices, you can choose the native app of the device or the general website.
Fast Service: After recording your voice, you only have to wait a few seconds before it converts it to your favored celebrity choice. There is no instant celebrity voice changing.
Cons
User's voice is not modified accordingly as they speak into their microphone; they must wait a few seconds.

The celebrity voice list available on the website is less than what is available on other apps. One-time users are forced to download the app before getting their desired celebrity voice.

Users cannot import their prerecorded audio files; they can only record on the platform.

They are not celebrity voice changers for PC. They only work on mobile devices.
2. How Do You Use the Celebrity Voice Changer App?
Celebrity Voice Changer online requires direction. Hence, the steps below will show you how to use the cloning AI-powered software.
Download, install, and launch the application. Ensure your microphone and camera are working well.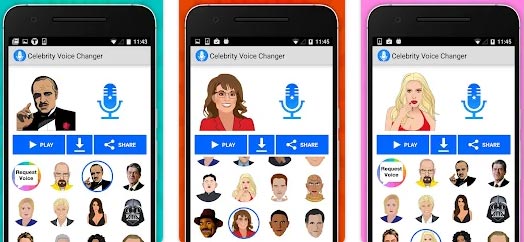 Go to your device permission settings and allow Celebrity Voice Changer to use the microphone and camera when running.
Pick a preferred celebrity among those listed on your screen. Click on the cartoon icon of your celebrity on the screen and start using the software.
3. Other Popular Celebrity Voice Changer App
There are other celebrity voice changer online apps that you can look up. They are different from the previously reviewed app. This section has identified two of those apps.
3.1 Celebrity Voice Changer Lite
It allows users to request their favorite celebrity voices and impressions. Based on the celebrity voice, you can get your chosen sound effects and voice filters from a wide range of options. Users can benefit from its automatic voice modulation. The function of this software is restricted to Android devices alone.
3.2 Celebrity Voice Changer Parody
Unlike the lite version, this app works only on iOS devices. It allows users to add sound effects to their recordings. The software allows you to share your celebrity impression across various social media platforms like YouTube, Twitter, Facebook, etc. Users have benefited largely from its easy-to-use interface.
Part 2. The Best Celebrity Voice Changer for PC
If you want the best celebrity voice changer on your computer, you should go for WooTechy SoundBot. You can import audio files in mp3 and wav format to get a celebrity voice. Also, it helps to generate celebrity voices in real time.
You can also use the app to record your voice before transforming it into the voice of your preferred celebrity, even from male celebrity to female celebrity. After generating your desired audio, it is pretty simple to export it. We are constantly uploading our list of celebrity voices for you to have the best experience.
WooTechy SoundBot performs a celebrity voice changer in real time. Additionally, it helps you create sound effects with a celebrity voice. Hence, below are the steps to use WooTechy SoundBot to perform a celebrity voice changer.
How to use the real-time AI voice change feature
Download the app from our official website. Install and open the software. Pick the output and input devices you want to use on the app.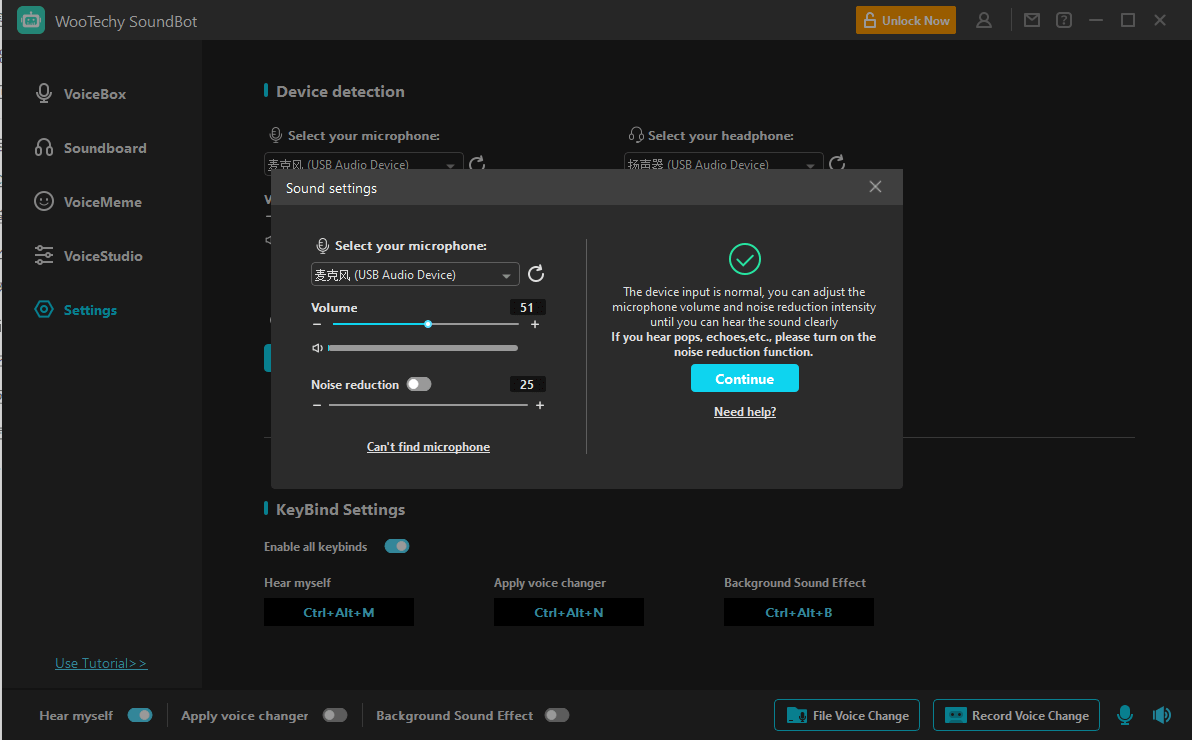 Select the celebrity voice effect you like and start speaking into your input device.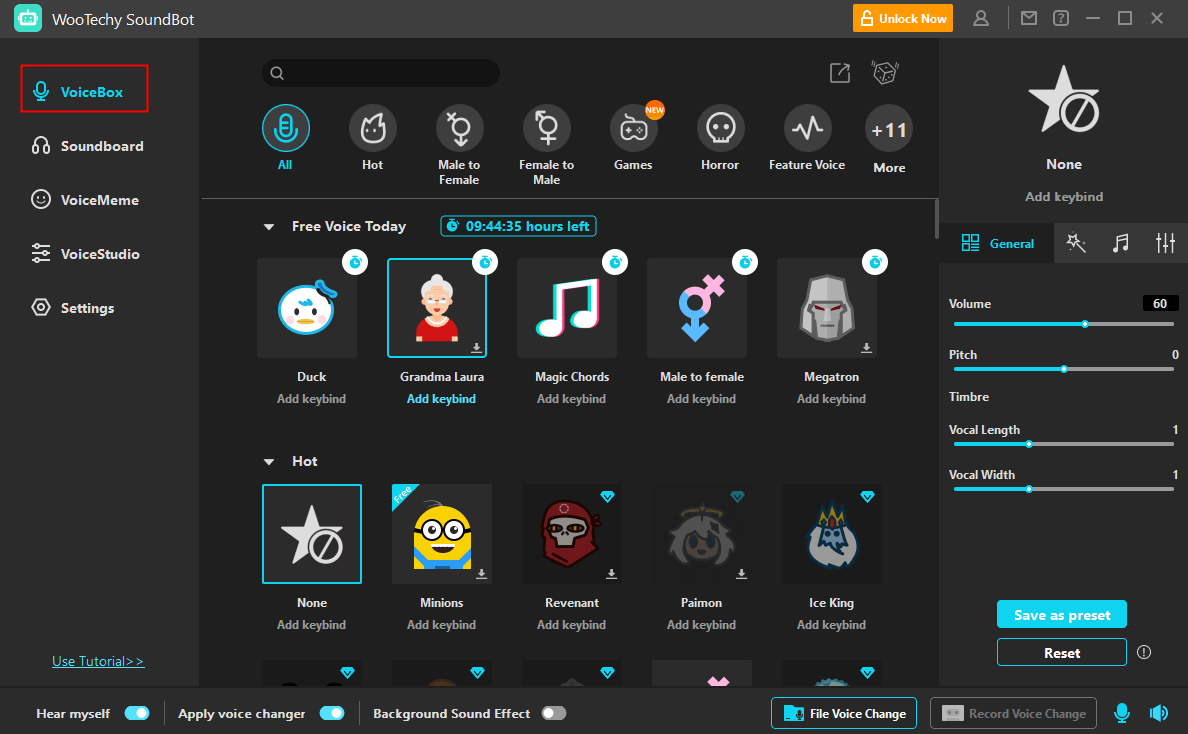 How to use sound effects
Download the app from our official website. Install and open the software.
Tap on the button for the sound effect menu. Pick the celebrity sound effect you want.
Customize keys and commands for keybinds on your device.
In Sum
Having a video with a celebrity voice can be very fascinating. Apart from making your video special, it attracts more likes, multiple reposts, and lovely comments. You can use any celebrity's voice by using the celebrity voice changer. Furthermore, you can install versions compatible with your Android or iOS device. You can also use our recommended WooTechy SoundBot app for your computer.