Many people are familiar with the Vocaloid Hatsune Miku, whose voice has become iconic in Japan and around the world. But what makes her voice so unique?
Let's take a deep dive into the technology behind Hatsune Miku's voice and explore what makes it so distinct. So join us as we explore the fascinating history of one of Japan's most beloved virtual idols and Hatsune Miku voice generator, which you must try!
Now, let's talk about what Hatsune Miku's voice is!
Part 1. What Is Hatsune Miku's Voice?
In Hatsune Miku's voice, one can hear the passion and energy of a young woman. Her voice is youthful and fresh, yet it also has a hint of maturity. It is this unique mix that has made her so popular with fans around the world.
A Japanese Vocaloid software program provides Miku's voice. This allows anyone with a computer to create songs using her voice. The program includes many different pitch and tone settings, which can be used to create a wide range of sounds.
Miku's popularity has led to her being featured in numerous songs, TV shows, and video games. She has even been featured in live concerts, where she is projected onto a large screen.
Let's move on to the best Hatsune Miku's voice generator on the computer…
Part 2. Best Hatsune Miku's Voice Generator on Computer
There are many AI Miku voice generators out there that you can use to create Hatsune Miku's voice. However, not all of them are created equal. The WooTechy SoundBot voice generator is perfect for those who want to create Hatsune Miku's voice.
This is the best AI Hatsune Miku voice generator on the computer because it is very user-friendly. You don't need to be a tech-savvy person to use this program. All you need to do is speak with your own voice, and the program will change the voice to Hatsune Miku's in real-time.
WooTechy SoundBot – Perfect Hatsune Miku Voice Changer
75.000.000+
Downloads
Has over 125 voice filters including Hatsune Miku and shinchan, then further directly change your voice.

Apart from the Hatsune Miku voice, it still has 400+ sound effects and 200+ voice memes.

You can use the Hatsune Miku voice generator online on various platforms such as Discord, Zoom, Skype, Valorant, Fortnite, CS:GO, etc.

The ability to create your own custom Hatsune Miku voice with its VoiceStudio feature.
The Hatsune Miku voice generator free offers 5 free voices randomly each day including Hatsune Miku. Let's see how to use the voice changer to change to Hatsune Miku voice.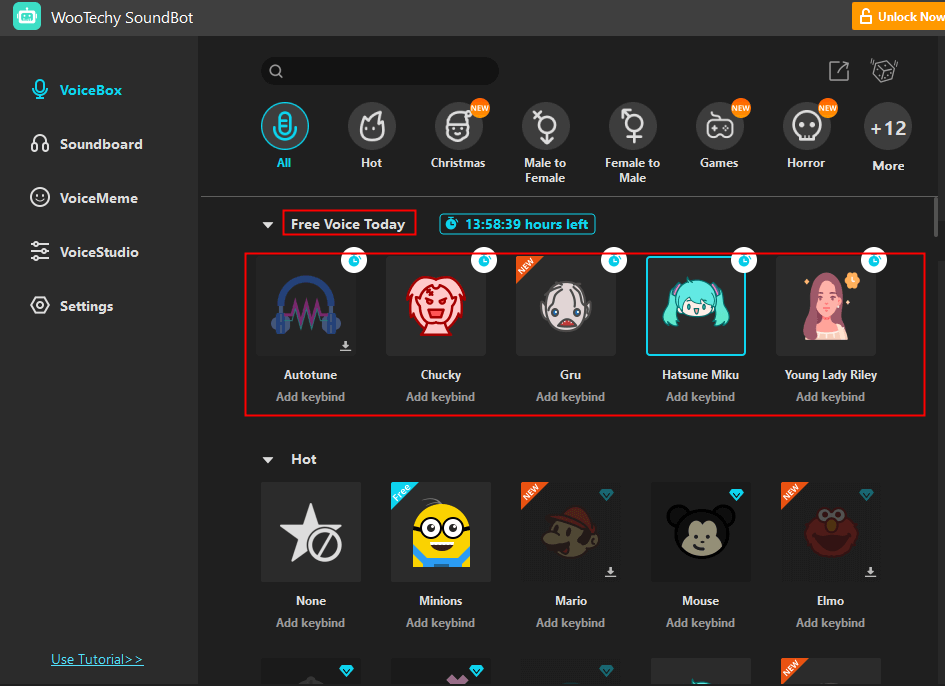 Steps of Using WooTechy SoundBot to Create Hatsune Miku Voice:
Step 1 Download and launch the WooTechy SoundBot app on your computer. Choose the headphone and microphone you prefer from the list. They should be output and input devices respectively.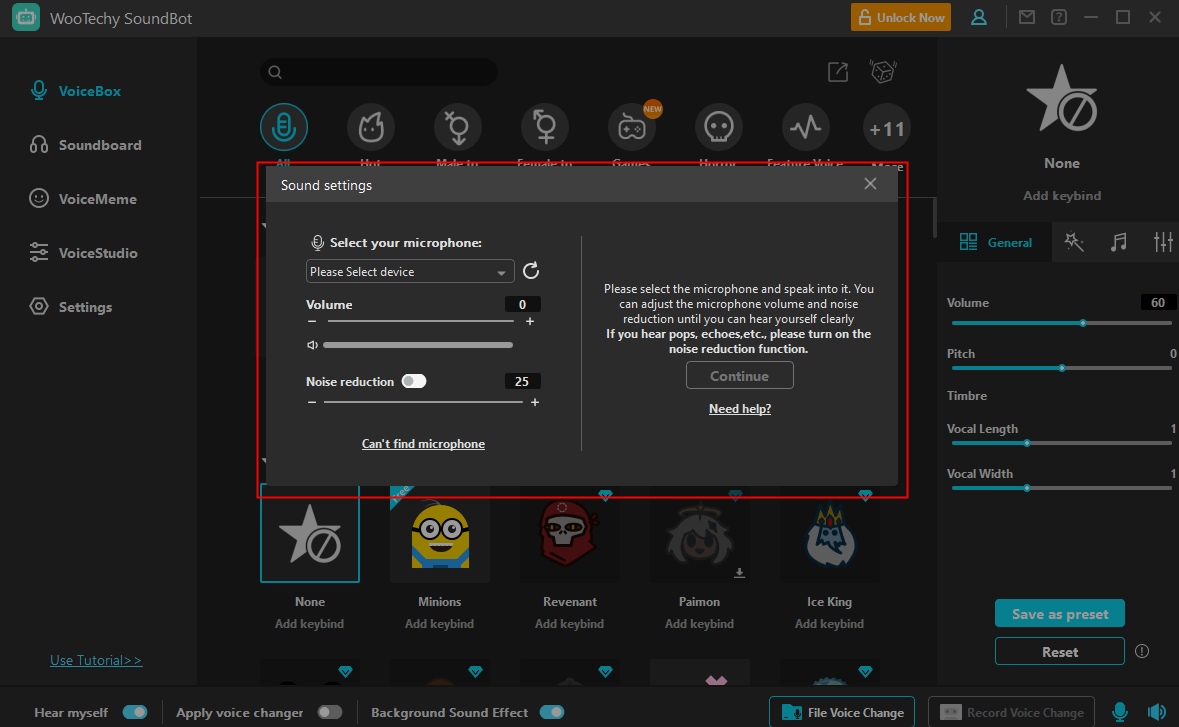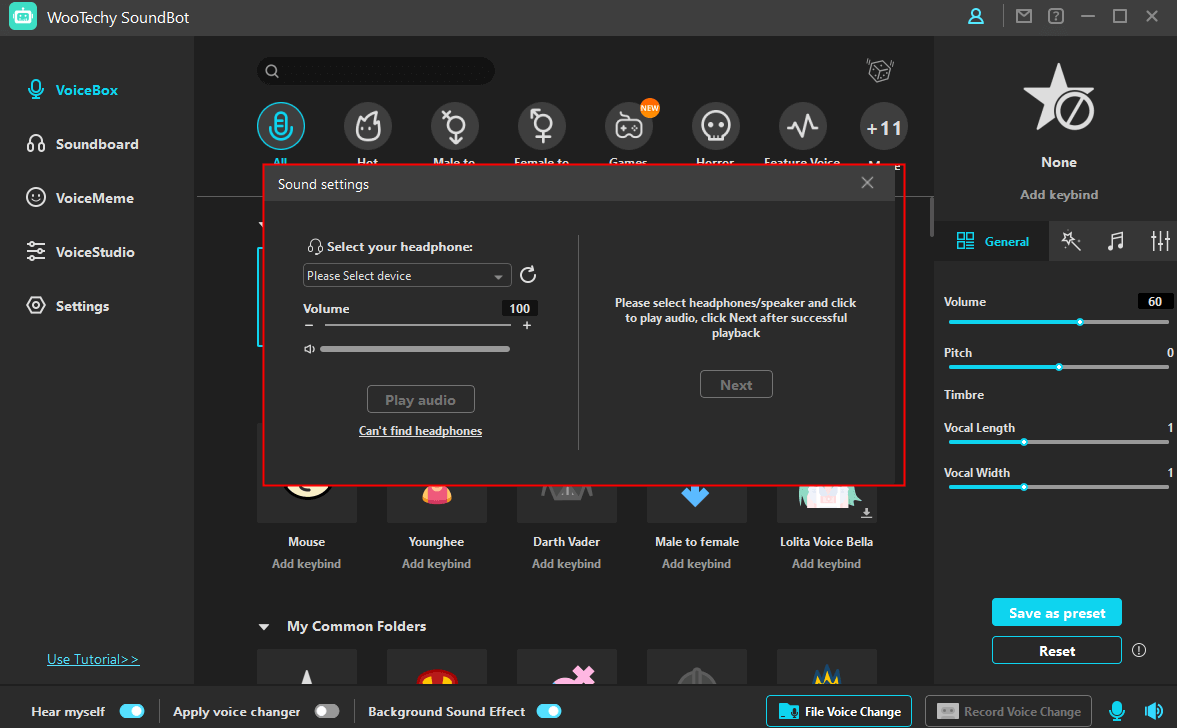 Step 2 Search in the search bar, Hatsune Miku, and download.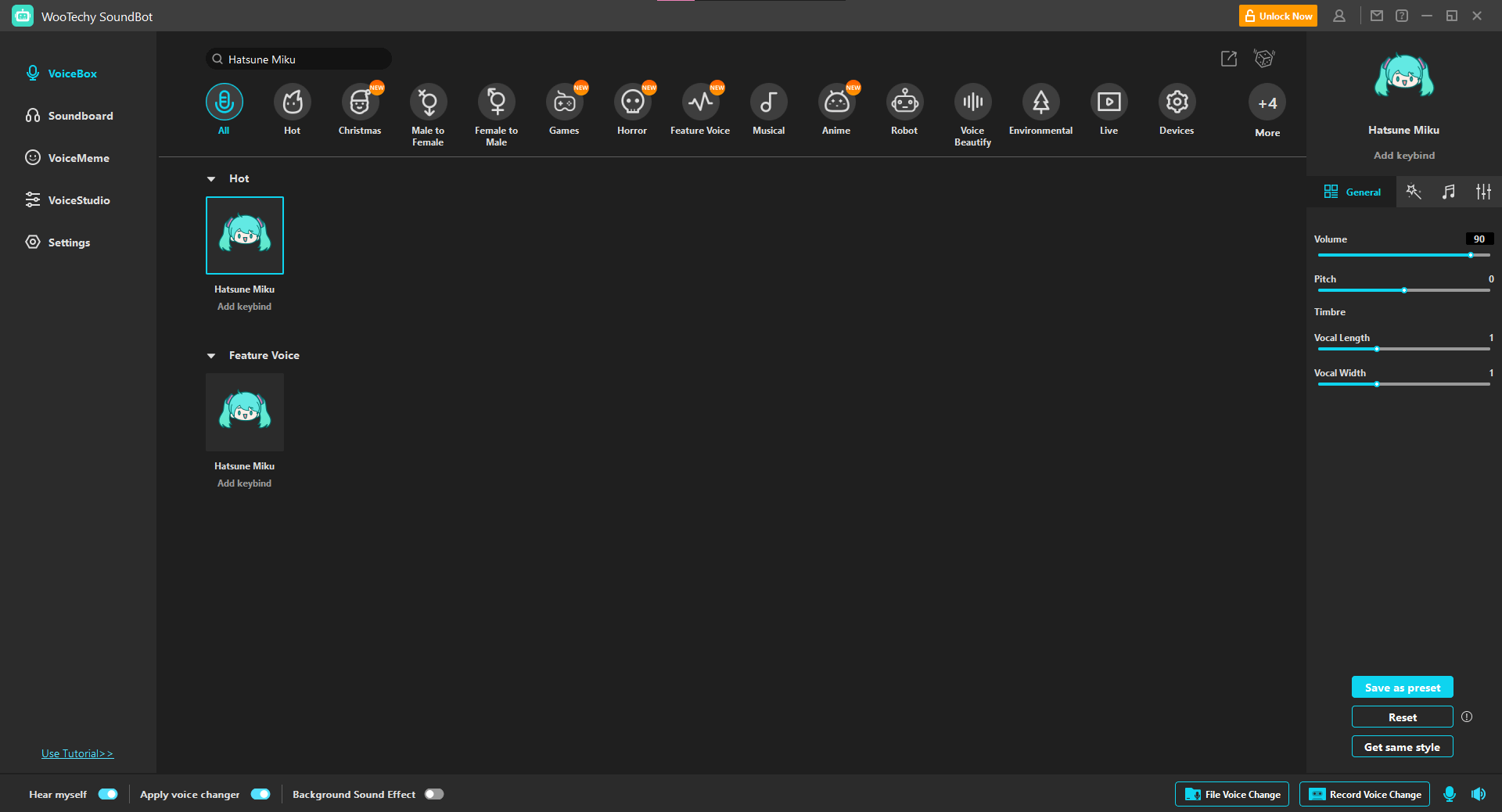 Step 3 Click on the right and adjust the pitch as per your requirement!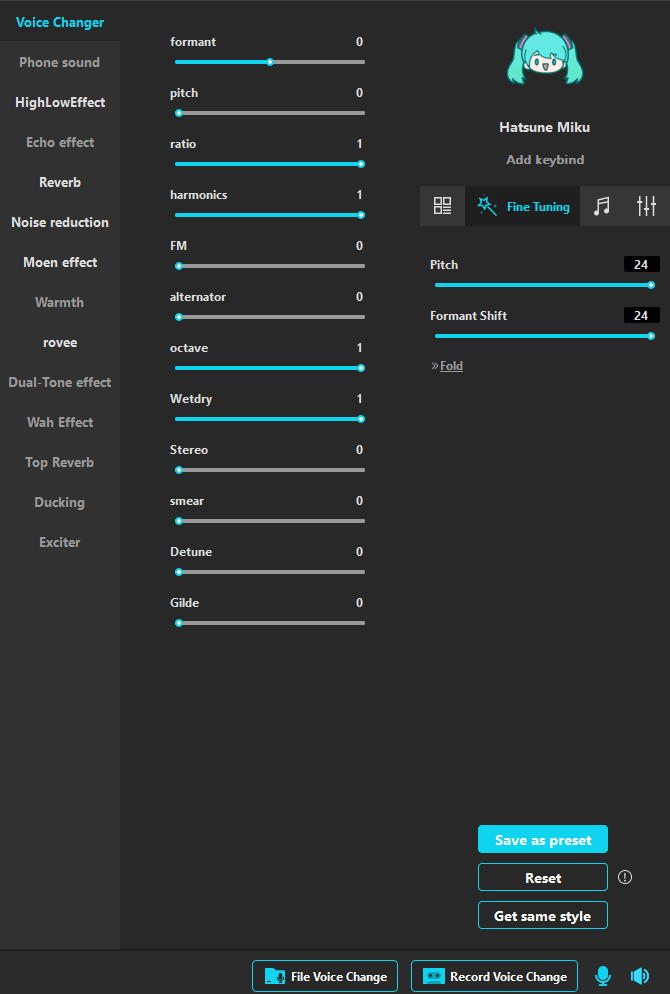 That's it! Speak into your microphone and your voice will be automatically changed. You can also uploade your audio files to change to Hatsune Miku voice.
If you want to use the Hatsune Miku voice generator in your targeted platform, just make sure the platform's audio device is changed to Microphone (Voice Changer Virtual Audio Device).
Part 3. Hatsune Miku Voice Generator Text to Speech
Have you ever wanted a Hatsune Miku voice generator text-to-speech? Well, now you can! With the latest advancements in AI technology and artificial intelligence, it is possible to generate realistic vocalizations of the famous Japanese Vocaloid character.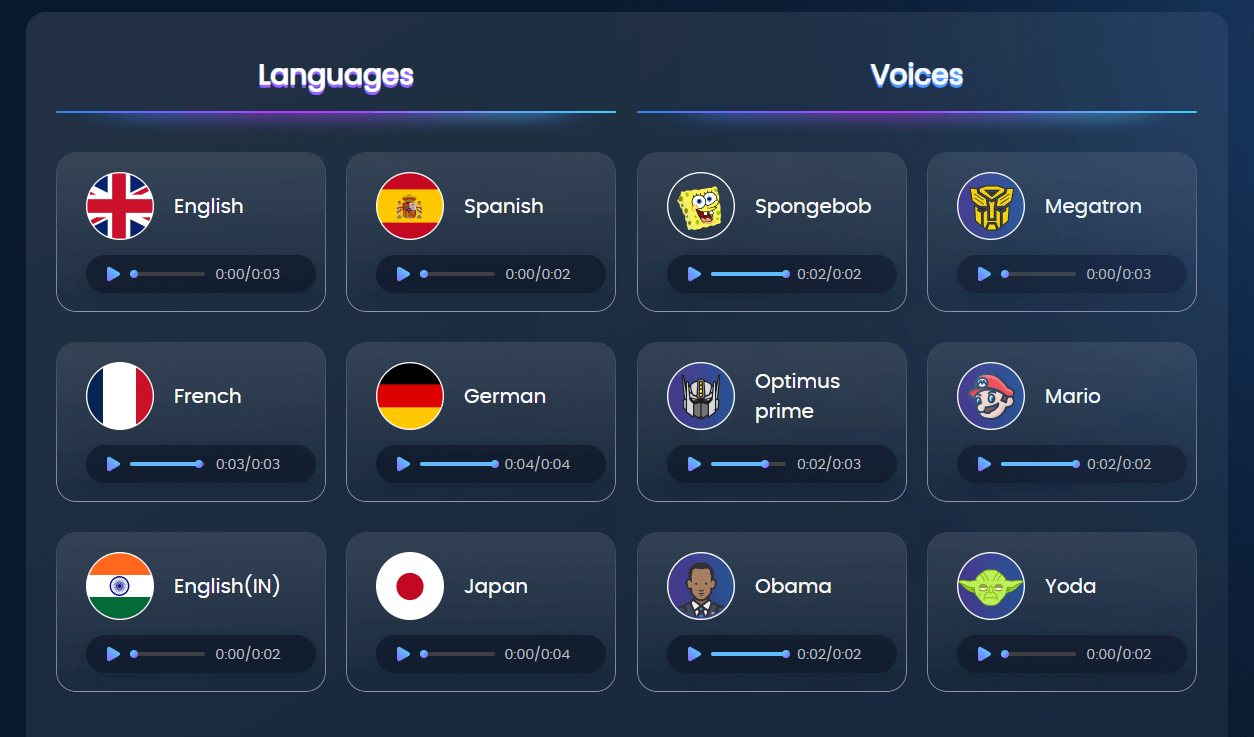 A VoxBox is a text-to-speech voice generator that allows you to input text and generate a speaking voice in the Hatsune Miku vocal range. You can use the VoxBox to create messages, announcements, or audio clips in the Hatsune Miku voice.
Features of VoxBox
VoxBox offers over 3200 voices for you to choose from.
It has an interface that is Easy-to-Use!
You can choose from over 46 languages for Text-to-Speech.
You can even use input and output formats like MP3 and WAV!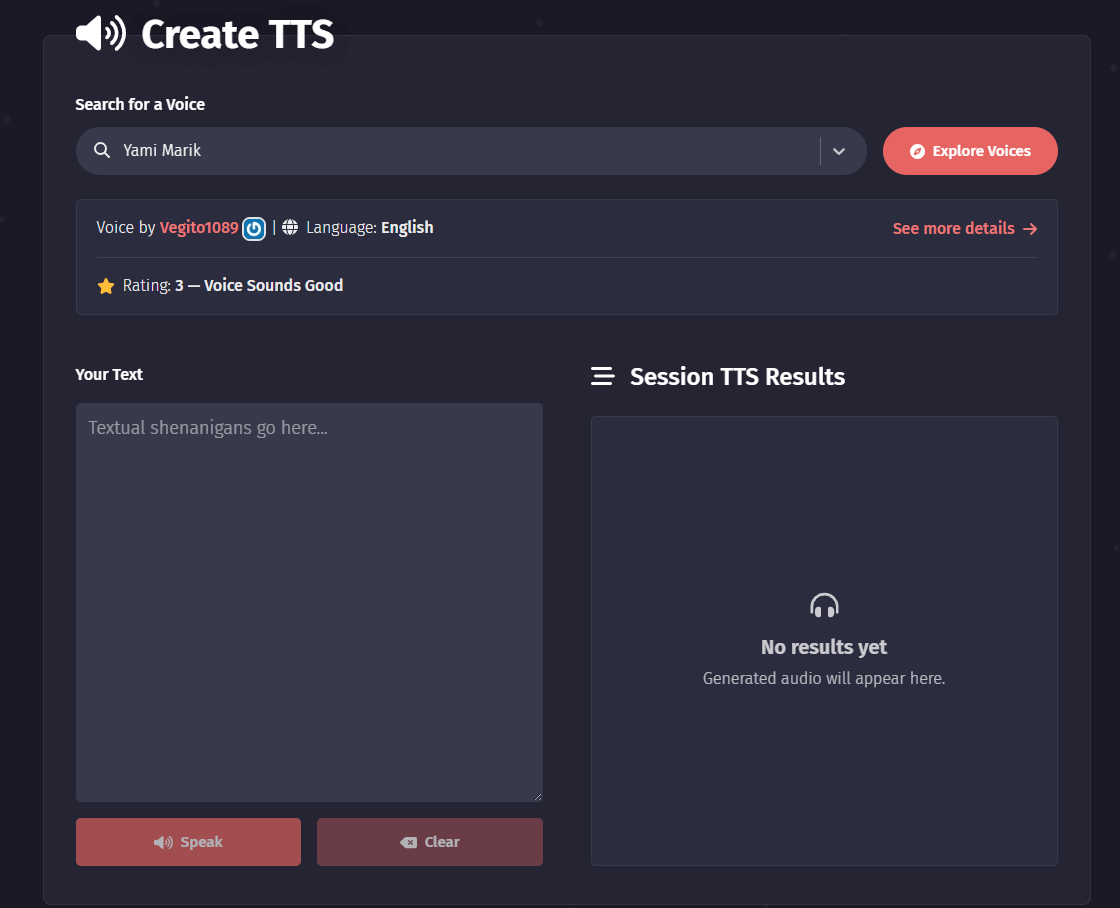 FakeYou Text-to-Speech is an internet service that will read any text you type in using a voice of your choosing. It has over 2,400 voices to choose from, allowing you to make your writing sound like your favorite actors and fictional characters.
For a more natural-sounding setting, these voices also incorporate everyday people's speech. Let's say you're on the lookout for a better version of FakeYou. If you need high-quality phony text-to-speech results, the FakeYou website has got you covered.
FakeYou's Features
FakeYou offers quality voices of up to 2,400.
It has an Easy-to-Use interface.
FakeYou creates AI sounds that are just too realistic!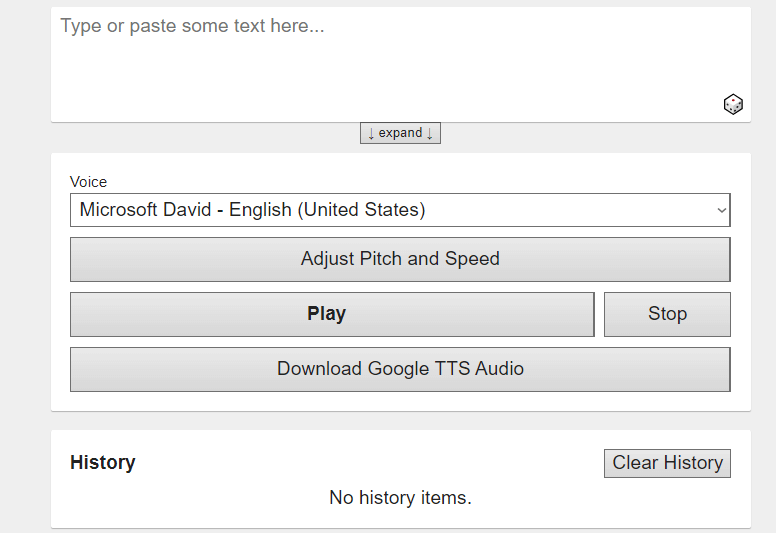 Voice generators are nothing new; many online text-to-speech tools have been around for years. However, Voice Generator.io is a new tool that offers something unique- the ability to create a voice for the popular Japanese Vocaloid character Hatsune Miku. This tool is perfect for those who want to create songs or other vocal pieces with Miku's voice but need more time or resources to do so themselves. Type in the text you want Miku to sing, and the generator will do the rest.
Voice Generator.io's Core Features
Voice Generator.io is very easy to use.
You can even use the Pitch Adjustment Feature to make the voice higher or lower.
Need faster audio? Just use its Speed Adjustment feature.
Download Google TTS Audio Option for you to easily keep your audio files.
And lastly, it keeps all your audio in the history so you can access them any time!
If you're looking for a great way to add some extra flair to your music, check out Voice Generator.io!
Now that we have covered most of the topics let's sum it all up.
Conclusion
Hatsune Miku's voice changer is a marvel that has captivated audiences around the world. From her groundbreaking digital presence to her beautiful vocal performances, Hatsune Miku proves just how versatile and powerful the human voice can be.
With so many amazing songs and performances available online, it's no wonder why so many people are drawn to this virtual singing sensation. If you also want to change your voice to Hatsune Miku, you can't miss the best Hatsune Miku voice generator on the computer – WooTechy SoundBot!
Download it and give it a free trial!