Have you ever wanted to create your own creepy sound effects for the Halloween party, the horror video, or even just for fun? As we all know, creepy voice can make a big difference in scaring your audience by adding the eerie creak of a door opening, the blood-curdling scream of a victim, or the muffled footsteps of a monster stalking its prey.
But how do you make the creepy sounds? It's not as difficult as you might think!
In this article, we will explore the best creepy voice generator. Then, you can create your creepy sound that will send shivers down your friends' spines with only a few clicks.
Part 1: Learn Some Key Elements of the Creepy Sounds
Before generating the creepy voice, let's start with some of the most common elements and types of horror sound effects.
Creepy sound effects rely on specific elements to induce fear, such as Tone and Pitch, Modulation, Timing and Pauses, Distorted Speech or Background Ambience. Carefully crafted and combined kind of these elements would make voices in horror truly creepy and unsettling.
In addition to these general elements, there are also some common types of creepy sounds including Rattling voices, Raspy voices, Whispering voices, Demonic voices, Screaming voices, Growling voices etc... It depends on what kind of mood or atmosphere are you trying to create.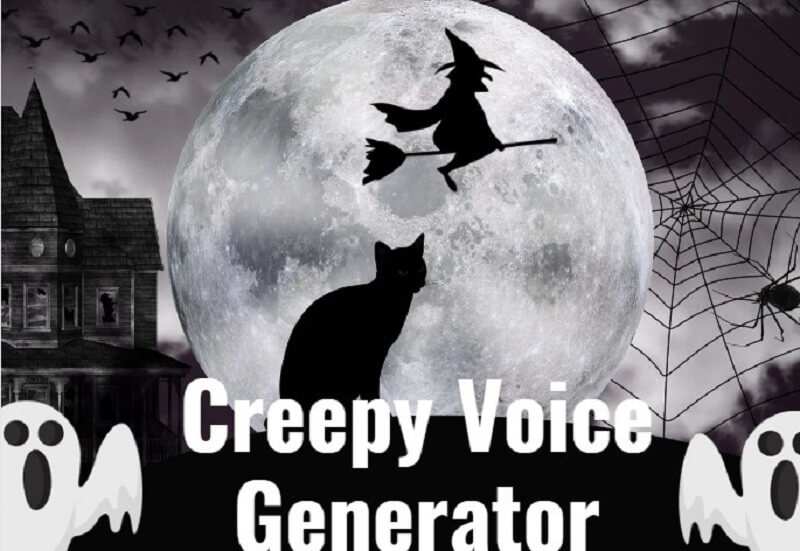 Part 2: How to Get Creepy Sounds without Effort--Creepy Voice Generator
With an in-depth understanding of the above elements, you can dial in the creepy voice you want on your own. However, If you're looking for a quick and easy way to create creepy sounds, using a creepy voice generator is a great way. For instance, the Wootechy SoundBot.
WooTechy SoundBot is a powerful AI voice changer software that offers a variety of voice filters and voice memes, allowing you to change your voice in different ways. One of the sound categories is "Horror Voices", which can be used to generate a wide range of different types of realistic creepy sounds such as Younghee, Jigsaw, Creepy Child Voice, Ghostface, Lost Soul, Zombie and so on.
Not just a creepy voice. 250+ voice filters can be used to generate a variety of sounds like celebrity voices, male-to-female voices, alien voices, cartoon voices and so on.
75.000.000+

Download

600+ sound effects are available, including the creepy sound effects.

Customized options give you the flexibility to get your own unique voice.

Support voice changing via Microphone or audio file in real-time.

Comparable with most of the platforms of live chatting, gaming, live streaming, and conference.

Update new voice regularly, including daily free voices.
How to get creepy sound with Wootechy SoundBot--Within 3 Steps
Step 1: Ensure you have Wootechy SoundBot installed on your computer. You can download it from Wootechy's official website.
Step 2: Launch the program. You have the option to set your input and output devices in Device Detection, like the Microphone and headphones.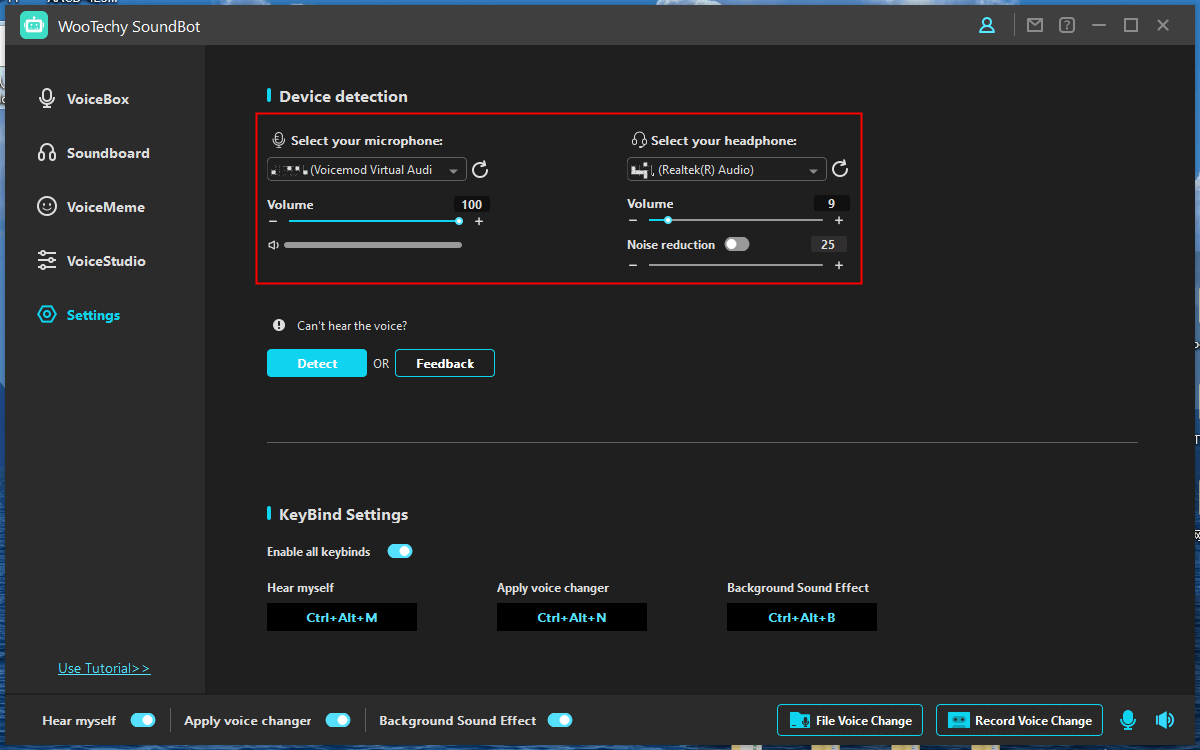 Step 3: Once done, you are navigated to the SoundBot's VoiceBox. Here, you can explore the many available voice filters. To generate a creepy voice, look for filter categories that are labelled as "Horror" and select the one you prefer.
For example, here we chose the Younghee Doll voice. Then, you can get creepy sounds with 3 options in SoundBot:
Speaking into the Microphone to change the voice.

Record your own voice and then apply the creepy voice effect.

Import an existing audio file to generate the horror voice.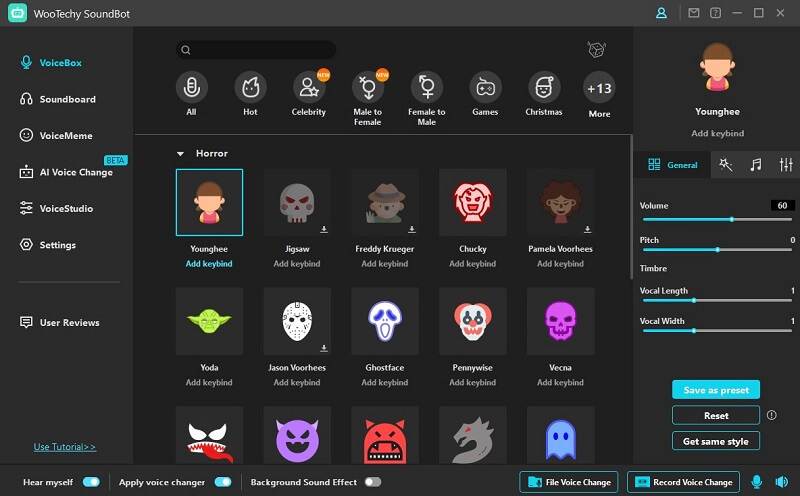 To make the atmosphere scarier and more realistic, sound effects can be added as the background music. You can find various creepy sound effects in the "SoundBoard."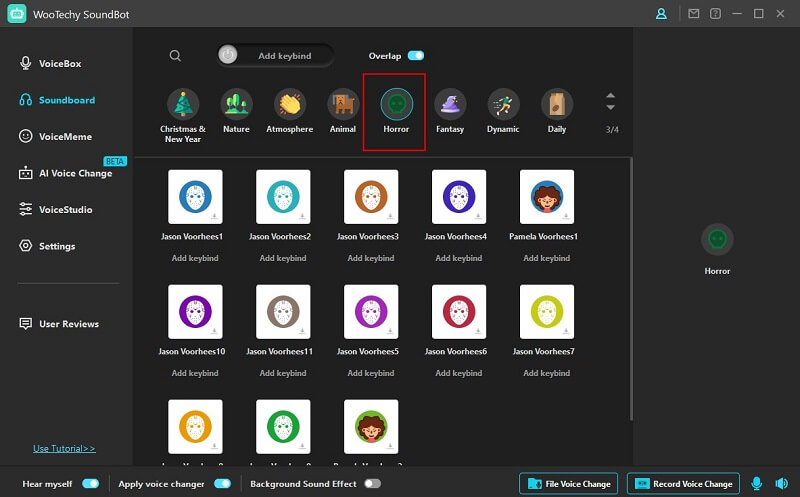 Sure, if you think the creepy sound hasn't lived up to your expectations, freely adjust the parameters based on your preference.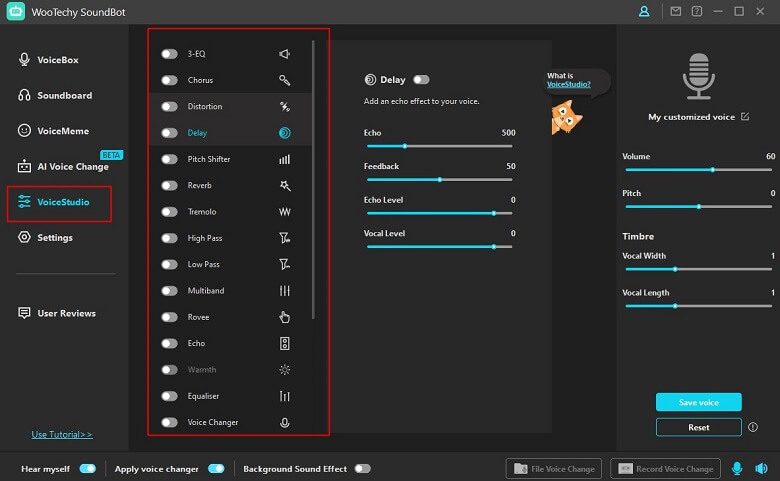 Once done, you can save the audio file to use it later or share it to your friends. You can also change your voice into a creepy voice directly during calls or online interactions. Overall, SoundBot is an easy-to-use tool that allows you to get creepy voice effortlessly. Have a free trial and make your party more fun!
Part 3: Other Options to Get Horror Voice--Creepy Text to Speech
Creepy text to speech is a kind of online voice changer that can be used to get horror voices without having to record your voice. It works by converting the text into scary-sounding speech. One of the available creepy text-to-speech tools is Narakeet Scary Voice Text to Speech.
Narakeet Scary Voice provides a paid online TTS service, offering some AI voices, including the creepy options. You can adjust the pitch, tempo, and volume of your voice, to create creepy effects.
To use the creepy TTS service, you need to enter the text you want to generate a voice for and select the desired creepy voice effect. It will then generate a creepy voice audio file based on your text. Sure, for this online service, you can't change your voice with a Microphone, and the creepy voice can not be directly used in real-time interactions.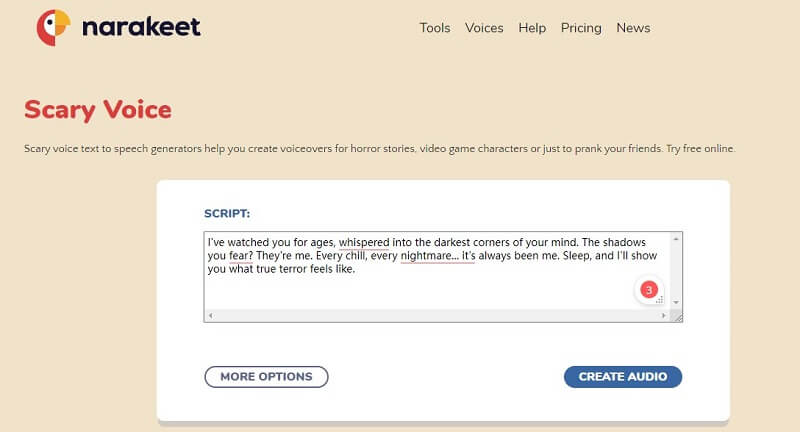 Part 4: FAQs about Creepy Sounds You May Interest
1

What Scenarios can creepy voice generators be used?

Creepy sounds can be used for a variety of purposes, such as creating pranks or gags, adding a creepy element to Halloween decorations, telling spooky stories, and adding horror effects on video making or podcasts. Anyway, it depends on you. But make sure to only use it for legal purposes.
2

Can I customize the creepy voice according to my preferences?

Yes, creepy voice generators like Wootechy SoundBot offer customization options. You can adjust settings and parameters. But it is not supported in online voice -changing services like creepy voice text to speech.
3

Are there specific settings to make a voice sound creepier?

Yes, there are many adjustable parameters that you can use to make a voice sound creepier. For instance:

Lower the pitch to create a darker and more sinister tone.

Slightly variate the irregularities of the tone can add an eerie quality to the voice.

Integrate subtle background noises, like whispers or distant screams.

Manipulate specific words or phrases with emphasis or distortion, especially when combined with lowered pitch.
Wrap it Up
Generating creepy sound effects can be a great way to have more fun. Luckily, it is not difficult to do it. For example, with Wootechy SoundBot, you can easy to create different types of creepy sounds. Its customized options process it to make it sound more creepy. With a simple download, you will be able to generate creepy sound effects that will send shivers down your audience's spine!