Drake is one of the most popular and influential rappers of our time, with his unique flow, melodic vocals and catchy songs. But what if you could deep fake Drake Voice? That's exactly what Drake AI voice generators allow you to do.
With such AI tools, you can use Drake AI voice to chat with friends, AI sing cover or share it on social platforms. So in this article, we'll explore the top 3 Drake AI voice generators of 2023, showcasing how to deepfake Drake voice without effort.
Part 1. Who is Drake
Drake has been in the music industry for over a decade, and he's released several hit albums, including "Take Care," "Nothing Was the Same," and "Views." He's also won numerous awards, including four Grammy Awards and 13 BET Awards. His music encompasses a wide range of genres, including hip-hop, R&B, pop rap, pop, and trap.
In addition to his music career, Drake is also an actor and businessman. He's starred in several films and television shows, like the television series "Degrassi," and he has his own clothing line and record label.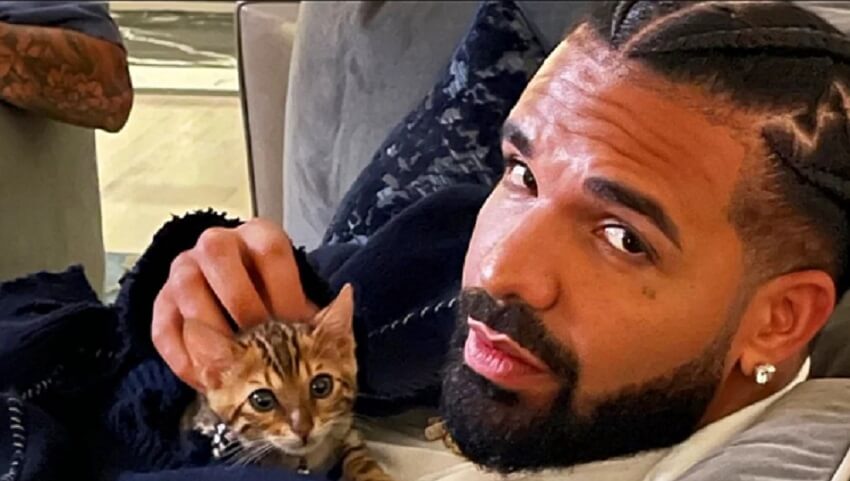 Part 2. The Best Drake AI Voice Generator in 2023
If you're looking for the best Drake AI voice generator, look no further than Wootechy SoundBot. SoundBot is easy to use and does not require any prior experience with AI or audio production. Simply speak to your Microphone, record a sentence or upload a pre-recorded audio file, and SoundBot will change your voice to sound like Drake in real time.
You can also customize or fine-tune the voice settings to create a voice that sounds exactly like Drake, or you can experiment with different settings to create your own unique voice. Moreover, SoundBot's high compatibility allows you to change voice on different platforms in real time, such as Discord, PUBG, Fortnite, Xbox, Steam, Skype or Zoom. This makes it ideal for use in online gaming, voice chat, and live streaming.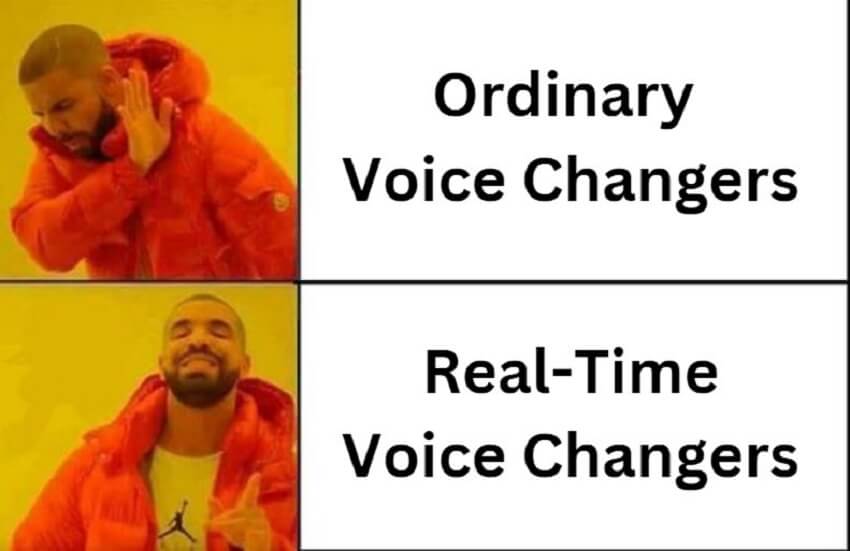 75.000.000+

Download

250+ voice filters available for changing your gender, age, and accent, or even sounding like a cartoon character or celebrity.

600+ sound effects can be added to create funny or scary voices or to match the mood of your project.

Adjust the pitch, formant, and other vocal parameters to create a voice that is truly your own.

Emulate the sound of different environments, such as a cave, a forest, or a stadium.

Include a built-in voice recorder and support freely exporting the voice in different audio formats.
In addition to these features, Wootechy SoundBot is also constantly being updated with new voices, letting you enjoy different voice filters instead of only Drake AI Voice.
Get started with Wootechy SoundBot Drake AI voice generator within 3 simple steps:
Step 1: Download and install WooTechy SoundBot on your computer.
Step 2: Launch the SoundBot, and set up your input and output devices.
Select the Microphone and Headphones, and adjust the Volume to your comfort level.
(Optional) Set Keybinds to activate different voices. It is useful to switch different voices when live chatting, playing games or live streaming.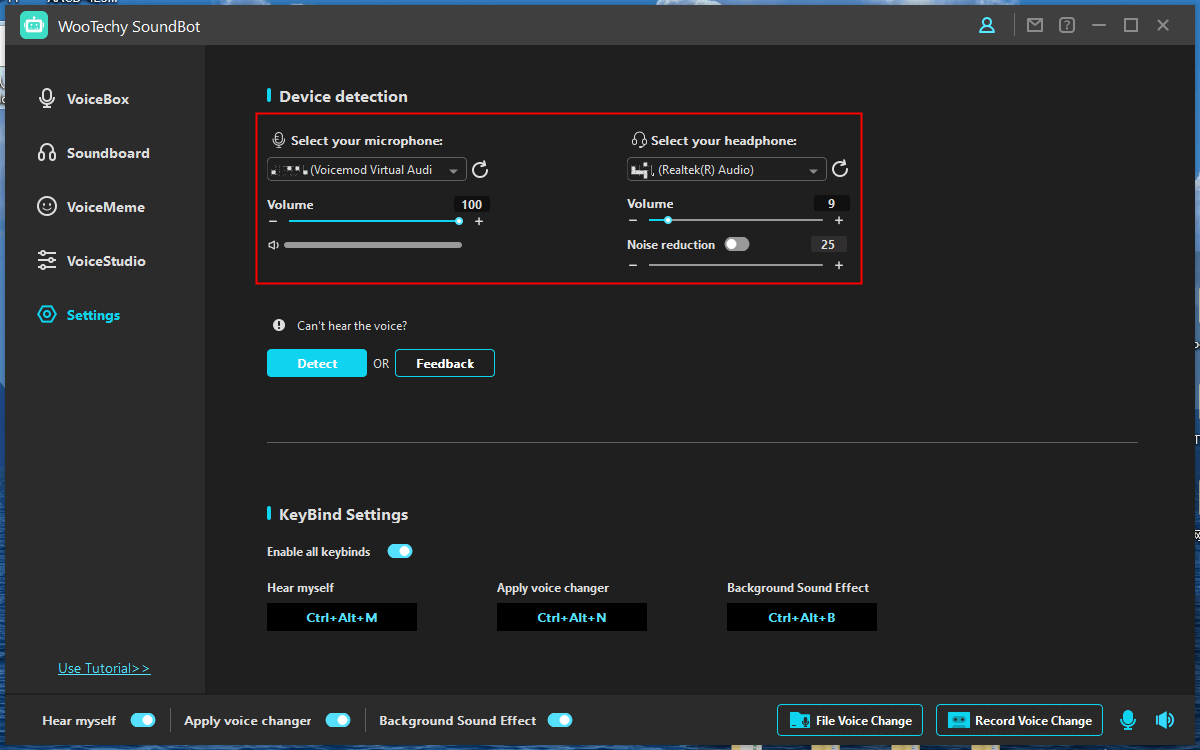 Step 3: Apply the Drake voice effect on the VoiceBox tab. Speak into the microphone and your voice will now be changed to sound like Drake instantly.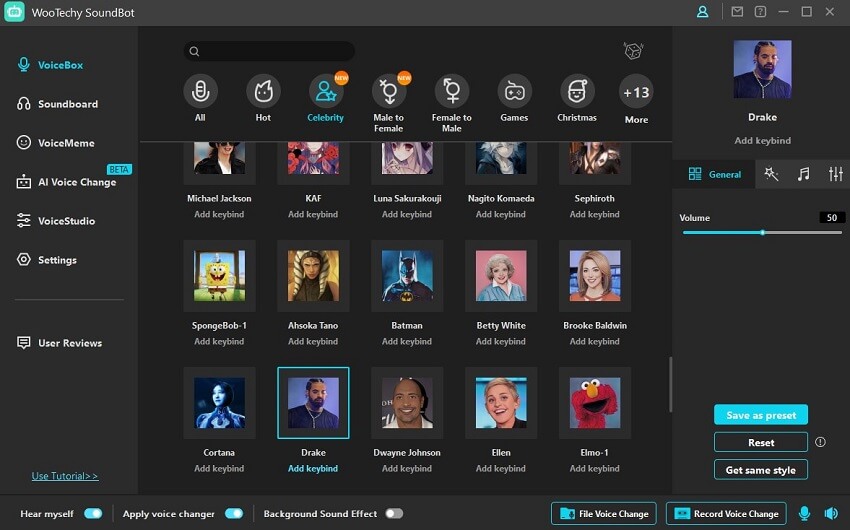 You can also choose to upload the audio or record it with the SoundBot built-in recorder and then change it to AI Drake voice, depending on your preference. Once you are satisfied, freely export it. For example, sing and record a song by Drake, change it via Wootechy SoundBot, and then you will get a Drake AI song cover.
Pros
Wide variety of voice filters and sound effects.

High-quality voice-changing capabilities.

Real-time voice transformation.

Easy to use.

Free version available.

Constant new voice updates.
Cons
Works on computer, no mobile support.

Several free voices for every day, paid for unlocking all voices. But it is cost-ffective, only $12.99/quarter.
Part 3. Other 2 Options for Generating Drake AI Voice
Except for Wootechy's SoundBot, there are some other tools that can help you generate Drake AI voices.
1. Voicefy.AI
Voicefy.ai is a website that allows you to create AI-generated music covers with your favourite artists, like Drake. It features different AI models, including the voices of celebrities, YouTubers, and even fictional characters. It is a relatively new website, but it works well and without needing some complex steps.
To create an AI Drake voice on Voicefy.ai, you need to select the Drake AI model from the library and type in the text they want the voice to say. Voicefy.ai will then generate an audio file of the text spoken in the Drake voice.
Pros
Generate AI Drake voice from Text to speech.

Create voiceovers for videos and podcasts.

Get the voice online without installing the program.
Cons
High cost. (up to $89.99/Month)

Can not be used on other platforms such as Discord or live chatting platforms.

Microphone voice changing is not supported.

Less realistic Drake voice.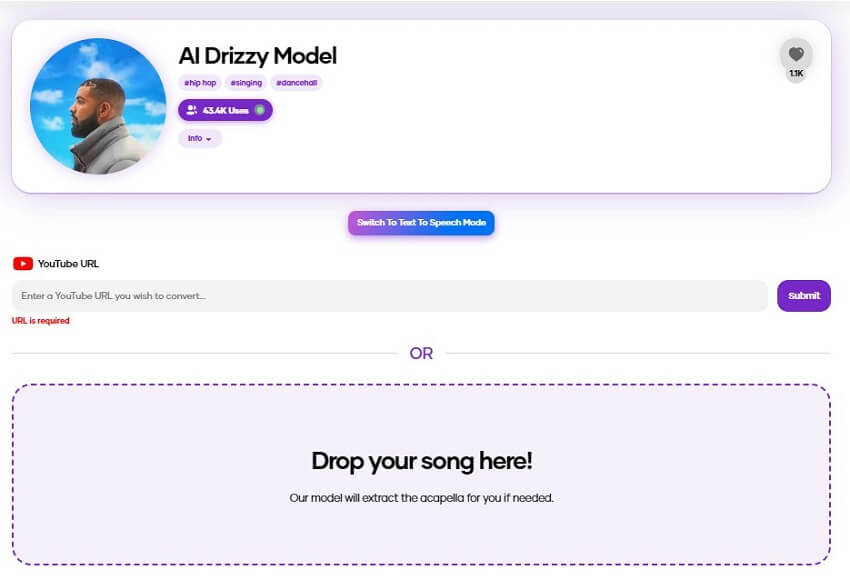 2. GitHub Project
To generate Drake AI voice, Github's project is another choice. In Github, you can use the voice cloning model like CorentinJ real-time-voice-cloning. This model is trained on a large dataset of voice recordings, including recordings of Drake. To use this model, you will need to run the necessary Python from Github.
Step 1. Clone the Real-Time-Voice-Cloning repository from GitHub. (github.com/CorentinJ/Real-Time-Voice-Cloning).
Step 2. Install the required dependencies: pip install -r requirements.txt.
Step 3. Download the Drake voice dataset from https://drive.google.com/file/d/1-2-3-4-5-6-7-8-9-0/view?usp=sharing. Extract the contents of the ZIP file to the samples directory of the Real-Time-Voice-Cloning repository.
Step 4. Navigate to the Real-Time-Voice-Cloning repository and run the following command: python train.py --dataset samples/Drake.
Step 5. Once the training process is complete, you can generate Drake AI voice by running the command of python generate.py --model saved_models/Drake.
This will generate a Drake AI voice file in the current directory.
Pros
Without needing to download the program.

Freely generate any voice as long as you are familiar with the related skills.

Can train the model by yourself.
Cons
Complicated procedure.

Can not freely switch voice effects.

Capability with other platforms is not supported.

Developed by individuals, lacking after-sales services.
FAQs about Drake Voice AI
1

What can Drake Voice AI be used for?

Drake Voice AI can be used for a variety of purposes, such as:

Creating voiceovers for videos and podcasts.

Making funny Prank calls.

Changing your voice in online games and chats.

Creating audiobooks and narrated stories.

Performing Drake AI covers.
2

How do I get Drake Voice AI?

There are a few different ways to get Drake Voice AI. One way is to use Wootechy SoundBot this kind of real timer voice changer to get the most realistic AI Drake voice. Another way is to use voice changer online to get text-to-speech voice or some online projects.
3

Is Drake Voice AI legal?

Yes, Drake Voice AI is legal. However, it is important to note that you should not use Drake Voice AI to create content that is defamatory, hateful, or otherwise harmful.
Conclusion
In this article, we have discussed the three best ways to get Drake AI voice. Which option is best for you will depend on your individual needs and budget. However, If you are looking for a quick and easy way to get Drake AI voice, Wootechy SoundBot would be a perfect option. Except as a Drack AI voice generator, it also allows you to change your voice sound like a variety of other different sounds, such as Taylor Swift, Master Chief, Joe Biden, SpondgeBob, or Batman.