Pranking your friends and family can be a hilarious way to inject some fun into everyday life. One of the most effective ways to pull off a successful prank is by disguising your voice. Fortunately, there are 6 methods you can use to get convincing prank call voices, including the use of a prank call voice changer, and making a prank call without software. Now, follow the blog, and you will find complete solutions to alter your voice and create hilarious prank calls, leading to hilarious and memorable moments.
Part 1: Changing Your Voice to Prank Call Voices on PC in Real-Time
If you're looking to prank your friends or family with a convincing prank call, you may want to consider Wootechy SoundBot. This voice changer allows you to modify your voice in real-time on your PC with 250+ voice filters and 600+ sound effects, making it the perfect tool for creating hilarious prank calls.
With a wide range of voice effects to choose from, you can get the prank call voices without the scene limitation, changing your voice to sound like a celebrity like Joe Biden, Elon Musk, BlackPink Lisa, or , sound like a cartoon character, a film actor, or even change a male voice to a female voice. If your friends are more receptive, you can also make a scream prank call with the voice changer, as the Ghostface screaming voice is really realistic.
Advantages of using Wootechy SoundBot Prank Call Voice Changer on PC
Real-time voice changing makes it easier to create a more convincing prank voice.

A lot of flexibility to choose from a wide range of voice effects.

Compatible with VoIP applications or various platforms such as Discord, Zoom, Skype, Twitch, etc.

Update new voices for pranks regularly, including free prank call voices.

Record prank call voice changes and save them as audio files.

Customizable settings for personalization.

Can also enjoy the fun across various activities such as live chat, live streaming, or gaming voice changing.
To get prank call voices with Wootechy SoundBot, the first step is to download and launch Wootechy SoundBot on Your PC.
Then, set the input and output devices according to your reality.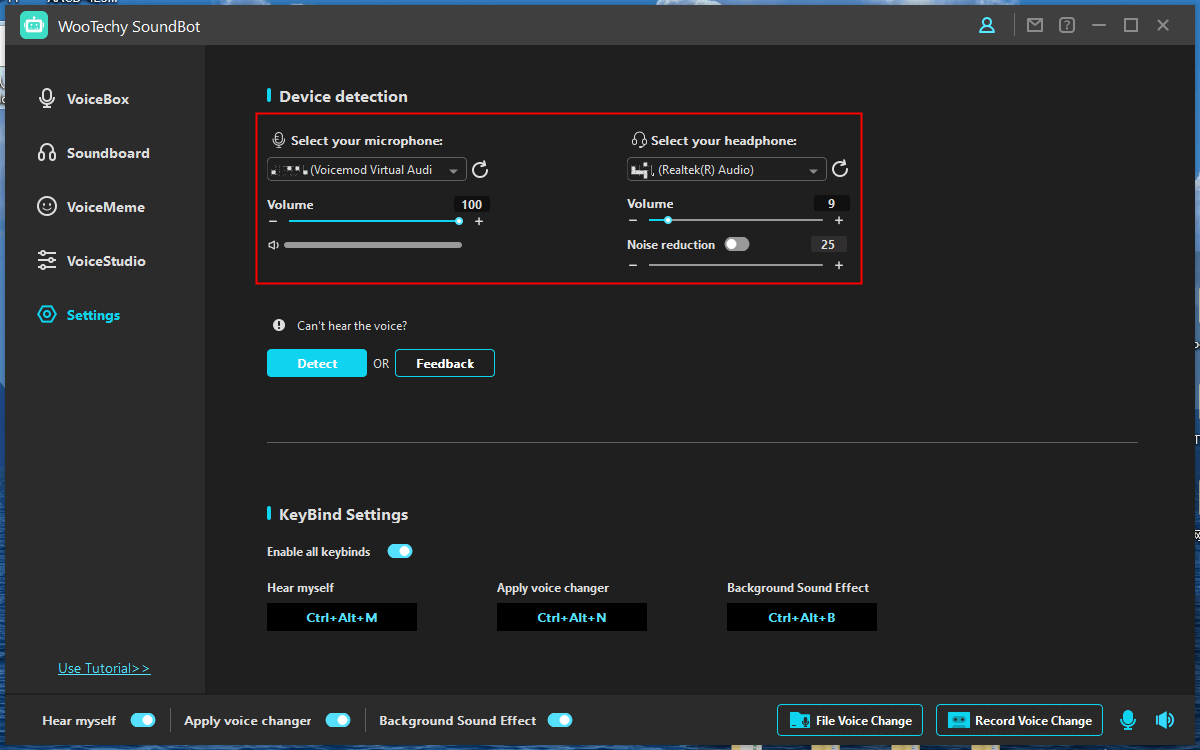 Preview the voice filters and find the one that best suits your prank call idea. For example, select "male to female" to change your voice like a lady, or choose "Ghostface" to make a scream prank call. Once done, speak, and your voice will change in real time.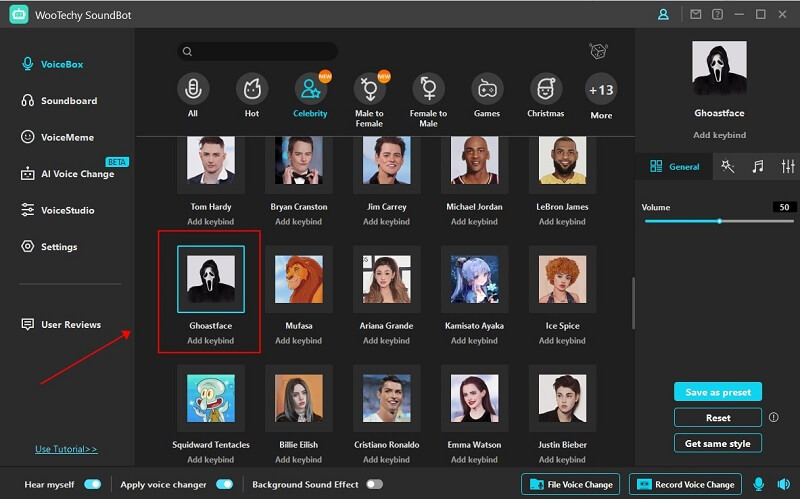 Besides, you can also add some scary background music on SoundBoard, making it more difficult for your friends or family to recognize.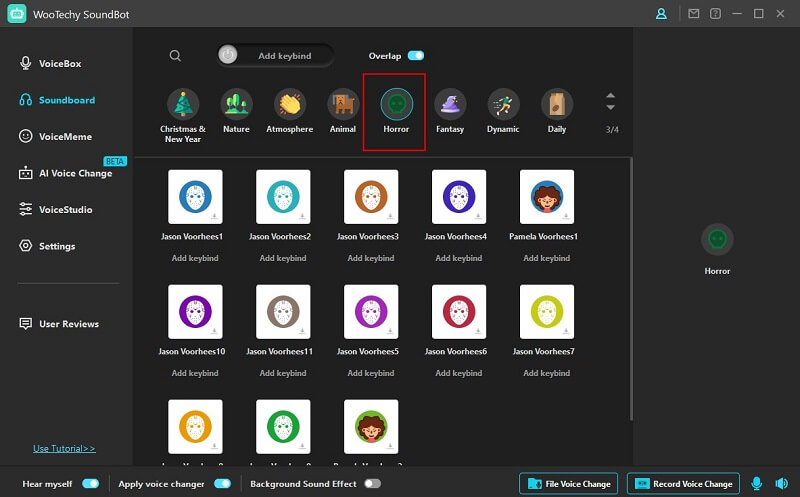 Part 2: Using Prank Call Voice Changer for Android
If you're used to using an Android phone to make a prank, there are also 2 voice changer apps for phone calls.
1. Prank Call Voice Changer App from Ownage
The Prank Call Voice Changer App, from Ownage, is a mobile app that allows you to change your voice for prank calls with robot or baby voice effects. You can choose from pre-recorded pranks recorded by professional voice actors to make the spoof calls more authentic. Its Pro version is available with three pricing options, from $9.95 to $39.95. However, it works with video calls but not phone calls. So follow your needs to choose the suitable prank call voice changer.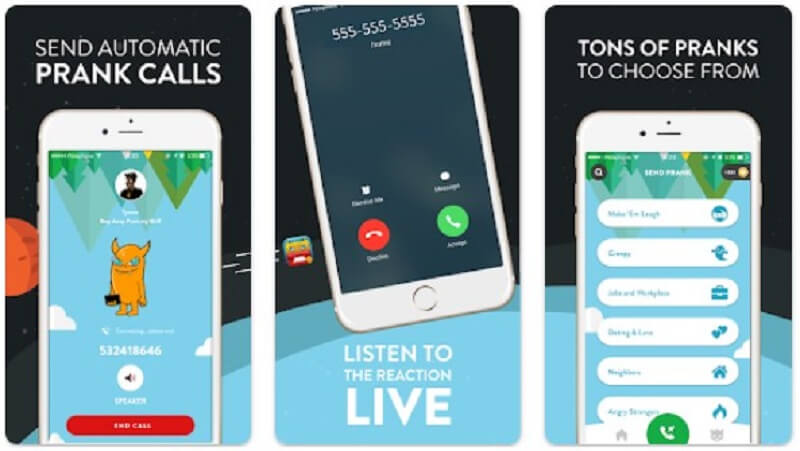 2. Call Voice Changer-IntCall
Call Voice Changer-IntCall allows you to change your voice during phone calls. It has few voice effects but enough to change your voice to sound like a man, woman, child, or animal. You can also use the app to add effects to your voice, such as making it sound robotic or distorted. To use this kind of voice changer for a prank call, simply open the app and select the voice that you want to use. Then, make a phone call. The app will automatically change your voice on the other end of the line.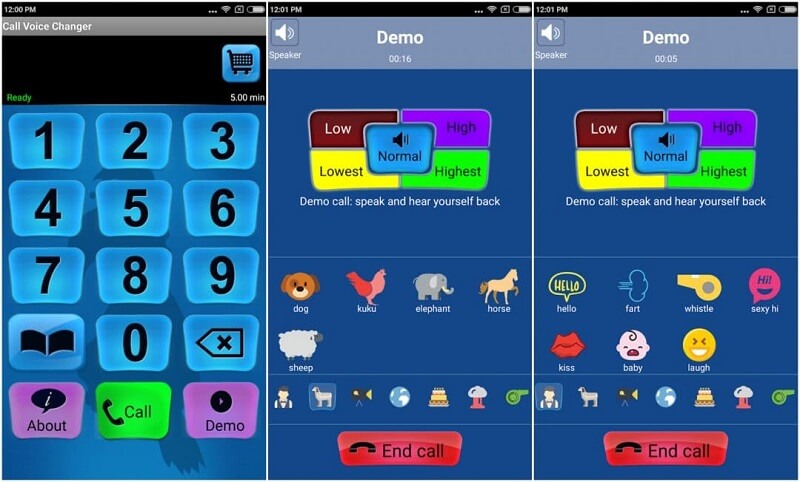 Part 3: Using Prank Call Voice Changer for iOS
For iOS users, here are also 2 voice changers that can be used for prank call.
1. Prank Call App - Spoof Dial
Developed by TapFurry LLC, Prank Call App - Spoof Dial is another fun and entertaining prank call voice changer app. With that, you can browse through hundreds of voice messages, and select your favorite prank call voice to send to your friends' mobile numbers. The app automates the call process, ensuring that the prank call sounds authentic and adds to the fun.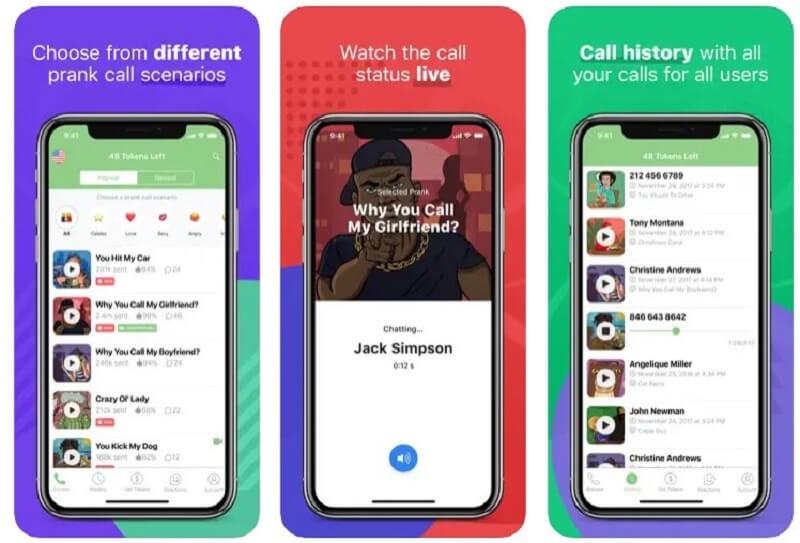 2. Prank Call Fake Call
With Prank Call Fake Call, users can make their iPhone ring on demand by setting a delay to simulate incoming calls. The app is free to download on the App Store and has some in-app purchases, such as an all-in-one pack for $3.99, a remove ads option for $2.99, and theme packs for $1.99. In the pro subscription, you can personalize the fake call experience by selecting caller pictures, wallpapers, and even their own recorded voice as the fake caller.
To use it, select the contact you want to prank on Prank Call Fake Call, choose a voice, add a message, and send it to the recipient. The recipient will see your contact ID and hear the fake voice.
Note: Prank Call Fake Call focuses primarily on creating fake incoming calls, and does not provide additional features like caller ID spoofing or voice-changing effects.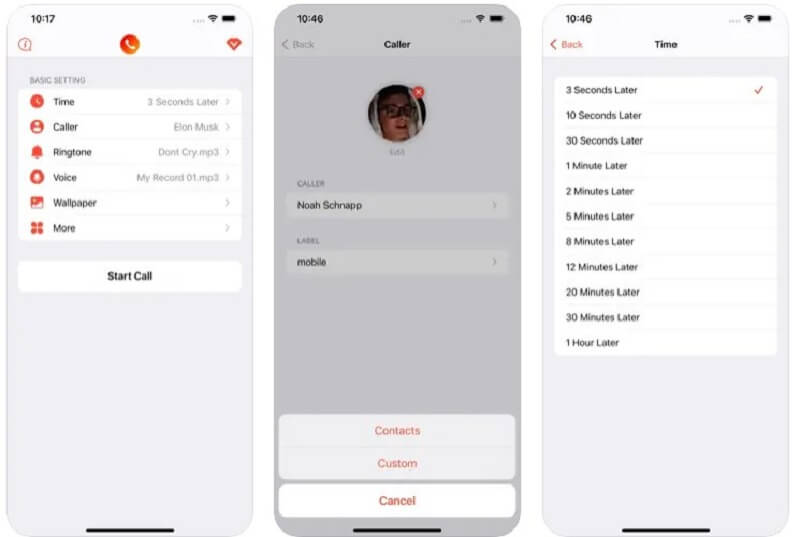 Part 4: Making a Voice Prank Online
If you want to make a prank call without installing any software, you can try the Prank Dial website. It provides some prank call scenarios to choose from. You can't customize the scenarios. You can only use the ones it provides. However, with both free and premium options, you can access a limited number of free prank call voices and experience the service without any cost.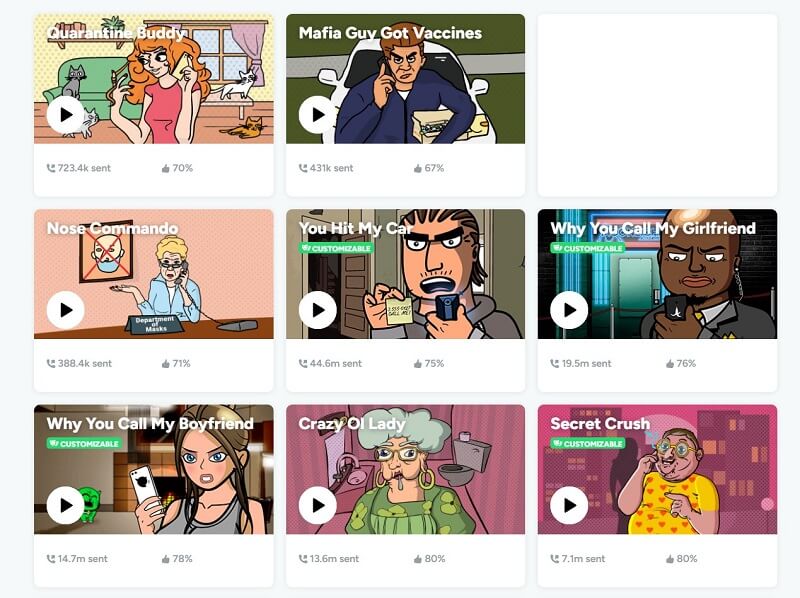 Conclusion
There are many ways to get prank call voices, including using a prank call voice changer, or using the prank scenarios online. However, if you are looking for more voice effects and sound options or the most realistic prank voices for different scenarios, we recommend Wootechy SoundBot. Try it now, and enjoy more humor, excitement, and creativity.
Part 1: FAQ about Prank Call Voices
1

What are some tips for making safe and legal prank calls?

If you are going to make a prank call, there are a few things you can do to make sure it is safe and legal. First, do not make any threats or insults. Second, do not use any language that is offensive or derogatory. Third, do not call anyone who you do not know personally. Fourth, do not call anyone who is likely to be upset by your call.
2

Can I use famous celebrities' voices for prank calls?

Yes, using famous celebrity impressions can be highly effective and entertaining for voice prank. There are many celebrity voices that can be chosen on the Wootechy SoundBot. You can give it a try. However, always ensure your intentions remain lighthearted and non-offensive.
3

Any funny prank call ideas to recommend?

One of the most popular funny prank call ideas is to use a female or male voice to make prank calls to friends and family. The voice type can be a colleague's girl voice or a mature female voice. You can pretend to be someone else, and make up a story about something that has happened to you or someone you know.