Do you want to create your own AI cover songs without spending a dime? If so, then you're in luck! There are various AI song cover generators available. With that, you can now create your own amazing covers of your favourite songs. You can even sing in the voices of your favourite singers.
So in this article, we'll take a look at the top 4 free AI song cover generators and their guides. By following the simple steps provided, you will learn how to make AI cover songs effortlessly.
What is an AI Song Cover Generator?
AI song cover generator is a tool that utilizes artificial intelligence algorithms to recreate existing songs with a fresh twist. It works by first analyzing the original song, extracting its melody, chords, and lyrics, enabling you to generate a song with new versions, or allowing you to imitate a singer's voice. This kind of AI cover song generator can be used by anyone, regardless of their musical ability.
The Top 4 Free AI Song Cover Generators in 2023
In fact, due to the cost of AI research, few AI cover song generators are completely free. But the below tools provide the free version to give us a chance to try and experience how to make AI cover songs for free.
1. Wootechy SoundBot
Wootechy SoundBot is an AI Song Cover Generator that allows you to create your own covers of your favourite songs. It can be used to generate entirely new voices or create music covers with different voices, styles, or genres. For example, you can cover songs in the voices of Taylor Swift, Ice Spice, Michael Jackson, Justin Bieber, BlackPink Lisa or Selena Gomez. With a few clicks, you can produce high-quality song covers.
Plus, this tool can be used on different platforms in real-time. Imagine how much fun it is when you suddenly speak or sing in a celebrity's voice when gaming or communicating in Discord.
In addition to being an AI Song Cover Generator, SoundBot has a number of other features. Here are some key points.
Change your voice with a Microphone or with audio files.

Support 250+ voices,600+ sound effects and 400+ voice Memes.

Customize the generated covers by choosing specific singers' voices, or adjusting vocal styles.

Auto-tune your voices.

Comparable with most game sessions, live chat platforms, live streaming or conference scenes.

Offers daily free voices and keeps updating every week.

Support generating non-human voices like cartoon voices, robot voices, or scream voices.

Freely export the covered files and add them to other platforms.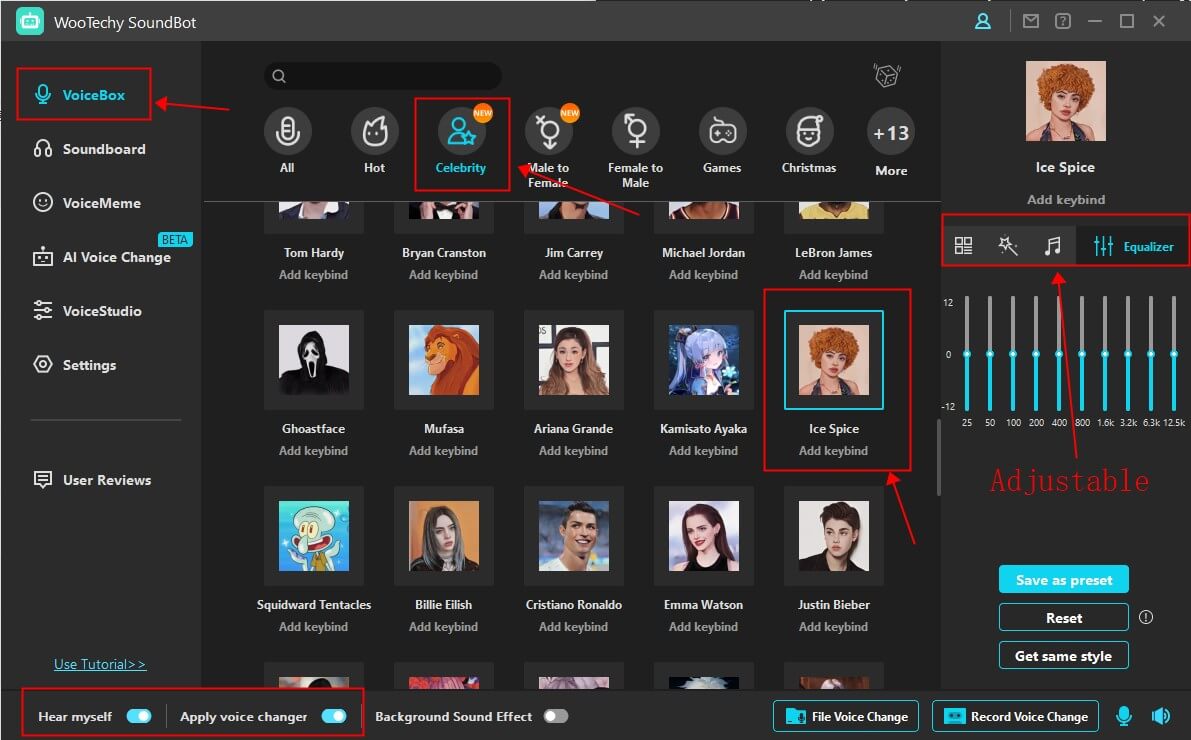 2. Musicfy
Musicfy is a music creation platform that utilizes AI technology to enable you to create music easily. You can use it to create original songs, remix and cover using your own voices and instruments. Once you are happy with your creation, you can share it with others or download it to your computer. Musicfy is a free-to-use platform, but there is a premium subscription of $69.99/month that offers additional features, such as the ability to remove the Musicfy watermark from created music.
Here are the features of Musicfy:
Generate AI song cover with your own voices.

Provide AI-generated instrumentals in the Premium plan.

Offers different music styles and genres to choose from.

Customize the pitch and tempo.

3. Soundraw
Soundraw AI music cover generator uses a database of millions of sounds and melodies to generate songs in a variety of genres, including pop, rock, hip-hop, and electronic.
The price of the Soundraw AI Song Cover generator depends on the plan you choose. The free plan allows you to generate 3 songs per month for free. The monthly plan costs $29.99 and allows you to generate unlimited songs.
Here are some of its features:
Generate songs in various genres.

a variety of instruments and sounds can be chosen from.

Customize the tempo and key.

Export your songs in audio formats.
However, there is a drawback. The Soundraw AI is still under development, so the quality of the generated AI cover songs is a little unrealistic.

4. Melodia
Melodia is an AI song generator app that is available for Google Play. This Music App can help you to transform words into breathtaking melodies. It uses a learning model to analyze your text and create a custom music track that perfectly captures the essence of your words. There is a free trial for the AI song cover. However, the license of $11.66 per month allows you to generate unlimited music.
Check its features here:
Generate music from any text, including poems and lyrics.

Create original music tracks for various purposes.

Without needing to access the computer.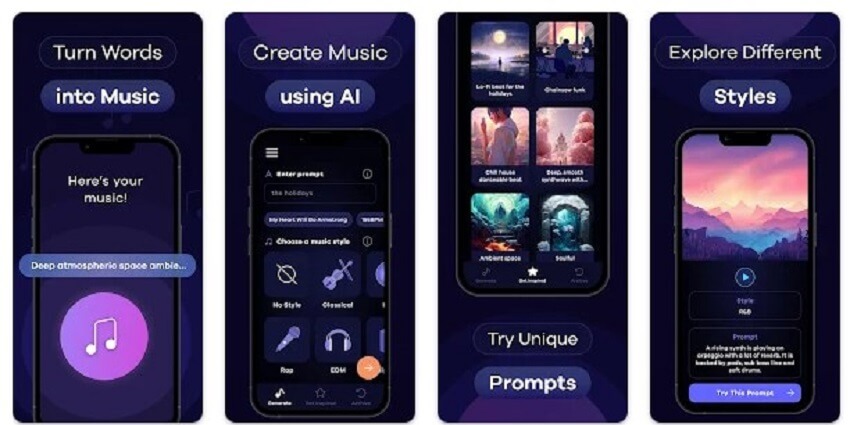 Step-by-Step Guide on How to Make AI Cover Songs
We have provided the best 4 AI song cover generator in our opinion. Among that, we would think SoundBot would be the best choice, as it is easy to use and produces high-quality AI covers. It is a great way for anyone to create their own music, regardless of their musical skills. So here we pick this as an example to generate the AI cover voices.
Step 1: Download and install Wootechy SoundBot on your computer. Launch it.
Step 2: Set your Microphone following the on-screen instructions.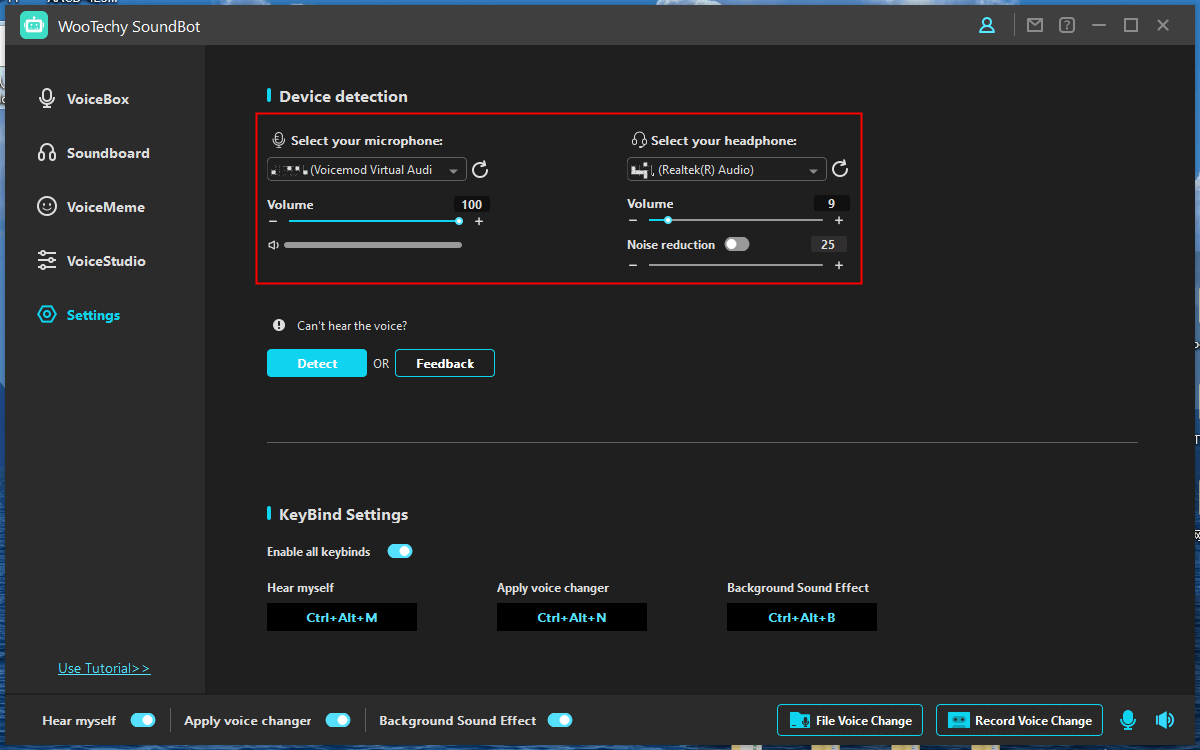 Step 3: Within the program, look for your favourite AI song cover voices. For example, choose "Beyonce" and click it. Sing or speak to your Microphone. Then the effects can range from altering your voice to sounding like Beyonce in real time. You can also cover a song first and upload the file to SoundBot to start the AI cover.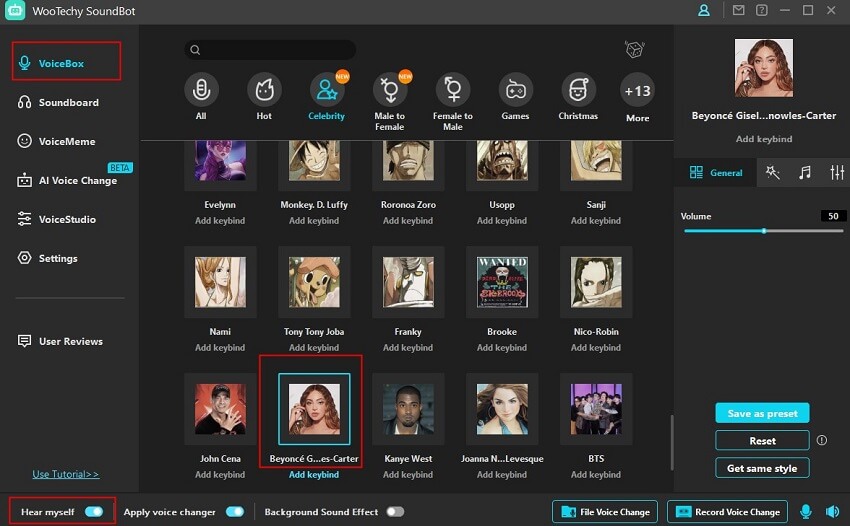 Step 4 (Optional): You are able to customize aspects of the AI cover, such as the style, pitch tempo, or voice.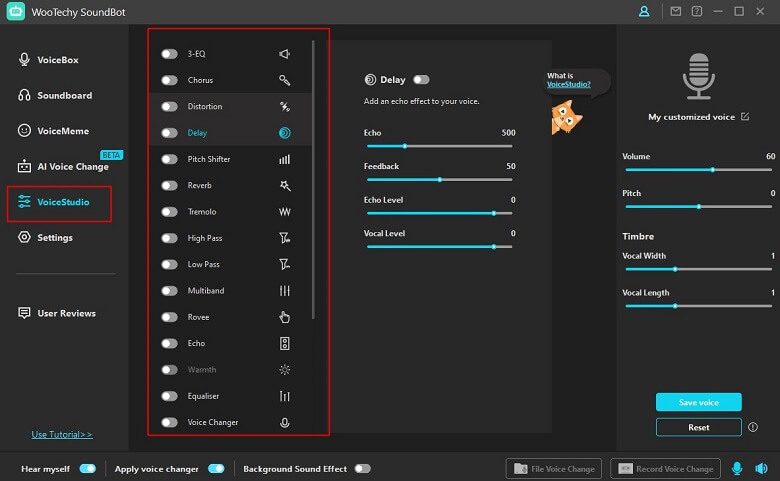 Step 5 (Optional): Once the AI has completed the cover, you can review the result. If you're satisfied with the cover, you can export it to your computer.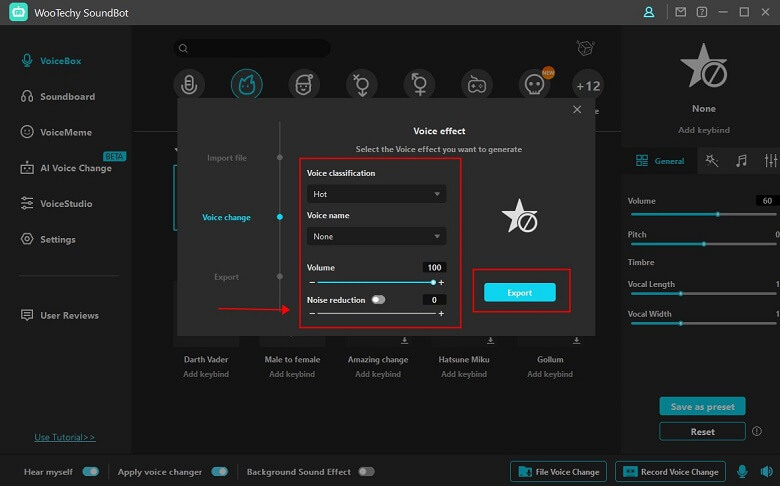 Tips: The WooTechy SoundBot AI song cover generator is designed to work in real-time with various applications, such as voice chat programs, video conferencing software, or even during gaming. To do this, only ensure that you have selected SoundBot as your microphone input device in these applications.
Final Verdict
In conclusion, there are many AI song cover generators available on the market. Each one has its strengths and weaknesses, it is suggested that choose the one that best suits your needs. If you are looking for a generator that can create high-quality AI song cover for popular singers and artists, then Wootechy SoundBot is a good option. It is a fun and easy-to-use platform that can be used to create different voices. If you are interested in the AI cover voice, I encourage you to check out SoundBot and experience its free voices every day.
Free to download and most importantly, have fun!