"It's not easy being green." Yes, we're talking about Kermit the Frog!
Kermit the Frog is one of the most iconic characters in the world, and his voice is instantly recognizable. But what if you could get the voice of Kermit the Frog, and sound like Kermit yourself? Thanks to a new Kermit the Frog voice generator, you can now do just that.
In this article, we will show you the best Kermit the Frog voice generator, and provide its step-by-step guide so that you can use it to create a realistic Kermit the Frog's Voice.
Part 1. Who Voiced Kermit the Frog?
Kermit has been voiced by three different people over the years: Jim Henson, Steve Whitmire, and Matt Vogel.
Jim Henson was the original voice of Kermit the Frog, and he voiced it from 1955 until he died in 1990. Henson's voice was what helped to define Kermit's character, and it is still considered the definitive Kermit voice by many fans. Steve Whitmire took over as the voice of Kermit after Henson's death, and he voiced the character for 27 years. Whitmire's voice was slightly different from Henson's, but he still managed to capture Kermit's unique personality.
Matt Vogel took over as the voice of Kermit in 2017. Vogel's voice is the closest to Henson's, and he has been praised for his ability to bring Kermit to life. In recent news, it has been announced that Matt Vogel will be stepping down as the voice of Kermit. This is a major change for the character, and it remains to be seen who will be chosen to voice Kermit next.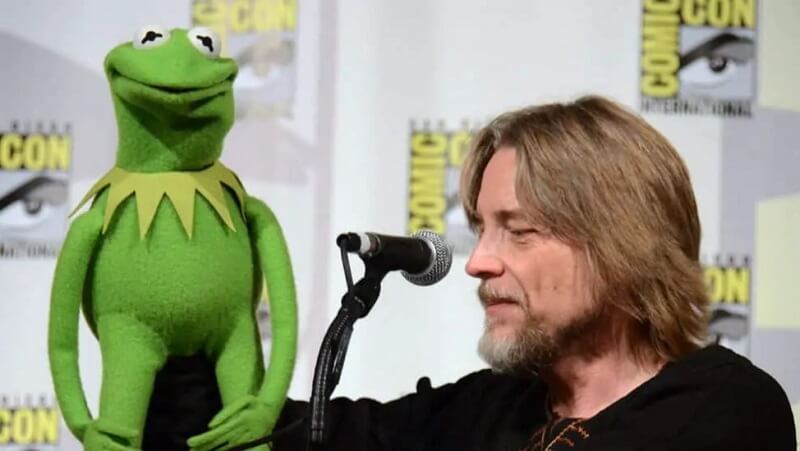 Part 2. How to Generate the Voice of Kermit the Frog with Voice Generator
WooTechy SoundBot is a cutting-edge voice changer that offers a remarkable solution for anyone seeking to recreate Kermit the Frog voice. With 250+ voice filters and 600+ sound effects, including Kermit's voice, this real-time voice changer stands out as an ideal choice.
Seamlessly compatible with various platforms, such as gaming, streaming, and live communication tools, including Discord, SoundBot enables you to transform your voice effortlessly. If you are seeking to capture the charm of Kermit the Frog' voice, WooTechy SoundBot is the go-to tool, providing an exceptional and easy-to-use experience.
75.000.000+

Download

Realistic and natural-sounding Kermit the Frog voice.

Wide range of other voice changers and sound effects, including scream voices, cartoon voices, etc.

Support male to female and celebrity voice changing, such as Joe Biden, BlackPink Lisa, Taylor Swift, etc.

Change voices with a Microphone in real time, or by inputting audio files.

Support exporting and sharing.

Keep updating new voices weekly, including free voices.

Customize your voice based on your preferences.
Step Guide to Getting the Voice with Kermit the Frog Voice Generator
Step 1: Download and install SoundBot Kermit the Frog Voice Changer on your computer.
Step 2: Launch it and set up the microphone. Ensure your microphone is properly connected to your device. If you choose to upload an audio file to change the voice instead of the microphone, skip to the next step.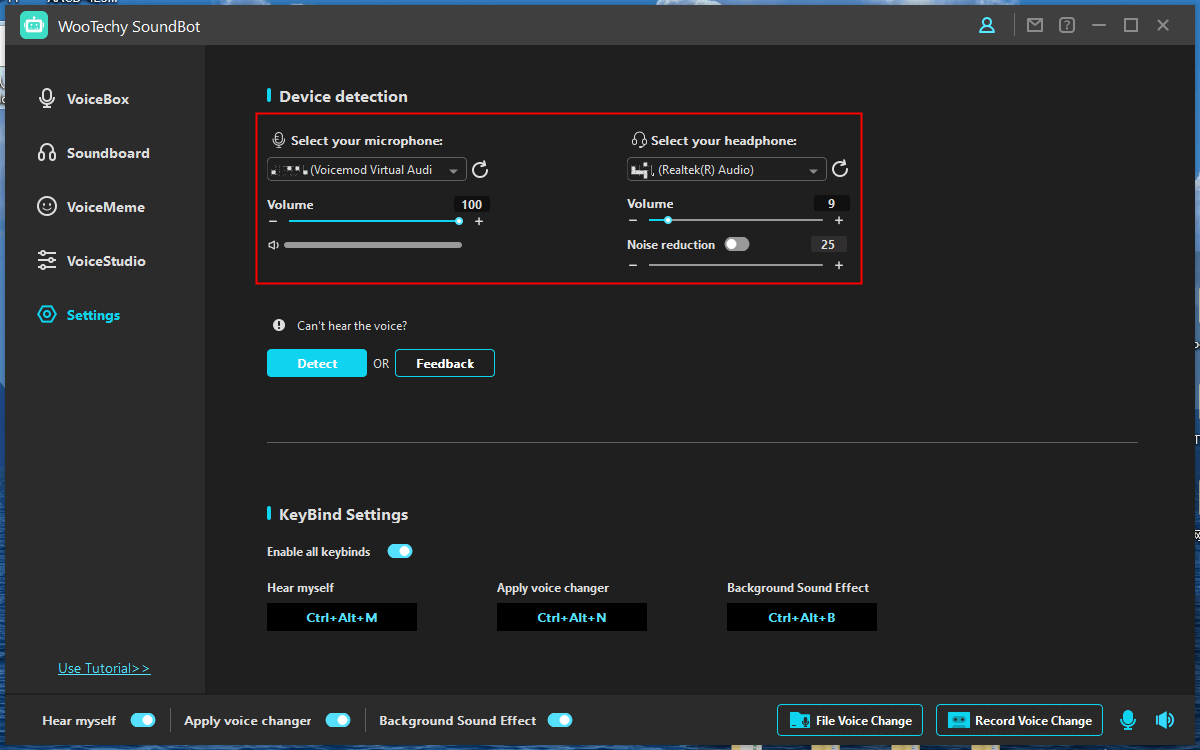 Step 3: In the VoiceBox tab, you can find a variety of voice filters available, including Kermit the Frog's voice. Choose "The Frog" and start to speak to your microphone. And your voice will be transformed into the voice of Kermit the Frog in real-time.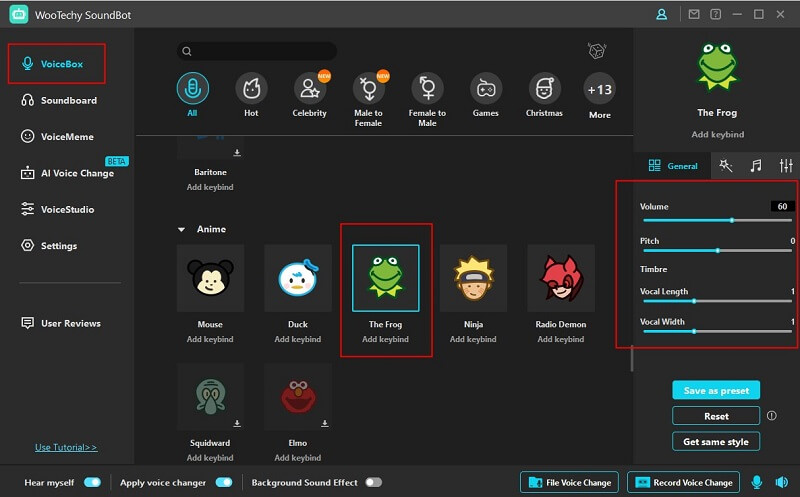 Tips: You can also generate Kermit the Frogs voice by inputting a pre-recorded audio file from "File Voice Change."
Step 4: For personalized needs, you can adjust the pitch or other settings to fine-tune the sound of your voice in "Voice Studio."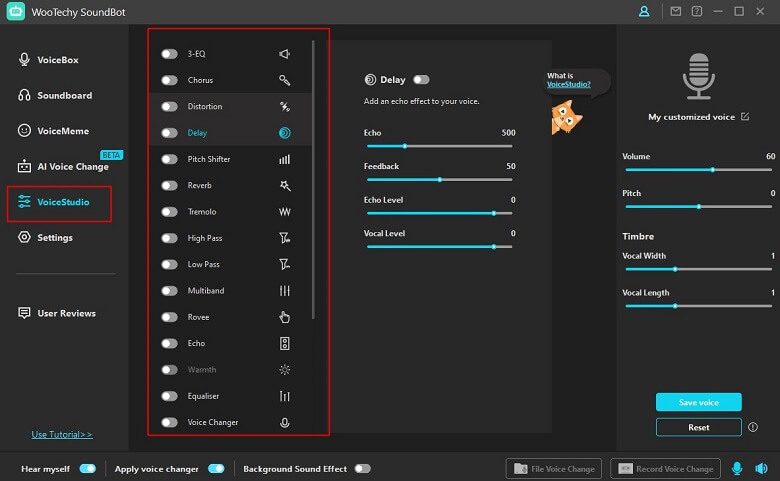 Other Popular Voice Filters in Wootechy SoundBot
Male to Female: Change your voice from a female to a male, or versa, creating a completely different vocal identity.

Celebrity Voice: Mimic the voices of famous celebrities and personalities, such as Taylor Swift, BlackPink Lisa, Joe Biden, Donald Trump and Elon Musk.

Ghostface Voice: Transform your voice into the eerie and chilling Ghostface character, which is popular to prank friends.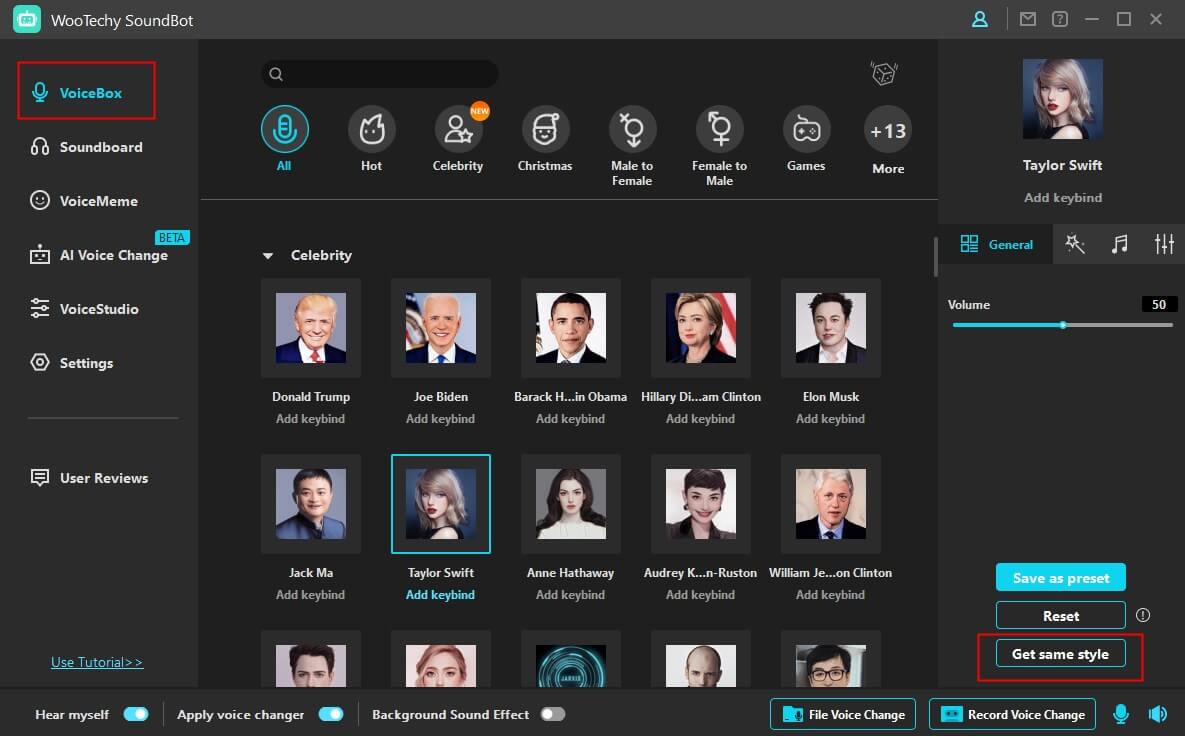 Bonus. How to Generate the Hottest Kermit the Frog Voice Memes
Way 1: Using Wootechy SoundBot to Generate Kermit the Frog Voice Memes
A voice meme is a type of meme that uses a recorded audio clip of someone's voice to create a humorous or relatable image or video. Except for Kermit the Frog Voice generator, Wootechy SoundBot's built-in 400 voice memes to choose from. Additionally, its voice meme feature allows you to generate your own voice memes by recording your own voice or using pre-recorded audio clips.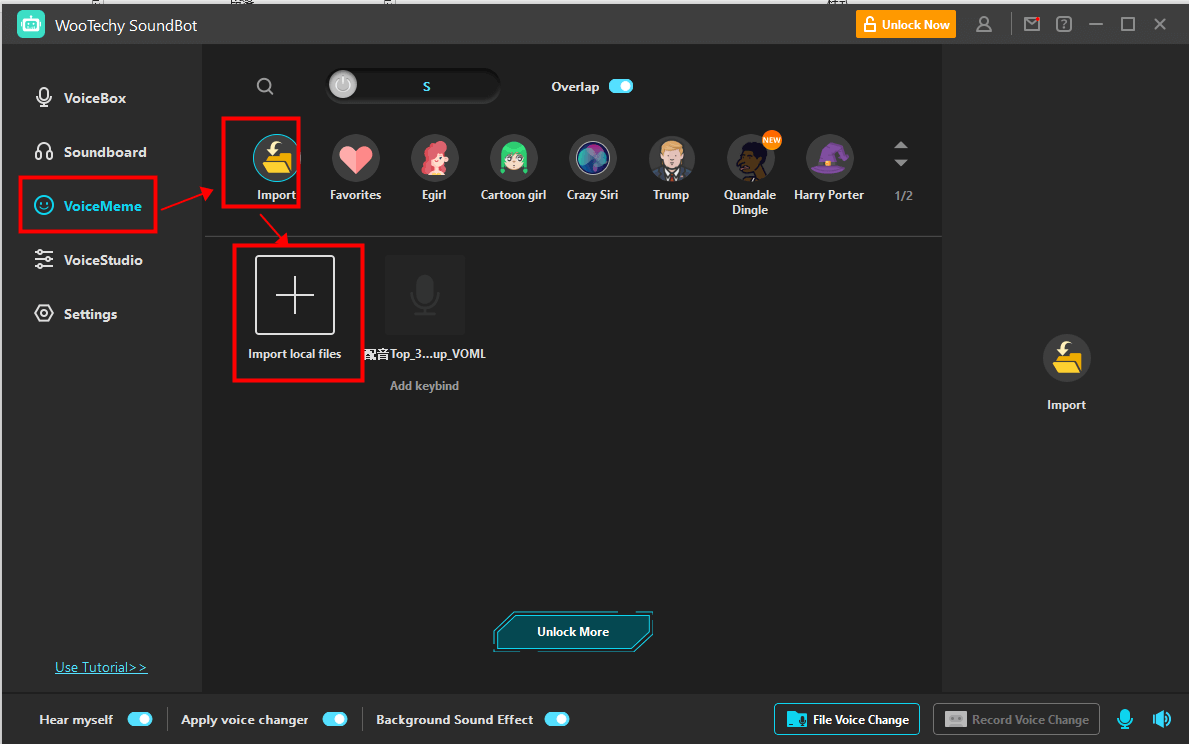 Way 2: Using Online Platforms to Generate Kermit the Frog Memes
Besides, generating Kermit the Frog memes is easy with various online meme generators. These platforms provide templates and tools to create your own Kermit memes. Here are some popular platforms to get memes:
Imgflip: You can use their meme generator tool by visiting the Kermit the Frog Meme Generator page or explore a collection of Kermit memes on their "Kermit the Frog Memes & GIFs" page. Additionally, you can find more Kermit-themed content in the "Kermit Memes & GIFs" section.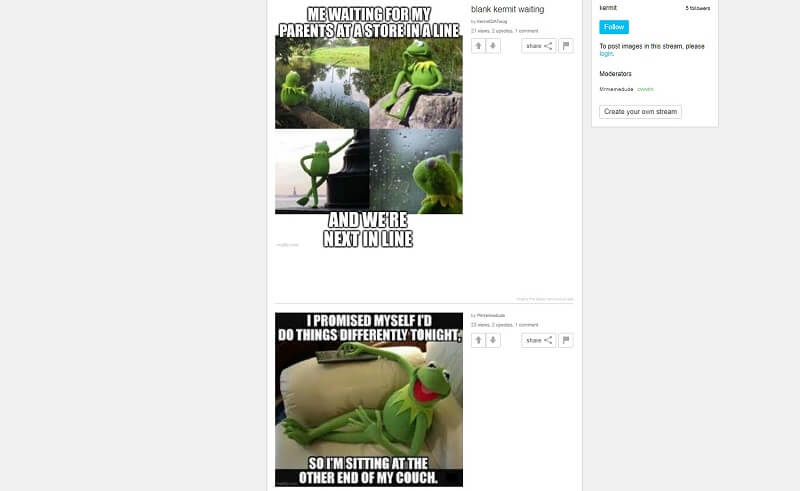 Memegenerator: Like the previous platforms, this website also offers the ability to create funny memes using Kermit the Frog meme template or your own images.
Conclusion
The voice of Kermit the Frog has captured hearts for generations. While finding the "best" Kermit the Frog voice generator can be subjective, one tool gaining recognition is Wootechy SoundBot. This voice changer offers a variety of features that make it easy to create realistic Kermit the Frog voices, or other types of voices. With that, you can add more fun to your video, live chat, game platform, or friend prank.
So, if you are looking for a Kermit the Frog voice changer, download SoundBot for free and get more creative!