Are you looking for the best autotune voice changer?
Autotune is a powerful tool that can be used to improve your singing voice, create unique sound effects, or even prank your friends. But with so many different autotune voice changers on the market, it can be hard to know which one is right for you.
In this article, we'll take a look at some of the best autotune voice changers on the market, and help you choose the one that's right for you. We'll also discuss the different features and benefits of each autotune voice changer, and the comparability for computer, mobile and online, so you can make an informed decision.
Part 1: What is Autotune Voice
Autotune voice is a type of vocal processing that uses software to automatically correct the pitch of a voice. This can be used to improve the speaker's or singer's pitch accuracy, or to create a more robotic or synthetic sound. Autotune voice has become increasingly popular in popular music and content creation, and is often used to create a polished, professional sound.
Part 2: The Best Autotune Voice Changer for PC-Most Recommended
Wootechy SoundBot is an autotune voice changer for PC that allows you to change your voice in real-time. It has a wide range of features, including over 250 voice presets and over 600 sounds effects, pitch correction, and reverb. With a voice box, soundboard, recorder, and voice studio, you can easy to autotune your voice to meet your needs or change your voice into different types such as cartoon characters, film actors, singers, celebrities, robots, or scream Ghostface voice.
75.000.000+
Download
A wide range of customized options for autotune voice.

250+ voice filters and 600+ voice effects for voice modification.

Change voices in real-time.

The ability to record and export your voice changes and autotune voice.

Add reverb to your voice, giving it a more polished sound.

Compatible with the most popular chat and gaming applications.

Update new voices frequently, including free voice.
How to Autotune your voice with Wootechy SoundBot?
Step 1: Download and install Wootechy SoundBot on your PC.
Step 2: Follow the prompts in the pop-up window, and set the microphone and HeadPhone.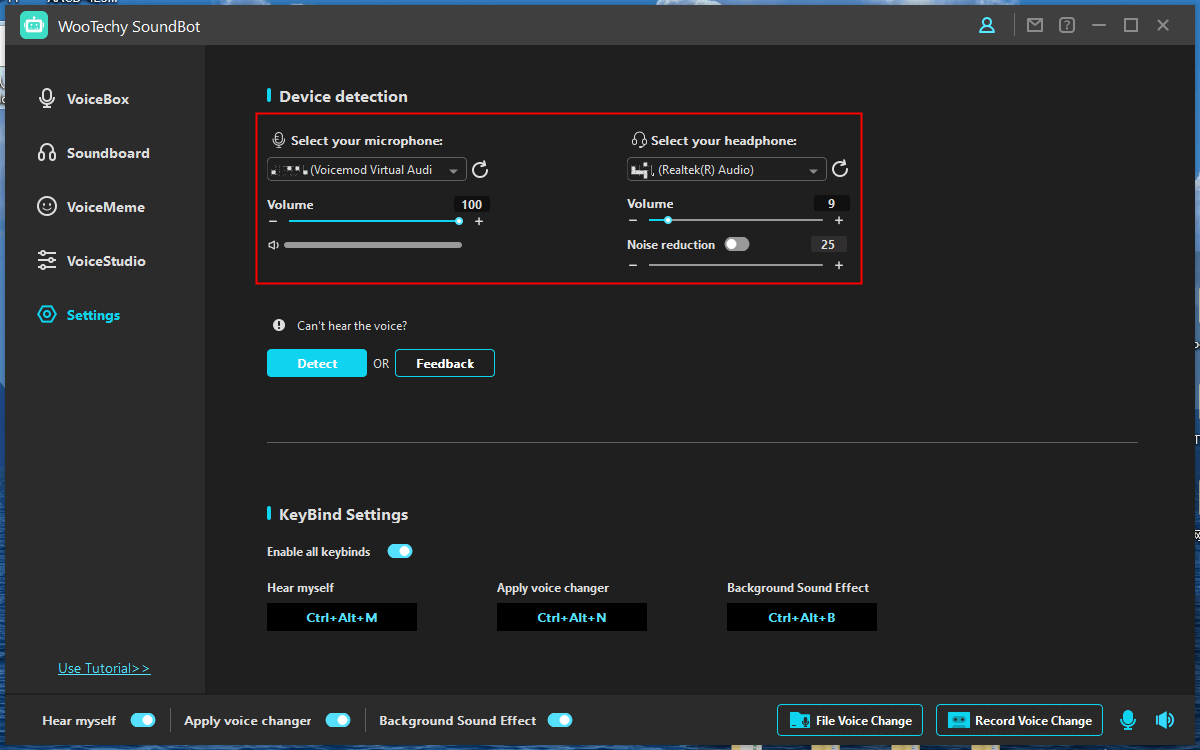 Step 3: Choose your favourite voice or sound effects to change your voice. Once done, speak to your microphone, and your voice will be changed.
There are 2 options for autotune voice:

Using a Microphone to autotune voice in real-time.

Upload voice files to autotune, and export the audio files.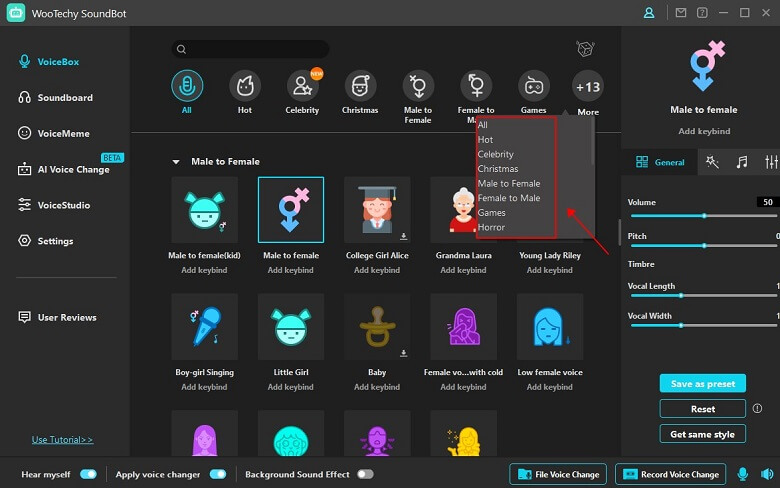 Step 4: To have more personalized settings for the voice autotune, you can also adjust the parameters on voice studio.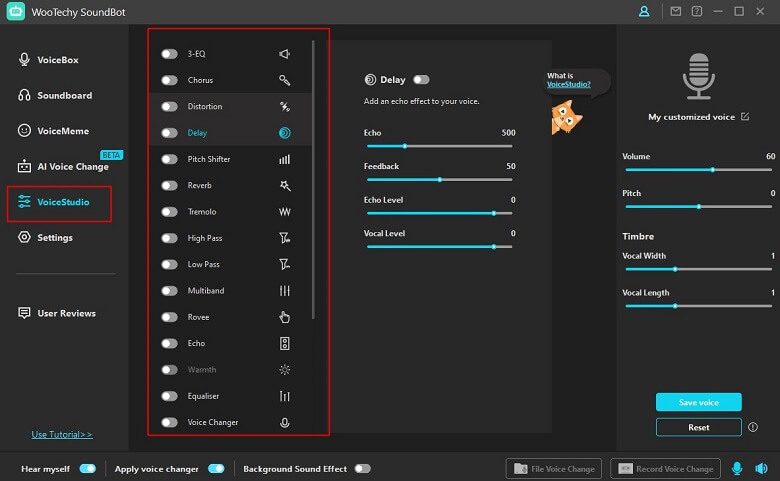 If you are looking for an autotune voice changer for PC, Wootechy SoundBot is the best option. It is easy to use, has a wide range of features, and is compatible with most popular live chat, live streaming, and gaming platforms like PUBG, Second Life, Fortnite, CS: GO, Discord, Skype, and more., so you can use it to change your voice while you are chatting with friends or playing games.
Part 3: The Best 2 Autotune Voice Changer for Mobile
1. Voloco: Auto Vocal Tune Studio
Voloco is a mobile recording studio and audio editor designed to help singers, rappers, musicians, and content creators sound their best. Offering 40+ effects, It has gained popularity for its intuitive tools and free beats, making it easy to create professional-sounding recordings. The app offers a variety of presets for compression, EQ, autotune voice, and reverb effects, allowing you to polish your recordings to perfection. If you are looking to autotune your voice for singing, Voloco can help you.
Pros:

Provide studio-quality sound.

Removes background noise

Corrects the pitch of your voice

A library of beats was created.

Cons:

Audio quality suffer occurs.

Only dedicated to sing.

There is a flashback issue.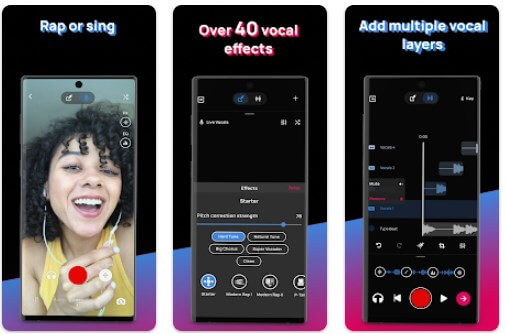 2. Voice Changer - Fast Tuner
Voice Changer - Fast Tuner, available on Google Play, is a user-friendly app that allows you to add various audio effects and tune your voice in different ways. You can change the pitch, speed, and add reverberation to your voice. With 20 voice filters, you can apply fun effects such as turning your voice into that of a child, animal, or even a chipmunk.
Pros:

Add various audio effects and tune their voice.

Apply voice reverb to make the sound more rich.

Can record their voice directly within the app.

Cons:

No free trial.

Only have 20 voice presets.

Lack of stability and support.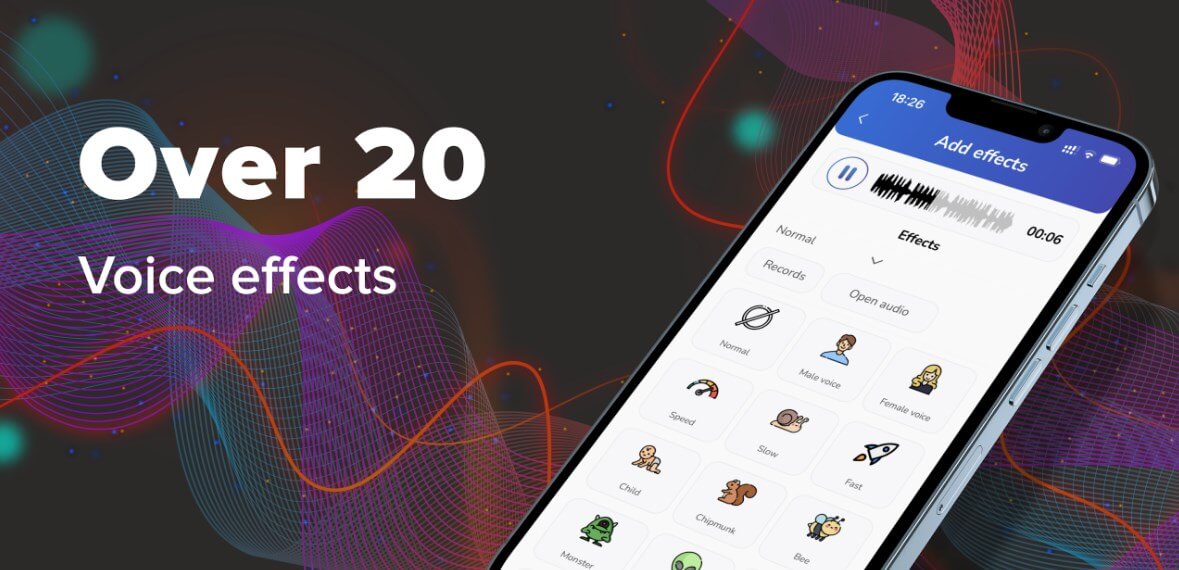 Voicechanger.io is a free autotune voice changer that enables you to modify your voice with 51 autotune voice effects. This website allows you to upload the audio file and change the voice with the auto-tune effect. If you are looking for a free Autotune voice changer online, this is a great option, even if there are fewer sound templates.
Pros:

Allows choosing preset voice effects.

Without needing to download the app.

Runs smoothly.

Free.

Cons:

Fewer voice effects.

The converted sound is not realistic.

Not supporting adjust parameters such as speed, reverb, bass etc...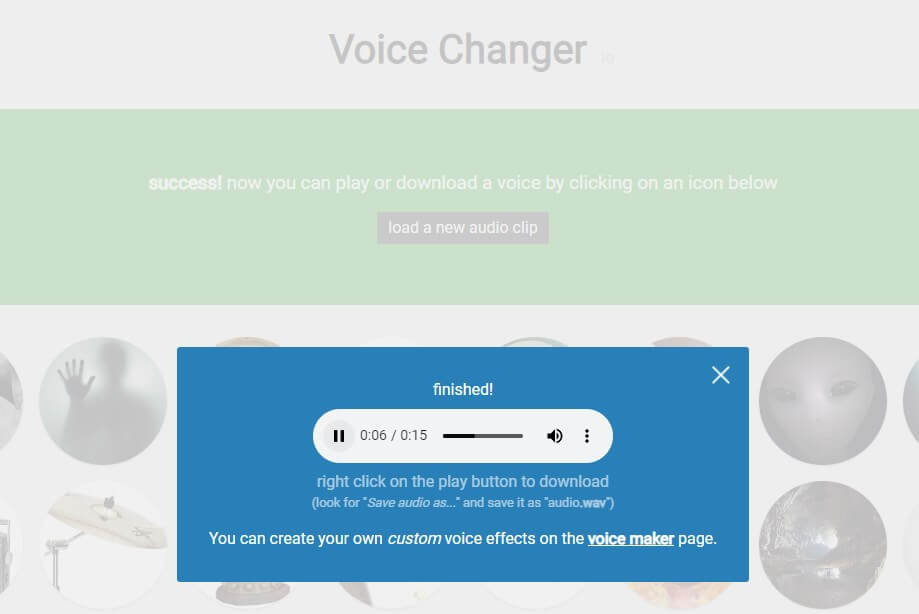 Conclusion: Which is the best autotune voice changer?
The choice of an autotune voice changer depends on your needs and preferences. However, If you are looking for a powerful and versatile autotune voice changer for PC, then Wootechy SoundBot is a great option. It has a wide range of features and is compatible with most popular voice chat and streaming software. With over 250 voice effects and over 600+ sound effects, you can autotune your voice to sound like different types, as well as adjust the details to meet your Individualized needs. So what are you waiting for? Start exploring and have some fun!