Are you looking for a way to change your voice in real time? If so, then a microphone voice changer is the perfect solution for you. A voice changer for Microphone allows you to modify your voice in a variety of ways, from making it sound like a robot, a different gender, a celebrity or a cartoon character. In this article, we will explore the top 6 microphone voice changers on the market, including the software voice changer with Microphones, and hardware voice Mic with voice effects.
Part 1: Top 3 Software Voice Changer with Microphone
Microphone Voice Changer for PC
Wootechy SoundBot is a Voice Changer for Mic that allows you to change your voice in real time, adding an extra layer of fun and excitement to the gameplay and social interactions. This software voice changer offers over 250 voice filters and 600 sound effects, providing users with a wide range of voices to choose from, such as male to female, kids voice, robot, cartoon and celebrity voice. Unlike other voice changers for mic, SoundBot also works with a variety of communication programs, including Skype, Discord, and TeamSpeak. Speaking to your microphone, and your voice will be changed with ease.
WooTechy SoundBot - The Best Voice Changer for Microphone

75.000.000+

Download

Change voice with microphone in real time without delay.

Keep updating the new voice regularly. Free voices are included.

Able to customize the voice with a range of options.

Support change voice with uploading audio files also.

Compatible with most chat platforms, gaming Applications, conference and live stream platforms.

Keybinds for triggering voice features.

Voice conversion with very realistic effects.

Export the converted voice audio and share it on other platforms or friends.
This tool is easy to use. Only 3 simple steps are required for Mic changing voice when using SoundBot.
Step 1: Download the SoundBot on your computer first to start the voice-changing microphone.
Step 2: In the SoundBot interface, select your headphones as the output device and your real microphone as the input device. Once done, a pop-up will confirm the sound setup is complete.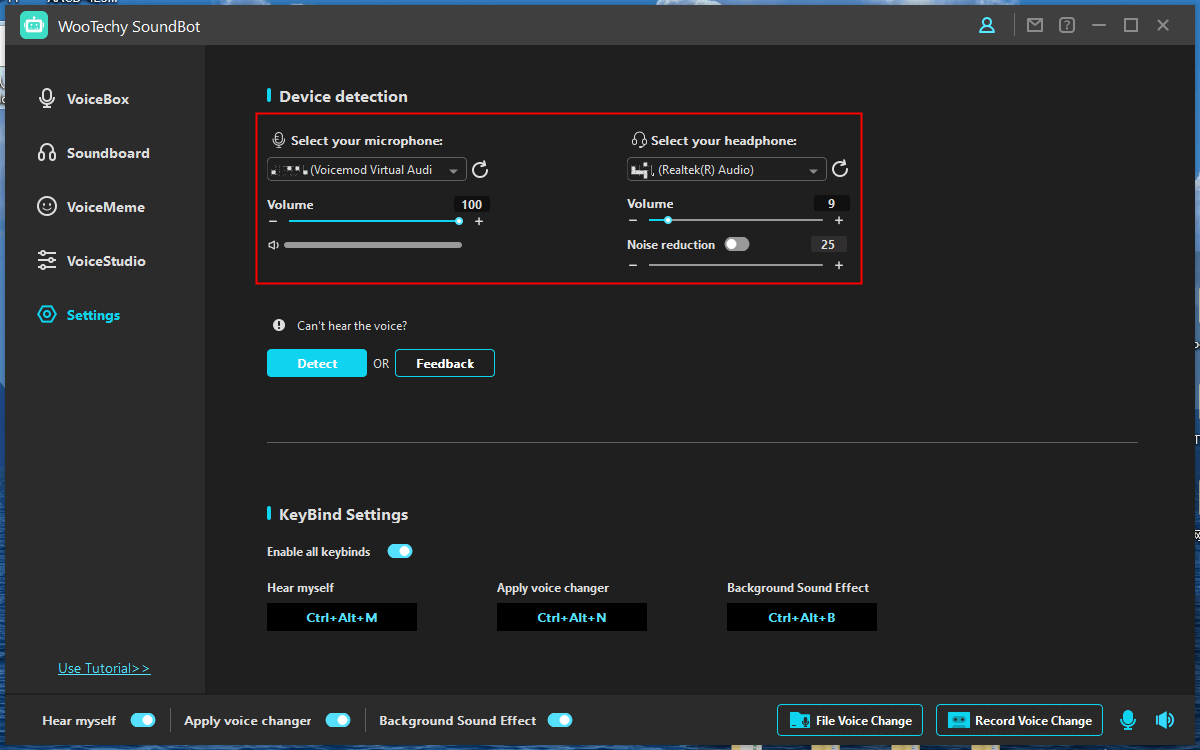 Step 3: On the VoiceBox tab in the SoundBot, you should see a variety of voice filters. Choose a favourite voice, for example, "Female to Male". Speak to your microphone, and you will find that your voice is changed to sound like a woman.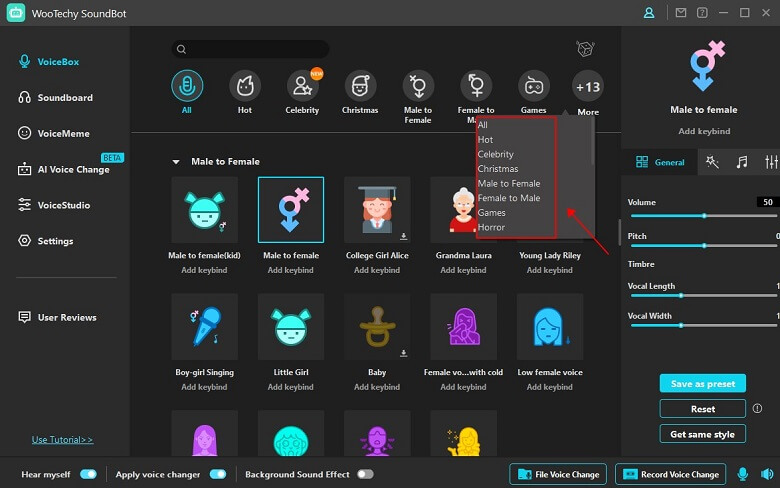 Tip: To change your voice in a different platform, you adjust a voice setting in that platform. Here, we pick changing voices on Discord with Microphone as an example.
Once finish the microphone setting on SoundBot, (that is step 2 mentioned above), open the Discord setting, and find voice.
In the Input Device, choose the "Microphone (Voice Changer Virtual Audio Device (WDM))".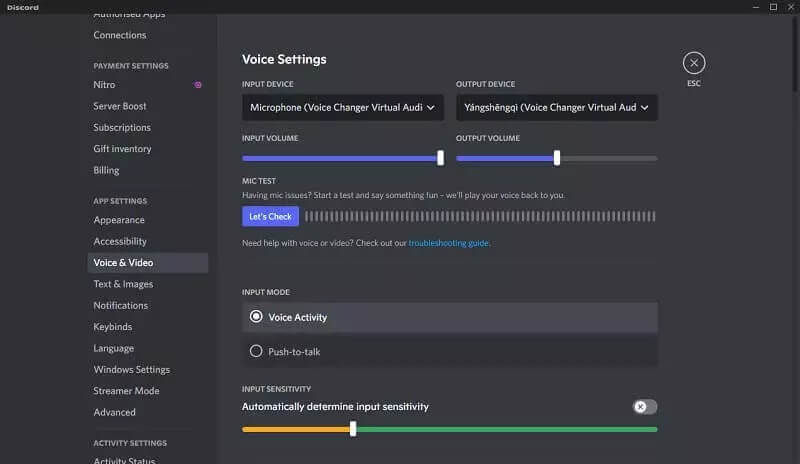 That is it. Now, you'll be able to enjoy the fun and creative voice-changing with Microphone offered by WooTechy SoundBot in real-time during your online interactions.
Microphone Voice Changer for iOS
If you are looking for changing your voice by speaking to the microphone on your iPhone, check the "Voice Changer – Audio Effects". This App can be downloaded on the App Store. With over 25 different voice effects, you can sound like a chipmunk, a robot, a monster, or anything else. You can directly record your voice with a mic and save it as an audio file. It's a great way to have some fun and prank your friends with different voices. However, there are only a few voice filters. There is a little bit limit for those who want to change the voice to a different type of voice.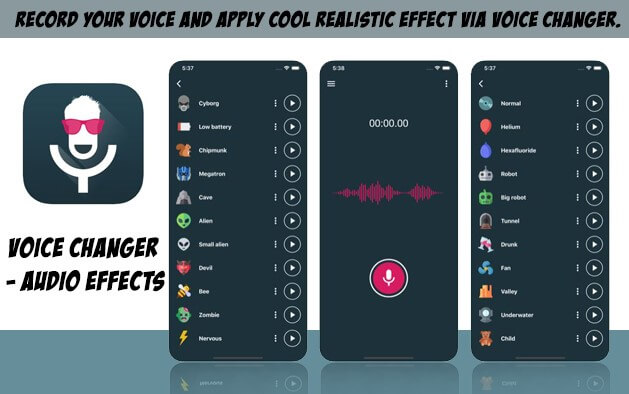 Microphone Voice Changer for Android
Microphone Voice Changer is a fun app available on Google Play that adds a twist to your voice recordings and live calls. With over 20 different voice effects, this app lets you transform your voice into various characters, from robots to aliens and more. You can record or speak with your microphone, and instantly apply the desired effect for voice changing.
Unlike the PC voice changer like SoundBot, this mobile app requires a lot of permissions, which some people may find concerning. And it can be a bit buggy and unstable at times. But it is still an option if you don't require a high number of sounds and stability.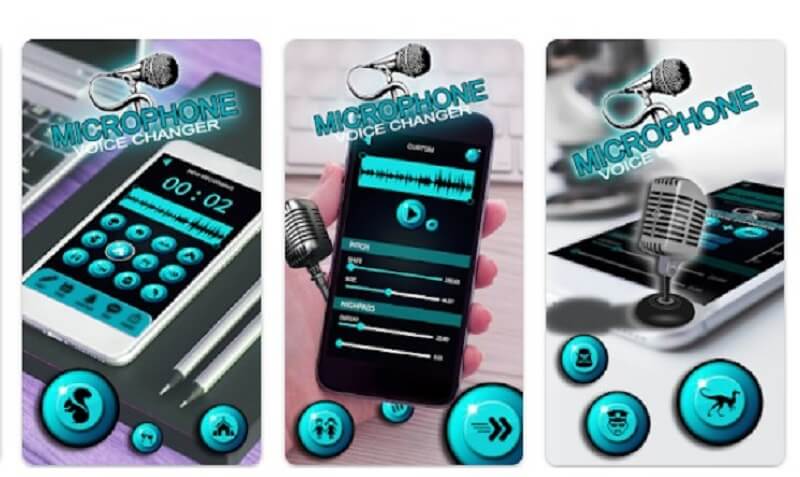 Part 2: Top 3 Hardware Voice Changer with Microphone
Voice Changer Microphone for Podcast
The Tenlamp Podcast Microphone is a USB condenser microphone that is designed for podcasting and streaming. It features a cardioid polar pattern that captures sound from the front of the microphone while minimizing noise from the sides and rear. The microphone also has a built-in pop filter to help reduce plosives, and a shock mount to help reduce vibrations. But note that it does not have a headphone jack, so you cannot monitor your audio in real time, and need to use an external audio interface to adjust the volume. Also, it is a little expensive. Just pick one depending on your needs.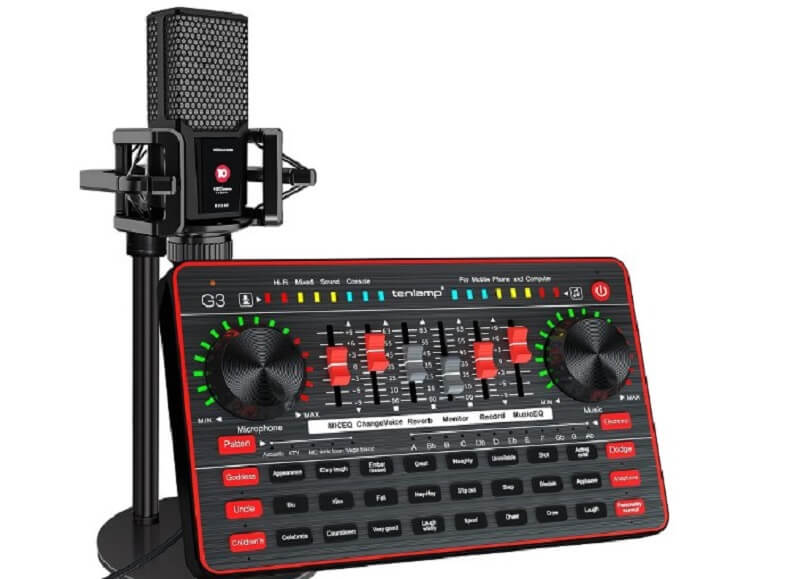 Voice Changer Microphone for Karaoke
This kind of voice changer offers a few voice effects, usually no more than 4. It has LED lights that flash to the beat of the music, as well as a built-in speaker and a recording function, which allows you to sing along to your favourite songs with ease. Its portable and lightweight design makes it ideal for use at home, parties, or even on-the-go.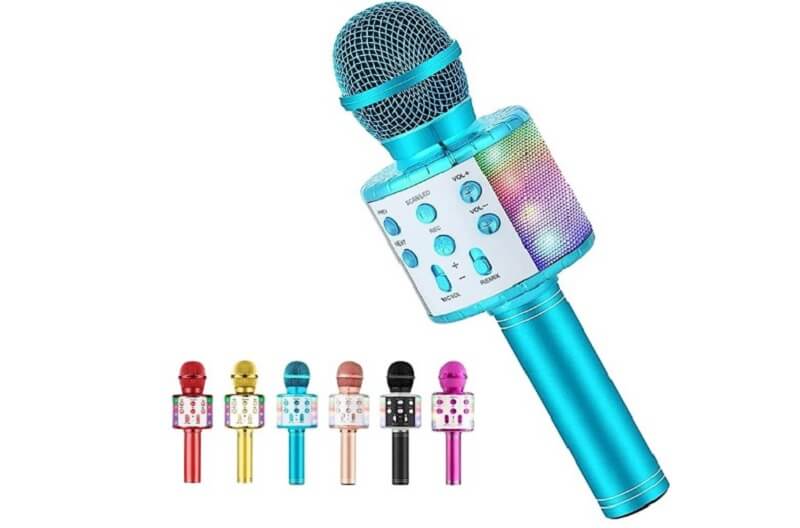 Voice Changer Microphone with Type-C Port
The SYNCO Wireless Lavalier Microphone, designed specifically for Type-C smartphones, has a button to activate 9 vocal effects, providing audio recording for various applications. While users with devices using other port types may need to consider alternative options or adapters for compatibility. With its Type-C connectivity, the microphone offers a direct connection to compatible smartphones, eliminating the need for additional adapters. Its wireless design ensures freedom of movement, making it ideal for vlogging, interviews, live streaming, and content creation on the go.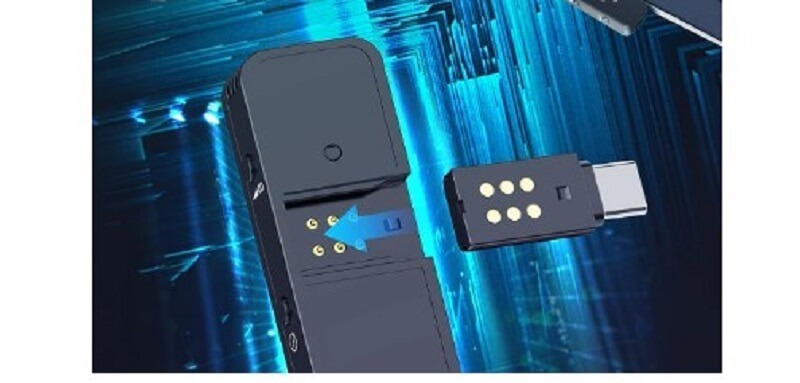 Conclusion for Voice Changing Microphone
In this article, we have provided the best 6 microphone voice changers, 3 for software and 3 for hardware. We have considered a variety of factors, including sound quality, features, and price, to create a list of the best options available. If you want to change the microphone voice with hardware, we recommend the Tenlamp Podcast Microphone even though it is a little more expensive.
If you prefer a software voice changer to have more voice filters, we recommend Wootechy SoundBot. With 250+ voice filters and 600+ voice effects, you can change your voice to any type you imagined. Also, it is comparable with most platforms. Whether you want to change your voice with the microphone on gaming sessions, conferences, live chat, or live streaming platforms like Discord, it will meet your needs and provide a realistic voice-changing experience!