K-pop, the genre that has gained immense popularity worldwide, has evolved in numerous ways over the years. And the AI continues to amaze us, voice transformation has reached new heights. One of the most popular trends in recent times is the emergence of K-pop AI voice. These AI-generated voices are being used in music, entertainment, content creation and various other industries.
In this article, we'll take explore the best K-pop AI voice generator, and show you how to get started with it. Then, you can easy to have your favourite K-pop idol's voice at your command, reciting personalized messages or singing your favorite songs.
Part 1: How to Transform Your Voice to K-pop AI Voice
Wootechy SoundBot is a real-time AI voice changer that can be used to generate K-pop AI voices. It has a variety of voice filters, including some that are specifically designed for K-pop singers. For example, there are some filters that can make your voice sound like Lisa from Blackpink, and the K-POP group BTS. Download it for free and you will explore more voices, such as the voice of male-to-female, female-to-male, cartoon, celebrity, anime character or scream.
Besides, the new voices are constantly being updated in Wootechy SoundBot.
Key Features of WooTechy SoundBot - The Best K-pop AI Voice Generator

75.000.000+

Download

Offers over 250+ filters and 600+ effects for voice-changing.

Support sound emulation, recording, and voice exportation.

Fine-tune the voice settings for a personalized Kpop AI experience.

Works seamlessly with popular live chat, game and live streaming platforms.

Provide instant voice transformation with minimal latency.
How to Generate K-pop AI Voice Using Wootechy SoundBot
Wootechy SoundBot is easy to use. In only a few seconds, you can mimic your voice into different K-pop idols.
Step 1: Download and install Wootechy SoundBot on your computer. Once done, launch the program.
Step 2: Follow the on-screen instructions to set your INPUT and OUTPUT devices. Enable "Apply Voice Changer," and "Hear Myself".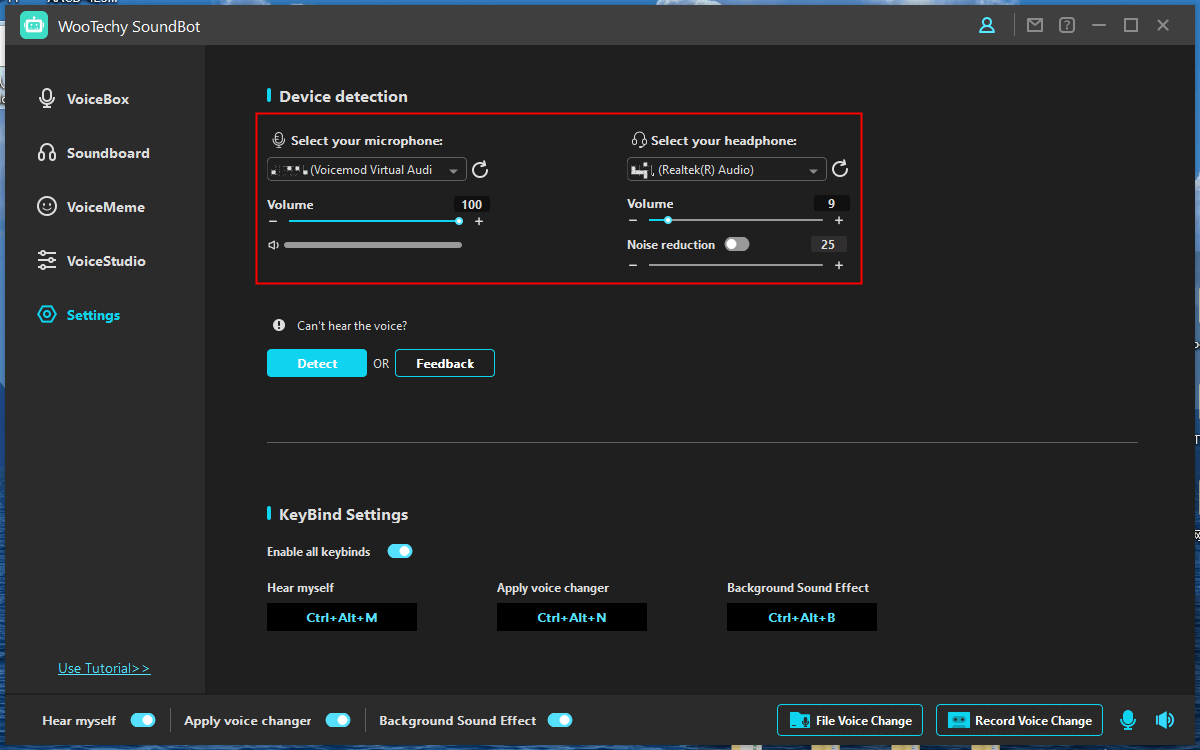 Step 3: In the SoundBot interface, you will find various voice filters to change your voice and other features such as sound effects, voice customization, and voice meme generation. To generate a K-POP AI voice, click the VoiceBox, select Celebrity and find the preset voice of your favourite idols. For example, choose "BlackPink Lisa", and start your voice generating.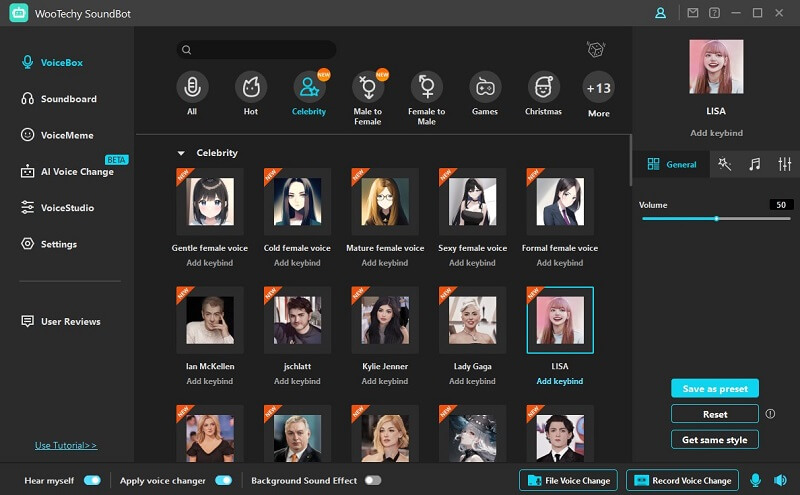 There are 3 ways to generate the AI voice on SoundBot:
Speak to your microphone and change the voice in real time.
Record the audio on SoundBot to transform the voices.
Upload a pre-recorded audio file to modify the voice.
Step 4 (Optional): To instantly generate K-POP AI voice on various platforms, like Fortnite, PUBG, Discord, Skype, Twitch and more, you should go to that platform, click setting and set "Microphone (Voice Changer Virtual Audio Device (WDM))" as the input device.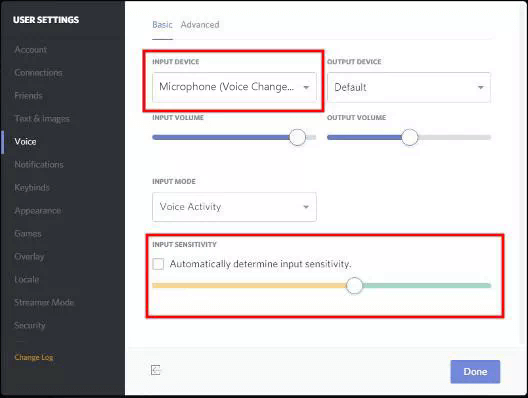 That is it. Wootechy SoundBot offers a free version that allows you to generate several different free voices every day. The paid version, which is more affordable ($12.95/quarter), offers full features and unlimited voice generation. Try it free first and see if it meets your needs!
Way 2: AIVOOV Korean Text to Speech
AIVOOV AI Korean Text to Speech is a cloud-based text-to-speech (TTS) service that converts text into natural and expressive spoken Korean speech. It can be also used to generate K-POP AI voice.
Key Features of AIVOOV AI K-pop AI Voice Generator
Mimic K-POP idols' accent and speaking style.
Can infuse emotion and tone into the generated speech.
22 Korean (South Korean) accents are available.
Drawbacks of DeepBrain AI Voice:

Prices are relatively affordable, up to $119.92/month.

Can not generate K-POP AI voice in real time.

Not works on other platforms.

Not support AI sing covers.
How to use AIVOOV to generate K-POP AI voice
Step 1: Go to the AIVOOV website and create an account. Choose a premium plan.
Step 2: Log in to your account. Choose your preferred voice from the available options. Enter the Korean text you want to convert into speech.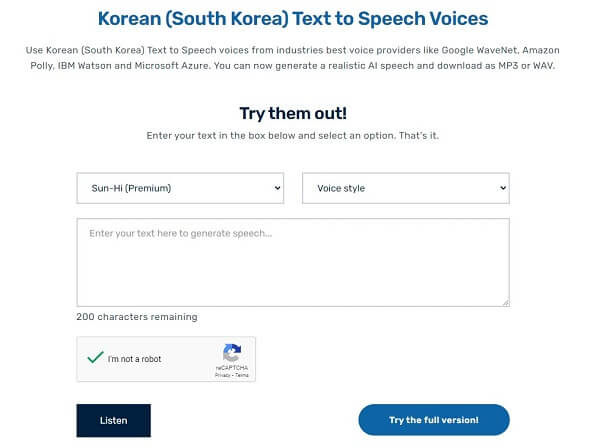 Overall, both Wootechy SoundBot and AIVOOV can be used to generate K-pop AI voices. Here is a comparison of the features and prices of SoundBot and AIVOOV:
| Features | Wootechy SoundBot | AIVOOV |
| --- | --- | --- |
| Realistic voices | Yes | Yes |
| Variety of voices | Yes | Yes |
| Customization | Yes | No |
| Works on different platforms | Yes | No |
| Program Download | Yes | No |
| Price | $12.95/quarter | $119.92/month |
Part 2: Hot Topics about K-POP AI Voice
Can I use Kpop AI voices for commercial purposes?
Based on the local policy. In some areas, using Kpop AI voices for commercial purposes may involve copyright and licensing issues. More users are using it on live chat, prank friends, or content creation.
How can I Auto-tune a Kpop AI voice to match a specific song's style?
Wootechy SoundBot mentioned above can help you. This K-POP AI voice generator provides customization options, allowing you to adjust pitch, speed, and emotion to align with a song's style.
What trends can we expect in Kpop AI voice technology in the near future?
We can anticipate more realistic and versatile AI voices, improved customization options, and enhanced integration with Kpop content as the technology continues to evolve.
Are there any completely free Kpop AI voice generators available?
Yes, some AI voice generators offer free versions with limited features, but for high-quality results and customization, premium options are often preferred.
Conclusion
As you can see, K-pop AI voice is a game-changer in the industry, allowing us to connect in ways never before possible. All you need is a reliable K-pop AI voice generator, like Wootechy SoundBot in this article. Whether you want to sound like your favorite K-pop star or add a unique twist to your voice, it has you covered.