W-Osaka Voice Changer (Known as W-Okada Voice Changer) is a popular software that allows users to change their voice in real time. It offers a variety of voice-changing features, including pitch shifting, gender swapping, and sound effects. However, W-Okada Voice Changer is not without its drawbacks. It can be difficult to use. The installation procedure is relatively complex.
In this guide, we will take a closer look at the W-Okadas realtime AI Voice Changer, and teach you in detail how to use this program. Also, for those who don't like this complicated process, we will provide the best W-Osaka Voice Changer alternatives, making you change your voice in real-time easier.
A Glimpse into What is W-Osaka Voice Changer
The name "W-Okada" is a combination of the developer's name, "W" (for "Watanabe Okada"), and the city of Osaka, Japan, where the developer is based. The real-time voice changer client by W-Okada is a project that allows users to modify their voices using various Voice Conversion (VC) AI onWin and Mac. Then, you can use it for streaming, gaming or just for prank fun.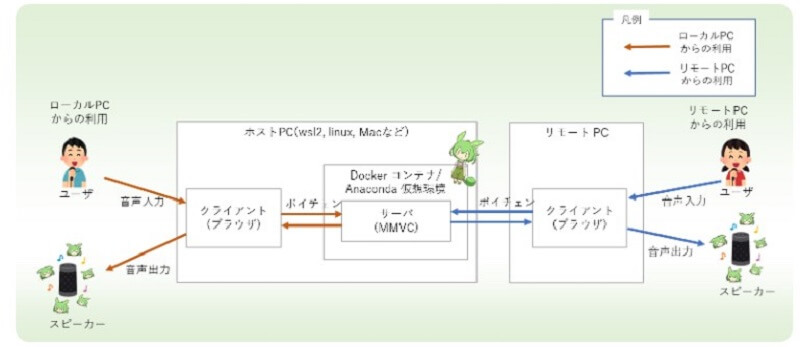 The Key Features of W-Osaka Voice Changer
Real-time voice changing: W-Osaka Voice Changer can instantly change your voice in real time between different voice effects.
AI-powered voice changing: It uses artificial intelligence and performs voice changing using various AI models such as MMVC, so-vits-svc, RVC and DDSP-SVC.
Comparability: It can be used on different platforms, ensuring flexibility across diverse operating systems.
Device supported: Whatever the GPU device is Nvidia, AMD or Intel GPUs, it is supported.
Voice personalized: One can adjust the pitch or speed.
How to Use W-Okada Voice Changer
Now, here is the step-by-step guide on how to set up W-Okada Voice Changer. It would be a little complex. Be patient, or skip to the part 5 to check its alternative with simpler steps.
Step 1: Go to the official Okada VC repository in Github. Based on your operating system, choose the latest version, and click the "Google" or "huggingface" button to download the W-Okada voice changer.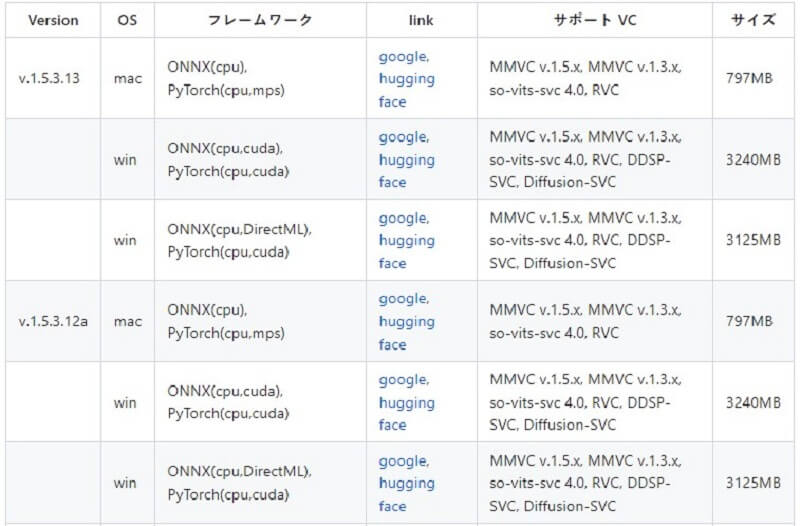 Download anyway when it pop-up the reminder from Google Drive.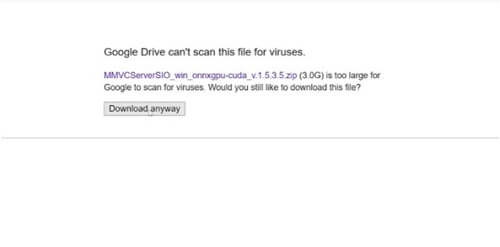 Note:If the program is launched for the first time, various data will be downloaded. It may take some time to download the data.
Step 2: Unzipped the file after downloading to begin the installation process. You should see the "start_http.bat" file inside the unpacked folder. Double-click it to run the file again.
Step 3: The W-Okada Voice Changer will start and the images of the characters will be displayed on the screen. Here you can find the program's GUI main window.
Step 4: Select the "RVC" from the Menu of "VC". Then you will be navigated to a page. Select the microphone (input) and speaker (output) you wish to use. Click the "Save".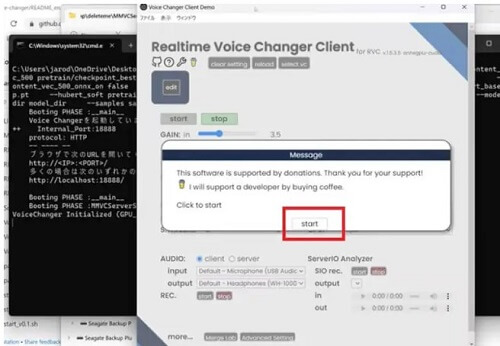 Step 5: Speak to your Microphone and listen to what your voice has become.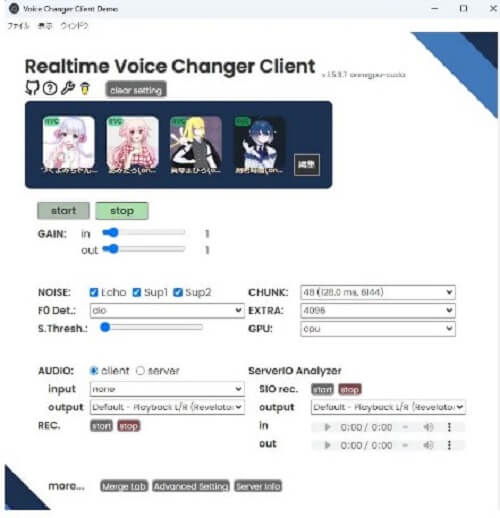 Step 6: To transform your voice using the W-Okada voice changer models, go to Edit>Logs Folder>marine.pth>total_fea.npy, finish the setting and upload the voice model you want to use from the drop-down menu. You can also adjust the pitch, speed, and reverb of your voice.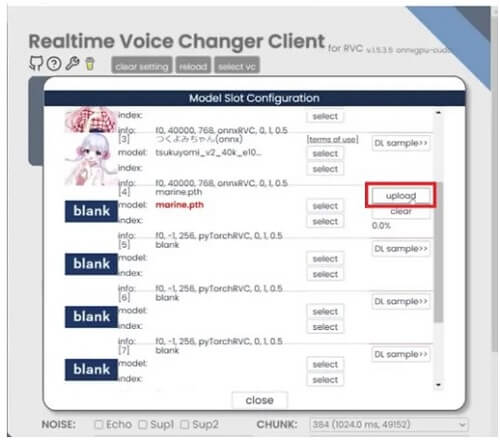 Limitations of W-Okada Voice Changer
There is a relatively complex setup and configuration process. It is a challenge for those who are not tech-savvy to get started with.
The W-Okada voice changer models can be resource-intensive. Users with older or less powerful hardware may experience performance issues.
You may need time to explore the program to choose the features that meet your needs most.
The user support only depends on the developer's commitment.
The Best Alternatives to W-Okada Realtime AI Voice Changer
To change voice in real time without effort, there is a great alternative: SoundBot made by Wootechy.
Wootechy SoundBot is a powerful and easy-to-use voice changer that can be used for a variety of purposes, including gaming, streaming, live chat, conference meetings, and video calls. It offers a wide range of voice effects, including male to female, female to male, celebrity, child, robot, and alien. It also has a built-in echo and noise cancellation feature.
Importantly, with only a simple setup, you can start your voice changing.
The Key Features of Wootechy SoundBot
75.000.000+

Downloads

250+ voice filters to change voice in real time with flexible switching.

Keep updating new voices often.

Change voice via Microphone or via audio file.

600+ sound effects to have more fun.

Custom voice effects by adjusting the pitch, timbre, vocal length, and vocal width.

Wide cross-platform capability with Discord, Fortnite, Skype, etc...

400+ voice Memes available, supporting customization.

Freely recording voice and export the converted audio in different formats.
The tutorials to use Wootechy SoundBot
Step 1: Download and install SoundBot from Wootechy on your computer. Launch it.
Step 2: Select a Microphone as the input device and choose one as the output device, like headphones.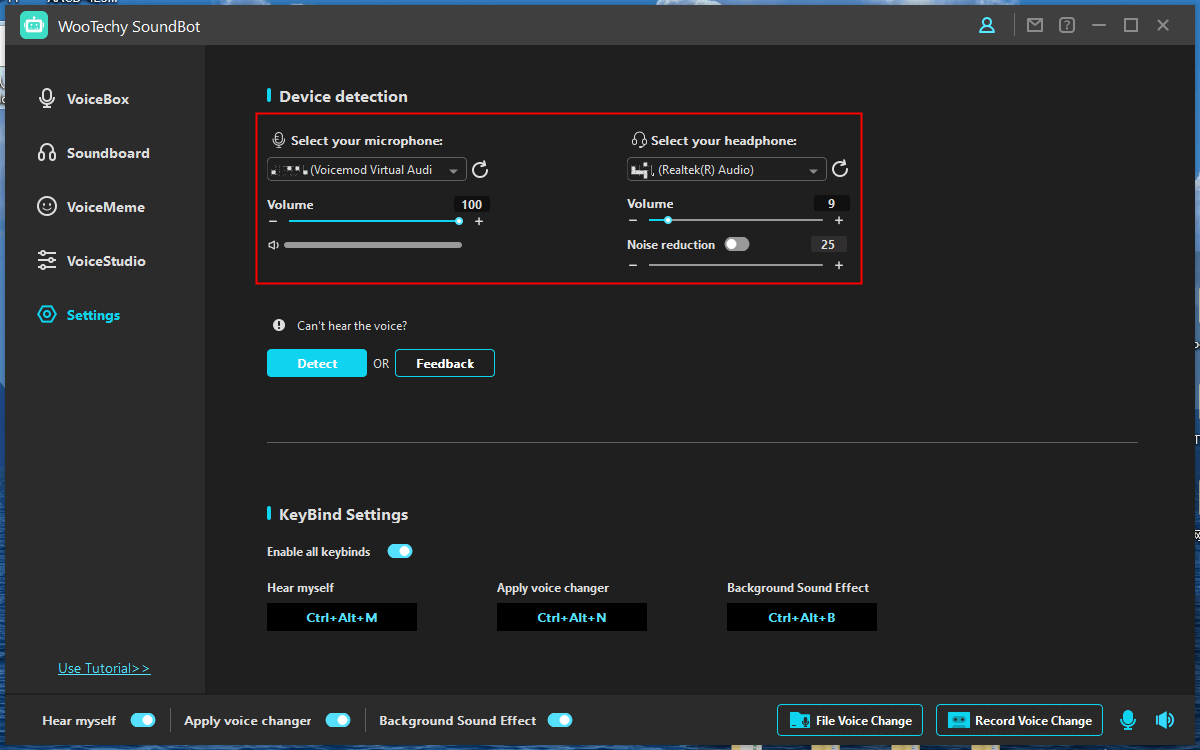 Step 3: Choose a voice effect according to your preferences. For example, choose "College Girl" on the "Female to Male" here. Speak to your microphone and your voice will be changed in real time.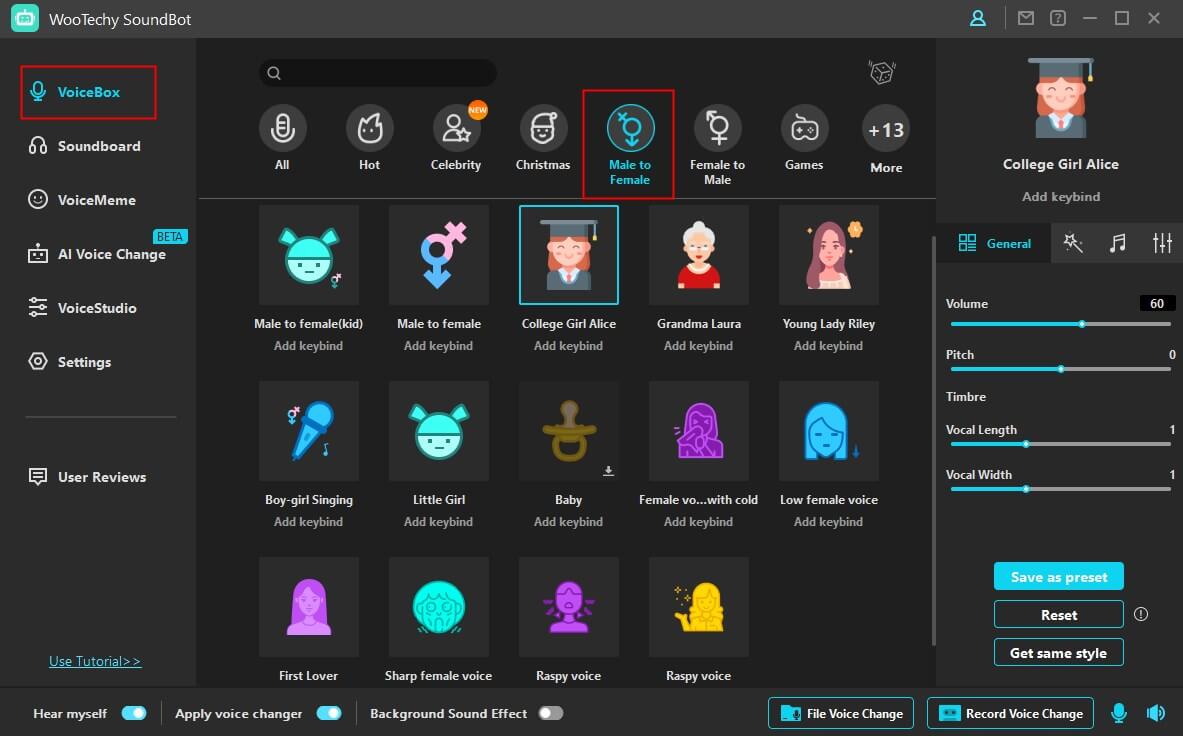 That is it! Additionally, SoundBot can be used with various applications like voice chat, video conferencing, or recording software. Just ensure that SoundBot is selected as your microphone input in that application settings. Then you are good to go.
Final Thoughts on the W-Osaka Voice Changer
W-Okada voice changer is a popular option, but it can be difficult to set up and use. But following the step guide provided above, you can also set up it successfully.
If you are looking for a powerful voice changer with an easy-to-use interface, then Wootechy SoundBot is a great option.
Free to download and you can start the voice change in several seconds.