Come one, come all to the world of Barbie! Have you already seen the Barbie movie? Starring Margot Robbie and Ryan Gosling, Barbie is a story of self-discovery and empowerment. Additionally, "Barbie World", the soundtrack of the film Barbie, celebrates female empowerment and encourages listeners to be themselves, which is a song by Nicki Minaj and Ice Spice.
But today, we're going to discuss another topic about the "Barbie Word": Ice Spice AI Voice. Many people want to create a voice that sounds like Ice Spice. And this article will guide you on how to get Ice Spice Voice AI for free.
Part 1: Who is Ice Spice?
Ice Spice is an American rapper and songwriter who rose to prominence in late 2022 with her song "Munch", which achieved viral popularity on TikTok. She was featured on the soundtrack of the film Barbie (2023), singing the song "Barbie World" with Nicki Minaj and Aqua.
Her voice is known for its versatility, as she can rap with ease and also sing with a surprising amount of range. She is also known for her ability to emote through her voice, which is evident in her songs about self-empowerment and female empowerment.
Actually, it's kind of hard to imitate her voice. Thanks to the AI Ice Spice voice generator, this case is getting easier.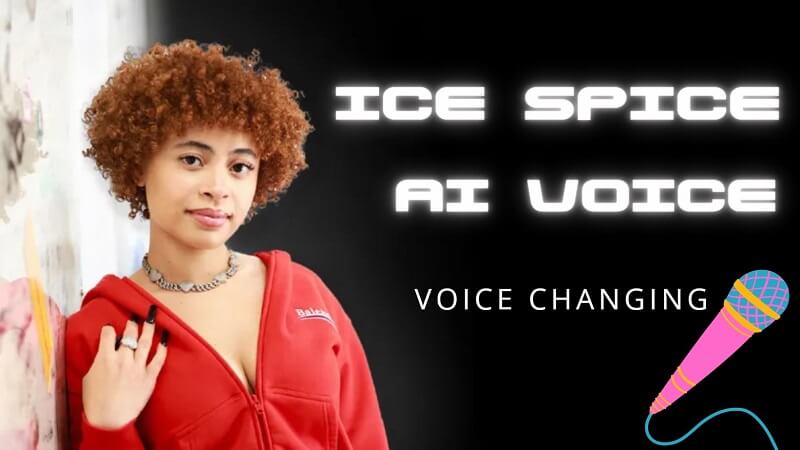 Part 2: Ice Spice AI Voice Generating in Real Time for Free?
If you also want to generate Ice Spice Ai voice to sing, chat, create video content, or prank friends, look no further than using Wootechy SoundBot.
The SoundBot, made by Wootechy, is a popular AI voice generator that allows you to change your voice into a different type of voice in real-time, including Ice Spice AI voice. Compatible with various platforms like YouTube, Discord, Fortnite, Skype, and more, this voice generator can be used for a variety of purposes, such as gaming, chatting, and creating content.
75.000.000+

Download

250+ voice filters including voice beatify, celebrity voice, musical,female to male and versa, Cartoon voice, etc.

600+ sound effects double up the fun.

Generate AI voices with a Microphone or by uploading an audio file.

Change voice in real time in Live chat, live streaming, gaming and conference platforms.

Update new voice freely every week.

Customize your voice in Voice Studio.

Support exporting generated voice files and adding them to YouTube, TikTok, and more.

Generate realistic voices.
How to creating Ice Spice AI voices?
Step 1: Get started by downloading, installing, and launching Wootechy SoundBot on your computer.
Step 2: Select your preferred output and input devices. For example, set your Microphone as the input device and your headphones the output device.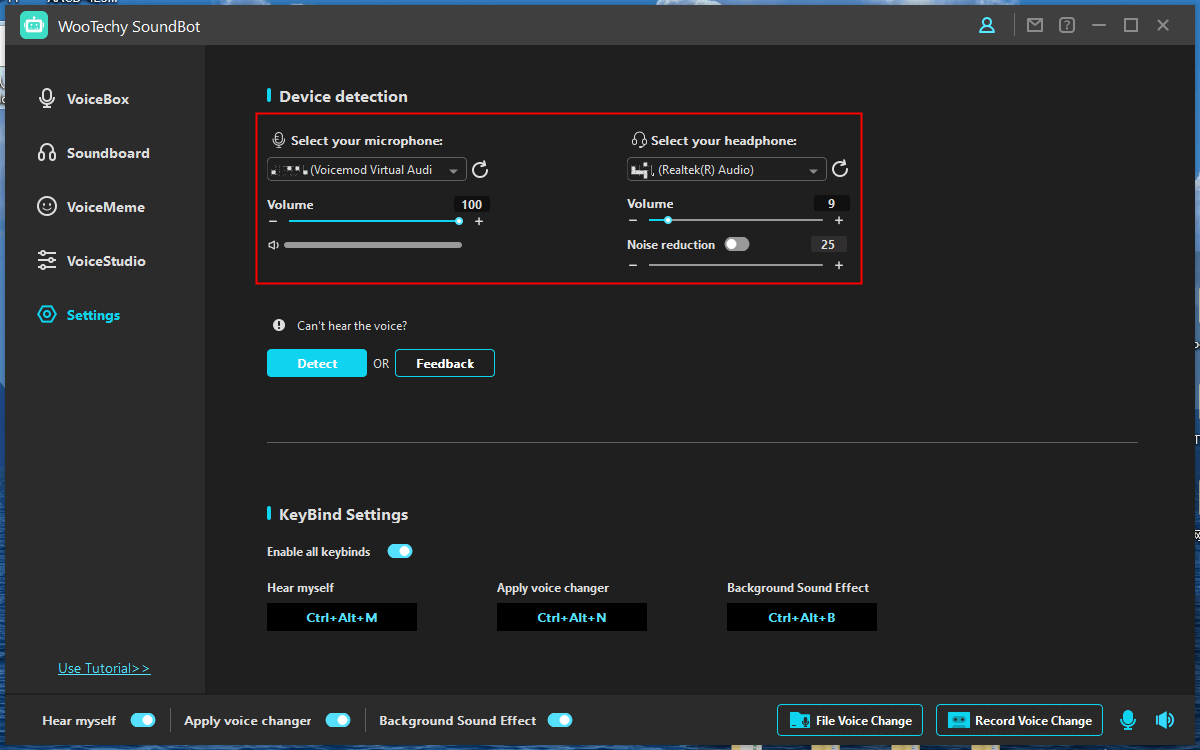 Step 3: In the VoiceBox in the SoundBot interface, you should see many voice filters. On the Celebrity catalogue, choose Ice Spice, speak to your microphone, or sing. An Ice Spice AI voice will be generated in real-time. The converted voices can also be exported in different types of files, such as MP3 or WAV.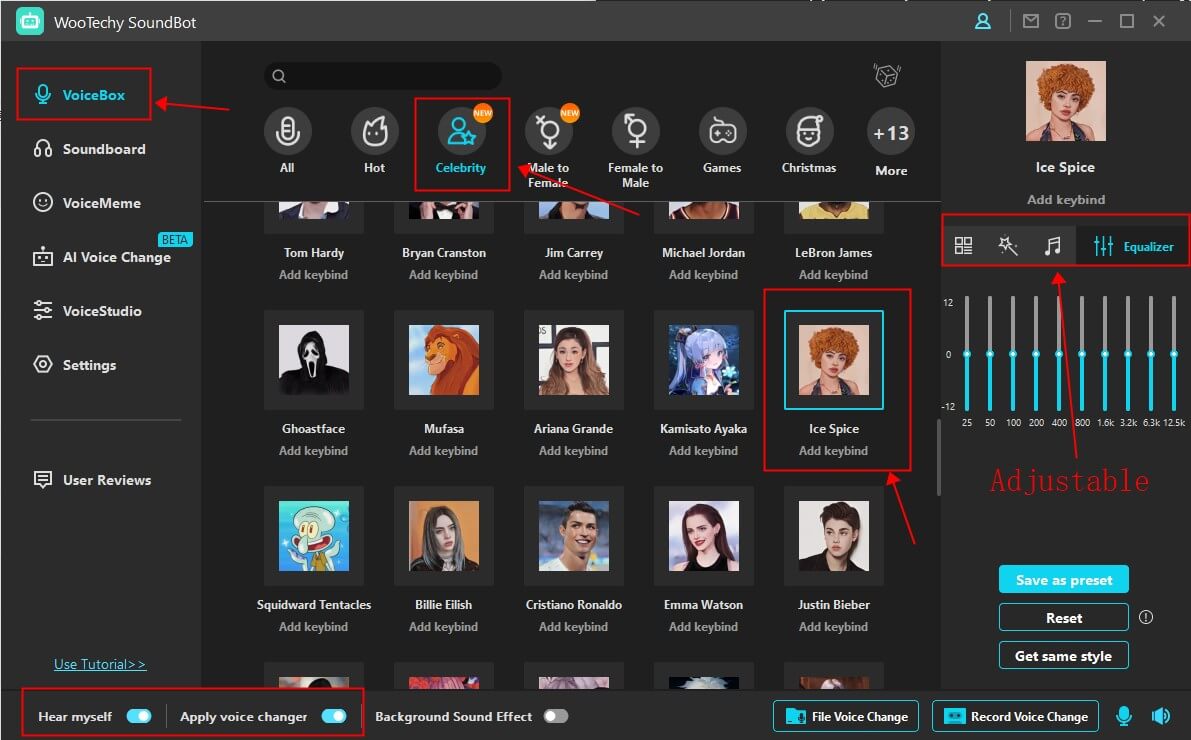 Step 4: File voice changing is also supported. Besides, you can adjust the voice setting to meet your customized needs.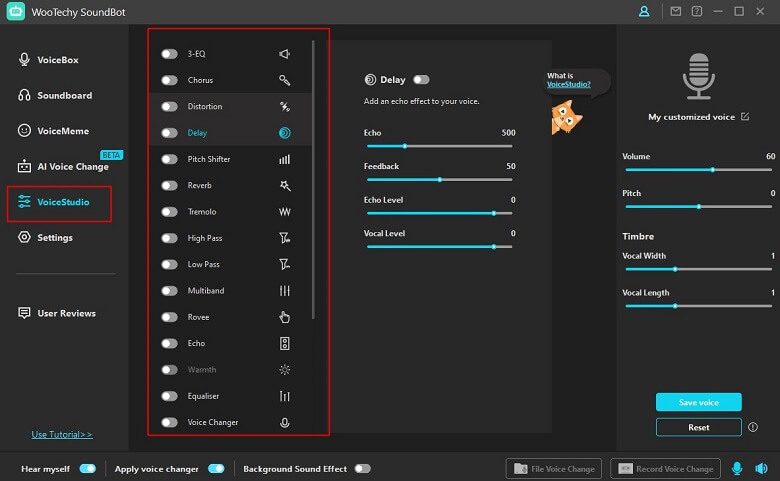 Step 5 (Optional): If you want to transform your voice into Ice Spice AI voice in real time on different platforms. For example, speaking with others in the voice of Ice Spice on the Discord community. All you need to do is choose the microphone (Voice Changer Virtual Audio Device (WDM)) as the input device in Discord. Once done, what you are saying will be modified to sound like Ice Spice without delay.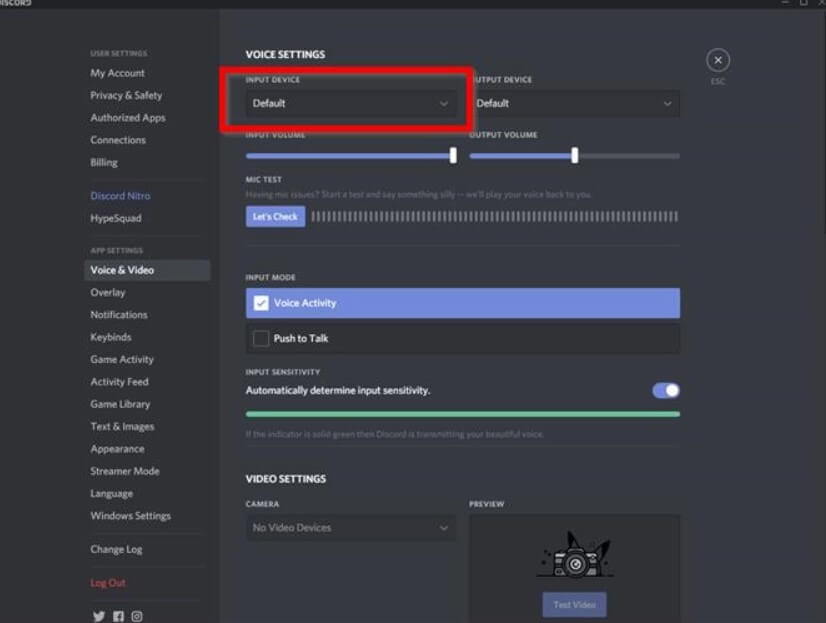 Part 3: Ice Spice AI Voice Text to Speech
If you are the one who is used to changing your voice through voice changer online, then there is another option to create Ice Spice voice AI. Tomediai is a TTS tool that allows you to generate a voice that sounds like Ice Spice by tapping the text. The premium plan offers unlimited credits and additional features, such as the ability to generate custom voices.
To use this Ice Spice AI voice text-to-speech, all you need to do is visit the website. Enter what you want to change under the limited characters, click convert, and you are good to go.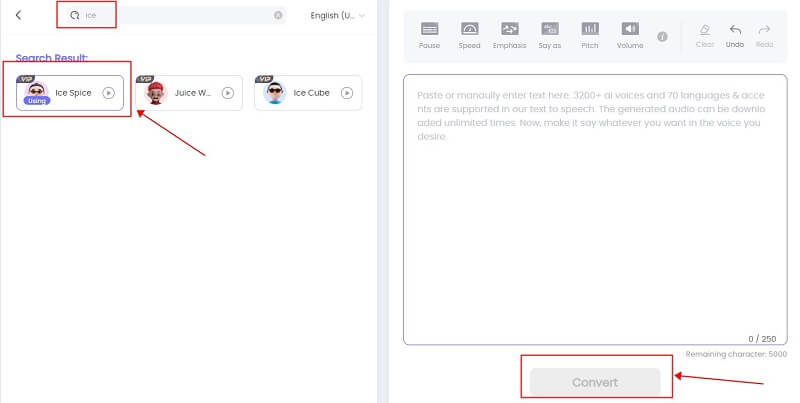 Part 4: FAQs and Ice Spice AI Voice
How does Ice Spice AI Voice work?
Ice Spice AI Voice Changer is software that employs artificial intelligence to modify voice tone, pitch, and speed. It analyzes input audio, breaks it into phonemes, and uses neural network models for transformation.
Can I generate other celeb voices except for Ice Spice?
Sure, the Wootechy SoundBot mentioned above supports various other celebrity voice changers, such as Taylor Swift, BlackPink Lisa AI voice, Elon Musk, Download Trump, Selena Gomez, Lady Gaga, and so on.
Why has Ice Spice AI's voice gained so much attention recently?
Ice Spice's voice AI's sudden rise to fame can be attributed to her catchy music like "Barbie World" and her presence on platforms like TikTok. Her songs have gone viral on social media, exposing her to a wider audience and contributing to her widespread recognition.
Conclusion: Which is the Best Way to Get Ice Spice AI Voice?
The best way to get Ice Spice AI voice depends on your needs and preferences. If you are looking for a free option, you can use voice changer software like Wootechy SoundBot. This tool updates 5 free voices every day, and 250 other voice templates for a slight cost, starting at $12.99 for a quart. Additionally, SoundBot provides a more realistic and natural-sounding voice, which makes your voice sound most like Ice Spice AI.
Download the Ice Spice AI voice generator for free, and have a free trial first. Then, enjoy the AI voice experience!