Make your Halloween costumes spookier by adding scary voices in the background.
We might know just the way to make your voice sound scarier and improve your chances of giving your friends the remorseless fright of their lives.
How about a Halloween voice changer?
Like every year, Halloween brings a number of new gadgets to add to the fun and vibe of the holiday.
But we are here to remind you of a gadget you may have missed out on, but is a must-have!
This article will walk you through the ins & outs of a Halloween voice changer and the apps that you can use for a similar ghostly experience.
Part 1. A Full Review of Halloween Voice Changer
The Halloween voice changer gadget was first released in 2018 so has been around for some time now.
The gadget allows the user to record their voice and convert it into monstrous noises by just pressing some buttons.
It has nearly 1k ratings on Amazon and the customer reviews suggest it is pretty economical also.  
Read on for detailed functionality and pros and cons of this gadget and more.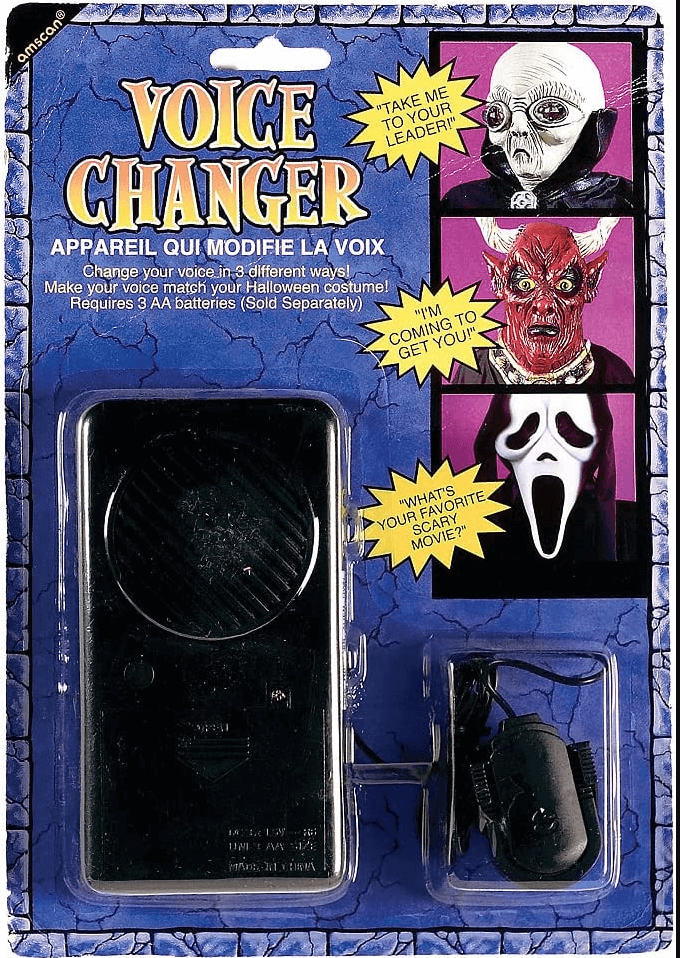 1. What Is Halloween Voice Changer?
The Halloween voice changer is a battery-powered device that comes in 2 units i.e. the main unit (box-shaped) and a microphone attached through the wire. You can use it to make your voice sound more creepy as it enhances the tone and pitch of the recordings.
The main unit can be clipped over a belt or placed in a pocket to hold it. The long wire of the microphone can easily be passed through the sleeve and has a hook to attach it to a mask or the shirt collar.
The right Halloween voice changer can be a perfect addition to your party accessories for themed events, costume parties, and even stage performances.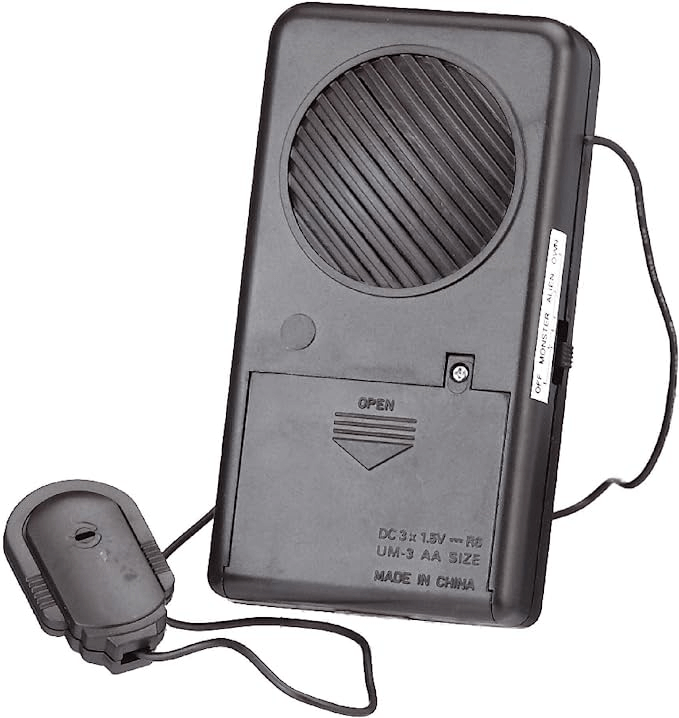 Now that you know what the gadget actually is, let's have a look into its working and functions.
2. How to Use Halloween Voice Changer?
The main unit of the device has four settings i.e. the ON/OFF switch, the Monster voice, the Alien voice, and the 'amplify your own voice' option.
You can press the button of your choice and speak into the microphone. The voice will come out of the main unit, converted through your filter of choice! Who knew it could be as simple as that to perk up your adventure!
Simply tapping the microphone also makes eerie static noise. Like any gadget, the Halloween voice changer also comes with its pros and cons.
3. Pros & cons of Halloween Voice changer:
Pros
You can choose between different filters including Aliens or Monsters.

It can amplify your own voice for an indefinite number of eerie sound effects.

You can select your Halloween voice changer in a variety of colors. 

It is pocket-sized and easy to carry.

It only requires 3AA batteries to operate.
Cons
The options for voice filters are limited to only 3.

It can not operate without batteries.

Doesn't have a volume control button so may be loud for some.
In case you are unable to get your hands on one of these Spirit Halloween voice changer devices, you're about to find the best alternatives. 
Here's a list of some really handy Halloween voice changer apps that'll make the festival more funny!
Part 2. Best Halloween Voice Changers Available (PC&Mobile)
If carrying an extra gadget isn't your thing and you can make do with your smartphone, below is a list of apps that are available for your Androids, and iOS devices. You will even find software for gamers who use PCs and enjoy adding terror to their gaming.
1. WooTechy SoundBot
This is a Halloween voice changer app with the most diverse range of sound effects. Besides over 300 different filters to choose from, it also gives you the liberty to use the results directly in other applications.
If the voice changer apps are in a game of chess, WooTechy SoundBot is the Queen with numerous in-app functions and some of the best features. With a rating of 4.5 on a scale of 5, it's hard to find better.
Key Features
You can record audio in real-time and edit pre-recorded sound clips using filters and voice enhancer options.

You can choose between the 300+ effects and voice memes, including male/female, ghost-face and deep voice conversions, etc.

The sound emulators can be used directly for entertaining prank, in other applications and games like Discord, Skype, Fortnite, etc.

.mp3 and .wav audio files import option is available

You can get creative and make your very own customized voice filters.
How to Use WooTechy SoundBot Voice Changer for Halloween:
Download and set up SoundBot on your computer. Then set your input and output device respectively.
There are different voice filters on the VoiceBox tab. Go to the Horror option and choose Ghost, Monster and other scary voices from it.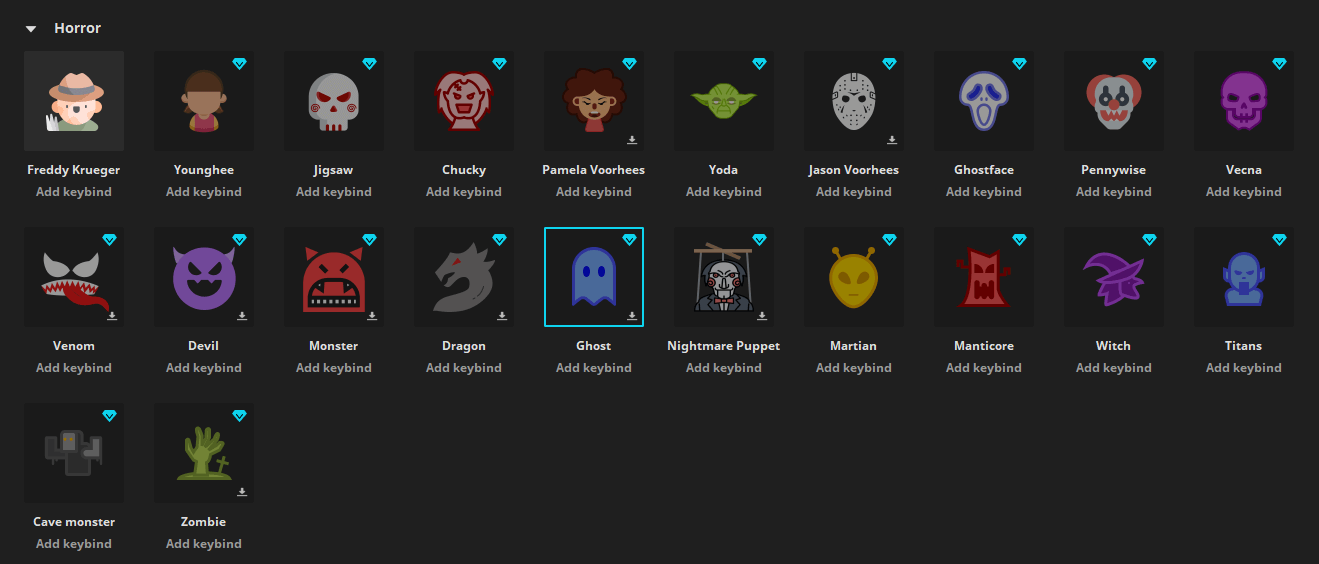 Speak into your microphone and SoundBot will change your voice to the chosen filter in real-time.
Pros
Extremely user-friendly interface with all the updated features.

Offers fast conversion.

Offer free voices each day.
Cons
Supports MP3 and WAV input files only.

Only available for Windows right now.
2. Voicemod Halloween Voice Changer
This software is a treat for online gamers who love to add fun to the intense contesting; be it to get a good laugh out of it or just to startle the other competitors and lighten the mood.
If you're a gamer who wants to change your voice into something spooky while streaming online, Voicemod is just for you. Being one of the few such tools for PC, it is available for Windows 7, 8, and 10. It also has a very user-friendly and updated interface.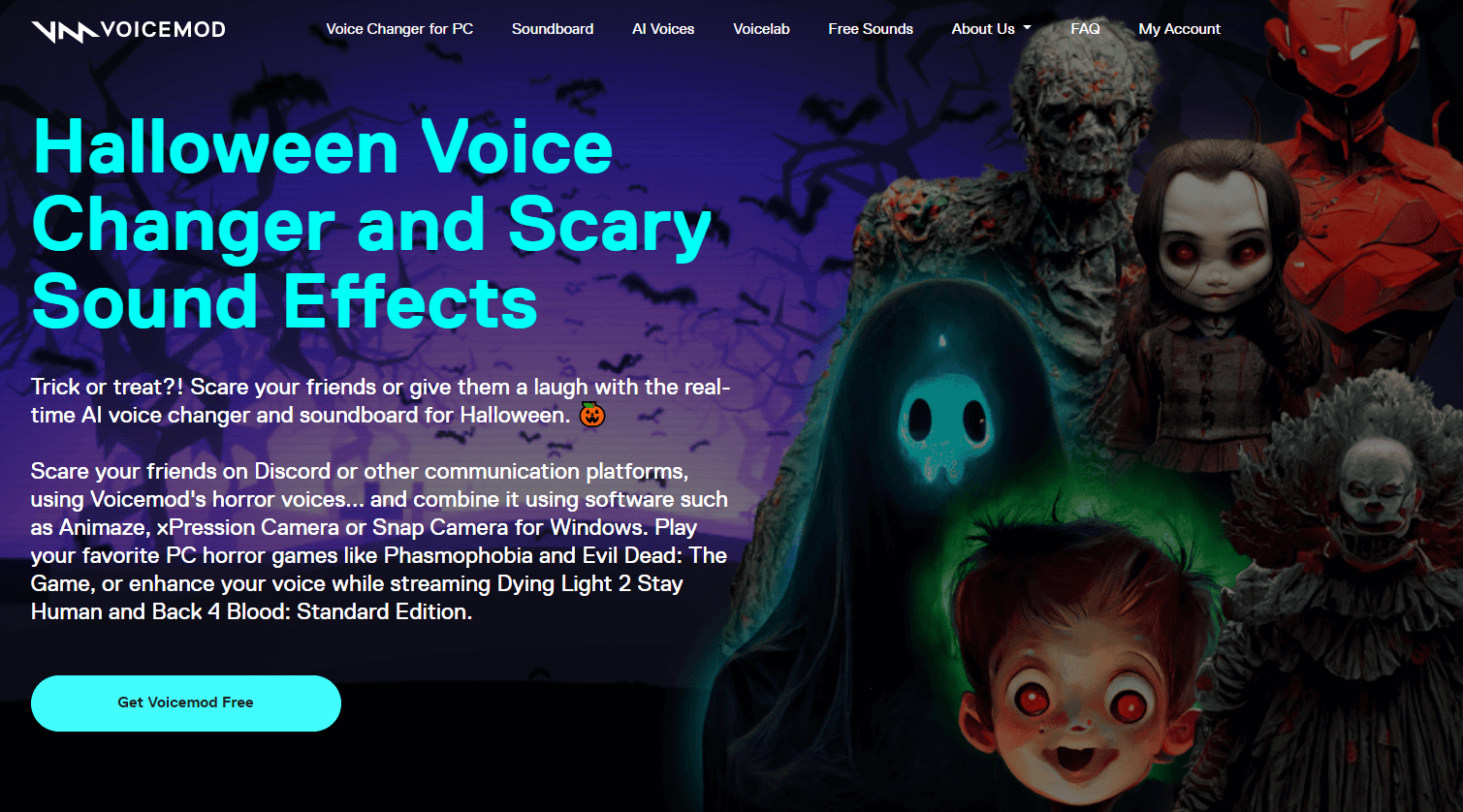 Key Features
You can use the software to create your own customized voice mods.
It allows you to configure preset voice mods.
It comes with 7 special sound effects to choose from.
It offers a live voice-changing function.
Pros
You can download the basic version for free.

You can have your personalized soundboard.

User-friendly and updated interface.

It works with all online games and apps.

Easy to set up.
Cons
Not available on macOS currently.
3. Halloween Voice Transformer for iOS
For the iOS users who like to flex all the unique iOS apps and features, Halloween Voice Transformer app can be a great addition. You can now make terrifying noises and petrify your friends using this app.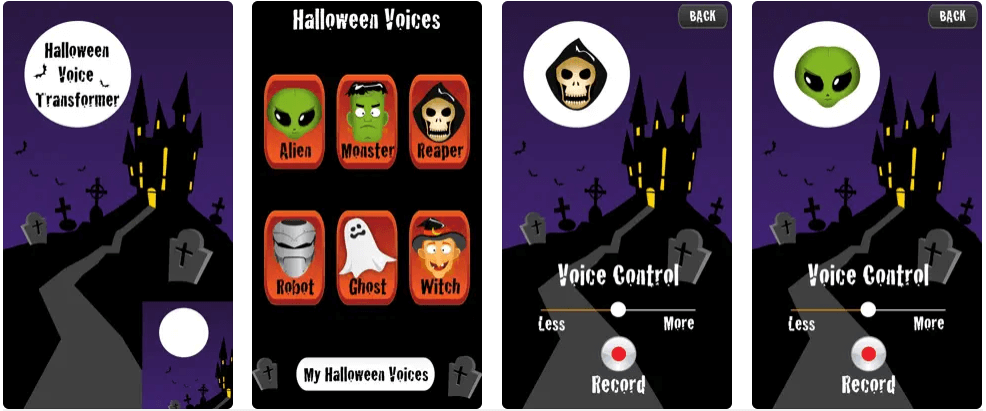 Key Features
It offers 6 different sound effects to choose from.
You can record your voice, add effect and save then all your spooky recordings.
Allows you to share these voice memos via email, text and across social media.
Pros
Very easy to use interface.

It has really good voice transforms and control.  
Cons
It is compatible for up to iOS 11 only.

 

Upgraded version requires payment. 
4. Scary voice changer for Androids
If you are an Android user looking for an app that can convert your voice into scary scream-like noises, Download Scary Voice Changer from play store right now.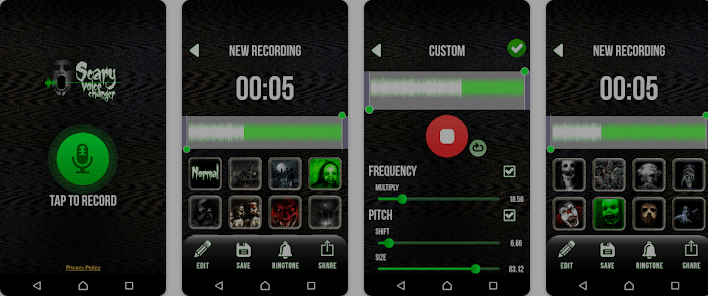 Key Features
A user-friendly interface that complements the Halloween scary theme.
You can record and save your voice memos.
You can edit the frequency and pitch of the sound along with other filters.
It also offers scary ringtones for your smartphone.
Pros
You can custom edit your voice recordings with precise changes.

Easy to use with multiple editing options.
Cons
Doesn't allow sharing across apps.
Conclusion
Dressing up to prank your friends is always fun; but modifying your voice to go with the costume can surely add to the amusement.
The article shed light on the Halloween voice charger device that can be hooked to the costume and used to add sound effects. Besides this gadget, there are plenty of other really cool applications to check out; along with their key features, pros and cons. These apps, especially the
WooTechy SoundBot
, are available at your fingertips with easy to use interfaces and unending options.  
Eat, drink and be scary!