Halloween is just around the corner, and that means it's time to start thinking about your costume. But what's a good costume without a scary voice and sound to match? This is where a Spirit Halloween voice changer comes in.
Maybe you're also hesitant about whether you should get a Spirit Halloween voice changer. Don't worry. This article will review the 3 Halloween Voice Changers in Spirit Halloween. Hope it can help you to efficiently choose the best voice changer for your Halloween!
Part 1: What is Spirit Halloween Voice Changer
Spirit Halloween Voice Changer is a device with some special effects sold by Spirit Halloween, the largest Halloween retailer in North America, offering a wide variety of Halloween costumes, accessories, decorations, and animatronics. If you are interested in more Halloween Voice Changers that available in more areas, check out our previous post.
The voice changer allows you to modify your voice for Halloween disguises. They resemble a speaker hole and a microphone. you can choose from different voices, ranging from horror sound or robotic effects. They help you complete your Halloween costume with a matching voice, adding more fun to the Halloween disguise.
Part 2: Top 3 Spirit Halloween Voice Changers
There are 3 Voice Changers available in Spirit Halloween.
Price: $12.99
Rating: 4.0
The Special Effects Voice Changer resembles a small black box with white stripes, featuring a speaker hole and two LED lights on the top. It comes with a cord attached to a microphone.
When you speak into the microphone, the voice changer alters your voice in with ten different voice effects, allowing you to sound like monsters, aliens, or other characters. The effects range from low to high pitch and include amplifications and robotic options.
The voice changer is powered by 3 AAA batteries (not included). And it is easy to use. Simply clip it to your clothes or wear it around your neck, and then press the button to select the desired voice effect.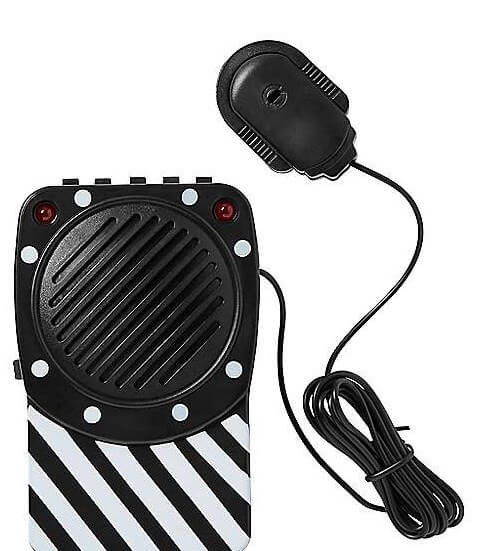 Price: $12.99
Rating: 3.5
The Halloween Voice Changer is another spooky accessory designed to elevate your Halloween costume experience. This voice changer adds an element of mystery and thrill to your disguise by altering your voice. With this device, you can transform your voice into something eerie, making any horror costume even scarier.
The dimensions of the voice changer are 4.25" in height, 2.75" in width, and 1.37" in depth. It is easy to carry. Like the above Special Effects Voice Changer, it also requires AAA batteries.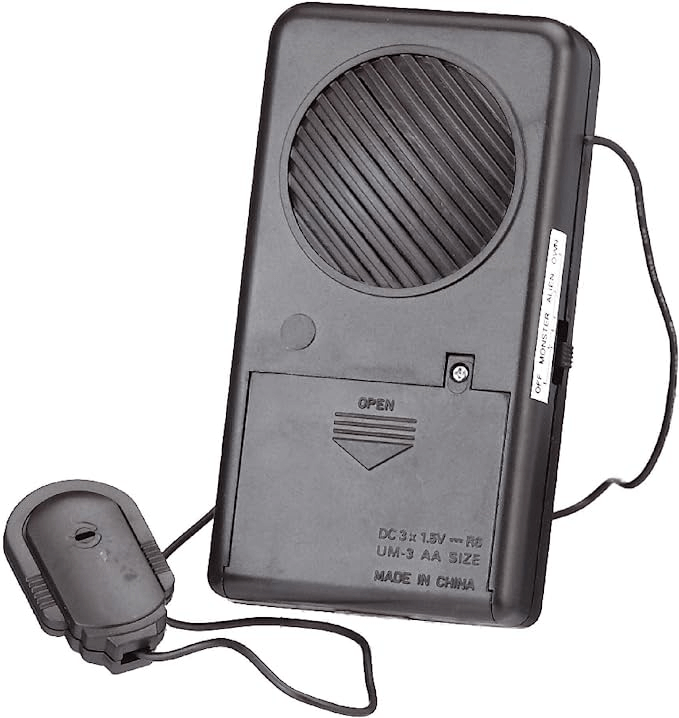 Price: $49.99
Rating: 3.7
Ghostface voice changer Spirit Halloween is a kit that includes everything you need to dress up as Ghost Face from the Scream movies a robe, a mask, a knife, and a voice changer. The mask looks realistic, with a white hood and a black ghost face. The voice changer is a nice addition. It offers three different voice effects: monster, alien, or amplification of your own voice. But some reviewers have said that it could be better. And some don't think it's worth it.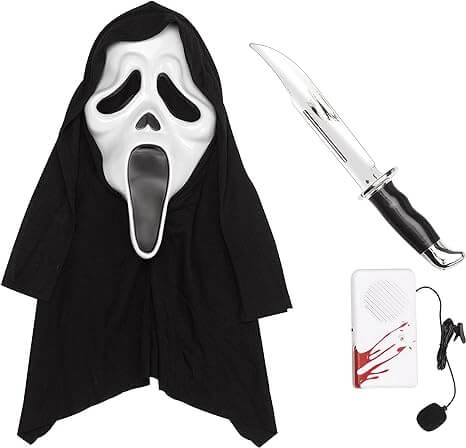 Part 3: Other Options for Spirit Halloween Voice Changer with More Voice Effects
The Spirit Halloween Voice Changers mentioned above are very portable and easy to use. However, most of them have only a few sounds. If you want to play more scary sound effects at your party at home, then you can choose a PC Halloween Voice Changer like Wootechy SoundBot.
With over 250 voice filters and over 600 sound effects, the Wootechy SoundBot is sure to be one of the best Halloween favourites! It lets you transform your voice into a variety of scary and spooky characters, such as Younghee, Jigsaw, Ghostface, Zombie The Spellcaster etc... are also allowed to add horror sound effects as the background music, making it perfect for Halloween parties and pranks.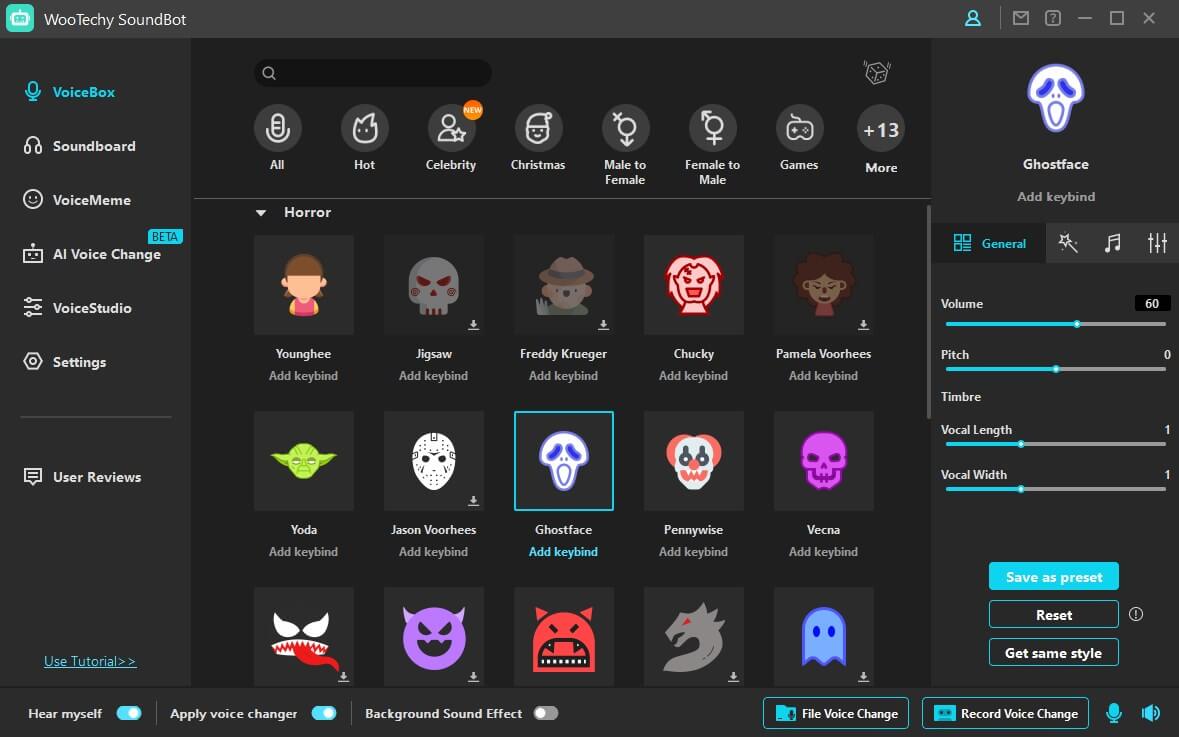 In addition to the horror voice and Christmas voice, SoundBot features a wide range of high-quality voice effects, all of which are designed to sound as realistic as possible. For example, you can change your voice from male to female, mimic the voice of a president or a singer, or change your voice to an animated character!
One of the best things about SoundBot is that it's incredibly easy to use. Now, follow the tutorials to generate the most realistic Halloween voice.
Step 1: First, download the SoundBot on your computer first.
Step 2: Follow the on-screen instructions to set the input and output devices. The volume can be adjusted to your preference.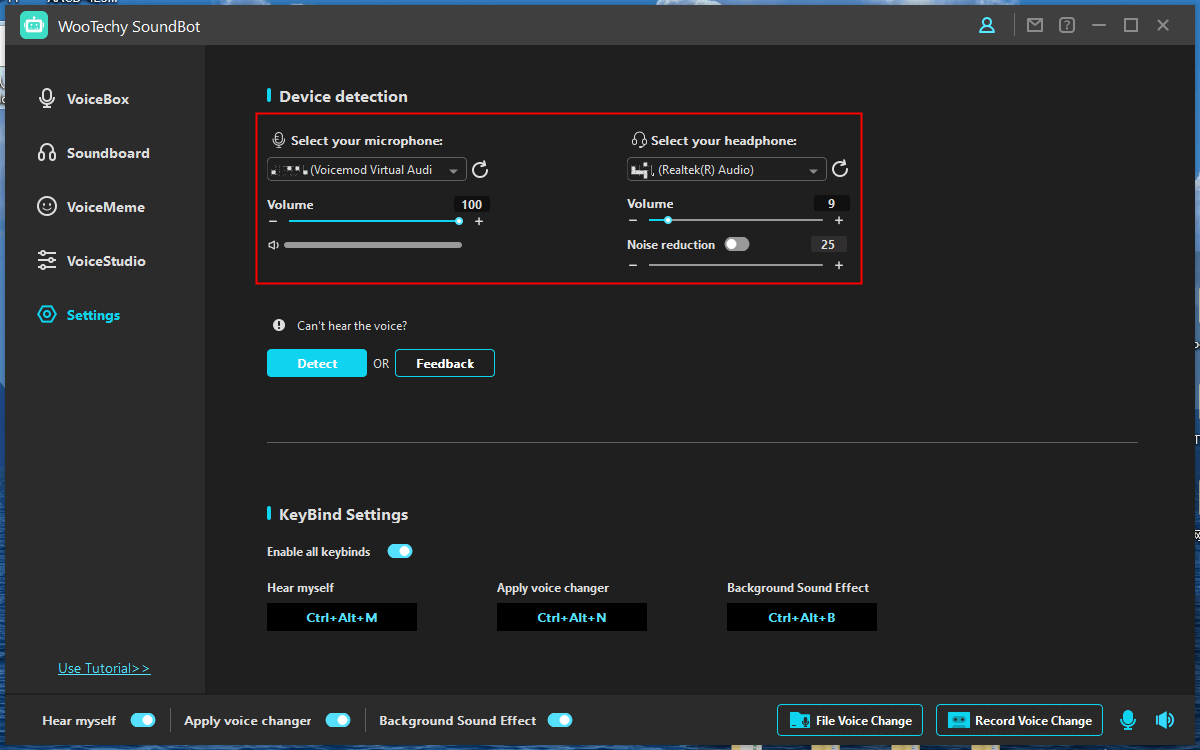 Step 3: Simply select a horror voice filter you want, start recording your voice or upload an audio file. The Halloween voice will be generated in real-time. Then, you can make it playback if you need.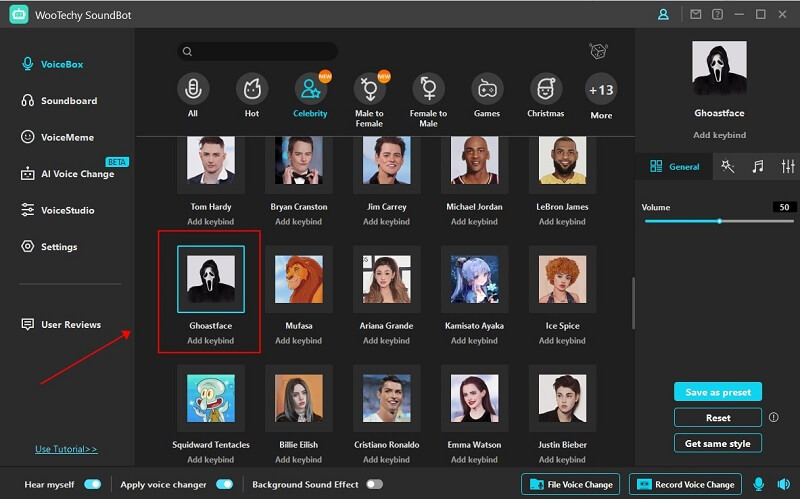 If you want a more personalized sound, you can customize it in VoiceStuidio. Once you're happy with your voice, you are also supported to save it or share it with friends and family. It is useful to prank your friends who are not near you or fill your whole yard with scary sounds.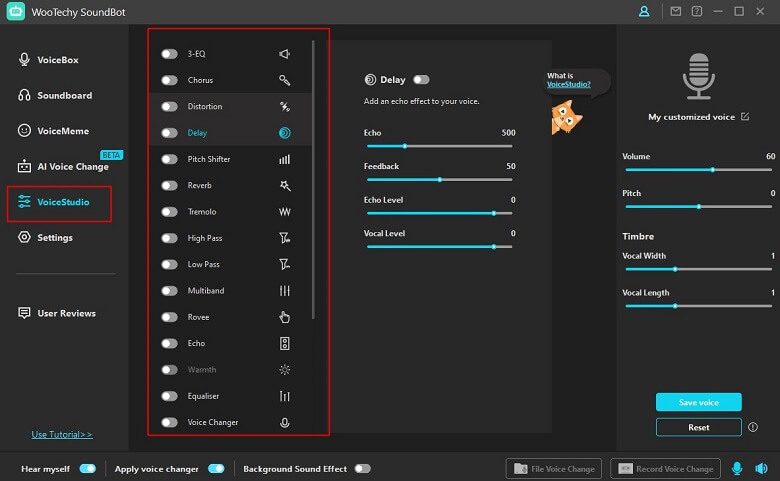 Conclusion
Overall, the Spirit Halloween Voice Changer is a fun and affordable tool that can make your Halloween voice more attractive. However, it's important to note that not every voice changer is available to generate the most realistic horror voice. Try to experience it first and see if it meets your needs.
Additionally, if you are looking for a Halloween Voice Changer with more high-quality sound effects, you may want to consider Wootechy SoundBot. Try it, and give your yard the most unique and realistic Halloween Horror Sound!