Do you need a Yoda voice changer for your videos and games? One of the most memorable aspects of the classic film Star Wars is Yoda. When Yoda revealed the key to immortality and presented Luke Skywalker, he played a pivotal part in the clone wars.
This article will highlight the best Yoda voice changer app, which can help you change your voice to Yoda in real time. Moreover, you can use the Yoda voice changer online for various video games you like.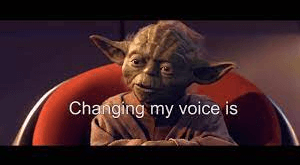 Part 1. Can You Do A Yoda Voice?
Although Yoda's voice has evolved slightly over all of the Star Wars films, it is always very low, throaty, sluggish, and nasal. If you want to sound like Yoda, you'll need to employ a specific sentence structure and sprinkle in a few "Mhms" and "YESes" at the end of your statements.
Yoda's speaking voice is deep and resonant. To mimic Yoda's sound, you should drop your larynx and make some room in your throat, so your voice has more reverberation. You should talk as deep in your throat as possible and give your voice a gravelly quality. His voice has a gruff, earthy quality to it.
Yoda has a slightly nasal sound to his voice. For that reason, you should attempt to force air into your nostrils. If you want to sound like Yoda, you need to put your attention where your nose is. But you can easily change your voice to Yoda with a nice Yoda voice changer.
Part 2. What Is Yoda Style of Speaking?
A Yoda accent is a kind of speech named after the Star Wars character. A common feature of this mode of communication is the use of an inverted structure and short, straightforward sentences.
In place of "I will go," Yoda might say, "Go will I." This inverted phrase pattern evokes feelings of old wisdom and mysterious power. It's a technique to make one's words sound more profound and emphasize their significance.
Part 3. How Do I Make My Voice Sound Like Yoda?
Various technological progress has been made to ensure Yoda voice changer free is easy and achievable. We will discuss WooTechy SoundBot, one of the best Yoda voice changer apps online.
WooTechy SoundBot is among the most well-known and frequently utilized speech modification software. It gives a real-time voice changer that may be applied in various online contexts, including streaming sites, gaming platforms, and even discord servers.
WooTechy SoundBot gives you access to a wide variety of voice effects that you can choose, such as Space Marine voice, Cartoon characters voice, elf voice and so on, allowing you to find the sound most suited to meet the demands of your specific situation.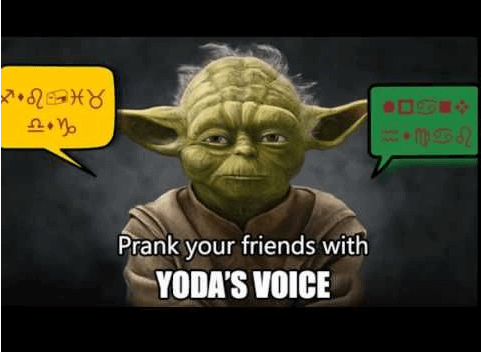 What Are the Features of SoundBot voice changer?
75.000.000+
Downloads
Real-time voice changer: If you're looking for a great soundboard to play around with some fun voice effects, look no further than SoundBot voice changer.

Change your tone with over 500 voice filters and memes: SoundBot offers more than 500 voice filters and memes you can use for your Yoda voice changer.

Accepts user-supplied audio in the form of MP3s or WAVs:  SoundBot allows you to import your audio in either MP3 or WAVs.

Vocal modifier with recording and file storage: Using SoundBot lets you modify your vocals with recordings and file storage.
How to Use SoundBot to Change Your Voice to Yoda voice?
Step 1: Install and activate of the SoundBot to your computer.

Step 2: Select the input and output devices. (Put Mirophone as input device, put Headphone as output device.)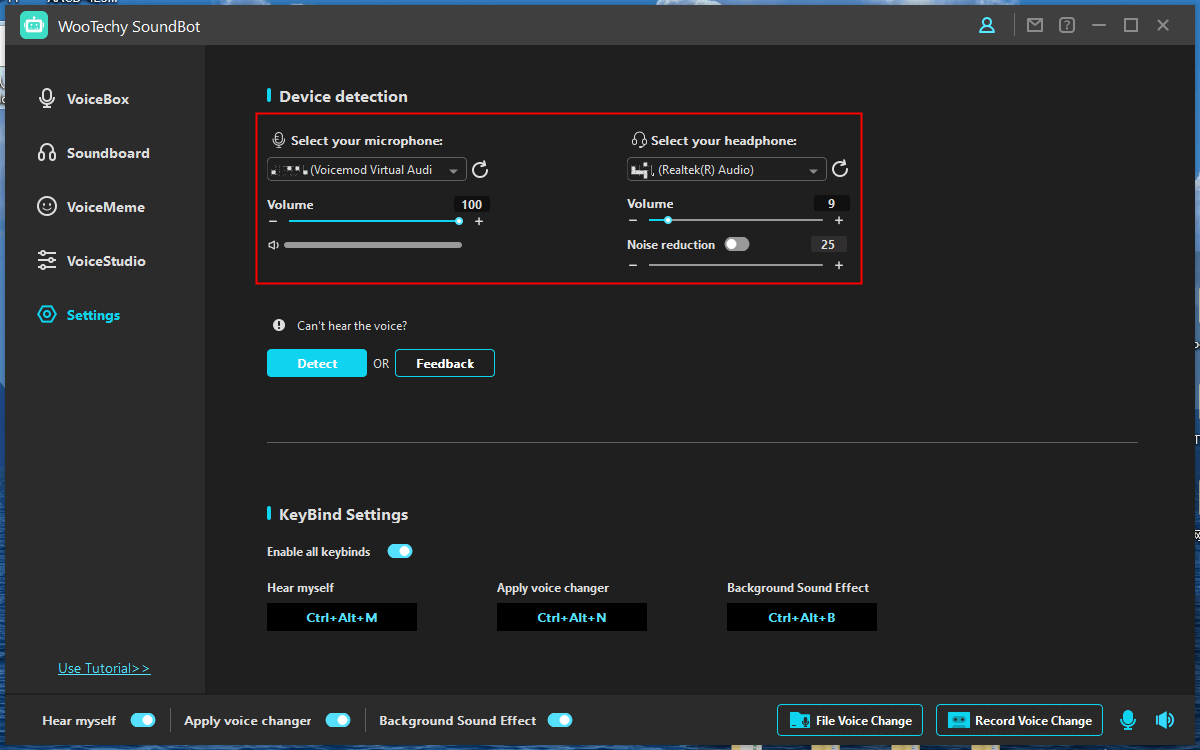 Step 3: Check the voice-over effects. Just select Yoda voice effect in the VoiceBox menu.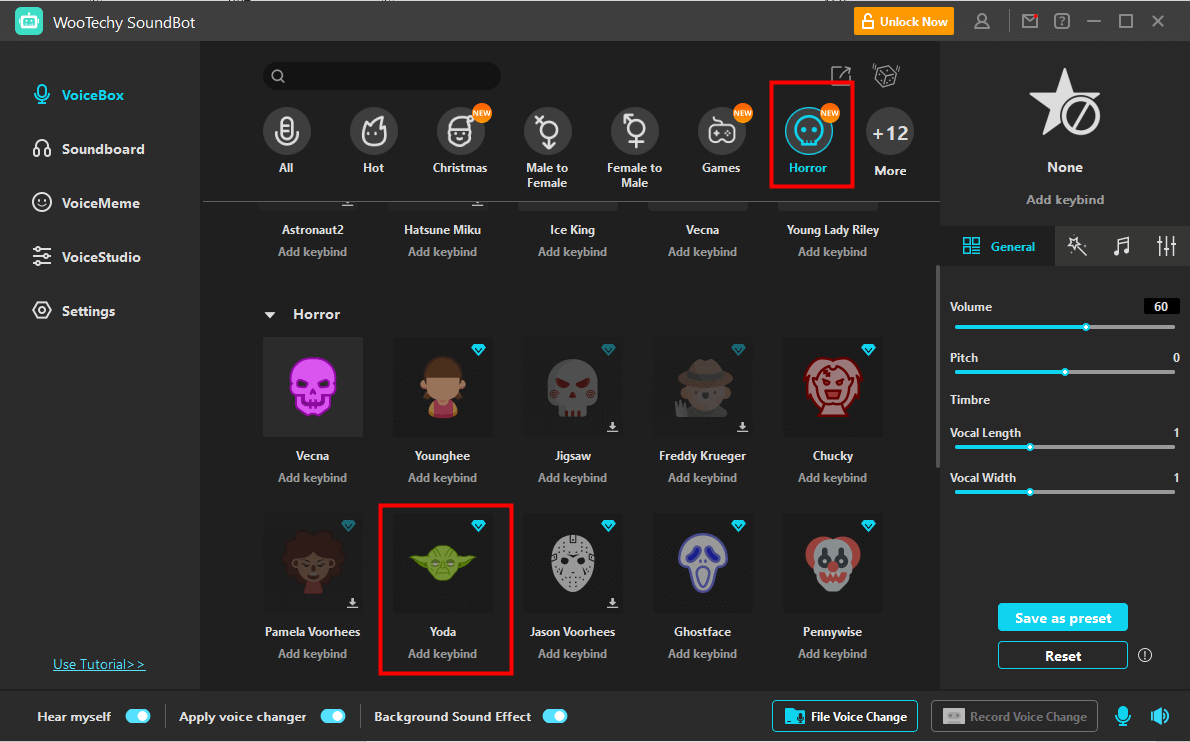 Step 4: Using a different tone of voice on different platforms.
Note:
SoundBot offers several
free voice effects
for all users, so
you can give it a trial for 100% free
, then think about whether you need move it in next stage.
Part 4. Top Online Yoda Text-to-Speech Voice Generator
Yoda usually uses unusual sentence structures and will switch between phrases without warning. He frequently employs split verbs and the traditional object-subject-verb order. This makes it hard to portray the sentence structure he employs accurately.
The question now is how to write in a style that sounds like Yoda.
Fortunately, some websites have been developed to aid Yoda's text-to-speech voice generation easily. Let's take a look at one of the best websites for Yoda text-to-speech voice generator;
UberDuck.ai
The Uberduck.ai community is an open-source voice AI platform that features text-to-speech, API docs, and even the ability to create your voice clone. TTS lets you give Yoda a voice, so you can use that if you want to.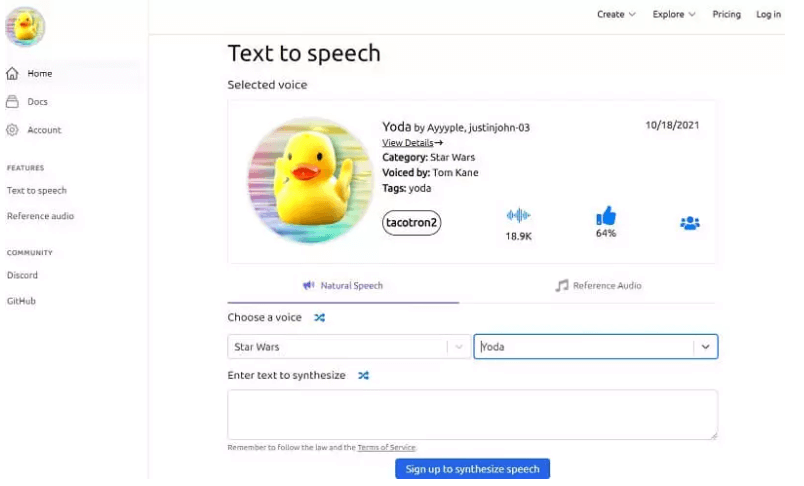 Features of UberDuck.ai:
Over 5,000 unique voices can be generated using Uberduck.ai.
Offers APIs for the creation of audio applications.
Altering the sound of your cloned voice is also an option.
You can become a member of their group and put your findings into practice with their help.
It includes a reference audio capability that may be used to sing along with a song.
How to Use Yoda Text-to-Speech Voice Generator?
Step 1: Access the Text to Speech option on Uberduck.ai.The text-to-speech options will appear in a new window.
Step 2: You can choose between Natural Speech and Reference Audio. Go ahead and pick Natural Speech. Pick a voice to mimic with this generator. Please choose a category and a persona.
Step 3: Feed in the text and hit the Synthesize the speech button. Creating the chosen voice from the provided text will take a few seconds. After the process, you can save the audio file to your computer.
Conclusion
Do you need Yoda voice changer online? You can follow plenty of options to achieve your Yoda voice changer. However, WooTechy SoundBot is the smartest Yoda voice changer, which is trustable and recommended. Just enjoy it right now!