Voice changer apps are software applications that can modify the pitch, tone, and timbre of a person's voice. They offer users the ability to create unique and funny voices for entertainment purposes or to maintain anonymity in phone calls and online conversations. Voice changer apps have become increasingly popular in recent years, and there are many options available for both PC, Android and iOS devices. What are they? Looking the reviewing article and find the top 6 voice changer Apps in 2023 for for various applications and for different devices with their guides, pros and cons.
Get ready to spice up your phone calls, conversation or social media videos with the power of voice changer apps! Whether you're looking to add a comedic touch or maintain anonymity, these apps have got you covered.
Reasons Why People Are Looking for the Voice Changer Apps
Entertainment Purpose such as making prank calls or creating funny voiceovers for social media videos.
Maintaining anonymity in phone calls or online conversations, especially when users want to protect their identity.
For people with speech impairments, allowing them to communicate more easily.
For streamers, YouTubers, and content creators who want to create engaging and unique content by adding humor, intrigue, and suspense to their videos.
Experiment with different vocal styles and effects to find their unique voice and build a loyal fan base.
The Top 6 Voice Changer Apps in 2023
Voice Changer App 1: Wootechy SoundBot
Wootechy SoundBot is a popular voice changer app for that allows users to use various sound effects on programs like Fortnite, PUBG, Discord, Skype, Twitch, and more. It offers real-time AI voice changing with over 400 in-built sound effects and multiple ways to play them, such as replay, cycle, overlap, and mute. One can add keybinds for sounds and use them without interrupting or jarring the audio.
Features of WooTechy SoundBot
As a real-time AI voice changer app, Wootechy SoundBot has various voice effects that make it an excellent soundboard to change your voice. Its features include:
75.000.000+
Downloads
125+Voice filters and 400+ in-built sound effects on the Soundboard for added fun, such as Cartoon sound, Ghostface, celebrities sounds, TV characters', Male to female ect...

Supporting Ai voice changing.

Multiple ways to play sound effects.

400+Voice memes are built-in the App.

The ability to change voice in real time or change voice in audio file.

Compatibility with various platforms such as game voice change, live streaming platform, social media and so on.
Wootechy SoundBot include its easy-to-use interface so that you can change your voice without the difficulties. Follow the guide here.
Step 1: Download and install the app for free on your computer.
Step 2: Run the program, you should see a pop-up reminding you to set up your microphone. In the Input Device settings, you can choose the Microphone (Voice Changer Virtual Audio Device (WDM)). In the output device, you can use your headphones. Sure, it depends on personal preference.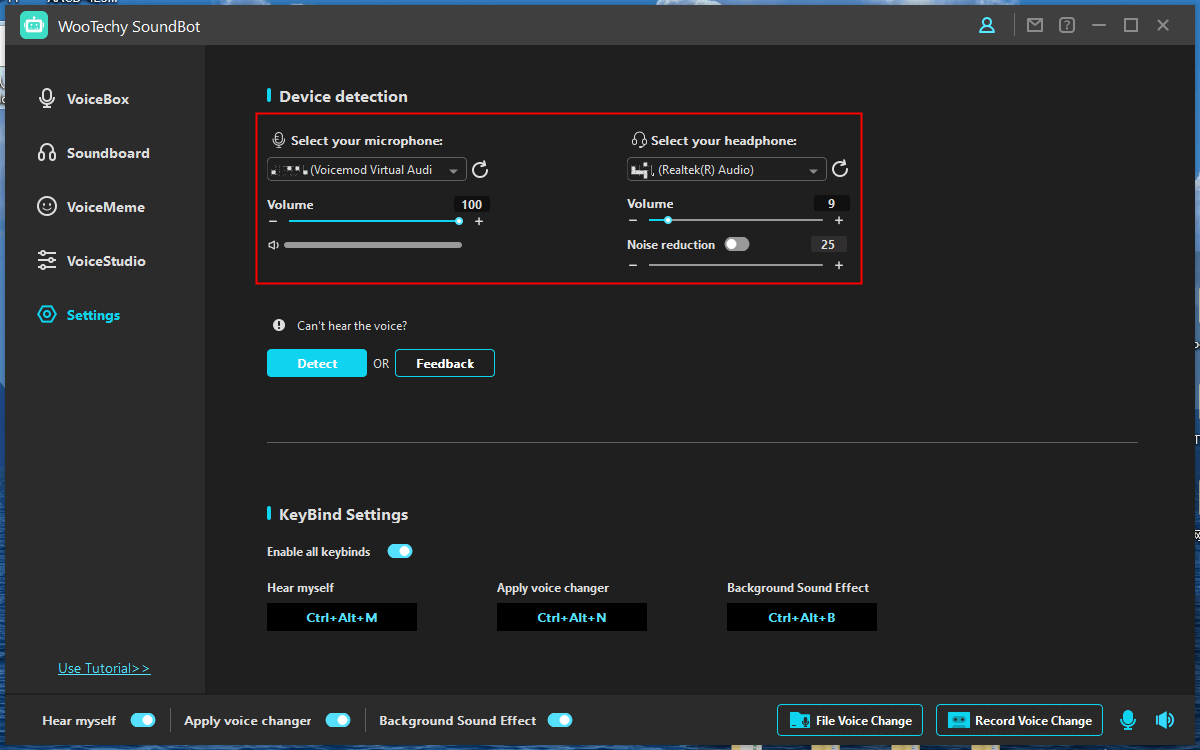 Step 3: Once done, you can see many voice effects on the "VoiceBox" and "SoundBoard". Choose the voice effect you want to use from the Soundboard and start speaking to hear the effect in real-time.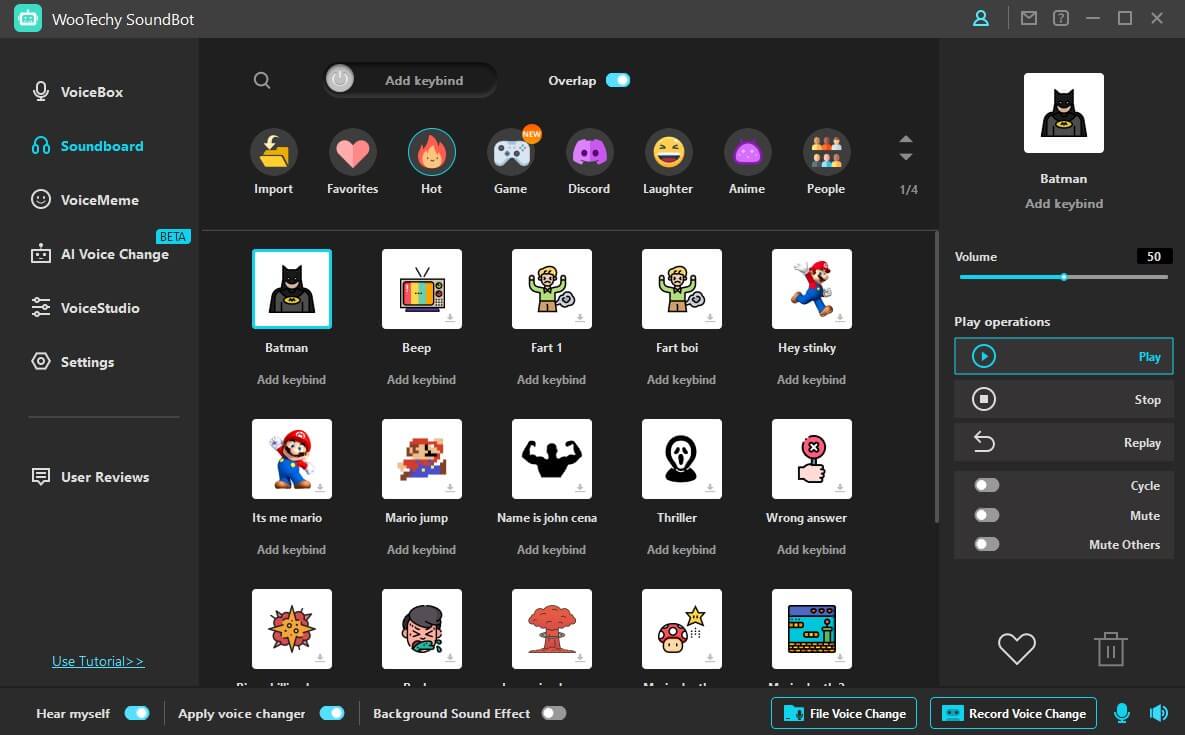 Tip: SoundBot allows your to customize or diy your voice. You can adjust the voice based on your preference.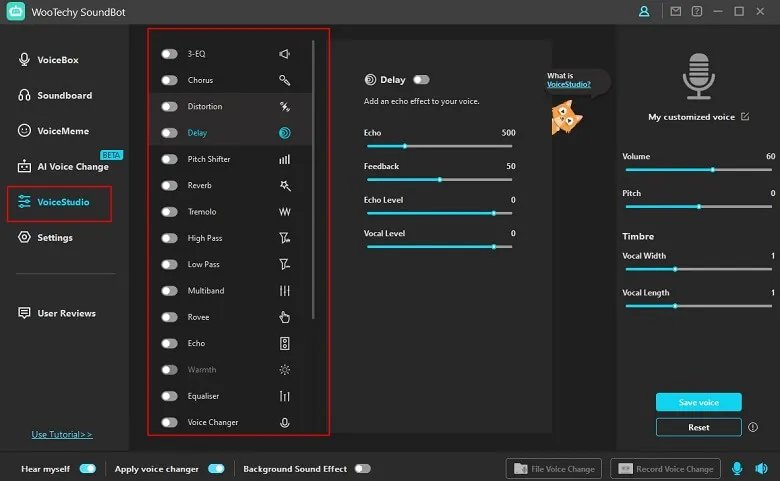 Voice Changer App 2: Voice Changer by AndroidRock
Voice Changer by AndroidRock is an voice changer app for Android that allows users to modify the sound of their voice. It has become a popular tool for users to play pranks on their friends and family or simply for entertainment purposes. The app is compatible with most Android devices, although it does contain ads.
Pros
User-friendly interface.

Various voice effects including helium, robot, and alien, giving users a lot of options to choose from.

Can record and save their modified voices for later use.
Cons
Bugs and glitches occurs often.

Ads frequently appear within the app.

Some of the voice effects may sound unrealistic or cheesy.
Voice Changer App 3: FineVoice
FineVoice is also a voice changer tool designed for Windows PC users. It allows users to change their voice during live streams and content creation. The software boasts an intuitive interface and a variety of customization options, making it a valuable tool for podcasters, streamers, and content creators.
Pros
Intuitive interface.

Real-time voice changing.

Customizable voice effects.

Compatible with a variety of Windows operating systems.
Cons
Limited free version features.

Some effects may sound artificial or low quality.
Voice Changer App 4: Voice Changer Plus
Voice Changer Plus is a popular voice changer app for iPhone users. With a rating of 4.6, it offers a variety of voice effects, including the ability to transform your voice into Mickey Mouse. The app provides 55 different voice effects with background sounds, making it a great tool for voiceovers and fun voice modulation. Voice Changer Plus is compatible with iPhones and iPads running iOS 8.0 or later.
Pros
Without Ads appears compared the Voice Changer by AndroidRock.

No required to access computer.
Cons
The voice can not be customized.

Voice effects is limited.
Voice Changer App 5: Call Voice Changer
Call Voice Changer is a voice changing application that allows users to modify their voice during phone calls. With this app, users can change their voice in real-time, adding various effects to make fun and prank their friends. The app is compatible with both iOS and Android devices.
Pros
Modify voice during phone calls.

Provides users with the option to record their calls and save them for later.

Available for both of Android and iOS.
Cons
Internet connection may affect call quality.

The sound quality of modified voices to be subpar.
Voice Changer App 6: AthTek All-in-One Voice Changer
AthTek All-in-One Voice Changer is a voice changing software for Windows operating systems that allows users to alter their voices in real-time during online chats and voice recordings. With this software, users can change their voice to sound like a robot, alien, female to male, and many other options.
Pros
A large library of sound effects for Pro users.

Customizable options for voice altering.
Cons
The free version of the software is more like a demo than a fully-fledged package.

Relatively pricier than other voice changing Apps.
Our Verdict
Voice changers are a fun and useful tool that can enhance your online communication and entertainment experience. The top voice changer Apps in 2023 has been listed above, allowing you to modify your voice in creative and amusing ways.
While there are many great options to choose from, Wootechy SoundBot stands out as the most recommended for its fun filters and without any ads. With an array of fun and easy-to-use features, you can transform your voice into countless different styles and effects with SoundBot. So what are you waiting for? Give a voice changer app a try and unleash your creativity today!