Have you ever encountered freaky and unusual voice chats while playing an online game on PS4? Do you want to try the same effect? Then have a look at the article to get access.
This article will review how you can use a voice changer for PS4 to change your voice. That will give you an edge over other players while playing competitively.
Scroll below to see the pros of using a voice changer for your PS4!
Part 1. Why Do We Need a Voice Changer for PS4?
The modern era of gaming and streaming is increasing its competition. With day-by-day hacks and techs that are allowing players all around the world to be on the top. From those High-end PC gamers to mid-range consoles, every player is looking for a new way to be the best.
For Example:
Now you may be a skilled player of Call of Duty or that night grinder on Fortnite. You may be alone at night with your focus on the screen, and from nowhere, one of your teammates starts to speak in the tone of Donald Duck. Or one of your guy teammates may start to speak in a girlish voice.
Of course, it is safe to assume that they are skilled impressionists, but it is usually another case.
Part 2. Can You Get a Voice Changer for PS4?
Yes!
You can easily get a voice change for PS4 or even PS5 or PC, whatever platform you desire. With the options such as remote play, you can access all the voice-altering services the net allows.
Now voice changing features are not a new thing in the market. It's been around for quite some time. From the launch of PS3 and XBOX 360, the era of competitive gaming began. Gamers are finding more and more ways to be unique and creative in their approach to being the best. Either it's about being the best or just simply to annoy the other teams.
Voice changer for PlayStation and other platforms is increasing in its popularity. Streamers are using the voice changer apps to get more and more views providing them with tonnes of content.
Especially in the old games where the usual play style has started to wear the players, Voice changing apps brings a new freshness to the play style.
Even new game developers are now developing ways to change your voice in the game without using excessive software.
Want to learn how to change your voice on PS4?
We got you!
Part 3. Top 3 Voice Changers for PS4
Games usually do not offer you a choice to change your voice in voice chat. So you cannot expect to change your voice automatically in competitive games. To annoy your opponents, you're going to have to be creative.
There are several voice changer software available that you can use to change your voice. We will pick the top three that you can look at and try.
1

WooTechy SoundBot Voice Changer for PS4

WooTechy SoundBot, as the name suggests, works by using AI or a bot that changes your live feed voice to anything you desire. SoundBot is a newly-released voice changer by WooTechy professional teams that is especially used for online gaming and streaming.

It allows the users and clients to access a library of 125+ voice filters and more voices on the way that you can incorporate into your streaming and gaming.
SoundBot – The Best Game Voice Changer
75.000.000+
Downloads
Has different games voices such as Darth Vader, Space Marine, gamer girl voice and more.

Holds almost 400+ voice effects and 200+ voice memes including game effects to make gaming more fun.

Supports various gaming platforms like Fortnite, CS:GO, PUBG, Valorant, etc.

Changes your voices under numerous scenarios ranging from entertaining prank to gang up in games.
Steps to use SoundBot on PS4:
Download and launch the WooTechy Soundbot software on your Windows PC. Choose the output and the input devices of your audio. The output will be your Headphones or TV/monitor, and the input will be the microphone.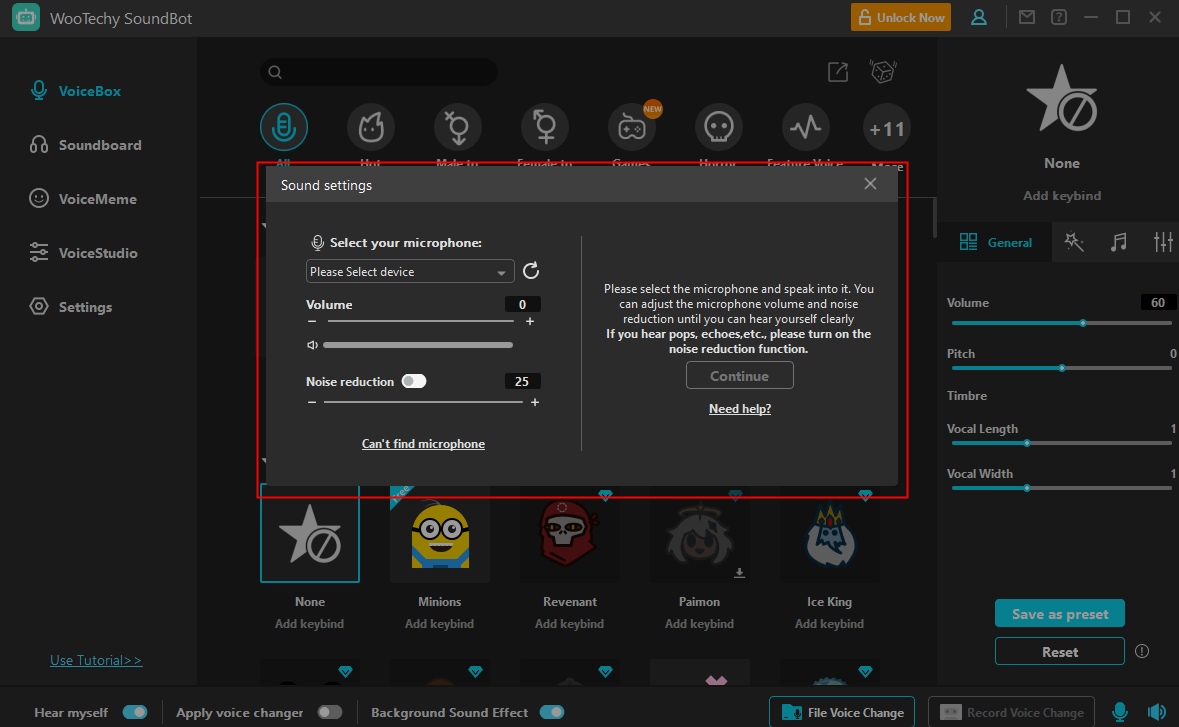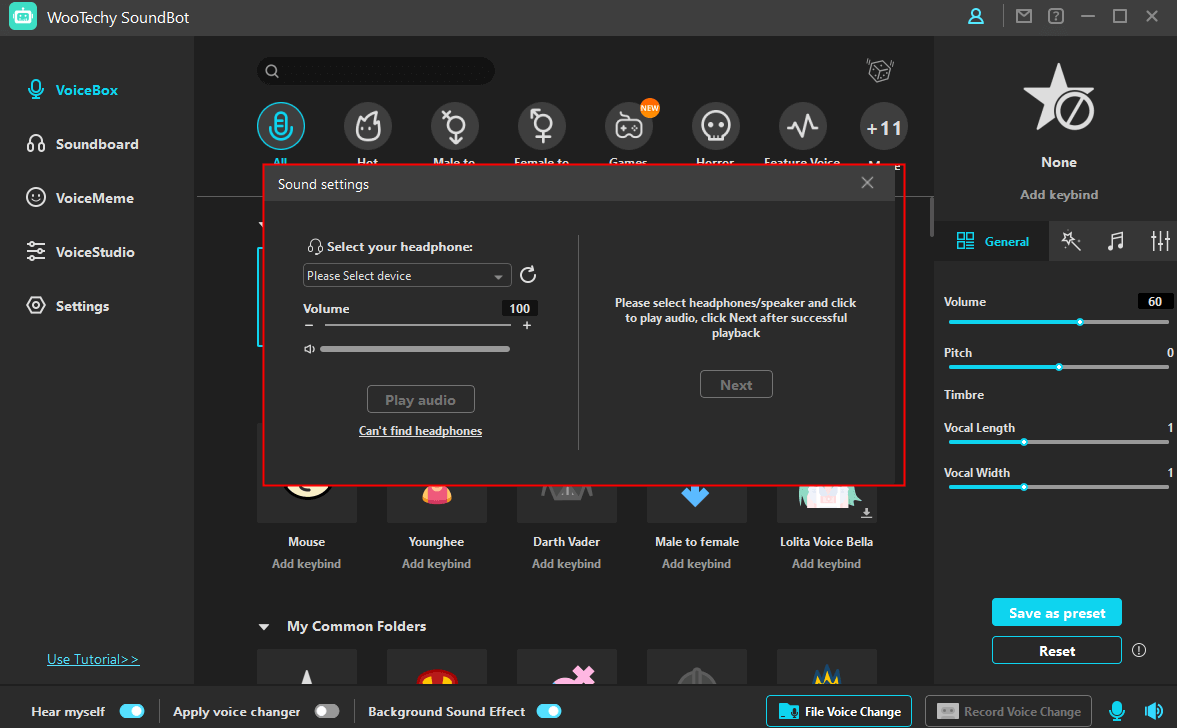 Try the voice-changing filters and test your voice by clicking on the various options available.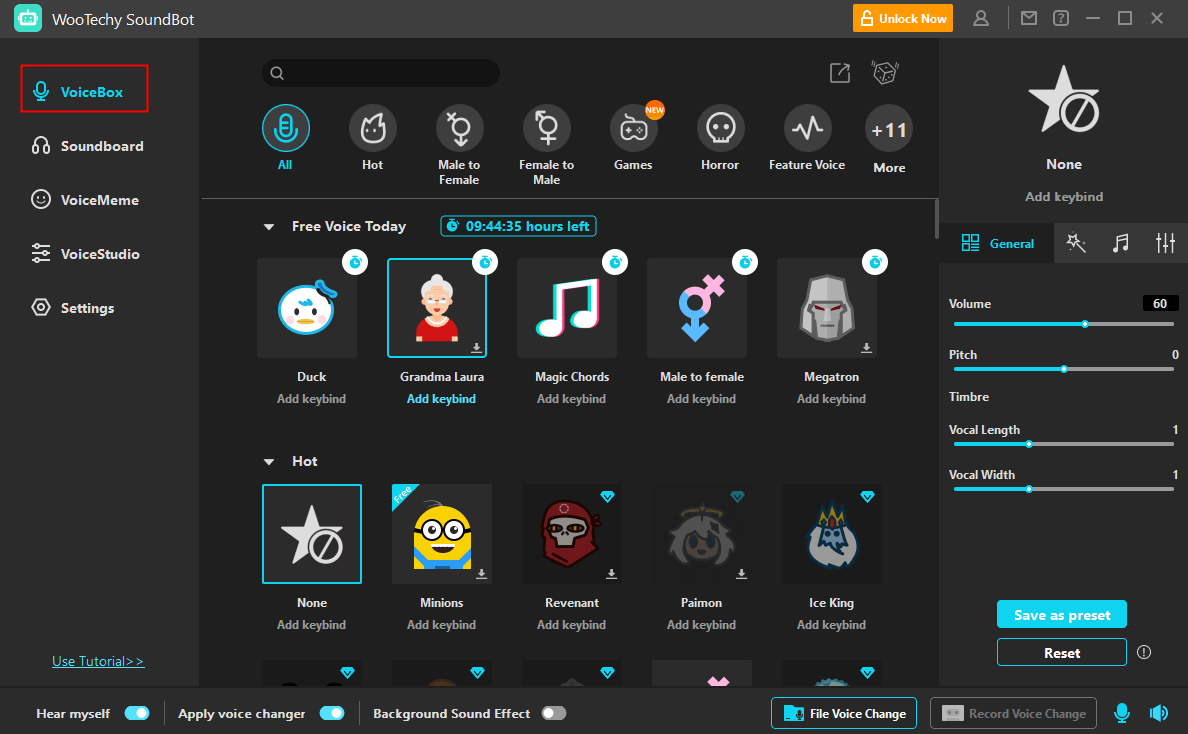 Enter the System settings of your PS4 or PS5 and Enable Remote Play from the Remote Play option.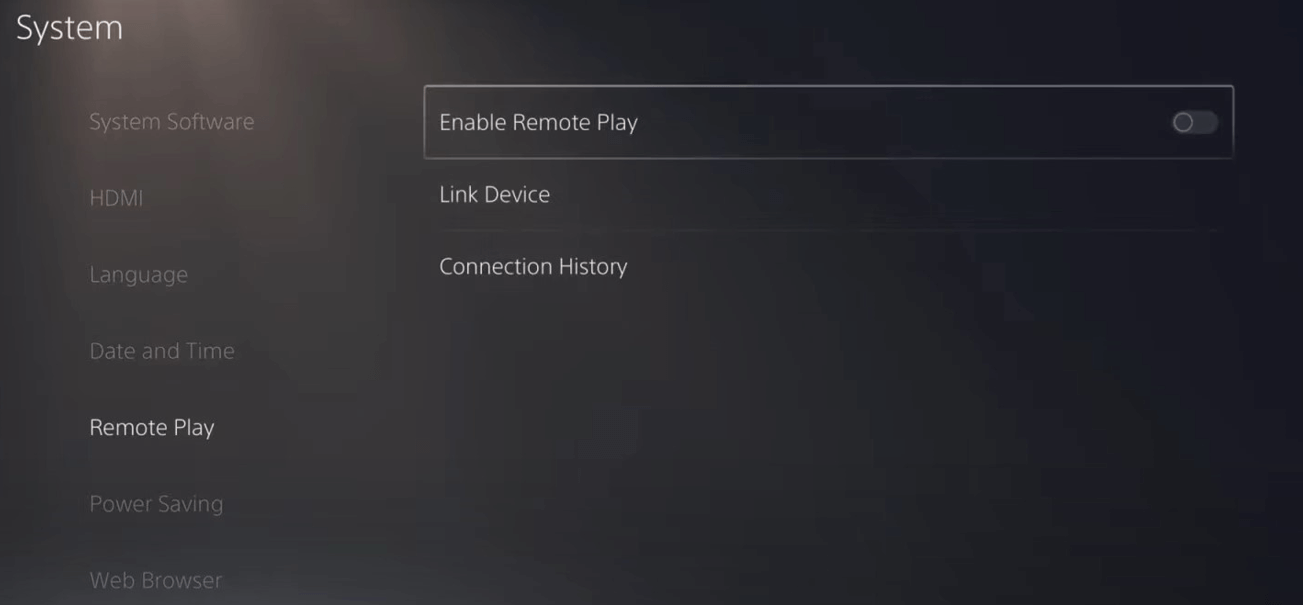 Download the remote play from the PlayStation official website by clicking the link. PS Remote Play.
Simply sign in to the PSN server and connect to your PS4.
In the end, ensure the WooTechy Soundbot Audio input is enabled by confirming the microphone source from the sound settings on your PC.
Voila! You have now enabled a voice changer for PlayStation.
Pros
It is easy to use with a user-friendly interface, not difficult to set up.

It has more voices than other PS4 voice changers on the market and has different games background effects.

It allows you to use shortcut keys to control the playback of sound effects and voice changes, so that you can operate quickly and gaming is not disturbed.
Cons
It only provide 5 voices each day for the free version.
2

Clownfish Voice Changer PS4

Clownfish Voice Changer is a popular voice changer among various platforms. You can use it to alter your voice so that it sounds like the opposite sex or to turn yourself into a meme. It's simple and easy to use.

It allows you to access effects ranging from Atari, cartoon, and robot to Fastpitch, Slowpitch and distorted, etc.

It is installed on the system, allowing it to use the voice-changing microphone across all platforms.

With the new voice-changing applications, Clownfish remains one of the popular ones. As it allows users to freely and simply change their voices. It is especially popular among PC gamers. But PlayStation enthusiasts are also finding ways to use Clownfish voice changer the most.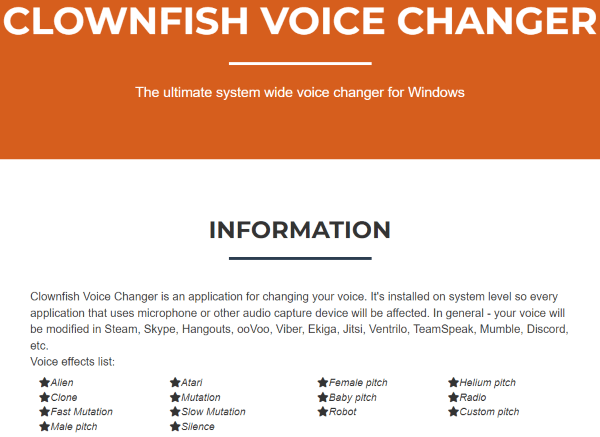 Steps to use Clownfish for PS4:
Download clownfish from the official website. Download the version that best suits your Windows PC. Double-clicking on the Clownfish icon will turn it on and off.
You can select the Set Voice Changer option from the main menu, directing you to the voice changer effects available.
Choosing a voice effect will turn it to color. By clicking or checking the hear microphone option, you can hear your voice.
Enable Remote Play on your Console and download the remote play. In the end, Simply sign in to the PSN server and connect to your PS4.
Pros
It is easy to use.

It works with different gaming platforms.
Cons
It has 10 limited voice filters to change your voice in games.

The voice-changing effects may not feel suitable to many users.

To get the best effect, you will need a little practice before you sound like the effect.
3

Voicemod PS4

Voicemod is a voice-changing program that allows users to alter their voice by using one of the available voice changers. The Voicemod soundboard contains over 80+ built-in voice effects. And these effects can be used for fun and pranks during a live stream or allow you to change your voice in competitive online games.

It's an excellent choice for gamers because it works well with games such as Fortnite, Call of Duty, and Minecraft. It is an easy-to-use, fun, and creative software that allows you to access many ways to engage your voice in twists and turns.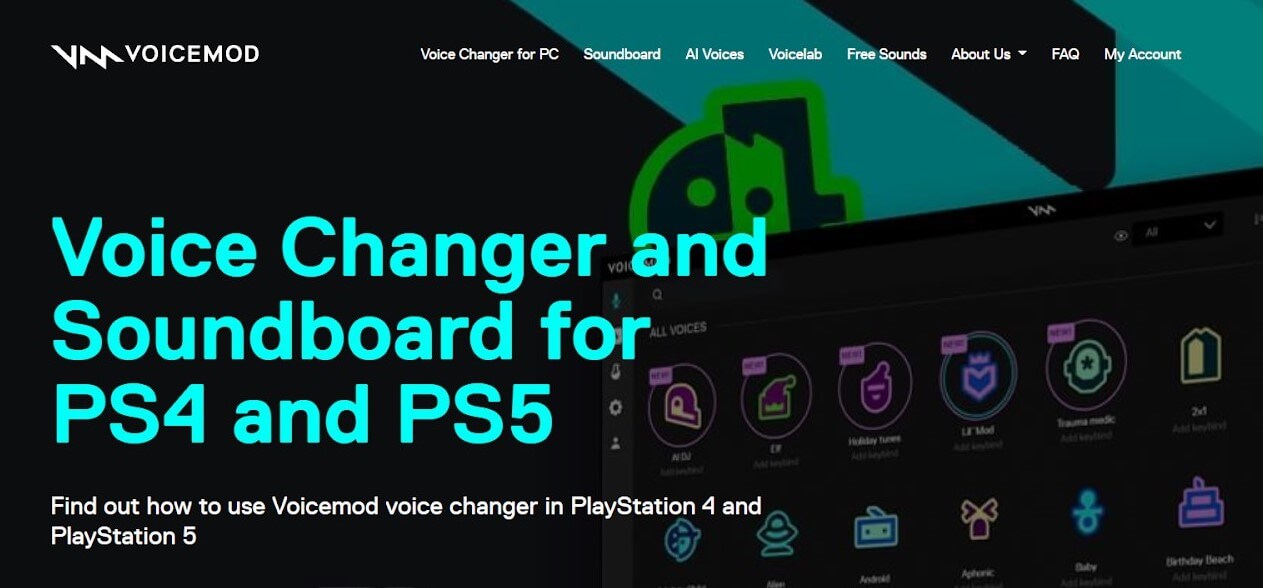 Steps to use Voicemod on PS4:
Step 1 Enabling Remote Play in your console
The feature of Sony PlayStation allows you to play and watch your console on your mobile phone, TV, or even computer. The first step will be to enable the remote play option in your Console, which is either PS4 or PS5.
Enter the system setting on your PlayStation and go to remote play.

Click on the enable Remote play option.
Step 2 Downloading Remote Play on your Windows PC
Download the remote play from the PlayStation official website. Simply sign in to the PSN server and connect to your PS4.
Download Voicemod software and sign in from either twitch, Discord, or Google. After signing in, a set-up file will automatically start downloading. Configure it on your PC by selecting your microphone as the input device.
The Voicemod application will open, and you can access the various voice filters by going to the Voicebox menu option.

Check that the Voice Changer option at the base of the window is activated. Select the Hear Myself toggle at the bottom of the window to see how your voice has changed.

Make sure you select the Microphone (Voicemod Virtual Audio Device) as your input device. So that your voice effect will be effective in PlayStation remote play.
Pros
The most famous voice changer in the market.

Easy to use to change your voice for PS4.
Cons
Has fewer voice filters than WooTechy SoundBot.

After signing in your account, you may feel hard to enter the program and further use it.

The program often crashes during the usage so the game experience with it is not good.
Conclusion.
You can introduce creativity and fun to your daily streams using the steps mentioned above. Now you can sound like the Hulk, a girl, or even a man across all platforms, including PS4 and PS5.
Voice-changing applications are growing day by day, WooTechy SoundBot in particular. It provides the new players with many ideas and choices for fun during the gaming process. Download it and gang up in your game with different voice-changing effects right now.