With the rise of online gaming and social interaction tools, one thing has become pretty common: Masking your voice.
Many people don't want to reveal their real voices on social platforms due to privacy reasons. The solution? Use AI voice changer software! But when it comes to choosing one, you'll be faced with thousands of choices. However, if you're an avid gamer or Discord user, you must be aware of Voxal Voice changer, one of the best and most famous voice-changing tools out there.
Therefore, we decided to do an extensive Voxal voice changer review for everyone looking to modify their voices. And as a bonus, we've thrown in the best alternative to Voxal as well.
So, let's get started!
Part 1. A Full Review of Voxal Voice Changer
Whether you're a gamer, want to mask your voice for privacy reasons, or just want to have fun with different voices, Voxal voice changer is an excellent choice.
And why shouldn't it be? With its compatibility with almost all apps that require a microphone and the fact that it can change your voice in real time, you won't find a more handy voice changer!

1

Features of NCH Voxal Voice Changer

Voice Effects

Voxal Voice Changer has a vast library of voice effects ranging from a robot, girl, boy, alien, atmospheric, and echo, among others. You can also apply voice effects to live recordings or pre-recorded audios and videos.

Custom Voice Effects

Voxal has a library of voice effects; however, if you need multiple voice effects for audiobook characters, you can create an unlimited number of custom voice effects. The best part? You can assign hotkeys to the voice effects and switch between them with the click of a button.

Compatibility

Another great feature of Voxal is its compatibility. It works with almost all apps requiring a microphone, like Skype, Discord, Zoom, and other similar apps.

Background Noise Effect

I bet you thought Voxal for just changing your voice. But you can use it to change the environment you're in as well. You can choose a certain background noise to play, including a train station, forest, or busy office. This feature is excellent for people who are working from home and need to attend an online meeting.

Easy to Set Up

And lastly, Voxal voice changer is super easy to set up and use. You don't need to have any technical expertise to make it work; it's more like a plug-and-play system.

In fact, here's a detailed section on how to use it.
2

How to Use Voxal Voice Changer?

Using Voxal Voice Changer is pretty straightforward:

Step 1: Download and Set Up

Download Voxal voice changer from the official website of NCH Software. Launch Voxal and go to Menu > Tools > Options.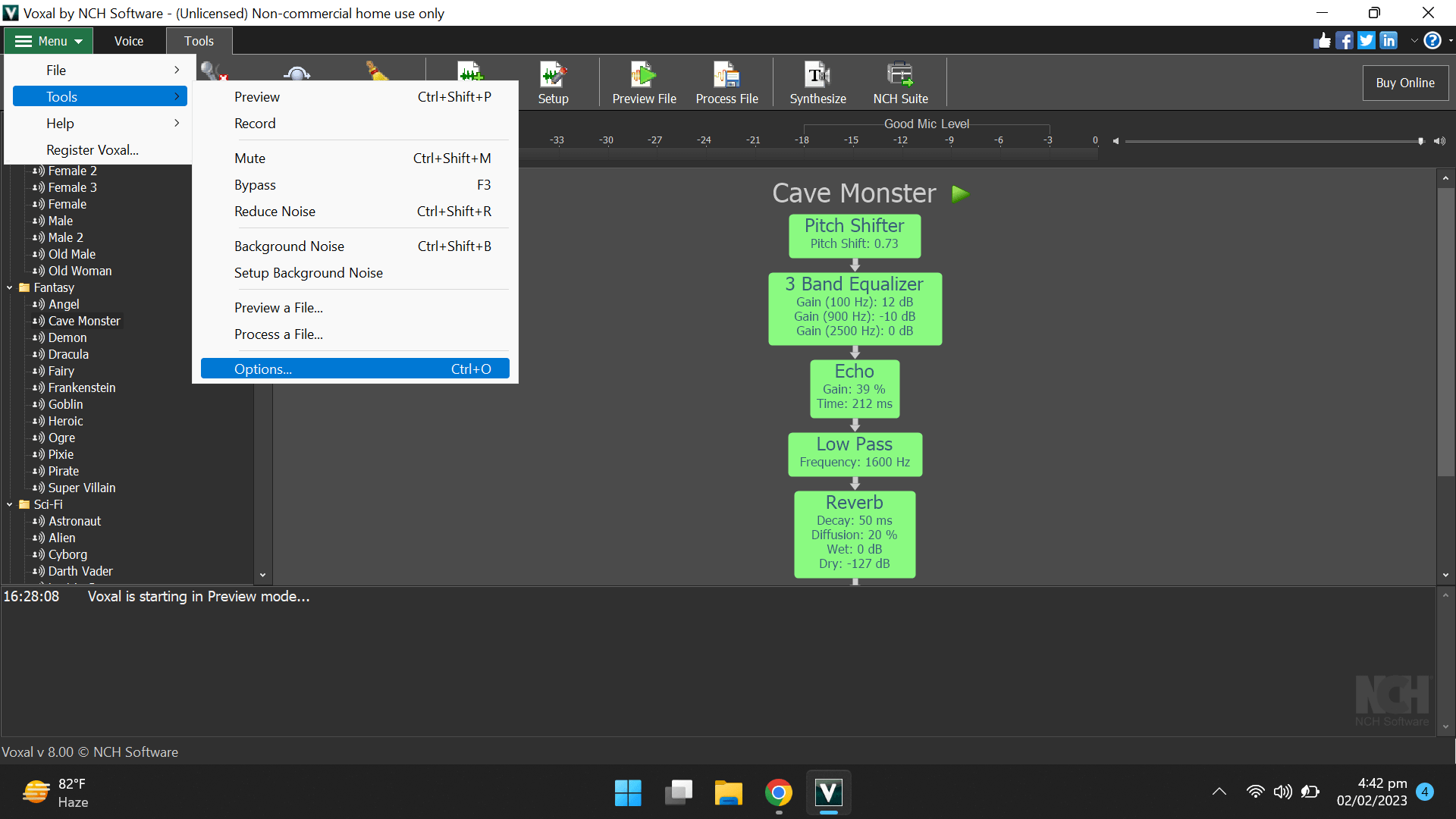 Now select your recording device to your microphone and playback device to your speakers or headset.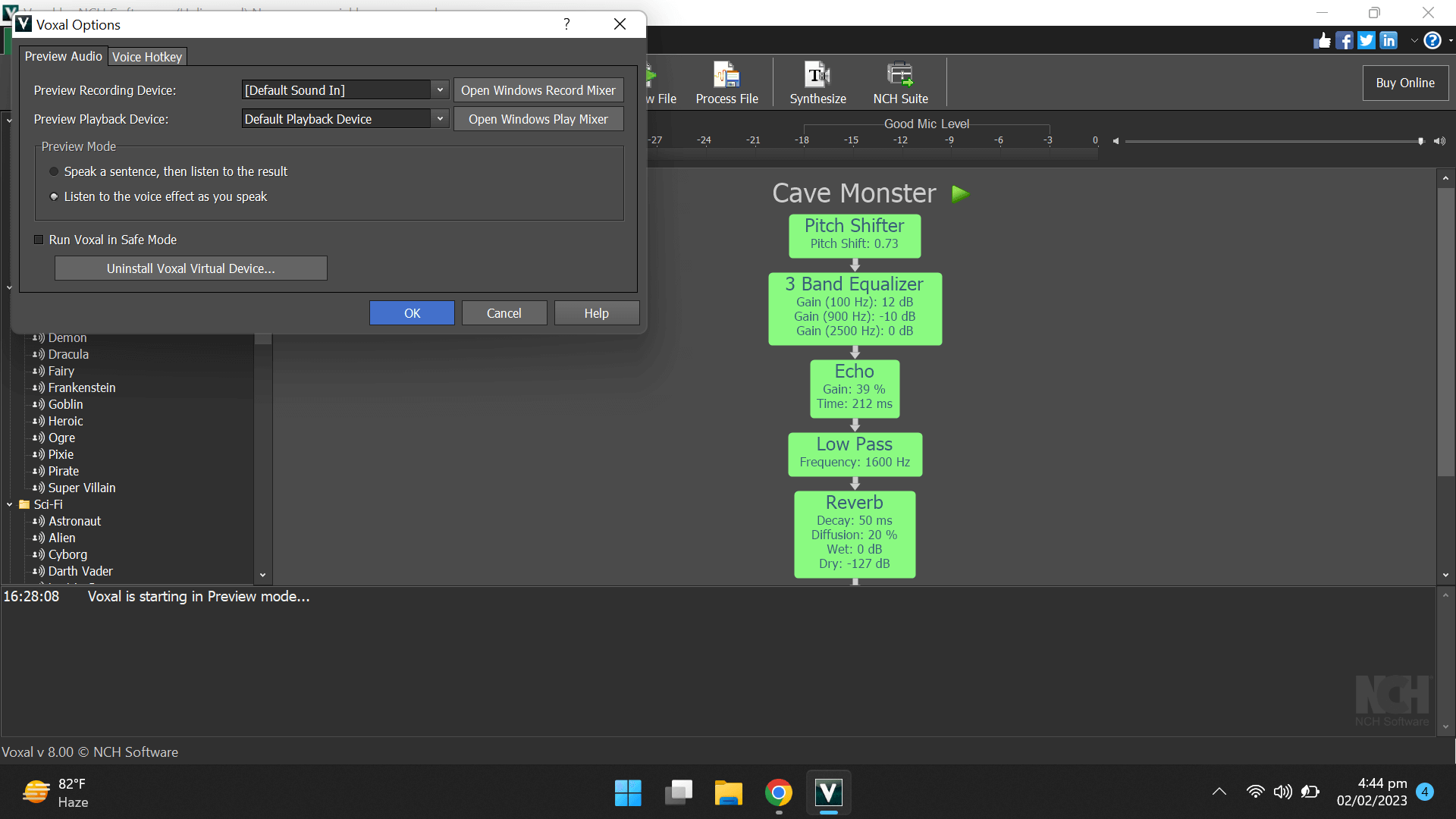 Step 2 Select Voice Effect
On the main interface of Voxal, you'll see a list of voice and sound effects on the left menu panel. Click on the effect you want to use.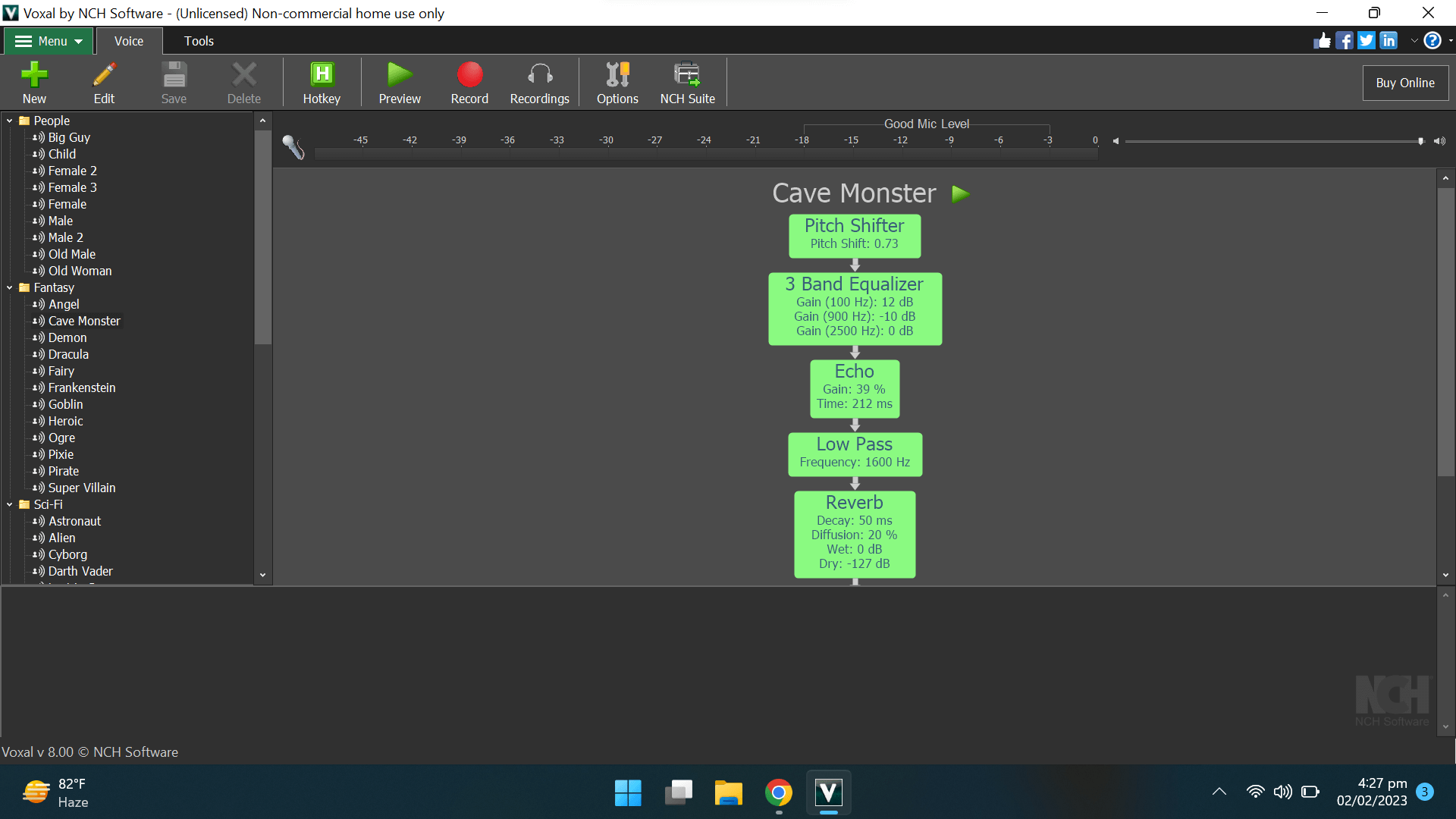 Select the voice you want to use, and click the Preview button to listen to the voice effect before using it. You can also click on Hotkey to assign a custom hotkey to the voice effects.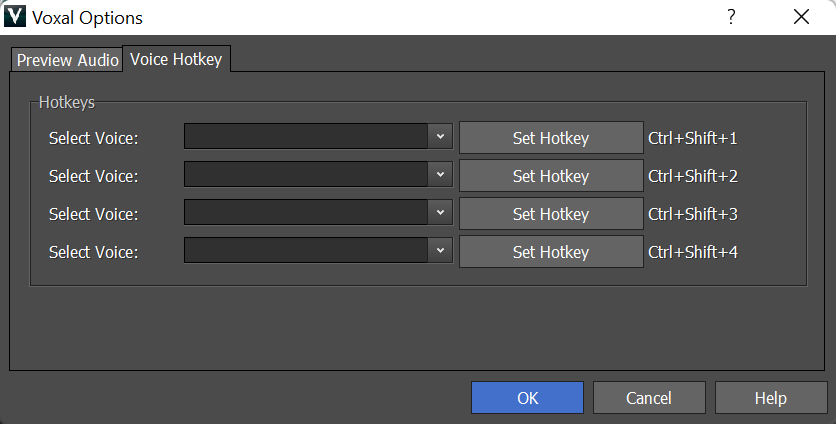 Step 3 Use With Other Apps
Launch any other app like Skype or Discord, select the voice effect you want to use from Voxal, and speak into your microphone. The app will automatically detect Voxal and take audio input from it.
3

Is Voxal Voice Changer Free?

Voxal Voice Changer has a free, unlicensed version only if you're using it for home or non-commercial use; however, it has limited features. If you want to avail all the features of Voxal, you will have to purchase a license.
4

Does Voxal Voice Changer Work Well?

NCH Voxal voice changer works perfectly well on Windows and Mac. Voxal is a lightweight app and doesn't use much of the system's resources. It keeps running in the background without slowing down or disrupting the ongoing functions.

However, as with most apps, it has some loopholes too.

Pros and Cons of NCH Voxal Voice Changer
Pros
It is compatible with most audio/video apps.

It changes your voice in real time.

There's a wide range of voice effects to choose from, plus you can make custom voice effects too.

You can change the background noise, also.
Cons
The free version has limited features.

You need to restart your PC for it to work properly after installation.

It supports only .voxal file format.

The user interface is not friendly and make it difficult to use.
If you want to use a voice changer that works just as well as Voxal, minus the loopholes, here's the best alternative to Voxal Voice Changer: WooTechy SoundBot.
| Voice Changer | NCH Voxal Voice Changer | WooTechy SoundBot |
| --- | --- | --- |
| System Supported | Windows and Mac | Windows |
| Real-Time Voice Changing | ✅ | ✅ |
| Pre-Recorded Voice Changing | ✅ | ✅ |
| Custom Voice Effects | ✅ | ✅ |
| Voice Filters | 40+ | 125+ |
| Hotkeys | ✅ | ✅ |
| User friendly | × | ✅ |
| Formats Supported | Only .voxal formats | Mp3, wav, ogg formats |
| High Efficiency | × | ✅ |
Part 2. The Best Alternative to Voxal Voice Changer - WooTechy SoundBot
If you're looking for an alternative voice changer to Voxal, we suggest trying out WooTechy SoundBot!
SoundBot is a free AI voice-changing tool with over 125 voice filters and 200+ voice memes to modify your voice while gaming, making online audio/video calls, or making videos for YouTube/TikTok.
Significant Features of SoundBot
75.000.000+
Downloads
SoundBot has the VoiceBox feature, which includes 125+ voice filters and constantly updating voices.

From male to female, robotic, anime, ghost, famous character voices and musical voices, you can change your voice using them, and that also in real-time!

SoundBot voice changer can be used for different scenarios like entertaining prank, live video, real-time communication, voiceover, sound cutomization, gang up in games and more.

You can use SoundBot in various platforms or games such as Discord, Zoom, Steam, OBS, Roblox, PUBG, Valorant, etc.

The Soundboard feature in SoundBot allows you to add 400+ various sound effects to your voice as well.
Keybinds or hotkeys are a great way to switch from one voice to another without interrupting your audio or recording. You can create custom keybinds to switch between your frequently used voice effects seamlessly. This feature is especially helpful for audiobooks and sessions with multiple characters.
Introduction of WooTechy SoundBot Voice Changer
With the features of SoundBot sorted, let us take you through the steps of using it.
How to Use WooTechy SoundBot Voice Changer?
Step 1 Download and launch WooTechy SoundBot on your PC.
Step 2 On the main interface, click on Settings and select your input (microphone) and output (headphones) devices.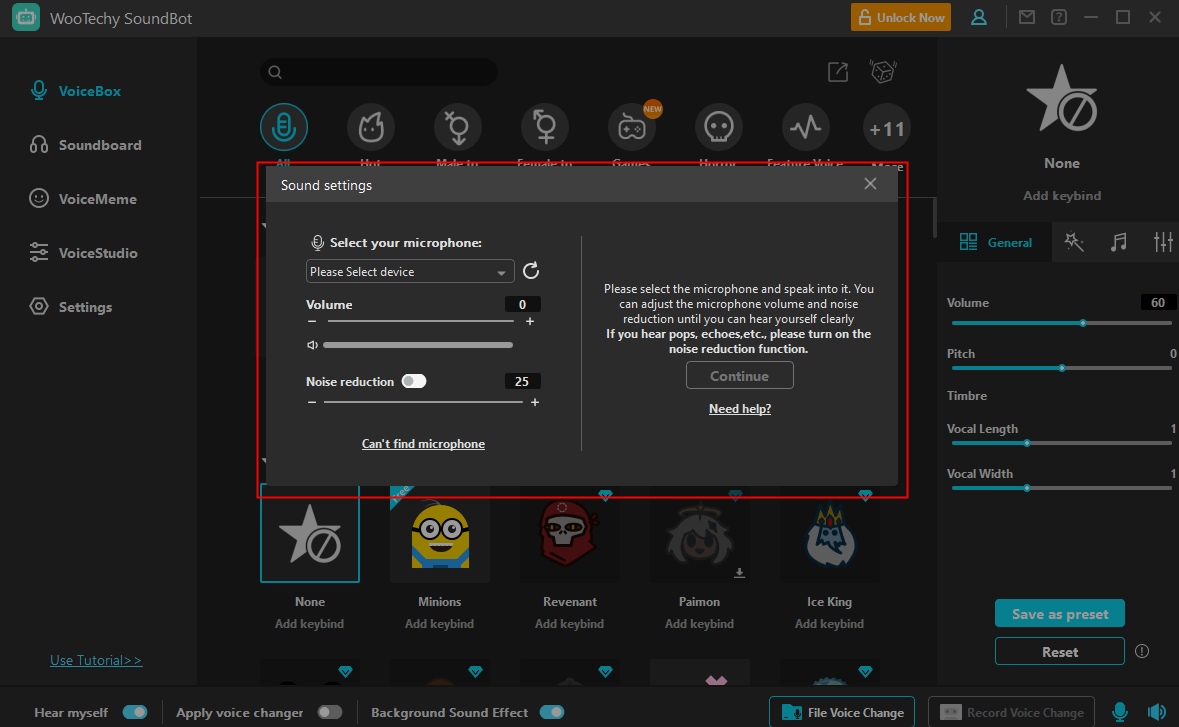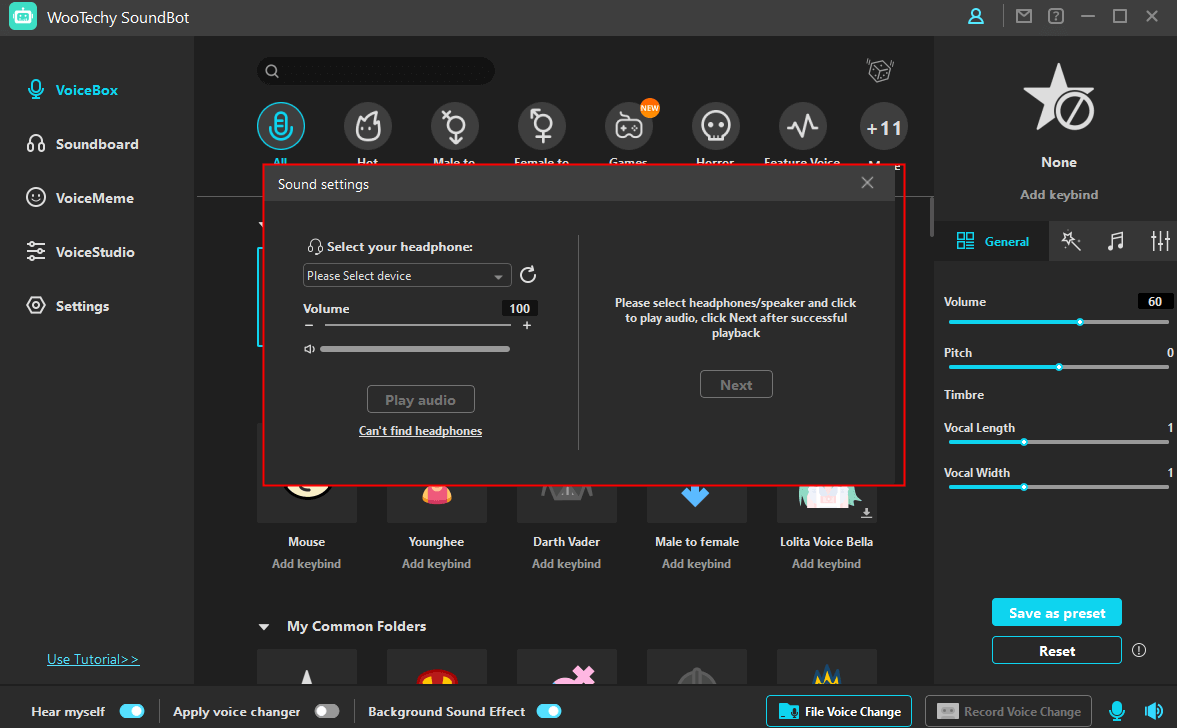 Step 3 Once the setup is complete, click on VoiceBox from the left menu to check out the various voice filters.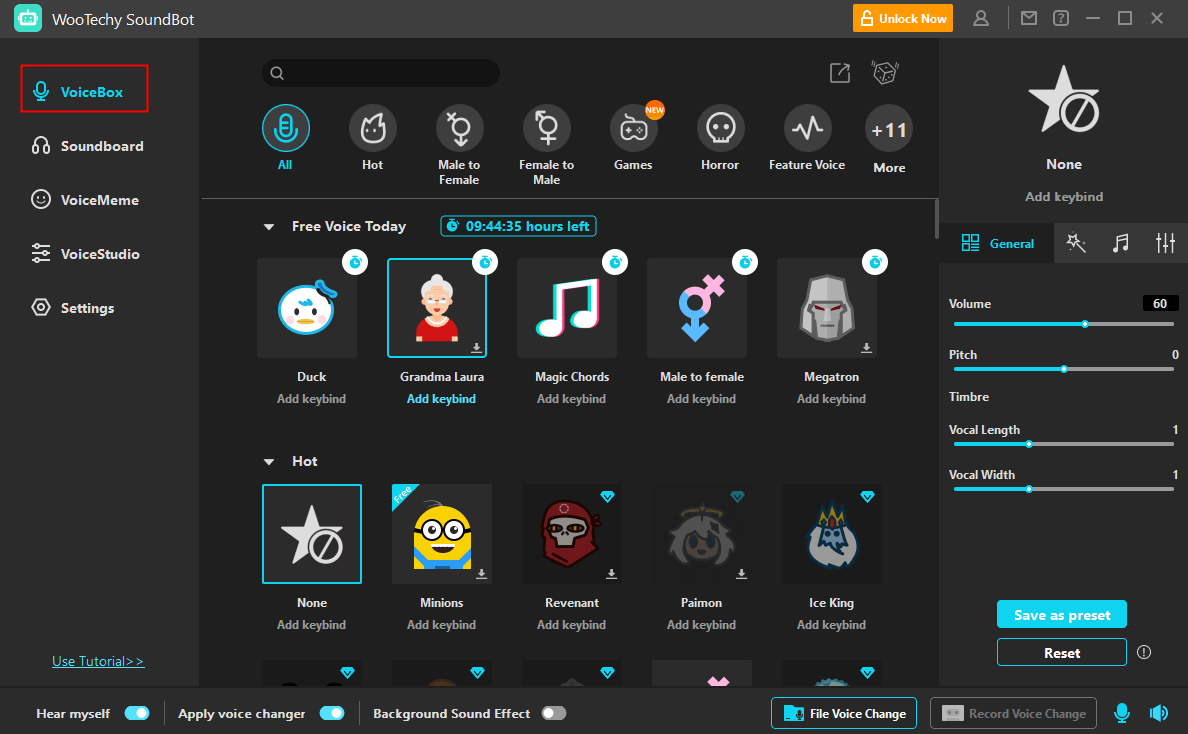 Step 4 To use SoundBot in different apps like Skype, Fortnite, and Discord, follow these steps:
Launch the app and go to its voice settings.

In the settings, select Microphone (Voice Changer Virtual Audio Device (WDM) as the input device.
This will enable SoundBot on the specific app, and you can speak into your microphone using the selected voice effect.
Conclusion
Sometimes, when using social or gaming platforms, you need to mask your voice for privacy reasons, for fun, or just because you're shy. Regardless of the reason, you can always use a good-quality voice changer like Voxal to change your voice.
And, if you're looking for a voice-changing tool that works as an alternative to Voxal, you can try WooTechy SoundBot. It has more AI voice-changing filters and easier to use than Voxal voice changer. Just give it a trial and you won't be disappointed!