Snapchat is one of the most used social media apps. It has a daily active user count of around 350 million. But what makes Snapchat unique is that, unlike other social media apps, Snapchat focuses on image chatting. The app has thousands of filters and cool features, like voice changers. So, how to use Snapchat voice changer?
As easy as it is to use the app, a lot of features are tough to find. If you want to use AI voice filters on Snapchat, then this article will go over it in detail. Also, if you see that the Snapchat voice changer is gone, we will give a solution here as well. We will also go over the best third-party software to use. Keep reading if you want to learn more.
Part 1. 2023 Lists of Voice-Changing Snapchat Filters
As talked about before, there are numerous voice changers on Snapchat. However, you will have to record videos with these filters for these to work. Here are some of our favorite voice filters on Snapchat –
Teddy Ears with Glasses Snapchat Filter
This filter is one of our favorites. It gives you cute fluffy teddy bear ears and a nose. As well as a pair of cute glasses! This filter essentially turns you into a real-life teddy bear. There will also be stars on top of your head! Giving you a glittery look.
This filter acts as a voice-changing filter as well. Just hold the camera button and it will start recording video. Then speak and you will hear the difference in your voice yourself!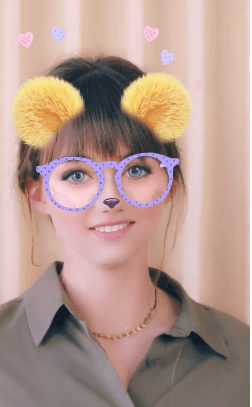 Cute Baby Face with Glasses Snapchat Filter
If you do not want to be a teddy bear but want to go back to being a child, this filter is for you! Your head will be round and you will get a pair of glasses. You will also have red blushing cheeks! This is a super cute filter to use!
Above all, the glasses complement the big eyes the filter gives you. The voice changer will change your voice to a high-pitch cute voice as well.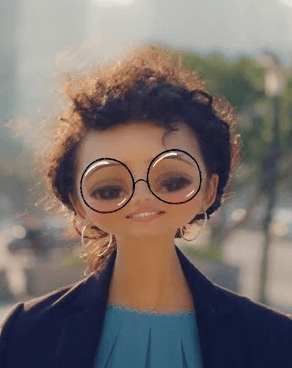 Baby Voice Changer Snapchat Filter
This filter turns your mouth huge. Your mouth will take up your entire face. The same thing goes for your eyes! We love this filter so much that many of us use it regularly. This is a great filter to have fun with your friends.
The voice changer changes your voice to a baby! This goes perfectly with the 'baby look' the filter gives you.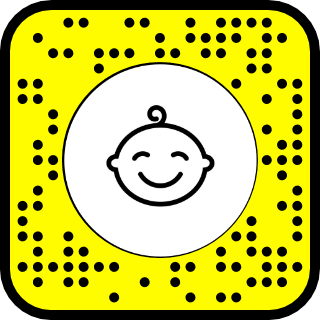 One of the most popular Snapchat lenses. We are sure you have seen it going around on social media. Many influencers and even your friends have used this. It changes your mouth to be huge and long. It also makes your eyes look bigger and your nose smaller.
Nevertheless, the voice filter is the most fun part of this lens! It changes your voice to a higher pitch with a blend of baby voices. And the way it makes your mouth look when you smile or even talk is hilarious!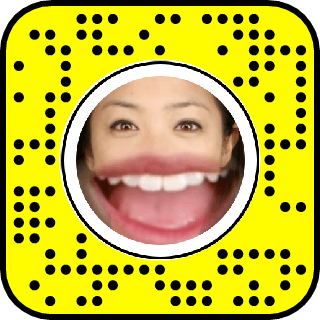 Part 2. How Do You Make Your Voice Sound Different on Snapchat?
There are mainly two methods to make your voice sound different on Snapchat. Here is a detailed explanation.
1. Use Snapchat Lenses
With the recent update of Snapchat, you can apply voice filters after you have recorded yourself. Here is a step-by-step guide:
Step 1 The first thing you have to do is record yourself using a lens of your choice. Make sure you talk for a while and finish what you have to say.
Step 2 After recording yourself, Snapchat will show you a video preview of what you recorded. You will see a pop-up on the bottom left of your screen. It should have a speaker icon and the pop-up will say tap to try Voice Filters!
Step 3 Tap on the speaker icon and it will open a menu of different voice-changing filters. Try out different filters and select whichever one you love! Click on the blue arrow on the bottom right to send the filter to your friends or add it to your stories!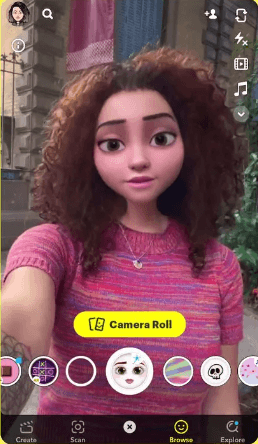 2. Use Snapchat Speed Modifiers
Speed modifier is a fun new feature on Snapchat. You can speed up or slow down your video with this. Here is a step-by-step guide-
Step 1 Use your front-facing camera and record a video. Once you are done recording, the red line on the lens icon should stop.
Step 2 After recording the video, on the video preview just swipe right or left. This will make a range of filters appear. From here you can tap on the snail icon to make your video play slowly. On the other hand, you can tap on the rabbit icon to play it fast.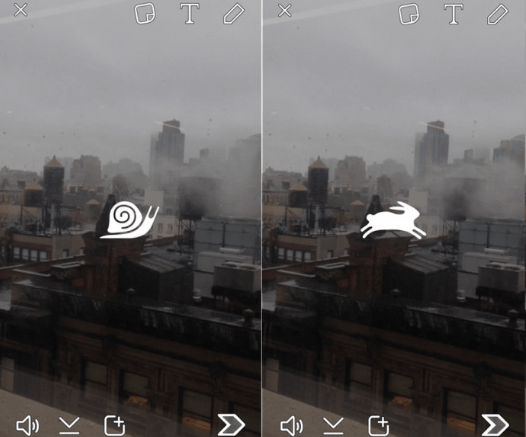 Step 3 After you have applied the speed modifier, it will start a playback preview again. You can check if everything is playing how you want it. You can edit your snap and add stickers using the options on the top right of your screen.
Part 3. What Happened to the Snapchat Voice Changer on iOS?
If you are on iOS then you might have noticed that the Snapchat voice changer does not work anymore. Earlier, you could use it as we talked about. Some have even reported it to have disappeared. It seems like Snapchat developers have removed the feature from iOS but it is still present on Android. Here is a fix for this issue:
Step 1 Launch Snapchat and click on the lens icon. It is the smiling face icon on the bottom right of your screen.
Step 2 When the lenses appear, click on explore on the bottom right. It looks like a magnifying glass.
Step 3 You can search for "voice changer" in the search box on the top. Simply tap on the search box and type "voice changer".
Step 4 Simply click on the voice changer filter you want to use. After using the voice changer, you will see that it is working like before.
And that is it! You can now use Snapchat voice changer using your favorite filters!
Part 4. The Best Third-Party Snapchat Voice Changer: WooTech SoundBot
You might be wondering which are the best AI voice changers for Snapchat calls. Some might say it's the Snapchat app itself but it's not adequate for all scenarios. For instance, if you want to prank your friends while talking to them, unfortunately, there is no integrated system in Snapchat for that. But there is a different way. You can use third-party software to change your voice in real time while speaking.
Introducing our WooTechy SoundBot! It is the best third-party Snapchat voice changer. Our software has over 125 different voice filters in real time! You will also find 400+ voice effects and 200+ voice memes to use! You can use it perfectly with Snapchat calls to prank your friends!
Key features of SoundBot:
Available on Windows version, it can be used under different scenarios such as entertaining prank, gang up in games, live chat, etc.
It can change your voice in different games and programs like Discord, Snapchat, Zoom, WhatsApp, and more.
It supports recording your voice and further change the voice; audio files voice-changing also supported, too.
You can customize your own voice with the VoiceStudio function.
How to use WooTechy SoundBot to change Snapchat video voice:
Download and install SoundBot on your computer. Connect your headphone with microphone to the computer and set them as input and output devices respectively.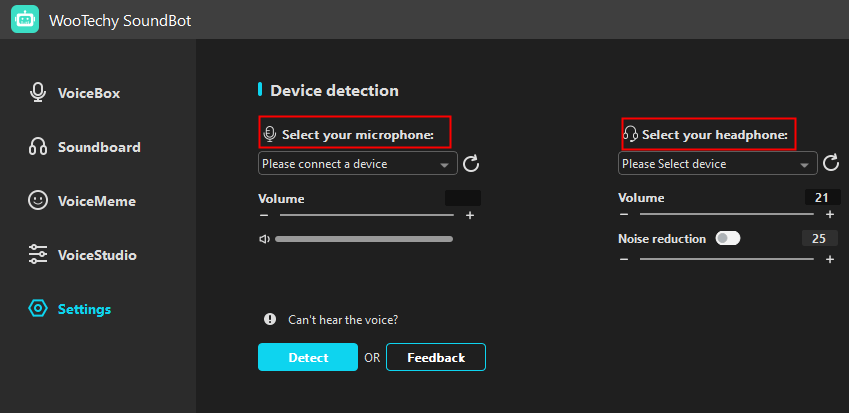 Select to record your voice and change it.
To change your Snapchat vidoes'voice, extract sound from the video and use the File Voice Change function.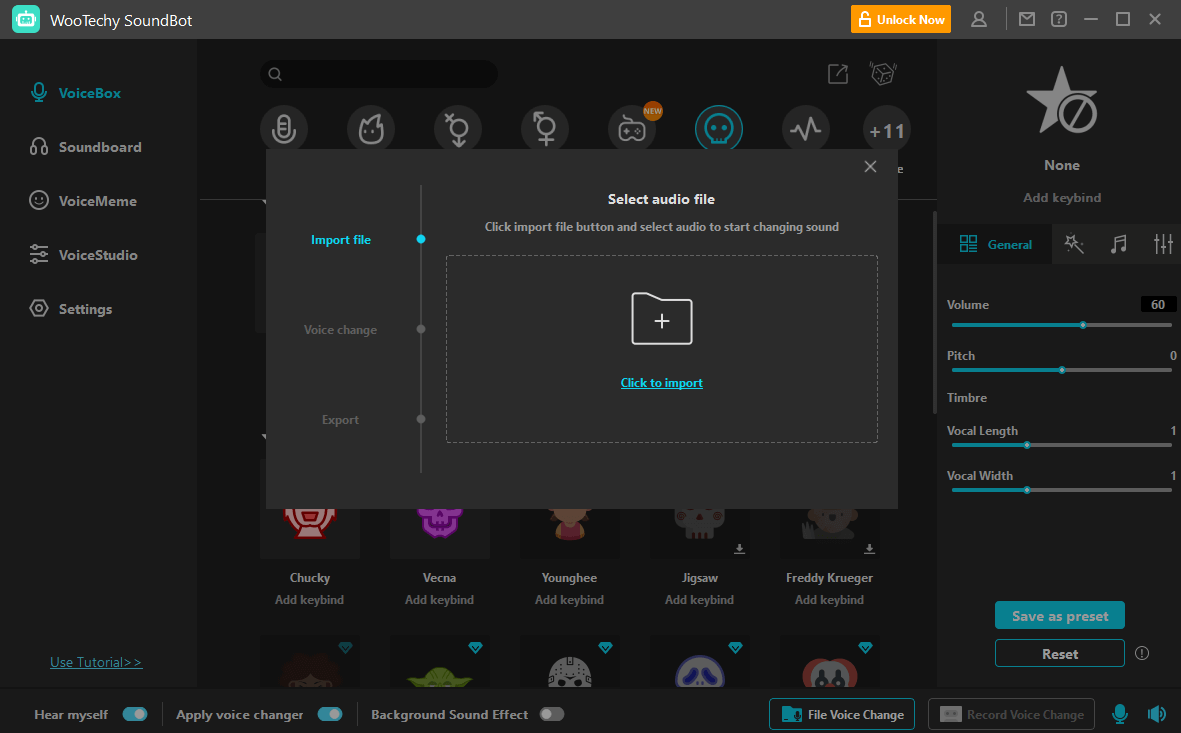 Conclusion
So, now you know how to use Snapchat voice changers. You can now easily create funny videos to send to your friends. Additionally, for using an AI voice changer for Snapchat calls, our WooTechy SoundBot is the best third-party Snapchat voice changer! Thanks for reading through the article.