Apple has been known to have efficient security measures, which is why several users get locked out of their iPads each year. In the majority of cases, their tablet was taken, and a third party attempted to force-unlock the device. Apple's security mechanism kicked in and disabled the device to secure the data, preventing anyone from breaching and accessing it, showing the "iPad is disabled, connect to iTunes" message.
This is how it usually starts; If you input an incorrect iPad passcode six times, the message "iPad is disabled, try again in 1 minute." appears. On the next wrong attempt, the message "iPad is disabled, try again in 5 minutes". Similarly, on consecutive ten wrong attempts, you will see the message "iPad is disabled and connect to iTunes" on your screen. However, you will later find that your disabled iPad won't connect to iTunes. Not to worry, we've got you covered. This article will discuss the different methods to fix this issue. But before that, let's discuss why this happens?
Why Does Disabled iPad Won't Connect to iTunes?
On the one hand, "iPad disabled won't connect to iTunes" is because your device has to be unlocked so that iTunes can access it. On the other hand, if you haven't trusted the computer connected on your iPad, then iTunes is also unable to recognize it and further access it.
Now that we have discussed the reasons let's start discussing the solutions to this problem.
How to Fix "Disabled iPad Won't Connect to iTunes"
1

Enable the Disabled iPad and Fix the Issue with Wootechy iPhixer

What can you do if your iPad becomes unresponsive and displays "iPad disabled won't connect to iTunes."? Regrettably, in such circumstances, standard processes will be ineffective. As a result, you should try using Wootechy iPhixer. It's a third-party program created exclusively for this purpose. It will unlock the smartphone immediately and without any issues. Wootechy iPhixer is a user-friendly program with a high success record in the industry. It also offers utilities that can assist you in troubleshooting all problems of your device. Compatible with all iOS/iPadOS versions, including the latest ones, Wootechy iPhixer fixes the issue for 100% certainty.

To use Wootechy iPhixer to fix your disabled iPad won't connect to iTunes, follow these steps using the advanced mode option available there:

Open the Wootechy iPhixer on your computer and connect your iPad through a cable to your computer. Select the Advanced Mode.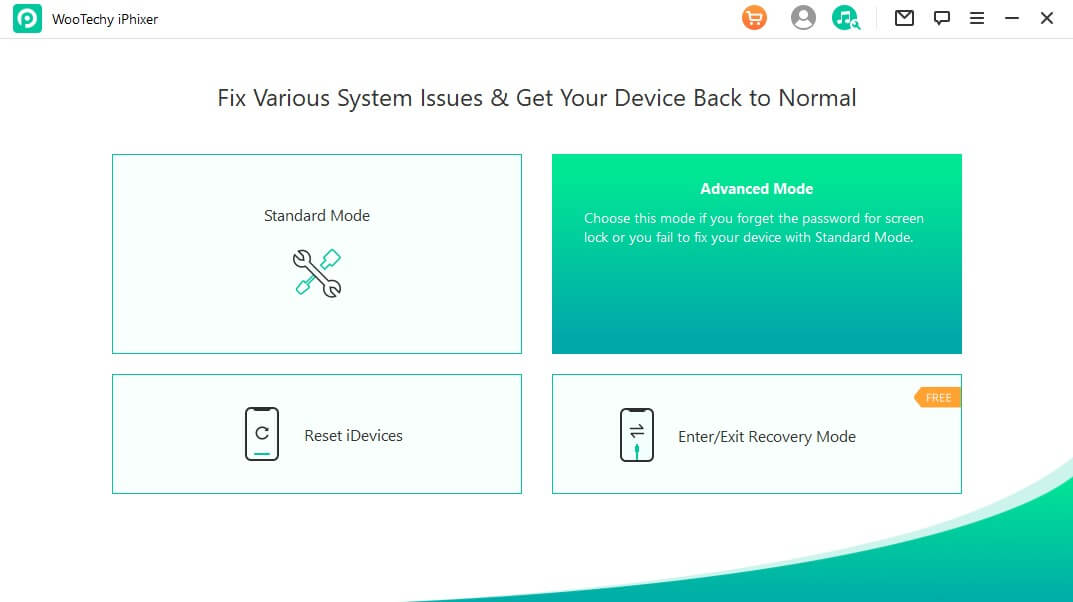 Since your iPad is disabled, the program will ask you to follow the on-screen instructions to put the device into recovery/DFU mode so that your iPad can be detected by iPhixer.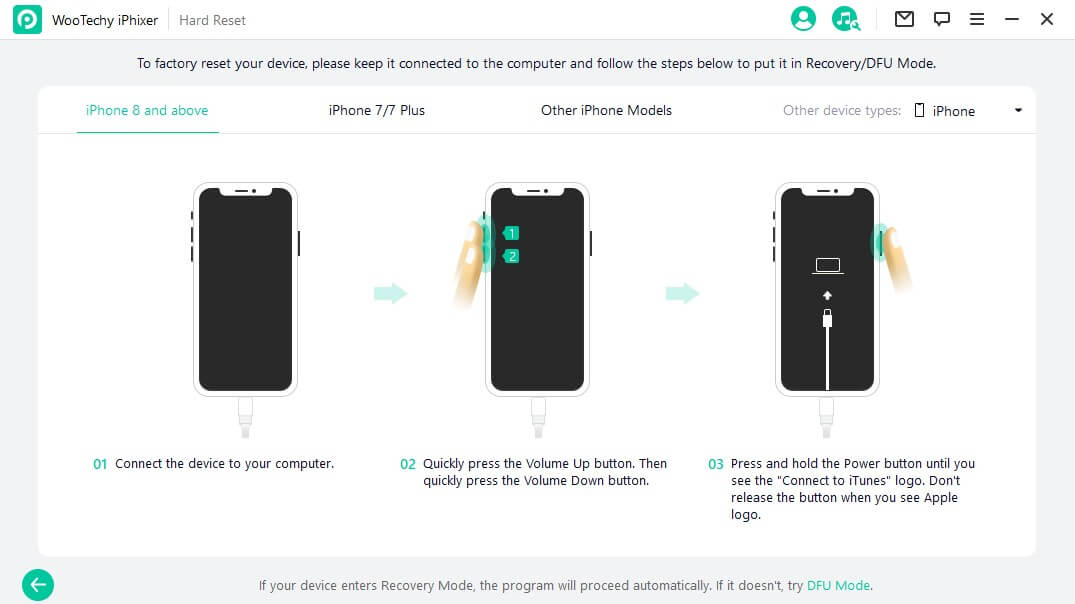 The next step is to download the firmware for the iPad through clicking the Download button.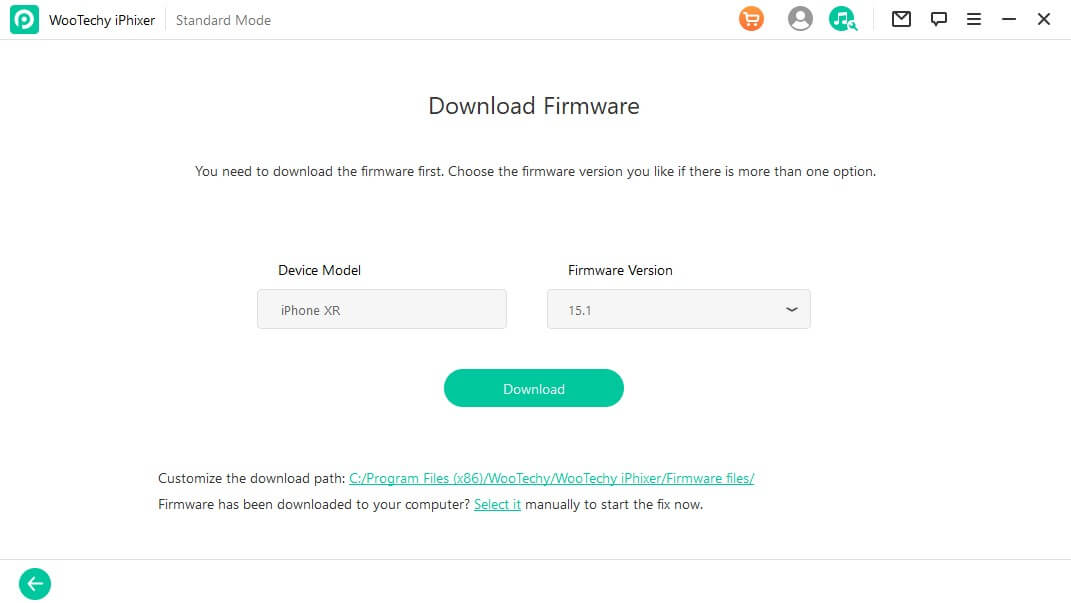 Once completed, click Start button and it will start to unlock your disabled iPad and fix the issue. Your iPad will restart and work in a while.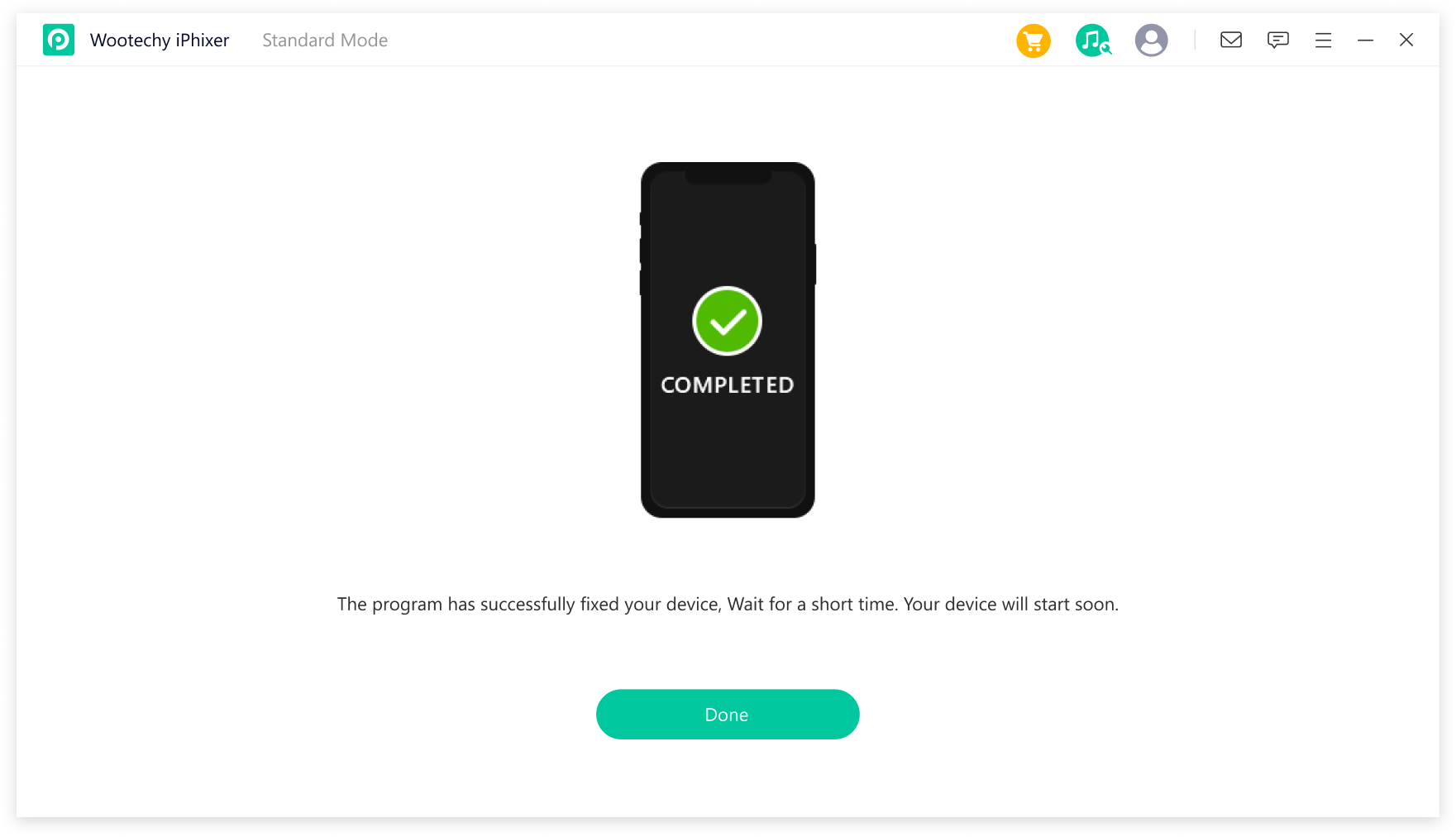 2

Enter Recovery Mode and Restore iPad with iTunes

When your iPad is disabled and says "disabled iPad won't connect to iTunes", another method to fix it is to use Recovery Mode to restore all of the files and settings. You'll lose photographs, movies, texts, and anything else on your iPad if you don't make a backup. Follow these steps:

Firstly, make sure the lightning cable and USB port work fine as well as the iTunes version is up to date.

Keep your iPad connected and follow the prompts presented below to enter recovery mode.

iPad without a Home button:
Quickly press and remove your finger from the Volume Up button.

Then quickly press and release the Volume Down button.

Keep the Top button pressed until the recovery mode screen appears.
iPad with a Home button:
Press and hold the Top button and the Home button simultaneously.

Keep holding the buttons until the recovery mode screen pops up.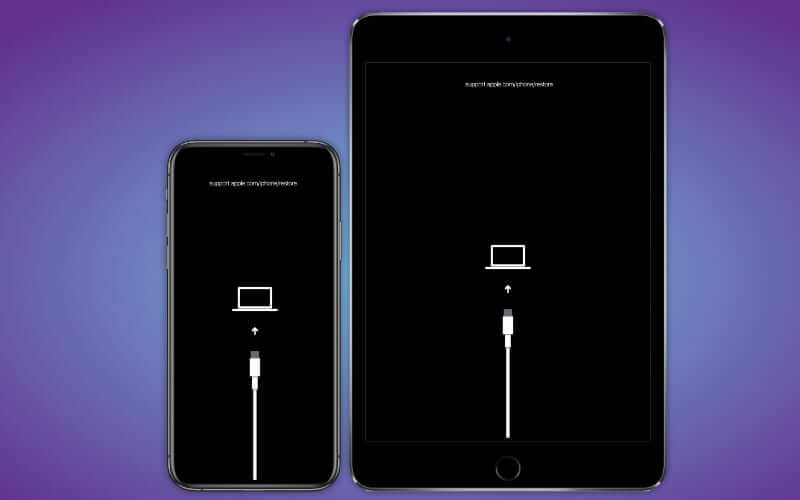 On your iTunes, a message with the options to "Restore" or "Update" appears, select Restore.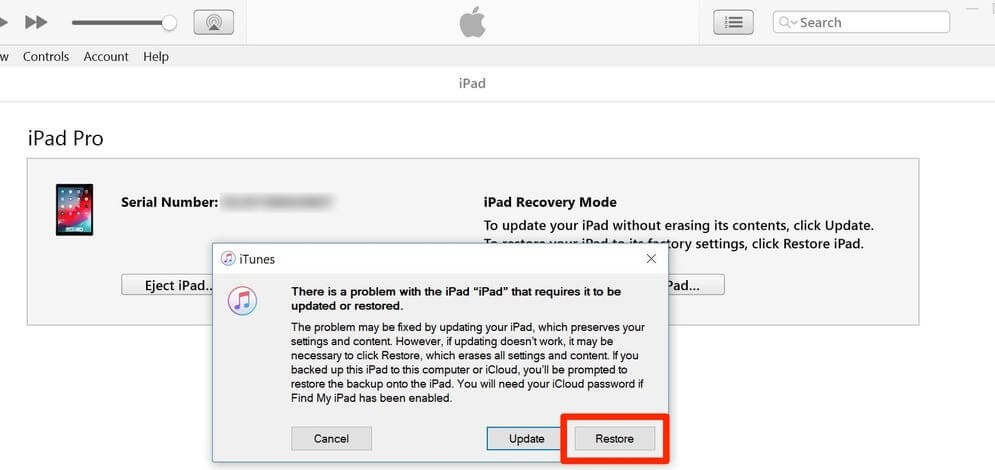 Your iTunes will attempt to reinstall the software and restore your iPad.
3

Factory Reset iPad with Find My iPad Feature

While, if you would not like to use third-party software and using recovery mode still doesn't work, then you can restore your disabled iPad without iTunes. That is using Find My iPad feature, but this method requires you to sign in iCloud and turn the feature on. And the smooth network connection is also of great importance.

Below are the steps to follow to reset your disabled iPad using the Find my iPad feature:

Browse official iCloud website and log in the account. (You can also achieve this through the Find My app on another Apple device.)

Choose Find My iPad and confirm password if needed.

Click All Devices on the top of the screen and select your iPad.

Tap on Erase iPad option and confirm the operation.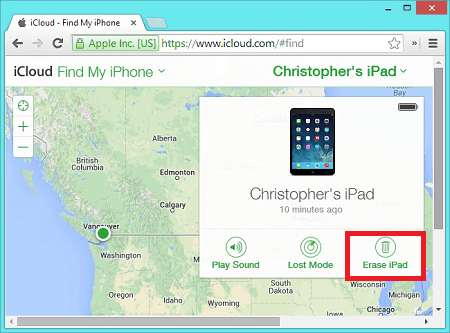 FAQs About Disabled iPad
Here are some of the frequently asked questioned regarding the iPad being disabled and won't connect to iTunes.
Q1: Can you use Face ID or Touch ID to unlock your disabled iPad?
No, you cannot use Face ID or Touch ID to unlock your disabled iPad as the disabled iPad shows a black screen only. Touch ID or Face ID can be used to unlock your iPad only when the iPad is not disabled and it is working fine. Touch ID and Face ID are advanced security options available to you for iPads that are not disabled.
Q2: Can you back up the data on your disabled iPad?
Once the iPad becomes disabled, you cannot back up your data. The only thing you can do is to reset it back to factory settings first.
Conclusion
Many users complain about the problem "disabled iPad won't connect to iTunes". Therefore, this blog was written to explain how to quickly fix and restore your iPad. You can use the iTunes application or use a reputable third-party tool like Wootechy iPhixer to complete the restoration process. Compatible with both Mac and Windows computers, Wootechy iPhixer fixes every iPad model and guarantees no privacy invasion while using the software. Best of all, it is a simple and easy fix for your iOS device.