Dealing with a smartphone that is slow and freezes every now and then is normal for many Androids or iPhone users. But a common issue many iPhone users may encounter is the enter iPhone passcode stuck. In this case, the iPhone gets stuck at the enter passcode screen.
Especially in case of emergencies, it can be very frustrating. Knowing how to fix it is therefore essential. This guide is to help you with that.
Why Is My New iPhone Stuck on the Enter Passcode Screen?
There are several reasons why your iPhone can freeze. In some cases, a hardware or software issue is to blame. Often it is the result of a glitch in the system. Even a new iPhone can get stuck on the enter passcode screen. Due to this, the iPhone's setup being stuck on the enter passcode may also occur.
After turning on your iPhone, you may need to input your Apple ID and passcode to sign in. However, due to a system glitch, your screen may freeze here. From here, you cannot even enter your passcode or get it off the screen.
How Do I Bypass the Passcode to Unlock My iPhone?
Considering how this issue can make your phone usable, having a solution is very important. Follow the methods below to fix the problem.
1. Force Restart iPhone
A very simple solution to having your iPhone freezing on you is to perform a force restart on your device. It is the easiest of the solutions on this list.
The steps required to do a force restart on iPhones after iPhone SE 2 and before them. In the case of iPhone SE 2, 8 series, X/XR/XS/11, 12, or 13, follow the below steps:
Step 1 Start the force restart method on your iPhone by pressing and then releasing the Volume Up button.
Step 2 After that, you need to press and release the Volume Down button of your iPhone.
Step 3 Finally, press and hold the Side button. Let go of the button once the Apple logo appears.
Step 4 Once you do that, the phone should turn off. After that, you must wait for the phone to restart, and hopefully, your iPhone should unfreeze.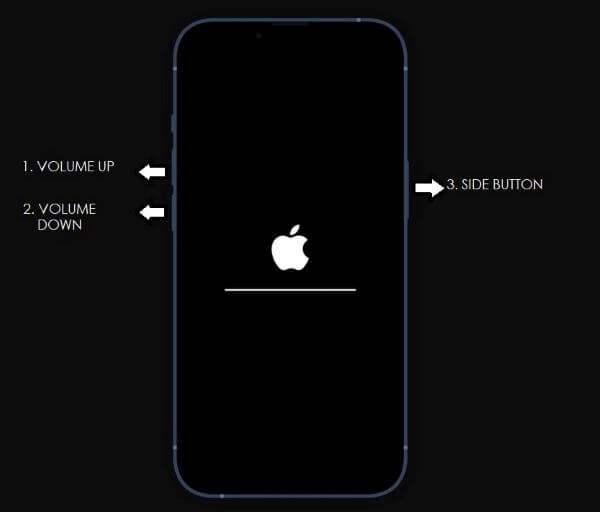 However, if you are using any other model of iPhone except 7, the process of force restarting the iPhone is as follows.
Step 1 Start by pressing down on both the Home and the Power buttons while the screen is facing you.
Step 2 Once you see the Apple logo on the screen, release both buttons.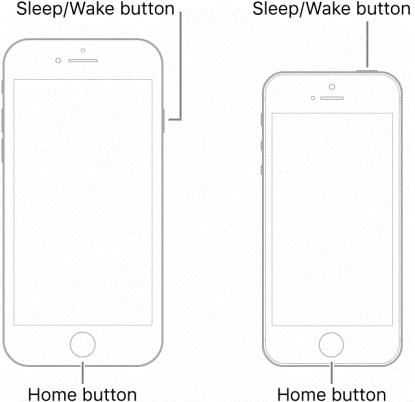 Lastly, for the iPhone 7, there is a difference due to the lack of a physical home button. So, press the Volume Down with the Side button and follow the rest of the above steps.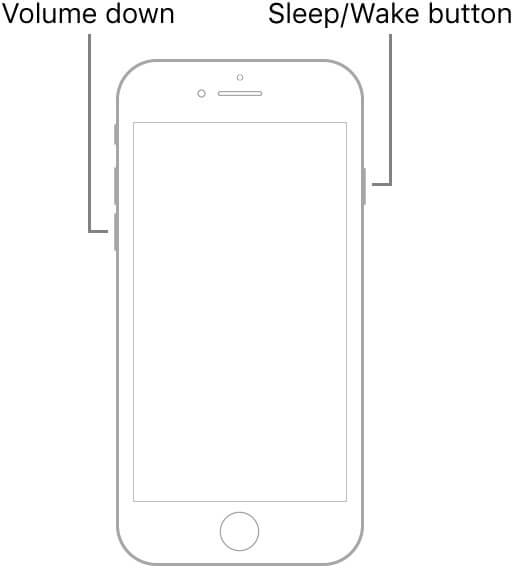 2. Unstuck iPhone With WooTechy iPhixer
However, if your iPhone is still stuck on the enter iPhone passcode, we highly recommend using professional iPhone repair software, WooTechy iPhixer. It's an excellent tool for troubleshooting all problems on the iPhone. Most importantly, it won't cause any data loss.
Key features of iPhixer:
75.000.000+
Downloads
Fix all software glitches and solve all iPhone problems such as enter iPhone passcode stuck, stuck on Apple logo, boot loop, freezing and more.

Compatible with all iPhone models and support all iOS versions including the latest iPhone 14 and iOS 16.

Unlike the iTunes app, iPhixer restores your iPhone back to normal without data loss and without unknown errors.

100% secure, it won't invade your data privacy during repair and it has a high success rate.
Step 1 Start by downloading and opening the tool on your computer, choosing the Standard Mode, and clicking Next.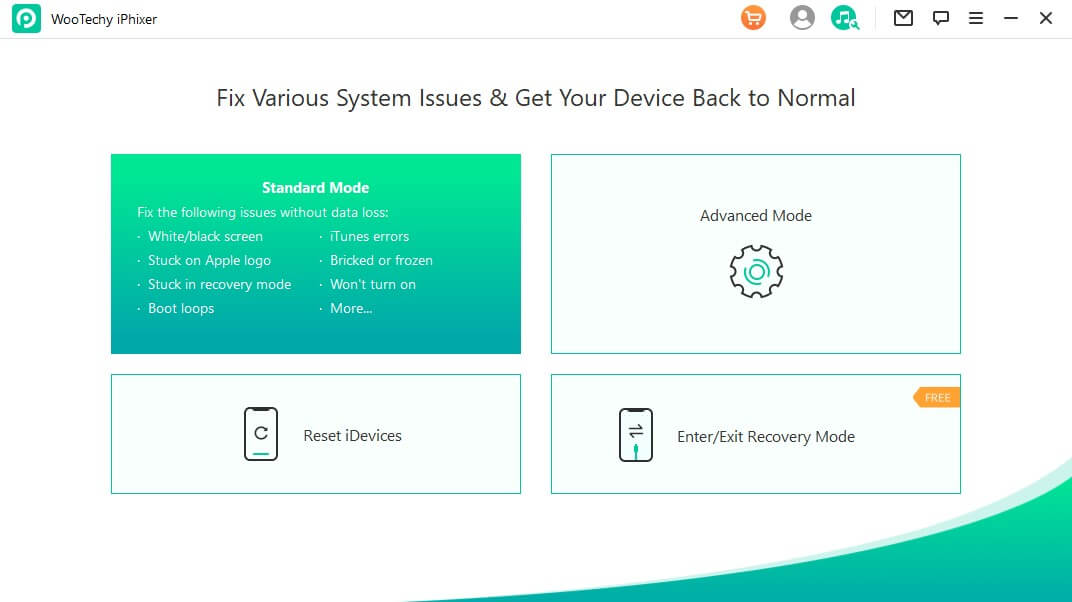 Step 2 After that, you will need to connect your device. Since your iPhone is stuck on entering passcode screen, you will need to put your phone in recovery or DFU mode so that the application is able to detect your phone.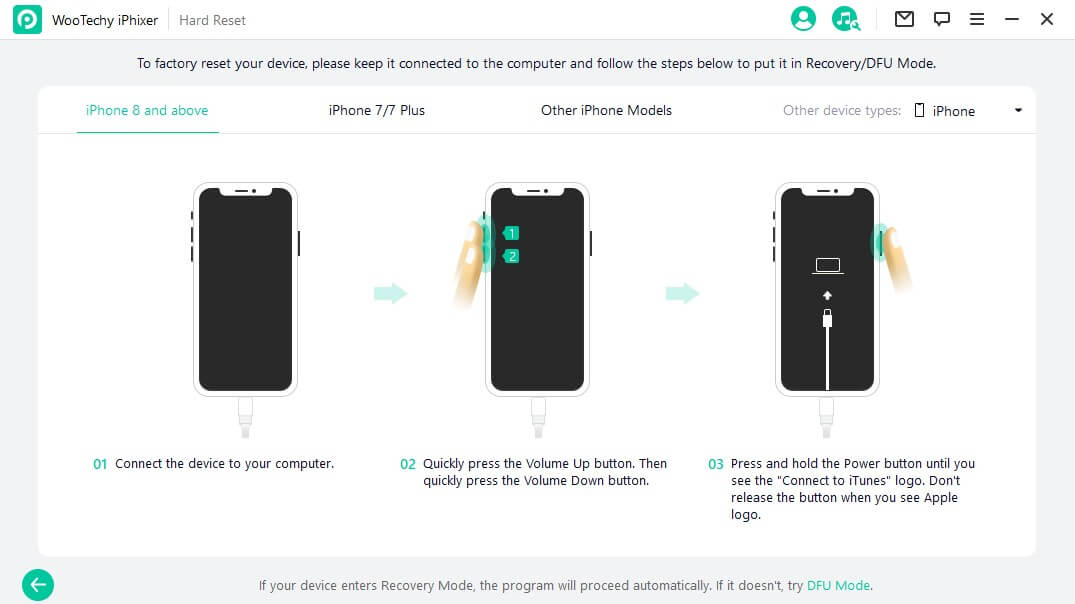 Step 3 Next up, the tool will need to download the firmware to fix whatever issue there is. So, press the Download button, which should automatically show the available and suitable firmware version; you can choose the version yourself if you want.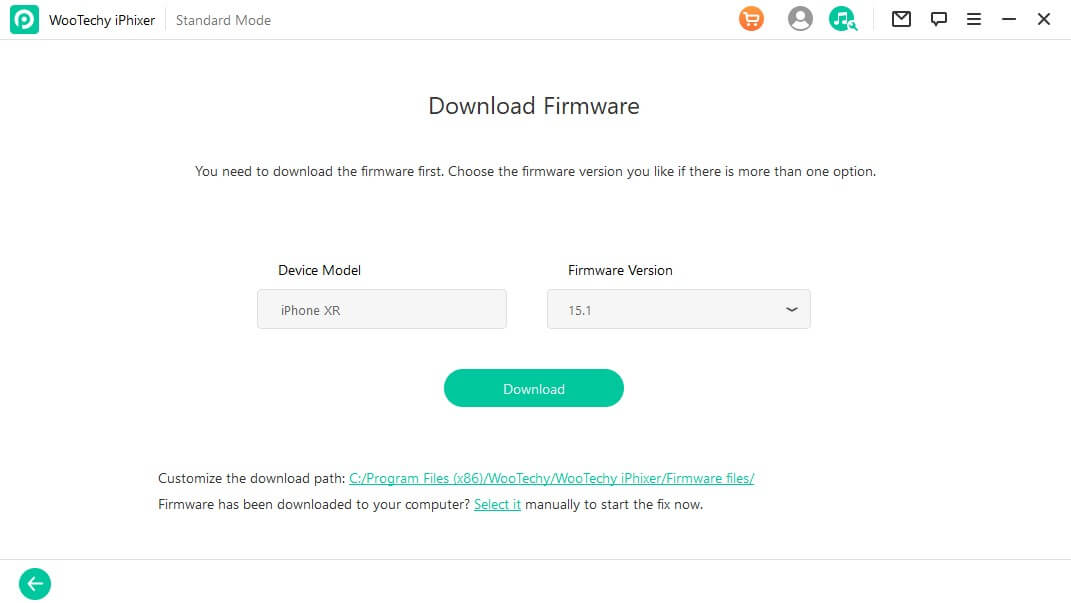 Step 4 Lastly, after you download and extract the firmware, you can move on to fixing the actual issue. Press the Start button, and the tool should start repairing your phone. Once everything is complete, your phone will restart automatically, and it will fix your phone.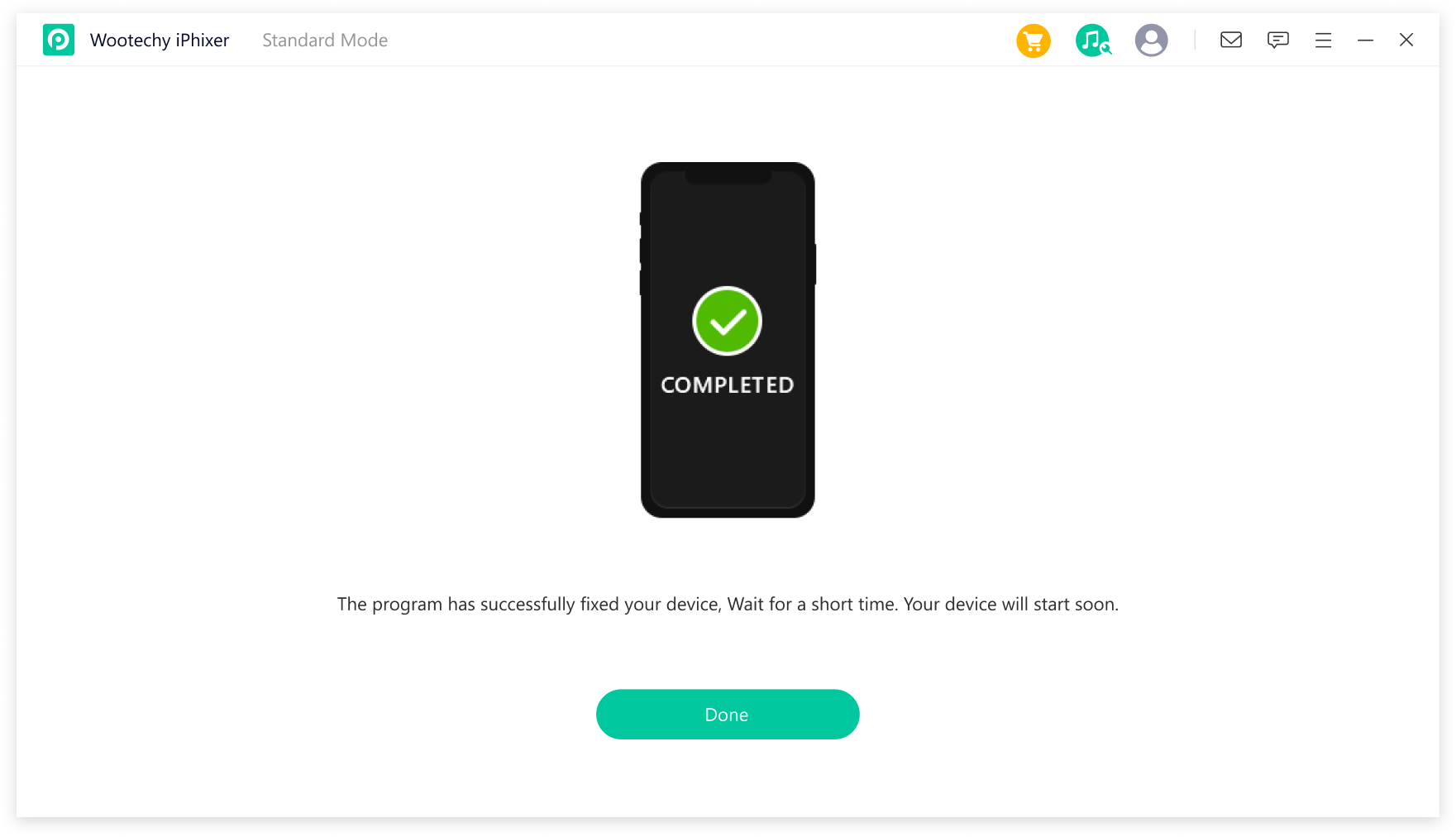 3. Bypass the Passcode to Unlock iPhone via Hard Reset
WooTechy iPhixer can also be used to reset your iPhone with or without password. If you want to reset your device, this is a good option. Since your iPhone is stuck on entering passcode screen, you can't unlock your device, so you can perform a hard reset on your iPhone with this efficient tool.
As resetting will cause all data loss, you are suggested to back your device up before the following steps.
Step 1 This time, pick Reset iDevices from the menu of iPhixer's interface. After that, you will receive two choices between standard and hard reset.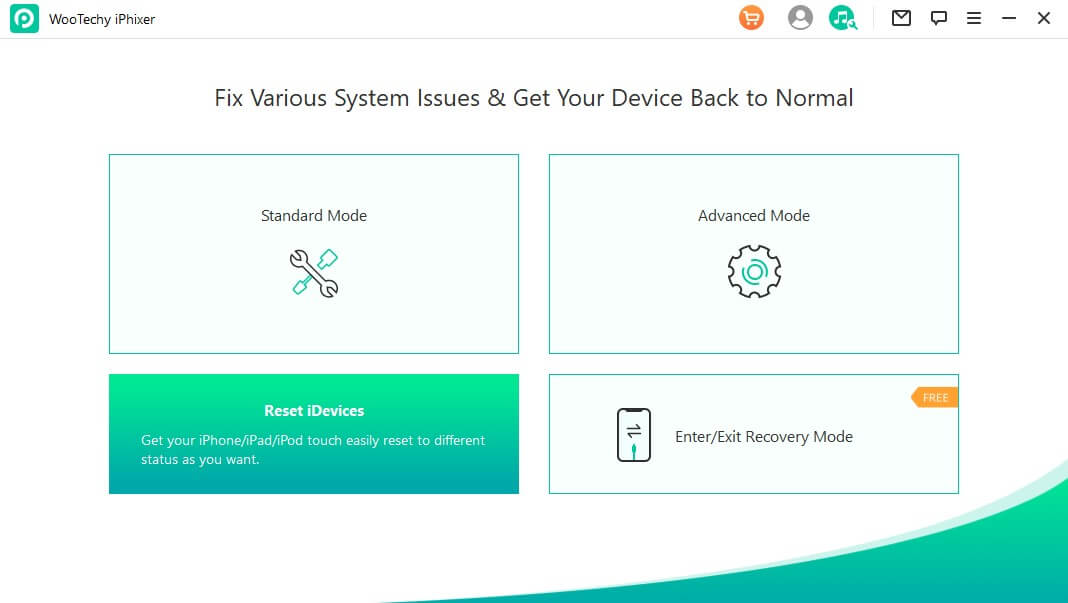 Step 2 After selecting Hard Reset, connect your iPhone to the computer using a USB cable and press Next.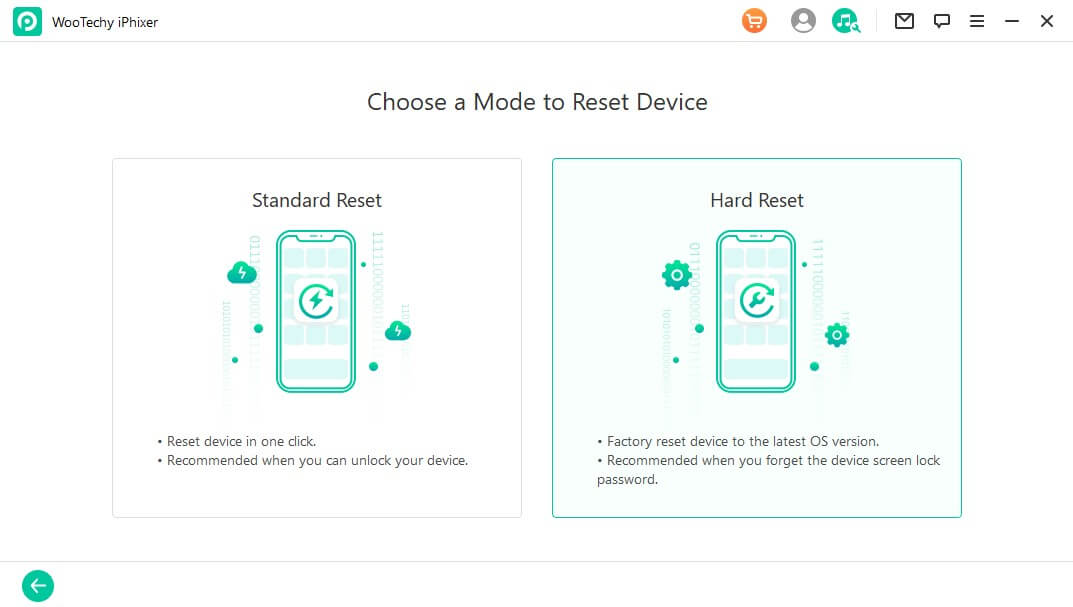 Step 3 Like before, press the Download button to get the latest firmware version for your iOS. The tool will then take some time to verify and extract the files.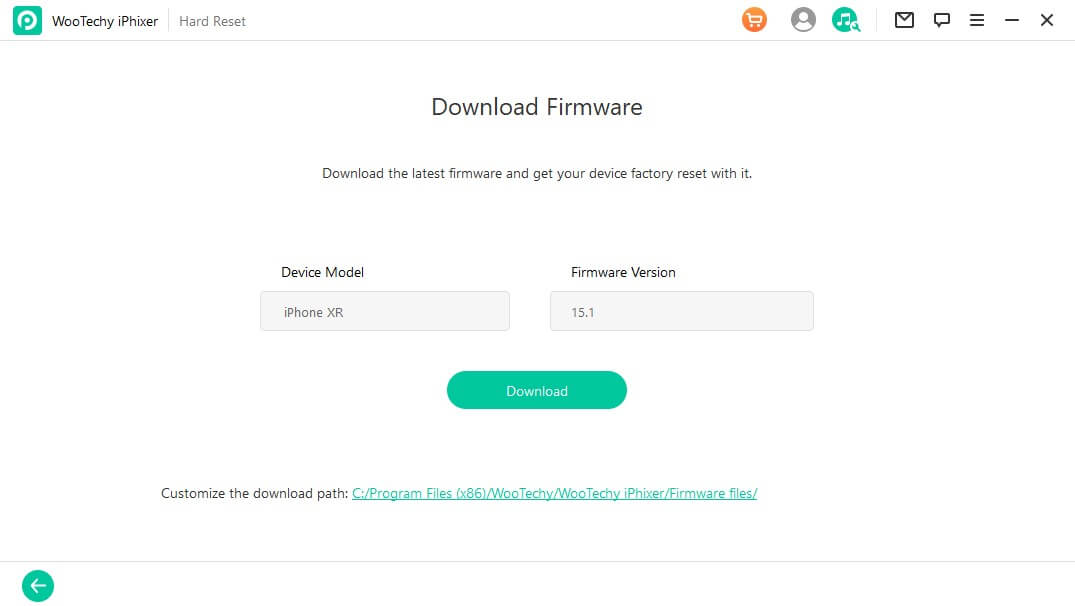 Step 4 After that, press the Start button and follow the instructions to put your iPhone in DFU or Recovery mode.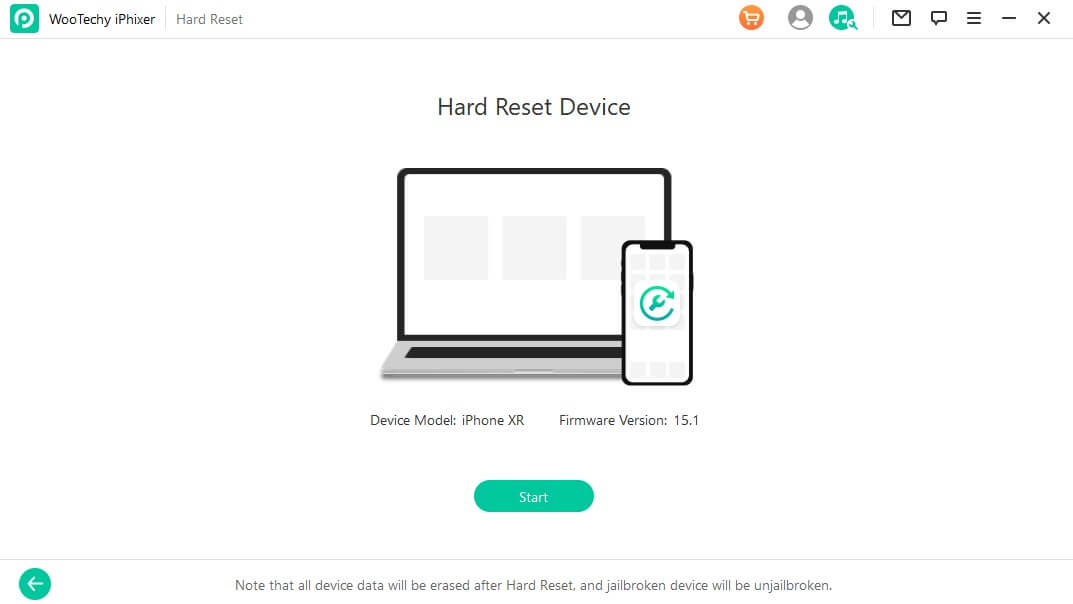 Step 5 After that, iPhixer will start to hard reset your iPhone. Once everything is complete, your phone is reset successfully and should restart.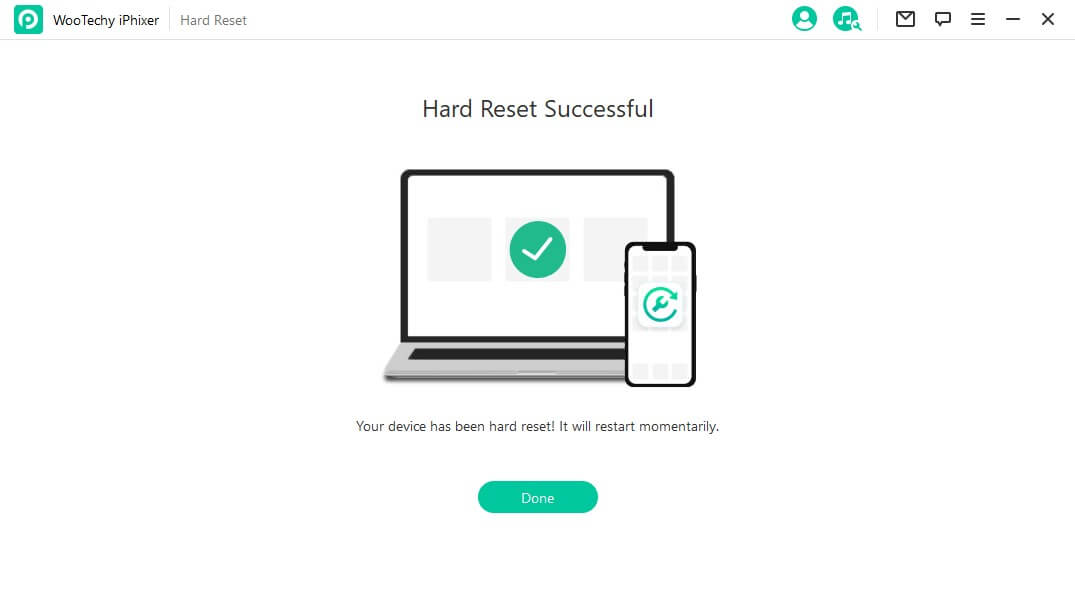 4. Restore iPhone in Recovery Mode
You can try putting your iPhone in recovery mode and then restore it if you are an iTunes picker. This process is much more complicated and erases all data on your iPhone. However, this should work in solving enter iPhone passcode stuck issue by restoring the device to factory settings.
Step 1 Firstly, connect your iPhone to your PC or Mac using a USB cable. Launch the latest iTunes on the computer.
Step 2 Follow the above steps of force restarting iPhone based on the model you use to enter recovery mode. Please ensure to keep pressing the last buttons until the recovery mode screen appears.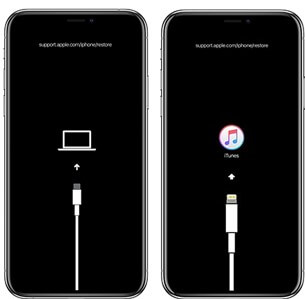 Step 3 Select the Restore option on the screen and wait for the process is complete. Finally all data and settings are removed from your iPhone. Meanwhile, the stuck problem is resolved.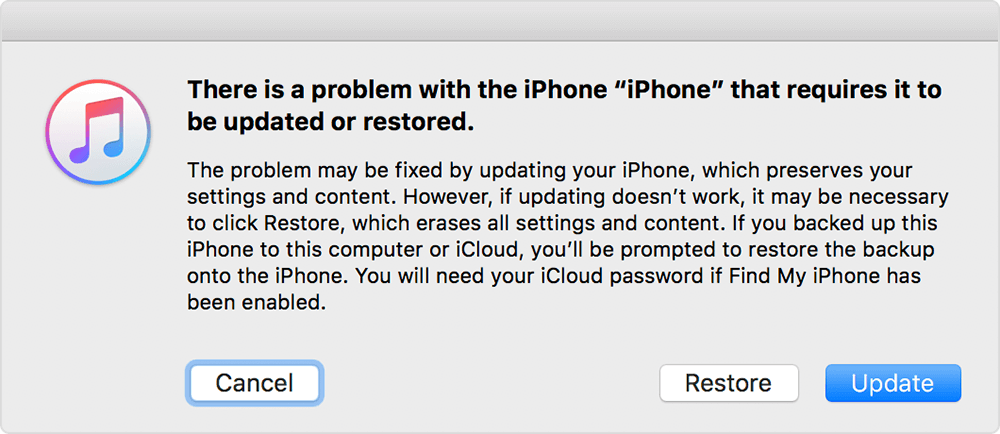 5. Erase iPhone Passcode with iCloud
Finally, if your iPhone is stuck on the enter iPhone passcode after restore, you can try erasing the iPhone passcode with iCloud to try and resolve the issue.
Step 1 Firstly, go to iCloud, enter your iCloud login and password, and sign in. Ensure that it is the same as the one connected to your iPhone.
Step 2 Next, click Find iPhone; at the top, click All Devices. From the drop-down list, you should see your iPhone on the list.
Step 3 After choosing your device, you will see three options; from here, you will select Erase the iPhone.
Step 4 Click Erase, which will require you to answer two questions. After which, it will erase your iPhone and passcode.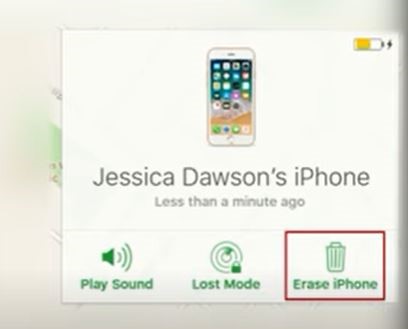 Conclusion
Fixing iPhone stuck on enter iPhone passcode after restore is quite easy if you follow this guide. But in case you don't feel that confident tinkering with your phone just use the WooTechy iPhixer and you can do it with a few clicks. And it won't cause you data loss.
Hopefully, the above mentioned methods will help you unstuck your iPhone from the enter iPhone passcode screen. Thank you for reading the article.