You might need to reset or erase your iPhone for several different reasons. Whether you are getting a new phone, trying to protect your data, or simply want to factory reset your device, we'll help you out here. We'll discuss exactly how long does it take to erase iPhone and show you how to quickly get your iPhone reset here!
Part 1. How Long Does It Take to Erase and Reset iPhone?
The length of time it will take to erase an iPhone will depend on a few different factors. First, depending on how you erase the data it could take longer or shorter. Which phone model you have and how fast your phone runs could also affect the time it takes.
But, we'll go over how long it takes to erase an iPhone with each different erasing method. In general, you should expect the process to take under 15 minutes.
1. Factory Reset Through Phone's Settings App
Simply go into the settings app of your iPhone. Hit Settings > General and from here you can find the Reset button. Then press Erase All Contents and Settings. This will factory reset your iPhone and erase all your data. For this process, it should take no more than 10 minutes to finish erasing your iPhone.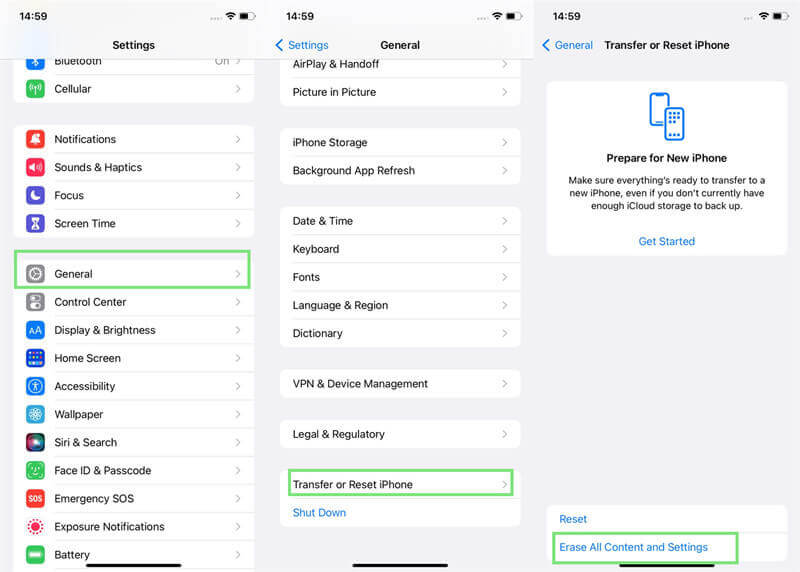 2. Erase iPhone from iCloud
You can also erase your iPhone through iCloud. This does take a little longer. Most iPhone users will have to wait around 10 to 15 minutes to erase their phones. This process can be done on iCloud.com.
Just make sure that Find My iPhone is enabled on your phone before you visit the website. Then you can select your device and remotely delete it from the iCloud.
3. Erase iPhone from Find My iPhone
Finally, your iPhone can be erased through Find my iPhone. This process is the fastest of the three options we mentioned. It takes around 5 minutes or under to fully delete your phone with this method.
Go to the Find My iPhone app on one of your Apple devices. The phone you want to delete should already be turned off. Press the Device option in the app. Then remove the phone that you want to erase.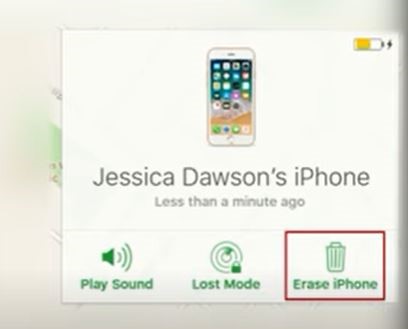 Part 2. Erase and Reset iPhone with the Fastest Speed
To quickly erase and reset your iPhone, we recommend using the professional iPhone reset software -- WooTechy iPhixer. It takes less than 5 minutes to use our software and delete your phone. It is especially useful when you forgot your iPhone's password.
Moreover, the storage or internet connection will not affect the process of resetting, so there aren't stuck and other errors. With just one click, you can automatically reset your device with the 100% success rate.
iPhixer – The All-in-One iPhone Erase and Reset Solution
75.000.000+
Downloads
With 2 reset modes, it is able to reset iPhone and iPad with or without password.

Reset iPhone with the fastest speed within 5 minutes or even less.

Support all iPhone models and iOS versions including the latest iOS 15.6 or iOS 16.

It can also be used to remove all iPhone problems without data loss using the Standard Mode.
Step 1 Download WooTechy iPhixer to your computer. Open up the program and select Reset iDevices.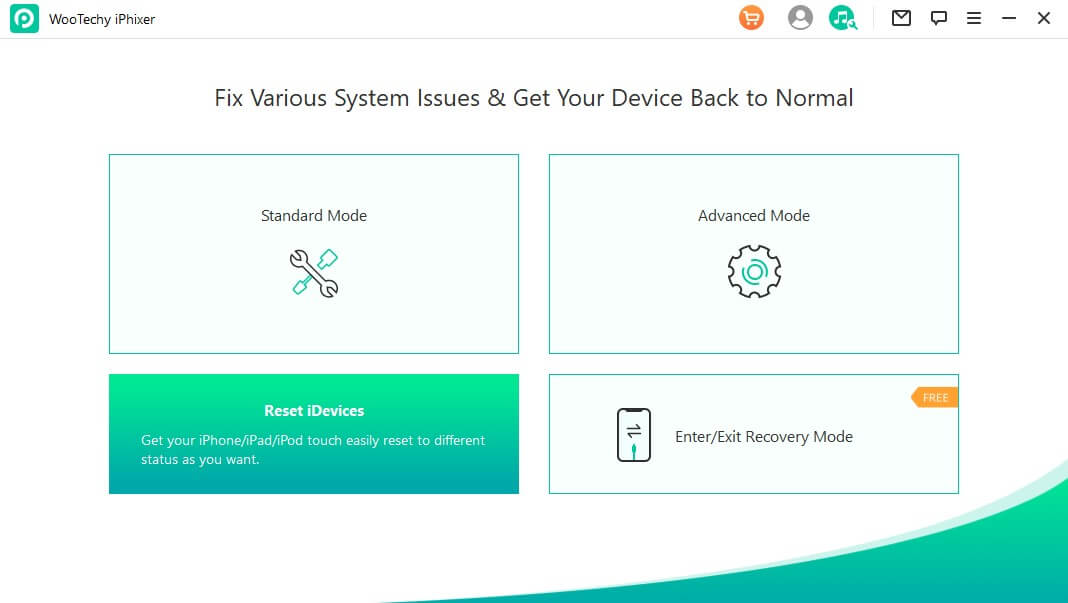 You have two options. Standard Reset is applicable for the ability to unlock iPhone, while the Hard Reset is for the inability to unlock iPhone.
Step 2 When you choose the Standard Reset, connect your iPhone to your computer and unlock it. Trust your computer and click the Start button.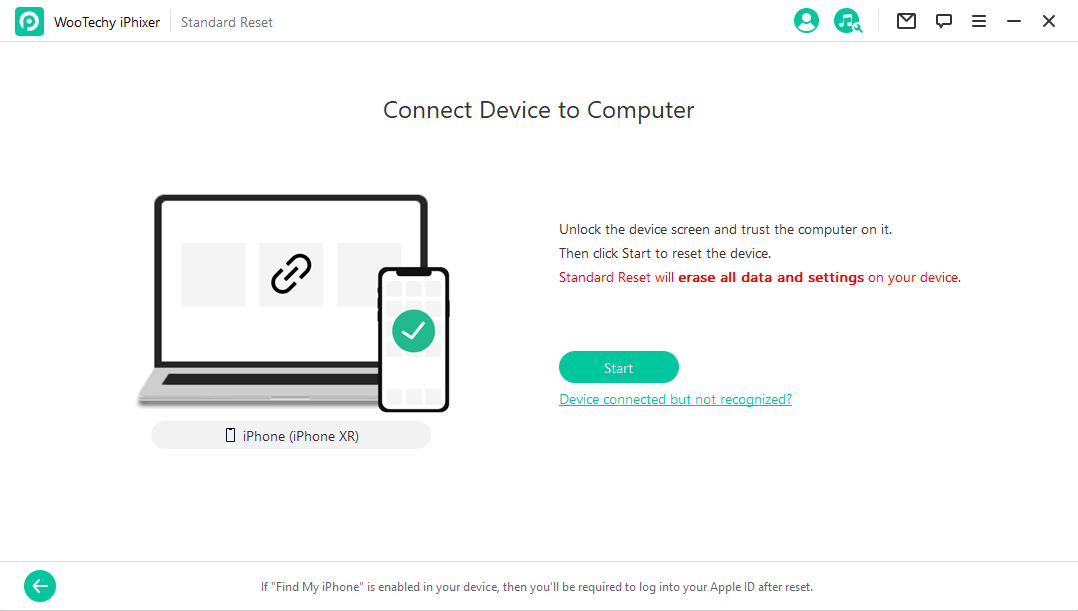 Step 3 iPhixer will start resetting your device. Soon the process is complete and your iPhone has been rest successfully.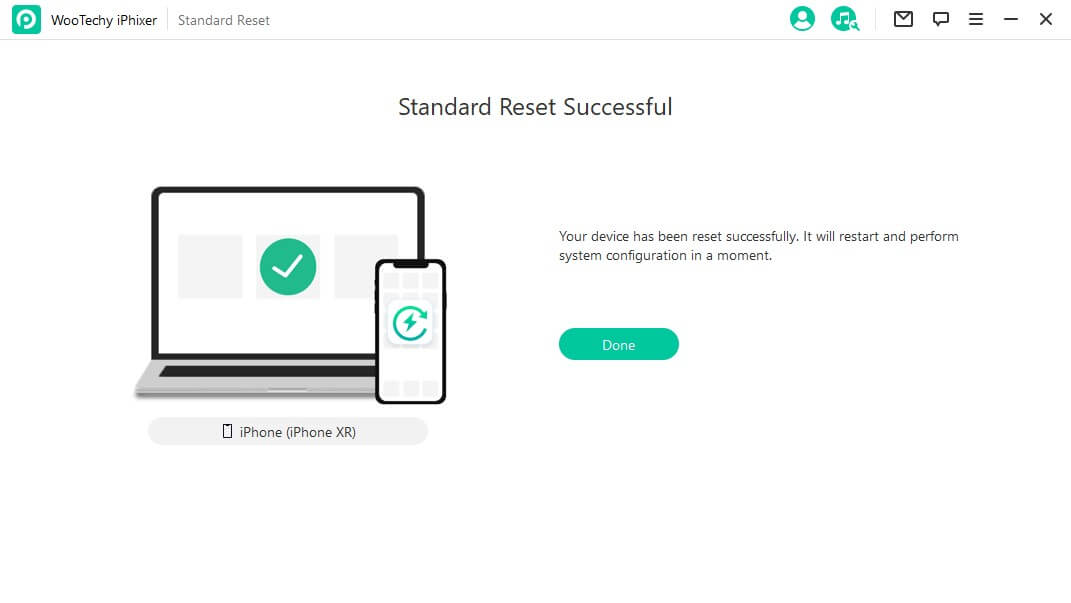 Note
If you choose the Hard reset mode, the process is almost same as the above. But there will be two more steps: downloading firmware and putting iPhone into recovery mode. Just follow the onscreen instructions and they are super easy to operate.
Bonus Tips. Why Does Erasing iPhone Take So Long?
For the most part, it should be easy to erase your iPhone. However, if the process is taking more than 15 minutes, you might want to try some of these fixes. We'll explain why your iPhone might be taking longer to erase here.
1. You Aren't Connected to the Internet
You need to be connected to the internet to delete your phone from the iCloud or Find My iPhone. If you don't have an internet or network connection this process won't work right. To fix this:
Check your router and make sure you are connected to the internet.

You can also go into your phone settings and see if you are connected to the right Wi-Fi network.

If you don't have internet, try unplugging your router and then plugging it back in.
2. You Have a Lot of Data to Delete
Sometimes it can take longer to delete your iPhone if you have a lot of data. You can speed up the process by deleting apps and other data that you don't need beforehand.
But if you want to speed up the process and not worry about getting rid of phone data, just use WooTechy iPhixer to quickly delete everything.
3. You Haven't Enabled Find My iPhone
Your device deletion might not be complete or could stall if you haven't enabled Find My iPhone. If you are deleting your phone through this app or iCloud:
Go into your Settings. Click on your profile at the top.

Press the Find My. Turn on Find My iPhone.

Also, enable Find My Network. This way your device will show up when you delete it later.
4. You Have an Older Phone Model
There isn't anything you can really do to fix your phone that is older. Some phones simply process slower as they age. Luckily, WooTechy iPhixer can speed up the process, even for an older model. Follow the steps we talked about before to use our software. Then you can delete your iPhone data more quickly!
Conclusion
There are many different ways iPhone users can erase their iPhone and factory reset it. In this post, we went over those different methods. We also talked about how long does it take to erase an iPhone. Usually, you can expect it to take under fifteen minutes to do this. Some methods are a little shorter; it can even take five minutes to delete an iOS device.
But if it takes an hour or even longer then try using our WooTechy iPhixer software. iPhixer is versatile and really fast. It can efficiently get the job done in no time at all!