If you have updated your iPhone to the latest version of iOS and find that you don't like the current version, it is possible to undo your update. Currently, many people are unsure about the latest iOS update since it still has some bugs that make it glitchy.
To undo your update, you'll have to do a downgrade of your iOS, which can be a complex procedure. We have a few solutions that will take you through the process of how to undo an update on iPhone.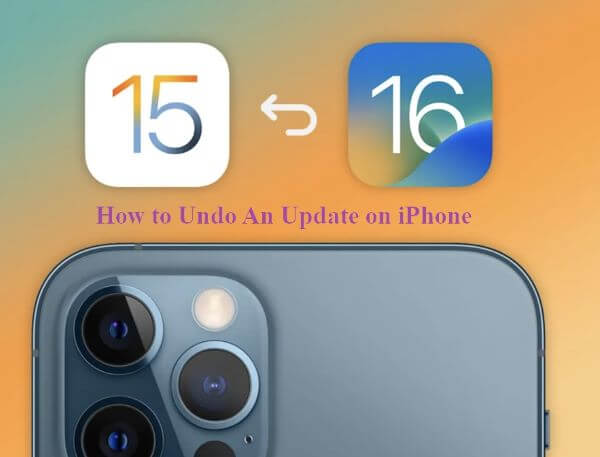 Part 1. Can I Go Back to an Older Version of iOS?
Again, you can absolutely undo an update and go back to a previous version of iOS. There are many steps involved. So, if you are thinking about undoing your update you need to keep a few things in mind.
First off, make sure you have a backup of any data on your phone. Ideally, you should have a backup with the previous iOS update. You can also back up your current phone data, as well.
Next, make sure you have a laptop, as you need to use iTunes or other computer software to undo your update.
Finally, to get back to an older version of iOS, check that you have enough storage space and ensure that you turn off Find My iPhone.
Part 2. How Do I Undo an Update?
To undo your iPhone update, follow the instructions outlined below. There are a couple of different ways you can go about doing this. This includes using third-party software or restoring your phone to previous updates through iTunes.
1. Remove iOS 16 Beta and Undo an Update with WooTechy iPhixer
The easiest way to remove iOS 16 Beta and undo an update is by using professional iOS system repair software. WooTechy iPhixer can help undo any unwanted updates on your iPhone/iPad/iPod touch. Most importantly, it undoes the update without erasing any data on your device. Therefore, you can downgrade iOS 16 to iOS 15 without bothering data backup.
iPhixer – Undo an Update Without Data Loss
75.000.000+
Downloads
Support all iOS versions including the latest iOS 16, so it can be used to undo an update by downgrading iOS.

100% safe, it won't invade your device data privacy while undoing the update without losing any data.

Can also fix all iOS devices issues such as iOS downgrade stuck, update failure, stuck on Apple logo and more.

Has other functions like updating Apple devices to the latest version, resetting iPhone/iPad/iPod touch with or without password, etc.
Download iPhixer to your computer. Connect your iPhone with a USB device. Open up iPhixer and select Standard Mode.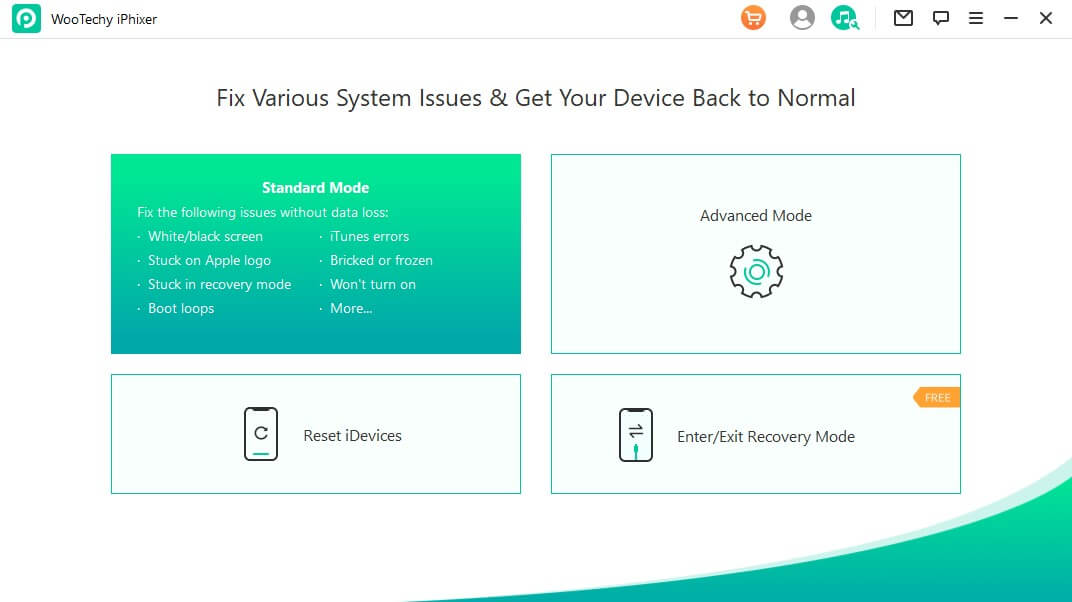 Click the Next button once your device is recognized. Choose the iOS 15 firmware that matches your iPhone model. Press the Download.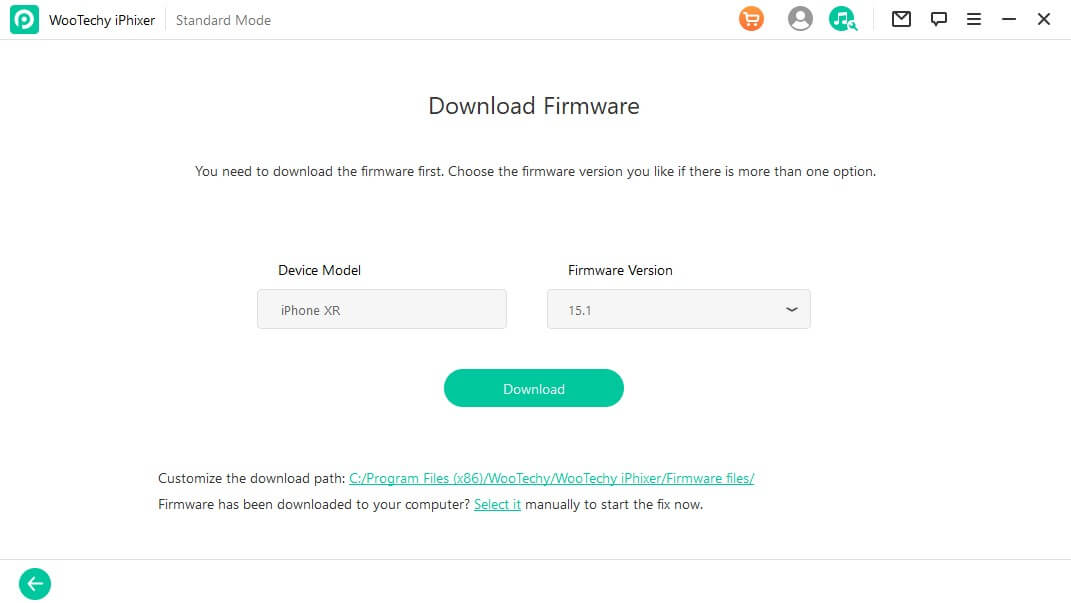 After the firmware is downloaded, click the Start button to begin verifying and extracting it. After that, the iOS 16 beta will be removed and your iPhone will be downgraded to iOS 15.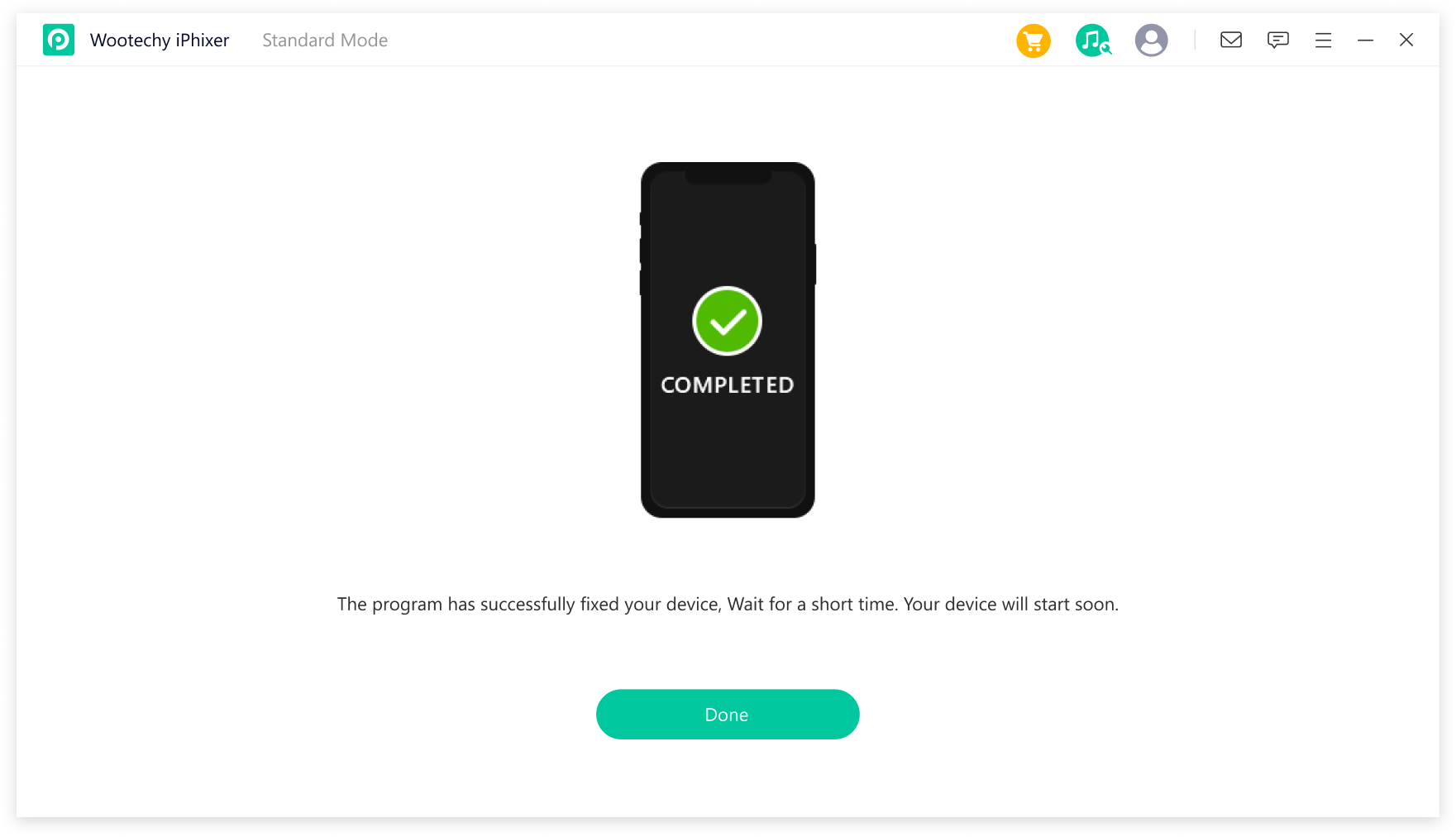 2. Undo an Update with iTunes (Data Loss)
iPhone users who aren't interested in using third-party tools to undo an update can use iTunes. This process will be a lot more complicated as WooTechy iPhixer is made to streamline iOS downgrades.
And there is one thing needs mentioning is that your data will be erased forever, so if you need to know how to do this, please back your data up first and then follow the instructions we'll show here.
Option 1: Through Recovery Mode
First, try to undo your update through recovery mode. With recovery mode, you can restore your iPhone to a previous version.
Recovery Mode for iPhone 7/6 and earlier:
Start by opening the latest version of iTunes on your computer. Turn off your iPhone, then plug it into your computer.
Keep iTunes running, then press the Power and Volume Down
iPhones with a home button please press the Home button and Power
Hold your two buttons down until you see the recovery mode symbol. iTunes should recognize your phone now.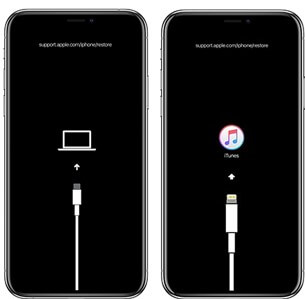 Press the Restore button, then Restore and Update. Your iPhone will be reverted back to your previous iOS software.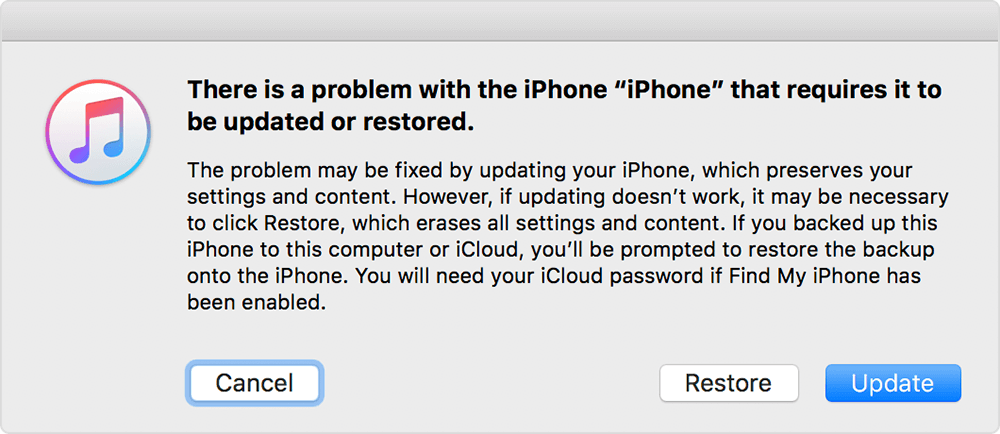 Recovery Mode for iPhone 8 and newer:
Again open up iTunes on your computer. Keep your iPhone off and connect it.
Run iTunes and press the Volume Up then Volume Down
Hold down the Side button until recovery mode pops up.
When iTunes recognizes your device, press Restore. Wait for the restore to complete.
Option 2: Using IPSW Files
If you want to update your phone to a specific iOS backup file, try using IPSW files to undo the update and get your phone back to its previous firmware.
Open iTunes and connect your iPhone. Look for your previous iOS backup files.
On your Mac computer go to Library > iTunes > iPhone Software Update.
For PC go into your Start Enter this into the search bar: %appdata%\Apple Computer\iTUnes\iPhone\iPhone Software Updates.
Use the steps we outlined above to get into recovery mode. Go back to iTunes and click on your device icon in the side menu.
Hold down the Shift As you hold it down press Restore.
A list of the IPSW files you searched for will pop up. Click the one with the iOS software you prefer.
Press the Open button then wait for your iPhone to install the file.
Bonus: How to Remove iOS 16 Beta
To specifically remove iOS 16 beta, look through this final section of the post. Removing your developer beta will result in data loss. As you need to restore your phone. However, if you are getting rid of public iOS 16 beta, there is no data loss.
1. Remove the iOS 16 Developer Beta
To remove the developer iOS 16 beta, you will have to use recovery mode to restore it. You will have data loss here.
Use the steps we outlined in the previous sections to get into recovery mode.
Your laptop will have to be on and running the latest version of iTunes.
When iTunes discovers your device in recovery mode click your device.
Press the Restore button to start restoring your device to its previous state.
2. Remove the Public iOS 16 Beta
Getting rid of the iOS 16 public beta is way easier and has no data loss.
Go to Settings > General > VPN and Device Management.
In Device Management, you can access your Beta profile.
Click the iOS 16 Beta Profile. Then press Remove Profile.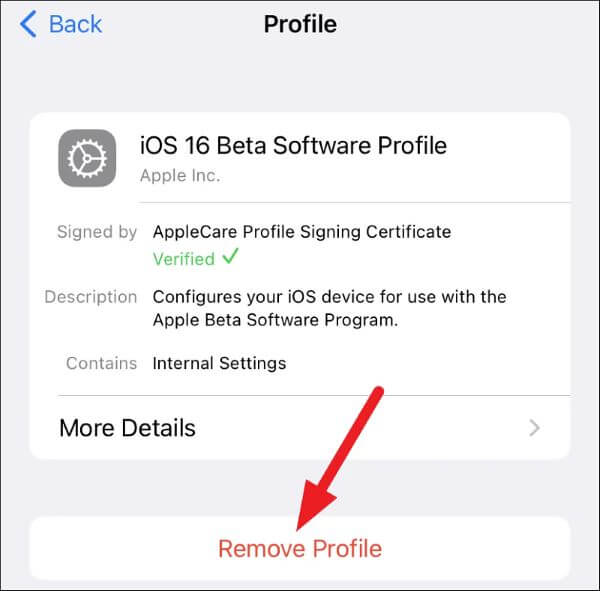 Conclusion
We talked about how to undo an iOS update throughout this post. Most people like their iPhones updated to the latest version. But, if you want your device back to a previous software or simply want to get rid of iOS 16 Beta, use the instructions we wrote about here.
WooTechy iPhixer is by far your best option for downgrading your iPhone. As we make the process seamless, easy and no data loss. Apple users can still try out the other methods we listed though.