Recently, we have heard users are experiencing iPhone crash issues constantly. It is a known fact that the iOS versions has brought up some bugs which already annoyed people a lot. But this software bug is the worst of all. This glitch not only freezes your iOS device, but also crashes it down and eventually, preventing you from using your iPhone. For this reason, we went down to find some working fixes for iPhone keeps crashing issue and came up with today's post right here. Read further ahead and you'll explore the best possible way to put an end to iPhone crashing constantly issue and set it back to normal again.
Part 1. Why Does iPhone Crash?
As a matter of fact, the iOS that you've recently updated on your iPhone might have been failed in flashing the firmware appropriately and is, therefore, the prime reason for your iPhone keeps crashing problem.
Another possibility is if you've installed an app from a source other than iTunes App Store or jailbreaked your device, you run a high risk of ending up with the iPhone crashing issue. This is because installing an app from a source other than iTunes App Store is never recommended as it can be a malware that you're going to inject in your device unknowingly. On the other hand, jailbreaking your device removes the security cover installed by Apple over your iPhone and opens doors to a host of insecurities from the web.
It is also possible that your firmware is too old or your operation has caused a problem to the software. If this is also not the case, apparently, the hardware of your iPhone has started to malfunction. Consequently, your iPhone's crashing constantly.
Part 2. How to Fix iPhone Keeps Crashing
As we talked about in the first part about the reasons for iPhone keeps crashing, there are also some other reasons that might cause the problem. let's now explore the other possible ways to put your device back into the normal state.
1

Check If You Have Installed any App before This Happens

Perhaps, you might have recently installed an app over your iPhone due to which you witnessed your iPhone keeps crashing. Now, if you have installed the app from iTunes App store, try updating it as an incompatible or outdated app may sometimes land you in such situations. Or, if you installed it from a source other than iTunes App store, you must uninstall it as soon as possible as you might have unknowingly installed an infected app.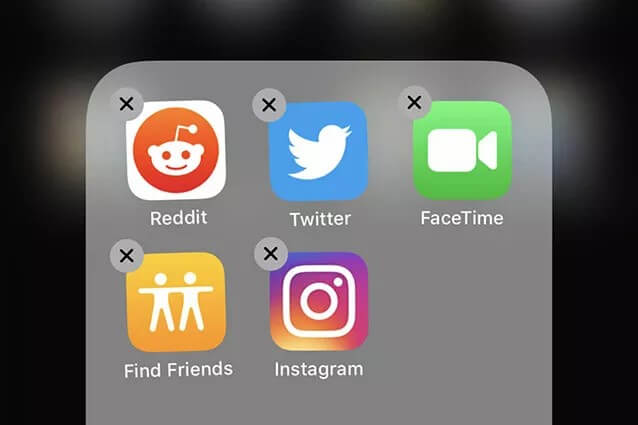 2

Clear Memory and Manage Storage on iPhone

Sometimes, full iPhone storage can explain why iPhone keeps crashing. Therefore, it is suggested that you clear your device's memory to make it run smoother so as to avoid the crashing. You could delete unecessary apps, photos/videos, documents and cache data. Or you can head to Settings > General > iPhone Storage to manage the storage.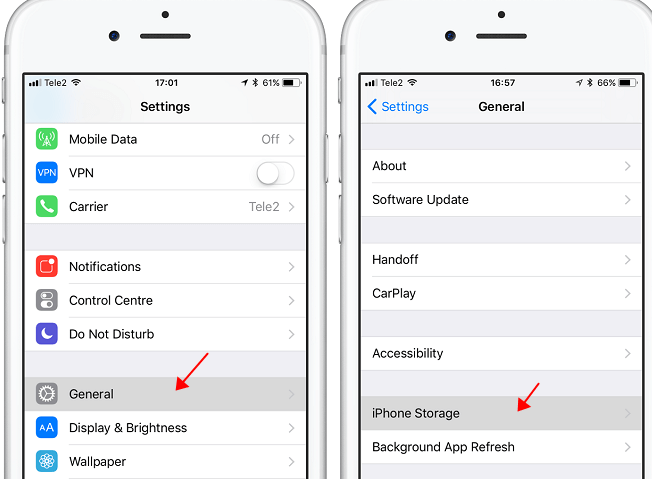 3

Force Restart Your iPhone

One of the easiest solutions that you can opt for in order to fix iPhone crash issue is to force restart your device. Here are the steps involved in force restarting your iPhone depending on its models.
For iPhone 6 variants and older
Push down Home + Power keys simultaneously till the Apple logo flashes on screen.
For iPhone 7/7 Plus variants
Push down Volume Down + Power keys simultaneously till the Apple logo flashes on screen.
For iPhone 8/8 Plus/X/XR/XS/XS Max variants
Hit the Volume Up then Volume Down and then push down the Power key until the Apple logo flashes over the screen.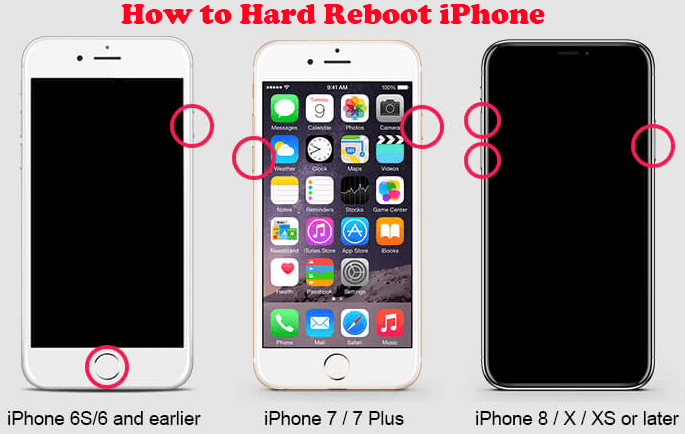 4

Reset All Settings

Messed up settings of your iPhone is generally another major reason behind iPhone keeps crashing issue. In such a case, try resetting all settings back to its factory state. Here's what you need to do.
Launch Settings > General > Reset > Reset All Settings > confirm your actions.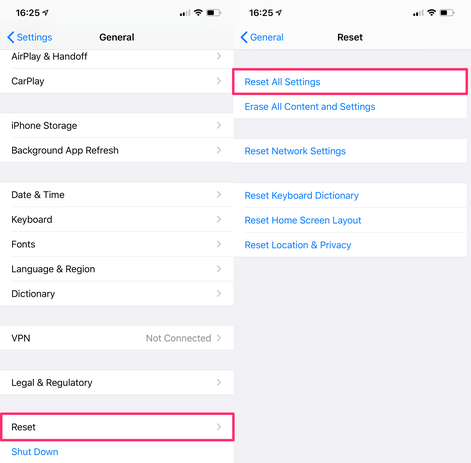 5

Fix iPhone Crashing with iPhixer (No Data Loss)

Many people find their iPhone crashing after iOS update. In this case, it is not recommended to ask Apple store for help, since they usually ask you to replace the iPhone. We recommend that you use a tool to fix it because it is very probable that the problem is caused by software problem and you can fix it by your own. For this purpose, we recommend Wootechy iPhixer, a professional tool that will aid you in repairing the iOS firmware (including iOS 15) of your iPhone in a hassle free way.

iPhixer iOS Repair Tool
With its 2 highly effective fixing modes, you can be assured of fixing up all sorts of iOS firmware issues without a hitch.

The Standard Mode helps you to fix up all iOS issues, be it iPhone crashing constantly, iPhone Apple logo flashing, or any other, without losing even a bit of your data.

iPhixer is outstanding because of its exclusive technology which makes it possible to fix the problems that iTunes cannot fix.

Its powerful features, high effectiveness and user-friendly interface makes it very popular when it comes to fix iOS problems of iPhone/iPad/iPod touch.
Here we bring you the step-by-step tutorial on how to fix the iPhone crashing constantly problem.
Step 1. From the official website of Wootechy, download your copy of the software. Install it afterwards and launch it. Now, opt for the Standard Mode from the main screen interface.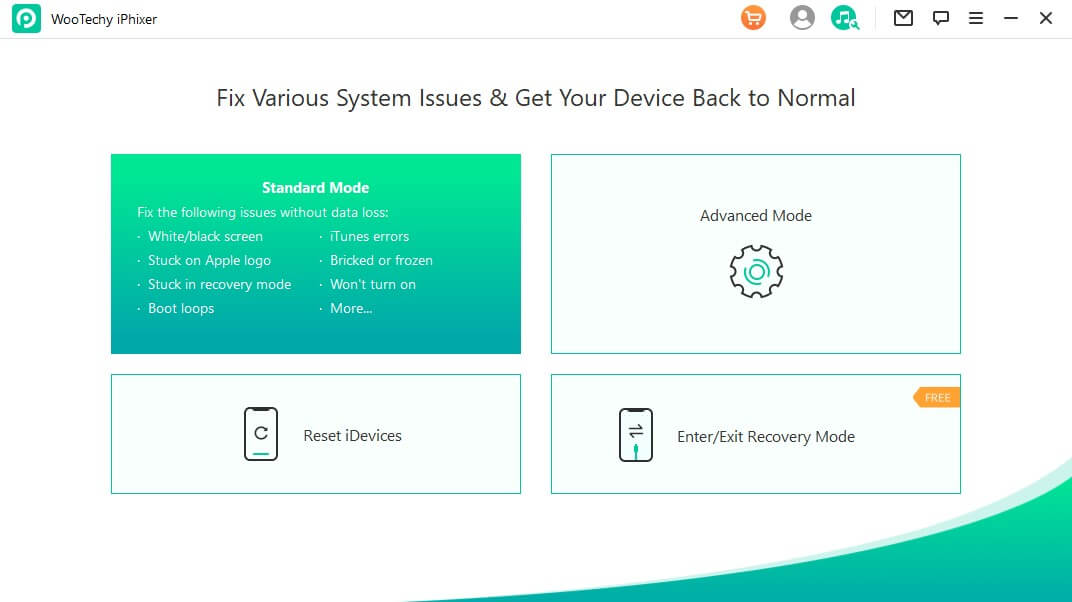 Step 2. Then, get your iPhone connected to your PC and hit on the Next button. The program will successfully detect your device now.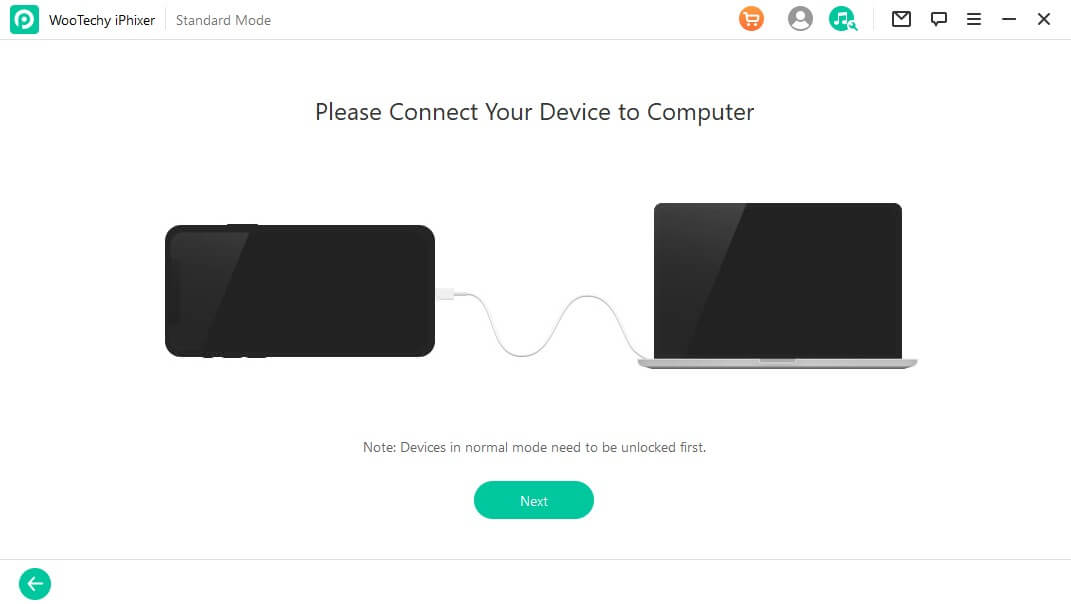 Note: In case, if your device isn't detected, you'll be asked to put your device into DFU/Recovery mode using the onscreen instructions and then proceed to the next step.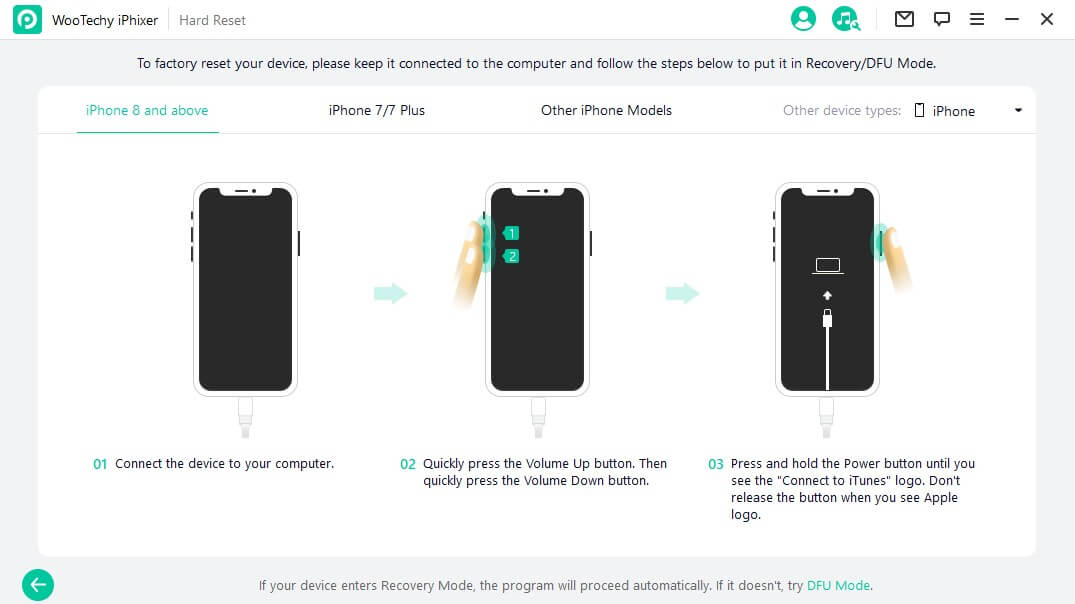 Step 3. Next, the tool will automatically detect the most recent and compatible iOS firmware for your device. You simply need to tap the Download button and wait for the software to download the firmware.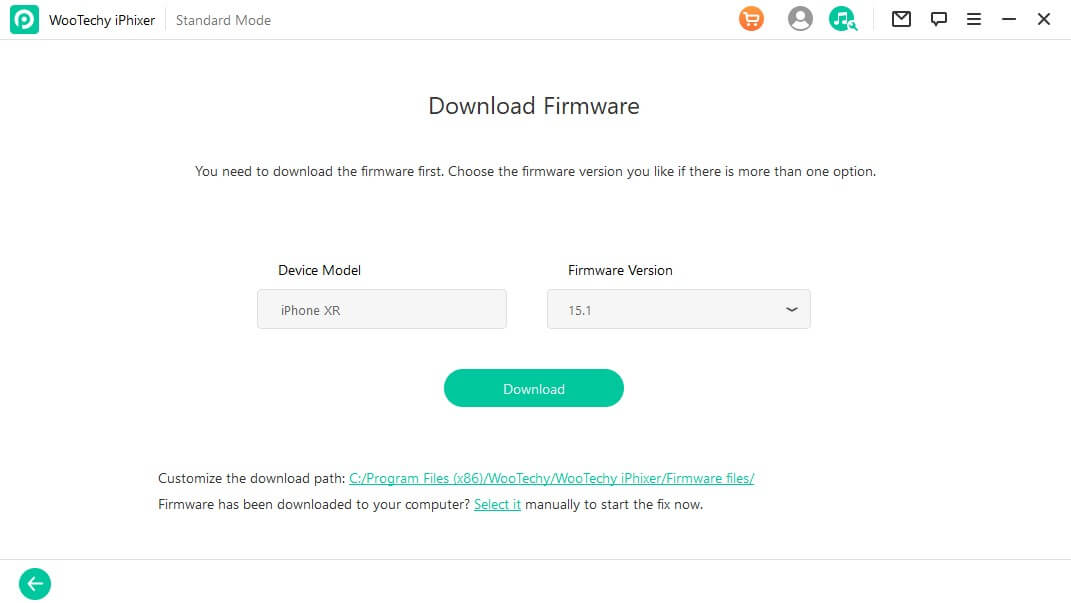 Step 4. Lastly, soon after the download completes, you are required to tap on the Start button to initiate with fixing iPhone keeps crashing issue and all other iOS related problems (if any). That too, without any data loss.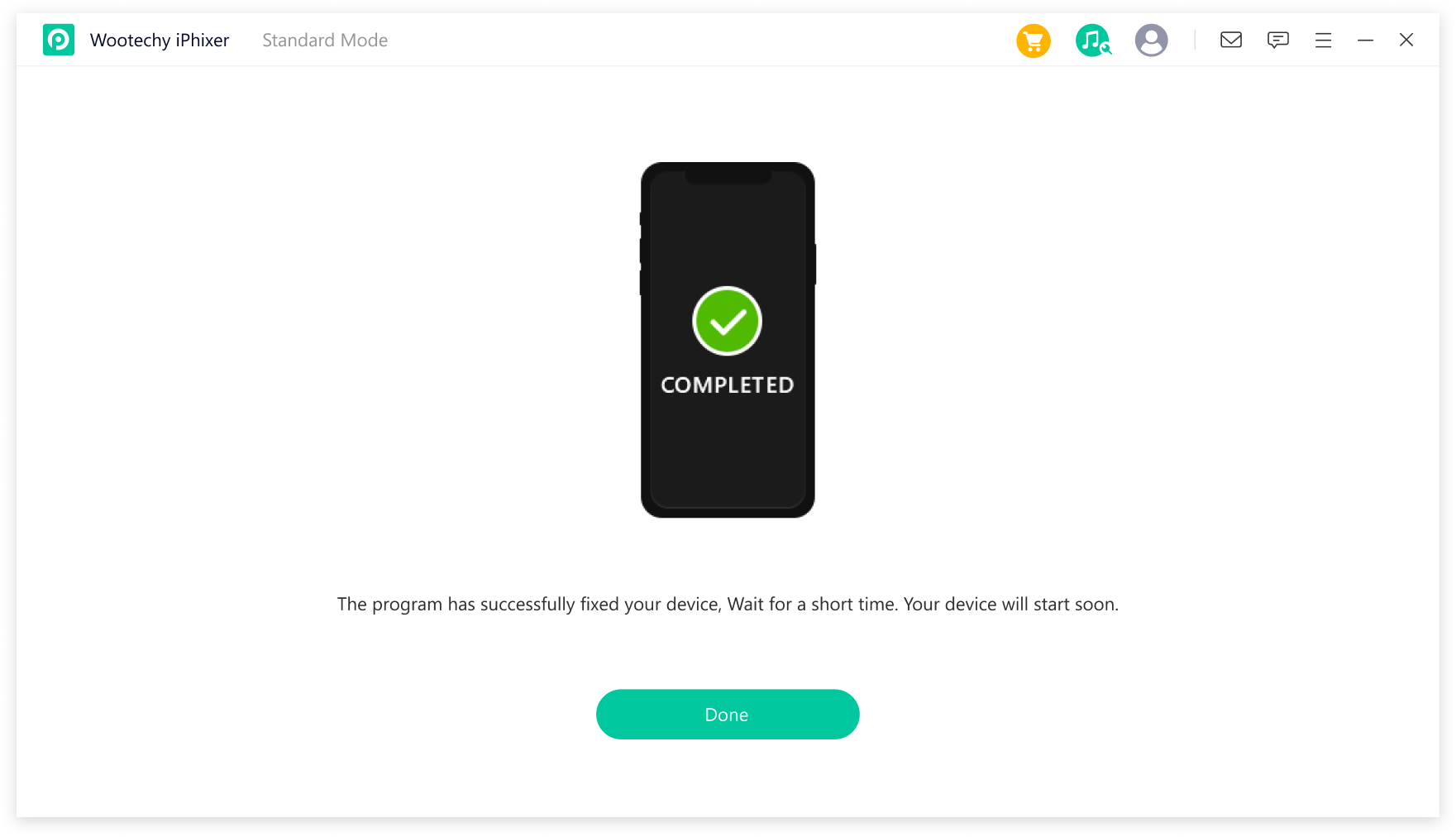 No matter your iPhone crashes after updating to iOS 14/15 or for other reasons, such as jailbreaking or other software glitches, you can try this powerful tool Wootechy iPhixer.
6

Restore iPhone using Recovery Mode (All Data Erased)

Booting your iPhone in Recovery mode and then restoring it back to the factory state is often the most effective way to resolve all iOS related issue. But this will wipe off all your personal and important data that you may have over your device. Here's what you need to do.

Phase 1: Boot into Recovery Mode

Turn off your device and then connect your iPhone to your PC. Now, launch iTunes and perform the steps below depending up on your iPhone variant.
For iPhone 6 variants and older: Push down "Home" and "Power" buttons till "Connect to iTunes" flashes on screen.

For iPhone 7/7 Plus variants: Push down "Volume Down" and "Power" buttons till "Connect to iTunes" flashes on screen.

For iPhone 8/8 Plus/X/XR/XS/XS Max variants: Hit the "Volume Up" then "Volume Down" and then push down the "Power" key until the "Connect to iTunes" flashes over the screen.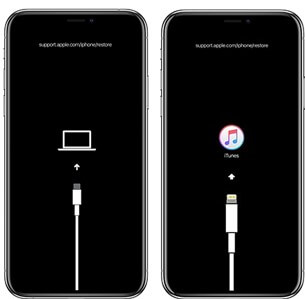 Phase 2: Restore
Once your device is detected, you'll get to see "iTunes has detected iPhone in Recovery Mode" message. Hit on OK followed by Restore and then confirm your actions.

7

Check the Hardware at Apple Store

By far, we have tried every possible way to fix iOS firmware related issues but if that brings you no good, it is rather a hardware issue for sure. We would recommend you to book an appointment with the neared Apple Store, walk up to it and seek help of an Apple technician to get this hardware issue resolved ASAP.
Conclusion
Here, your iPhone won't keep crashing now. If you find the 6 ways discussed in this article are useful, don't hesitate to share them with other people who have the same trouble. Finally, you are free to contact us if you have any questions.