What if your iPhone is stuck on charging screen, even after you unplugged your USB cord or finished charging your phone? This problem can happen from time to time.
Usually, the iPhone will go back to your home screen five to ten minutes after the charging screen pops up and your phone has started charging. But if your iPhone is stuck on the battery screen, we can help you fix your phone here.
Part 1. Top 10 Ways to Fix iPhone Stuck on Charging Screen
An iPhone stuck on charging screen is not difficult to fix. This part of our guide will go over how you can fix your iPhone fast and simply with 10 of our best solutions.
1

Check the USB Cable

Try checking your USB cable first. If the USB cord is not properly connected to your device this could keep your iPhone stuck on the charging screen.

Your phone needs to be charging for it to go off the charging screen. So, look at the USB cord.

Check that the cord is plugged all the way into your iPhone power brick.

If the cord is plugged in right, make sure that your charger is fully plugged into the wall.

You can also check your USB cord for any damage at this time. If you see damage use a different cord.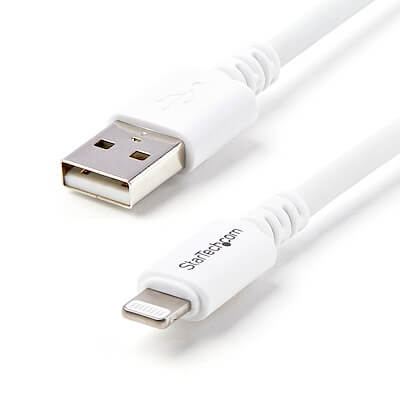 2

Slightly Heat Your iPhone

This might be an unconventional method. Sometimes too low temperature on your iPhone can make iPhone stuck on red battery screen, so heating up your iPhone can help reboot your battery and get your phone working.

We recommend getting a hairdryer out.

Then place your unplugged phone screen down.

Plug in your hair dryer and turn it on. Then aim it at the back of your iPhone.

Keep the hair dryer a good 10 to twelve inches away from your phone.

Blow hot air on your phone for thirty seconds to a minute. Afterward, you can plug your phone back in and see if it will return to your home screen normally.
3

Connect Your iPhone to Computer

Connecting your Apple device to a computer can get your iPhone out of the battery screen it's stuck on.

Get your USB cord and plug it into your iPhone.

Connect your iPhone to the computer with the USB cord and let your devices sync up.

Keep your phone plugged into your computer. Your iPhone should go back to its normal home screen after it's charged up enough.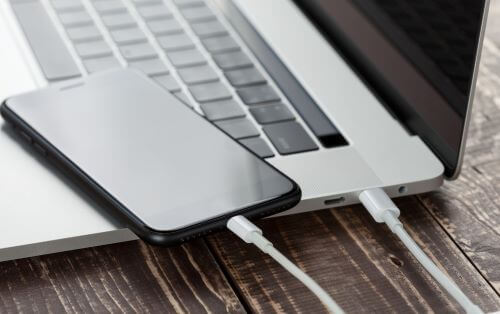 4

Force Restart iPhone

If the above easy operation doesn't bring your iPhone back to normal, force restarting iPhone is another effective way to get your device out of the battery screen.

For iPhone 8/X/11/12/13: First press and release the Volume Up button and then the Volume Down button. Do this as quickly as you can. Then hold down the Side button only for 30 seconds. Release the button when an Apple logo pops up and your iPhone will restart.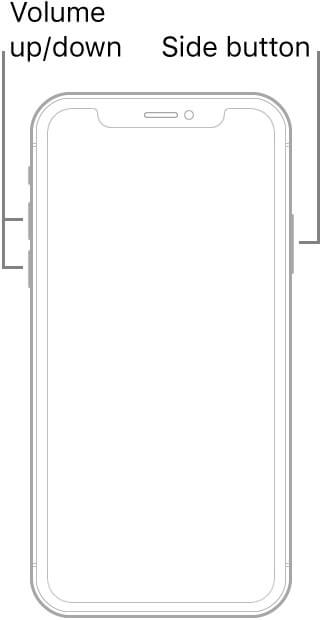 For iPhone 7 and 7 Plus: Press the Volume Down button and Side button together. Hold the buttons down till the Apple logo appears. Let your iPhone restart.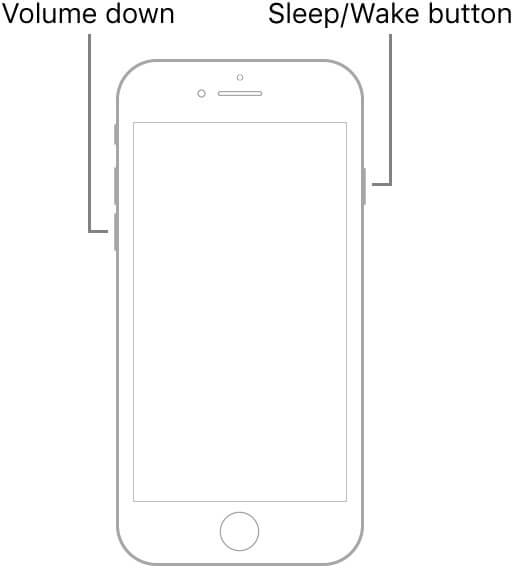 For iPhone 6s and older iPhones: press and hold the Home and Power buttons till the Apple logo is shown, then wait your iPhone restarts.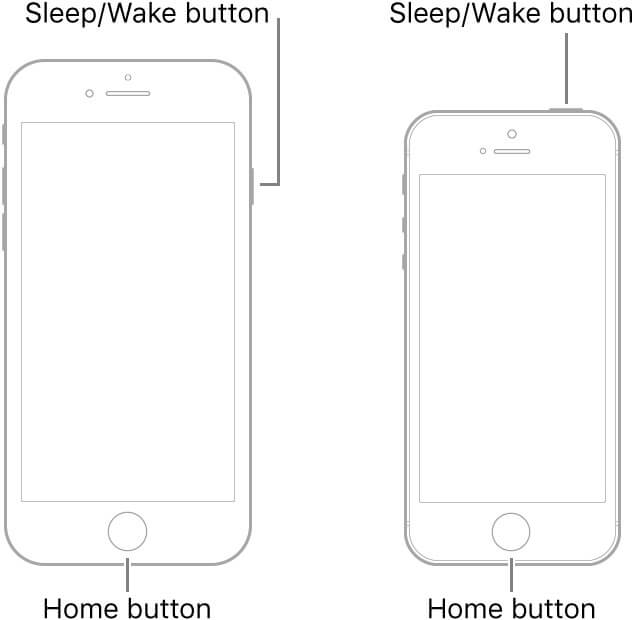 5

Drain Out iPhone Battery

If your iPhone is stuck on low battery screen, just let the batter die down and then recharge it. This will help the flowing of ions moving in the battery.

Unplug your phone from the charger.

Leave your phone unplugged and untouched for at least an hour.

When the screen goes completely black, try charging your phone again.
6

Force Restart iPhone in Recovery Mode

Force restarting your iPhone from recovery mode is another option you can try out if the charging screen won't go away.

Plug your iPhone into your computer and open up the latest iTunes.

When your iPhone is connected to iTunes, follow the steps of force restarting iPhone based on the models you use.

Note

Remember to keep pressing the button at the last step until the recovery mode screen appears.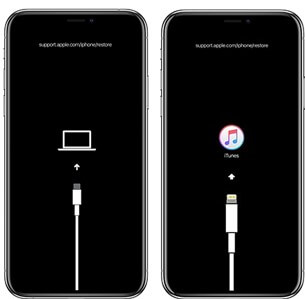 iTunes will recognize that your phone is in recovery mode. A prompt will pop up, don't restore your phone just force restart it.
7

Power On iPhone in DFU Mode

DFU mode is a useful way to get your phone out of the charging screen. This method will break the charging cycle and help return your phone to its home screen.

For iPhone 8 and later:

Connect your iPhone to your computer and open up the latest iTunes.

Press and release the Volume Up button and the Volume Down button respectively, then hold the Side button until the screen is black. At the same time hold the Volume Down button for 5 seconds.

Let go of your Side button, but hold the Volume Down button for another 5 seconds. DFU mode should appear and your screen will be on but black.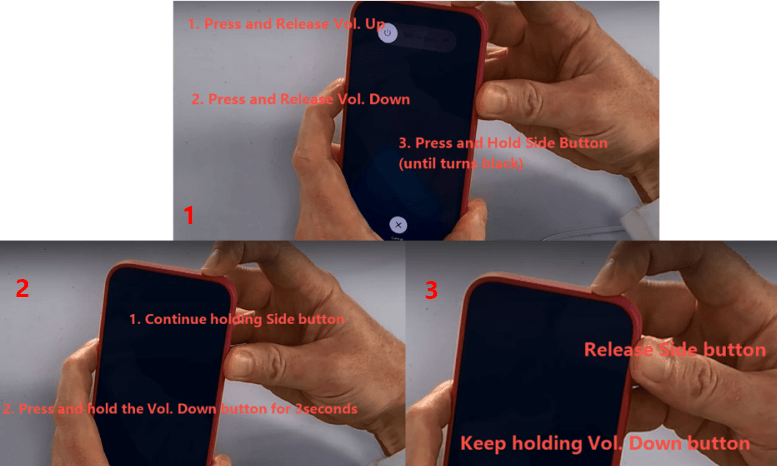 For iPhone 7 and 6:
Also connect your phone to your computer and keep iTunes up.
Press the Power button and the Home button (iPhone 6) or the Volume Down button (iPhone 7) together. Keep both buttons pressed for 10 seconds. Let go of the Power button but keep holding another button for another 5 seconds.
After your iPhone is in the DFU mode, connect it to the charging adapter with a certificated cable and wait it restarts.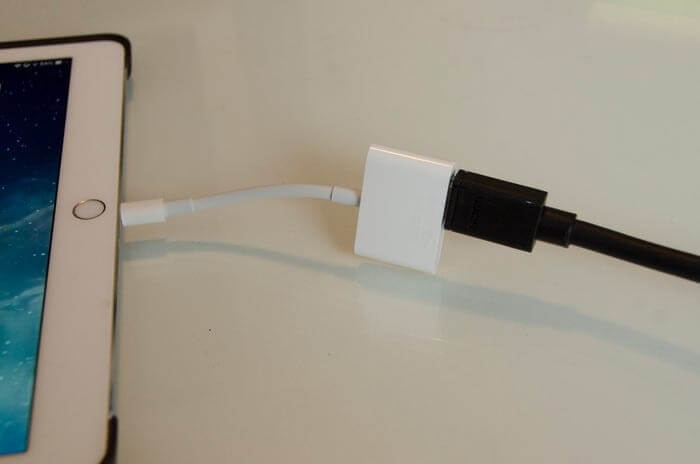 8

Get iPhone Out of Charging Screen Without Data Loss

If you want to fix your iPhone stuck on charging screen in the simplest way, use our WooTechy iPhixer software. It has the 100% success rate in dealing with all iPhone stuck problems such as stuck on recovery mode, stuck on Apple logo and stuck in boot loop. Moreover, it is professionally developed to repair iPhone and has been trusted by many users.
75.000.000+
Downloads
Help to get out of the charging screen and bring your iPhone back to normal with a fast speed.

Compared with other methods, using iPhixer has a higher success rate and your data won't be removed.

Works for all iPhone models and iOS versions including the latest iOS 15.

Has other functions, for example, resetting your iPhone with/without password and entering/exiting recovery mode in one click.
Download iPhixer to your computer first. Open up the program and plug in your device with a USB cord.
Select the Standard Mode to deal with your iPhone stuck on charging screen issue without data loss.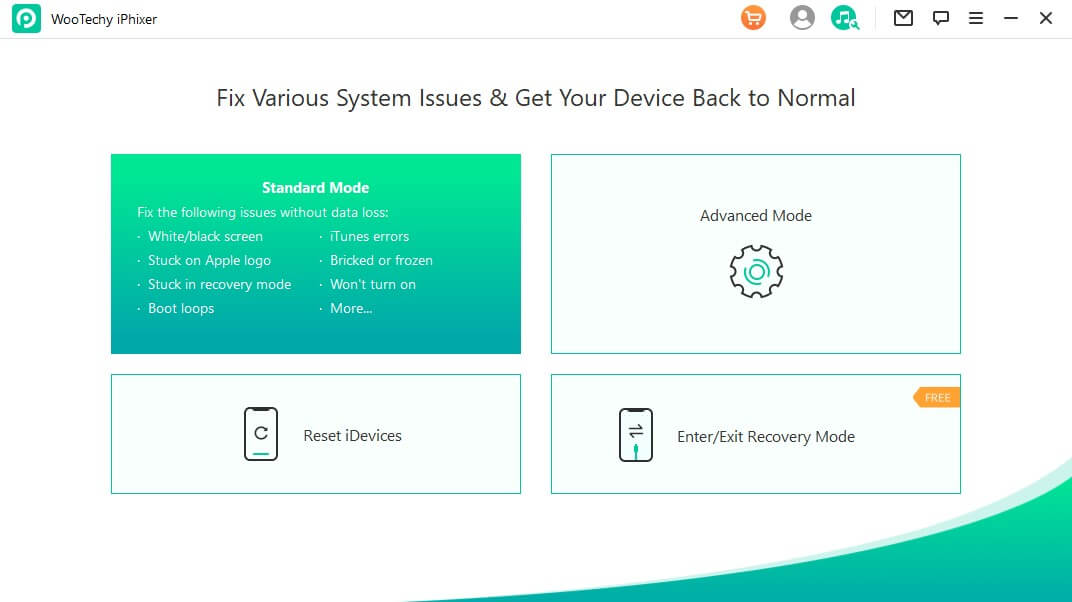 Follow the instructions on your screen and enter DFU mode or Recovery mode so that the program can recognize your device.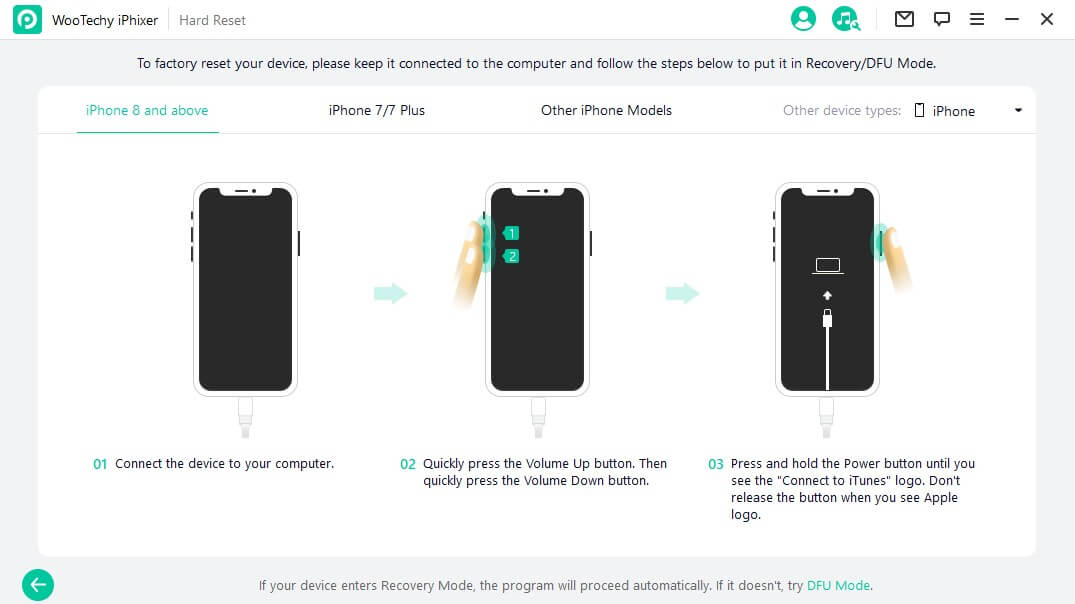 Download the repair firmware from iPhixer through clicking the Download button.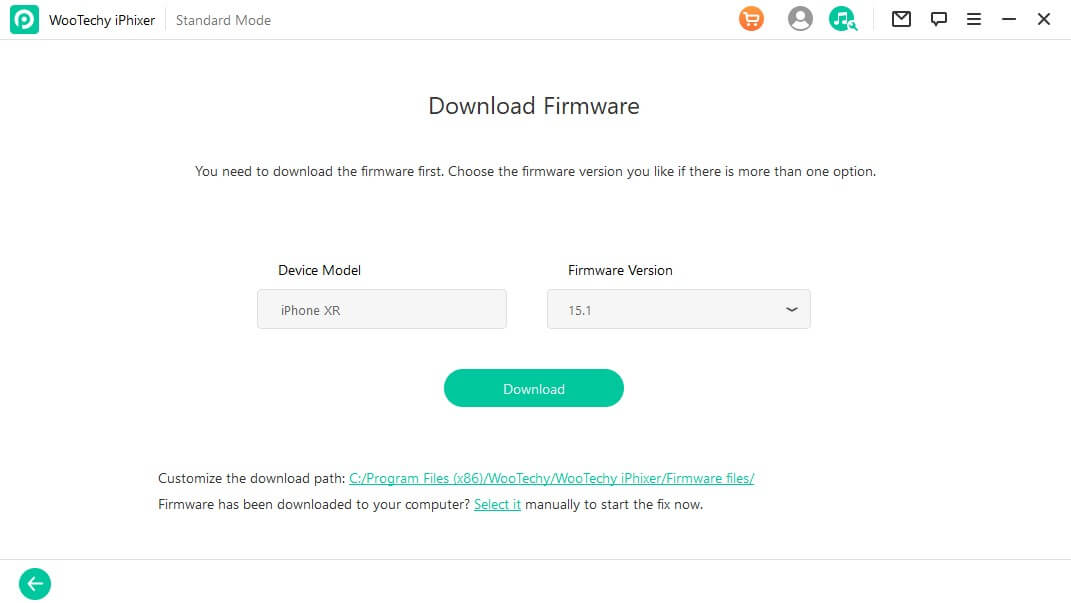 Tap on the Start button and let out software do all the work for you.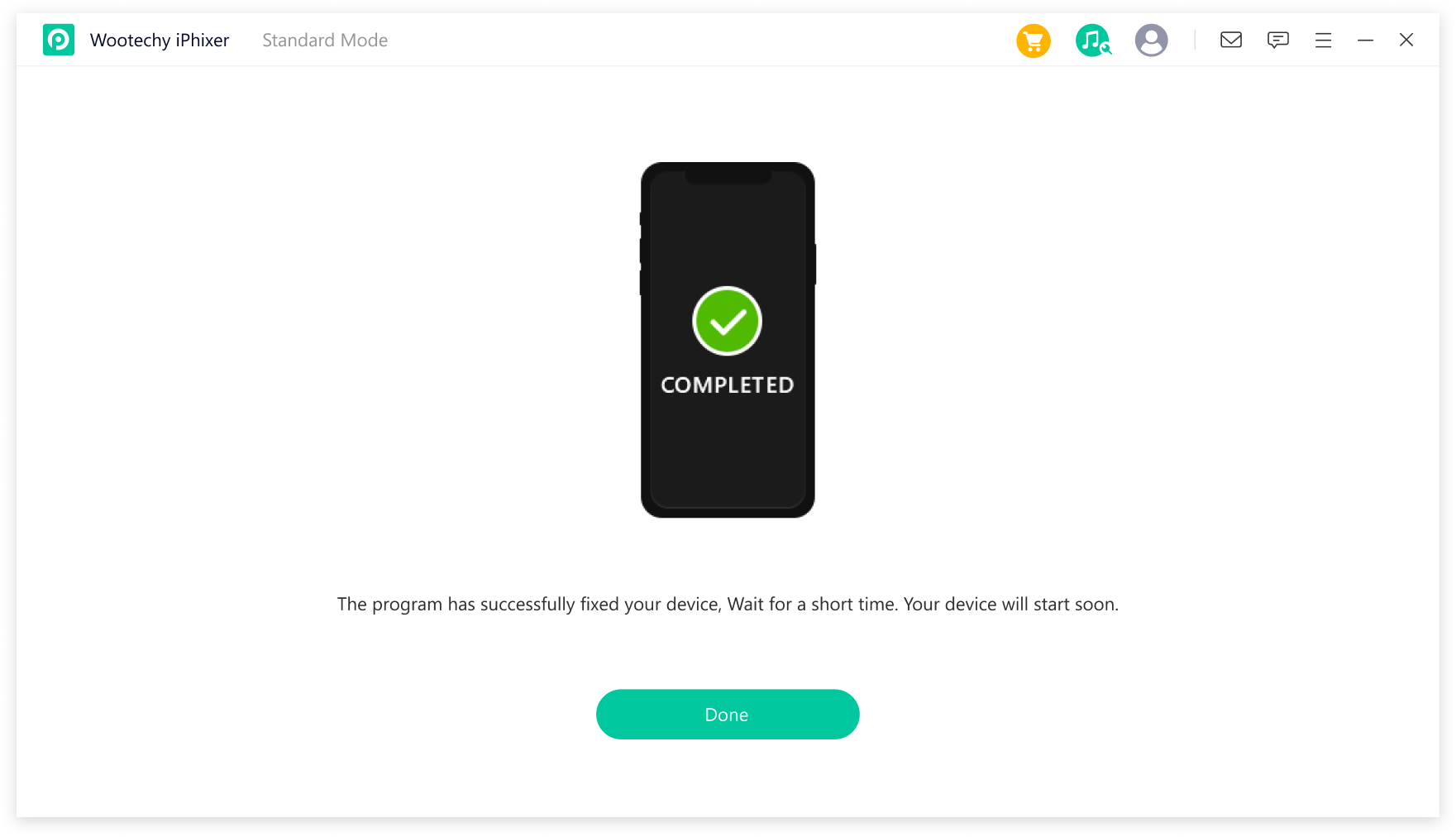 9

Restore iPhone with iTunes (Data Loss)

You can also restore your iPhone which is stuck on the charging screen through iTunes, but you will lose data with this method. If you have backed them up or don't mind the data loss, then do as below.

Open up your iTunes program on your computer. Plug in your iPhone with a certificated USB cord.

You can choose to follow the above steps of recovery mode or DFU mode to let iTunes restore your iPhone to factory settings.

If you set your iPhone in recovery mode, click Restore option. While your iPhone is set in the DFU mode, click OK and Restore iPhone options.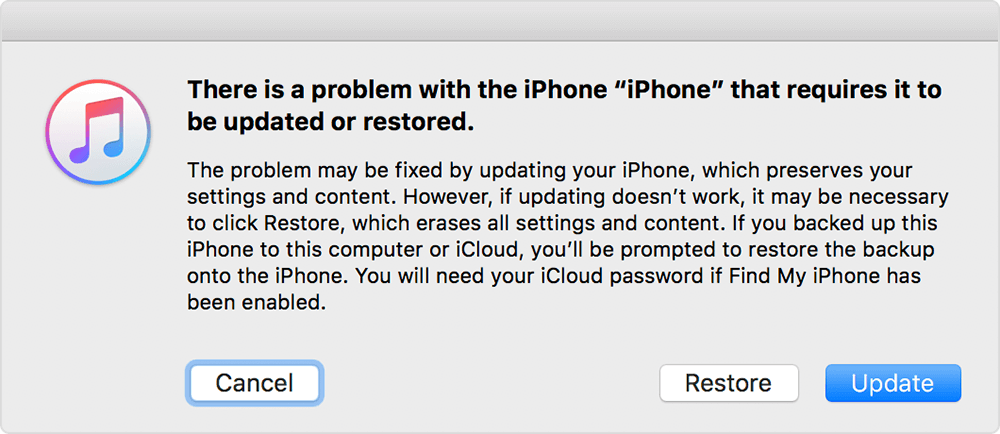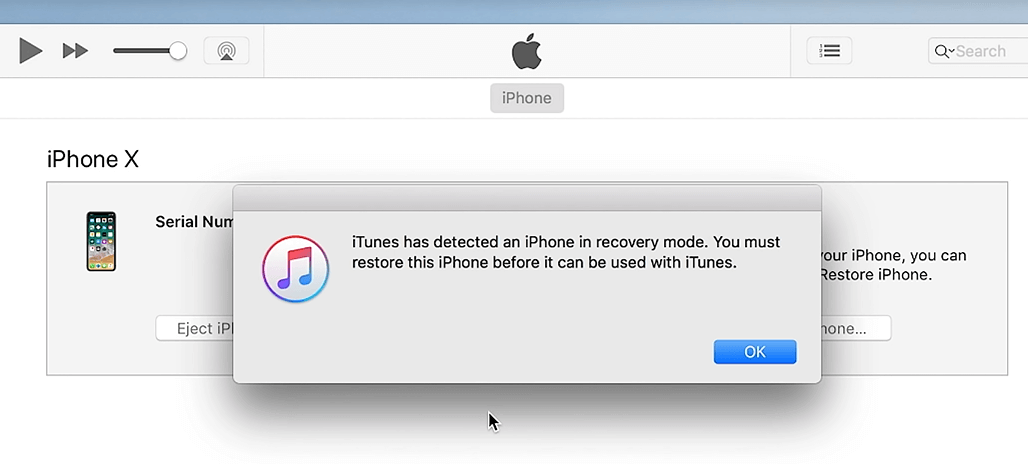 10

Replace iPhone Battery

If none of the other solutions have worked for your phone, then it might be time to replace your iPhone battery. This is only a last resort option, but if your phone won't respond, your battery could be damaged.

Contact apple support and see if your iPhone battery is still under warranty. If it is under warranty Apple will replace your battery free of charge. Otherwise, we recommend letting a professional replace your batter for you. Look up local repair shops in your area. It's best to find an iPhone repair place that is officially approved by Apple Care. Send in your phone for repair and get your battery replaced.
Conclusion
An iPhone stuck on the charging screen is not something that you want to deal with. But, we went over some great ways to fix this problem for you here. You can repair your iPhone stuck on charging screen right away with the help of WooTechy iPhixer iPhone repair software!