When you own an iOS device, you must be prepared for any issue you might encounter. The iPhone stuck on silent mode is one of the most common problems that you will come across. Fortunately, there are ways to fix this issue and get your mobile phone in excellent working condition.
In this article, we will go through the 6 most effective methods that you can try when silent button on iPhone stuck.
Part 1. Why Is My iPhone Stuck on Silent?
Before we explain what to do when the iOS phone stuck in silent mode, it is important to understand why this issue appears. The truth is that various factors in the hardware and the software can cause the appearance of this problem.
When it comes to the hardware, the iPhone stuck on silent issue might appear if the ringer slider got damaged or stuck. In this case, you won't be able to turn off the silent mode on your mobile since the slider will prevent it.
On the other hand, an iPhone that remains in silent mode might be because of a software issue. This usually happens when one of the device's files gets corrupted, thus preventing the iOS phone from working properly. Moreover, this common issue might appear when the phone's operating system needs updating. Every new update fixes existing bugs, and for this reason, many problems will be repaired just by installing it.
Another reason why the iPhone stuck on silent mode issue appears is that a third-party app gets in the way. In this case, removing any newly-installed application might solve the problem.
Part 2. How Do You Fix a Stuck iPhone on Silent Button?
1

Check the Silent Button

If you come across this issue, the first thing that you must try is to check the ringer slider. The silent button is located just above the volume up/down button. Try to toggle it to see whether it is stuck or not. By sliding it to the left, your iPhone will be put in general mode. However, if the silent button on iPhone stuck and you are unable to move it, then you are facing a hardware issue.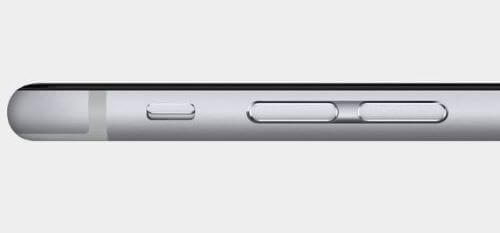 2

Restart Your iPhone

When you have determined that it's not a hardware issue, then you can try restarting your device. This method can be very effective in a variety of iPhone issues since it forces the operating system to reboot and closes any apps that might be working in the background. This way, you will eliminate the apps and files that prevent the phone's system from working correctly.

To restart iPhone X/11/12/13/14, press and hold the Volume Down button and the Side button until the power-off slider shows up, then slide it to turn your device off. Turn iPhone on again by pressing the Side button again.

To restart other iPhones, press and hold the Power button until the the power-off slider appears, then slide it to power your device off. Power your iPhone on again by pressing the same button again.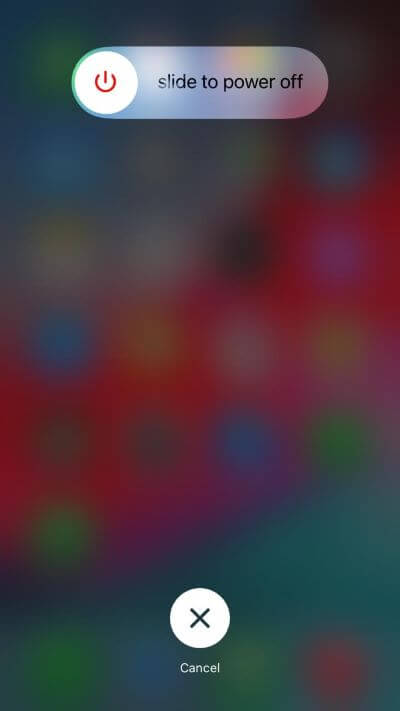 3

Force Restart iPhone

If the iPhone stuck on silent issue persists, then you force restart your device. This method will force all apps to shut down, thus eliminating the ones that are causing the problem. However, the process to complete a force restart on an iPhone differs depending on the device. Below, you will find the steps for any iOS phone.

iPhone 6 or earlier model: Press the Home and Power buttons until you see the Apple logo.

iPhone 7 or 7+: Press the Volume Down and Power buttons at the same time until the Apple logo becomes visible.

iPhone 8 or later model: Quickly press and release the Volume Up and the Volume Down buttons one after the other. Press the Power button until you can see the Apple logo.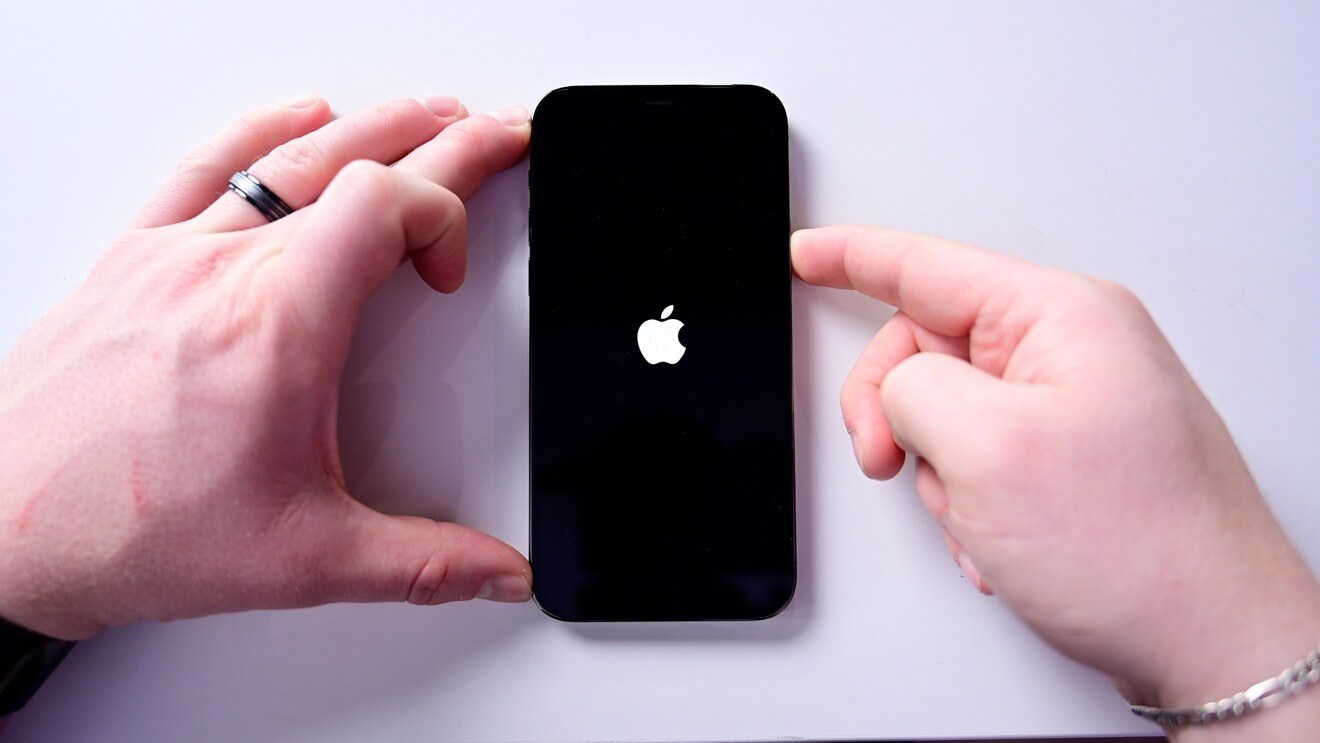 4

Get iPhone Out of Silent Mode with iOS System Repair Software

Another method to fix the iPhone stuck on silent mode issue is to use professional iOS system recovery software like WooTechy iPhixer. This advanced repair tool works perfectly for all of your iOS devices, such as iPhone, iPad, iPod touch and Apple TV. The tool has been specifically designed to repair every iPhone issue you might encounter with a high success rate and no data loss.

In addition to this, WooTechy iPhixer solves any issue and bug on your iOS devices and is a very user-friendly tool that allows everyone to complete the task without feeling frustrated or confused. The solution to the most common iPhone issues is only a few clicks away. For this reason, it is essential for all iOS users.
iPhixer – Unstuck iPhone Easily
75.000.000+
Downloads
Fix all iPhone stuck issues such as iPhone stuck in silent mode, stuck in guided access, stuck on hello/Apple logo screen and more without any data loss.

Support all iPhone models and compatible with all iOS versions including the latest iOS 16.

Better than using iTunes to restore your iPhone, you can use iPhixer to bring your device back to normal with several clicks while not causing any other unknown iTunes errors.

Also offers you additional services that will help you reset your device and freely enter/exit recovery mode in 1 click.
Below, you will find a step-by-step guide for using WooTechy iPhixer when phone stuck in silent mode:
Download WooTechy iPhixer and launch it on your computer. On the main screen, you will find all the available options. To fix the iOS issues, you have to select either the Standard or the Advanced Mode. Standard Mode will be able to repair your device from the most common issues without any data loss.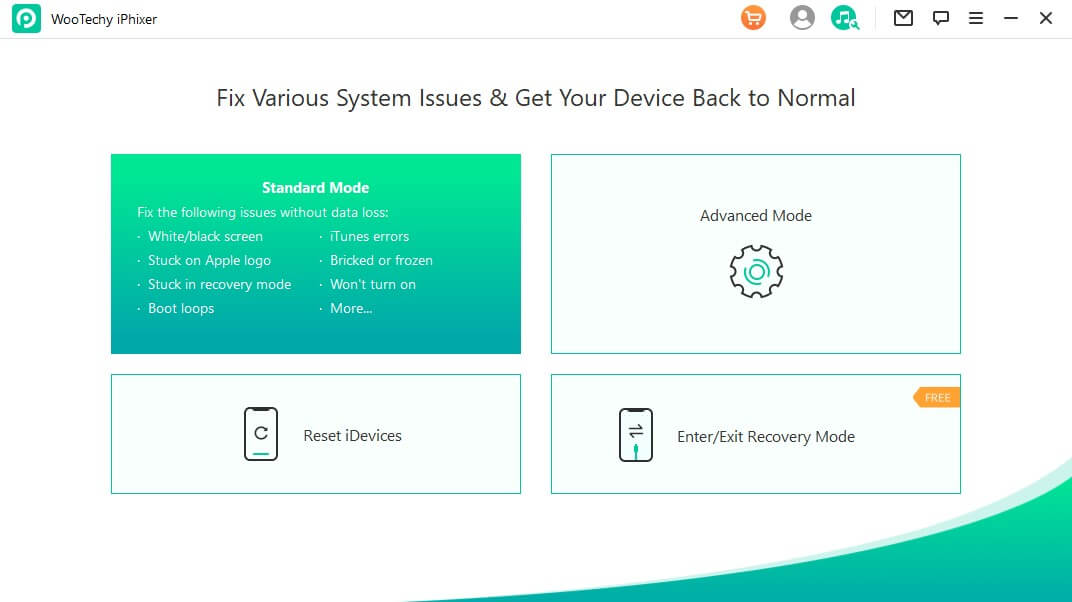 Select Standard Mode and then click Next to begin the process. Unlock your iOS device and connect it to your computer. iPhixer will automatically detect it. In not, you will see detailed instructions to put your device in recovery or DFU mode.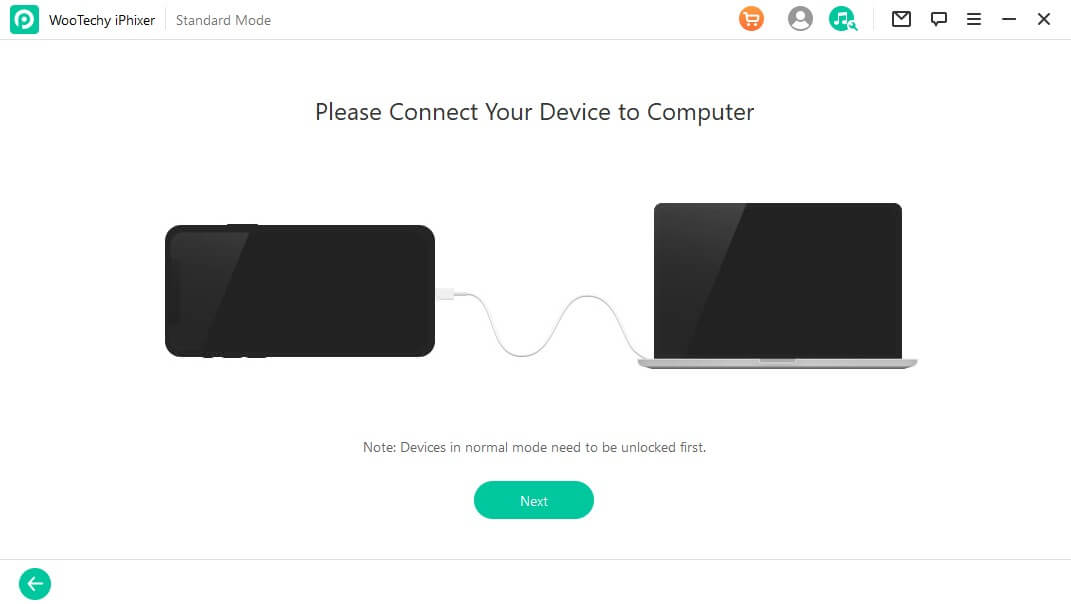 Then, you must select and download the appropriate firmware for your iPhone. The tool will automatically suggest which package is the best for your device. Click the Download button.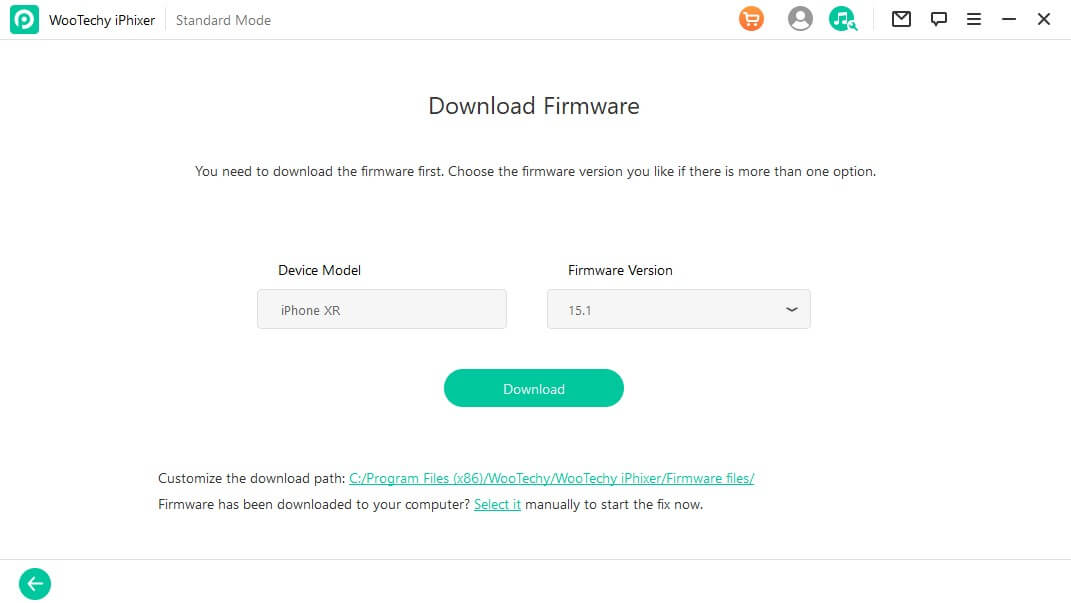 After the firmware has been downloaded and extracted, click the Start button to allow WooTechy iPhixer to repair your iPhone. When the process is completed, your iPhone will reboot automatically without getting stuck in the silent mode.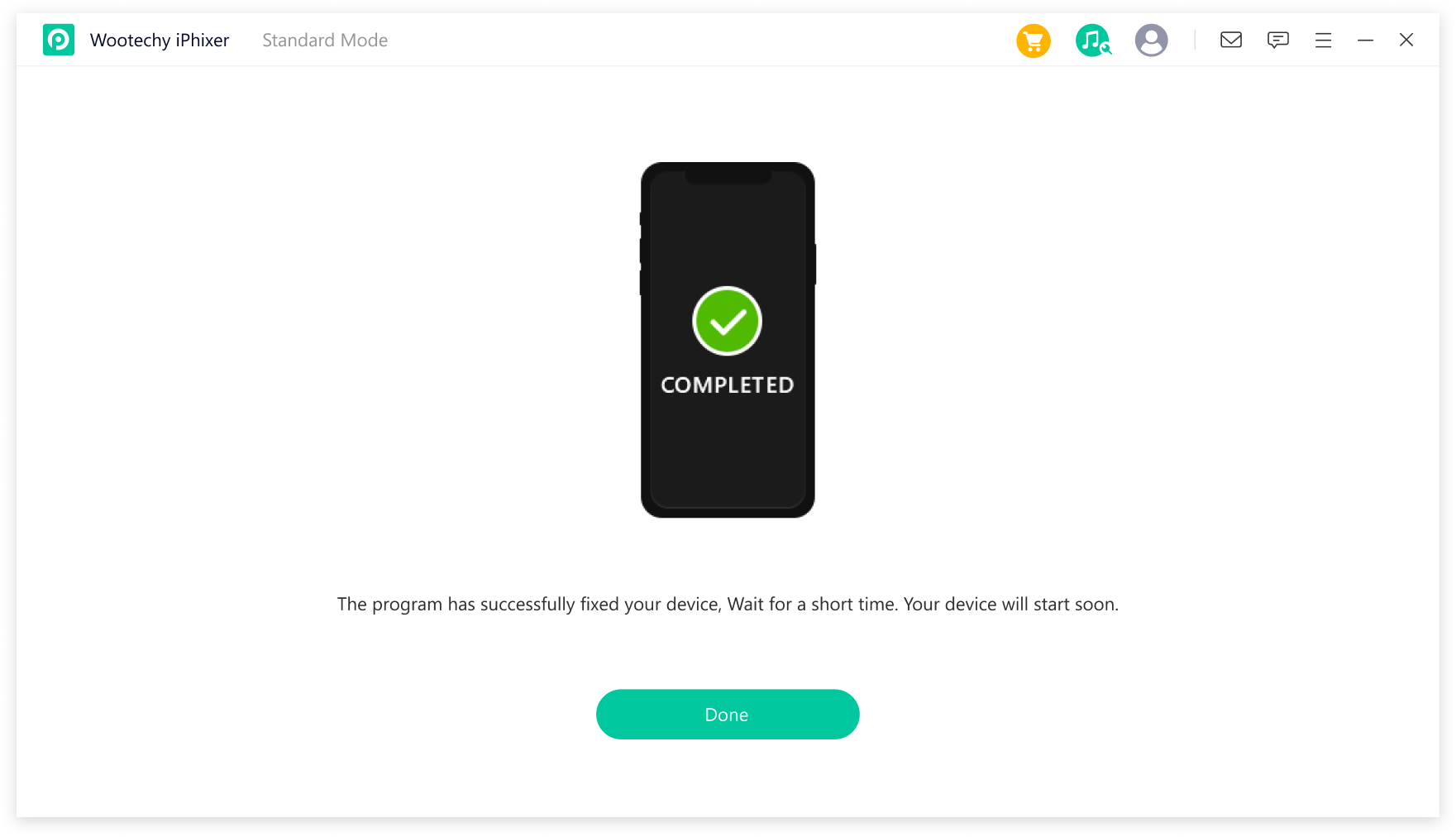 5

Restore iPhone to Factory Settings

One more method to try when you encounter the iPhone stuck on silent issue is to restore your device to its factory settings. This method can be very effective as it will remove every file and app you have installed on your device. As you may understand, restoring your device through iTunes/Finder will lead to data loss, and for this reason, you need to back up your data.

You can restore your iPhone to its factory setting by following these steps:

Plug your iPhone into your computer via a USB cable. Launch iTunes or Finder.

Use the same steps of force restarting iPhones based on the model you have to enter recovery mode. Please note that keep pressing the last button until the recovery mode screen appears.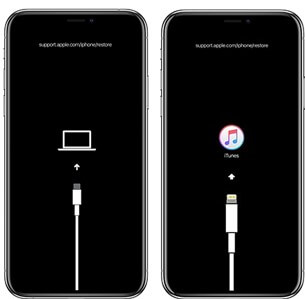 From the popup window, select the Restore option.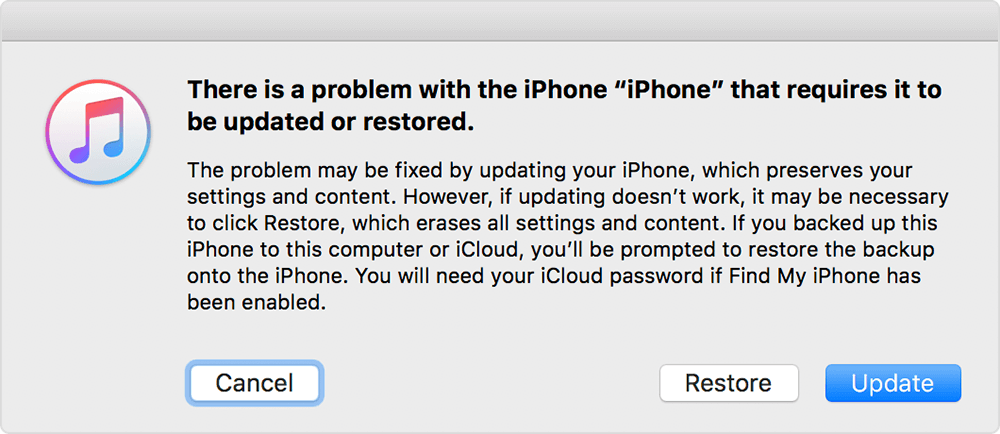 6

Use AssistiveTouch

Your iPhone has a feature called AssistiveTouch that will create an on-screen button that you can use instead of the button on your phone. Therefore, you can try this feature when the silent button on iPhone stuck.

The steps for using this method are the following:

Go to Settings > Accessibility > Touch > AssistiveTouch.

Toggle the switch to enable AssistiveTouch.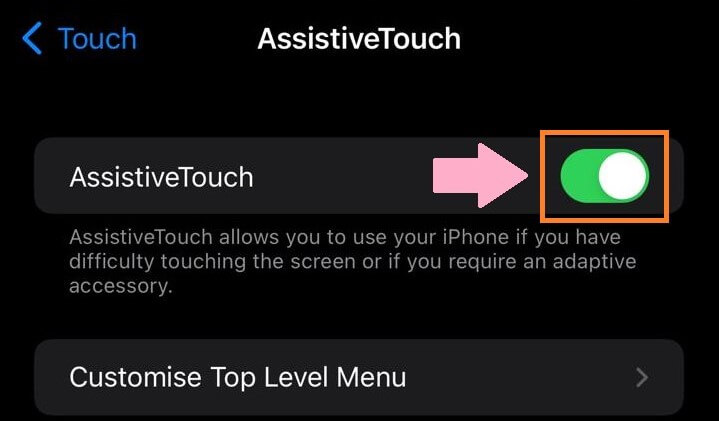 You will now see a white circle on your home screen. Tap on it to view the AssistiveTouch menu.
Tap the Unmute button.
The Bottom Line
Even though the iPhone stuck on silent mode issue is inconvenient, there are effective methods to solve it. All of the above solutions will work on your device and unmute your iPhone. From all of these, WooTechy iPhixer is the best option since it will fix the issue no matter what and with no data loss. Download the app to gain a useful tool for all sorts of iPhone problems.