Excessive vibrations coming from your phone can be annoying to some and downright scary to others. If your iPhone vibrates for no reason, there can be one of the few reasons behind it. You can only fix this issue if you have accurate information on the causes behind it. This article gives you a detailed overview of the reasons and fixes. Let's get started.
All Scenarios for "iPhone Vibrates for No Reason" and Fixes
Here are some of the reasons your iPhone vibrates for no reason.
iPhone iOS allows you to customize the vibration settings, so there's a chance you changed the settings. Maybe you have selected a vibration setting that keeps vibrating your phone when there's an unread notification.
Why does my iPhone vibrate for no reason?
If you have a habit of trying out new apps on your iPhone, it could be the reason you've installed an app that changed the vibration settings.

Did your phone make contact with a wet surface or drop in water? If so, then vibration for no reason is a common problem.

Your iPhone might make a buzzing sound because it's connected to a faulty charger or lightning cable that keeps breaking the connection.
Let's give you a few fixes for each probable cause.
1

iPhone Keeps Vibrating Due to Faulty Apps or Settings

The problem could be caused by an app or a setting on your phone, so you need to figure out which one is causing your iPhone to vibrate and buzz.
Turn Vibration off
If your iPhone keeps vibrating for no apparent reason (or for an apparent reason, like receiving a text message), try turning off vibration and see if that fixes the problem.
To turn vibration off, follow the below steps:
Open the Settings app on your iPhone and go to the Sounds menu.
From the Sounds menu, you can see the Vibrate section. To turn off the vibration on both silent and ring mode, press the toggle switch against both options if they're green.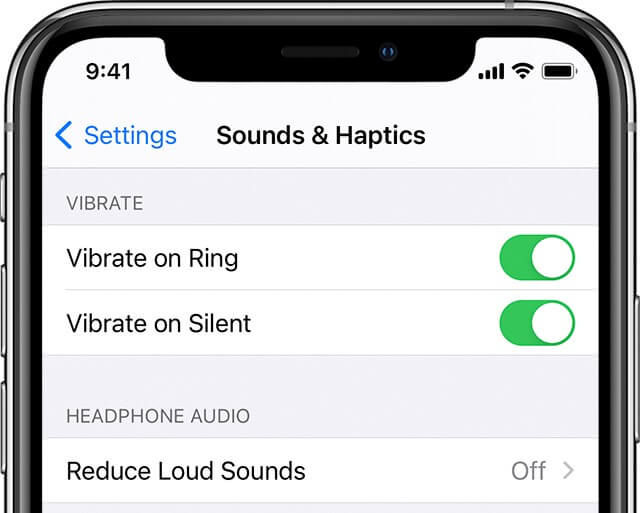 Another way to completely turn vibration off is through these steps:
Open the Settings app on your iPhone and go to the General menu.
Now, open the Accessibility menu and find the Touch and Vibration options.
Open the Vibration menu and press the toggle switch off to disable all of the vibrations on your iPhone.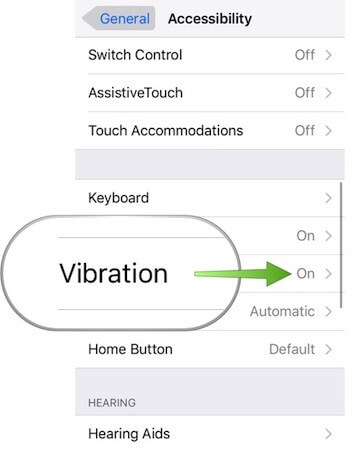 Remove All Running Apps
If your iPhone keeps vibrating for no reason, it might be because one of the apps running in the background is faulty. To stop this from happening, you can simply remove all of your running apps. Follow these steps to do this.
Double-click the Home button or swipe up the main screen to see all open apps.
Swipe upwards on each app card to close them.
When you're done, press the Home button again or tap the main interface to exit Multitasking mode and go back to your home screen.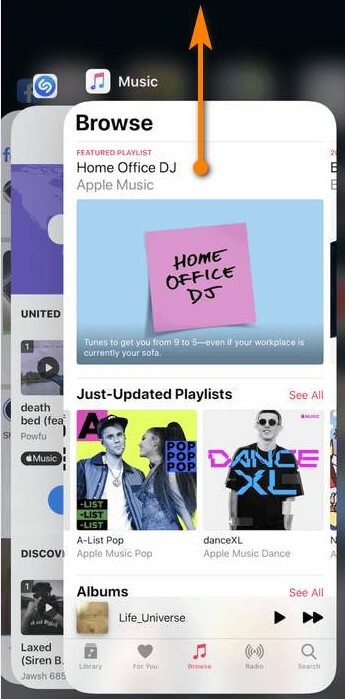 If your iPhone isn't buzzing anymore, then it's evident that one of the apps on your iPhone is faulty.
Check Apps on iPhone
Malicious apps can cause iPhone to vibrate for no reason. If your device is jailbroken, you might have installed a third-party malicious app. This could be the answer to why my iPhone vibrates for no reason. Check your iPhone for suspicious apps and remove them. You'll also want to test any new apps you've downloaded recently and look at how other people are responding to them in the App Store reviews.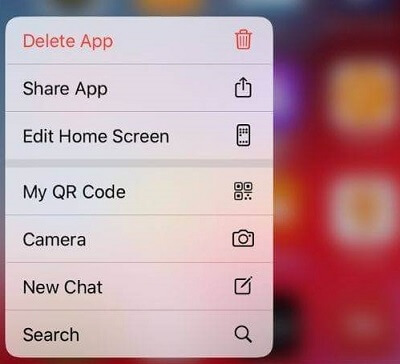 Check Email Sound Setting
Sometimes mail notifications can lead to persistent or intermittent vibration for no reason. In this case, you need to check your email sound setting.
You can disable the mail alerts to solve this issue. Go to Settings > Notification Center > and hit on Mail option. Now open the Mail Accounts and select Alerts. Tap on None to opt-out of mail notification alerts.
Also, go to Settings > Sounds > New Email and set vibration as Default(None).

2

iPhone Keeps Vibrating Because of Software Glitches

Why does my iPhone vibrate for no reason? One of the reasons is software glitches. An iPhone may begin to vibrate because of a software glitch that does not allow you to receive any calls or texts until you restart the phone.

In this case, you can force restart the phone, fix its software using prefessional iOS repair software, or reset all settings.
Force Restart iPhone
If your iPhone vibrates for no reason, force restarting can resolve the issue effectively. Force restart is a safe practice, and it doesn't remove any data from the device. The method differs depending on the model of your iPhone.
Here's how you can force restart your iPhone:
Force restart iPhone 6S or earlier:
Press and hold the Power and the Home button together for 10 seconds, the Apple logo will appear and your iPhone will restart.
Force restart iPhone 7 and 7 Plus:
Press and hold the Power button and the Volume Down button together until your iPhone reboots.
Force restart iPhone 8 or newer:
Quickly press and let go of the Volume Up button, and then the Volume Down button. After that, press and hold the Power button.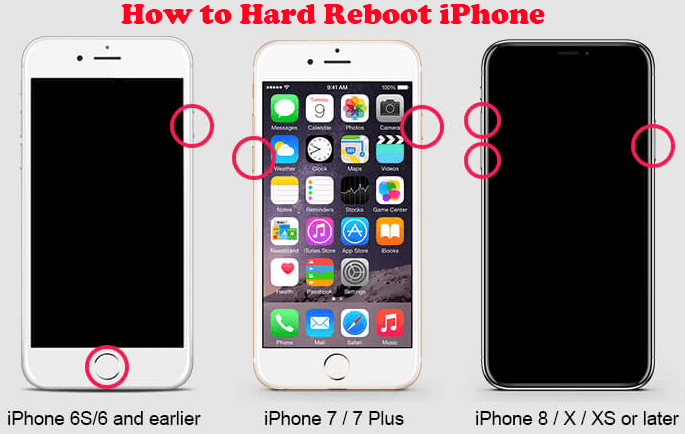 Fix iPhone Software Issues with WooTechy iPhixer
If you seek a comprehensive solution that can do the grunt work and fix the vibration issue, you need WooTechy iPhixer. It lets you fix iPhone software issues more easily than other methods.
Powerful Features of the iPhone Repair Program:
75.000.000+
Downloads
Solve all strange iPhone problems such as "iPhone vibrates for no reason", sound/microphone not working, etc. without any data loss.

Supports all of your iPhones, no matter which version it runs including the latest iOS 15.

Restore your iPhone back to normal with the highest success rate and the fastest speed.

Safe to use, your privacy and personal data will not be invaded.
Easy steps to use WooTechy iPhixer to fix your iPhone buzzing for no reason:
Connect your iPhone and start up iPhixer on a conputer. From the interface, select and open the Standard Mode.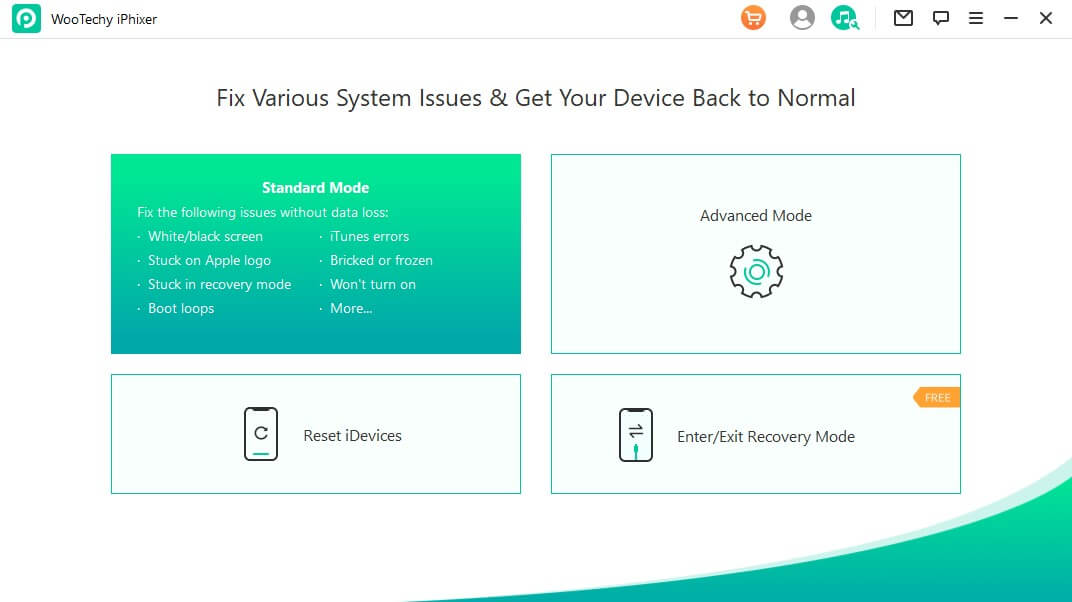 If your device is detected, click Next. Otherwise, follow the on-screen prompts to enter recovery mode to let the software recognizes it.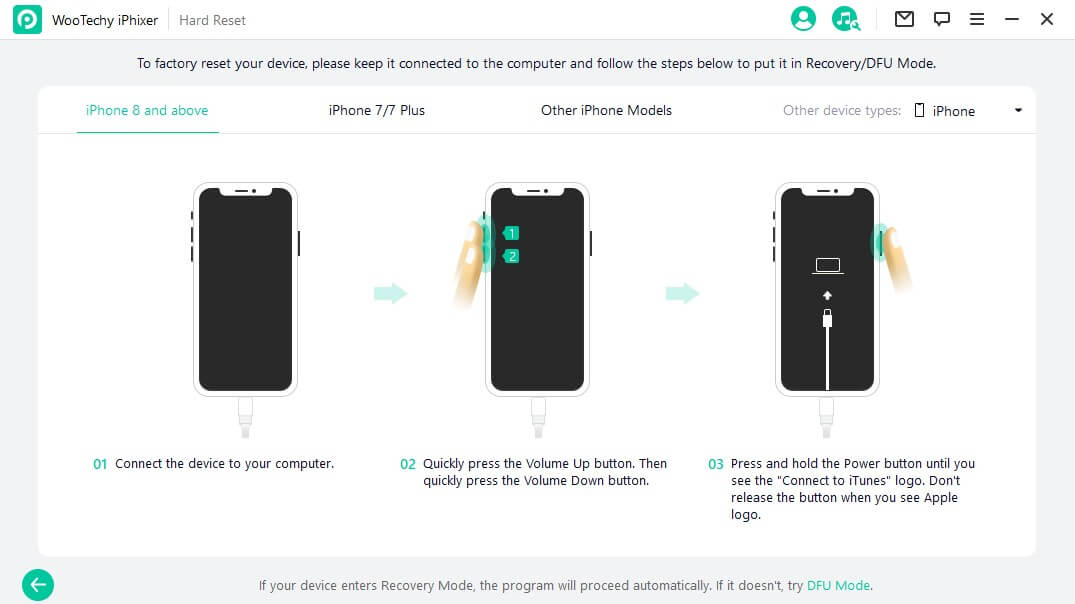 Click Download button to install the working iOS firmware on your iPhone.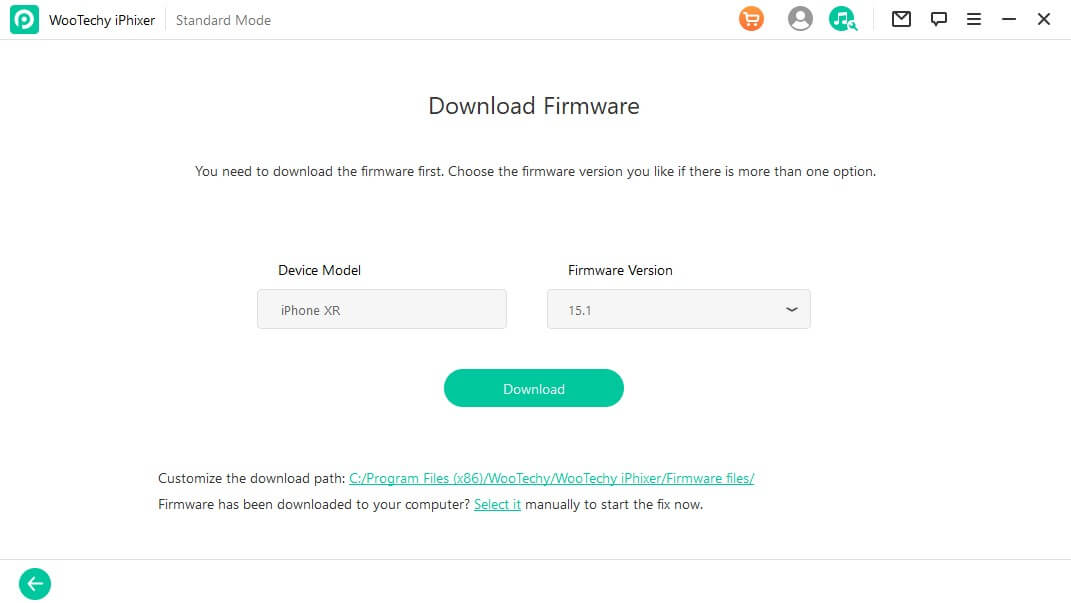 Select Start option to fix iPhone vibrating issue due to software errors successfully.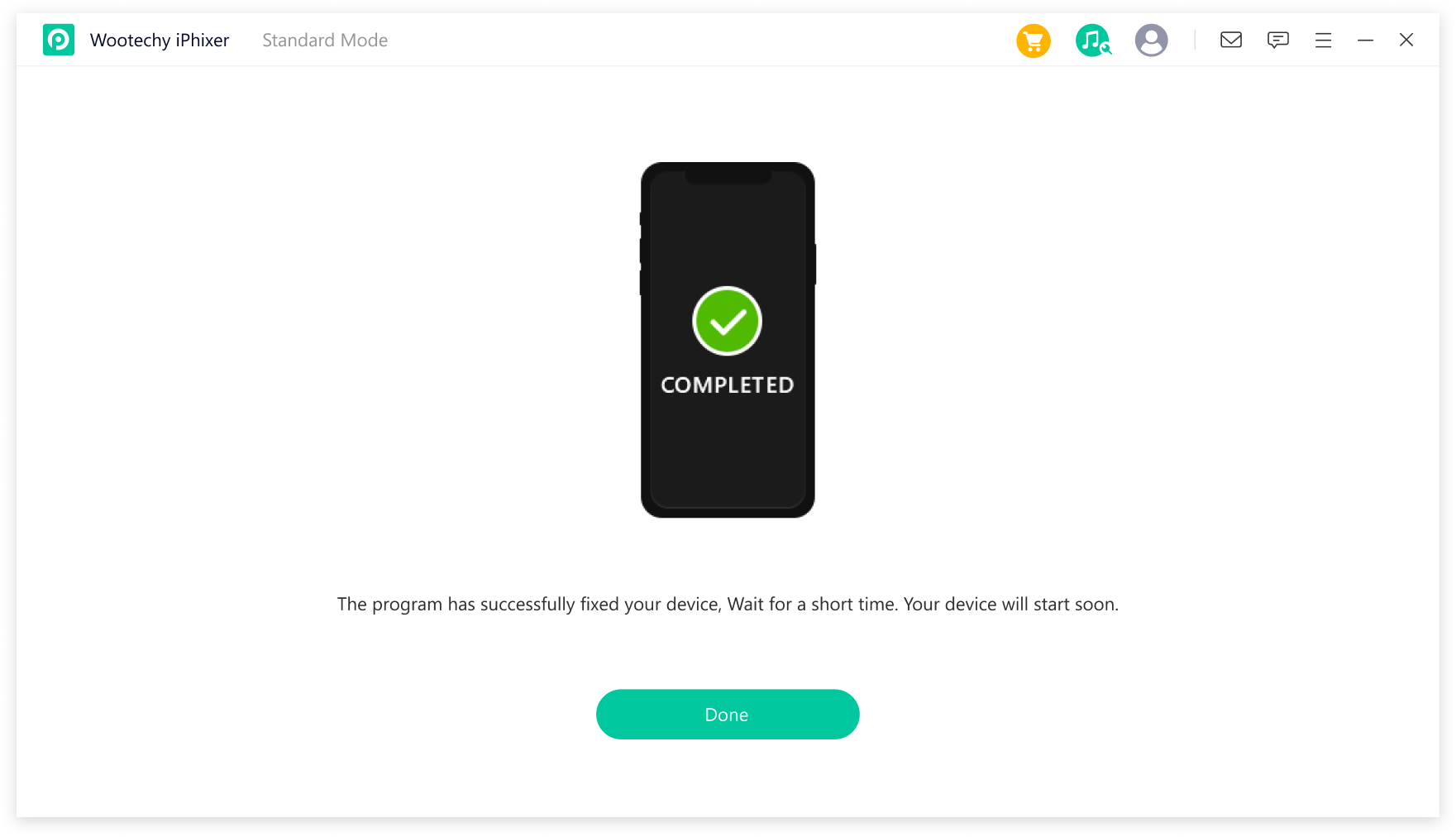 Reset All Settings
If you encounter a situation where your iPhone starts to vibrate for no reason, you can also reset all the settings on your device.
This can be achieved by going to Settings > General > Reset. Once you are in the Reset screen, choose Reset All Settings and confirm the action by providing your pin code.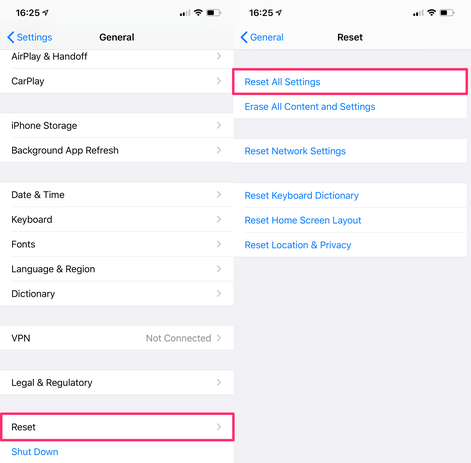 This should reset everything to its default settings. It doesn't delete any data, media, or apps from your iPhone.
3

iPhone Keeps Vibrating When Charging or After Water Damage

Your iPhone might vibrate continuously when connected with a faulty or damaged charger. Water or moisture can damage the circuit in no time. So it's common for iPhone to vibrate or buzz continuously after taking a dip in water or liquid.
Check Cable and Charger
If your phone is connected to a charger and is vibrating, the first thing to check is the charger and cable. Chances are you can't identify the damage if it's inside the charger. You should look for any obvious signs of wear and tear and physical damage.
If possible, use a different charging cable and wall adapter to charge your iPhone. If your iPhone doesn't produce unwanted buzzing anymore, it's evident that the charger or cable was the culprit.
A low-quality lightning cable or adapter might be why your iPhone vibrates for no reason when connected to them. Always use original or high-quality lightning cable and adapter to avoid unwanted buzzing and save battery as well.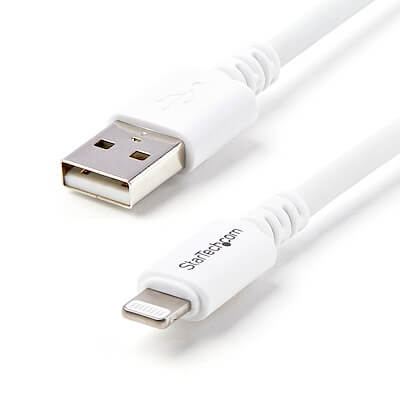 Dry the Wet iPhone
Did your phone take a dip in the water or make contact with a wet surface – and now it vibrates for no reason? You can try out a few ways to dry the wetted phone so it stops vibrating.
The first thing you should do is turn off your iPhone and let it dry completely. Don't turn it on until there's no obvious sign of wetness.
Place the iPhone in a bowl of uncooked rice overnight (for at least 8 hours) to draw out any moisture present in the device.
One of the most effective steps you can take is to visit a professional and authorized technician to help you dry your wet iPhone.
Once your iPhone is completely dry, turn it on, and you'll find it properly working (provided it hasn't sustained any water damage).
Run out iPhone Battery
This can take longer than other methods but it's worth trying. If you've tried all solutions and it still makes a buzzing sound for no reason, let its battery run out. It helps to fix bugs that cause iPhone buzzing for no reason.
Once the battery has drained completely, recharge your phone, and turn it on. Typically, the reboot takes care of the bugs and automatically fixes them to avoid related issues.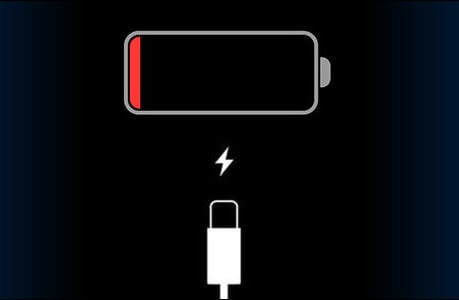 Conclusion
If you own an iPhone and have experienced the phone vibrating when it shouldn't be, I hope this article gives you a deeper understanding of what is happening. Hopefully, the cure for your iPhone buzzing for no reason lies within this list. Regardless, there's something to learn here, and that's never a bad thing.