Safari is a default web browser that comes packaged with Apple devices. It offers a variety of nifty features and can keep your browsing experience safe and secure.  Its ability to track your browsing history makes it easy for you to revisit your favorite sites.
Your browser history is a list of the websites you've visited with dates. If you forget the full address of a website you visited recently, it can come in handy to help auto-complete the address.
However, the question arises on how to check history on Safari? Well, today we'll provide you with a solid answer to that question by showing you a couple of ways for viewing and checking your Safari browser history on your iPhone.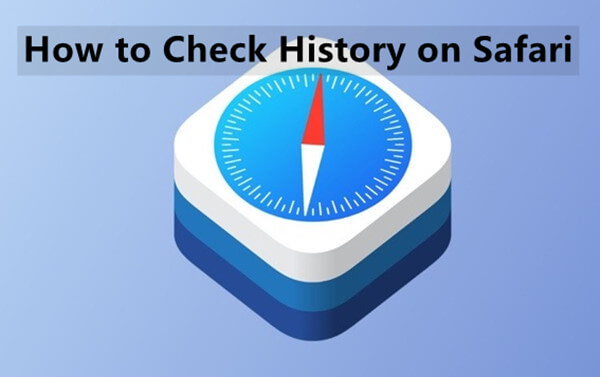 Method 1. How to Search Browsing History in Safari App
If you're looking for the easiest way to find Safari browsing history on your iPhone, just go to the Safari app. You'll find all your browsing history and other useful information. If you use the same Apple ID on other devices, such as your iPad, iPod touch, or Mac, then this record will also contain the browsing history on these devices.
However, Safari only displays the last month of browsing history and older entries will be automatically deleted over time as you continue to search the web.
Here are a few easy instructions for checking your browsing history using the Safari app:
On your iPhone's home page, tap the Safari app icon showing a compass with a red and white needle inside.
Once you have launched the app, a book icon will appear at the bottom of your screen. You should tap this icon and then go to the History section.
Now you have a full list of previous searches and web pages. If you tap on a search result, the page immediately opens in Safari. To search for a specific web page, you've recently visited but don't remember the full address or website name, type the few words into the Search History box on the toolbar at the top of your browser window. The page will appear in the search results.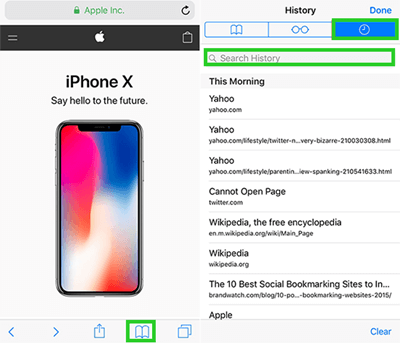 Method 2. How to View Safari Browsing History in Settings
In addition to accessing Safari browser history directly from the app, you may also get your browser history by going to Settings on your iPhone. When surfing the web, Safari automatically stores information such as your browsing history, cache, and cookies on your hard drive.
The only downside of this method is that the history contains only the root domain of the sites you visited and the amount of data each one stores, but not their visit times or your interactions with them.
To view Safari browsing history on your iPhone from the settings, follow these steps.
On your iPhone, go to the Settings app and scroll down to find Safari.
After that, go to the bottom of the page and look for a tab labeled Advanced. Tap on that.
From the next window, choose Website Data to see a full list of your web history. You can also search for a particular page by typing its name.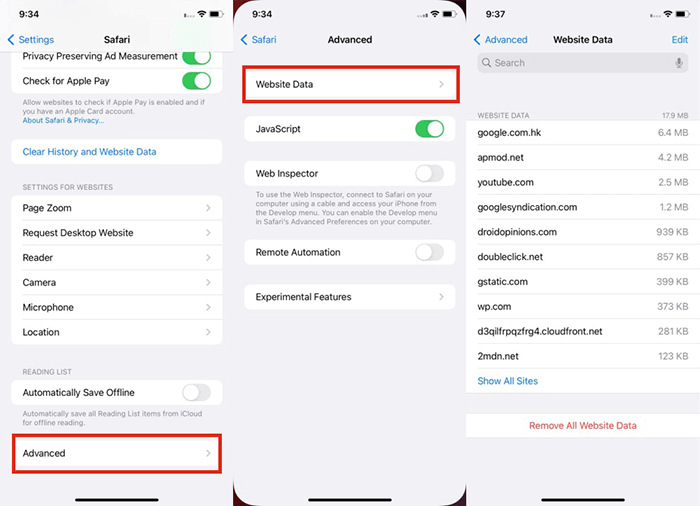 Method 3. How to See Deleted Safari Browsing History on iPhone
Now that you've learned a bit about seeing history on your iPhone, let's move on to how to see deleted Safari browsing history on your iPhone if you've lost it, or if you accidentally deleted it. It's especially frustrating if you forgot to back up your device with iCloud or iTunes.
But don't fret! WooTechy iSeeker is one of the best data recovery software that allows you to get your data back and avoid the headache that comes with losing it. It is a powerful iOS data recovery software that allows you to recover deleted Safari history from your iPhone/iPad with a simple and easy process.
In addition to this, it provides you with the ability to preview and selectively retrieve deleted Safari history of your choice without causing existing data loss.
What Makes iSeeker Stand Out
100.000+
Downloads
Require no backup and no factory reset. Thus won't cause any extra data loss.

Support all major file formats (18+).

Support various iOS models and iOS versions (iOS 16 included)

Allow you to preview the history and selectively retrieve it

Provide a free trial for users to test the utility.
This is how you can use iSeeker to recover your deleted Safari browser history:
Step 1. After you've installed and launched iSeeker on your computer, connect your iPhone to the system. After that, choose the Recover from iOS Device mode from the left menu and click Next once your device is detected.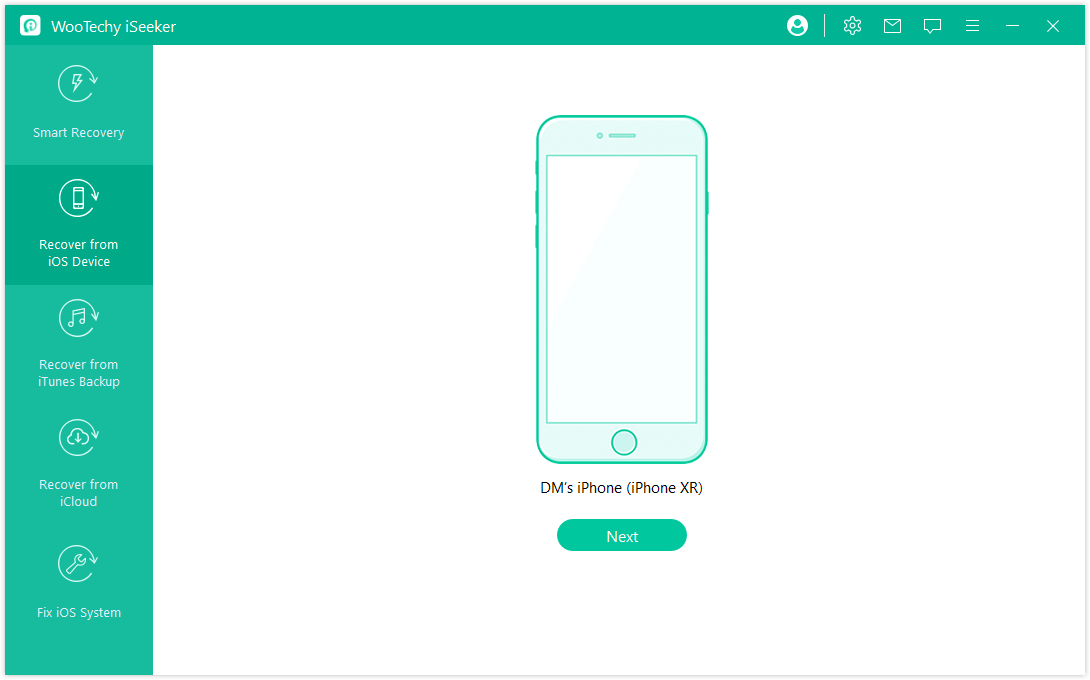 Step 2. Now from the list of available data types on the next window, select the Safari History check box and click Scan.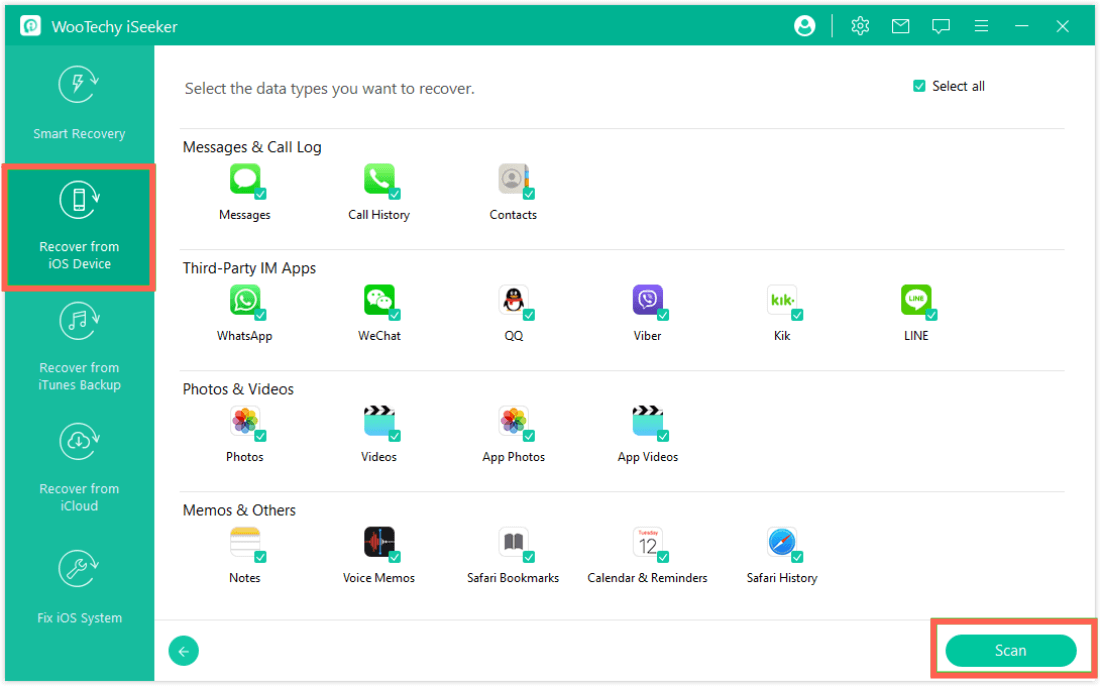 Step 3. After the scan is complete, you will see all the recoverable browsing history on the screen. Simply select the items you want to recover, then click on Recover.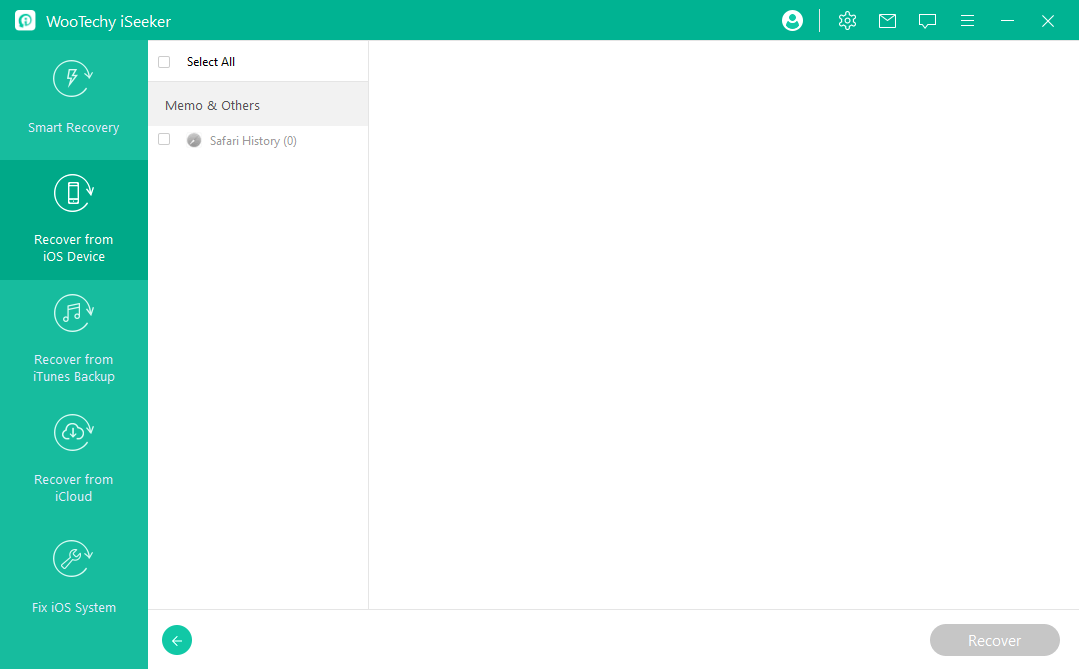 Bonus Tips About Safari Browsing History
1. How to Search Browsing History on Mac
As compared to your iPhone's Safari app, which keeps browsing history and data for up to 30 days, Mac stores a record of your browsing history and data for up to one year. Furthermore, your Mac browsing history may include the addresses of websites that you visited on other Apple devices that are linked to the same Apple ID and have Safari option turned on in iCloud preferences.
Here is how you can check what websites you have visited previously in the Safari browser on your Mac:
Launch Safari on your Mac by clicking on the Safari icon in your dock.
At the top of your Safari screen, click History. Select Show All History in the drop-down menu.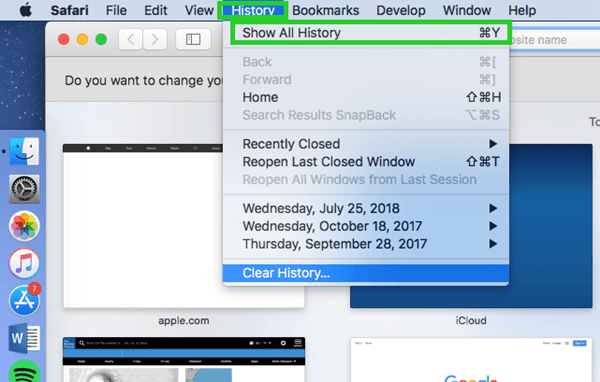 In the next separate window, you will find a complete list of all the websites you have visited, arranged by date.
2. How to Clear Safari Browsing History on iPhone
If you want to keep your searches to yourself and won't want others to look at them, then you will definitely want to delete or clear history and browsing data on your iPhone.
Here are the steps you need to take to clear your browsing history on iPhone:
On your iPhone, open the Safari app, and then tap the Bookmarks button in the toolbar.
Tap on the History icon from the upper left corner of the screen.
Finally, you will see a Clear button located at the bottom right side of the interface. To clear your browsing history, tap on it and then select how much history you wish to eradicate.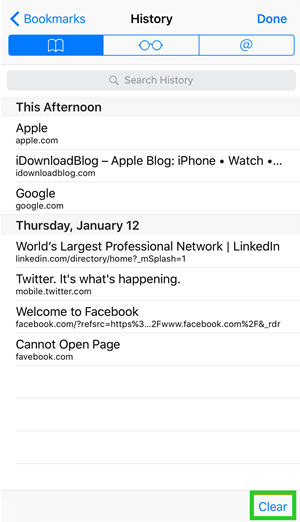 Conclusion
In the age of Internet privacy concerns, knowing how to check your Safari browser history might seem like a trivial thing, but it's still important. After all, you never know when you might need this information - perhaps you want to find a website you previously visited, keep track of your searches, or go back and bookmark a page. Either way, the good news is that Safari offers different ways of accessing your browsing history as explained above.
However, if you have accidentally deleted your Safari browser history or lost it suddenly and now you want to recover it, give your last resort to the WooTechy iSeeker data recovery tool. iSeeker makes it easy to recover Safari browsing history on iPhone selectively with the exact date, titles and all bookmarks. So, give it a try and see what it does for you.