Have you stumbled upon the annoying hard incident of losing contacts from your iPhone or iPad? You can blame it on your carelessness or a technical error. What makes the matter even worse is that you can't seem to find them anywhere.
If you have previously been using iCloud, it should have backed up your contacts and kept them in sync between your iOS devices. In this article, we'll explore some of the most effective ways to restore contacts from iCloud on iPhone and iPad.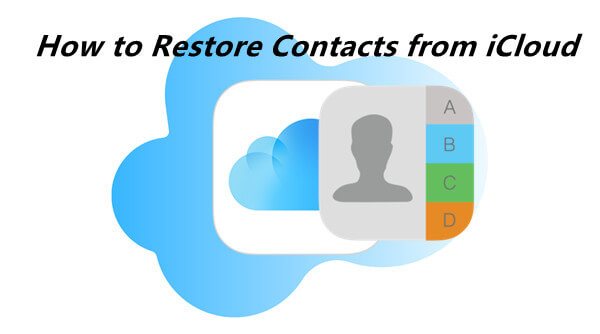 Method 1. Restore Contacts from iCloud by Merging
The first method we will discuss is the most common and straightforward way to go about retrieving contacts from iCloud. If you had previously set up iCloud Contacts on your iPhone, then this method will help you restore your lost contacts easily by merging your iCloud contacts with the device contacts.
In other words, when you perform this action, all contacts currently on your device will be merged with the contacts that are stored on your iCloud backup and any missing ones that aren't on your phone but are on your iCloud will be downloaded from iCloud to your device.
In order to restore contacts from iCloud by merging, follow the simple steps given below.
On your iPhone, go to Settings, then tap your name. Then scroll down and tap iCloud.
Now you need to scroll down and find the Contacts and then turn it off. When you do it, a pop-up message will appear. Choose Keep on my iPhone.
Afterward, turn on the Contacts option again, and choose Merge from the pop-up message to merge your iCloud and device contacts and bring back the missing ones.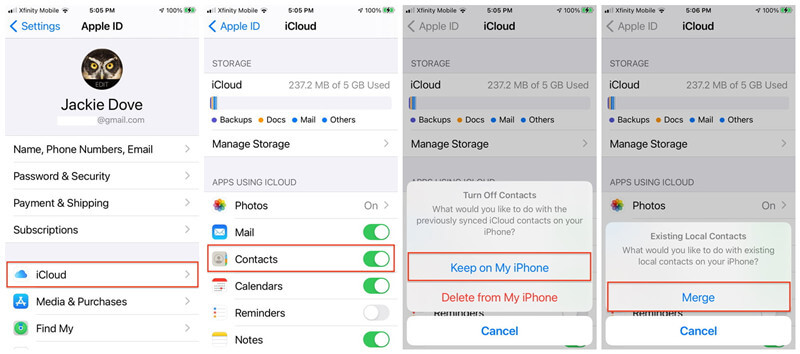 Method 2. Restore Contacts from iCloud.com
If the first method doesn't quite cut it for you, or if you're simply not comfortable with merging your contacts, then don't worry - we have another solution for you.
If you have synced your contacts to your iCloud account, you can retrieve your contacts by logging into iCloud.com and accessing them right there.
When you delete a contact from your iPhone, it doesn't actually get deleted from iCloud completely. Instead, iCloud automatically keeps a copy of your contacts' versions in a separate archive folder, which you can access if you need to restore any of the deleted contacts at a later time.
Here are the steps you can take to restore contacts from iCloud.com:
Visit your iCloud account using your computer's web browser and log in using your Apple ID and password.
After you've signed in, find the Account Settings button at the top of your screen, then click Restore Contacts under the Advanced heading at the bottom.
On the next screen, you'll see a list of all the archived versions of your contacts. For each archived contact, there will be a date and time showing when it was saved. Click Restore next to the one you'd like to recover.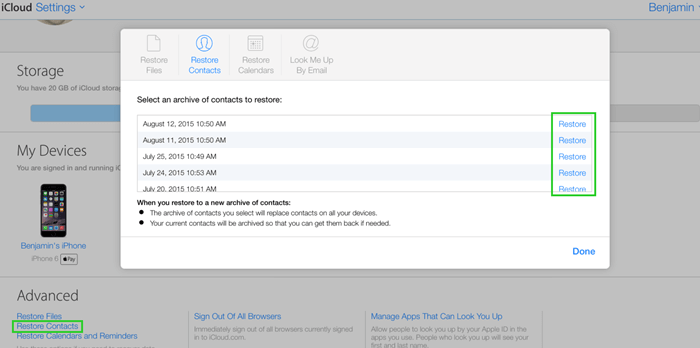 Method 3. Restore Contacts from iCloud Backup
In the third part, we will discuss how to restore contacts from iCloud backup if you have already backed up your iPhone data to the iCloud.
Before we get into the process, there are a couple of things you need to keep in mind. First, this method will only work if you have previously backed up your iPhone to iCloud. Second, this method will erase all the current data on your device and replace it with the data from your iCloud backup. Additionally, there is no way to preview the data before restoring it, so there is no guarantee that your contacts will be there.
If you don't want to deal with these problems, you can try method 4. Otherwise, continue reading for the steps to restore contacts from iCloud backup.
To reset your iPhone to its factory settings, open the Settings app, scroll down and tap General, then Reset. On the next screen, tap the option that says Erase All Content and Settings and confirm your choice from the popup that appears.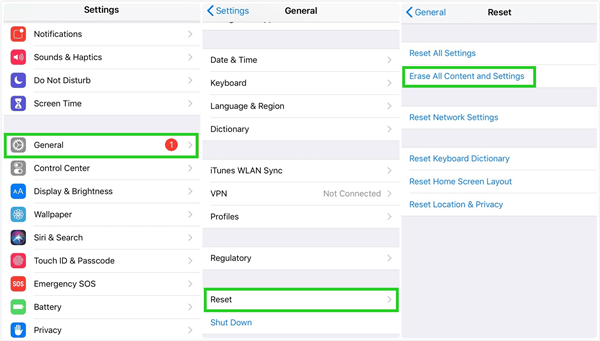 Set up your iPhone as if it were brand new by following the on-screen instructions until you reach the Apps & Data page.
From the Apps & Data page, you need to choose Restore from iCloud Backup. Supply your login information, then select a backup file and the restoration process will begin.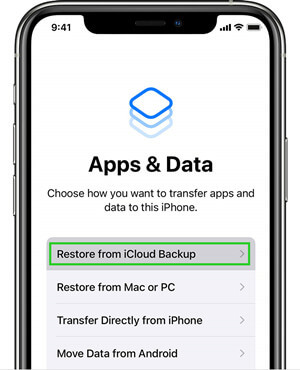 Method 4. Restore Contacts Without iCloud
This final method is particularly simple and effective. All you need to do is download a reliable iOS data recovery tool - we recommend the WooTechy iSeeker - and it will only take a few clicks to recover your contacts.
The iSeeker iPhone data recovery tool is specially designed to help you get all your lost or missing data back off your iPhone, iCloud, and iTunes. With its user-friendly interface and powerful scanning algorithms, the contacts you thought were gone can be restored in the blink of an eye. What makes it even more powerful is its ability to recover permanently deleted contacts even without any backup, to preview them before starting recovery, and to work without affecting the existing data.
WooTechy iSeeker - the Best iOS Data Recovery Tool
100.000+
Downloads
Direct data recovery from iOS devices without iCloud/iTunes backup

Can restore 18+ types of lost or deleted data with 100% data privacy

Allows you to selectively recover data and preview it before restoring

Works with all iOS devices, including the most recent iOS 16.
Follow these steps to recover contacts from your iPhone/iPad with iSeeker:
Step 1. Once you download the iSeeker, install it on your computer. Then plug your phone into your computer using the USB cable that came with it. After that, you should choose the Recover from iOS Device option from the main interface. Then, click Next.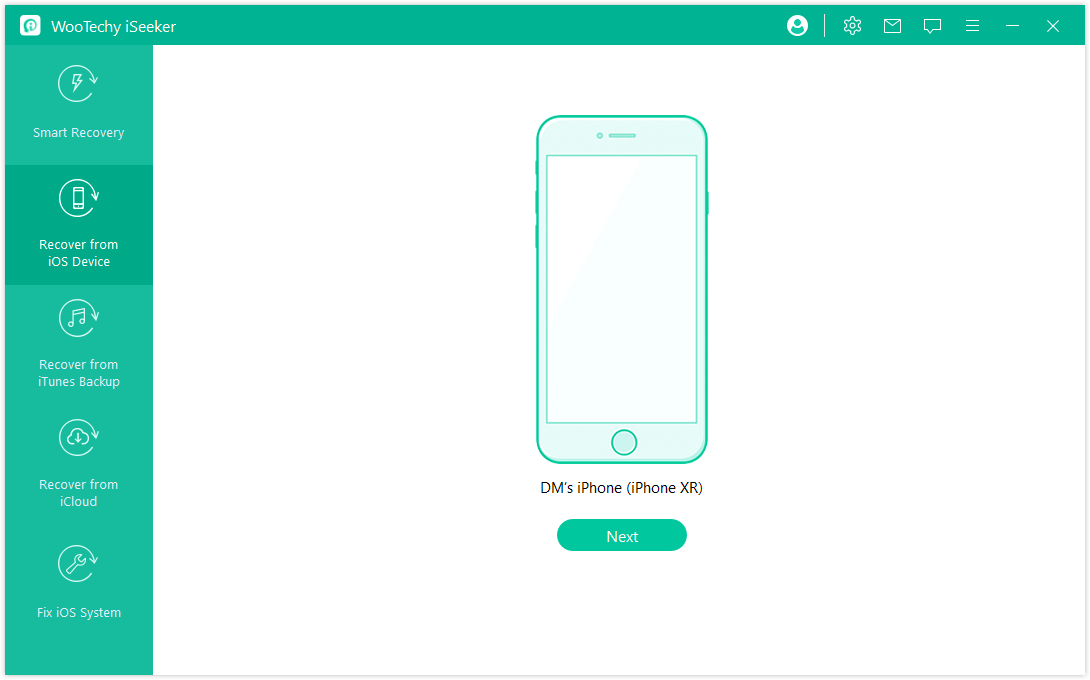 Step 2. From the available list of data types, choose the Contacts and click on the Scan button located in the lower-right corner of your screen.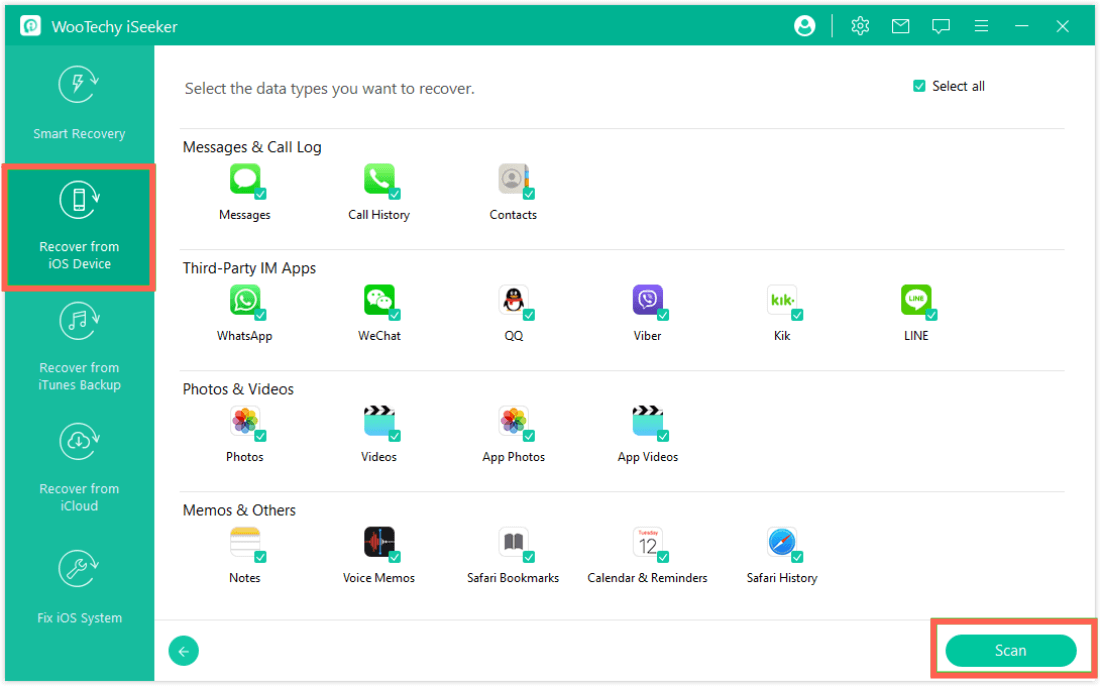 Step 3. You can preview the recoverable items one by one, and then select those you need. Finally, you can click Recover, and all selected files will be retrieved.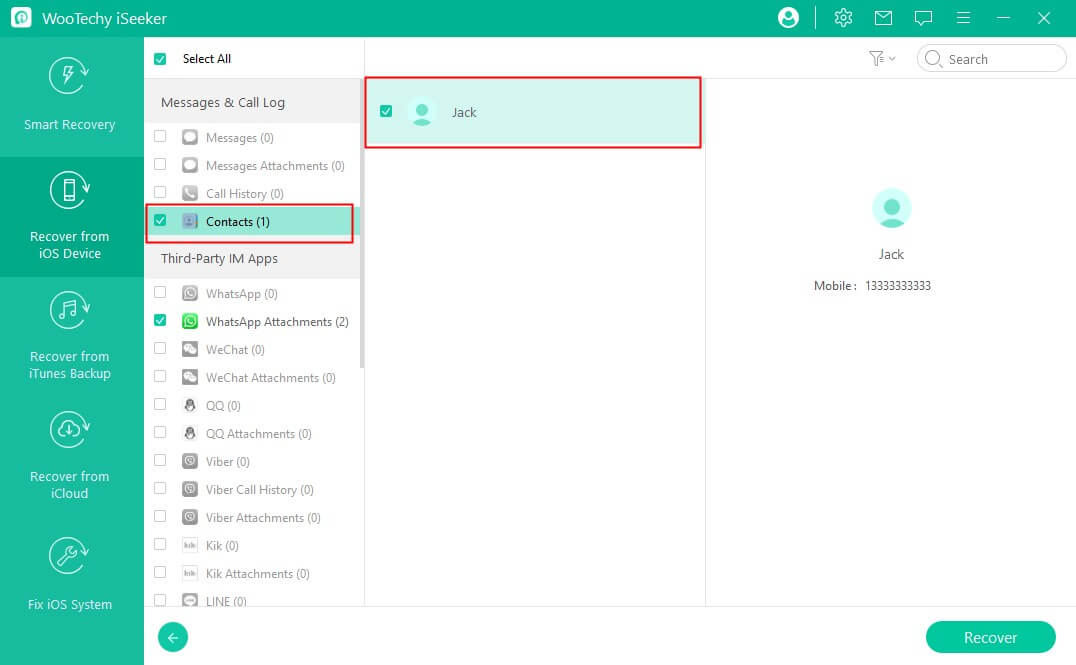 Conclusion
If you have accidentally deleted your contacts or have lost them for any other reason, don't worry! You can still easily restore them from iCloud by following the instructions provided in this article. We've suggested four different ways you can use to restore contacts from iCloud and you can try one or more of these to see which works best for you.
However, if you are looking for a more reliable and better way to do it, we highly recommend using WooTechy iSeeker. The main reason is that it can recover your permanently deleted or lost data directly from an iPhone or iPad without having to rely on a backup file. It also does not harm your existing data and allows you to preview and selectively recover items from your contacts list. So, don't wait - try it today and get your contact list back up and running!