The calendar is a very useful program for us. We use it to keep track of certain highly critical events such as birthdays and project deadlines. It's frustrating to discover that the calendar events have vanished without warning. When you are confronted with such a situation, you are bound to be caught off guard.
This article would be useful to you if your iPhone calendar events disappeared. We'll provide some helpful pointers and working techniques for getting your disappeared calendar events back if you are in this predicament. Let's get into the topic without any further delay.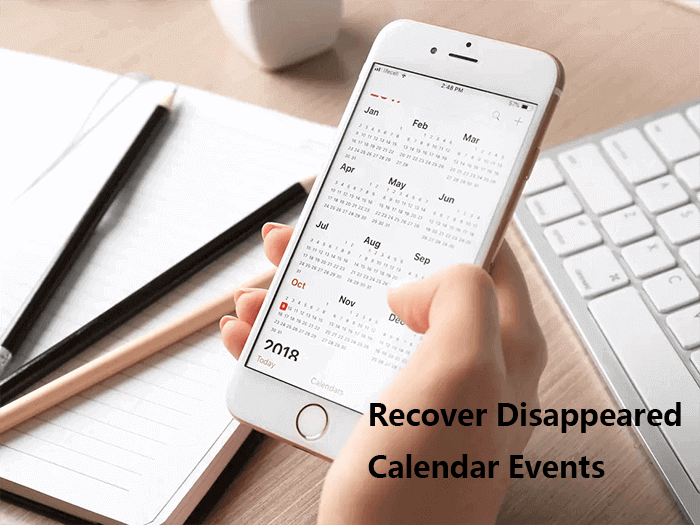 Part 1. Causes of Calendar Events Disappeared from iPhone
If your iPhone calendar disappeared, there can be many reasons behind it. Some of them are as follows:
Sharing Calendar Events - If you utilize the default "Allow Editing" option while sharing a calendar on your iPhone with a family member or coworker, that person may erase appointments.
System Crash - Not only calendar events but also other data can vanish if there's a system crash on your iPhone.
Upgrade - You may turn off iCloud sync after upgrading to the latest iOS version, which means the calendar events will not be synced to your device from iCloud.
Unexpected Deletion - You may have accidentally deleted your calendar events.
Part 2. How to Find Disappeared Calendar Events?
Method 1. Check the Network Connection
Initially you should do is double-check your network connection to see if it's working properly when your calendar events disappeared from iPhone. This is required when utilizing an iCloud calendar because the iCloud service requires a constant internet connection. Follow these simple steps to check:
If You Are Using Wi-Fi
Step 1 Open Settings, select WLAN.
Step 2 Flip the switch to the off position.
Step 3 After a few minutes, re-enable it by turning the switch to the on position.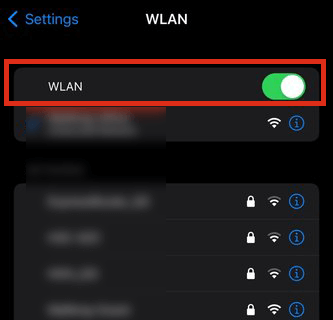 If You Are Using Cellular
Step 1 Open Settings and select Cellular.
Step 2 Turn off and on cellular data.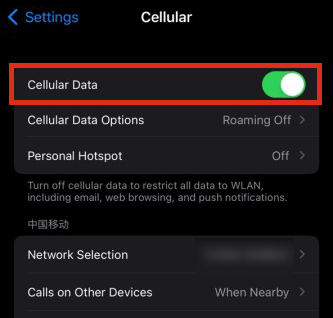 This will resolve the issues with the network connection. After then, you can go to check your disappeared calendar events.
Method 2. Sync All Calendar Events
Calendar Settings
If the network works well, you can check your Calendar Settings by going to Settings > Calendars > Sync > All Events to sync all events from iCloud. After waiting for a few minutes, you can go to Calendar and get all of your events back.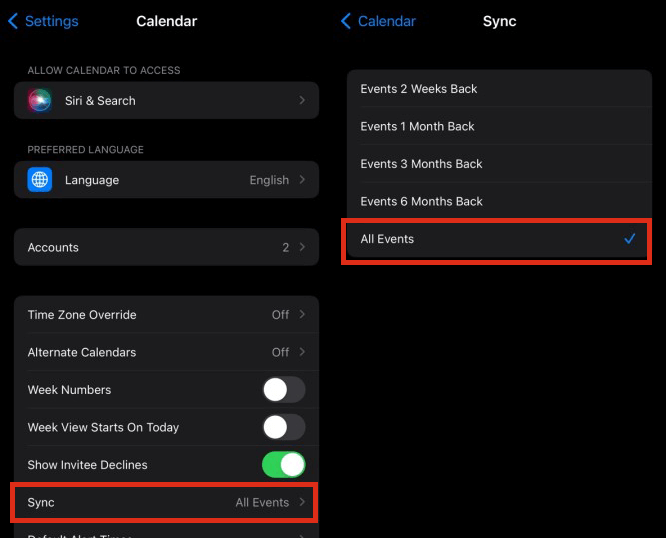 iCloud Settings
Apple will backup calendar events automatically. If you turned off the function, you should enable iCloud calendar syncing. Simply go to Settings > your profile > iCloud > Calendars and enable it. If you notice that it is already active, simply disable it and activate it again after a few seconds to find your missing calendar events.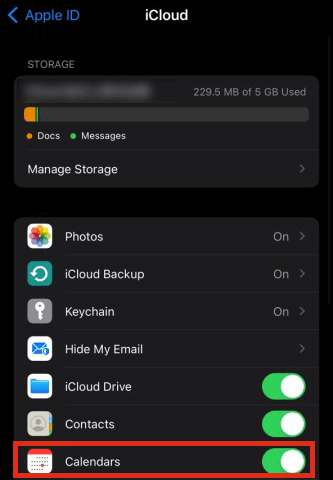 On the other hand, make sure your iPhone's date and time settings are accurate and you're signed in to iCloud on all of your devices with the same Apple account.
Method 3. Recover Disappeared Calendar Events without Backup
If you unintentionally deleted your calendar events without backup, don't panic. It is still possible to recover it. Wootechy iSeeker will look after everything for you. It allows you to recover all disappeared common data types like calendar events, WhatsApp messages and contacts in simple steps. Whatsmore, it is generally compatible with almost all iOS models.
Key Features of WooTechy iSeeker
100.000+
Downloads
An incredibly high success rate when it comes to regaining access to your calendar events.

Supports 18+ types of common data, including call history, WhatsApp messages, text, videos, photos, calendar events, etc.

Widely compatible with almost all iPhone models from iPhone 4-13.

Free to download and scan to check if your data can be recovered.
Just download iSeeker software and launch it on your PC. You can Recover from iOS Device with three simple steps:
Step 1 Connect your iPhone or iPad to your PC on which iSeeker is installed. Once your device has been discovered, click Next to continue.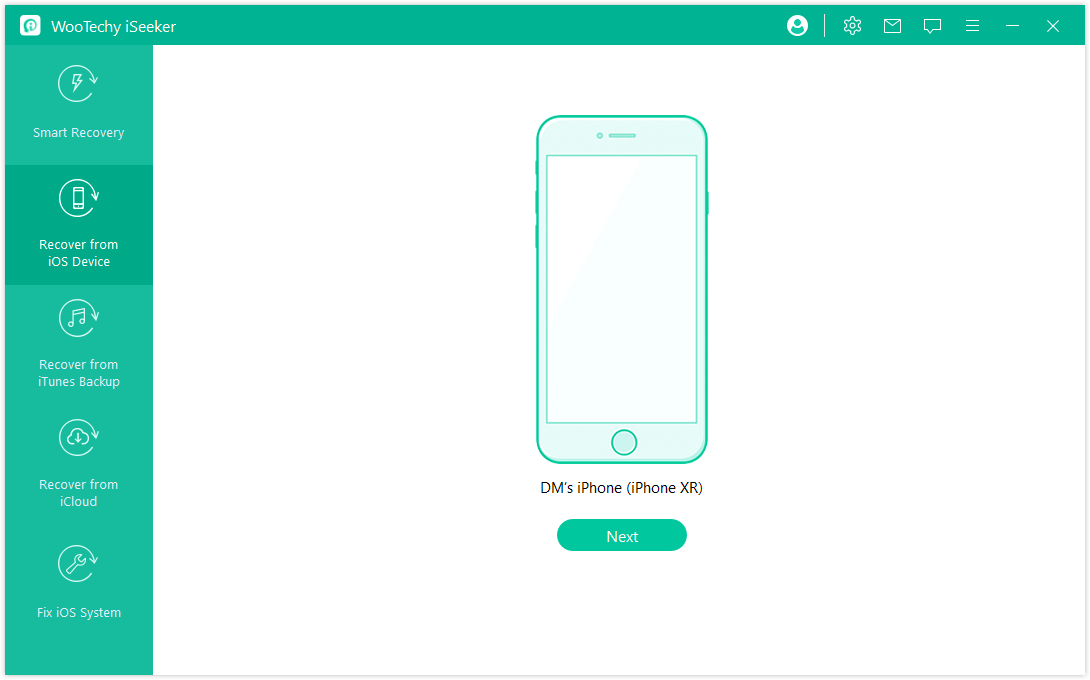 Step 2 After selecting Calendars & Reminders and other data you want to recover, click the Scan button. The app will perform a short check of your device to look for missing data.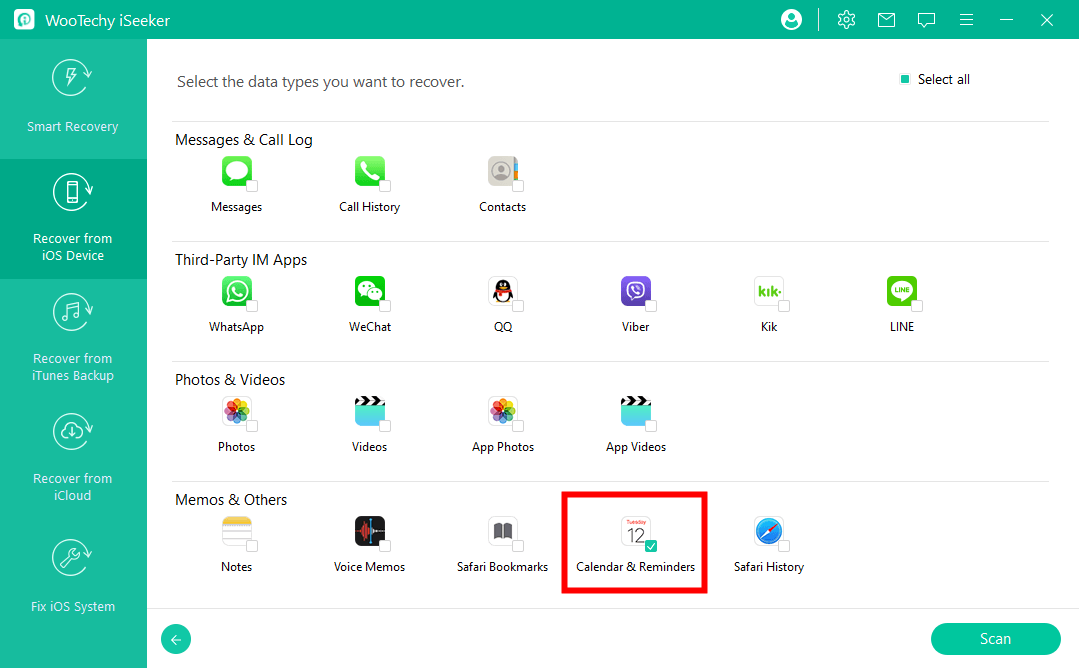 Step 3 When the scan is finished, all disappeared calendar events will be properly organized. Select the files you need and click the Recover button in the bottom right corner of the software window and the data will be recovered after a few minutes.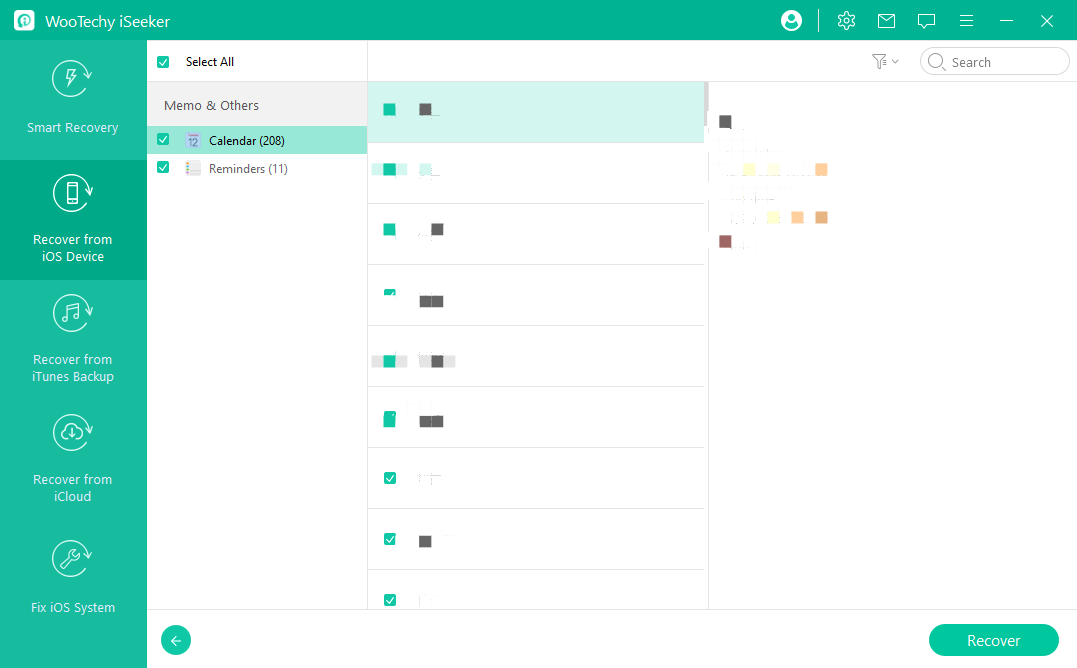 We can see that the recovery process is easy to operate, and the interface is user-friendly. All you need to do is to click several times. Its highest data recovery rate brings back more data than your expectation.
Method 4. Recover Disappeared Calendar Events from iCloud
If you have synced your calandar events in iCloud, you can recover your disappeared calendar events from there:
Recover from iCloud Web
Step 1 Go to iCloud.com and log in.
Step 2 Select Account Settings from the drop-down menu, then go to the bottom of the page and restore Calendars.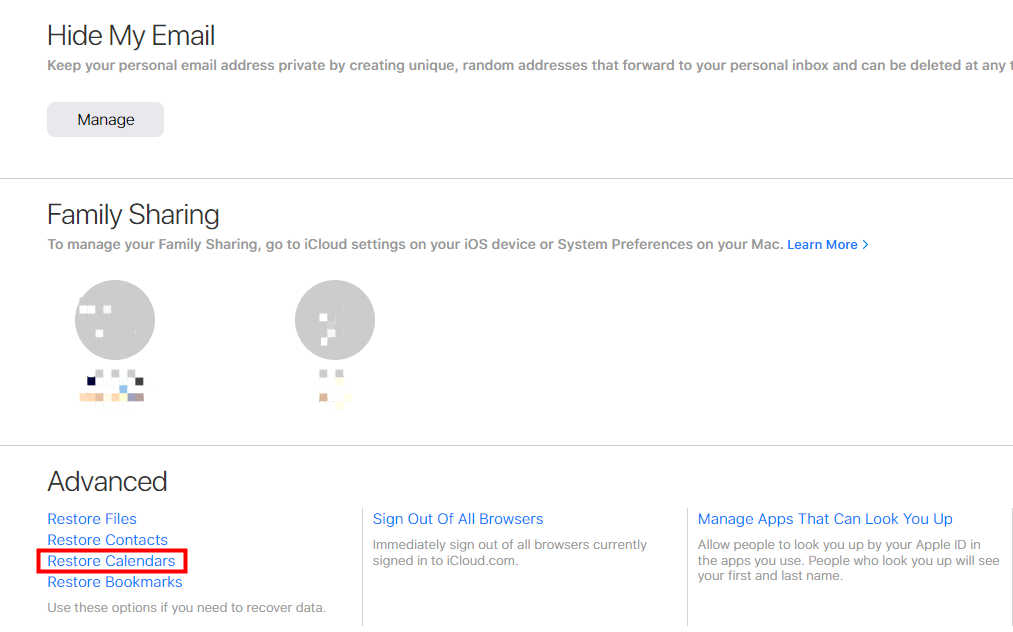 Step 3 Select your disappeared events and Restore.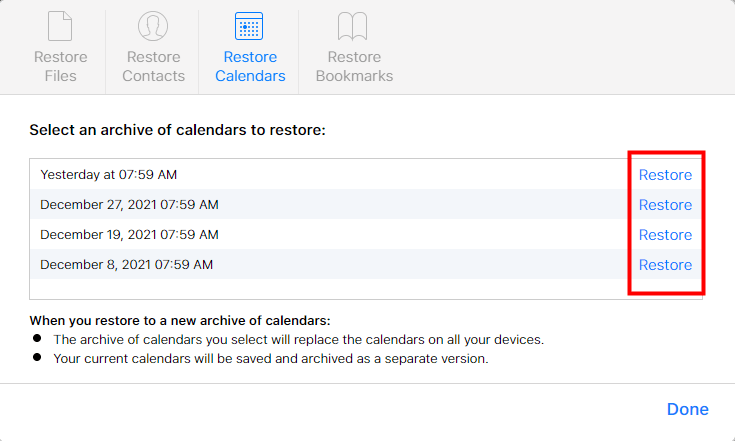 After the process completes, you'll receive a notification on iCloud.com, then you can check if your disappeared calendar events have restored.
Recover from iCloud Backup
You can get your disappeared calendar events back to your iPhone from an iCloud backup if you've already backed them up. To complete the recovery process, you must first erase all data on the device. Below are steps to follow:
Step 1 On your iPhone, go to Settings > General > Reset and select Erase All Content and Settings.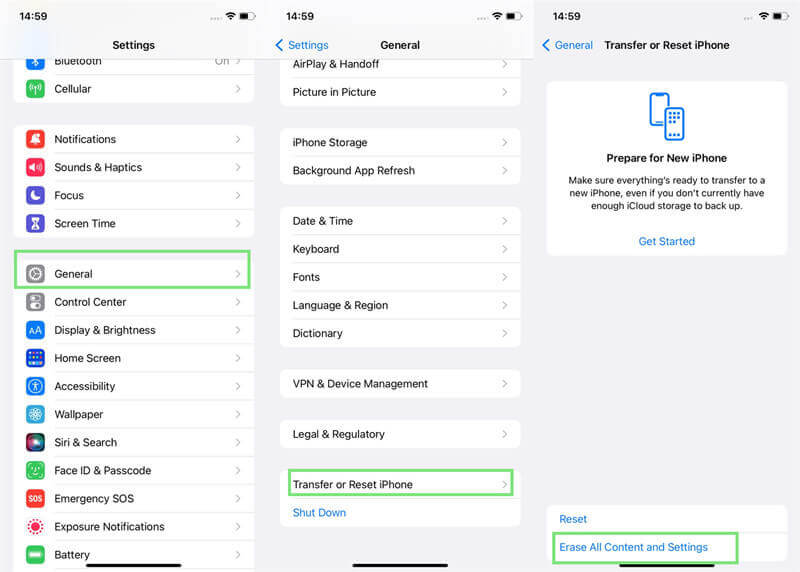 Step 2 After finishing the setup procedures, select Restore from iCloud Backup from the Apps & Data tab.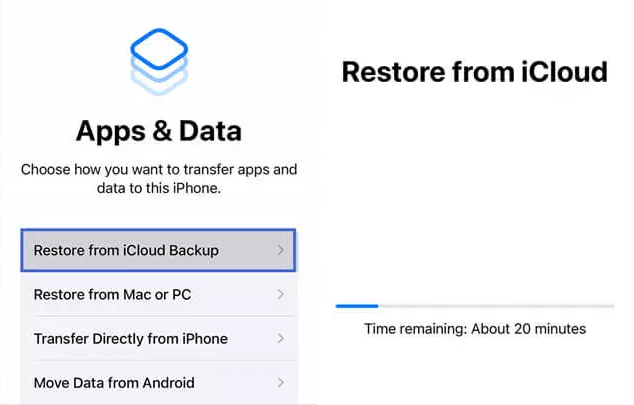 Step 3 Sign in to iCloud and choose a backup that contains your calendar events history to restore.
Method 5. Recover Disappeared Calendar Events from iTunes Backup
With an iTunes backup, you can use it to restore missing calendar events. Just like when restoring from an iCloud backup, your current data and settings will be overwritten. Below are steps to recover disappeared calendar events from iTunes backup.
Step 1 After connecting your iPhone to your computer via a USB cable, open iTunes.
Step 2 Choose Restore Backup from the drop-down menu when the iPhone icon appears in iTunes.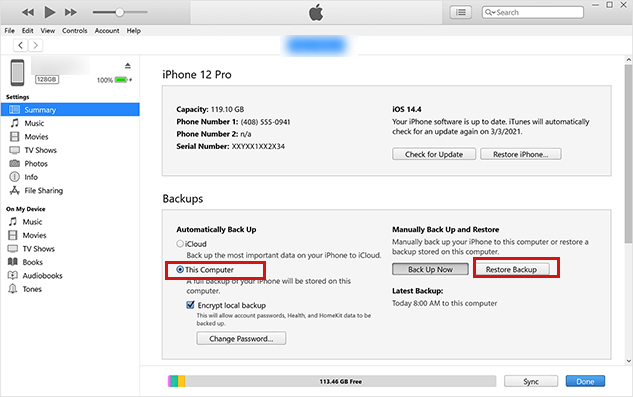 Step 3 Enter the password if asked, then click on the Restore button and wait for the procedure to complete.
Though you can recover from iCloud or iTunes backup, however, as we mentioned before, you have to recover all the data no matter if you need it, which is inconvenient. Then you can resort to iSeeker to extract them from your backup.
Conclusion
Calendar helps users remember vital events, we introduced 6 methods to cope with iPhone calendar events disappeared. You can take a more advanced and professional approach by using Wootechy iSeeker to locate and restore the lost calendar events. With iSeeker, you can even recover your permanently deleted data in a few while no matter if there's a backup. You can have a free trial to see if your data can be recovered. Besides, we offer 30-Day money back guarantee for you, just download and scan your disappeared data!