Did you accidentally delete your important voice memos? Or were they lost during a system update? Worry not. We have got your back! You can still retrieve your important voice memos containing a lecture recording, meeting recording, or any other sort of recording to your phone by using the right method.
This article explains the best answers to how to recover voice memos from iCloud. Read on to get your voice memos back!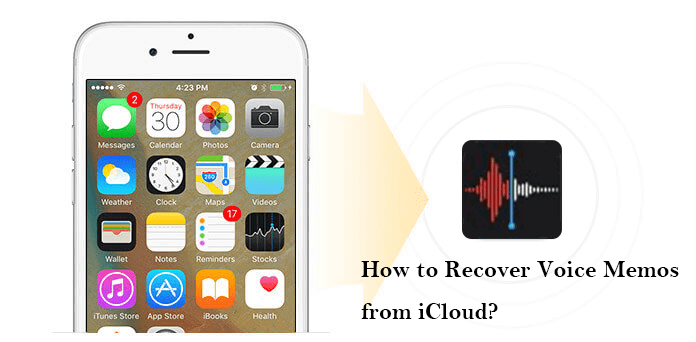 Part 1: Can I Recover Voice Memos from iCloud?
A simple one-word answer to this question is YES!
You can recover deleted voice memos from iCloud if you have backed up them in there. However, you should also remember that when you edit the voice memos on your device, it will overwrite the former ones, meaning the former backup in iCloud will also be changed if you have syned them. So, you should prevent overwriting current contents until your recover voice memos from iCloud on your iPhone.
Now that you have learned whether you can recover deleted voice memos on your iPhone or not, let's find out how to recover voice memos from iCloud backup.
Part 2: How to Recover Voice Memos from iCloud?
There are two best answers to this question. The one is to retrieve it from iCloud backup, and the other is to use a helpful tool that can do the task for you.
1 Recover from iCloud Backup
If you have backed up your voice memos and haven't synced before deleting or editing them, you can directly recover them from iCloud backup. You need to follow the simple steps described below:
Step 1 Tap on the Settings of your iPhone. Scroll down and then select the General option.
Step 2 Choose the Reset option that is presented at the bottom of the screen.
Step 3 Select Erase All Content and Settings to recover deleted voice memos on your iPhone. Give your phone a few minutes to fully reset.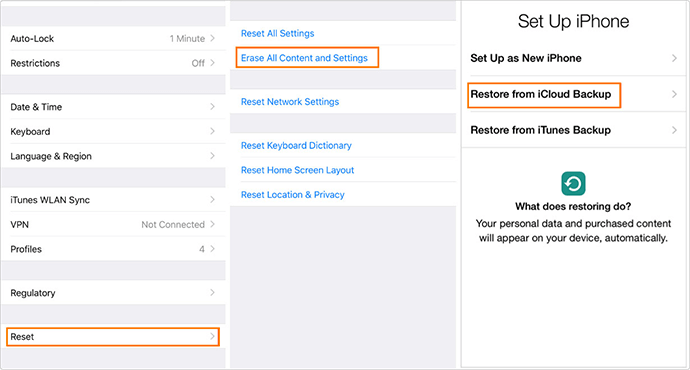 Step 4 Once the process has been completed, a new welcome screen will appear on your phone. Follow the onscreen instructions carefully. As you get the Apps & Data instruction, select the Restore from iCloud Backup option to proceed.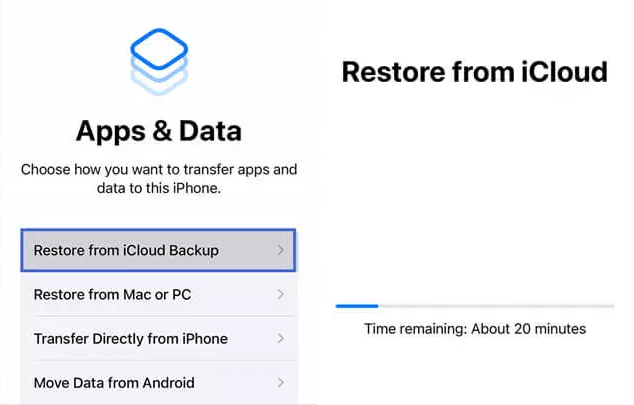 All the data, including the deleted voice memos, will be restored to their respective folders.
Note
You should remember that you will have to reset your device to do this. It means the data currently presents in your iPhone will be overwritten.
2 Selectively Recover Deleted Voice Memos from iCloud
Another solution is using a powerful data recovery tool to selectively recover voice memos.
WooTechy iSeeker is a user-friendly data recovery tool that you can use to recover deleted files like voice memos in iPhone in simple steps. You do not have to be tech-savvy to use the tool because its interface is simple for both beginners and pros. It allows users to directly recover from their devices or extract different types of data including voice memos from iCloud or iTunes in all data loss scenarios.
It offers 100% data privacy to its users and allows you to recover only the selected or desired files by previewing them before initiating the recovery process.
WooTechy iSeeker: the Most Powerful Data Recovery Tool
100.000+
Downloads
Encompasses all common data types like voice memos, photos, videos, notes, WhatsApp messages, etc.

Generally compatible with most Apple models and almost all iOS versions, including iOS 15.

100% data privacy during the recovery process.

Free to download and scan to see if your data can be recovered.
If your device is stuck in a white or black screen, or there's a system crash, or your iPhone is damaged and you can't restore your data including voice memos from iCloud directly, iSeeker is here to help you:
Step 1 Download and install iSeeker to your PC. Use a cable to connect your iPhone with your computer. Launch the tool and choose the Recover Data from iCloud Backup option. Click on the type of iPhone that is available for you.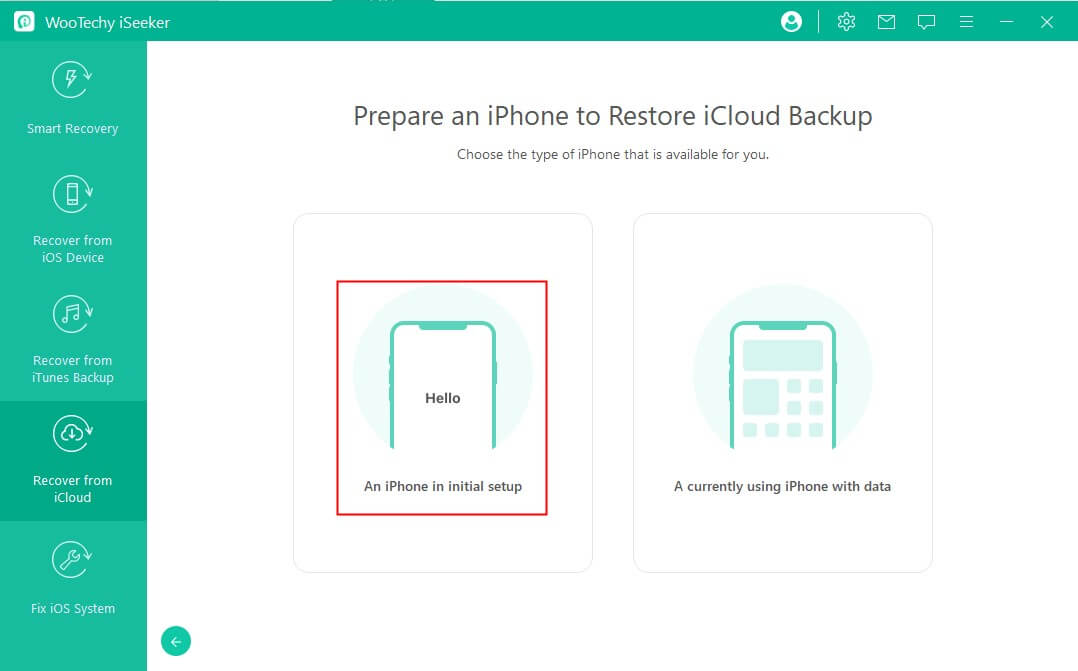 Step 2 Follow the on-screen instruction until your device appears on the screen. Next, you can select Voice Memos and the data types you want to recover and click Scan.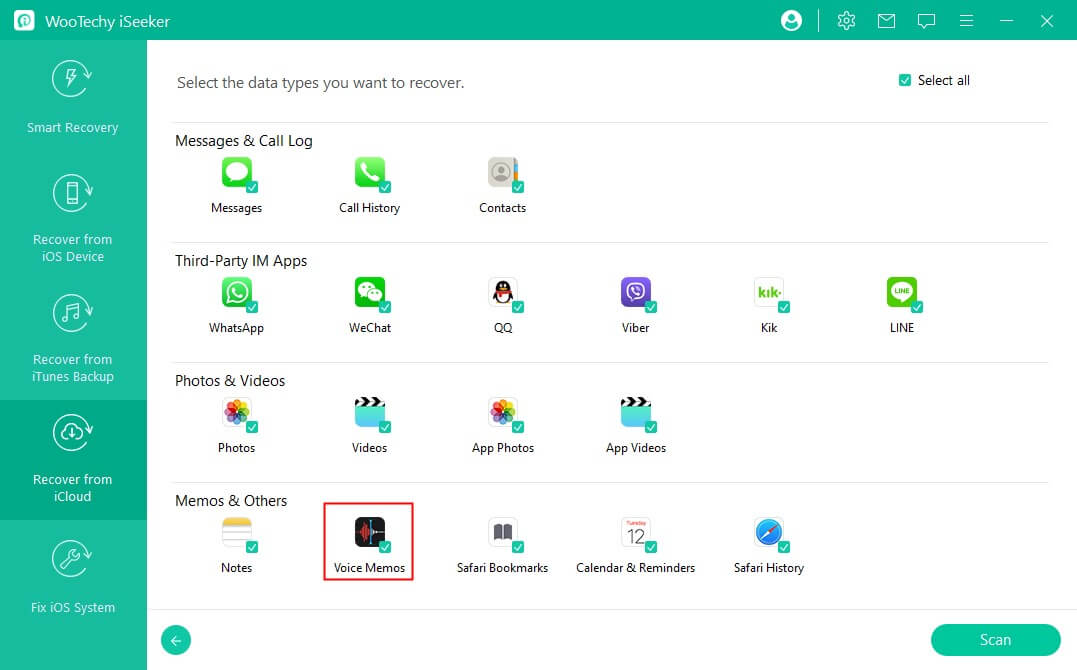 Step 3 After then, you can Recover your lost data.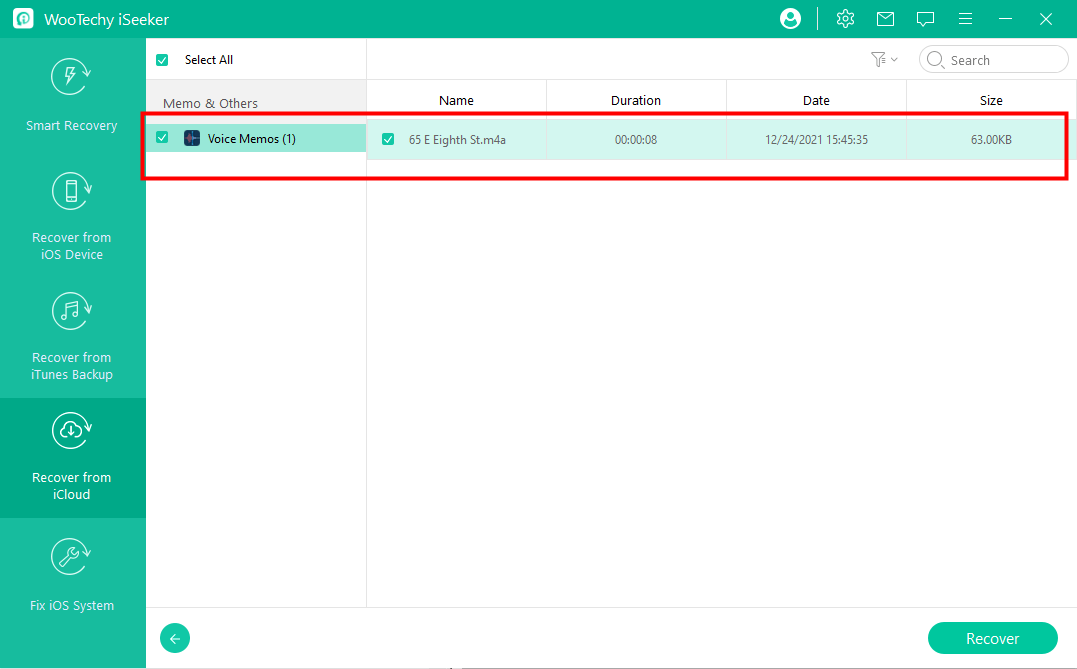 Note
If your device is a current using iPhone with data, it's highly recommended to back up before recovering.
You can see that WooTechy iSeeker guarantees data security and integrity in detail to minimize data loss. In addition, backup or not, if you have permanently deleted voice memos or other data, you can also resort to iSeeker to recover your missing data directly from your iPhone.
Part 3: Other Methods to Recover Deleted Voice Memos on iPhone
Besides the two methods mentioned above, you can also use the following ways to recover deleted voice memos on your iPhone.
1 Retrieve from Recently Deleted Folder
In iPhone, when you delete a voice memo, it does not immediately get deleted from the phone. Instead, it stays in the Recently Deleted Folder. Users can open this folder and restore the deleted voice memos within the timetable. You can change Voice Memos Settings to keep deleted voice memos in the Recently Deleted folder forever.
Step 1 Open Settings and scroll down to tap on Voice Memos.
Step 2 Tap on Clear Deleted and select Never.
Then Follow these steps to retrieve deleted voice memos from the recently deleted folder.
Step 1 Open Voice Memos app, tap < Back to the Voice Memos folder list, and go to the Recently Deleted folder.
Step 2 Tap on the Edit button. Choose the desired voice memo and then select Recover.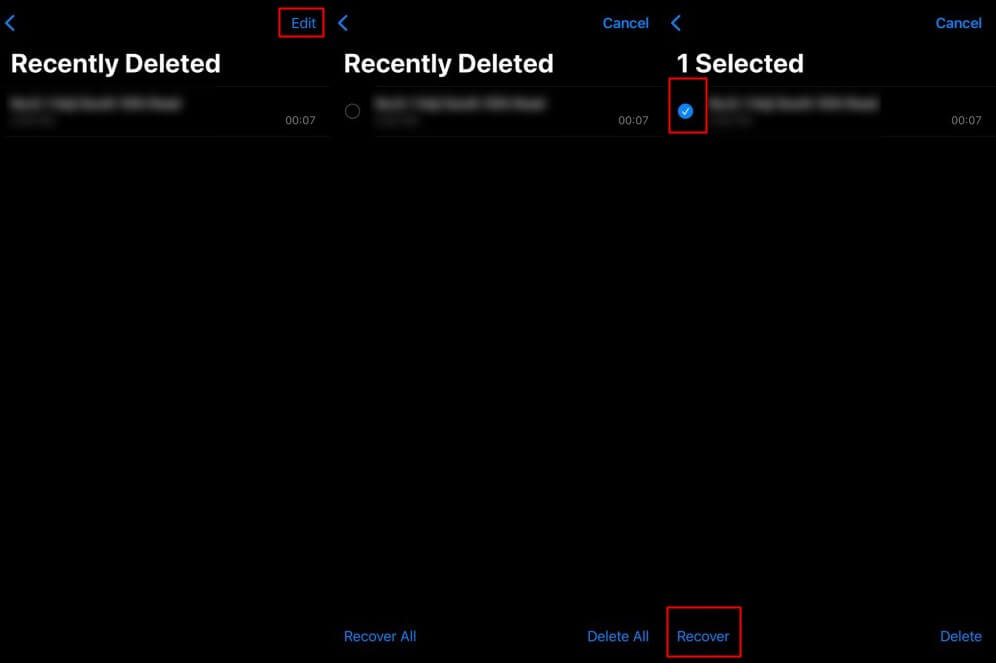 2 Restore from iTunes Backup
You can recover your voice memos from iTunes backup as well. Here is how you can do it.
Open iTunes and connect your iPhone to your computer through a USB cable.
Click on the icon of the device in the iTunes window and now go to Summary.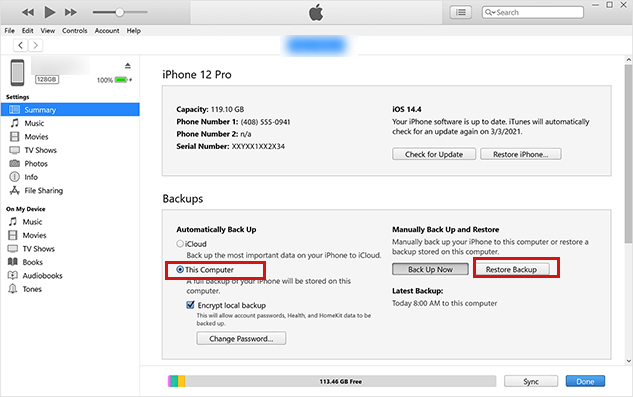 Now select Restore Backup and enter the password if asked.
Final Words
Now that you have learned how to recover voice memos from iCloud backup, you should select any aforementioned method and get your voice memos back in a few easy steps.
You can either retrieve memos from the iCloud backup using your phone or get voice memos back using a data recovery tool WooTechy iSeeker, which allows you to get your deleted voice from your iPhone directly or extract from iCloud backup. Beside, it allows to recover 18+ different types of data not only voice memos, you can recover your desired files no matter how you lost it. Get a free trial here to preview your data!