"While trying to free up some space on my iPhone, I unintentionally deleted the important text messages. Those messages included my bank account details and login details to log in to different platforms. I need to recover those messages; otherwise, I will be in great trouble. Is there any way to recover deleted text messages on iPhone?. And I don't have a computer in hand, can I recover texts without computer?"
You might lose your text messages in multiple scenarios like auto-deletion, accidental deletion, iOS upgrade, system crash, etc. As many recovery methods require the need for a computer, but you might don't have a computer with you, you will wonder if you can retrieve the deleted texts without using a computer.
In this article, we will show you how to recover deleted text messages on iPhone with or without computer. So, stay tuned and follow along!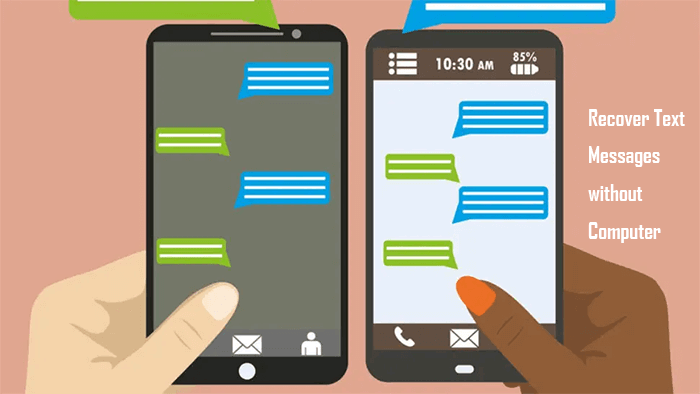 Part 1. Can I Recover Deleted Text Messages on iPhone
Yes. If you have made a backup previously, the text messages will stay there even if you deleted them from your iPhone. You will be able to recover them by restoring the backup to your iPhone.
If you don't have a backup, there are still chances to recover the deleted text messages. Text messages or other data stored on your device is not permanently deleted from the memory as long as they haven't been overwritten. Therefore, if you find your text messages are deleted, don't use your phone temporarily in case they are overwritten by mistake.
Part 2. How to Recover Deleted Text Massages Without Computer
1

Recover Deleted Text Messages from Phone Carrier

Usually, your phone service provider records every call and message you sent or received with your device. You can resort to them to recover deleted text messages. But you will have to verify your identity either by logging into your carrier account or just calling their helpline. And they will not easily help you recover the deleted message or call history. Most people who have tried this method think it's quite annoying.
2

Recover Deleted Text Messages from Other Apple Devices

If you have multiple Apple devices and synced your data across all devices through iCloud, you can recover your deleted text messages through one of them. But before that, you have to make sure that the Messages option is turned on in iCloud. Follow the steps to check:

Step 1. Open Settings > your profile > iCloud.

Step 2. Scroll down to the Messages and check if it is toggled on.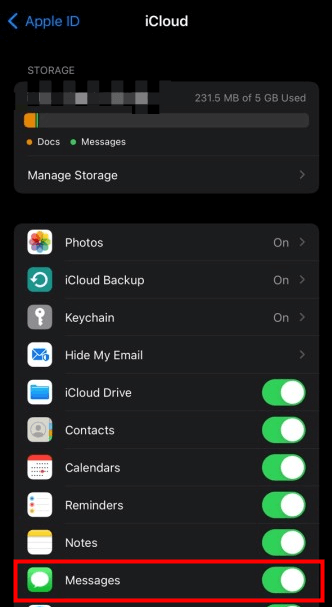 If your messages are being synced on other devices via iCloud, they will exist on those devices unless another backup has overwritten them. Just get to other devices and recover your deleted text messages.
3

Recover Deleted Text Messages from iCloud Backup

Another way to recover deleted text messages in virtue of iCloud is to restore an iCloud backup to your iPhone. The only precondition is that you have to have made a backup before deleting the messages. With this method, you can easily restore your deleted text messages without computer.

However, you should also note that restoring an iCloud backup will reset your iPhone and erase all your current data. It's highly recommended to back up the latest data before recovering.

Here are the steps to recover deleted text messages from iCloud:

Step 1. Go to Settings > General, scroll down and choose Reset. Choose Erase all Content and Settings and wait until your phone resets to the factory settings.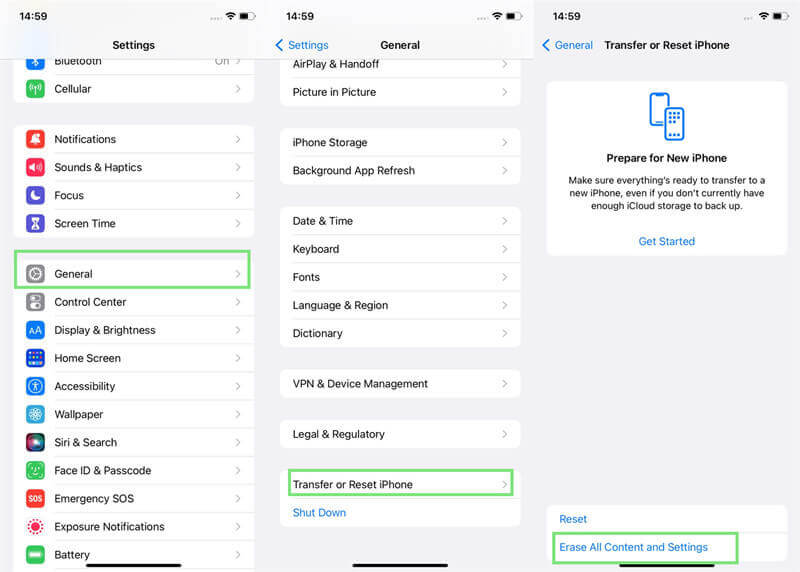 Step 2. Once done, follow the on-screen instructions, from Apps & Data screen, select Restore from iCloud Backup.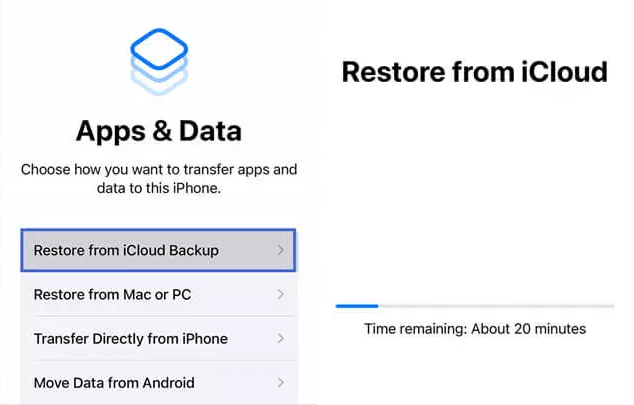 Step 3. From the backup list, choose a backup that contains the deleted text messages and the restoring will then begin.
Your device will again take some time restoring your device to the chosen backup. Once completed, you will have access to all your deleted text messages. Next time, be careful while deleting them.
Part 3. How to Recover Deleted Text Messages with Computer
1

Recover Deleted Text Messages with a Data Recovery Tool [Without Backup]

Among the three methods above, there are two that requires a backup and the rest one is quite complicated. You should be aware that the better solution is to use a computer to perform the recovery process. And in this part, we have the best solution for you. You can easily recover the deleted text messages even without a backup.

Here we'd like to recommend a professional iOS data recovery tool - WooTechy iSeeker. This program can deeply scan your device to find the old or deleted text messages for you. Therefore, you can get back your texts even if you forgot to make a backup before. And it also allows you to preview the data before recovering. Also, it's quite easy to use - you can restore any lost data within 3 simple steps.
Top Features of WooTechy iSeeker
100.000+
Downloads
Has the highest data recovery rate and recovers 18+ data types like photos, videos, WhatsApp messages.

Covers various data loss scenarios like unexpected deletion, factory reset, iOS upgrade, jailbreak failure, etc.

Be compatible with almost all iPhone, iPad and iPod Touch models, as well as all iOS versions (iOS 16 supported).

Offers free trial to download and scan to check if the data can be recovered.

Can preview and selectively extract data in iCloud/iTunes/third-party backups.
To recover deleted text messages, you can follow the steps below:
Step 1. Install and launch iSeeker on your computer. Choose the Recover from iOS device. Connect your iPhone to the computer. After iSeeker has detected your device, click Next.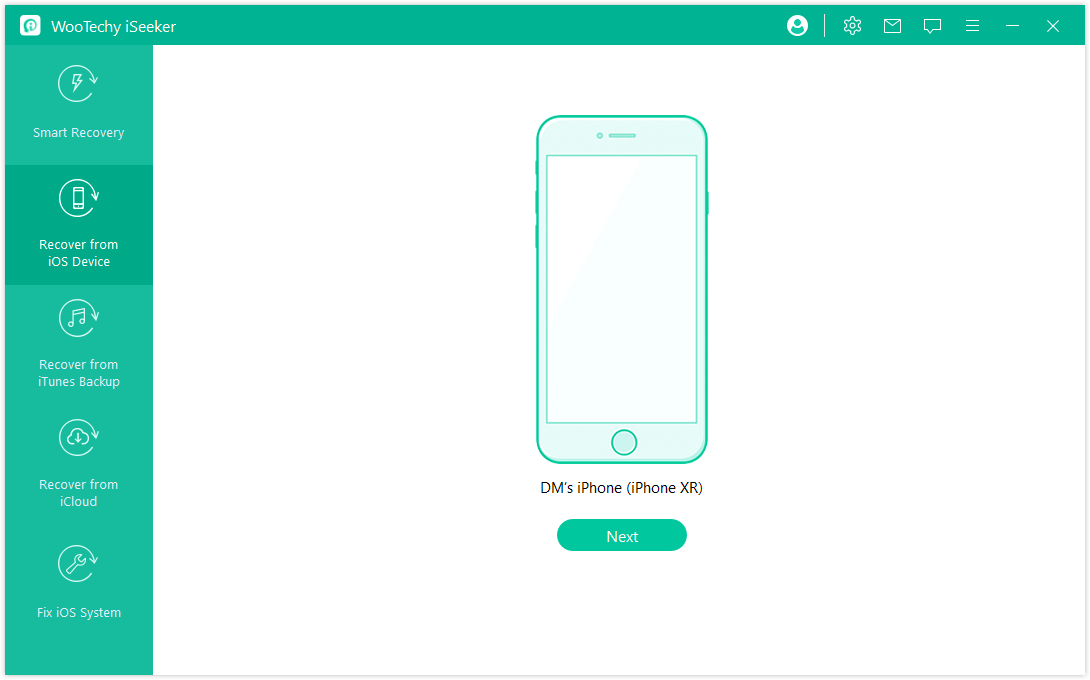 Step 2. Select the type of files you want to recover (Messages in this case). Click on Scan. The system will thoroughly scan your device to find the lost data.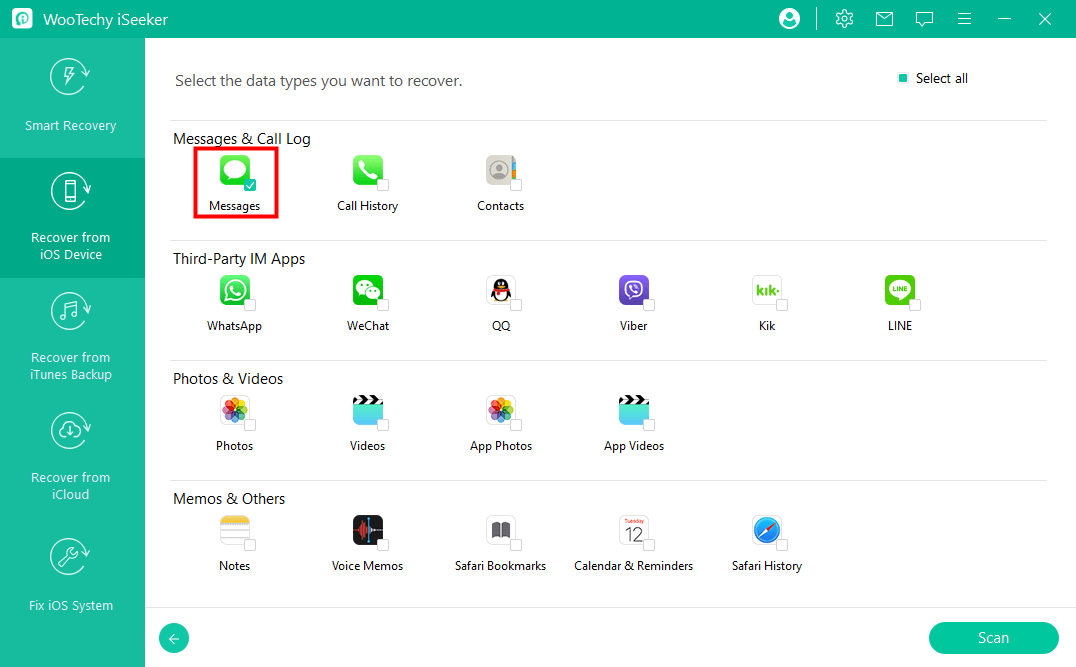 Step 3. When the scan completes, a list of all the deleted files will appear. You can review and select the files to recover and click the Recover button.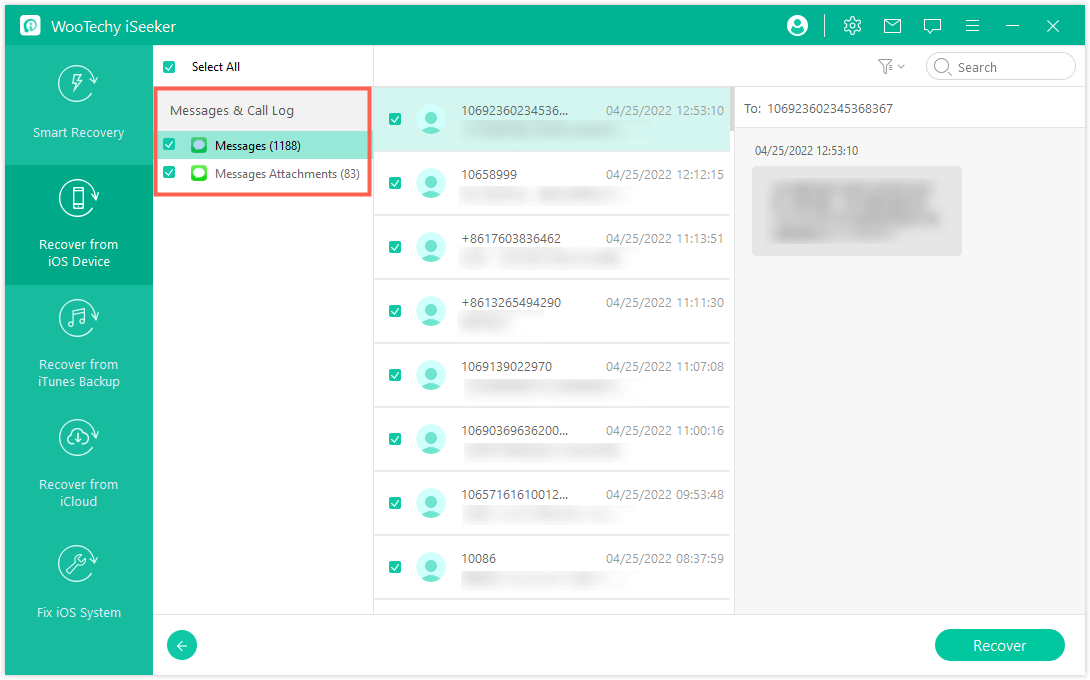 The process will take some time. After then, all of your deleted text messages and desired data will be recovered and saved at the chosen location on your computer.
2

Recover Deleted Text Messages From iTunes Backup

If you have backed up your data on computer via iTunes, you can retrieve deleted text messages from iTunes Backup as well. As recovering from iCloud, this process will overwrite all your current data with recovered data. We recommend making a full backup of your iPhone data before starting

Follow the steps below to retrieve deleted text messages from iTunes backup:

Step 1. Launch the latest version of iTunes and click on the phone icon presents in the top-left corner of the screen.

Step 2. Choose Summary from the list of options.

Step 3. Click the Restore Backup button, and choose a backup from the list. Then click Restore to begin the restoring.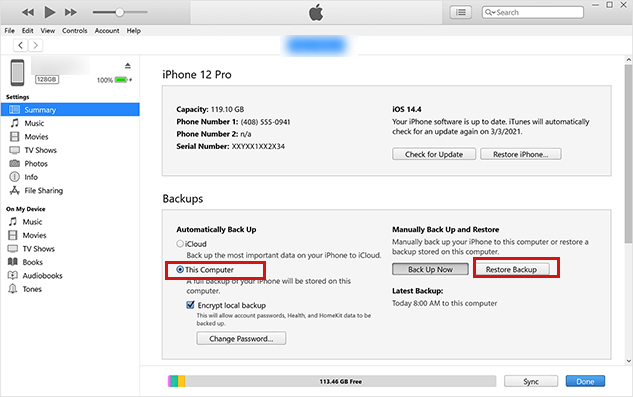 Final Notes
Losing important files is an annoying thing that could ever happen to someone. To recover deleted text messages on iPhone, this article proposes different ways no matter if you have a computer or not.
The best yet most effective and recommended tool for doing so is the WooTechy iSeeker iPhone data recovery tool, which is efficient and user-friendly, and allows you to recover deleted text messages without backup. Furthermore, it lets you fix the iOS issues without any data loss. If you want to recover your important deleted data instantly, download this wonderful tool here!