While clearing up some space in my iPhone, I deleted all the chats and associated data from WeChat. Now, I cannot find them anywhere. I don't even know a way to recover. Is it possible to recover deleted WeChat messages on iPhone? If yes, how?
Sometimes, WeChat users make mistakes and delete their important messages along with the unnecessary ones, and later they regret it. If you are one of them, don't panic. In this article, we will provide 4 simple methods to restore deleted WeChat history on iPhone. Keep reading!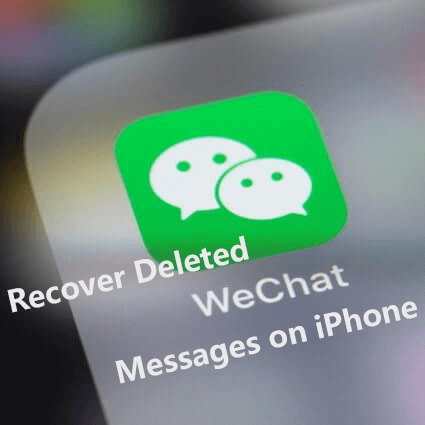 Part 1. How to Recover Deleted WeChat Messages on iPhone?
If you deleted a WeChat chatbox accidentally, you could recover deleted WeChat messages by asking your friend to send the messages or the screenshot back to you. However, this method works with a small number of chat logs. If you deleted a large number of your WeChat history, we suggest you choose the methods below to restore deleted chat history..
Restore WeChat History Without Backup
If you didn't keep your WeChat history on any other device and also don't have a backup of the WeChat data, then here is an amazing recovery tool, WooTechy iSeeker, that makes it possible!
It is an iPhone data recovery tool that supports almost all iPhone, iPad and iPod Touch models. No matter how you lost your data, it can always get the data back to you. Therefore, you could recover deleted WeChat messages on iPhone with this professional tool, even if you don't have any backup. What's more, it allows you to preview and selectively recover your desired chatbox either from your device, iCloud or iTunes backup. Also, it's quite easy to use, you can get back the deleted messages from WeChat with only 3 simpl steps.
Why Choose WooTechy iSeeker
100.000+
Downloads
Enables you to recover more than 18 data types like photos, videos, Viber messages, WhatsApp messages with a few clicks.

Able to recover lost files directly from iOS devices, without the need for a backup.

Encompasses almost all iOS versions up to iOS 16 and iPhone models up to iPhone 13 and continues to upgrade.

Allows you to preview and selectively recover needed data.

Offers lifetime update and free scanning service to check if the data can be recovered.
Steps to recover deleted chat history from WeChat without backup on iPhone with iSeeker:
Step 1 Download, install and launch the iSeeker on any accessible PC. Choose Recover from iOS Device. Connect your iPhone to the computer. Once it is connected, click Next.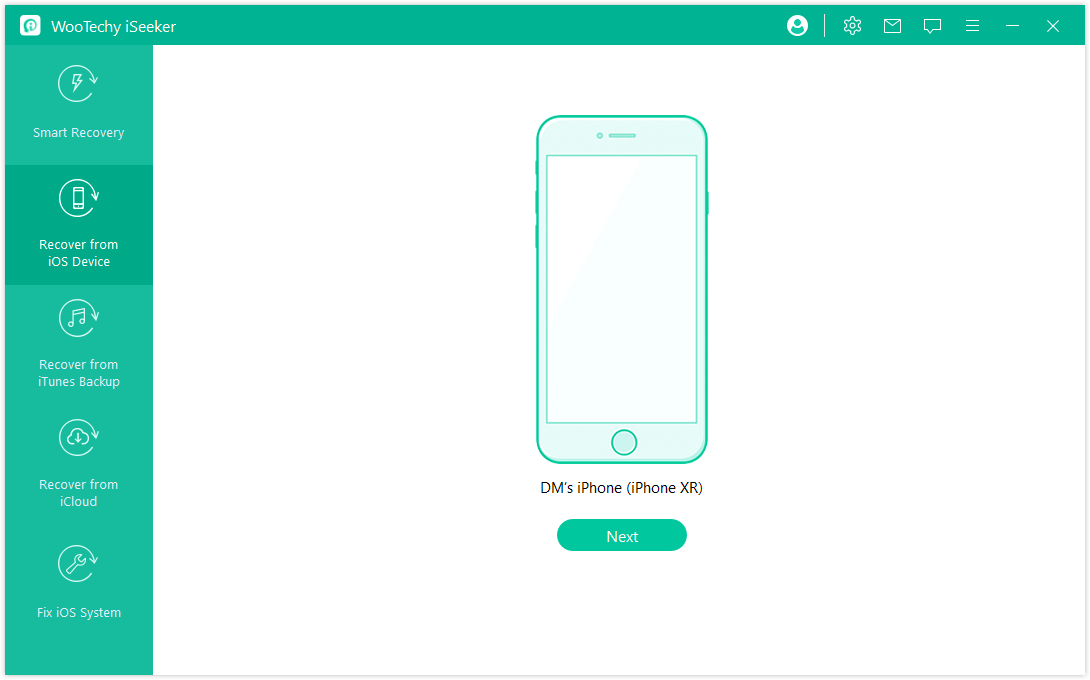 Step 2 Select WeChat in the data type list. Click Scan. The system will scan your device thoroughly to search for the deleted data.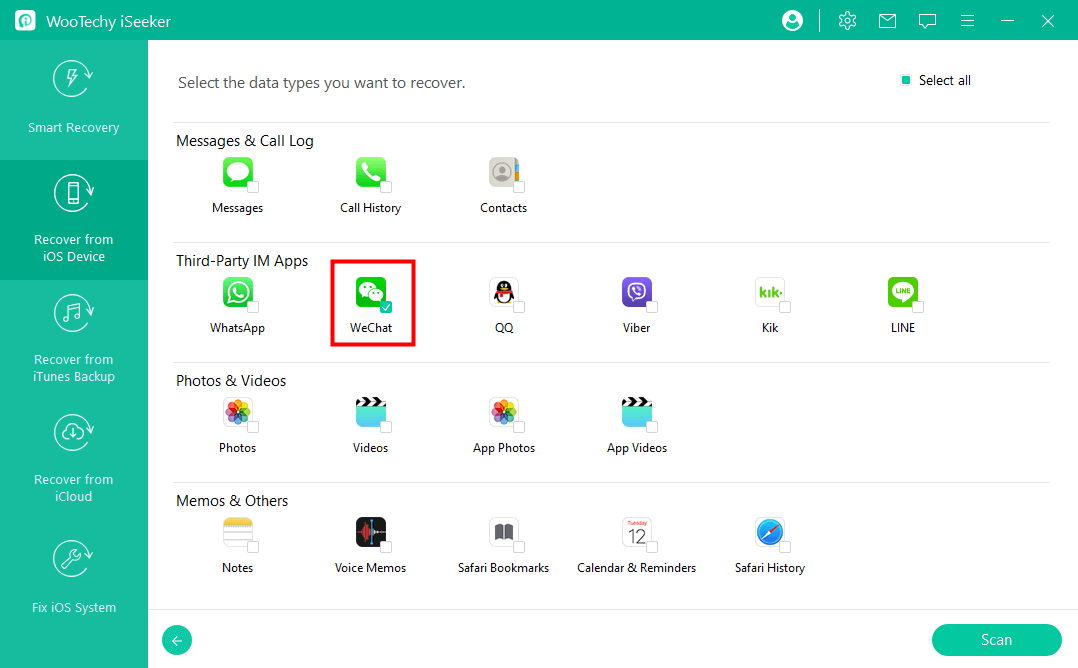 Step 3 Once iSeeker finds your data, it displays all the WeChat messages. Preview the deleted WeChat messages and select what you want to Recover.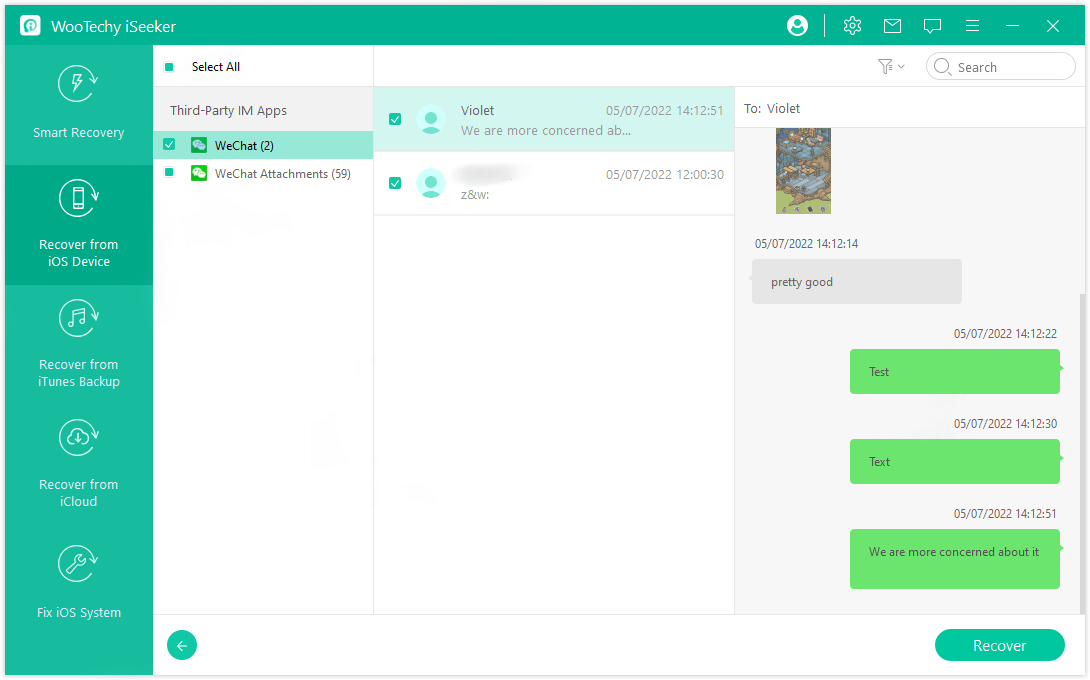 Restore WeChat History from Another Device
If you have another device (tablet or computer) logged with the same WeChat account, your chat history will be synced while communicating with your friends. When you accidentally deleted some chats or messages, you could restore your WeChat history by migrating the chat history from that device to your iPhone.
Here is how to recover deleted WeChat messages on iPhone from another device:
Step 1 Connect both devices to the same Wi-Fi. Open the WeChat app on the other device which contains your deleted chat history.
Step 2 Go to Settings > General > Backup & Migrate Chats.
Step 3 Tap Migrate Chats to Another Device.
Note
WeChat only allows users to log in on phone and
WeChat for Windows/iPad
at the same time. You can't sign in to two phones at the same time.
Restore WeChat History with the Repair Feature
If your WeChat messages disappeared for unknown reason or your chat history display has a problem, you could try to use the built-in repair feature to get back your chat history.
Here is a simple guide you can follow to repair your WeChat chat history:
Step 1 Open your WeChat on iPhone, then tap Me from the bootom right corner.
Step 2 Then go to Settings > Help & Feedback.
Step 3 Then tap the wrench icon on the top-right corner. Afterward, choose Repair Chat History from the next page. Tap again to confirm.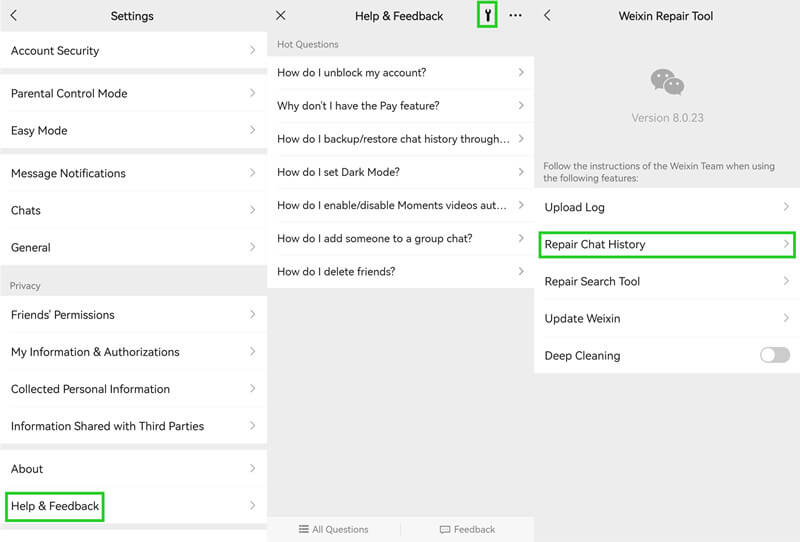 Restore WeChat History from WeChat Backup
WeChat provides a backup feature for you to back up all the chat history to your computer. If you have backed up your WeChat data before you deleted the chats, then you could simply restore a backup from your computer to recover deleted WeChat chat history on your iPhone.
Steps to recover deleted WeChat messages from WeChat backup:
Step 1 Open the WeChat on your desktop/PC and log in to your account. Click on the horizontal lines at the lower-left corner of the screen. Choose Backup and Restore from the menu.
Step 2 Click Restore on Phone option.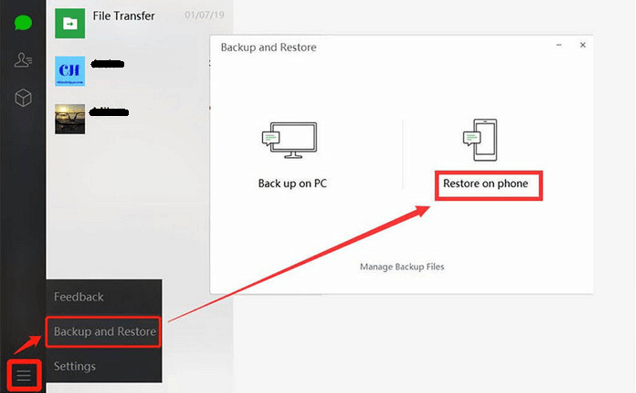 Step 3 Select the backup to be restored. Once done, click OK. The chats in the selected backup will be restored to your iPhone.
Restore WeChat History from iPhone Backup
The most common way to back up iPhone data is to create a backup on iCloud and iTunes. If you have backed up your iPhone data previously. Then you could easily recover deleted WeChat messages by restoring a backup from iCloud or iTunes.
But restoring either iCloud backup or iTunes backup will both overwrite the current data on your iPhone. To avoid losing data that is not included in the backup. you are recommended to make a full backup of your existing iPhone data before starting restoration.
Steps to recover deleted WeChat messages on iPhone from iCloud backup:
Step 1 Go to Settings > General. Scroll down to tap Reset. Choose Erase All Content and Settings from the list of options.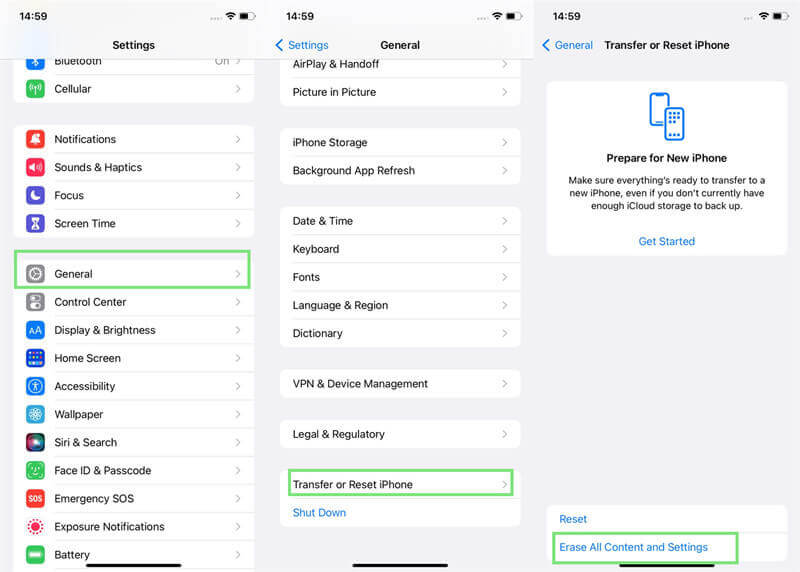 Step 2 When your phone restarts, follow the on-screen instructions to set up your phone. Go to Apps & Data page and choose Restore from iCloud Backup option from the list.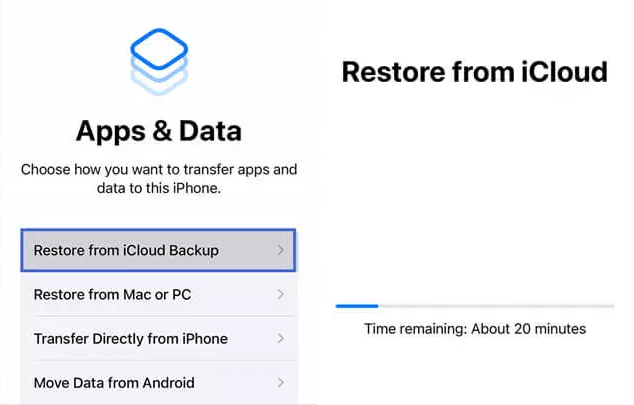 Step 3 Choose a backup that contains the deleted WeChat messages you are looking for and the restoring process will then begin.
Steps to recover deleted WeChat messages on iPhone from iTunes backup:
Step 1 Open iTunes and connect your iPhone via USB cable.
Step 2 Click the phone icon and click Summary. Select Restore Backup and choose the appropriate backup.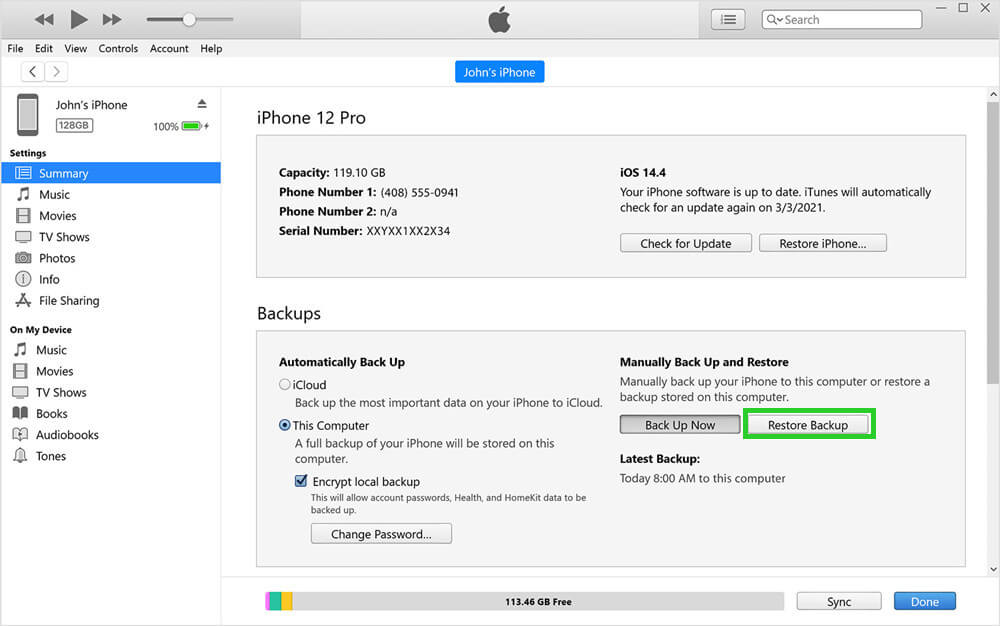 Step 4 Click on Restore and let the process complete.
Part 2. How to Prevent WeChat Messages from Being Lost?
Losing your WeChat messages is painful, especially when you do it unintentionally or accidentally. Although accidents can happen anytime and anywhere, we can prevent WeChat messages from being lost by simply backing up the chat history locally on a computer, iCloud/iTunes or migrating it to other devices. Here are how different options work:
Back Up Chat History to a Computer - Launch the WeChat app on PC, then log into your WeChat account. Go to the Backup and Restore option and click on Backup on Computer to select the chat history. This way, you get a backup of your chat on your computer.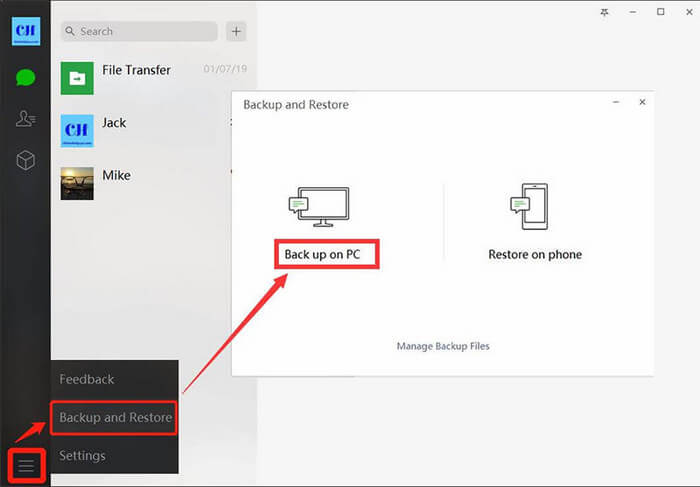 Migrate Chats to Other Devices - Open WeChat app, go to Me > Settings > General > Chat Log Migration > Migrate Chats to Another Device > Select Chat History > Done. Now open WeChat on another device, scan the QR code and let the chats migrate.
Be Careful When Deleting - You may want to save the iPhone storage or make the chat list clear when deleting the chat history. You can clear the cache or manage the chat history to save the storage or select Hide when organizing chat boxes.
The Bottom Line
Losing WeChat chat history can bring a lot of inconvenience to us. Luckily, there are multiple useful methods to recover deleted WeChat messages on iPhone. You can choose any method that suits you.
We should know that the deleted data can be recovered as long as it hasn't been overwritten or completely erased. Therefore, if you accidentally delete WeChat messages, it's possible to recover then even without backup. Among these methods, the most effective one is to use WooTechy iSeeker, especially when you don't keep a backup. Download and try it right now.