Have you ever erased the voicemail on your iPhone by accident? Alternatively, your iPhone voicemails may have vanished as a result of an iOS 15 upgrade, jailbreak, system damage, virus assault, or other factors. Are you stuck in recovering these voicemails?
Voicemail deletion is a regular issue that many people have had to deal with. If you also face this problem, don't be worried. In this post, we'll teach you how to recover permanently deleted voicemail on iPhone. The guidelines apply to all iPhone models, including those running iOS 15. Besides, we'll also tell you how to recover deleted data without backup. Continue reading this article to know more.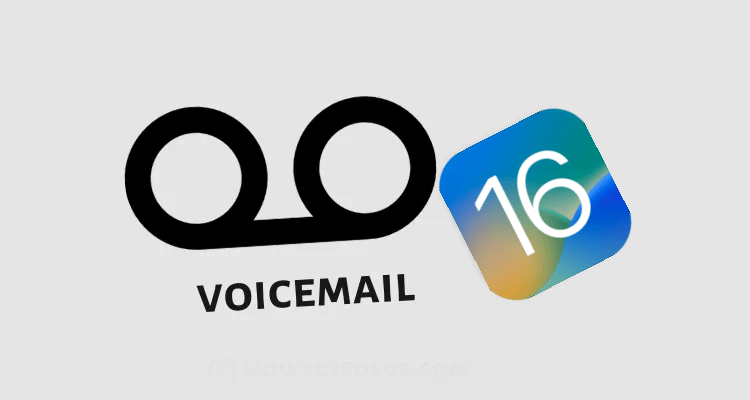 Part 1. Undelete Recently Deleted Voicemail from iPhone
Can I recover deleted voicemail? Of course, YES!
All your deleted data, no matter if there's a backup or not, can be recovered as soon as it hasn't been replaced by other data. Therefore, it's highly recommended not to use your iPhone temporarily in case your data are overwritten by accident.
In most circumstances, voicemails from recently deleted folder can be undeleted. Let's look at how to go about it.
First of all, open the Phone app. Tap Voicemail, and you'll get a list of all of your voicemail messages. Scroll down to the bottom of your inbox to find Deleted Messages folder and tap it.
Look through your deleted messages to find the one you want to get back. then simply tap it once.
Finally, tap Undelete icon to restore the message and move it back to its normal voicemail inbox once you've opened it.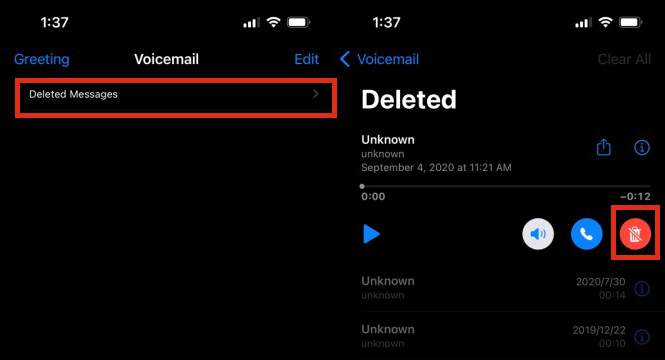 So there you have it. While it's simple to restore voicemail on an iPhone, if you have permanently deleted these voicemails or the deleted voicemails are expired, this method doesn't work. In this circumstance, we have a few additional options for you to recover deleted voicemails on iPhone. Hover over to find other methods.
Part 2. Recover Permanently Deleted Voicemail from Backup
1

Recover Voicemail From iCloud Backup

You can quickly restore your voicemail messages on your iPhone if you've previously backed them up to iCloud. Nevertheless, to complete the recovery process, you must first erase all data on the device. Thus, we suggest you back up before recovering from iCloud backup. These steps will tell you how to retrieve permanently deleted voicemails on iPhone from iCloud backup.

On your iPhone, go to Settings > General > Reset. Select Erase All Content and Settings after that.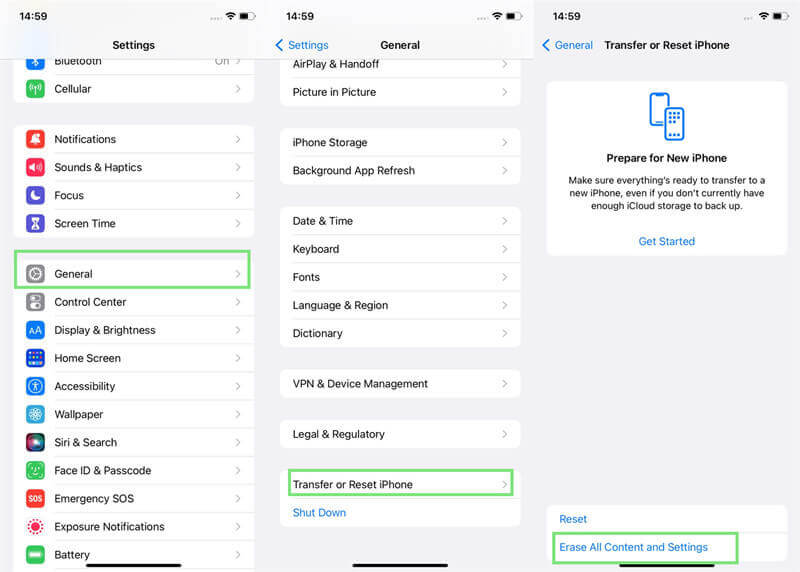 After you've completed the setup steps, go to the Apps & Data page and select Restore from iCloud Backup.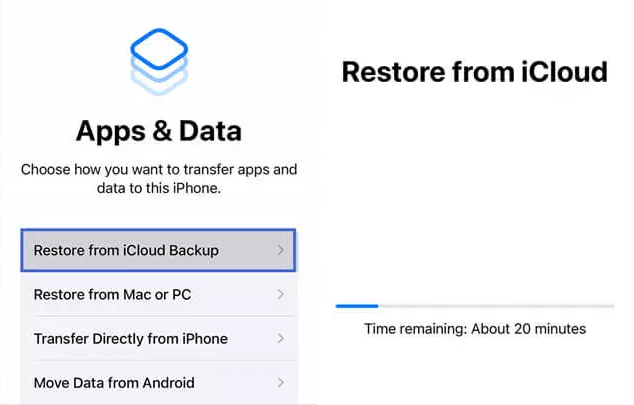 Sign in to iCloud and choose a backup that contains your deleted voicemail to recover them.
After waiting for some time, you'll get your voicemails back.
2

Recover Voicemail From iTunes Backup

If you are used to backing up via iTunes due to the limitation on iCloud free storage, you can use it to restore permanently deleted voicemails as well. Just like when restoring from an iCloud backup, you'll lose all the current data and settings after recovering from iTunes backup. Similarly, back up before recovering. Now follow the steps below to recover your permanently deleted voicemails from iTunes backup.

First, using a USB cable to connect your iPhone to your computer, launch iTunes and open it.

Click on the phone icon then select Summary in the drop-down menu.

Choose the backup file that contains your deleted voicemails. Then click "Restore Backup" and wait for the process to complete.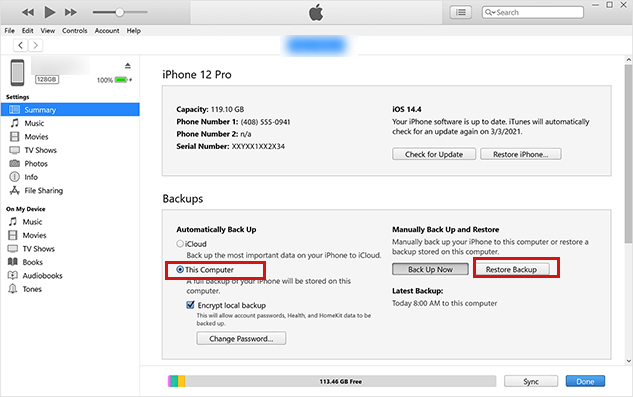 The permanently deleted voicemails will be restored after then, and you can go to have a check.
Bonus: WooTechy iSeeker – The Most Powerful Data Recovery Tool [without Backup]
You might have lost some data and simply want to recover part of it, while there's no backup or recovering from iCloud or iTunes backup will completely restore your whole device. Don't worry, there's a way to accomplish it. Wootechy iSeeker, a professional data recovery tool, allows you to preview and selectively recover your permanently deleted data from both your device and backup.
Key Features of WooTechy iSeeker
100.000+
Downloads
Support various of data types like text messages, photos, notes, WhatsApp messages, etc.

Allow users to recover data from iOS devices, iCloud, or iTunes backup.

Recover data on iDevices, including iPhone, iPad and iPod Touch series.

Cover various data loss scenarios like unexpected deletion, system crash, jailbreak failure, etc.

Provide full and simple steps to enable users to recover data at home even if they are not tech-savvy.
Download and install iSeeker on your computer, then use a lightning cable to connect your iPhone to the computer. Select the problem and iSeeker will intelligently lead you to the corresponding mode that suits your situation.
Recover from iOS Device
What makes iSeeker powerful is that it allows to recover data from iOS device directly no matter if you have a backup or not. Here we will give you the full guide:
Using a lightning cable to connect your device to the computer. After your device is recognized, select Recover from iOS Device and click Next.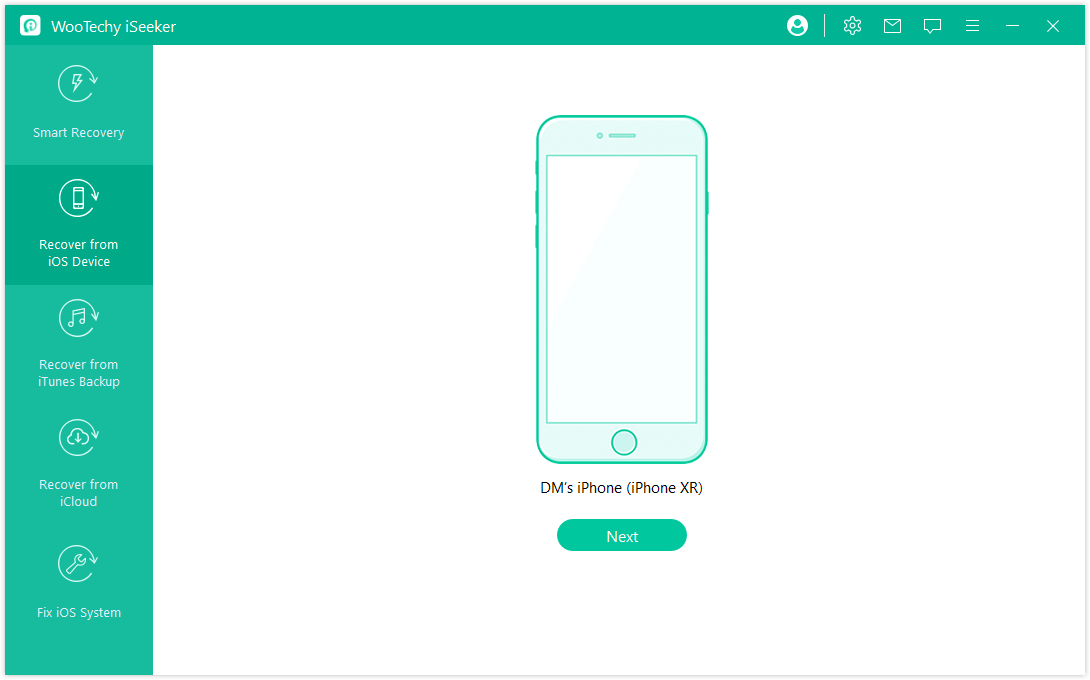 You can see the data types that iSeeker supports, then choose the data you want to recover and click Scan.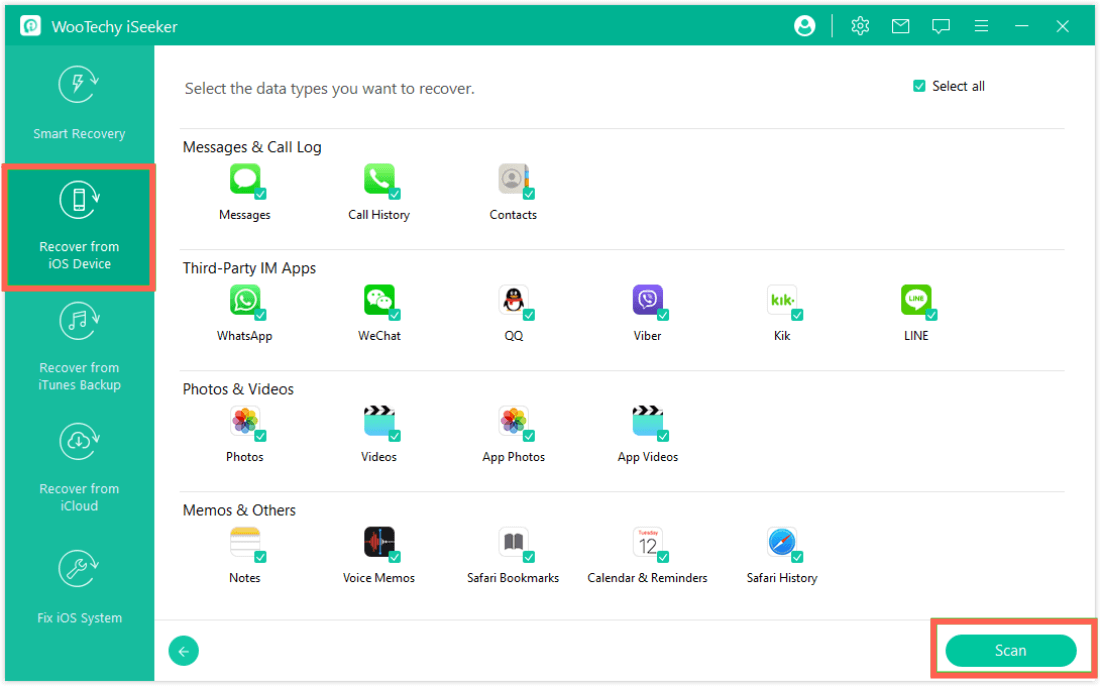 After the process finishes, all scanned data will present neatly on the screen. Select your desired data and Recover.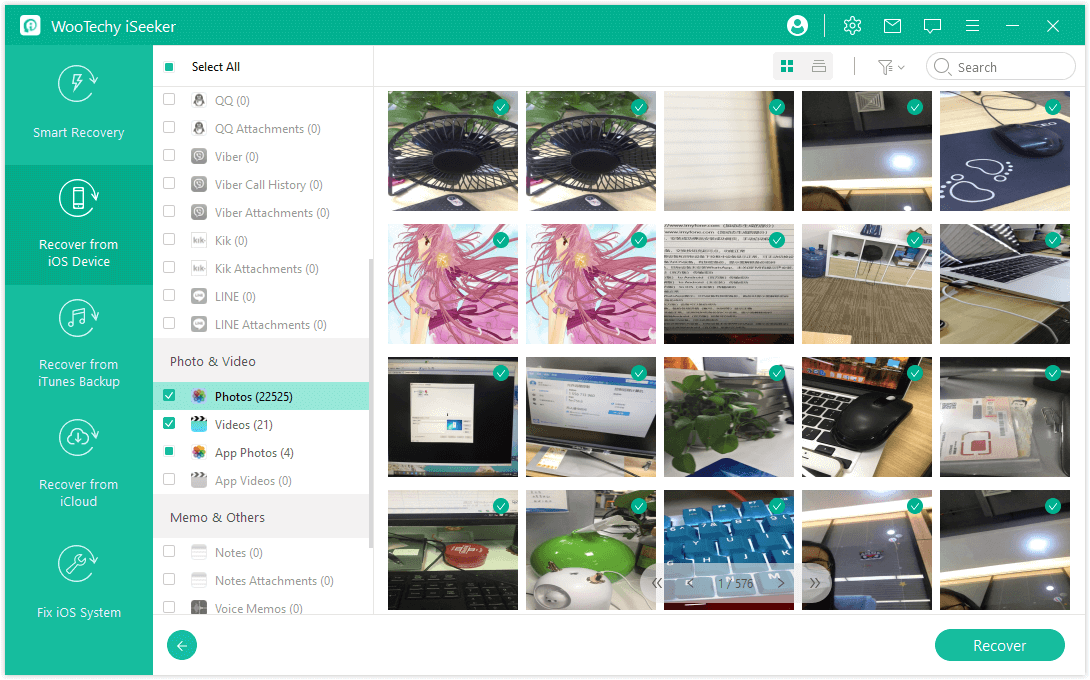 Extract from iTunes Backup
Choose Restore from iTunes Backup from the main menu. Then select a backup to recover data. Click Next, Scan the backup.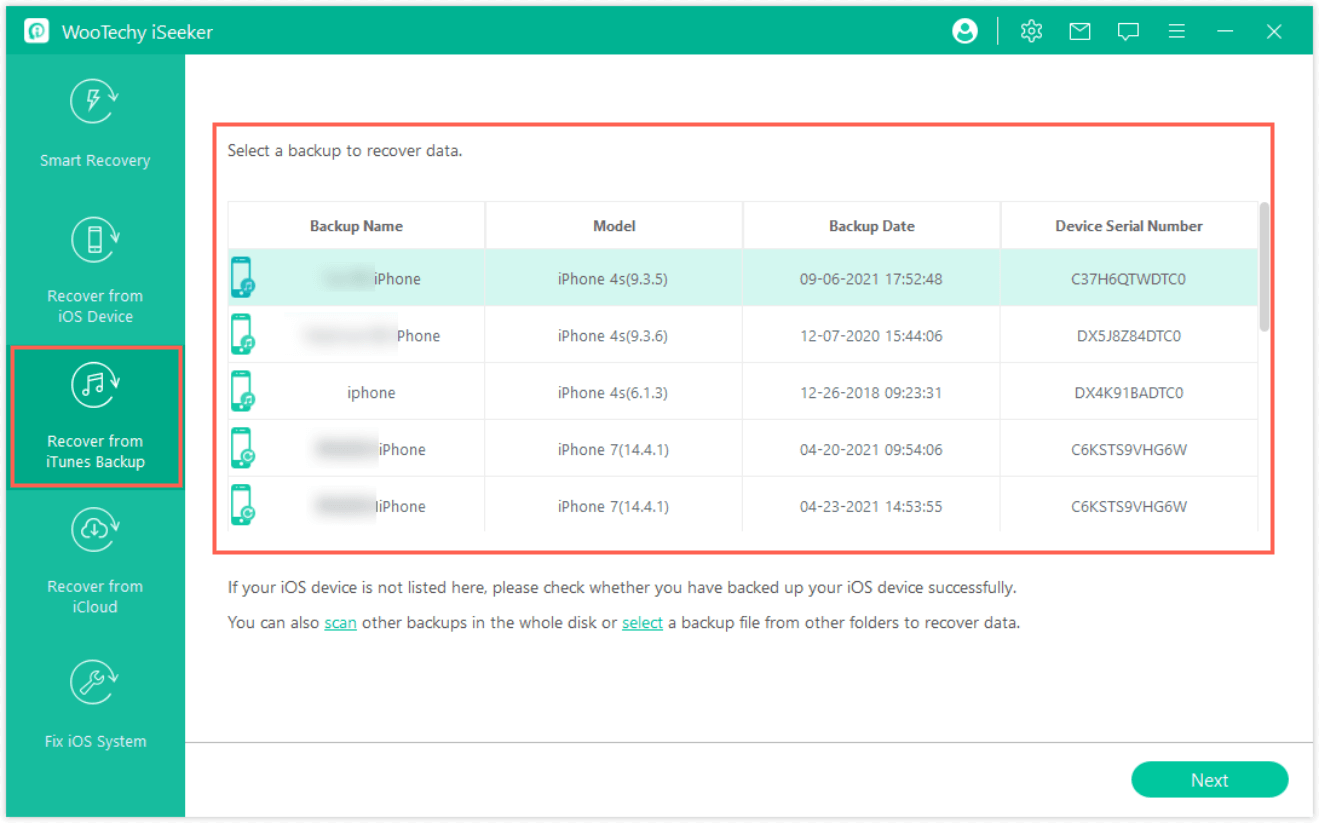 The interface will display all of the recorded data; you can filter the files by selecting Only show the deleted files from the drop-down menu. Select the needed data and click Recover.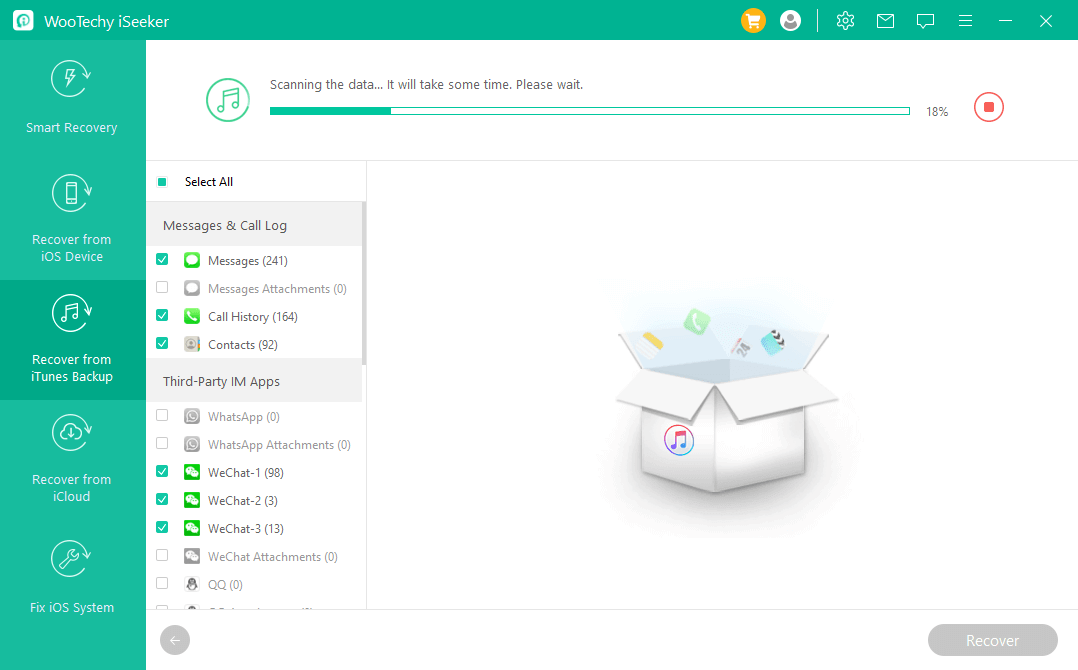 Extract from iCloud
In Recover from iCloud mode, choose the iCloud recovery option that suits your situation.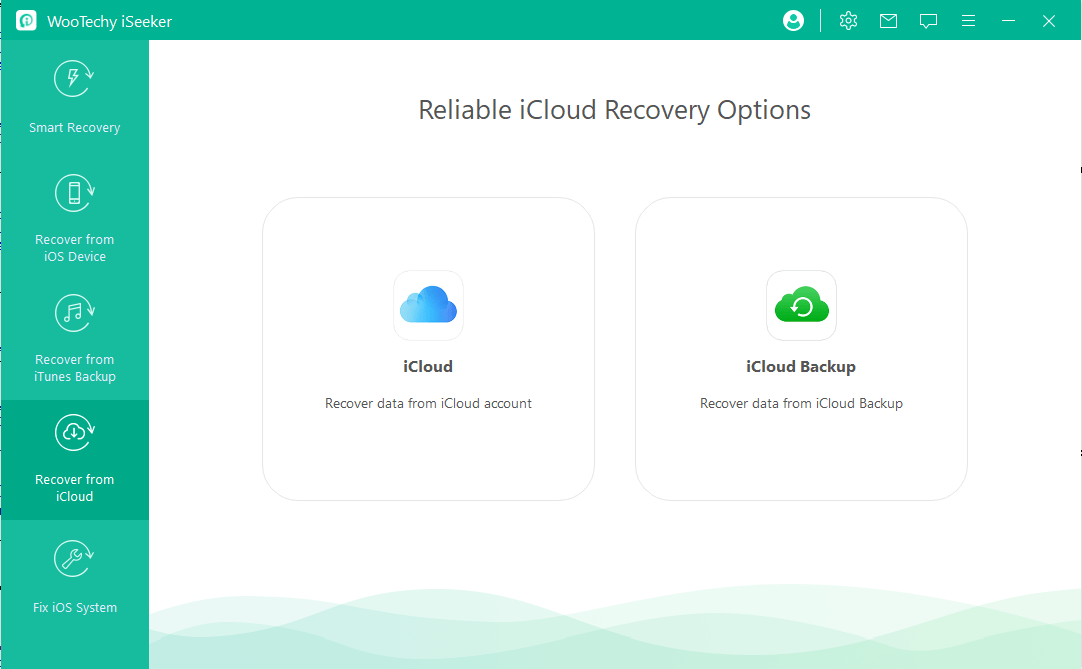 Follow the on-screen instruction until your device is set up. Similarly, select the data you want to restore and click Scan.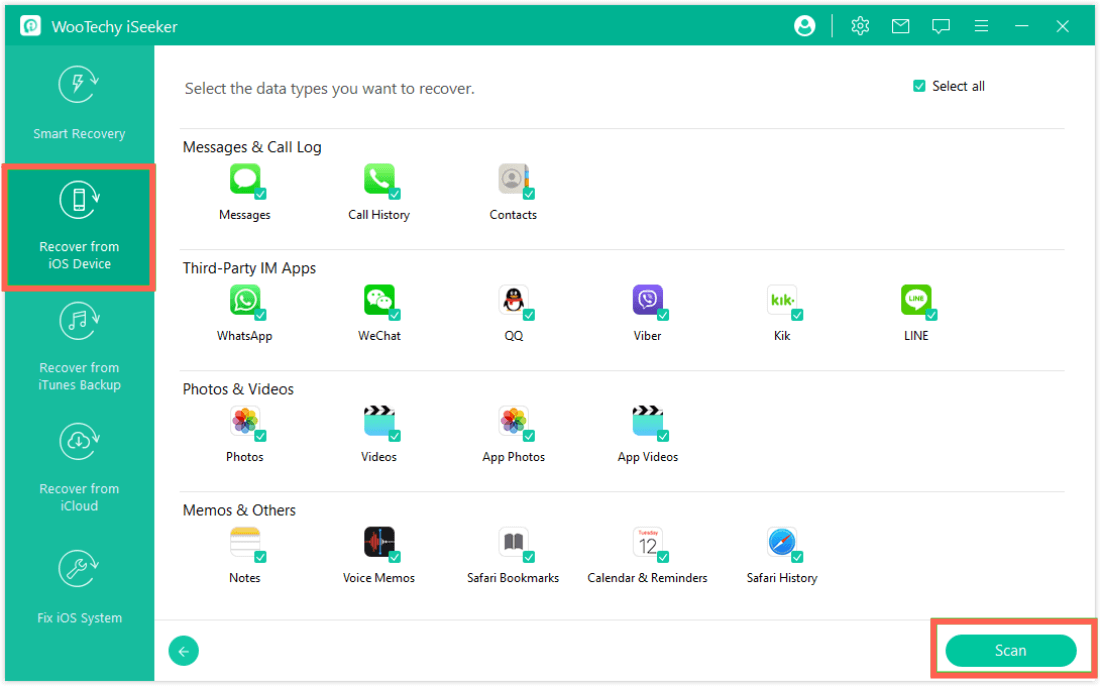 Wait until the process finishes and Recover your desired data.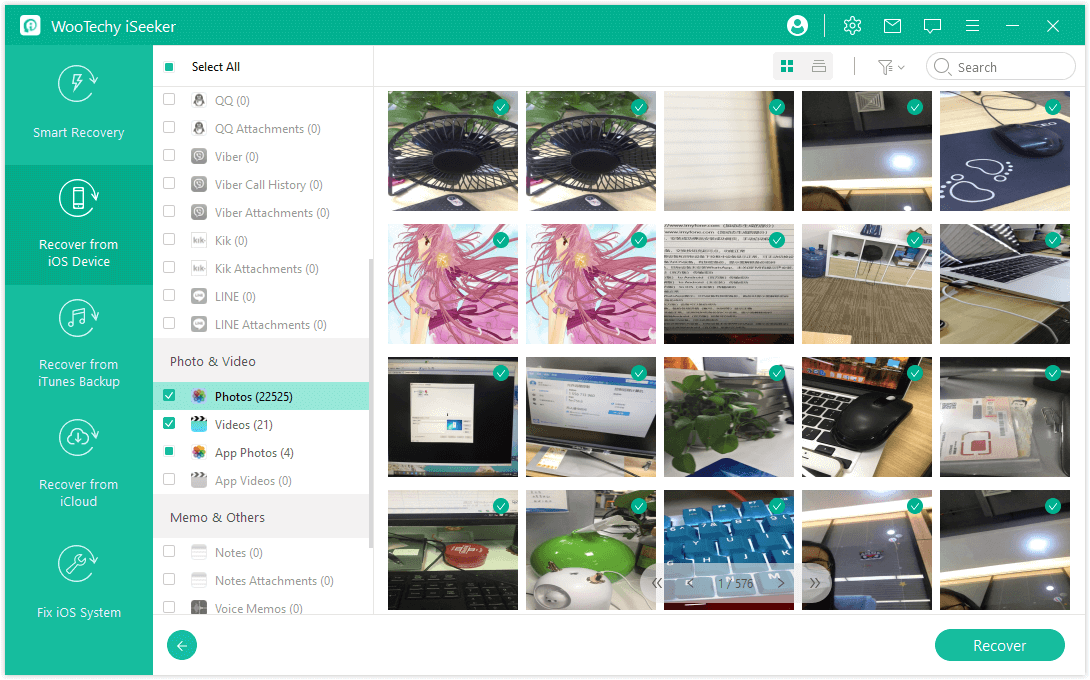 Recover data with iSeeker will take some time. After then, you can check your permanently deleted data on your device. With the expert team, iSeeker continues to launch upgrades to support more data types, and provides free lifetime updates.
FAQs about Deleted Voicemail
Does iPhone automatically delete my voicemails?
No, it doesn't. iPhone will keep your voicemails until your carrier delete them.
Why are my deleted voicemails earlier than 30 days still stored in my phone?
Voicemails automatically deleting is a feature controlled by your carrier. If you find your deleted voicemails earlier than 30 days still stored in your phone, that means the carrier doesn't delete them. You can delete it manually by tapping Phone > Voicemail > Edit > voicemails you don't want to keep > Delete, then go to Deleted Messages > Clear All.
The Bottom Line
In conclusion, if you're still looking for a way to recover permanently deleted voicemail on your iPhone, have a look at the options listed above. After you've gone through all of the options, you can pick according to your situation and the one you're most confident with. Besides, WooTechy iSeeker will simply assist you with your data lost issue. Using this software, you can recover your lost data without any hassle.