You open the Safari web browser on your iPhone, go to the History tab, try to find the link to the webpage you viewed a few minutes ago, and then bam, you hit the Delete button on it.
And now, your iPhone's Safari history has vanished. It leaves you without a trace. How are you going to get it back? Whether you've mistakenly wiped all of your Safari histories, or it was lost through an iOS upgrade or a factory reset, this post will show you how to recover deleted safari history on iPhone.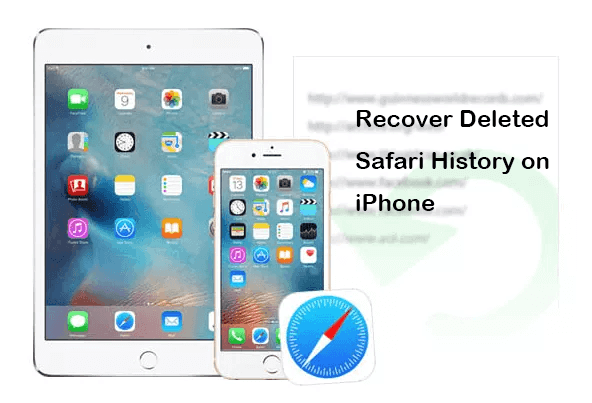 Method 1. Recover Deleted Safari History on iPhone from Settings
iPhone keeps the website data for a month. So if you have deleted the Safari history within 30 days, you could view and recover the deleted Safari history from the Settings. Below are steps to follow:
Step 1. Go to Settings on your Apple devices.
Step 2. Scroll down the list to find and tap Safari.
Step 3. Tap on the Advanced option at the bottom of the page.
Step 4. To see the deleted browsing history, go to the next section and select Website Data.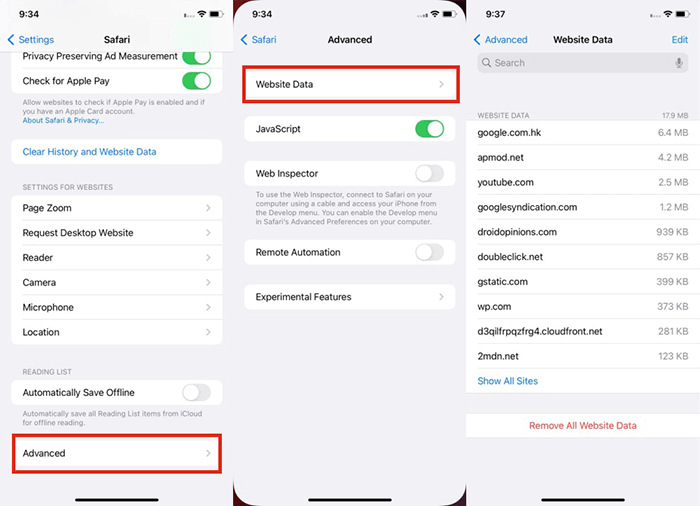 Note
If you have removed their cookies, data, and cache, or utilize incognito mode, then you will not be able to view and recover the deleted history here.
Method 2. Recover Deleted Safari History on iPhone from iCloud Web
iCloud is the official backup way which allows you to sync and store data. You can use it to back up and restore your data like Safari history. If you have synced Safari in iCloud and added the URLs you need to bookmarks, it's possible to recover deleted Safari history by restoring bookmarks from the iCloud web.
Step 1. Visit iCloud.com and sign in with your private Apple ID.
Step 2. Now select Account Settings.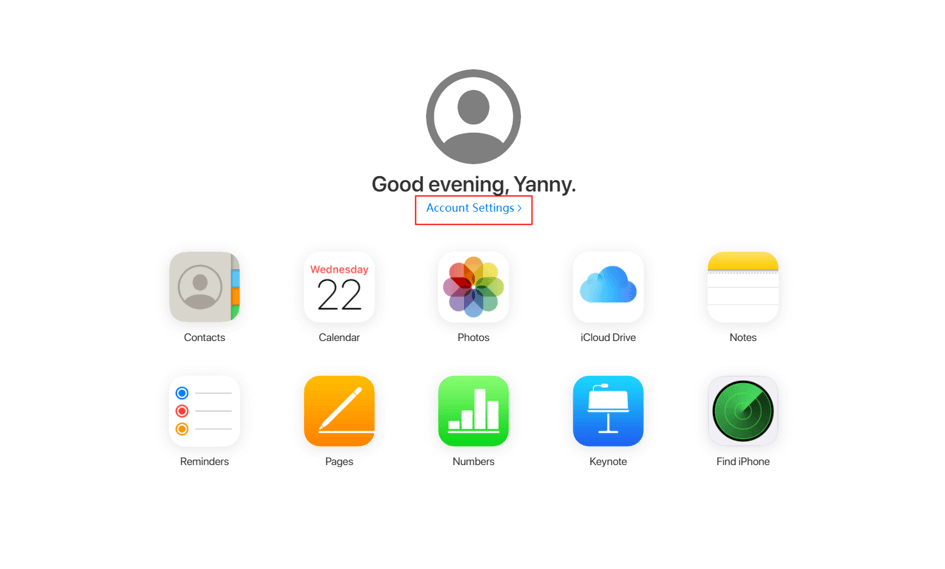 Step 3. Click on the Restore Bookmarks located at the bottom of the browser window.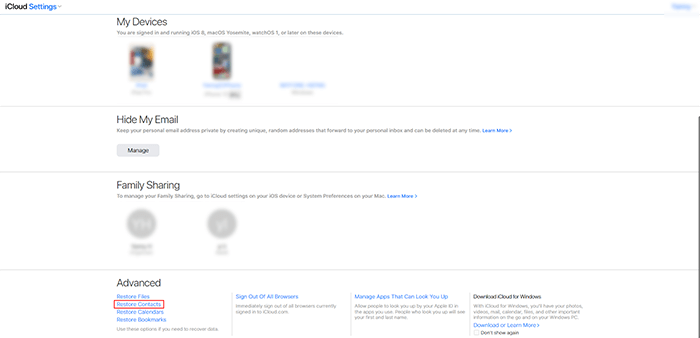 Step 4. Just select the concerned bookmarks and Restore. Your bookmarks will be restored and you can check on your device.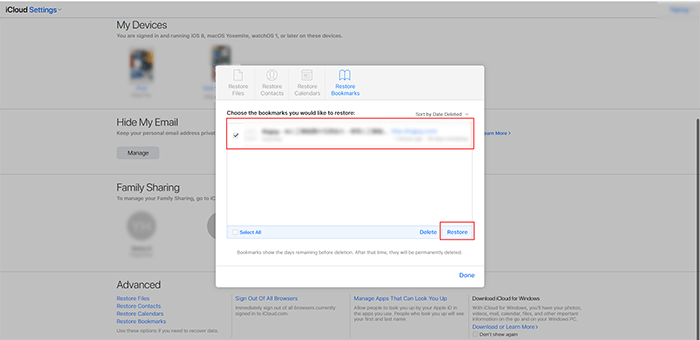 Note
You can only restore bookmarks if they were deleted
within the last 30 days
in this situation. If you didn't add the website to bookmarks or if you have deleted it more than 30 days ago, this method might not work.
Method 3. Recover Deleted Safari History on iPhone from iCloud Backup
If you failed to get back the lost browsing history with the two methods above, you can also recover the deleted Safari history as long as you've previously backed up your iPhone to iCloud. To finish the recovery job, you must first wipe all existing data on the device, thus you'd better back up before recovering. Follow these steps to get started:
Step 1. Go to Settings > General > Reset on your iPhone and select Erase All Content and Settings.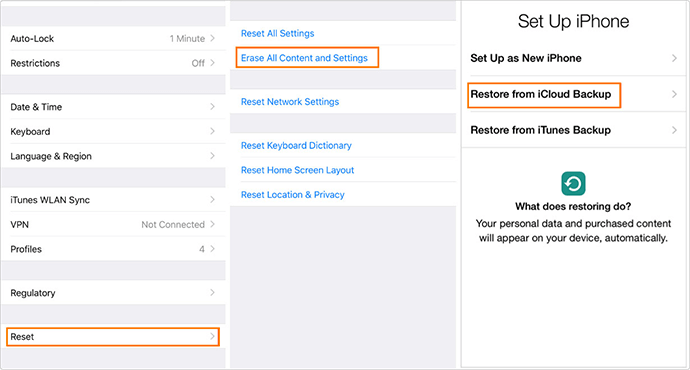 Step 2. In the Apps & Data page, pick Restore from iCloud Backup after completing the setup steps.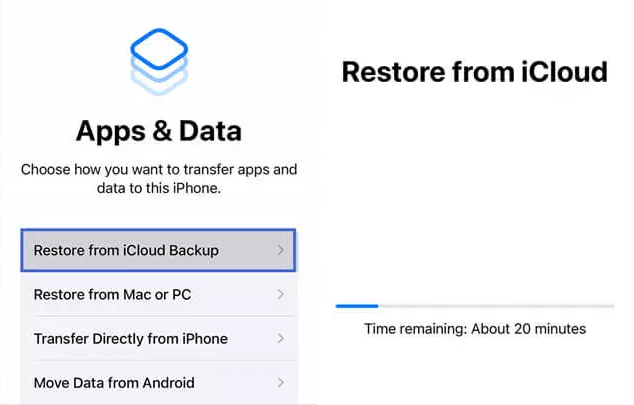 Step 3. To recover the device, sign in to iCloud and select a backup that contains your deleted Safari history. This process will take a few times.
Method 4. Recover Deleted Safari History on iPhone from iTunes Backup
Since iCloud has a limitation on free storage, many users prefer iTunes to back up. If you have chosen to back up your iPhone with iTunes, then you can recover deleted Safari history on iPhone from iTunes backup. However, the drawback of iTunes backup is that the current data and settings will be overwritten by the recovered data, just like when restoring from an iCloud backup. It's highly recommended to back up before restoring from iTunes.
Here's how to recover deleted Safari history from iTunes backup:
Step 1. Open iTunes after connecting your iPhone to your computer via USB connection.
Step 2. When the iPhone icon displays in iTunes, click on your iPhone. Then click on Summary from the left sidebar. Pick Restore Backup from the drop-down menu.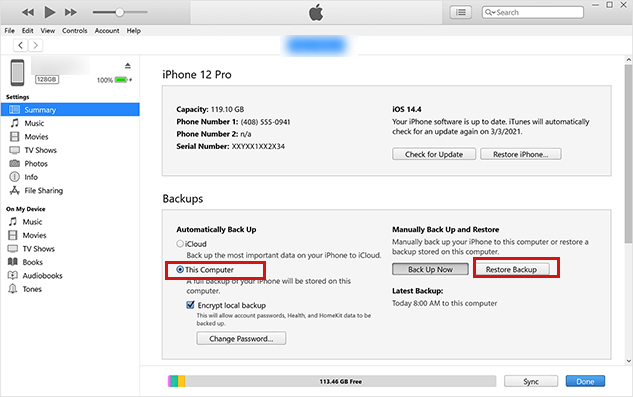 Step 3. Enter the password if asked, then click Restore and wait for the process to finish.
Method 5. Recover Deleted Safari History on iPhone Without Backup
If you are not accustomed to creating a backup of your iPhone data, then is there any way to recover the deleted Safari history? The answer is yes. Here you need a professional data recovery tool.
WooTechy iSeeker is a reliable iOS data recovery tool that will save you from various iOS data loss situations. It supports all common data types such as Safari history, text messages, WhatsApp messages, etc. Moreover, it could scan your device and recover the lost data directly from your iPhone. Therefore, there is no need for backup in the recovery process. And it also won't require erasing your iPhone before starting recovering. You can recover your data in simple three steps.
WooTechy iSeeker: Most Powerful iPhone Data Recovery Tool
100.000+
Downloads
Has the highest recovery success rate and supports 18+ different types of data including Safari history, photos, call history, WhatsApp messages.

Works well on various iOS versions, including the latest iOS 15.

Provides free trial to download and scan to check if the data can be recovered.

Allows you to preview the data after scan and choose the needed files to recover rather than restore all the data to your iPhone.

Guarantees your data privacy and security, and will not trace your data after recovery process completes.
Step 1. Download and launch iSeeker on your computer. Choose Recover from iOS Device from the left sidebar. Then Connect your iPhone device to the computer. To proceed, click Next once your device is detected.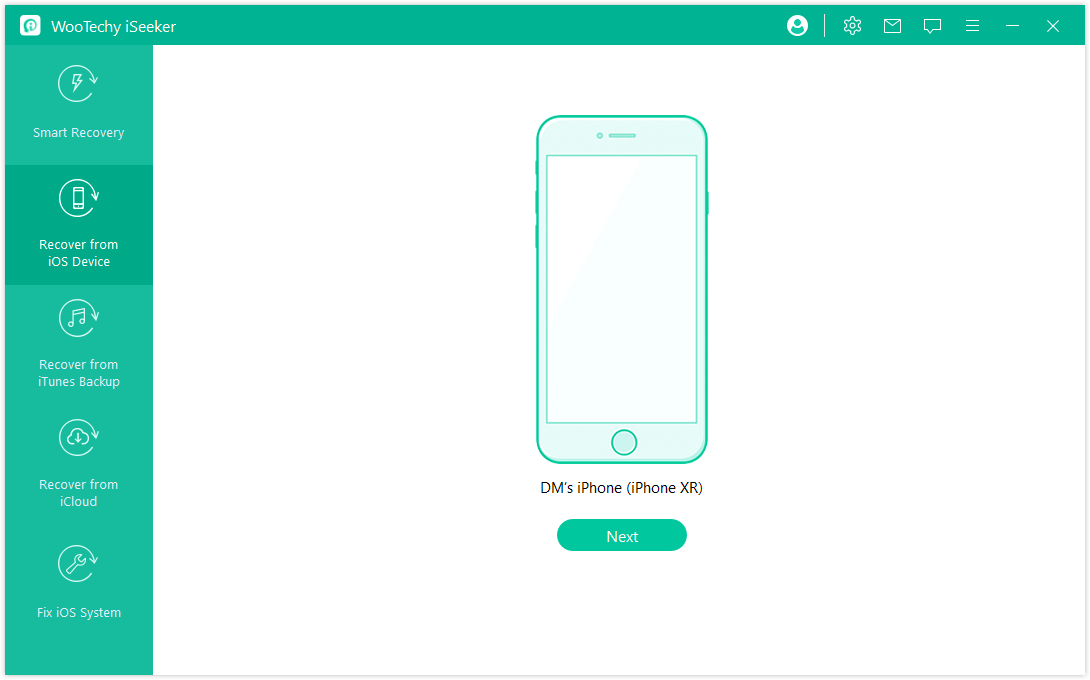 Step 2. Now hit the Scan button after selecting Safari History and other file types you want to restore. The process will take a few times to run a quick scan of your device.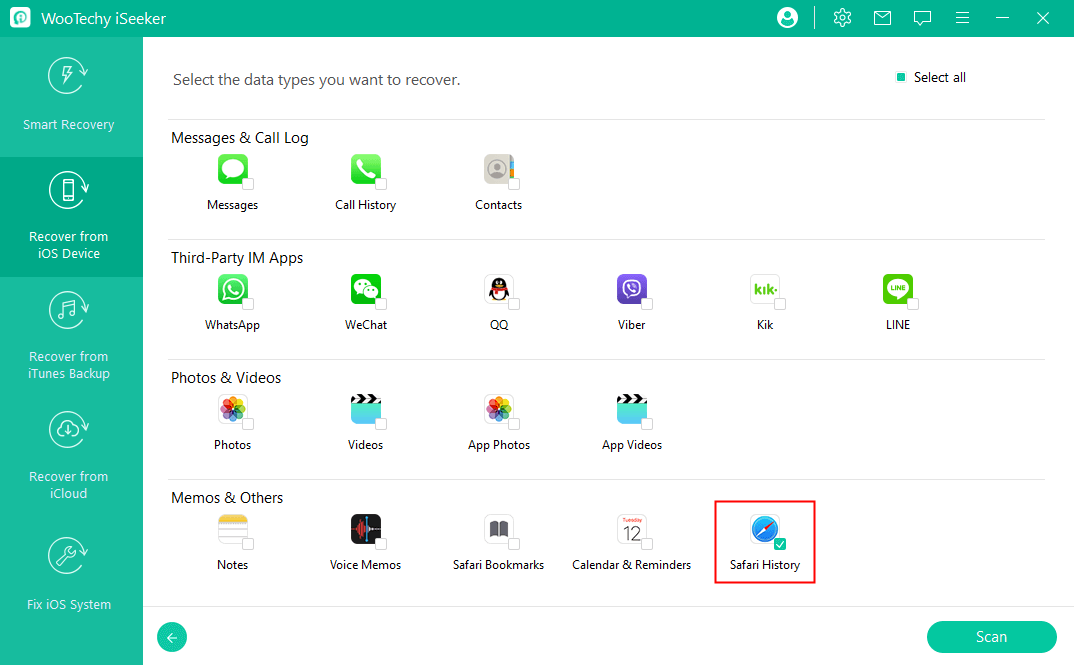 Step 3. Once the scan finishes, all concerned files will be properly grouped. After selecting the files you need, go to the bottom right corner of the software window and click the Recover button. Then you'll get all of your required data including deleted Safari history back!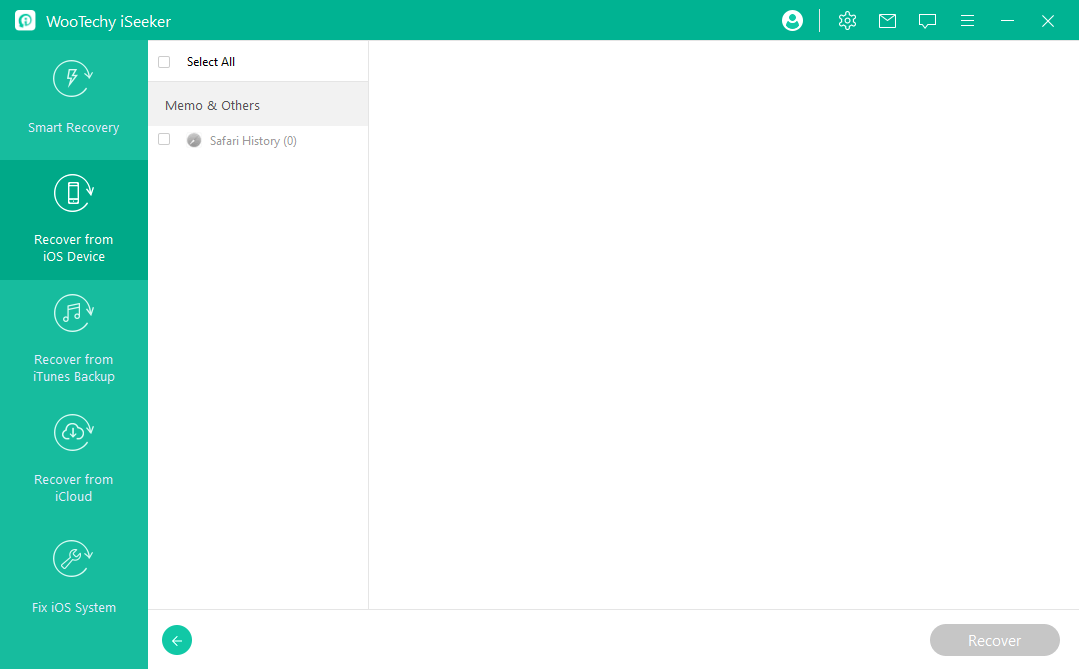 FAQs About Safari History
Can I transfer browsing history between iOS devices?
The answer is, yes. Safari bookmarks can be synced across your Mac and iOS devices via iCloud. However, if you enabled the Safari in iCloud on your Mac, the bookmarks and reading list will be merged, which means that the Safari history on one of your Apple devices may be overwritten by others.
If you want to continue surfing on other devices with your Apple ID, you can Hand Off between devices.
How long does Safari keep browsing history on iPhone?
Your browsing history on your Mac can be kept up to a year, but some iDevices only save it for a month. Safari uses iCloud to keep your browsing history the same on your Apple devices. Go to Settings > [your name] > iCloud to make sure Safari is turned on.
Conclusion
We've covered a variety of options for recovering deleted Safari history on iPhone in this article. You can pick the method that best suits your needs.
Among them, WooTechy iSeeker can make things simpler and quicker for you regardless of the data type you wish to retrieve. It can recover deleted Safari history or any other lost data on iPhone even without backup. And it's very easy to use. Get a free trial here to check your deleted data!