Safari is the primary web browser on iPhone; however, you may occasionally notice that Safari missed from iPhone and be wondering where the application disappeared and how it could have gone.
We understand how frustrating it could be to discover that the Safari app icon on your iPhone has disappeared precisely when you need to search for something on the net. In this article, we'll explain the causes for its absense and introduce 7 solutions for Safari disappeared from iPhone.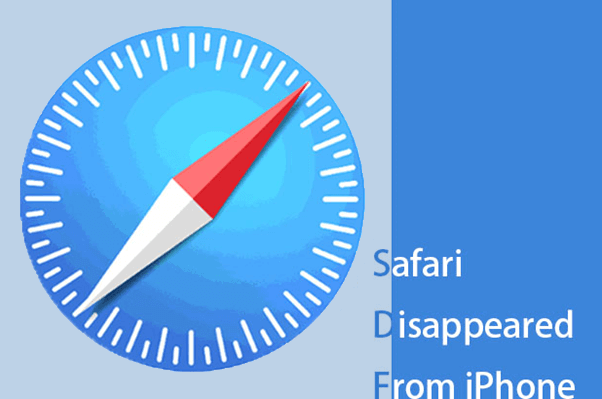 Part 1: Why Did Safari Disappear from My iPhone?
Actually, it doesn't "disappear". Apple doesn't allow iPhone users to remove the default programs. There are two reasons for Safari disappearing from iPhone:
The lost Safari icon on iPhone may have been hidden or relocated in some folders or displayed on another screen.
Also, it may be concealed if you deactivate it by mistake using the limitations option in Settings.
Part 2: Find Disappeared Safari from Your iPhone
Well, we've put together 7 best solutions to help you find you disappeared Safari icon from your iPhone.
1

Check All Screens and Folders

The initial approach you need to take is to look for the Safari icon on every Home screen of your iPhone. Check if the Safari app is hidden in a folder on one of the screenpages.
2

Search for Disappeared Safari in App Library

You could find and run the applications you frequently use in the App Library. Just go through all the home screens by swiping left and you will reach the App Library. All applications that are installed appear there, you can tap on the search box and type Safari to find it.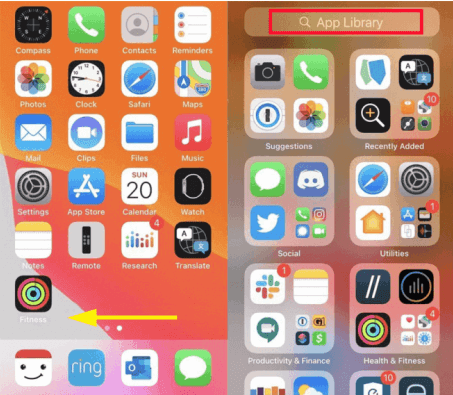 3

Look for Disappeared Safari Using Spotlight Search

Swipe right past all the home screens and open up the Spotlight Search. Type Safari in the search box and the Safari app would appear in the search outcomes.

As soon as you find it, you could long-press the icon and pull it to the target screen.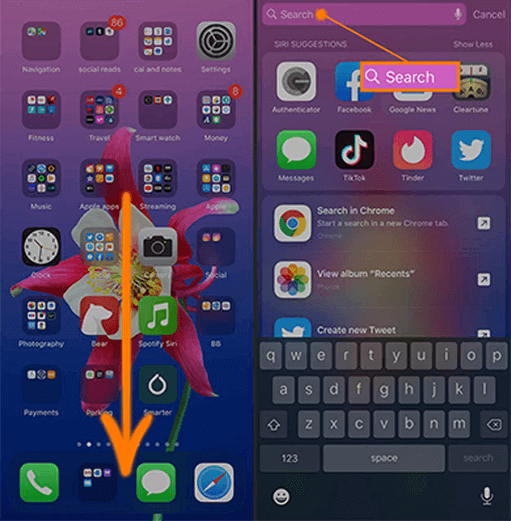 4

Remove Restrictions on Safari

You may have imposed limits on the Safari App, either mistakenly or on purpose, to block others from surfing the web or using your data on your iPhone.

In that case, you need to:

Step 1. Go to Settings and click on Screen Time.

Step 2. Then, select Content & Privacy Restrictions. (If you have set up any passcode, you would be asked to enter that.)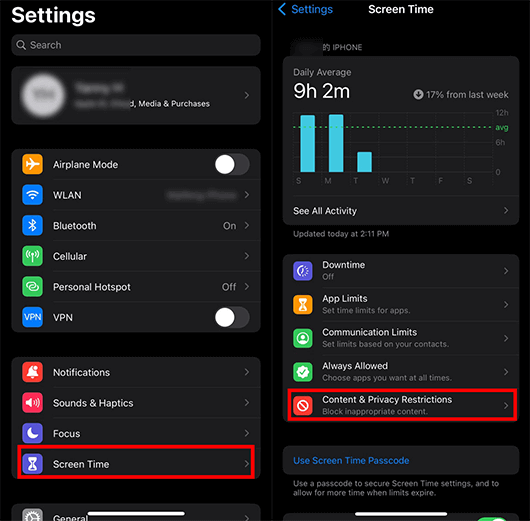 Step 3. Choose the option of Allowed Apps.
Step 4. Toggle the switch to turn on the Safari if it's off.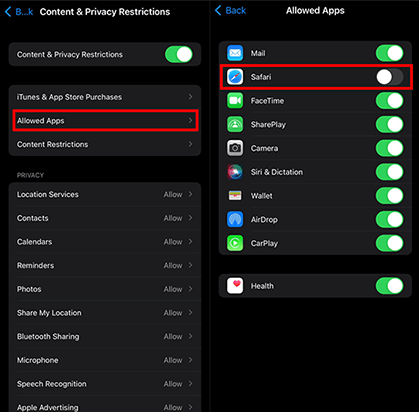 5

Reset Home Screen

Another way to find the Safari missing from iPhone is to reset your Home screen, and all of your applications will be displayed on their default positions. You can easily locate where your Safari App is.

Follow two simple steps below to reset your Home screen:

Step 1. Open Settings, click on General, and then tap on Reset.

Step 2. Select Reset Home Screen Layout.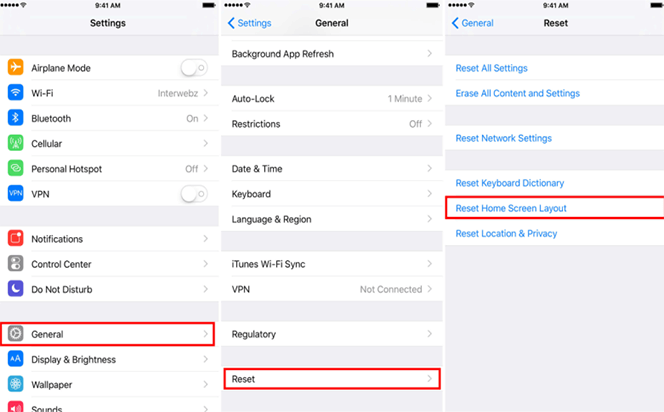 6

Restore from iTunesBackup

If you cannot recall the Screen Time passcode, It's impossible to restore missing Safari icon.

In this circumstance, you have to reset your iPhone and restore content and settings from iTunesr backup.

Step 1. Link your iPhone to your laptop through USB, then open iTunes.

Step 2. Select Summary when it appears in the iTunes window.

Step 3. Tap on Restore Backup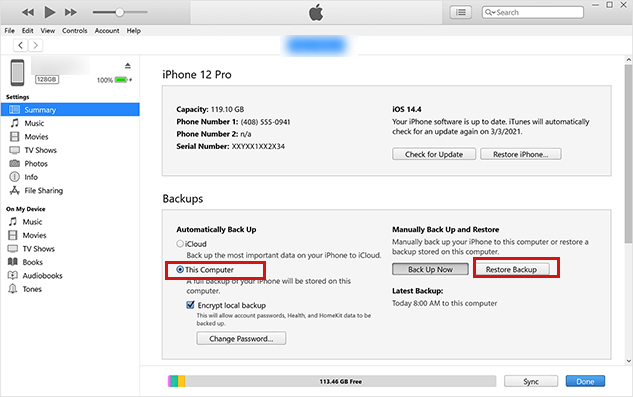 Step 4. Enter the password if asked, then click Restore
Note
The current data and settings will be overwritten.
7

Restore from iCloud Backup

If you have backed up the latest files of your device including Safari icon, you can reset your iPhone and recover it from iCloud backup.

Step 1. Open Settings > General > Reset and select Erase All Contents and Settings.

Step 2. Then your iPhone will restart. On Set Up iPhone page, click on Restore from iCloud Backup.

Step 3. Select the Safari data and restore.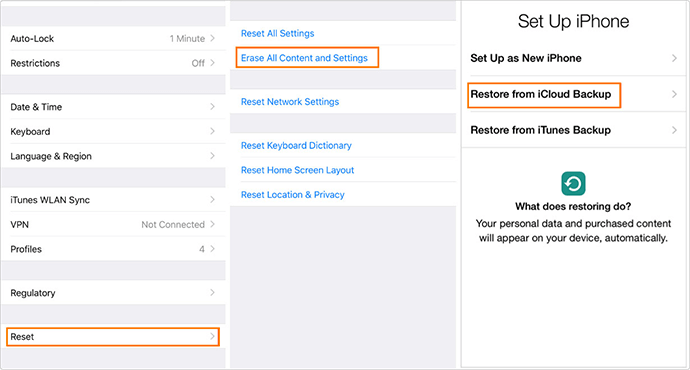 Note
You must reset your device before restoring.
Part 3: The Best Solution for Safari History Disappeared from iPhone without Data Loss
When you find Safari icon disappeared from your iPhone, you may be worried about data loss. Relax! As Wootechy iSeeker will come in handy whenever there is a need to recover your data.
Key Features of iSeeker
100.000+
Downloads
iSeeker recovers 18 types of disappeared data like Safari history without data loss.

It ensures your data privacy during the whole recovery process.

Users can have a free trial and easily follow the guide to restore their missing data.

It is compatible with the newest iOS version and Apple devices, and supports Windows and Mac.
While making it convenient for the users, you can recover data that has been lost in a variety of settings with simple and basic steps.
Step 1. Once you have installed the iSeeker, select Smart Recovery.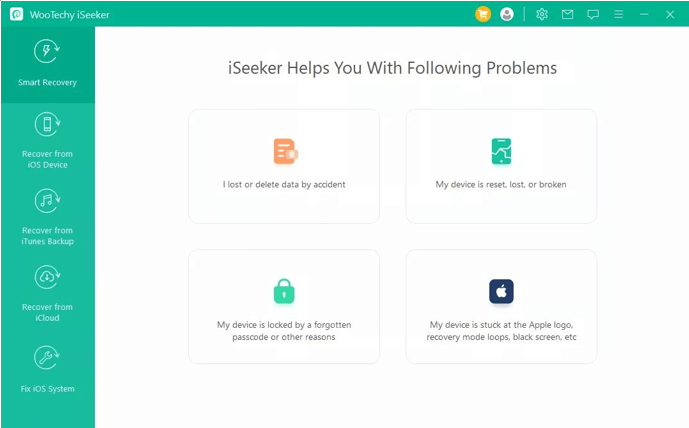 Step 2. Choose your situation, and it will automatically direct you to the best mode suitable.
1

Quick Recovery from All iOS Devices

Step 1. Download and install Wootechy iSeeker, select Recover from iOS device and then connect your device to your laptop/computer.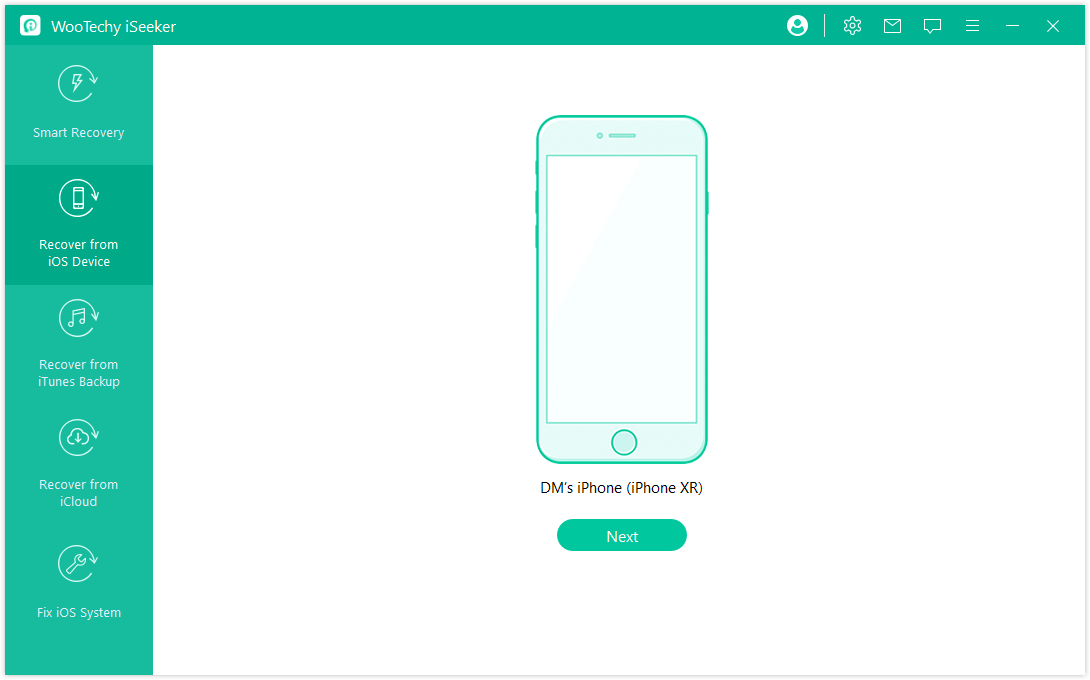 Step 2. Next, hit the Scan option after selecting the file types you would like to restore.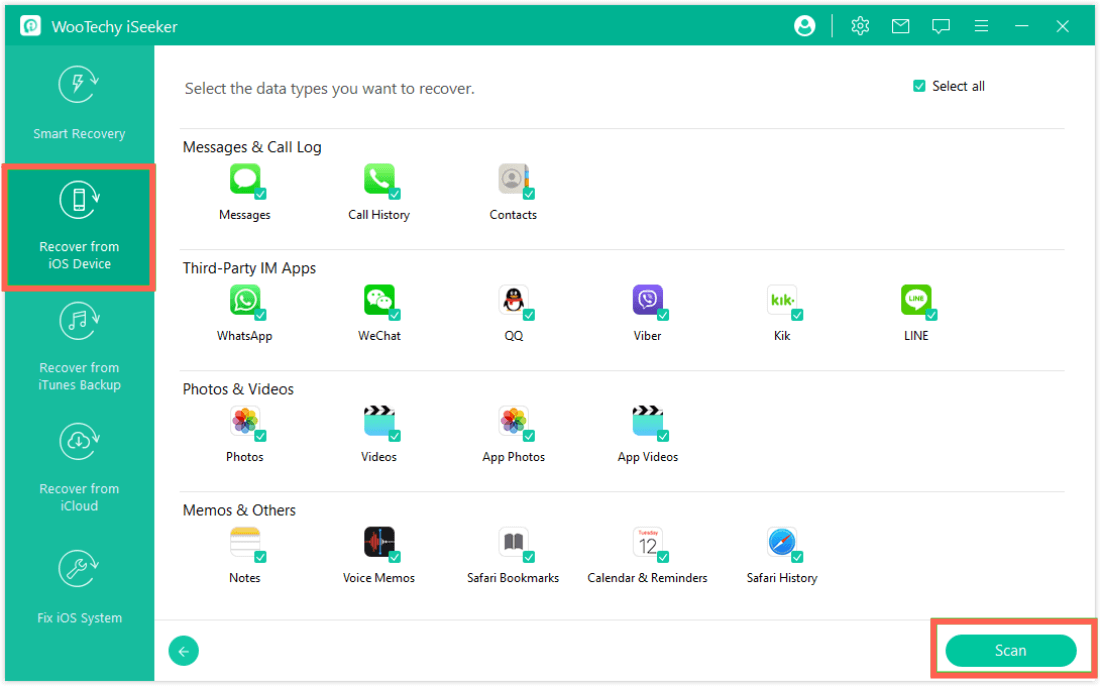 Step 3. Select all the files you want after they've been categorized, then press the Recover button in the bottom right.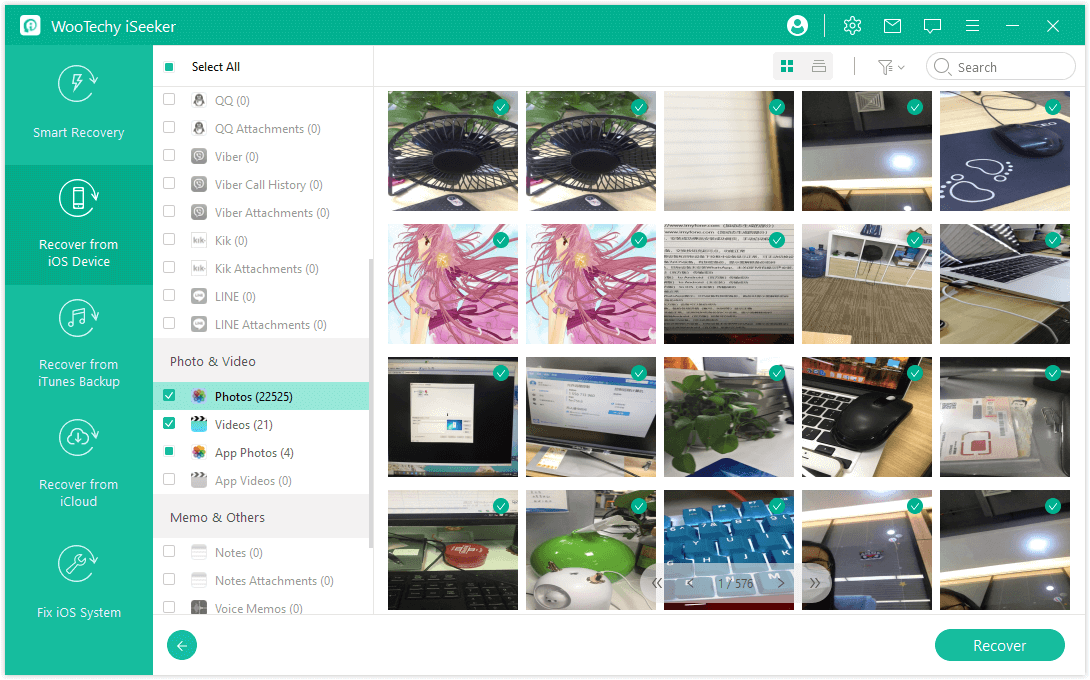 Since restoring from iTunes and iCloud will replace the current data of your device, we suggest you to recover with iSeeker for it supports users to preview and selectively recover the desired data. Below are two methods to recover from iTunes or iCloud backup with iSeeker.
2

Restoration of Data from iTunes Backup

Wootechy iSeeker enables users to access data even from encoded iTunes backups. Every missing data would be restored instantly by just inputting the passcode.

One disadvantage of iTunes is that it can only recover your iPhone's entire backup file, which could contain unnecessary data. However, there's no need to worry since Wootechy iSeeker allows you to select on your own to restore only the data you require.

Step 1. Choose Recover from iTunes Backup and then select the data types you want to restore. Now click Scan.

Step 2. Once the data is revealed on the interface, you can sort out the files by clicking Only show the deleted files. Then, select the Recover option.
3

Various iCloud Data Recoveries

Simply sign in to your iCloud account and iSeeker will restore all of your synchronized data, such as pictures, contacts, and iCloud Storage.

Step 1. Select Recover from iCloud and sign in to your iCloud account.

Step 2. Choose your desired file types and hit the Scan option in the right corner below.

Step 3. Select the files you require and press the Recover option.
Final Words
The above-mentioned methods are some of the quickest and most successful ways for recovering Safari missing from iPhone. These approaches have basic steps that are simple to learn and implement.
In addition, the most convenient way to restore Safari disappeared from iPhone is that you could install Wootechy iSeeker and cut out the hassle. It involves a user-friendly interface that eliminates complicated steps for using it. It also respects the confidentiality of your data throughout the process of recovery and does not destroy your existing data, hence, giving you the best experience.